New Age Islam News Bureau
10 January 2022
• Pearls Square Café With Gym, Yoga, Workstation, Rooftop For Kitty Parties And Get-Together In Hyderabad Is Run By Women For Women
• Arrest Of Deepthi Marla aka Mariyum Over ISIS Links Sparks Debate On Love Jihad
• Saudi Women Weightlifters Win Gold In Weightlifting Tournaments
• Taliban Stuck Banners Across Kabul To Recommend Hijab For Women
• 72 Hindu Couples Tie The Knot At Mass Wedding In Karachi
• Women judges and lawyers who fled Taliban rule refuse to give up
• Philippine Muslim Leaders Urge Repeal of New Law Criminalizing Child Marriage
• 10 Women Qualify In First Round Of King Abdulaziz Camel Festival
• UAE: 20% Fall In Domestic Violence Cases Against Women, Children
• Baby Lost In Chaos Of Afghanistan Airlift Found, Returned To Family After Long Ordeal
Compiled by New Age Islam News Bureau
URL: https://www.newageislam.com/islam-women-feminism/basmah-bint-saud-saudi-princess-suhoud/d/126125
--------
Basmah bint Saud Al-Saud, a Saudi Princess, And Her Daughter Suhoud Released After 3 Years In Saudi Prison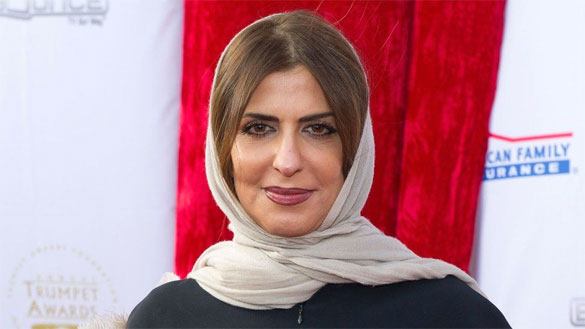 Princess Basma - seen here in 2016 - has been a prominent advocate for constitutional reform
-----
Ibrahim al-Khazen
09.01.2022
RIYADH, Saudi Arabia
Saudi authorities released a Saudi princess and her daughter after almost three years in prison, two human rights groups confirmed on Sunday.
The London-based ALQST human rights group tweeted that Basmah bint Saud Al-Saud and her daughter Suhoud have been released.
The two were detained by Saudi authorities in March 2019.
The rights group said that no charges were levelled against the Saudi princess.
The Prisoners of Conscience NGO also confirmed the release, saying the pair were set free on Thursday after three years of detention.
The princess' legal adviser, Henri Estramant, told CNN Arabic that "the princess is doing fine but will be seeking medical expertise."
"She seems worn out but is in good spirits and thankful to reunite with her sons in person," he added.
There was no comment from Saudi authorities on the report.
On April 24, 2020, the princess's website published a message from her from inside al-Ha'ir Prison calling on her uncle, King Salman and Crown Prince Mohammed bin Salman, to release her due to her deteriorating health.
Source: Anadolu Agency
https://www.aa.com.tr/en/middle-east/saudi-princess-daughter-released-after-3-years-in-prison/2469424
--------
Pearls Square Café With Gym, Yoga, Workstation, Rooftop For Kitty Parties And Get-Together In Hyderabad Is Run By Women For Women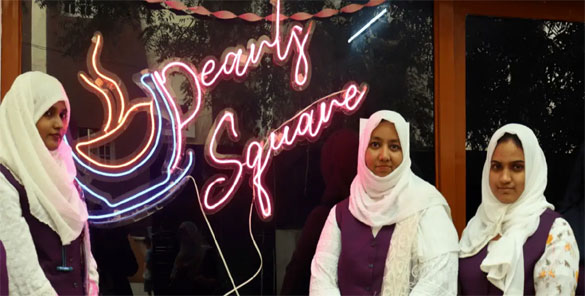 Pearls Square Café is a hangout place that is exclusively for women and run by women in Hyderabad
----
Sumaya Junaid Ahmed
10th January 2022
Hyderabad: Have you ever heard of a place that is only for women and run by women? Well, there is one in Hyderabad's Tolichowki's Aditya Nagar by the name Pearls Square Café. It is a hangout place that is exclusively for women and run by women. The place is not only limited to a cafeteria, but also has a catering service, gym, yoga, workstation, and rooftop for kitty parties and get-togethers.
The founder of Pearl Square is 40-year-old Abida Fatima. She founded this unique space on March 15, 2021, with the motto "fulcrum for women by women".
Speaking to Siasat.com, Abida said the idea to establish a place like Pearl Square came because the city lacks safe and open spaces for women. "For any other hangout spaces girls and women have to constantly keep a watch for their own safety and security. I always wanted a place for myself and other women to feel safe and comfortable, so here I'm with a passion to cater to the women community," she says smilingly.
Pearl Square has six staff members who juggle their duties according to demand. The staff also includes working mothers and students who perfectly balance their work at home and at work.
At the time of our visit, we got a chance to meet a handful of girls who were hanging out with their friends. Mehrunnisa an 18-year-old girl who frequently visit the place said my mother is not worried when I say I'm going to Pearls square with my friends. This a small cosy place to come and chit chat with friends and have a plate of Pani Puris, she added.
Apart from all these, Pearls Square also offers driving classes for women with a female instructor. According to a staff member, many neighbourhood women learned driving because of this initiative.
Furthermore, Pearls Square is not only a place for women to relax but also a place for women to work. Women may reserve tables at the workstation in Pearls Square and work there, an idea that is highly relevant to the work-from-home lifestyle we live in.
The founder of the café while speaking to this reporter, stated that spoken English classes will be held for girls and women for a period of one month, starting from January 17. The classes will be held adhering to all COVID-19 norms, she stressed.
According to a gym instructor at Pearls Square, many ladies want to live a healthy lifestyle. But they don't get such opportunities; it's quite uncomfortable for Muslim women to wear sportswear and work out in a unisex gym as they practice wearing hijab. But at Pearls Square when there are all women around they are very comfortable and they concentrate on the workout properly, she stated.
Abida Fatima apart from being an entrepreneur also uses her premises for social help services too. She said during the second wave of COVID-19 lockdown, she along with her young and passionate team provide catering services to a quarantine centre in the city for a month. They served breakfast, lunch, snacks, and dinner to the quarantine facility.
Source: Siasat Daily
https://www.siasat.com/hyderabad-tolichowkis-pearls-square-cafe-is-for-women-by-women-2255560/
--------
Arrest Of Deepthi Marla aka Mariyum Over ISIS Links Sparks Debate On Love Jihad
Jan 09 2022
By M K Ashoka
Bengaluru, Jan 9 (IANS) Ever since the arrest of Deepthi Marla a.k.a Mariyum on charges of alleged links with the ISIS by the National Investigation Agency (NIA) earlier this week in Dakshina Kannada district of Karnataka, it has sparked off a debate on "Love Jihad" in the state.
Hindu organisations have planned special campaigns and programmes in coastal Karnataka through retired police officers, religious leaders and advocates among others in educational institutions and other places to create awareness about Love Jihad. They claim that Love Jihad is a reality and every day they are getting calls from the parents of girls who have disappeared.
They explain that groups are formed to prevent Hindu girls from falling prey to Love Jihad and students are trained to observe closely in academic institutions for suspicious movements on the campus.
The leaders of the ruling BJP which has already got the Anti-Conversion Bill passed in the Assembly are openly stating that they would also bring legislation on Love Jihad. However, state Congress President D.K. Shivakumar has rubbished it saying that all legislation brought by the Bharatiya Janata Party targeting minorities would be thrown into the dustbin after his party comes to power.
Deepthi Marla, a Hindu girl from Kodagu who married Anas Abdul Rahman after falling in love with him while studying BDS, has converted to Islam and changed her name to Mariyum. Anas is the grandson of late Congress three-time MLA B.M. Idinabba.
Later, she is alleged to have come in contact with the ISIS terrorist outfit. She is also alleged to have recruited local youths for the ISIS.
The incident has shocked the people of the state especially in the communally sensitive coastal districts of Dakshina Kannada, Udupi and Uttara Kannada. Hindutva forces who have been protesting against Love Jihad are claiming that Deepthi Marla's case is an example of Love Jihad and it shows how Hindu girls are trapped in love, married, converted to Islam and then used against the Hindu community and nation.
Progressive thinkers dub it as a mere Hindutva agenda and allege that the National Investigation Agency has been getting instructions from Nagpur (RSS Headquarters) to carry out the Hindutva agenda and target the minorities.
Senior Counsel S. Balan, explained to IANS: "Love Jihad is a phrase coined by right wing elements after instructions from Nagpur and that venom is spewed all over India including the security forces, police forces, NIA, everywhere. They have also coined it like another phrase 'Urban naxals.' It is a bogus word created by right wing elements."
"Love Jihad per se is punishable under section 153 A of the IPC for creating a rift between two communities. It is per se an offence under section 295 of IPC. This is a language to question the integrity, sovereignty and security of the state. It challenges the basic structure of the constitution. How is Love Jihad defined? A woman and man can love, marry it is their right, who has got any right to declare that it is Love Jihad?" he questioned.
"The NIA is a 'National Inhuman Agency', gets instructions from Nagpur. It is the most communal minded organization and they are bent upon implicating anyone. I am seeing certain cases also. It is a predictive policing algorithm. The moment something happens, the victim is predicted, the culprit is predicted, the ideology is predicted, the organization is predicted, the moment Love Jihad is mentioned, it is predicted that the offenders are Muslims. The victims are Hindus. Many religions preach violence. Even the Hindu religion, if you take the Mahabharata and the Ramayan, it is a war. Like that every religion is violent. Christianity is violent, Judaism is violent, Parsi religion is violent. How and why do you brand one person?" he asked.
Pramod Muthalik, the Founder of Sri Ram Sena, explained to IANS that the term 'Love Jihad' was coined by him in 2009. "I have written my first book on the subject. In the period of 15 to 20 years as many as 3,000 Hindu girls who have gone away with Muslims have been traced and brought back. They were married back to Hindus. This is happening. Now, the issue is being discussed all over the country. Many states have brought legislation in this regard. The matter has also reached the Supreme Court."
"Kerala is a big centre of Love Jihad. Before four years, 4,000 girls are targeted for Love Jihad, government documents say that among these 3,000 are Christian girls. Love Jihad is a reality. This is done to increase population and misuse Hindu girls and women. They get married and leave them after having children. They would be pushed into brothels and sold in Arab nations. They will also use them for terrorist activities," he claimed.
"Our activists have struggled a lot to bring back victim Hindu girls. They have managed to bring out Hindu girls who were kept in Mosques. The activists have faced assaults and gone to jail. Till date, we get five to six phone calls every day from people about their daughter absconding. This is happening. We have formed squads in all the colleges and they keep a vigil," Muthalik stated.
Afsar Kodlipet, State Secretary of the Social Democratic Party of India, said that the concept of Love Jihad is a castle built in the air and a conspiracy by the Sangh Parivar elements to target minorities.
"In 2009, NIA came to Karnataka to investigate the alleged rape, murder of 37 women. It was alleged that Hindu women were used sexually and converted forcefully to another religion as part of Love Jihad. After a detailed investigation the NIA uncovered the role of Cyanide Mohan, a psycho serial killer, behind the death of 27 women. He targeted Dalit women and girls and after exploiting them, fearing exposure he killed them. Later, it came to light that there is no Love Jihad in all the cases," he said.
"The issue was raised in Parliament in 2009-10. The then government at the Centre gave a written answer that there is not a single case of Love Jihad in the country. In Karnataka BJP MLC Ravikumar raised the issue in the Legislative Council when B.S. Yediyurappa was the Chief Minister. Then Social Welfare Minister Govind Karajol explained in the House that there is not a single case of forceful conversion in connection with Love Jihad allegations," he stated.
T.S. Chandrashekar, international affairs analyst and BJP TV panellist, maintained that Love Jihad is a reality. "In Kerala, the fundamentalist elements will gather inputs on girls who are single daughters and rich. They think if they trap these girls, they would also get resources. Uneducated, poor girls are not targeted. Only, working, educated women are being trapped in love and later brainwashed."
Sharan Pumpwell, Zonal Secretary of the Vishwa Hindu Parishad in Dakshina Kannada, claimed that since 15 years the cases of Love Jihad are increasing. Every day such cases are reported in the coastal Karnataka region. Hindu girls are brainwashed and even become victims of sex jihad. In Kerala, they are targeting Catholic Christian girls.
"We are launching a campaign on January 17. Seminars are being conducted in colleges and religious leaders, caste leaders, retired police officers, advocates are involved in the campaign to create awareness among people about Love Jihad," he stated.
Source: Daiji World
https://www.daijiworld.com/news/newsDisplay?newsID=913310
--------
Saudi women weightlifters win gold in weightlifting tournaments
January 09, 2022
Saudi sportswomen have been making history, one championship at a time. The latest of these achievements was made possible by Saudi Hanan Al-Ameri, 19, whose passion led her to Iraq after taking part in several local championships in the Kingdom.
Al-Ameri was able to take home a whopping six gold medals at the 2021 Arab Weightlifting Championship in the youth 55kg category.
Prior to the tournament, Al-Ameri made extensive preparations as she joined a 25-day camp in Jeddah under the technical supervision of the coach of the Saudi women's national team Rania Bahloul. Bahloul stressed that Al-Ameri's victory stemmed from her passion for the sport, her strength, her preparations, her discipline and her technical performance.
"It was a good tournament. It benefited me a lot to compete against other weightlifters, and I gained much experience by participating next to Arab champions," Al-Ameri said.
National team coach Bahloul noted that Al-Ameri possesses strong techniques and has a passion for the sport, which has helped her to overcome the difficulties she faced when she came to Iraq and joined the championship in Erbil.
The coach said: "Hanan did not surrender. She tried her best to stay in the competition and rank among the winners. Her journey lasted a whole day. She spent more than 12 hours at an airport in Amman before arriving in Erbil on the weighing day for the tournament at 10:00 a.m. It was a strenuous day, and she feared she would be delayed to the championships. However, she was able to join the tournament in time and win gold thanks to her power snatch, power clean and push jerk movements."
"I want to thank my fellow players who stood with me in this tournament so that I could win. I want also to thank my friends, family and followers on Snapchat for their support and encouragement throughout my trip and during the delay, helping me to get rid of any pressure and tension. I dedicate this success to all of them," said Al-Ameri.
Weightlifter Dhikra Khurrami grabbed three golds and three silvers. She had already participated in the international weightlifting championship in Jeddah and in a local championship in Riyadh.
"I love this game and my family totally supports me. I hope to represent the Kingdom in the Olympics, but I am also very happy to raise high the name of the Kingdom in the Arab world," she said.
Saudi weightlifter Lian Al-Qurashi, 15, also won three bronze medals and one silver medal in the same tournament in Iraq. She expressed her happiness in taking part in this tournament, remarking how she gained a lot of experience coming into contact with top-notch Arab women weightlifters and trainers.
"I participated in a local championship in Riyadh in 2020 and then took part in the International Weightlifting Championship held in Jeddah in 2021," she said.
She added: "I chose this game because it is unique in terms of performance, but it requires several skills, the most important of which are technique and strength."
Source: Arab News
https://www.arabnews.com/node/2000856/sport
--------
Taliban Stuck Banners Across Kabul To Recommend Hijab For Women
10 Jan 2022
After recommending drivers across Afghanistan not to seat women who are not observing hijab, the Ministry of Promotion of Virtue and Prevention of Vice stuck banners on walls and trees across Kabul recommending women to wear hijab.
The placards are first seen across the Afghan capital Kabul on Sunday, January 9, 2022.
"Based on the Sharia law, a Muslim woman must observe hijab because this is a commandment of Sharia law." Reads the notice on banners.
The banners also indicate two portraits showing two different kinds of hijab namely, a black Abaya covering the whole face including eyes, and a full-body blue garment (Burqa) which is a traditional outfit for women in Afghanistan.
Officials of the ministry said that the placards are only to recommend hijab and encourage women to observe hijab and that no one will be allowed to force women to wear hijab.
It comes as women are still not part of the interim cabinet of the Islamic Emirate of Afghanistan nor are girls allowed to attend high schools and universities.
IEA has always reasoned economic problems for withholding women to go to higher education for the time being.
Source: Khaama Press
https://www.khaama.com/taliban-stuck-banners-across-kabul-to-recommend-hijab-for-women-346346/
--------
72 Hindu Couples Tie The Knot At Mass Wedding In Karachi
Shazia Hasan
January 10, 2022
KARACHI: As many as 72 Hindu couples joined in matrimony during a mass wedding ceremony organised by the Pakistan Hindu Council (PHC) at the Railway Ground here on Sunday evening.
Every year, for the last 14 years, MNA Dr Ramesh Kumar Vankvani, who is also the PHC patron-in-chief, has been organising mass weddings for poor Hindu couples who cannot afford a big wedding for themselves on the their own.
The couples in their wedding finery reached the ground by afternoon and sat waiting in 10 by 10 feet wide enclosures, or mandap as they are called, in two long rows inside one huge white tent. They were there with their parents, siblings, their families. In the front of the huge tent was a stage where the model couple were to be married and who the rest in their enclosures were to follow every step of the way by watching on two big screens placed on either side of the aisles.
Most of the couples had travelled from Sindh. There were couples from Tando Allahyar, Mithi, Mirpukhas, Hyderabad, etc. There were also many who belonged to Karachi.
Laxman wore a heavy triangular mirrored crown on his head as he sat next to his bride to be Mehek in her pretty golden wedding dress. Laxman's mother said that this was the first wedding in her family as he was her eldest son. Meanwhile, Mehek's sister, sitting next to her, informed that everyone on their side were already married as Mehek was the youngest in their family.
Laxman said that he was happy that such mass wedding can be arranged for people like himself. "I work as a packer boy in a mobile phone company in Korangi. If left to me, I would have had to wait for several more years to save up and get married," he said.
Vickey and Nandni belonged to Ibrahim Hyderi. Vicky said that he worked as a sweeper with the Karachi Metropolitan Corporation. "We have been engaged for three years. I have been trying to save up ever since our engagement but it was not enough. Finally, we decided to get married in a mass wedding," said Vicky.
Nandni's mother had her youngest child, five month old Krishan in her lap. Her eyes grew moist as someone said that the bride was going to miss her baby brother. "But this is life. Daughters have to leave their parents home. I will also miss my daughter, we all will," she said.
Soon it was announced that they were going to begin the wedding. Mahraj Pandit Jai Kumar Trivedi started preparing the sacred fire around which the model couple were to make seven circumambulations. He explained that during the circumambulations or phere, as they are called, three times the bride is ahead of the groom and then four times the groom takes the lead after which he applies traditional sindhoor or red powder in her hair parting and on her forehead as he puts the mangalsutra or holy thread around her neck.
Other rituals include the reading of the mantra by the pandit, lighting of incense sticks, and feeding ghee to the fire along with breaking of the coconut.
Sunil and Sapna were the lucky couple called out from mandap number one to come up on the stage as the model groom and bride. Suddenly all eye were on the highly conscious groom in a glittery white sherwani and maroon churidaar pajama. He was also holding a sword to protect his beautiful bride in a black and gold sari with a red and green chunari over her head. She sat down next to him with eyes gazing thoughtfully downwards and her henna decorated arms with golden bangles delicately crossed over her lap.
After the wedding each couple was presented with pure silver jewellery, crockery and cooking pots and utensils along with a cheque to help them begin their new life.
MPA Mangla Sharma and several champions of interfaith harmony and minority rights also graced the occasion.
Source: Dawn
https://www.dawn.com/news/1668629/72-hindu-couples-tie-the-knot-at-mass-wedding-in-karachi
--------
Women judges and lawyers who fled Taliban rule refuse to give up
Ruchi Kumar
Jan 10, 2022
In the brightly lit lobby of an Albanian hotel hosting Afghan refugees, a group of women gather to discuss how to counter the repressive rules introduced by the Taliban.
The group includes Afghan lawyers and prosecutors who are among about 250 female legal professionals who fled their country after the insurgent group seized power in August.
"We are trying to mobilise the legal fraternity who are in exile in different parts of the world to help and support our colleagues who are still in Afghanistan," Najila Raheel, a lawyer from Kabul, told The National.
"We've created WhatsApp groups of Afghan lawyers and judges, and even students. We are monitoring the situation and we hope to fight the injustices in Afghanistan. We will seek international support to pressure the Taliban to accept rule of law."
The hardline militants do not recognise the constitution and legal codes established under the elected governments that replaced their regime after the 2001 US-led invasion. Instead, they have issued new rules that restrict women's rights and freedom, based on their interpretation of Islamic law.
"Afghan women no longer have any legal rights," Ms Raheel said.
The Taliban's rules also differ from region to region, adding to the chaos that exists in the legal vacuum left behind when the previous government fell.
Ms Raheel says she never expected the sudden collapse of a system she helped to build and had put her faith in.
She and another member of the group, Negina Khalil, the first female prosecutor in the remote province of Ghor, said the Taliban takeover had undone years of their work.
"For 20 years, I worked so hard, along with my colleagues, contributing to a legal system that can provide protection and relief to my fellow citizens, particularly women. On any given day I would be working on 10 different cases," Ms Raheel said.
Ms Khalil said much of her work was on giving women access to the justice system.
"I focused on cases of elimination of violence against women, and later I was the head of the juvenile prosecution office where we investigated the recruitment of children by insurgencies like Taliban and ISIS," she said.
Most recently, she served at the Attorney General Office's in Kabul, overseeing cases involving the harassment of women. Her work came at a heavy price.
"Even before the collapse, the Taliban and Haqqanis had killed many of my colleagues and had placed a bounty on my head," she said, referring to the Haqqani Network, a militant group with close ties to the Taliban whose members hold many top positions in the new government.
"Two years ago, the Taliban stopped my mother's car in Ghor and killed her. In 2020, when we were visiting her grave for prayers, they attacked us and my brother was injured. Despite all this I remained committed to serve my country, because the legal framework allowed us to work," she said.
But when the Taliban entered Kabul on August 15, they released all prisoners from the jails, including people convicted through the efforts of Ms Raheel and Ms Khalil.
"They started sending us messages saying 'We know the prosecutors who investigated us and we are coming after you'," Ms Khalil said.
The Taliban put her on a no-fly list to prevent her from from leaving the country. But, like the other women in the group, she found a way to escape.
Ms Raheel said: "I left everything behind: my career, my whole life, everything I worked so hard to build."
She said the Taliban had literally closed the doors of the courts to women.
"I have just spoken to a couple of female lawyers who were helping a woman seeking divorce, and the Taliban refused them entry to the court. The Taliban told them that they were dishonouring the courts and the Taliban by coming there."
Ms Raheel lived through the Taliban's rule from 1996 to 2001 and is shocked to see history repeated.
"The last time they took control, it was the same situation. I wasn't allowed to study or leave the house. There was poverty and starvation, and I was beaten by the Taliban for not wearing a chaderi [burqa]. But I never gave up – we wove carpets at home and studied.
"After they left, I enrolled in university to study Islamic law. I wanted to change the perception of Islam the Taliban had created. I was determined to not let this happen again," she said.
"We worked so hard. We studied in very difficult circumstances and faced much disapproval from the society. And after all that we sacrificed, here we are again, to a situation where women don't have rights, freedoms or access to education or the justice system."
But the women refuse to give up. Over countless cups of tea in the cafe of the hotel in Shengjin, the Albanian town in which they are staying, they chalk out a plan.
They want to pressure the Taliban through governments and media to allow the return of women lawyers and judges to courtrooms and to uphold women's rights.
"For those of us who are out, we need to fight and raise our voices so that the world can pressure the Taliban, because to keep silent also means to accept the defeat," Ms Raheel said.
And if things change, "even a little bit in a positive way," Ms Khalil says she will return in a heartbeat.
"I will directly go to Afghanistan from here if I have to. My goal has been to help my people and build and serve Afghanistan."
Source: The National News
https://www.thenationalnews.com/world/asia/2022/01/10/women-judges-and-lawyers-who-fled-taliban-rule-refuse-to-give-up/?9D1B4B93-A691-F24F-A368-CA793E2D41E8_kav_cup_C6FA3ED5_6D17_47D1_B6E2_F4B02CC905E0_
--------
Philippine Muslim Leaders Urge Repeal of New Law Criminalizing Child Marriage
2022-01-07
Jeoffrey Maitem
Muslim leaders in the southern Philippines on Friday urged President Rodrigo Duterte to repeal a recently signed law criminalizing child marriage, saying it was part of their culture.
The law, which became effective last month but was announced late Thursday, prohibits the marriage of anyone younger than 18.
The community in the Bangsamoro Autonomous Region in Muslim Mindanao does not support the law, said Romeo Sema, the region's labor and employment minister.
"We are asking the president to reconsider it and veto the law," Sema said, as another Muslim leader noted the appeal has been sent to Duterte's office.
"It's a culture that is very hard to change," he said.
Anwar Emblawa, a Muslim leader in Shariff Aguak town in Maguindanao province, said a girl was considered a woman once she reaches the age of puberty.
"In Islam there is no fixed age … to get married. As long as a girl reaches the age of puberty, they are allowed to get married."
'Structures that perpetuate discrimination'
While the legal age for marriage in the Philippines is 18, in some religions and cultures, child marriage is practiced and considered normal, especially in tribal communities where a girl is considered an adult once she reaches puberty.
Girls Not Brides, an international advocacy and research group, said the Philippines has the world's 10th highest number of child brides, at 808,000 – India at 26.6 million is the highest. An estimated 15 percent of Philippine girls are married by the age of 18, compared to 3 percent of boys.
According to UNICEF, Niger has the highest overall prevalence of child marriage in the world, but Bangladesh has the highest rate of marriage involving girls younger than 15. A 2017 analysis by Pew Research Center said at least 117 nations, including the United States, allow children to marry.
As of December 2021, the Philippines is not on that list. As of last month, anyone who fixes, facilitates or arranges a child's marriage faces a fine of at least 40,000 pesos (U.S. $780) and a jail term of up to 12 years.
Under the law signed by Duterte on Dec. 10, the state recognizes the "need to abolish all traditional and cultural practices and structures that perpetuate discrimination, abuse and exploitation of children such as the practice of child marriage."
"The State recognizes the role of women in nation-building and shall therefore protect and promote their empowerment. This entails the abolition of the unequal structures and practices that perpetuate discrimination and inequality," the law said.
Any child marriage is considered void from the start, without any need for annulment, it said. The Department of Social Welfare and Development has been enlisted to lead in implementing the measure.
'A huge win'
Noraida Abo, executive director of UnYPhil-Women, an organization based in the southern Lanao del Sur province, urged the Bangsamoro leadership to support the law to protect Muslim girls from being forced into marriage.
"Ending child, early and forced marriage is a huge win for the future of our Bangsamoro children," Abo told BenarNews. "We are one step closer to achieving our goal where we put an end to Bangsamoro children having children."
Abo's group is part of the "Girl Defenders" alliance that includes British non-government organization Oxfam along with local Philippine organizations.
The alliance has to battle resistance from the community and clerics.
In November 2015, a fatwa, or religious edict, signed by Abuhuraira Udasan, mufti of the Islamic advisory council Bangsamoro Darul-Ifta in Mindanao, endorsed early and forced marriage.
It urged Filipino Muslim youth to "get married when the necessary conditions are met," as long as they have reached puberty.
The fatwa said "Islam does not precisely fix any marriageable age" and in instances where the bride is younger than 18, the couple can practice contraception to delay pregnancy.
On Friday, the Philippine Commission on Women (PCW), a group advocating for the rights of women, said the law finally addresses the "legal gaps" that have allowed child marriages to thrive in the nation.
Lawyer Kristine Rosary Yuzon-Chaves, PCW's executive director, praised the government for recognizing that child marriage is a crime.
"With this enactment, we can protect girls from being trapped in unwanted marriage, early pregnancy, violence and other violations to their human rights and dignity," she told BenarNews.
Source: Benar News
https://www.benarnews.org/english/news/philippine/child-marriage-01072022135850.html?88FF7990-B31E-D847-9909-74C428913B88_kav_cup_C6FA3ED5_6D17_47D1_B6E2_F4B02CC905E0_
--------
10 women qualify in first round of King Abdulaziz Camel Festival
January 09, 2022
RIYADH — As many as 10 Saudi women jockeys have qualified from among a total of 38 female contestants in the first round of the sixth edition of King Abdulaziz Camel Festival on Saturday.
A large number of women fans were among the attendees to watch the race in which women were participating for the first time in the festival's history.
They participated in the individual women's race dedicated to three color categories plus an individual category of meghatirs, which is an ancient and highly valued breed of camel.
The individual open round for women has been introduced for the first time in the camel race, which is being held on a sprawling area covering 32 square kilometers in the southern Sayahadah district of Al-Dahnaa, 100 north east of Riyadh.
Winners of the races will be awarded with cash prizes worth SR88 million, the biggest of their kind in the world.
The individual participants contested in front of the jury and 10 out of 38 qualified. Among the qualified women, five won first positions.
The women's participation in the festival is aimed to spread the concept of Saudi women's participation, wearing in their traditional and Bedouin dresses, as well as to provide challenges and strong competitions among the participants in different categories of the race.
The Saudi capital Riyadh is hosting the largest festival of its kind in the world, which specializes in camels and their beauty, bringing together leading owners of camels from Saudi Arabia, other Gulf and Arab countries, and some participants from countries around the world, such as the United States of America, Russia and France.
Around 100,000 people including tourists from around the world are visiting the grand festival on an average daily basis. The festival features a wide variety of entertainment and cultural shows that make it a global carnival.
The activities of the festival also include poetry evening, theater shows, concerts and entertainment shows that cater to people from all age groups.
There are about 5,000 people working to make the festival a great success. The festival has also been instrumental in boosting economic activities with hosting popular markets specialized in the exhibits of productive familie
This is in addition to a market for buying and selling camels. The camel market is considered as the largest in the Gulf region in terms of deals and financial transactions worth a total of around SR3 billion.
Source: Saudi Gazette
https://saudigazette.com.sa/article/615663/SAUDI-ARABIA/10-women-qualify-in-first-round-of-King-Abdulaziz-Camel-Festival
--------
UAE: 20% fall in domestic violence cases against women, children
by Afkar Ali Ahmed
10 Jan 2022
Due to the efforts carried out by family affairs entities in the country, violence and abuse cases related to women and children have witnessed a 20 per cent decrease in 2021.
A top official at the Women and Children Protection Foundation (WCPF) said that the number of cases received by the Foundation during 2021 decreased by 20% compared to 2020.
Women's cases reached 75% of the total cases, while children abuse and violence complaints reached 25%.
He attributed the achievement to the concerted efforts of institutions in family care and the intensified awareness programs on the importance of facing family problems in closed rooms in order to preserve the security and stability of families.
The official added the Foundation resolved 90 family cases amicably away from police stations and courtrooms to preserve the family entity and enhance family unity.
"Statistics indicate a decrease in the number of family cases received by the institution during the past year, compared to the previous year," the official added.
The Majority of the cases focused on marital disputes and domestic violence involving physical violence by their husbands. The Foundation supported women who needed legal advice.
The Foundation works to find solutions to all the problems facing women and children and protect them from domestic violence and abuse to ensure family stability.
Source: Khaleej Times
https://www.khaleejtimes.com/uae/uae-20-fall-in-domestic-violence-cases-against-women-children
--------
Baby Lost In Chaos Of Afghanistan Airlift Found, Returned To Family After Long Ordeal
Jan 9, 2022
KABUL: An infant boy handed in desperation to a soldier across an airport wall in the chaos of the American evacuation of Afghanistan has been found and was reunited with his relatives in Kabul on Saturday.
The baby, Sohail Ahmadi, was just two months old when he went missing on Aug. 19 as thousands of people rushed to leave Afghanistan as it fell to the Taliban.
Following an exclusive Reuters story published in November with his pictures, the baby was located in Kabul where a 29-year-old taxi driver named Hamid Safi had found him in the airport and took him home to raise as his own.
After more than seven weeks of negotiations and pleas, and ultimately a brief detention by Taliban police, Safi finally handed the child back to his jubilant grandfather and other relatives still in Kabul.
They said they would now seek to have him reunited with his parents and siblings who were evacuated months ago to the United States.
During the tumultuous Afghan evacuation over the summer, Mirza Ali Ahmadi - the boy's father who had worked as a security guard at the U.S. embassy - and his wife Suraya feared their son would get crushed in the crowd as they neared the airport gates en route to a flight to the United States.
Ahmadi told Reuters in early November in his desperation that day, he handed Sohail over the airport wall to a uniformed soldier who he believed to be an American, fully expecting he would soon make it the remaining 5 meters (15 feet) to the entrance to reclaim him.
Just at that moment, Taliban forces pushed the crowd back and it would be another half an hour before Ahmadi, his wife and their four other children were able to get inside.
But by then the baby was nowhere to be found.
Ahmadi said he searched desperately for his son inside the airport and was told by officials that he had likely been taken out of the country separately and could be reunited with them later.
The rest of the family was evacuated - eventually ending up at a military base in Texas. For months they had no idea where their son was.
The case highlights the plight of many parents separated from their children during the hasty evacuation effort and withdrawal of U.S. forces from the country after a 20-year war.
With no US embassy in Afghanistan and international organizations overstretched, Afghan refugees have had trouble getting answers on the timing, or possibility, of complex reunifications like this one.
The US Department of Defence, the State Department and the Department of Homeland Security did not respond to requests for comment on Saturday.
ALONE AT THE AIRPORT
On the same day Ahmadi and his family were separated from their baby, Safi had slipped through the Kabul airport gates after giving a ride to his brother's family who were also set to evacuate.
Safi said he found Sohail alone and crying on the ground. After he said he unsuccessfully tried to locate the baby's parents inside, he decided to take the infant home to his wife and children. Safi has three daughters of his own and said his mother's greatest wish before she died was for him to have a son.
In that moment he decided: "I am keeping this baby. If his family is found, I will give him to them. If not, I will raise him myself," he told Reuters in an interview in late November.
Safi told Reuters that he took him to the doctor for a check-up after he was found and quickly incorporated the child into his family. They called the baby Mohammad Abed and posted pictures of all the children together on his Facebook page.
After the Reuters story about the missing child came out, some of Safi's neighbors - who had noticed his return from the airport months earlier with a baby - recognized the photos and posted comments about his whereabouts on a translated version of the article.
Ahmadi asked his relatives still in Afghanistan, including his father-in-law Mohammad Qasem Razawi, 67, who lives in the northeastern province of Badakhshan, to seek out Safi and ask him to return Sohail to the family.
Razawi said he traveled two days and two nights to the capital bearing gifts - including a slaughtered sheep, several pounds of walnuts and clothing - for Safi and his family.
But Safi refused to release Sohail, insisting he also wanted to be evacuated from Afghanistan with his family. Safi's brother, who was evacuated to California, said Safi and his family have no pending applications for U.S. entry.
The baby's family sought help from the Red Cross, which has a stated mission to help reconnect people separated by international crises, but said they received little information from the organization. A spokesperson for the Red Cross said it does not comment on individual cases.
Finally, after feeling they had run out of options, Razawi contacted the local Taliban police to report a kidnapping. Safi told Reuters he denied the allegations to the police and said he was caring for the baby, not kidnapping him.
The complaint was investigated and dismissed and the local police commander told Reuters he helped arrange a settlement, which included an agreement signed with thumbprints by both sides. Razawi said the baby's family in the end agreed to compensate Safi around 100,000 Afghani ($950) for expenses incurred looking after him for five months.
"The grandfather of the baby complained to us and we found Hamid and based on the evidence we had, we recognized the baby," said Hamid Malang, the chief area controller of the local police station. "With both sides in agreement, the baby will be handed over to his grandfather," he said on Saturday.
In the presence of the police, and amid lots of tears, the baby was finally returned to his relatives.
Razawi said Safi and his family were devastated to lose Sohail. "Hamid and his wife were crying, I cried too, but assured them that you both are young, Allah will give you male child. Not one, but several. I thanked both of them for saving the child from the airport," Razawi said.
The baby's parents told Reuters they were overjoyed as they were able to see with their own eyes the reunion over video chat.
"There are celebrations, dance, singing," said Razawi. "It is just like a wedding indeed."
Now Ahmadi and his wife and other children, who in early December were able to move off the military base and resettle in an apartment in Michigan, hope Sohail will soon be brought to the United States.
"We need to get the baby back to his mother and father. This is my only responsibility," his grandfather said. "My wish is that he should return to them."
Source: Times of India
https://timesofindia.indiatimes.com/world/south-asia/baby-lost-in-chaos-of-afghanistan-airlift-found-returned-to-family-after-long-ordeal/articleshow/88789645.cms
--------
URL: https://www.newageislam.com/islam-women-feminism/basmah-bint-saud-saudi-princess-suhoud/d/126125
New Age Islam, Islam Online, Islamic Website, African Muslim News, Arab World News, South Asia News, Indian Muslim News, World Muslim News, Women in Islam, Islamic Feminism, Arab Women, Women In Arab, Islamophobia in America, Muslim Women in West, Islam Women and Feminism