New Age Islam News Bureau
15 January 2021
• Saudi Arabia Hosts 'Women In Industry 2020' Conference
• Meet The Saudi Military Engineers Breaking Gender Barriers
• Meet Afifa Maryam, First Muslim Woman Neurosurgeon In India
• SBP Wants Dedicated Desks For Women At Financial Institutions
• KP Passes Bill To Protect Women From Domestic Violence
• Iranian Government Submits 'Violence Against Women' Bill To Parliament
• Egypt's Railways: Safe Travels For Women
Compiled by New Age Islam News Bureau
URL: https://www.newageislam.com/islam-women-feminism/basketball-helped-torontos-fitriya-mohamed/d/124078
--------
Basketball Helped Toronto's Fitriya Mohamed Find Her 'True Self' Now She's Sharing It With Other Muslim Women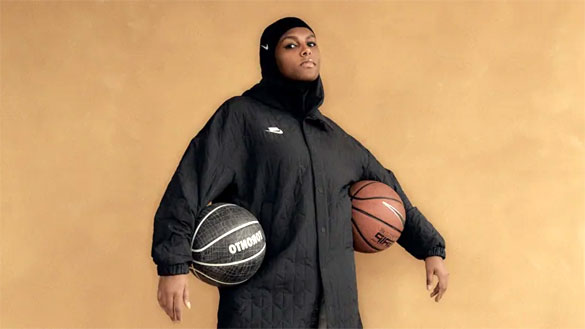 Toronto's Fitriya Mohamed has launched a non-profit basketball league for Muslim women and girls. (Luis Mora)
-----
Jan 14, 2021
When Fitriya Mohamed played basketball in high school, she didn't see a lot of other Muslim girls on the court. So when she graduated from university, she decided to do something about it.
After getting her degree in sports management last year, the Toronto woman launched the Muslim Women's Summer Basketball Team, a non-profit dedicated to supporting Muslim women and girls over 13 playing basketball in the Greater Toronto Area.
"Basketball is where I discovered my true self in terms of my leadership abilities, my confidence. There's just so much that basketball has taught me as an individual," Mohamed, a former child refugee from Ethiopia, told As It Happens host Carol Off.
"Through my journey, I kind of knew that I wanted to start up something specifically for Muslim women because I didn't see others that looked like me."
Mohamed was just 10 when she arrived in Canada. Her family's resettlement was sponsored by a Toronto church group, which included former As It Happens co-host Jeff Douglas.
"When I came from Ethiopia, the weather, everything, was, like, completely different. And me learning, trying to learn the language, was absolutely hard," she said.
"Just trying to take part in different activities that the school offered was a way for me to, I guess, adapt to the culture."
It was through sport that she really found herself — after a push from a no-nonsense gym teacher.
"She didn't like the girls sitting on the bench. So she's like always, 'Go play.' If you're in gym class, you have to play," Mohamed said.
"She was like, 'What are you guys afraid of? You guys are all girls here.' Just like, she was a joker."
It was a far cry from her experience back in Ethiopoa, she said, where her male cousins all play soccer, but the girls mostly watch on the sidelines.
After that moment, there were no more sidelines for Mohamed. She became immersed in sports.
And her passion for playing only intensified in high school, where she met Coach Greg Brohman, who she describes as a strong advocate for girls' sports.
"Every sports teams he coached, I literally tried out just because he I feel like he believed in me, and he didn't look at me differently," she said. "So, yeah, give a shout out to my high school coach, for sure."
While she excelled as an athlete in many sports, it was basketball that really struck a chord.
"There's so much that came out of it — like the sisterhood that we created with the girls' team and just the other activities we got to take part in after school," she said.
Mohamed's burgeoning basketball career initially caused some tensions at home, she said. Her mom didn't understand at first why she dedicated so much of her time to the sport.
"She wasn't supportive at the beginning. Like, every day, I would say, 'I have basketball practice. I have this practice.' [She'd be] Like, 'Wait, what is this going to do for you?'" Mohamed said.
"Overall, she wanted me to concentrate on my education."
Mohamed did just that, but she also found a way to incorporate her passion into her schooling. In 2019, she graduated with a bachelor's degree in sports management.
Her mom, she says, has come around.
"She finally accepted what I'm doing and the fact that I'm not on a bad track. Rather, you know, I'm doing important things in the community," she said.
Now Mohamed wants to make sure other Muslim girls have the same opportunities she did, so she launched a non-profit with the goal of giving them a safe — and free — space to get together and play.
She says she's received feedback from parents who didn't know basketball was an option for their daughters, from young women who'd faced barriers getting into the sport, and even from women who played at the college level, but always felt like outsiders on the court.
"The response has been absolutely great," she said.
"Hearing stuff like that is like, wow. It's impacting individuals that, you know, went into playing basketball at the highest level, but still felt like they didn't belong in the community because there wasn't a community that was actually supporting them in terms of their Islamic identity."
Unfortunately, the organization's first season was put on halt because of the pandemic.
"But hopefully COVID kind of chills down so we can start it up and running," she said.
https://www.cbc.ca/radio/asithappens/as-it-happens-thursday-edition-1.5873463/basketball-helped-her-find-her-true-self-now-she-s-sharing-it-with-other-muslim-women-1.5873507
--------
Saudi Arabia Hosts 'Women In Industry 2020' Conference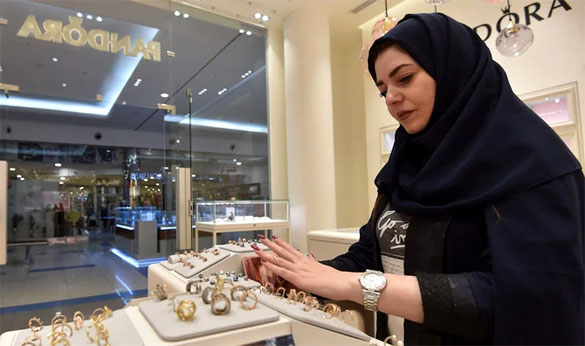 Saudi Rodina Maamoun, who employed 19 young women almost entirely replacing the men, sells jewellery at a retail store in Riyadh's Hayat mall on February 19, 2020. (AFP/File Photo)
-----
January 14, 2021
RIYADH: Saudi Arabia hosted a conference aimed at encouraging the employment of more women in the industrial sector.
As part of its efforts to empower women in industry, the Saudi Authority for Industrial Cities and Technology Zones (MODON) staged the event under the patronage of Minister of Industry and Mineral Resources Bandar Al-Khorayef.
Titled "Women in Industry 2020," the Riyadh conference concluded with several recommendations designed to achieve comprehensive and sustainable economic development.
One of the main outcomes agreed on by delegates was the need to urge industrial enterprises to provide appropriate workplace environments for women and to promote the economic contribution of women to the sector, in line with the goals of the Saudi Vision 2030 reform plan.
Al-Khorayef praised the Saudi leadership for taking the necessary steps toward ensuring economic diversification away from dependence on oil.
MODON officials called on partners in the public and private sectors to work to empower women in the labor market and thanked the conference's sponsors including the Saudi Human Resources Development Fund (Hadaf) and a number of national companies.
https://www.arabnews.com/node/1792811/saudi-arabia
--------
Meet The Saudi Military Engineers Breaking Gender Barriers
MUHAMMED AL-SULAMI
January 15, 2021
RIYADH: A group of over 100 Saudi women have overcome gender barriers and contributed to the technological transformation of the Kingdom through their management of the Advanced Electronic Company's (AEC) military factory.
The team has gained expertise in manufacturing roles that support areas of national importance such as digital transformation, energy efficiency and the localization of military industries.
They work on many key projects with advanced military equipment and electronic solutions such as assembling electronic components, operating complex machinery essential to the manufacturing process, producing and testing advanced systems such as laser optics, advanced screens, and optoelectronic devices.
After being trained in military standards, the women also oversee the development of technical presentations and cost analysis, as well as managing plant performance to adhere to the AEC's stringent quality control procedures.
"As part of my role, I am responsible for supporting many of the manufacturing activities in the factory," Shaza Khamis, a manufacturing engineer, told Arab News. "By applying time-study and work-measurement methods, I was able to implement efficient waste-free manufacturing techniques."
Her colleague Lana Owaidah, a manufacturing engineer, told Arab News that the women share a wonderful team spirit and feel that they contribute something important to the country.
"I participate in setting up and operating the machines and processes, as well as adjusting the design of manufacturing tools and fixtures on the production line," she said.
She added that everyone on the team is proud of their work and strives to provide their best efforts to the company and the Kingdom.
Ghadir Bin Jamaan, a production officer, said the factory's success can be attributed to the employees' desire to work according to the highest international standards.
"My role is to supervise the control of production cells and ensure that the team has the skills necessary to perform each task accurately according to the designs and technical specifications provided," she told Arab News.
She said that she notices a strong sense of shared responsibility among the team. "Each team member has unique skills to add to the production line, and it is great to see everyone working together to achieve impressive results."
Reem Malak, the configuration management specialist at the factory, said that they are proud to show the world that Saudi female engineers can contribute to manufacturing and production processes alongside their male colleagues.
"I am grateful to the AEC for all the support and training that I have received, as well as the opportunity that I have had to do this important work and contribute to a more energy-efficient future for the country and its people," she added.
https://www.arabnews.com/node/1792941/saudi-arabia
--------
Meet Afifa Maryam, First Muslim Woman Neurosurgeon In India
By Nihad Amani
13th January 2021
Hyderabad: Success comes to those who believe in hard work and perseverance. This proved true in the case of Maryam Afifa, who always aspired to be a doctor. She is all set to become the first Muslim female neurosurgeon in India.
Maryam had received her primary education in an Urdu medium school from Malagao and is a gold medalist in her 10th standard in Princess Durru Shevar Girls High School, Hyderabad.
With no looking back, Maryam's dream to become a doctor escalated from then on. She attained state rank in intermediate with 97 per cent and then cracked the state-level medical entrance exam–EAMCET, securing 99th rank.
"White coat, stethoscope from the elevation from Miss. Afifa to Dr. Afifa Maryam was all that I always wished for. I worked hard for this," she beams.
27-year-old Afifa who studied at Osmania Medical College is one of the youngest to hold the highest surgical degree in India.
Apart from holding the most-sought after degree, Maryam also excels in painting, calligraphy and is well versed with Islamic teachings.
"I am very proud of her," Maryam's mother says. A single parent and a well-learned Alema (Islamic teacher), Maryam's mother is her biggest strength.
https://www.siasat.com/meet-afifa-maryam-first-muslim-woman-neurosurgeon-in-india-2066579/
--------
SBP Wants Dedicated Desks For Women At Financial Institutions
Shahid Iqbal
January 15, 2021
KARACHI: The State Bank of Pakistan (SBP) has asked financial institutions to place dedicated desks to boost women customers and entrepreneurs' trust in the banking system.
Unveiling a policy proposal titled 'Equality policy: reducing the gender gap in financial inclusion draft', the SBP noted that banks are unable to facilitate women customers and recommended gender diversity training for staff at all customer points.
The draft policy includes feedback from selected national and international stakeholders including the Pakistan Banks' Association, International Monetary Fund, World Bank, Bill and Melinda Gates Foundation, International Finance Corporation, Asian Development Bank (ADB), USAID, Better Than Cash Alliance (BTCA), Karandaaz and other international organisations.
The policy note recommends financial institutions to place 15 per cent women 'Champions' at touch points in one year and 75pc women champions within three years at all touch points. The SBP said that it is important that needs of women customers are met with careful attention and towards this end, having gender diversity trained staff as champions at all customer touch points can improve women's trust and confidence in financial institutions.
In this regard, the ADB's Tool Kit on Gender Equality recommends women's desks at banks to boost economic empowerment as seen in Bangladesh and Zimbabwe, said the SBP. The move will help women customers and entrepreneurs get access to credit and savings products and non-financial advisory services from a dedicated contact point at banks.
"Financial institutions will be advised to ensure presence of women champions at all customer touch points at financial institutions, such as bank branches, call centers and alternate delivery channels which will aid women's adoption of conventional and digital financial services," said the SBP.
A bank representative, who has undergone gender sensitivity training can share details of current SBP and government schemes for women and serve as women champion.
"The financial institutions will place women champions in all of its branches in next 18 months staffed by existing human resources that have undergone gender sensitivity training," said the SBP.
A Policy Forum on Gender and Finance will be established to discuss opportunities and challenges in women's financial inclusion and review the existing policy framework for improvements, said the SBP.
https://www.dawn.com/news/1601564
--------
KP Passes Bill To Protect Women From Domestic Violence
Aisha Mahmood
15 Jan 2021
Khyber Pakhtunkhwa (KP) passed on Friday the first-ever bill to curb the menace of domestic violence against women.
KP is the only province in the country that does not have a domestic violence law. It is a criminal offence in Sindh, Punjab, and Balochistan.
The bill was passed by Provincial Minister for Social Welfare Dr. Hisham Inamullah. As per the bill, the definition of domestic violence is: The violence committed by the complainee (accused) against the complaint (victim) with whom the complainee is in a domestic relationship.
Under the bill, the government will form District Protection Committees at each district to ensure the protection of the women.
These committees will be bound to provide all reasonable assistance to the victim of domestic violence. They will be responsible for telling people about their legal rights, assist survivors in seeking medical treatment and relocating victim to a safer place. The committees are also bound to hold a meeting at least once a month.
Under this bill, the violator will be liable to imprisonment for a period not less than one year and up to a maximum of five years. The violator will also be slapped with a fine 'provided for the said offence in the Pakistan Penal Code'.
https://www.brecorder.com/news/40051925
--------
Iranian Government Submits 'Violence Against Women' Bill To Parliament
January 15, 2021
The bill titled, Protection, Dignity, and Security of Women against Violence, had been under review since September 2019. It criminalizes any act or behavior that causes "physical or mental harm" to women "as a vulnerable gender".
In line with principles and goals of the Islamic Republic of Iran's Constitution and in order to protect the dignity and security of women against kinds of violent behaviors, the bill has been submitted to the parliament, IRNA quoted Vice President for Parliamentary Affairs, Hossein-Ali Amiri, as saying on Thursday.
It recommends a fund for safeguarding women's rights with provisions for providing medical expenses of the victims of violence, and imparting skill development training to them, he explained.
Special support for women
Vice President Masoumeh Ebtekar said in October 2020 that the government has taken major steps for the advancement of women and families in Iran. "Through an inter-sectoral process, we developed national indicators for gender equity, which laid the ground for the first result based Plan for Women and Family Advancement in 31 provinces and we recently launched the dashboard for monitoring indicators on gender equity and family prosperity."
Meanwhile, the national budget bill for the next [Iranian calendar] year (March 2021-March 2022) has been prepared in a way to support and pay special attention to women, especially female heads of households, rural women, and artisans.
Ebtekar noted that the budget for women's and family affairs has increased by 33 percent, reaching up to 320 billion rials (nearly $7.6 million), with remarks suggesting special support for women.
She went on to highlight that the family is the cornerstone of human development, through the National Family Dialogue scheme. "We have taken an initiative to empower civil society in dialogue skills to enable family and social cohesiveness. The International Center for Family Dialogue has been recently launched in Tehran."
https://www.tehrantimes.com/news/456994/Iranian-government-submits-violence-against-women-bill-to-parliament
--------
Egypt's Railways: Safe Travels For Women
Reem Leila
15 Jan 2021
The National Council for Women (NCW) along with Egypt National Railways (ENR) and the European Bank for Reconstruction and Development (EBRD) put their hands together to make Egypt's railway network safer for female passengers. The trio agreed to launch an awareness campaign against sexual harassment on public transport in particular and violence against women in general.
Safaa Habib, NCW's political coordinator, told Al-Ahram Weekly that the Al-Sekka Aman (Railway is Safe) campaign includes billboards and promotional videos on social media platforms that will be used on the busiest train routes. "The campaign which has already started is assigning volunteers who will inform the public about the campaign and its goals. In addition, passengers will be informed via different social media platforms on how to contribute to a more open dialogue about safe transport in Egypt," Habib said.
According to Habib, the ENR has set up hotline 15047 and -Shakawa@enr.gov.eg to report any harassment incident against females while travelling via the railway network. The hotline is connected to the railways police officers who will receive the report and take the necessary legal action against the harasser. "The campaign also informs women how to report any harassment incident and follow up on it. Until now 11 posters have been distributed to railway passengers and employees raising their awareness about gender equality as well as the legal consequences of sexual harassment," Habib said.
Habib pointed out that the campaign educates a wide range of citizens with a variety of social and economic backgrounds on the campaign's messages which contributes to spreading awareness of women's issues. "The NCW has excellent experience in a previous media campaign which took place in the underground metro where it increased people's awareness about family planning issues, sexual harassment, the harm done from early marriage and participation in work."
ENR is the second oldest railway company in the world and is considered one of the major daily transportation means for passengers in Egypt, with about 1.2 million passenger journeys per day. By improving safety on trains and platforms, ENR Chairman Ashraf Raslan expects the number of women travelling on its network to increase from 16.8 per cent in 2015 to 19.8 per cent in 2022.
According to a press release, EBRD has donated more than €400 million to strengthen safety and security on public transport and to promote gender equality by renewing its ageing fleet and improving the safety and quality of railway passenger services.
Hoda Gado, an employee at the Ministry of Foreign Affairs, noted that the campaign is an excellent initiative "during these difficult days. This will encourage me to travel more often by train to my parents instead of by car. I have to travel almost every day to check on my parents in Banha," Gado said.
Mona Ahmed, a university student who lives in Alexandria and commutes to Cairo to attend her classes, said she had heard about the campaign from her friends. "Though I never had a problem with travelling by train and I never experienced any sexual harassment while travelling, I believe it is a good step towards the protection of women against any violation of their rights and privacy," Ahmed said.
http://english.ahram.org.eg/NewsContent/50/1201/398700/AlAhram-Weekly/Egypt/Egypts-railways-Safe-travels-for-women.aspx
--------
URL: https://www.newageislam.com/islam-women-feminism/basketball-helped-torontos-fitriya-mohamed/d/124078
New Age Islam, Islam Online, Islamic Website, African Muslim News, Arab World News, South Asia News, Indian Muslim News, World Muslim News, Women in Islam, Islamic Feminism, Arab Women, Women In Arab, Islamophobia in America, Muslim Women in West, Islam Women and Feminism