New Age Islam News Bureau
2 Nov 2013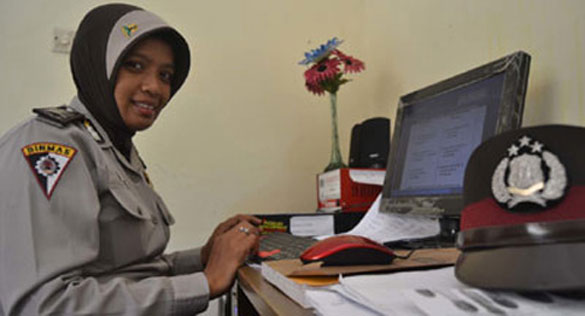 A policewoman in Malang wears a headscarf while on duty. (JG Photo/Dyah Ayu Pitaloka)
-----------
• Muslim Women in Australia to Remove Burqa for Proving Identity
• East Java: Policewomen Allowed to Wear Hijab on Fridays despite Nationwide Ban
• Fifth Female AKP Deputy to Attend Parliament Wearing Headscarf
• 'Rs. 50,000 Wedding Gift' For Muslim Girls Provokes Opposition Protests in Karnataka
• Female Lawyer Defends Client in Court, First Time in Saudi History
• The Fear of Premarital Tests Transforms Happiness into Anxiety in Saudi Arabia
• How Women's Rights Are Linked to U.S.-Iran Negotiations
• Sexual Assault Cases Rife in Indonesian Schools
• Four-Year-Old Sexually Assaulted 'By Cleric' At A Seminary in Pakistan
• Move To Protect Orphan Girls, In Saudi Arabia
• On Zaatari's Street of Widows, Syria Refugees Survive On Kindness
• Girls' School in Afghanistan Wonders 'What Tomorrow Brings'
Compiled by New Age Islam News Bureau
URL: https://newageislam.com/islam-women-feminism/baroness-sayeeda-warsi-compares-veil/d/14264
-------------
Baroness Sayeeda Warsi Compares Veil Ban to Mini-Skirts
November/02/2013
Baroness Sayeeda Warsi, a prominent British Muslim politician, compared banning Muslim women from wearing the veil to attempts to ban miniskirts in the 1960s.
She told The Mirror, "We don't go around telling people what jewellery they should wear or how they should wear their hair or what garments they should or should not wear. Women won the right on what to wear many, many decades ago. There was a time when men would tell us that our skirts were too short in the 60s … I hope that we are not going to move on, 50 years on and suddenly men are going to start telling us that our veils are too long."
However, she also said that Muslim women who wear the veil must accept that there are some situations in which it is not appropriate.
"Some of this is about society saying we are going to have this tolerant approach but some of it is about individuals taking a common-sense approach. You know if I was a vegetarian I just wouldn't apply to work in an abattoir and then I wouldn't arrive there saying 'I'm really sorry I'm not going to deal with meat', this is about individual decisions as well."
http://www.worldbulletin.net/?aType=haber&ArticleID=122020
----------
Muslim women in Australia to remove burqa for proving identity
November/02/2013
Melbourne : Muslim women would now be asked to remove burqa or niqab to prove their identity to the police, according to a new law introduced in an Australian state.
The law which was passed Thursday in the state parliament was amended after consultation with the Muslim and Sikh Communities.
Western Australian (WA) acting Police Minister John Day said, "Initially, the legislation stated police would be able to require someone to remove their head wear for the purposes of identification.
"However, following consultation with the Muslim and Sikh communities, the government agreed to change the word head wear to face covering. The change had removed "some" of the concerns of the communities, while police had advised it was acceptable."
He said, "So I am confident a satisfactory compromise has been reached."
The new law would enable the state police to take DNA from suspects, with the definition of "identifying particular" expanded to permit the taking of dental impressions, hair samples and other body tissues.
"It would also provide a process for applying to the magistrate for a warrant when samples are needed from juvenile suspects who have not been charged when there is no responsible person, or they cannot be found, or it is impracticable to make requests to them," reports said.
The law was incepted following a public outcry over the case of a Burqa wearing woman, Carnita Matthews, whose conviction for 'knowingly making a false statement' was quashed.
The accused was first sentenced to a six-month jail for falsely accusing a senior constable of forcibly trying to remove her burqa when she was pulled over while driving in Woodbine in Sydney's southwest in June 2010.
However, she was later acquitted as the prosecution failed to prove that she was the one who signed the statement while wearing the veil.
http://www.indianexpress.com/news/muslim-women-in-australia-to-remove-burqa-for-proving-identity/1189988/
----------
East Java: Policewomen Allowed to Wear Hijab on Fridays despite Nationwide Ban
November/02/2013
Malang, East Java: Policewomen in Malang are now allowed to wear Islamic headdress to work on Fridays, a regulation that has been effective since last month following an increasing number of requests by local female officers.
In light of the concession, female officers are now hoping they will soon be allowed to wear head scarves to work daily.
"It's better to wear a Hijab, it's more efficient. We don't have to comb our hair but we'd still look tidy. It's also good when we have to work at night," said Dewi Fitria, a member of Malang Police's community guidance unit on Friday.
Dewi has been wearing a head scarf for the past two-and-a-half months and she adopted the style used by female Aceh police officers who wear trousers and long-sleeved shirts plus the head scarf.
"In Islam, the regulation about the Hijab varies. There's a requirement [for women] to be covered to the chest, but the head scarves we wear are the same as those worn by female police officers in Aceh. We order them from there and get them delivered in three days," she said.
Dewi said similar outfits are worn by policewomen in Blitar and Jombang in East Java, adding that female officers would continue to fight for the right to wear the Hijab to work every day.
"We have a group on Facebook, called Polwan Indonesia. There's a senior [female] officer — an adjutant senior commissioner — who is constantly pushing for a clear regulation about head scarves for female police officers," she said.
Meanwhile, Malang Police chief Adj. Snr. Cmr. Adi Deriyan Jayamarta said aside from Aceh, there are no clear rules regulating the wearing of head scarves by policewomen while on duty.
Adi said the regulation to allow female officers in Malang to wear the hijab on Fridays was issued because of a request from several officers who also regularly wear the hijab daily while off duty.
"Between 50 percent and 80 percent of policewomen wear the hijab after working hours. I allowed them to wear it only on Fridays voluntarily," he said.
http://www.thejakartaglobe.com/news/malang-policewomen-allowed-to-wear-hijab-on-fridays-despite-nationwide-ban/
----------
Fifth female AKP deputy to attend Parliament wearing headscarf
November/02/2013
The ruling Justice and Development (AKP) party's Bursa deputy Canan Candemir announced on Nov. 1 her decision to attend Parliamentary sessions while headscarved, joining four female deputies who entered the General Assembly meeting on Oct. 31 wearing veils.
Candemir wore a headscarf publically for the first time during an official ceremony at the reopening of the historic Aslanhane Mosque in Ankara after it had been restored.
Along with Sevde Beyazit Kaçar, Gülay Samanci, Nurcan Dalbudak and Gönül Bekin Sahkulubey, Candemir will become the fifth AKP female lawmaker to wear the headscarf in Parliament. The AKP counts with 46 female deputies among their ranks.
The attendance of veiled deputies to the General Assembly, some 14 years after the then Virtue Party (FP) lawmaker Merve Kavakçi was expelled from the parliamentary session, took place without any major protests.
The government hailed the "maturity" showed in the Turkish Parliament while the opposition expressed their satisfaction of having solved a long-heated issue by
http://www.hurriyetdailynews.com/-fifth-female-akp-deputy-to-attend-parliament-wearing-headscarf.aspx?pageID=238&nID=57254&NewsCatID=338
----------
'Rs. 50,000 Wedding Gift' For Muslim Girls Provokes Opposition Protests in Karnataka
November 2, 2013
Bangalore: A scheme to give Rs. 50,000 in cash as a 'wedding gift' to poor Muslims girls has landed Karnataka's Congress government in trouble.
The 'Bidai (farewell) scheme', announced months ahead of the national election due by May, is meant to help girls from families who earn Rs. 1.5 lakh a year or less, at a cost of at least 10 crore to the government.
The Opposition has accused the government of blatant vote-bank politics and said the scheme must be extended to all poor families, not just one community.
Former Karnataka chief minister BS Yeddyurappa is among the opposition protesters who staged a sit-in against the scheme in Bangalore today.
Accusing the government of "intentionally causing disharmony in the minority community", Mr Yeddyurappa said, "I am protesting because I want all sections to get justice and welfare."
Mr Yeddyurappa quit the BJP in a huff last year to form his own outfit. In May this year, his party failed to make a mark in state polls but was seen to have spoiled the chances of the BJP, whose only government in south India crumbled leading to the resurrection of the Congress after a long hiatus.
Protests against the "Bidai scheme" brought the former Chief Minister back to the spotlight as he sat with scores of protesters in Bangalore, shouting slogans.
The BJP is also on his side. "The Congress is taking the nation to disastrous consequences. The party wants to divide the country and indulge in vote bank politics. It should immediately stop pursuing this criminal agenda and treat all citizens equally," said BJP leader Captain Abhimanyu.
State Chief Minister Siddaramaiah said the money for the scheme, expected to roll out next year, would come from the budget for minority welfare programmes.
http://www.ndtv.com/article/south/karnataka-s-wedding-gift-for-muslim-girls-provokes-opposition-protests-439958
-------------
Female Lawyer Defends Client in Court, First Time in Saudi History
November 2, 2013
JEDDAH — For the first time in the Kingdom's history, a female lawyer has appeared in a Saudi court to represent a client as a licensed lawyer. Bayan Zahran, who was issued a license to practice law in the Kingdom recently, had been working for years as a legal consultant and had represented dozens of people in criminal and civil cases as well as family disputes. But for the first time on Thursday, she appeared at the General Court in Jeddah to defend a client. Zahran described the moment as "overwhelming". "I haven't started my own law firm yet, as I'm still recruiting the managerial staff," Zahran said excitedly. "I'm planning to take up labour case and business disputes but I'll also dedicate my time to women's cases. I believe female lawyers can contribute a lot to the legal system."
http://www.saudigazette.com.sa/index.cfm?method=home.regcon&contentid=20131102185483
-------------
The Fear of Premarital Tests Transforms Happiness into Anxiety in Saudi Arabia
November 2, 2013
JEDDAH – The feelings of happiness and excitement that overwhelm young couples about to get married tend to transform to fear and anxiety as they remember they need to undergo premarital tests. This situation continues until the results appear. These results might bear unpleasant news for some, while others go ahead with marriage procedures amid the happiness and excitement of friends and relatives.
Pre-marriage tests focus on hereditary blood diseases (sickle cell anemia and thalassemia) and some contagious diseases like hepatitis B and C and AIDS due to fear the other party might contract the disease or the children might be afflicted in future. Choices and alternatives are placed before the prospective couple to help them plan for a sound and healthy family and disseminate awareness according to the concept of a comprehensively healthy family.
Among the diseases that cause concern for engaged couples is sickle cell anemia, which is considered a common factor for all these tests and diseases, as it is the most common disease in some regions of the Kingdom and in many other Gulf countries. Doctors warn against this disease due to its seriousness, as it causes the blockage of capillaries, hence leading to a short life span for red blood corpuscles, in turn leading to chronic anemia. It also leads to attacks of pain in the limbs and constant erosion of the bones, especially the bones of the pelvis and knees. It also leads to blockage of the capillaries feeding the brain and lungs and failure of the organs, spasms and enlarged spleen and inflammations on the legs, among other symptoms.
Okaz/Saudi Gazette visited the pre-marriage test center and talked to a number of male and female visitors, in addition to lab technicians and doctors supervising the program.
Anxiety and tension
Abdullah Muhammad was undergoing the seventh test after the failure of six attempts and the nonconformity of the test results with that of the young woman he got engaged to. Anxiety and tension could be noticed on his face and in his actions. He was afraid of the consequences of his test results.
He said, "Whenever I come to undergo tests, I am concerned, and I fear the test results will not match those of my fiancée's. I cannot sleep because of my constant worries."
He said if the test results do not match this time, he will depend on Allah and listen to the advice of the consultancy clinic, which told him several times not to separate from his fiancée but to undergo treatment and take the medication required for his case so that his children will not be affected.
Meanwhile, Khaled Imad said the stories on pre-marriage tests have dashed the dreams of many people wanting to get married. A large number of them have fears about undergoing the premarital tests. He said he asked a young woman's hand in marriage two years ago. When they conducted the tests the results did not match. He was forced to repeat the tests several times and is still doing them.
Maha Abdulkhaliq said the center discovered her test results and those of her fiancé did not match. They accepted the matter calmly and are now undergoing special treatment for hereditary diseases. They delayed their marriage for a year to undergo treatment.
Baraa Omar insisted on going ahead with his marriage after his third fiancée's approval. He said the consultancy clinic's doctor told them that their test results did not match. They are not convinced with the doctor's opinion. They have set a date for their marriage.
Positive step
Young actress Rumooz stressed that pre-marriage tests ought to be carried out so that children resulting from the marriage are healthy. She said that a healthy marriage would make life happy and free from problems. She further said that a healthy marriage is a positive step the Ministry of Health is striving to enforce in order to prevent the spread of hereditary and contagious diseases.
"I was not under pressure when I came to undergo the tests. I wanted to confirm that I was free from any hereditary diseases. I was very happy with the way the staff dealt with young men and women," she said.
100 cases
Director of the Maternity and Children's Hospital in Jeddah Dr. Kamal Abu Rukbah said the pre-marriage test center in Jeddah is experiencing tremendous pressure. He said the number of cases sometimes exceed 100.
http://www.saudigazette.com.sa/index.cfm?method=home.regcon&contentid=20131102185481
-------------
How Women's Rights Are Linked to U.S.-Iran Negotiations
November 2, 2013
Inter Press Service
WASHINGTON, (IPS) - While U.S. and Iranian negotiators prepare for another round of nuclear talks in Geneva next month, Iranian President Hassan Rouhani has been silent about another matter that could be even more indicative of his willingness to take on hardline conservatives.
On Sept. 22, the Iranian parliament passed a law with an innocuous title but frightening potential. The "Protection of Children and Adolescents without Guardians or with Bad Guardians" allows a man to marry his stepdaughter or adopted daughter, in effect legalising child abuse.[pullquote]3[/pullquote]
The law repeals a previous piece of legislation passed by parliament in February that forbade such marriages. However, the Council of Guardians, a clerical body dominated by hardliners, disapproved the earlier law, finding it against sharia.
The latest iteration added an article (27) which says that a father may marry his stepdaughter or adopted daughter if the marriage is approved by the State Welfare Organisation and a court. In spite of this addition, many Iranians fear the new law will undermine the welfare of thousands of families with stepdaughters and adopted daughters.
Iranian women's organisations and human rights activists both inside Iran and in the diaspora have organised massive protests against the law on Facebook. The rights groups and activists assert that the law legalises pedophilia, child abuse and rape under the guise of protecting children. Most Iranians were not aware of the controversy until the second bill passed in parliament last month.
Women's sexuality is one of the most sensitive battlefields within the Islamic Republic of Iran. In Iran, women's bodies are a political subject; control over their bodies is a reflection of political power. Women's sexuality is a tool for Islamic conservatives to demonstrate their interpretation of Islamic ideology and identity.
While President Rouhani has talked repeatedly of his respect for women's rights, he has been silent about the new law. In ratifying the law on Oct. 2, the 12 Islamic conservatives who make up the Council of Guardians demonstrated that they still have power and control over the most sensitive political matters. These are the same individuals who, with Supreme Leader Ayatollah Ali Khamenei, will approve or reject any nuclear compromise Rouhani makes with the United States.
Women's activists are wondering whether Rouhani will speak out about the marriage law in the near future. If the president and his cabinet oppose this radical and immoral law, he will show that he supports democracy and equal rights for women. If he is silent, it will show that he either will not or cannot oppose the Islamic conservatives on a crucial matter.
Iranian women have shown that they have potential power to affect change in Iran in the direction of more democracy and human rights. Iranian women have been fighting for their rights for more than a century and the women's movement began with the Iranian Constitutional Revolution of 1906. Beginning in the 1920s, women began to attend universities although they did not achieve the right to vote and be elected to office until 1963.
Women were also in the front lines of the 1979 revolution against the Shah. But the Islamic government that replaced the monarchy diminished women's rights, scrapping the Shah's progressive family law and reducing the legal age of marriage from 18 to nine.
A re-invigorated movement succeeded in raising the age to 13. Today the average age of marriage for girls is 24. Iranian women have also attained a high educational standard, comprising more than 60 percent of university students. Population growth has slowed as women have become more educated; the average number of children women bear has dropped from seven in 1960s to two in 2010.
Women are also the most organised element of Iranian society, with about 5,000 women's groups. They work together to promote their rights despite differences in religious beliefs, ethnic identity and political factions.
The best known effort is the One Million Signatures Campaign for Gender Equality, which has been promoted by key figures including human rights lawyer Shirin Ebadi, the 2003 recipient of the Nobel Peace Prize. The campaign has mobilised several thousand women debating women's rights and collecting signatures to change laws that discriminate against women.
More than 70 women's activists were arrested and sent to prison for their participation in this campaign, which was the most organised element during the 2009 Green Movement. "Women will build democracy in Iran," Ebadi has said.
A victory for Iranian women is a failure for Islamic conservatives who view controlling women's sexuality and oppressing women's organisations as part of conservatives' fight for survival.
In negotiating with Iran about its nuclear programme, the Barack Obama administration should not forget about women's rights and the need to strengthen civil society and support for human rights and democracy in Iran.
Fariba Parsa is a visiting scholar at the Centre for the Study of Gender and Conflict, George Mason University School for Conflict Analysis and Resolution.
http://www.iede.co.uk/news/2013_3353/op-ed-how-womens-rights-are-linked-us-iran-negotiations
-------------
Sexual Assault Cases Rife in Indonesian Schools
November 2, 2013
Cases of sexual assault and harassment of students at the hands of their teachers continue to come to light, with school authorities failing to act on many complaints. A 12-year-old elementary school student in East Jakarta, identified as A.P., told the Jakarta Globe that she was repeatedly assaulted by her teacher, and was now traumatised and afraid to go to school.
A.P. said her math teacher K.G. had for the past six months often touched and kissed her neck, hands and breasts.
"I was often kissed, hugged and touched. I fought and cried, but the teacher just laughed at me," the girl said at her house on Wednesday.
Holding back tears, she told of the drawn-out ordeal, in which her teacher would tell her to stay put when other students were leaving for home. After sexually assaulting her, A.P. said, the teacher would threaten her, telling her not to report his behaviour to anyone.
She said she wasn't the only student being assaulted by the teacher, but another student by the initials S.F. was also a victim.
"I'm afraid to go to school now. I want to move to another school. I'm afraid," she said, adding that when she reported the incident to her home room teacher, she was told that the math teacher was only showing his affection for his student.
"The home room teacher said that Pak K.G. kissed me because he was fond [of me]," she said.
The victim's mother I.S. said she reported the pattern of assault to the school, but staff responded to it lightly, saying that what the teacher did was normal.
"It's not normal at all. Imagine, my daughter cried hysterically. This means she no longer feels comfortable with her teacher's behaviour," I.S. said.
A similar incident involving a contract-based teacher, identified as M.S., was reported this week in Bandung, West Java. In the Bandung case, the teacher is suspected of sexually harassing or assaulting students for at least six years.
Agus, a parent of a student at the school, reported his daughter's teacher to his neighborhood watch chief after a community meeting, saying that M.S. had been harassing his daughter since 2012.
He said authorities had given M.S. a room to sleep in at the school because he lived far from work, and that the alleged harassment was committed in that room.
Agus said he had reported the incident to school authorities but his report fell on deaf ears.
After news of M.S.'s alleged sexual harassment spread, another case emerged. The victim's father said his daughter was also harassed by the same teacher about six years ago.
"With a victim who is now in senior high school, it's believed that the teacher has been doing this since 2007," Agus said.
http://www.thejakartaglobe.com/news/sexual-assault-cases-rife-in-indonesian-schools/
-------------
Four-Year-Old Sexually Assaulted 'By Cleric' At A Seminary in Pakistan
November 2, 2013
MULTAN: A four-year-old girl was taken to a hospital in Vehari on Thursday after she was sexually assaulted allegedly by the chief cleric on her first day at a seminary. Doctors treating her said that her condition was critical.
Meerapur police said the suspect had been arrested.
The girl's father, a resident of Nawan Shehr in Mailsi, said in the FIR that he had dropped his daughter at the Shaheedanwala seminary in the neighbourhood.
He said more than 70 children from five nearby villages were enrolled at the seminary.
He said it was the girl's first day and the chief cleric had asked him to drop her at his office. The father was told that he (cleric) would introduce her to other children.
He said when he went to pick her up at noon, he was told that his daughter was in the chief cleric's office. The office was locked and the cleric missing. He said he broke into the room and found the child lying unconscious.
She was taken to the district headquarters hospital, where doctors treating her said that her condition was critical. Doctors later said she had undergone a surgery.
Dr Tahira Parveen at the DHQ hospital told The Express Tribune that the girl's medico-legal examination confirmed rape.
District Police Officer Sadiq Ali Dogar said that a police team arrested the suspect from another seminary where he had been hiding.
He said the suspect had been shifted to an undisclosed location on account of the neighbours' threats of violence. He said two other clerics from the madrasa were also reported to have gone missing after the incident.
Residents of the area staged a protest demonstration and announced a boycott of all seminaries.
http://tribune.com.pk/story/625399/four-year-old-sexually-assaulted-by-cleric/
-------------
Move To Protect Orphan Girls, In Saudi Arabia
November 2, 2013
Saudi courts will not approve the marriage contracts of brides of unknown descent unless the Ministry of Social Affairs had previously approved the contract, said Justice Minister Muhammad Al-Issa.
This measure has been taken to prevent girls with such a social status being taken advantage of and to maintain their rights by studying the circumstances of the suitors who have approached them.
The step comes after the Ministry of Justice received a circular from the undersecretary for Social Care and Development at the Ministry of Social Affairs concerning girls who were under the ministry's custody and who got married without its approval.
The Ministry of Social Affairs cares for more than 217 orphans. All girls live in houses of the ministry across the Kingdom.
http://www.arabnews.com/news/470676
-------------
On Zaatari's Street of Widows, Syria refugees survive on kindness
November 2, 2013
ZAATARI, Jordan — They call it the Street of Widows, this dusty, gritty dirt path lined on either side by closely packed white trailer homes, some topped with satellite dishes, all covered with a fine layer of desert sand. It looks like so many other passageways in the sprawling labyrinth that is the Zaatari refugee camp for Syrians seeking sanctuary in Jordan.
"Bashar is an ass" is spray-painted on the side of one trailer, a reference to Syrian President Bashar al-Assad. It's not far from scribbled phone number advertising circumcision services for newborns. At least 17 of the 112 families on the street are headed by widows whose husbands were among the more than 120,000 Syrians killed so far in their country's two-and-a-half-year conflict.
Every one of the 122,673 Syrians in the camp has a tale of loss and sorrow, of hopes dashed and retained, of hardships escaped and many still endured. For some, like the war widows, the difficulties of displacement are intensified by a camp environment that can be physically dangerous and predatory and as patriarchal as the society they have fled. That's not to say that these women are helpless but simply that some — like Ibtisam, a 45-year-old mother of five — need a little more help.
Ibtisam did not want to state her surname. She is soft-spoken and unassuming and cries easily. Her husband was killed by shrapnel on July 14, 2012, when government forces entered their village of Sheikh Maskeen in Daraa province. Her eldest son, Haikim, 20, defected from the army and returned to his village after hearing of his father's death. He was snatched by regime troops from outside his home less than a month later, and his whereabouts and fate remain unknown. She took her remaining four children to Zaatari in January.
Ibtisam's pain is still raw; it rolls down her cheeks in tears caught in the edge of her gray and white hijab. She sits cross-legged in a friend's trailer, covering the large holes in the soles of her dark gray socks with her olive green abaya, the loose ankle-length cloak many Muslim women wear. "Do you think there is anybody here in Zaatari who isn't hurt?" she asks. "Everybody is hurt. Nobody happily left their country or did so unless compelled."
She was a housewife in Syria who had never been employed, but she's trying — without success — to find work in the camp as a cleaner. Her second-eldest son, 16, can't find a job either. Unlike some refugees, she doesn't have other family members here who can help support her household.
"Look at us. We're just sitting here. Just sitting, sitting," Ibtisam says. "Wherever I go, I feel suffocated. I'm choking. Lately I've been thinking about going back to Syria. I think I'll go there and die and be done with it. It's easier. My heart is tired." She continues, voice firm but tears flowing, "How am I going to look after these young ones here? How am I going to, with this wounded heart?"
She is too shy to ask for help in a place where the weak are easily trampled and just as easily ignored.
The camp can be a dangerous environment. Older parts close to the entrance, like the Street of Widows, are generally safer than the newer areas; they have streetlights and established communities, often organized around clans or villages, and offer safety in numbers and familiarity. In the newer parts, the trailers and tents are more widely spaced, people often don't know one another, and streetlights are not always installed, making a nighttime dash to the communal toilets a heart-palpitating trip.
There are whispers of rapes and other gender-based violence in some places. Mafias are alleged to be running brothels and controlling access to the few jobs in the camp. And some of those street-level power brokers are involved in turf wars.
"We had a number of very, very hairy moments when people were really fighting, nasty behind-the-scenes activities against each other," says Kilian Kleinschmidt, camp manager in Zaatari for the United Nations High Commissioner for Refugees (UNHCR).
Zaatari camp is fertile ground for criminality, not least because it lacks a law-enforcement system. Kleinschmidt says he's in the process of training some 600 Syrians — 50 in each of the camp's 12 districts — to police their neighborhoods, while Jordanian community police units are being trained by the United Kingdom to operate in the camp.
The policing initiative is meant to supersede the current system of street leaders (often self-appointed), who, in theory, serve as community representatives. Many have exploited their positions to procure a greater share of food parcels or jobs at the expense of others, and some have even resorted to violence to intimidate and extort or to subjugate potential rivals.
Kleinschmidt hopes to gradually isolate the "corrupt and selfish" among the current street leaders and find new interlocutors. "It's not a revolution from one day to the next," he says. "It's going to take time."
For now, some nongovernmental organizations have placed more vulnerable refugees in the older part of the camp, in streets with leaders in whom they have greater trust.
Abu Zayd, a tanned, affable 37-year-old from Khirbet Ghazaleh in Daraa province, is the street leader in the Street of Widows. He's been in the camp since its earliest days last summer, when he says the desert whirlwinds swirled between tents and the suspension of dust in the air was so thick, it was like fog. "Now the camp is practically six stars," he says smiling, exposing the gap between his two front teeth. Still, he doesn't downplay the security concerns and knows what many in the camp think of their street leaders: "They're generally considered thieves."
"There are some bad people here," he continues. "When they see somebody is alone, trouble finds him. They will eat his rights."
Abu Zayd lives in four containers arranged to create an internal courtyard paved with concrete, reminiscent of the home he left behind. It's a common living arrangement in the camp, where most people have more than one trailer. The UNHCR provides one for every six people, and they can be bought on the camp's thriving black market. Entrepreneurial teenagers have fashioned rigs out of spare metal and motorcycle wheels, and they will transport a trailer home anywhere in the camp for a few dinars.
He shares his space with his wife and five children, his feisty mother (clearly the head of the family), his quiet father and other family members, including two sisters — a total of 18 people.
Having heard of Ibtisam's plight, he sought her out and moved her here, across the way from his friend Abu Adel, whose family keeps an eye out for her and her children. Ibtisam's household survives on food distributed by aid organizations and the kindness of neighbors like Abu Adel's family, who provide cooked meals and share some of the little clothing they have with her children. "This man, these men are looking out for me and my daughters, my family," Ibtisam says. "They are dearer to me than my own brothers."
Other widows in the street, like Hayat Hariri, 33, have large family support networks in the camp, but she still faces difficulties. Her troubles are less about food and shelter than about dealing with the loss of her husband — Mohammad al-Masry, a 40-year-old former livestock trader turned Free Syrian Army commander who was killed in battle in their province of Daraa on May 5.
Masry took his wife and their young twins to Zaatari camp about a year ago, when the children — a boy, Ismael, and a girl, Hiba — were just a year old. "The children were very dear to him. He feared for them. He wanted to make sure they were safe," Hariri says.
Dressed in a black abaya and a black niqab that conceals her hair and all of her face except her honey-colored eyes, Hariri twists a tissue around in her fingers, crying, as she recalls how it took her and her husband 11 years to conceive the twins. "They look like their father," she says.
Rather than stay with their precious children, Masry returned to Syria to fight with a rebel battalion. He visited his family only once, spending December 2012 in Zaatari. "He used to say that he had many sins and that martyrdom would clear them," Hariri says. "He would say, 'If I sit and everybody sits and does nothing, nothing will happen. Nothing will change. We will not sit.'"
Hariri lives in a trailer with her mother, Em Ziad, an older woman with Bedouin tribal tattoos inked on her chin, forehead and hands. A bunch of soft toys lie scattered in a corner, including a Wellington bear and a monkey wearing a white T-shirt that reads 'Against animal testing.' A TV in the background is tuned to an Arabic children's channel.
Em Ziad listens intently and dry eyed, puffing incessantly on Jordanian cigarettes as her daughter cries and shreds tissues between her shaking hands. Em Ziad tries to calm her by interjecting with the occasional "God is merciful" or "This is God's will."
"He was supposed to come here. He said he would after five days," Hariri says quietly. "Instead, he was martyred." Her voice cracks. "He wasn't even buried. They took his body," she says, referring to Syrian government soldiers.
Her children, who are still breastfeeding, are too young to leave for hours, she says, but she'd like to "learn something — a trade, a skill." She doesn't have any photos of her husband in the trailer, just on her Nokia phone. Ismael says he wants to see pictures of his father. She flicks open the phone. "Yes, this is baba," she says, until the picture fades from the screen.
Back home in Syria, Abu Zayd was a farmer who had a side business making floral arrangements for weddings. Now, as a street leader in the camp, he feels responsible for the well-being of hundreds of people. He's especially concerned for anyone deemed vulnerable, such as those who, unlike 90% of the camp's residents, come from areas other than Daraa.
He doesn't allow single men to live on his street unless they're part of a household with parents or other relatives because he fears they might cause trouble or harass the women. "A single man shouldn't be alone among families," he says. "They should be in a separate section."
The most common request he faces, he says, is for help finding employment. The most common complaint: poor hygiene in the camp. Communal toilets were removed by an NGO three months ago after complaints about their condition, but the promised replacement facilities have not yet been installed. Many of the families on his street have installed toilets in their homes, at their own cost, with underground sewage pits that are routinely emptied into trucks. "What are women supposed to do?" Abu Zayd says, lamenting the missing new communal toilets. "It's the most basic thing."
He taps his cigarette in a homemade wooden ashtray crudely carved by his younger brother. His eldest daughter, Dhikra, 13, sits by his side. The women of his family — his mother, several sisters, some sisters-in-law and his wife — move in and out of the trailers, one of which they've converted into a kitchen, where they're frying frozen fish purchased in the camp's market.
He proudly introduces his sister Amana, who teaches English in the camp and has a degree from Damascus University. "We are farmers from a small village," Abu Zayd says. "People said my sister shouldn't go to Damascus to study, but I said I would not forgive myself if I didn't help her go. Now she has a skill that helps pay the bills. Her degree is like a weapon, to protect her."
At one point, his wife makes a comment about politics. Abu Zayd playfully chides her, telling her she shouldn't discuss such things, but it's clear that he's joking. Almost as a point, his mother and sisters seamlessly continue the political talk. He contributes to the conversation rather than telling them to talk about other things.
He says he thought about joining the Free Syrian Army, but then thought about his children and his wife. He didn't want to make her a widow, a woman who might one day rely on a man like him, somebody she is not related to, in a foreign land, to help her. "Who would look after them if I am martyred?" Abu Zayd says. "They need me here."
http://america.aljazeera.com/articles/2013/11/1/on-zaataria-s-streetofwidowssyriarefugeessurvivekindness.html
-------------
Girls' School In Afghanistan Wonders 'What Tomorrow Brings'
November 2, 2013
KABUL PROVINCE, Afghanistan — Thirty miles outside of Kabul, the mountainous land is rocky and dry, haunted by decades of war. Although the people here are fortunate to have avoided the violence that has pervaded other parts of the country during this fighting season—a time that stretches across the spring, summer and early fall—it is still a tense time here.
This year marks the last full fighting season before the scheduled drawdown of U.S. troops begins in earnest in 2014. People are not sure what to expect as the Americans prepare to leave, particularly in villages like this one where there is a girls' school—the first ever in the community. Villagers worry the Taliban—with its puritanical views towards women—will exert its influence as soon as the U.S. troops pull out, and their school could be closed, or worse, attacked.
I have gotten to know the students, teachers and administrators here, and returning now at such a tense time is a powerful experience. I find myself full of hope for the girls as the first generation of educated Afghan women in their community; delighted when I see how beautiful and bright they are; and afraid, sometimes even terrified, for their futures.
Since the school opened in 2008, I have been here several times producing the documentary film "What Tomorrow Brings," staying as briefly as two weeks and as long as two months. But even when I'm not here, I think about this place, and of the teachers and girls who trek here every day to learn and grow together.
My last two feature films, "Beyond Belief" and "The List," grappled with the human consequences of what are among the longest running wars in American history: the conflicts in Iraq and Afghanistan. Now, 12 years after the U.S. kicked the Taliban out of power in Afghanistan—making it possible for Afghan girls to go back to school—a perfect storm is on the horizon, and I will be here to report on that for GlobalPost over the next year.
The U.S. military is withdrawing from the country at the same moment the Taliban is staging a comeback. Already, girls' schools are under attack. Since I was last here this spring, there have been six brutal attacks against schoolgirls – assaults ranging from a remote-controlled bomb explosion to mass poisonings through gas attacks and drinking water contamination. One school was burned to the ground. And as the political climate changes here, I feel compelled to return to document the impact of this precarious moment in history as it impacts the school I have come to love.
The girls' school, the precise location of which GlobalPost has omitted here for security reasons, was built on the site of what was once a large boys' school, which was destroyed in 1979 at the start of the Soviet invasion. After it was left in rubble, the land became the village trash dump.
But a new building has since taken its place, and today, the girls' school stands sturdy and newly painted, well-lit and well-protected, on a street otherwise dominated by dusty, dilapidated buildings. More than 400 girls come here to learn in a program that stands head and shoulders above any public, and most private, education available in this country.
As I arrive on this warm October morning, the girls are arriving too, smiling and skipping, each wearing a green head covering. They range in age from 4 to 20, and many are the first in their families—male or female—to read and write.
The tentative consensus that exists among the members of this community is that education extended to girls might ultimately benefit the children, their families and their village. Since the beginning, some of the village elders have strongly advocated for this to be a boys' school instead, but none have gone so far as to impede the education of the community's daughters. And I am relieved to find that the school is still thriving.
The teachers are driven here from Kabul each morning, and to the girls they are wise and kind and somewhat exotic—coming from the big city where women dare venture out with jewelry, makeup, and stylish clothing that is not covered by a burqa.
They arrive in the school van after a daunting two-hour commute. There's a sense of lawlessness on the overwhelmingly congested roads. Just this morning I saw a large truck plow into a man on a motorbike—and then drive off. A policeman tried to pursue him on foot, but the effort was predictably futile.
Together, students and teachers start a day of lessons that include Dari, English, religion, science, math, and life skills. The girls smile and wave at me; many stop and hug me as they pass, and some even tell me they love me. In the beginning, they didn't know what to think of me, an American woman, traveling to a foreign country without her husband, questioning everyone and everything. But they approached me the same way they approach their lessons—eager and open and kind.
In the midst of the warm, generous welcome, I see that some of the older students aren't here this morning. I've felt a special connection with the teens, and with the teachers who do their best to educate them without giving them unrealistic expectations. It is a delicate, diplomatic operation: giving girls hope and a small measure of power in a culture so patriarchal that their fates are almost never in their own control.
Advertise | AdChoices
Each of these girls is special to me, and as they get older, some of their stories are harder to hear, and harder to tell.
As I enter the property's gated walls again this morning, I watch the principal, Razia Jan, conduct a troubling daily ritual. Carrying a teacup, she walks steadfastly from her office to the water hose outside. This is the school's only source of water. She turns on the spigot, fills her cup, closes her eyes and takes a drink. She isn't thirsty, but because of attacks on girls' schools—many of which have had their water poisoned by terrorists—she tests the water each day to make sure it is safe for her students. I push "record" on my camera and follow her back inside.
I realize that I may not be able to influence the path of this "perfect storm" approaching Afghanistan, but I hope I can share the beauty and the value of this unique sanctuary as the next year unfolds.
Beth Murphy is in Afghanistan as part of a year-long reporting project to document the drawdown of U.S. troops. The GlobalPost 'Special Report' is funded in part by The Ford Foundation. Beth is the founder of Boston-based Principle Pictures, a company dedicated to telling stories that excite curiosities and move consciences. She is director/producer for nearly 20 films, and her films have been broadcast globally on The Sundance Channel, The History Channel, Discovery International, Lifetime Television, PBS, NHK, and numerous other international outlets.
http://www.globalpost.com/dispatches/globalpost-blogs/groundtruth-afghanistan/afghanistan-girls-school-what-tomorrow-brings
-------------
URL: https://newageislam.com/islam-women-feminism/baroness-sayeeda-warsi-compares-veil/d/14264