New Age Islam News Bureau
21 Jul 2018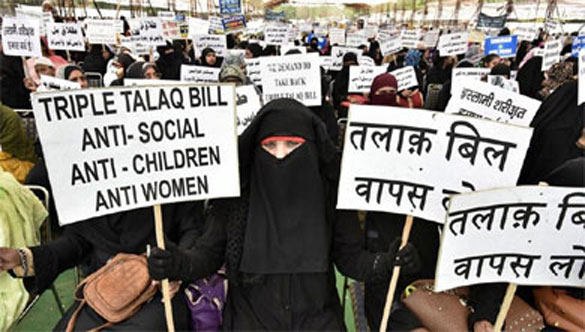 Muslim women protest against the Triple Talaq Bill in New Delhi.(Raj K Raj/HT File Photo)
-----
• Somali 10-Year-Old Dies after Undergoing Female Genital Mutilation
• How Boko Haram Thugs Kidnapped Over 200 Nigerian Schoolgirls in Chibok for $84 Each
• Indonesian Muslim Women Struggle To Empower Themselves
• Domestic Violence against Women in Iran Saw A 20% Rise Last Year
Compiled by New Age Islam News Bureau
URL: https://www.newageislam.com/islam-women-feminism/bareilly-leader-announces-reward-stoning/d/115900
--------
Bareilly Leader Announces Reward for Stoning and Shaving Head of Anti-Triple Talaq Crusaders
Jul 21, 2018
The head of a Bareilly NGO on Friday allegedly announced rewards for anybody who stones and shaves the heads of two women who went public with their grievances after being divorced through triple-Talaq, a controversial Islamic practice that permits instant separation of married partners.
The women in question are Nida Khan, who was the target of a fatwa issued by Barelvi clerics four days ago, and Farhat Naqvi, the sister of Union minister Mukhtar Abbas Naqvi.
"Our group will award Rs 11,786 to anyone who stones Nida Khan and Farhat Naqvi, shaves their heads and scares them away from India," declared All India Faizan-e-Madina Council head Moin Siddique Noori.
Incidentally, Prime Minister Narendra Modi is set to meet both Khan and Naqvi during a rally at Shahjahanpur on Saturday. The two were formally invited by Rajesh Kumar Mishra, the BJP MLA from Bareilly.
The two women have led several campaigns against the practices of triple talaq and nikah Halala (a law that requires a divorced woman to marry and sleep with another man in order to return to her first husband) for some time now. Khan, who was married to Ahmed Raza Khan, was allegedly harassed by her in-laws for dowry before being given the triple Talaq. She had lodged a police complaint, alleging domestic violence and harassment, in 2016.
Naqvi is also pursuing a case against her in-laws after being separated from her husband.
This is not the first time Noori has made a controversial announcement. Last year, he had promised to reward anybody who succeeds in decapitating Shia Waqf Board chairperson Waseem Rizvi and Canada-based scholar Tarek Fatah.
https://www.hindustantimes.com/india-news/bareilly-leader-announces-reward-for-stoning-anti-triple-talaq-crusaders/story-hxa89KQS0rT6zz5gr3e5YP.html
--------
Somali 10-Year-Old Dies after Undergoing Female Genital Mutilation
20 JULY 2018
By Nita Bhalla
Nairobi — A 10-year-old girl in central Somalia has died after undergoing female genital mutilation (FGM), prompting calls from campaigners to criminalise the internationally condemned practice in a country with the world's highest rates.
The girl was taken by her mother to a traditional circumciser on July 14. The procedure left her bleeding and she died in hospital due to a haemorrhage two days later.
"The circumciser is suspected to have cut an important vein in the course of the operation," said Hawa Aden Mohamed, director of the Galkayo Education Center for Peace and Development (GECPD), a local women's rights group.
"The woman who performed the operation has not been arrested but even if she was, there is no law that would ensure she is punished for the act. This is just one among many cases happening on a daily basis across Somalia."
An estimated 200 million girls and women worldwide have undergone FGM, which usually involves the partial or total removal of the female genitalia and can cause a host of serious health problems, says the United Nations.
The ancient ritual - practised in at least 27 African countries and parts of Asia and the Middle East - is usually carried out by traditional cutters, often using unsterilised blades or knives.
Health experts say FGM can cause fatal childbirth complications later in life. In some cases, girls can bleed to death or die from infections following the procedure, although it is hidden within communities and rarely reported.
Located in eastern Africa and troubled by decades of civil war, Somalia has the world's highest rates of FGM. According to the UN, 98 percent of women between 15 and 49 have been subjected to the ritual.
Somalia's constitution prohibits FGM, but efforts to pass legislation to punish offenders have been stalled by parliamentarians afraid of losing powerful Muslim vote banks who support FGM and view it as a part of their tradition.
Campaigners say a lot of work needs to be done to help people understand the harmful effects of FGM, and criminalising the practice could act as a strong deterrent.
"Pro-FGM lobbyists sometimes put forward the nonsensical view that it is not harmful, which is completely untrue," said Brendan Wynne at Donor Direct Action, an international women's groups which helps fund grassroots charities.
"We have no more time for any debate on the harms of FGM and this case, like many others, proves that. FGM will only end when governments take a hard line and protect girls at risk."
https://allafrica.com/stories/201807200627.html
--------
How Boko Haram Thugs Kidnapped Over 200 Nigerian Schoolgirls in Chibok for $84 Each
July 20, 2018
Four years after Islamist insurgent group Boko Haram kidnapped more than 270 girls from a school in the town of Chibok, one of the suspected kidnappers has revealed that he and his colleagues each received N30, 000 (about $84) for participating in the abduction.
Mayinta Modu, who hails from Bama Local Government Area, Borno State, was among 22 suspected Boko Haram members who were arrested two weeks ago in Borno and Yobe for coordinating and leading the kidnapping of the Chibok schoolgirls in 2014, as well as, being involved in several attacks on Bama, Gwoza and Mubi towns in Borno and Adamawa states.
The 23-year-old, who confessed to being one of the Boko Haram Commanders, said he and other commanders led several fighters to Chibok for the abduction of the girls.
After crossing many areas between Nigeria and Cameroon border, Modu said that they spent several days with the girls in the wilderness before handing them over to their top commanders.
"Most of the abducted girls were released. We were paid N30, 000 each for participation in the abduction.
"Equally, when the girls were released sequel to the negotiation with the government, we got additional payment of between N30, 000 and N60, 000 ($167) each," he told the News Agency of Nigeria (NAN) on Thursday without mentioning the source of the ransom.
It will be recalled that in 2014, the girls were sleeping in their dormitories in the Chibok town in northeastern Nigeria when Boko Haram terrorists carrying AK-47 rifles stormed into the school and seized them.
The unfortunate incident sparked global outrage and united activists around the world, including former United States first lady Michelle Obama, around the hashtag #BringBackOurGirls.
It also brought the world's attention to the activities of Boko Haram, an Islamist group which does not want to have anything to do with western culture, particularly, western education.
The Nigerian Army earlier this year commenced road construction into the heartland of Sambisa forest in a bid to dislodge remnants of the Boko Haram sect who often use the forest as their hideout.
Modu, during interrogation, revealed that one of his top commanders, Mallam Chingori, who is in custody of the remaining Chibok girls, was originally based in Sambisa Forest but had to relocate to Gulumba village of Bama Council Area after the forest was bombarded by troops.
He further indicated: "I cannot ascertain the number of people I slaughtered or killed before my arrest. All I can say is that as a member of the sect and with the roles I played in the course of our fighting against infidels, government and security agencies, I was promoted as one of the sub-commanders.
"I actively participated and coordinated the kidnapping of over 200 Chibok schoolgirls in April 2014.
"After we abducted the girls, we separated them and put them in different locations in Sambisa Forest under the care of our top commanders.
"The name of my top Commander is Mallam Chingori. He kept some of the girls in his custody in Sambisa hideouts. At a point, when we released some of the girls, we were given N60,000 each for escorting the girls to one undisclosed location, before we went back to base, Sambisa."
"I may not know whether our Commander who gave us the ransom money also took his share of the money; all I can say is that we were many that collected such amount.
"As it is, the remaining girls are in the custody of our top Commander (Chingori) who later relocated from Sambisa to Gulumba village of Bama town," he was quoted by local media Vanguard.
The suspect further mentioned that he facilitated recruitment of girls and boys used as suicide bombers in Maiduguri and other parts of the northeast.
Nigeria's militant Islamist group Boko Haram is fighting to overthrow the government and create an Islamic state.
It has so far caused havoc in the country through a series of bombings, assassinations and abductions.
https://face2faceafrica.com/article/how-boko-haram-thugs-kidnapped-over-200-nigerian-schoolgirls-in-chibok-for-84-each
--------
Indonesian Muslim Women Struggle To Empower Themselves
July 21 2018
Being a Muslim woman in Indonesia today brings unique challenges that had not occurred in the time of past generations.
Author Kalis Mardiasih, a former santri (Islamic boarding school student) who is known for her critical voice against patriarchy, said today's Muslim women faced an even greater challenge to promote the gender equality agenda and women's empowerment within the Islamic ...
http://www.thejakartapost.com/news/2018/07/21/muslim-women-struggle-empower-themselves.html
--------
Domestic Violence against Women in Iran Saw A 20% Rise Last Year
21 July 2018
Domestic violence against women in Iran saw a 20% rise last year in the period spanning from March 2017 to March 2018. A number of sociologists and social researchers have underscored the escalation of domestic violence against women in Iranian society.
In an interview with the official IRNA news agency, Kamel Delpasand, sociologist and a researcher in social sciences, pointed out the escalation in domestic violence against women in Iran. He said that the statistics on domestic violence against women "is not reported, registered or published in the media, so there is nowhere you can find the exact data."
According to Delpasand, "violence against wives ranks second only after violence against children" in Iran.
Reza Jafari, head of the Social Emergencies, told the media in May 2018 that domestic violence against women has seen a 20% growth over the past year. Over 16,000 instances of violence against children were registered in the first half of the year, alone, and around 1,750 cases of violence against wives were registered in the first nine months of the year.
Sociologists point to economic difficulties, lack of support structures, and poor education as the main reasons for such escalation. Most of these experts consider living conditions, class differences, and discriminations as the more important factors contributing to domestic violence against women. Currently social and economic pressures, unemployment, high prices, and lack of strong social support have prepared the grounds for the emergence of various kinds of violence against women. In lower classes and low-income families, in particular, women are more vulnerable.
Ahmad Bokharaii, director of social damages group affiliated with the Sociology Association, says, "Regardless of the existing cultural backgrounds promoting male domination (under the mullahs' rule), the legal, judicial and disciplinary structures are such that men allow themselves to imply force and commit violence against women."
"Between March 2017 and March 2018, there were 300 media reports on murders within the family and the statistics show that more than 80 percent of the victims were women," Bokharaii added.
Another sociology expert said male domination and its relevant prejudices have grown in the younger generation, and based on the culture promoted (under the mullahs' misogynous rule), men consider domestic violence against women as a right they are entitled to. (The official IRNA news agency - July 18, 2018)
https://women.ncr-iran.org/iran-women-news/5354-domestic-violence-against-women-in-iran-saw-a-20-rise-last-year
--------
URL: https://www.newageislam.com/islam-women-feminism/bareilly-leader-announces-reward-stoning/d/115900
New Age Islam, Islam Online, Islamic Website, African Muslim News, Arab World News, South Asia News, Indian Muslim News, World Muslim News, Women in Islam, Islamic Feminism, Arab Women, Women In Arab, Islamophobia in America, Muslim Women in West, Islam Women and Feminism