New Age Islam News Bureau
17 Dec 2019
• Barack Obama Says Women Are 'Indisputably Better' Than Men
• Lawyer's Anger After Muslim Schoolgirl Is 'Throttled With Her Own Hijab' On Sheffield Bus
• Muslim Women Seek New Paths for Empowerment
• Turkish Women Decry State Inaction In The Face Of Femicide
• Before We Knew Better: Nora Ephron's Heartburn Offers a Complicated Look at Women, And At Feminism
Compiled By New Age Islam News Bureau
URL: https://www.newageislam.com/islam-women-feminism/barack-obama-says-women-indisputably/d/120548
------
Barack Obama says women are 'indisputably better' than men
Maya Oppenheim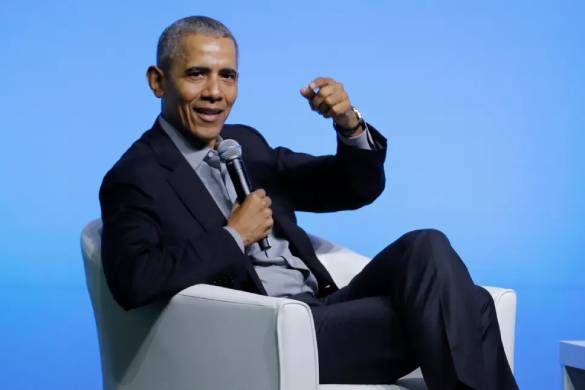 The former US president has repeatedly spoken out about being a feminist (AP)
---------
Barack Obama has said women are "indisputably better" than men and many global problems stem from men of older generations clinging on to power.
The former US president, who has repeatedly spoken about being a feminist, said living standards would substantially improve if women were in charge of every country in the world.
Obama, who left the White House in 2017, discussed what the world would look if it was ruled by women at a talk about leadership in Singapore.
He said: "Now women, I just want you to know, you are not perfect, but what I can say pretty indisputably is that you are better than us [men]."I'm absolutely confident that for two years if every nation on earth was run by women, you would see a significant improvement across the board on just about everything... living standards and outcomes."
Asked whether he would contemplate becoming a political leader again, he argued leaders must retreat when they have been in power for a long time.
He said: "If you look at the world and look at the problems it's usually old people, usually old men, not getting out of the way.
"It is important for political leaders to try and remind themselves that you are there to do a job, but you are not there for life, you are not there to prop up your own sense of self-importance on your own power."
Obama emphasised the importance of gender equality during his time in the White House, and was a keen proponent of women's reproductive rights.
He wrote an essay for Glamour magazine in 2016 about the meaning of feminism and society's obligation to make sure women and men are given equal opportunities.
The ex-president and former first lady Michelle Obama have established a foundation which mentors young leaders across the world since departing the White House.
He has been writing a presidential memoir which is not expected to be released until next year. Michelle's book Becoming became one of the most popular memoirs in history after it came out last year, selling over 11 million copies.
https://www.independent.co.uk/news/world/americas/barack-obama-women-men-singapore-feminism-speech-a9248396.html
------
Lawyer's anger after Muslim schoolgirl is 'throttled with her own hijab' on Sheffield bus
By Michael Broomhead
Tuesday, 17th December 2019
Redana Al-Hadi said she was travelling home with her sister and a group of friends from Silverdale School when she was throttled with her own hijab.
Redana told how she suffered a fractured cheekbone and a bloody eye, while her sister sustained bruising to the inside of her leg.
Now, Arshaid Bashir, who is representing the sisters on behalf of Adam Law Solicitors, has written a letter expressing a number of concerns to Stephen Watson, the Chief Constable of South Yorkshire Police.
Mr Bashir said: "Our clients, aged 14 and 13 years respectively, were subjected to a sustained assault resulting in each of them suffering injuries. This was an unprovoked and sustained attack on two innocent young children in the vicinity of a busy public area in the presence of other children.
"In the particular circumstances the incident has occasioned profound and potentially lasting damage to our clients and caused concern in the wider community.
"Accordingly, it is difficult to understand how and why it was considered appropriate by the police to caution one of the assailants when the CCTV/video recordings of the incident constituted graphic and compelling evidence of the gravity of the incident.
"The police failed to make reasonable enquiries by taking statements from the victims before deciding upon a disposal by way of a caution.
"It is our view that the decision was taken without proper consideration of all the facts in this case and public policy pertaining to hate crimes.
"We demand a full and independent inquiry into the decision-making process leading to the offer of a caution together with a reversal of the evidently flawed decision to caution the particular assailant."
A spokesperson for South Yorkshire Police said enquiries into the incident were ongoing.
The spokesperson added: "The investigation is also currently undergoing a full review. This will include revisiting and speaking to witnesses.
"Officers remain in contact with the victim and her family and are keeping them updated.
"A 40-year-old woman, arrested at the scene, has been given a caution for assault, while a 44-year-old man remains on police bail as enquiries continue.
"Anyone with information, or who holds footage of the incident, is asked to call 101 or email enquiries@southyorks.pnn.police.uk, quoting incident number 601 of December 4."
Redana, from Upperthorpe, was on a single decker bus bound for Ecclesfield when the attack happened shortly after 4.30pm on Wednesday, December 4.
Mobile phone footage was shared online and appears to show a woman embroiled in a row with the sisters and their friends before the argument spills out of the bus on to Ecclesall Road.
The woman can be seen on top of Redana as they are both on the ground.
Redana said the row initially started after a man on the bus began to mock the group's accents and because the girls were wearing a hijab.
https://www.thestar.co.uk/news/crime/lawyers-anger-after-muslim-schoolgirl-throttled-her-own-hijab-sheffield-bus-1342593
------
Muslim Women Seek New Paths for Empowerment
16th December, 2019
To assist them in this endeavour, Muslim Industrialists Association held a panel discussion between successful women entrepreneurs of the community and the concerned government officers. He added that fitting into the country's administrative system is what is required for empowerment of the women of minority communities, and pointed out the challenges on the path.
This could even take three attempts, but eventually becomes worth your while," the former principal secretary in the state said. He added that Delhi is the place to go to for coaching for the exams, since better centres are available there. Most of the successful entrepreneurs present at the event said they were not born with the skills required for making it big in the field.
https://www.nyoooz.com/news/bengaluru/1423961/muslim-women-seek-new-paths-for-empowerment/
------
Turkish women decry state inaction in the face of femicide
December 16, 2019
LONDON: Late on Tuesday last week, 20-year-old art student Ceren Ozdemir left her ballet class in the Black Sea province of Ordu to start her walk home.
She was followed. The man keeping up with her went undetected. When Ozdemir reached her front door, he stabbed her several times. Left to die in the street, she later succumbed to her injuries in hospital.
The next day, her killer — who has a dozen previous convictions, including robbery and assault — was arrested at a bus stop. He is now facing state prosecution.
Women's rights organization We Will Stop Femicide said that Ozdemir's death was the 430th registered murder of a woman in Turkey this year.
The group — widely considered to be a trusted source on violence against women in the country — claims that 440 women were killed last year, with 2019 set to beat that unwelcome record.
In this decade, the group says that more than 2,600 women have been killed, most of them at the hands of their partners.
Turkish women and rights activists are furious. Their anger is directed not only at male murderers and their accomplices, but also at the authorities, which they accuse of inaction and of fostering a culture that ignores the plight of women.
On Nov. 25, a week before Ozdemir's murder, 2,000 women gathered in Istanbul on the International Day for the Elimination of Violence Against Women.
They were forced away by the police, who used plastic bullets and tear gas to disperse the crowd.
On Dec. 8, hundreds assembled again in Istanbul's Kadikoy district to protest violence against women.
They gathered to join a coordinated international movement performing a dance and song called "A rapist in your path."
The event, first created by Chilean group Las Tesis, set social media ablaze after its debut performance in Santiago, Chile, went viral.
The Istanbul police once again used tear gas to disrupt the rally and deny women the opportunity to deliver their performance.
The EFE news agency reported that after demonstrators started to perform the Spanish- language song in Turkish, police snatched their megaphones.
Among those arrested was the leader of We Will Stop Femicide, Fidan Ataselim. One protester told EFE: "We came to scream against patriarchal violence and they have attacked us."
The group, which has branches across the country and around the world, released a statement demanding that a "minister of women" be established.
"The president, the prime minister and the leaders of all political parties should condemn violence against women," the statement added.
Clearly, Turkish women are disappointed with the political response to the spate of killings.
In August, after a woman's murder was captured on video — sparking nationwide outrage — President Recep Tayyip Erdogan announced that he would support any parliamentary act that would restore the death penalty.
But We Will Stop Femicide said: "Practices such as 'capital punishment' ... are human rights violations and (this group) rejects them as possible solutions."
The filmed murder of Emine Bulut, 38, whose throat was slit by her ex-husband in front of her daughter, led more than just Erdogan to wake up to the problem.
Istanbul Mayor Ekrem Imamoglu promptly blamed "male violence" for her death. Major football club Besiktas held a minute's silence in memory of Bulut.
And despite Erdogan's death-penalty propositions not being received positively by campaigners, Justice Minister Abdulhamit Gul said in September that his ministry would do anything to halt the violence.
"If it will save just one person, if it prevents one child, one woman from dying or facing violence, we will change not just a law but even the constitution," he said.
Ankara drove forward the ratification of a 2011 Council of Europe accord, the Istanbul Convention, which prioritizes gender equality. Turkey also passed laws in 2012 designed to protect women from violence.
But in a 2018 report, the Council of Europe said that the cause of violence against women in Turkey was gender inequality, and called on the country to remove traditions that lead to their practice.
Many Turkish Islamist commentators and public figures who support socially conservative laws have opposed the Istanbul Convention, arguing that equality is a corrosive influence in society.
In an interview with Reuters, Islamist writer Abdurrahman Dilipak said that restraining orders and laws for the protection of women fuel divorces and violence.
"Wandering among us is a devil with an angel's face which is organizing conflict, not peace, within the family," he added.
"The family is collapsing. With an international agreement (the Istanbul Convention), a trap is being set up against women, men, children and the family."
But campaigners believe that the devils are not the laws designed to protect them, but the men killing their mothers, sisters, daughters, cousins and friends.
Fidan Ataselim, We Will Stop Femicide's general secretary, said: "Men cannot accept that Turkey is a modern country where women have rights. Some of these men don't even think we have the right to live."
But hope is not lost. Ataselim believes that with the right legal campaigns, Turkish society can successfully fight back against the scourge of domestic violence and sexist killings.
"It's possible to stop femicide. The Istanbul Convention has to be applied effectively to strengthen and protect women. When it was signed in 2011, we saw a decrease in femicide figures," she said.
"We have to take this path. The law should be applied properly in order to keep women alive."
https://www.arabnews.com/node/1599456/middle-east
------
Before We Knew Better: Nora Ephron's Heartburn Offers a Complicated Look at Women, And At Feminism
By Alexandra Ossola
December 17, 2019
In this mini-series, we return to media we've loved to see how they depict gender. Does it hold up in 2019? Warning: contains spoilers.
Before Nora Ephron's death in 2012, she had been a successful journalist, screenwriter, and director. By all accounts, she was brilliant, self-aware, seemingly allergic to hypocrisy, and indisputably funny, especially on surprising subjects. And she created female characters who were as complex as she was. Whether or not her works were feminist, however, is not an easy question to answer. Ephron's women were strong but soft, capable but needy. They were allowed to be what they were; Ephron didn't need the opportunity to push an agenda or toe an arbitrary ideological line.
All of that is on display in Heartburn, Ephron's only novel (and eventually one of her first screenplays). In it, Rachel Samsat, a cookbook writer who is seven months pregnant, spends the brief 178 pages figuring out whether to leave her husband, who has been having an affair (the setup is famously autobiographical, based on Ephron's marriage to, and divorce from, journalist Carl Bernstein). The narrative is interspersed with recipes, because if food is love, why shouldn't hate get a meal, too. The plot is loose and, arguably, trite, but that's not what keeps you turning pages. It's the prose—incandescent, seething, quippy—that makes you feel like you're listening to this story from the mouth of your smartest, most New York Jewish friend over an after-work cocktail.
Ephron had a complicated relationship with feminism, most visible in her essays written for Esquire and New York Magazine in the 1970s that later made up her book Crazy Salad. She had thought a lot about femininity and the limitations of rigid perceptions of gender, but almost gleefully dug into the divisions within the National Women's Political Caucus. Ephron clearly believed that women and men should be equal, but had no patience for the posturing and labels that often came with identifying as a feminist—a feminist in practice, but not in name. As she said in one 1975 interview, "I sort of duplicated, I think, what happened to the women's movement. It went through a period of a lot of activity and anger, and so did I. And then it sort of evened off to get down to business and life, and so did I."
This ambivalence was perceptible in Ephron's films, too—most (but not all) of them pass the Bechdel test. New Yorker writer Ariel Levy noted in her 2009 profile of Ephron: "She was the funniest feminist, or pseudofeminist, depending on whom you ask. (Pretty much everyone admits that she was funny.)"
I've wanted to read this book for a long time. My mom, the most badass feminist I have ever known, first told me about it on a car ride when I was in high school. I had just read All the President's Men (or tried to, before I lost interest), and she seemed genuinely excited to offer me a counter-narrative to the self-congratulating Bernstein. A revenge book, and it's got recipes? When I finally read it, a little more than a decade later, I devoured it. I wanted Rachel's (really Nora's) voice to stay in my head, walking around with me.
You could argue that the book's premise makes it a weak vehicle for a feminist take. Ephron would probably have agreed with you. In fact, she lands a solid few jabs at the women's liberation movement, like: "the major concrete achievement of the women's movement in the 1970s was the Dutch treat." Though Ephron holds no one precious as a rule, it's certainly not the most generous interpretation of the role and achievements of second wave feminism. Other regressive gems in the book include attesting a woman's desire to marry as something "fundamental and primal," and that men are overwhelmingly unfaithful.
There are moments that upend traditional gender roles in Heartburn, too. Like when Rachel gets mad at her husband, Mark, for crying during an argument—"I couldn't believe it. It seemed to me that if anyone was entitled to cry in this scene, it was going to be me; but the man had run off with my part." She realizes that she had been wrong for blaming a former frenemy for sleeping with her first husband. And, yes, it's feminist for a woman to decide to leave her husband, as Rachel does at the end.
Some parts of the book hold up less well. The characters are overwhelmingly white, which makes the description of Amelia, the black woman who married Rachel's father after working as their longtime family housekeeper, a bit uncomfortable. If Ephron resented the trappings of feminism, it's unclear she would have been an ardent supporter of intersectionality.
Even in the era of third wave feminism, when women no longer need to feel like they have to choose between marriage and kids and a career, many aspects of reading Heartburn are as pleasurable as they were when it was first published, and still resonate. Ephron had it all, so why shouldn't her characters? And for that matter, why shouldn't we?
https://qz.com/1769475/nora-ephrons-heartburn-offers-a-complicated-look-at-women-and-at-feminism/
------
URL: https://www.newageislam.com/islam-women-feminism/barack-obama-says-women-indisputably/d/120548
New Age Islam, Islam Online, Islamic Website, African Muslim News, Arab World News, South Asia News, Indian Muslim News, World Muslim News, Women in Islam, Islamic Feminism, Arab Women, Women In Arab, Islamophobia in America, Muslim Women in West, Islam Women and Feminism