New Age Islam News Bureau
16 Apr 2020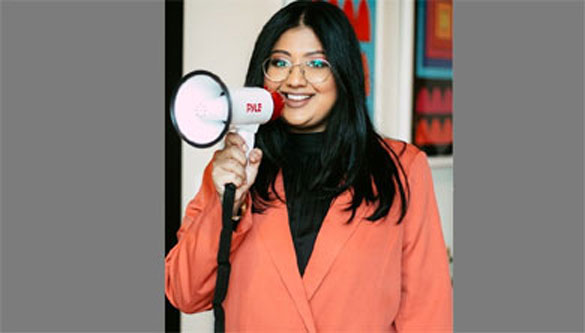 File photo of Shahana Hanif Teen Vogue/Saba Zafar
----
• Bangladeshi Origin Feminist Running to Become First Muslim Woman On New York City Council
• Saudi Women Are Publicly Calling Out Their Sexual Harassers Online
• Park Circus Anti-CAA Protest Enters 100th Day Amid Lockdown
• Covid-19 Volunteers: All-Women Group Goes The Extra Mile To Help Struggling Families In Dubai
• Sex Workers in Pakistan Face a Cruel Dilemma, Feed Their Children or Risk COVID-19 Infection
• Deputy Mayor Islamabad Syed Zeshan Naqvi Praised Women Sanitary Staff Working Amid Risk Of COVID-19
• Iran: Female Breadwinners, Primary Victims of the Repressive Regime During the Coronavirus Outbreak
• Woman Recounts Covid-19 Fight In UK
• Nadiya Hussain On Anxiety in Coronavirus Lockdown: 'We Haven't Been Out For A Walk For 16 Days'
• Muslim Men Carry Hindu Woman's Bier
• PKR Suspends Women's Chief For Meeting Azmin, Zuraida
• Combating coronavirus: Pregnant woman, unwell mother in Dubai pin hope on special Pakistan flight
Compiled ByNew Age Islam News Bureau
URL; https://www.newageislam.com/islam-women-feminism/bangladeshi-origin-feminist-running-become/d/121590
-------
Bangladeshi origin feminist running to become first Muslim woman on New York City Council
April 16th, 2020
She was diagnosed with Lupus at the age of 17, and she has been carrying it ever since
Shahana Hanif, a 29-year-old Bangladeshi living in Brooklyn, is running to become the first Muslim woman on the New York City Council.
She is running for the political seat with an eye on improving how the city protects and cares for different groups of people within it, and changing its attitude towards them for the better.
"I'd like to see a city that is looking out for people with disabilities; a city that is looking out for women, young women; a city that is capable of providing adequate health care, paired with mental health services, with language access. A city that is protecting its most vulnerable tenants, whether in public housing, rent-stabilized housing, any other forms of housing. I see a city that has never elected a Muslim women to office," she said, reports Teen Vogue.
Shahana has been a feminist organizer and advocate from a young age, helping women of color and Bangladeshi women in her community on various issues.
However, Shahana said the experience of having the disease has made her stronger mentally, and is helping her to better cope with the lockdowns induced by the coronavirus crisis.
"I feel reenergized…. With lupus, 12 years in, I've built up strong discipline on hope, change, and presence. Disability justice activists and healers have set up abundant ways to get through this," she said.
https://www.dhakatribune.com/world/north-america/2020/04/16/bangladeshi-origin-feminist-running-to-become-first-muslim-woman-on-new-york-city-counci
--------
Saudi women are publicly calling out their sexual harassers online
15 April, 2020
Saudi women are using Twitter hashtags to recount their experiences of sexual harrassment in the country and their reasons for not reporting the abuse.
A Tuesday report by the Human Rights Watch detailed the latest heart-rending Twitter trend that has sweeped the Gulf state, calling for sexist male guardianship system to be abolished.
The HRW has dubbed the move a "remarkable show of courage", due to the women speaking out against the abuse they have faced despite Riyadh continuing its widening crackdown targetting activists, particularly women's rights campaigners.
Saudi women – using Twitter accounts under pseudonyms – made use of an Arabic-language hashtag which roughly translates to "why I didn't report it" to make their allegations public.
Posts revealed that women reporting abuse were referred by Saudi authorities to closed shelters, where they are trapped until they are forced to "reconcile" with family members or agree to an arranged marriage, the HRW found.
In a remarkable show of courage, Saudi women are taking to Twitter to share their experiences with sexual harassment and to demand an end to the discriminatory male guardianship system https://www.hrw.org/news/2020/04/14/saudi-women-are-speaking-online …
Over the past two weeks, Saudi women have taken to Twitter, using pseudonyms, to share their experiences with sexual harassment, the reasons behind their hesitance to report these abuses to the
According to the report, women attempting to escape an abusive household could face arrest and be sent back home if any male family members filed a legal claim.
The watchdog said that a parallel hashtag, "down with remnants of the guardianship system" was also tweeted out by Saudi women.
The tweets "point to persistent elements of the male guardianship system that continue to keep women trapped in abusive situations", it said.
"Saudi authorities... have maintained a sweeping campaign of repression that included dismantling and silencing the country's women's rights movement," HRW wrote.
Saudi bots regularly storm Twitter when a controversial issue in the kingdom is brought to light by activists or international organisations. The latest HRW report was no exception.
Hundreds of accounts, characterised with nationalistic display photos and randomised usernames flooded comments in response to tweets sharing the report.
"Don't worry about a spoiled [girl] upset for not having a strawberry cake," one such tweet read, undermining the suffering of women alleging abuse.
Accounts also attacked the LGBT community after an ex-Muslim Saudi LGBTQ rights advocate recounted her horrowing story of alleged rape and named the accused, using the hashtag.
Many of the sexual harassment accounts, reposted by @wIDidntReport involved family members engaging in abuse or covering up incidents, The New Arab found, after examining dozens of the tweets.
Saudi Arabia has introduced reforms related to womens' rights in the past few years, including laws meant to protect women against sexual harassment.
"The world is being told that Saudi Arabia is modernizing on women's rights. But the reality is that with no organised women's rights movement or environment in which women can safely and openly demand their rights, there is little room for further advances."
https://english.alaraby.co.uk/english/news/2020/4/15/saudi-women-expose-sexual-harassers-on-twitter
-----
Park Circus Anti-CAA Protest Enters 100th Day Amid Lockdown
16 April 2020
KOLKATA: Anti-Citizenship amendment Act (CAA) protest at Park Circus Maidan that is continuing symbolically with women agitators staying indoor turned 100-day-old on Wednesday. "There are only three protestors at the dharna manch due to the ongoing lockdown. They are cooking and staying inside the dharna manch and not coming out from the protest venue. Earlier, we kept pairs of shoes, scarves, dupattas and names of the women agitators. At present, we have removed it," said Debu Shaw, volunteer of the ongoing 'SwadhinataAndolan 2.0' at Park Circus Maidan. The sit-in agitation by 60 Muslim women at Park Circu Maidan, christened as 'Kolkata's Shaheen Bagh', entered the 100th day on Wednesday. The 24-hour vigil against the Cen- tre's "discriminatory" policies, which started two days after the JNU violence, gained momen tum and women from different parts of the city joined the protest. "We are abiding by the guidelines of the state government in connection with the Coronavirus outbreak. The 'SwadhinataAndolan 2.0 dharna manch at Park Circus Maidan has been sanitised by the Kolkata Municipal Corpration. We regularly clean the dharna manch," pointed out Shaw. "Demanding revocation of the contentious CAA-NRC-NPR, 'SwadhinataAndolan 2.0' started with 60 women at the Park Circus Maidan on January 7. The decision to reduce the number of protestors to three came in the wake of the lockdown to prevent Coronavirus," said a 45-year-old homemaker Asmat Jamil, organiser of the 'SwadhinataAndolan 2.0' at Park Circus aidan. Sameeda Khatoon, a 57-year-old protestor had died after suffering a heart attack at the protest site in Park Circus Maidan in February. "Sameeda had joined the anti-CAA rotest since the first day of the protest on January 7. She used to go to the protest site every day," pointed out Jamil.
http://www.millenniumpost.in/kolkata/park-circus-anti-caa-protest-enters-100th-day-amid-lockdown-407351
--------
Covid-19 volunteers: All-women group goes the extra mile to help struggling families in Dubai
April 16, 2020
Indian expat Naziya Shabeer had just given birth but that didn't stop her from jumping back into volunteer work in Dubai. Her all-women community group has been helping homemakers and families who are struggling amid the Covid19 pandemic.
"I just delivered my baby boy on March 30. Since we are doing everything over the phone, I continued to do the coordination work," said Shabeer, organising secretary of the Kerala Muslim Cultural Centre (KMCC) Women's Wing.
Run by 44 women, this KMCC wing has been providing food kits and psychological support to homemakers whose husbands are in quarantine facilities after testing positive for Covid-19.
Safiya Moideen, president of the KMCC Women's Wing, said: "Housewives - especially those with small children - whose husbands have tested positive, are very scared to ask for help.
"They are in quarantine, and their husbands are in a separate facility. They are too scared to go out and buy supplies."
The group is also giving necessities and mental health support to families whose breadwinners suffered job losses.
"We are supporting single women and families on visit visas, too. For single women and families in Deira's Naif Street, we are giving hot food packets," Shabeer told Khaleej Times.
The women work in association with the KMCC Volunteer Group, providing them with the address and details of those who need food and other essential supplies. The group then delivers the relief to those in need.
"We all do the organising work remotely and provide free counselling to these women and their children over the phone," Moideen said.
Sabira C, one of the beneficiaries of the programme, said she didn't know what to do after her husband tested positive a week ago, especially because they have a four-month-old baby.
"I came here on a visit visa with my baby three months ago. However, people at the KMCC and local authorities kept checking on us and provided with emotional support and food supplies," said Sabira, who stays in Naif.
Another beneficiary, Dhanya R, said: "I have been in Dubai since December searching for work. When my visa expired in March, I wanted to go back but all the flights stopped."
Both Moideen and Shabeer have been involved in the majority of the coordination work, and general secretary Reena Saleem, treasurer Najma Sajid, and coordinator Sareena Ismail have been volunteering.
Thanks to the quick recovery of Covid-19 patients in the UAE, the KMCC has had to provide support only until the primary caregivers are out of quarantine, the group said.
"Many of the recovered patients have praised the quality of healthcare they received here in the UAE. They are also recovering quickly - so, we take care of the needs of the patient's family only until they are discharged from the hospitals," Shabeer said.
https://www.khaleejtimes.com/coronavirus-pandemic/covid-19-volunteers-all-women-group-goes-extra-mile-to-help-vulnerable-families-in-dubai-
--------
Sex workers in Pakistan face a cruel dilemma, feed their children or risk COVID-19 infection
April 15, 2020
Tucked away in the mesmerising city of Lahore nestles Heera Mandi (Diamond Market), Pakistan's oldest red-light district.
A decade ago, accompanied by my two best friends, I ventured into the heart of Lahore, seeking inspiration for my debut novel. Listening to first-hand stories of how, in an era bygone, this marketplace of desires was akin to Montmartre with a Mughal spiral – filled with dancing girls and courtesans who dazzled the city's wealthiest businessmen and bewitched its royalty – felt like time travel. It allowed us to descend past grimy tiles, sooty window panes and money-minded flesh peddlers into a world of well-preserved culture and etiquette.
Over the years, sex work has shifted from Heera Mandi's alleys to private mansions, farmhouses, and seedy, rented apartment buildings, sprawled across the country.
Despite the stigma attached to it, behind closed doors a large part of the elite entertainment industry in Pakistan relies on these women: dancing girls, escorts and prostitutes rolled into one.
Now coronavirus has turned the sex industry into an adjunct of its past acclaim, excavating layers of inequality between clients and sex workers.
Self-isolation is a luxury that most sex workers simply cannot afford. Given business is already so dull, client attrition doesn't just mean less work, it means less safe work. When an opportunity crops up, it shoves women into situations where they are forced to compromise boundaries, grabbing anything that comes their way. They are not in positions to negotiate rates or demand vetting of clients. Survival instinct eclipses the very real fear of contracting the virus.
Sex workers are not part of the formal economy in Pakistan, eliminating them from Covid-19 relief agendas; the taboo exacerbates their invisibility at times of such crisis. Few have savings or insurance plans to afford them healthcare or testing. Attempts to mobilise grassroots support for the community, such as through crowdfunding, invites tremendous criticism given the country's religious culture.
Though sex workers are accustomed to the pendulum swinging between feast and famine, the uncertainty of how long this lockdown may last heightens their anxieties. Some women may turn to web cam work and other online services; however, digital access in Pakistan remains is now widespread, limiting their economic options further. Clients, too, are unlikely to settle for virtual interaction as a substitute for an in-person exchange.
Coronavirus is decimating the sex industry while also carrying out something of a social autopsy in economically fragile countries such as Pakistan: there is an incompatible dichotomy between hunger and disease. On the one hand, in the case of a complete lockdown, hordes of families – including the children and dependents of sex workers – will struggle for survival without money for basics such as food, shelter, utilities. If this situation persists indefinitely, the probability of a rebellion on the streets cannot be ruled out. On the other hand, looser quarantines and less austere measures are likely to produce wider, uncontrollable spread of contagion, especially in those nations with an already fledgling healthcare infrastructure.
No easy solutions present themselves, but government efforts are underway. An Ehsaas Emergency Cash Programme – the largest social protection effort in the country's history – was launched last week to pay close to $1bn dollars to those hardest hit by the financial slowdown.
Yet, beneath the topsoil of this crisis, we remain mired deep in our own political dramas. Daily chastising taking aim at the government for failing to offer miraculous intervention and a definitive Covid-19 timetable swallow up copious amounts of television and social media airtime. At a moment of extraordinary global catastrophe, this political opportunism and point scoring erodes collective action and coalition-building; discord becomes ascendant, subsuming people with more despair.
A less superficial and implosive approach may help us weather the storm better; to spend energies devising ways of protecting daily wage earners and anticipating and preventing the next looming threat to their incomes – including those industries our culture would rather we pretended did not exist.
Covid-19 offers a timely warning to Pakistan: if we waste more time poking at differences within, it will be tantamount to tossing a lit match into a powder keg. Much like the jagged edges of Heera Mandi's once regal buildings – their walls now scorched and crumbling, window panes shattered – our country too, will bear nothing but the ghastly silhouette of a discordant, avaricious and polarised past. What's worse, we may not realise what a ballast it has been until it is game over.
https://tribune.com.pk/story/2198794/9-sex-workers-pakistan-face-cruel-dilemma-feed-children-risk-covid-19-infection/
--------
Deputy Mayor Islamabad Syed Zeshan Naqvi Praised Women Sanitary Staff Working Amid Risk Of COVID-19
Fahad Shabbir
16th April 2020
ISLAMABAD, (UrduPoint / Pakistan Point News - 16th Apr, 2020 ) :Deputy Mayor Islamabad Syed Zeshan Naqvi on Thursday highly praised the contributions of women sanitary staff of Metropolitan Corporation Islamabad (MCI), working amid risk of Coronavirus lockdown.
Talking to APP, he said that in this difficult time, Sanitary workers specially women were serving us and playing great role in keeping the city clean amid risk of COVID-19.
He said that a total 570 women sanitary workers were part of the sanitation staff of MIC which was on daily basis collecting garbage and sweeping each street of the city.
Maliha Hussain a social activist said that the sanitary workers specially women are working these days amid risk of coronavirus pandemic lockdown, adding that all the sanitary workers and specially women workers should be praised for their services in keep the city clean and green.
She said that most of the women sanitary staff either working in Capital Development Authority (CDA) or Metropolitan Corporation Islamabad (MCI) should be hailed for the hardwork.
Maliha Hussain said that all these people contributing in this testing time was our heros, adding that the senior officials should also acknowledge the contributions of these sanitary staff specially women.
She said that the authority should ensure protective equipment to the sanitary workers specially working in collection of tons of garbages from each street of the city.
https://www.urdupoint.com/en/pakistan/deputy-mayor-islamabad-syed-zeshan-naqvi-pra-894529.html
--------
Iran: Female Breadwinners, Primary Victims of the Repressive Regime During the Coronavirus Outbreak
15th April 2020
One sector of society that suffers dual economic pressure is nearly four million female breadwinners, most of whom live under the absolute poverty line. Their condition is so dire that even the state-run media have been reporting about their plight. On Monday, April 13, 2020, the state-run Javan daily wrote, "One of the worst economically affected sectors by the Coronavirus outbreak are women heads of household… their true (suffering) could be seen among peddlers in subways, carrying heavy goods from one car to another, trying to sell their goods to female passengers on the metro. Female breadwinners, working in underground workshops, either those who have lost their husbands or those who lack support, as well as girls who need to support themselves, are very vulnerable in such a situation."
On March 24, 2020, in a story about 33,000 women heads of household in Khuzestan, the official state news agency IRNA wrote, "A report on 140 women who have been working in home-based businesses, as peddlers or producing handicrafts, show that the financial pressure on them has been so severe that it has led to stress and depression to a point where some speak of suicide…Women in charge of households are usually mal-nourished and thus suffer from low immunity."
The number of female-headed households in Iran is rising exponentially. According to the regime's welfare statistics published by Shahrvand state-run daily on July 10, 2018, in the past ten years, 60,300 women have been added to the female-headed households every year. On February 24, 2020, parliament deputy MassoumehAghapourAlishahi told state-run Asr-e Iran daily, "This figure has increased by 58 percent over the past ten years."
According to Massoumeh Ebtekar, Hassan Rouhani's deputy for women and family affairs, whose remarks were published by IRNA on September 27, 2018, the names of 3.6 million women heads of household have been registered in the database. Clearly, the statistic does not include all female breadwinners.
On March 24, 2020, the state-run news agency, ILNA, wrote, "82% of female heads of household are unemployed and lack a stable source of income… To avoid social harm, they have to resort to informal and high-risk jobs such as peddling in the humid subways."
On December 3, 2019, IRNA wrote, "The presence of a female head of household increases the probability of being in absolute poverty compared to male heads of households, and poverty itself reproduces the cycle of losses and problems."
On May 31, 2018, Ali Rabii, then-Minister of Labor, said that more than three million women heads of household in Iran live in absolute poverty. But the mullahs' corrupt and misogynous regime which has usurped much of the wealth of the Iranian people, even in the midst of the Coronavirus crisis has taken no action to reduce the excruciating pressure on these women.
Women suffer from dual oppression in Iran under the ruling religious dictatorship. Iranian women have always borne the brunt of repression and social and political deprivation. The only solution to the tragedy that has engulfed the general public today, especially women, is the overthrow of the religious tyranny, with the rebellious and freedom-loving women of Iran being at the forefront of that struggle.
https://www.ncr-iran.org/en/ncri-statements/statement-women/iran-female-breadwinners-primary-victims-of-the-repressive-regime-during-the-coronavirus-outbreak/
--------
Woman recounts Covid-19 fight in UK
16 Apr 2020
A MALAYSIAN woman who contracted Covid-19 in Manchester, Britain, was forced to wait for a week before a local hospital could find a bed to admit her, Sin Chew Daily reported.
Mandy Lam, who began experiencing high fever, dry cough and muscle aches on March 24, recounted her ordeal in attempting to get admitted to the hospital for treatment.
Lam, who is from Segamat, Johor, said she subsequently developed breathing difficulties and made several attempts to get an ambulance, but to no avail.
It was only in the second week of contracting the virus that she received a call from the hospital saying they would be able to admit her.
In the six-minute clip, Lam spoke with a coarse voice and said during the worst days of the infection, she could hear sounds resembling the "twisting of plastic water bottles" coming from her lungs.
Lam also said she had worn face masks since the outbreak began and washed her hands often, and that the only place she frequented was her office.
Despite her precautions, she still ended up contracting the virus, prompting her to urge everyone to stay home.
Lam, who has worked in the city after graduating from Manchester Metropolitan University, said she relied on vitamin C, ginger and traditional Chinese medicine in her two-week battle against Covid-19, adding that she was lucky to be alive.
> Singaporean singer JJ Lin (pic) was dubbed the "best boss ever" by the press after he was seen letting off an employee who accidentally scratched his car, China Press reported.
Even though the rim was damaged, he did not ask for compensation from his personal assistant, prompting Taiwanese press to dub him the "best boss ever".
> In a tearful confession, Hong Kong actress and singer Shiga Lin admitted that she had broken up with boyfriend Terry Chui after three years of dating, Sin Chew Daily reported.
https://www.thestar.com.my/news/nation/2020/04/16/woman-recounts-covid-19-fight-in-uk
-----
Nadiya Hussain on anxiety in coronavirus lockdown: 'We haven't been out for a walk for 16 days'
By Etan Smallman
15th April 2020
In Nadiya Hussain's new picture book, a child talks about his monster – the large, yellow, furry creature that has "always been there" and "just wouldn't go away. It wouldn't leave me alone".
Representing a world of worries, the creature begins to lose its power only when it is talked about out loud, before finally shrinking and retreating to live in the youngster's pocket.
The chef and TV presenter has lived with her monster since she was seven. Last year, in a BBC documentary and in her memoir, Finding My Voice, she spoke movingly about her post-traumatic stress disorder, the result of sexual assault by a relative when she was five, racist bullying in childhood (she thought she was going to drown when her head was flushed down the toilet) and fearing her two ill younger siblings were going to die.
"I live with anxiety every single day," she says. But over the past couple of weeks, her panic attacks have "definitely got a lot worse".
Hussain, her husband, Abdal, and their three children began self-isolating for a fortnight after one of her sons developed a cough. Speaking to i earlier this month two days after her quarantine period came to an end, the 35-year-old admits that she has still not left the house.
"We haven't been out for a walk for 16 days, which is unusual for me, because I use walking as my release," says the 5ft 1in cook who became an overnight star when she won The Great British Bake Off in 2015. "Because we've been in isolation for so long, it's really hard to know what to expect out there and it's a little bit scary."
The self-professed "hugger" ("I'll hug everyone, anyone") is suffering from the lack of physical contact with her wider family. And for someone so busy – she has published 13 books and hosted eight TV shows in less than four years – being stuck at home is a sort of purgatory.
"It's horrid. I'm not the kind of person that spends a day decluttering the house – it's always decluttered. I'm looking at lots of people tidying their cupboards and mine are tidy. I don't really know what else to do any more.
"As much as it is difficult, I think I'm giving myself the mental space now to not force myself to constantly be doing something. It's OK to not create, it's OK to just be."
Hussain is trying and failing to restrict herself to checking the news just once a day, but is finding comfort in being able to knock up fresh meals for her children instead of batch-cooking dishes to be heated from frozen while she is off filming.
She is teaching her children how to sew on buttons ("and then they know that they don't just throw a shirt away when they lose one") and how to make woollen tassels, which they will use to decorate their house in Milton Keynes.
Hussain, who won a national poetry competition at seven with a poem about a mother who gets soap in her eyes, has also been turning to verse. "I absolutely, love, love, love it. It's one of my favourite things to do and it is getting me through," she says.
"We have to find a silver lining," she explains. "I think right now with everything that's going on, if you don't, then you go into a deep, dark hole. For me, I think I don't want to be in the hole without a ladder, at the moment."
Hussain has spent her life exceeding the family and community expectations placed upon her. ("Bastard!" was what her father said when he discovered his wife had just given birth to her, their third daughter rather than the boy he wanted.) "I always dreamt big, I always felt that I was going to do something," she says.
"I was going to go to university, and I was going to have a career." Instead, she found herself in an arranged marriage at 20 and had to wait a decade before a new life would begin.
"My mum always says to me, 'Are you done? When are you going back to the kids?' And I'm like, 'Mum, this isn't me done. I'm not on a jolly, and then I'll be finished one day. I want to be doing this for a really long time.'"
She adds: "At 35 with three kids, I feel like I'm reliving everything I would have done in my 20s and there's nothing wrong with that."
A government adviser once said Hussain had done "more for British-Muslim relations than 10 years of government policy", but she also likes to think she is making an impact closer to home – including on her 21 nieces and nephews.
"All of those children see me do something that they don't often see British-Bangladeshi Muslim women do, so I hope, especially for the girls, that they think, if Auntie Nadiya can do it, then you know what, so can I."
Hussain adds: "The most important thing to me is my children. I want my kids to see that they are capable of doing whatever it is that they want to do. And that they shouldn't be afraid of a big dream."
https://inews.co.uk/news/health/nadiya-hussain-great-british-bake-off-coronavirus-lockdown-anxiety-interview-2538730
-----
Muslim men carry Hindu woman's bier
16-Apr-2020
Amid the crisis caused by the coronavirus pandemic, this news is perhaps quite heartwarming. In a display of communal harmony, Muslim neighbours lent their shoulders to the mortal remains of a Hindu woman for her last journey to the crematorium. They carried her bier and performed the funeral rites on Wednesday. The incident is of Teelajamalpura area of Bhopal after relatives of the women were unable to come to the city and carry out her funeral procession due to nationwide lockdown enforced to control the spread of Covid-19 pandemic.
And the Harijan Basti area where the 50-year-old woman named ShamaNamdev resided is under an indefinite curfew. She died on Tuesday late night after a prolonged illness. Ex-Chief Minister Kamal Nath tweeted the video showing Muslim youths attending the funeral procession. The videos and photos that have been widely shared on social media, one can see that the Muslim men wearing masks are carrying the mortal remains amid the chants of 'Rama Naam Satya Hai'.
They carried the bier on their shoulders from Namdev's house to the ChholaVishramghat (cremation ground). Only eight persons were allowed to go for funeral because of the curfew. Later, woman's husband lit the pyre and the cremation was done as per the Hindu rituals. Mohammad Shahid Khan, a neighbour who helped organise the funeral, told 'The Hitavada' that Muslims in the locality had come forward to help the Hindu family as a humanitarian gesture. "It was our duty as neighbours, as they had no relatives here. We have got immense satisfaction by helping them out."
https://www.thehitavada.com/Encyc/2020/4/16/Muslim-men-carry-Hindu-woman-s-bier.html
--------
PKR suspends women's chief for meeting Azmin, Zuraida
FaizZainudin
April 15, 2020
PETALING JAYA: PKR has suspended the membership of its women's chief HanizaMohd Talha for allegedly meeting two party leaders who have allied themselves with the Perikatan Nasional government.
Haniza was said to have met former deputy president Mohamed Azmin Ali and former vice-president ZuraidaKamurddin at a hotel in Damansara on Feb 24.
Azmin and Zuraida were sacked following their involvement in the so-called "Sheraton move" which saw the collapse of the Pakatan Harapan government and the emergence of the Perikatan Nasional administration.
SyarulEma Rena Abu Samah, who was recently sacked from the party, claimed that "more than 200 members" were given letters of suspension and termination on April 1.
She said the grounds of dismissal in the letters given to members, including herself, were vague and deprived them of defence.
Ema, who is also known as Ratu Naga, is said to be an ally of Azmin. Yesterday, she thanked Haniza for teaching and guiding her during her time as a party member.
https://www.freemalaysiatoday.com/category/nation/2020/04/15/pkr-suspends-womens-chief-for-meeting-azmin-zuraida/
--------
Combating coronavirus: Pregnant woman, unwell mother in Dubai pin hope on special Pakistan flight
April 16, 2020
These women and many more are now relieved as they see end to their miseries.
Among them are a pregnant woman, a sick mother with her premature baby and another woman with three kids to feed - who are stranded in Dubai and Sharjah as their husbands are stuck in Pakistan. These women and many more are now relieved as they see end to their miseries. They feel their relentless prayers have been heard.
Sonia Faisal is brimming with hope since Tuesday morning. Sonia, who is recovering from caesarean delivery complications and her vertigo illness, is struggling to manage her preterm baby. Her husband Faisal Mushtaq is stuck in a remote place in Sialkot and it's difficult for the couple to connect over phone. "Momina, my eight-month-old baby, has high temperature for many days. I get severe vertigo attacks. I still have complications from my C-section and developed a new pain for a while now. I didn't know my husband will be away for so long. I don't know whom to turn to if I collapse after vertigo attack. There's no one to look after my baby. I am new to this country and don't have any relatives or friends here. I don't even know my neighbour. My husband works for a company in Dubai and went on an official trip to Pakistan last month. I hope he can take the first flight to Dubai. My baby's vaccination is coming up and I can't leave alone for it," Sonia said.
Meanwhile, Lara Talha, a Filipina who is married to a Pakistani, is five months pregnant and her husband Talha Abdul Rehman is not in the UAE. "My husband went to Lahore on March 16 as his father passed away. He couldn't return ever since. His details are registered on Tawjudi. Also, I lost my job as the hotel I was working at is shut. I am tensed and stressed. I don't have any friends here. I am scared to go to hospital alone as they are too crowded. I am apprehensive and anxious."
Lara fears her stress and frustration may affect the growth of the unborn. However, the news of special flights has renewed hopes that her husband will be back soon.
"He left on February 27 as his mother was unwell. I am here alone with my three kids aged one, four and six-and-a-half years. It is becoming very difficult for me to manage things. Our rent payment is for next month. Then there are credit card payments for which banks are not giving time as they say deferrals are only for loans. School fees of kids are due. I am trying to manage things but unable to fulfill all requirements. I need my husband to come back as soon as possible."
For all these people, who have their dear ones stuck in Pakistan, their hopes are pinned on the flight announced for next week.
https://www.khaleejtimes.com/coronavirus-pandemic/combating-coronavirus-pregnant-woman-unwell-mother-in-dubai-pin-hope-on-special-pakistan-flight
--------
URL: https://www.newageislam.com/islam-women-feminism/bangladeshi-origin-feminist-running-become/d/121590
New Age Islam, Islam Online, Islamic Website, African Muslim News, Arab World News, South Asia News, Indian Muslim News, World Muslim News, Women in Islam, Islamic Feminism, Arab Women, Women In Arab, Islamophobia in America, Muslim Women in West, Islam Women and Feminism