New Age Islam News Bureau
03 November 2021
• East London-Born Rifat Malik of a New American Publication Centring the Work of Muslim Women Journalists
• Under Taliban, Radio Stations Promoting Women's Voices Make Changes
• Arab Filmmakers to Receive the 2021 Women at Sundance Adobe Fellowship
• UAE: Women Have To Be Agents Of Change, Hears Panel On Gender Violence
• The Woman Defying The Taliban On Girls' Education
Compiled by New Age Islam News Bureau
URL: https://www.newageislam.com/islam-women-feminism/bangladeshi-american-shahana-hanif-new-york/d/125705
--------
Bangladeshi American Shahana Hanif Makes History; Elected to New York City Council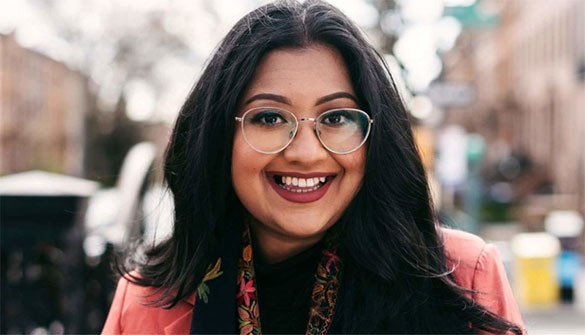 Shahana Hanif of Bangladeshi descent makes history as the first Muslim woman elected to New York City Council
---
By Michael Gold and Karen Zraick
Nov. 3, 2021
In New York City, a global beacon that draws a diverse population from all over the world, the City Council has never had a person of South Asian descent — or a Muslim woman — among its membership.
That changed on Tuesday, when Shahana Hanif, a former City Council employee, won her election in a Brooklyn district that covers Park Slope, Kensington and parts of central Brooklyn.
Ms. Hanif, who is Bangladeshi American, was the first Muslim woman elected to the Council in its history, despite the fact that the city is home to an estimated 769,000 Muslims.
She was one of two history-making South Asian candidates to win as well; the other, Shekar Krishnan, won a seat representing Jackson Heights and Elmhurst in Queens. (A third, Felicia Singh, another South Asian candidate, lost to her Republican opponent in a closely watched Queens race.)
In a statement on Tuesday night, Ms. Hanif said that she was "humbled and proud" to be the first Muslim woman on the Council — and the first woman of any faith to represent District 39. She cited volunteers and endorsements from community and progressive groups, including the left-leaning Working Families Party.
"Together we are building an anti-racist, feminist city," she said. "We deserve a city that protects its most vulnerable, a city that has equitable education, a city invested in climate solutions that are local and driven by communities, a city where our immigrant neighbors feel at home and heard and safe. This work requires all of us to keep showing up even though the election is over."
The City Council will also have its first out gay Black women serve as members next year: Kristin Richardson Jordan scored an overwhelming victory in a Harlem district, as did Crystal Hudson in a Brooklyn district that encompasses parts of Prospect Heights, Crown Heights, Fort Greene, Clinton Hill, and Bedford-Stuyvesant.
A number of other L.G.B.T.Q. candidates clinched victories, including Tiffany Cabán in Queens. Chi Ossé in Brooklyn and Erik Bottcher in Manhattan had run in uncontested races. Lynn Schulman was expected to win a seat in Queens.
The candidates are part of a larger shift in New York's City Council, which is poised to be nearly as diverse next year as the city it represents. More than two dozen women are positioned to take a majority of the Council's seats, for the first time ever.
Source: New York Times
https://www.nytimes.com/2021/11/02/nyregion/shahana-hanif-muslim-city-council.html
--------
East London-Born Rifat Malik of a New American Publication Centring the Work of Muslim Women Journalists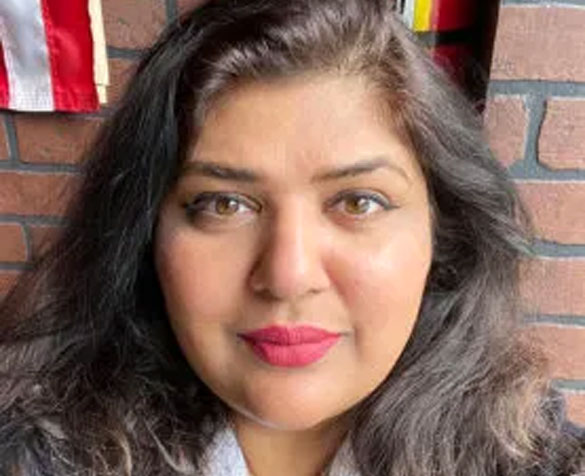 East London-born Rifat Malik
-----
By Joseph Hammond 
November 1, 2021
(RNS) — East London-born Rifat Malik was recently appointed as the editor in chief of a new American publication centring the work of Muslim women journalists.
"Muslim women are often vilified, obsessed over, become the target of speculation or are infantilized in the media and sometimes within the Muslim community," Malik told RNS.
The Texas-based American Muslim Today hopes to change that narrative by placing women at the heart of the storytelling.
The current editorial staff is six women, including interns, while the sole men involved in the project are in technology and other supporting roles. While some outside contributors are men, the bulk of their content is authored by women.
"The point of our publication is to offer a woman's perspective," said Malik. Not only on issues that affect women, she added, but also "those that impact the wider Muslim community."
The publication's foremost goal, she noted, is to provide professional coverage of news and topics that appeal to the roughly 3.5 million Muslims in America, as well as those living in other Western countries.
The digital-only publication attracts 20,000 daily visitors across its web and social media platforms, a figure that is steadily rising. The growth of AMT and similar publications, such as Muslim Girl, suggests changing attitudes in the Muslim community in America — toward women and media.
"I think today there is a shift in the media industry writ large with more and more women going into the profession," said Malik. "That is being reflected in the Muslim community. Last time we had seven female interns with the publication. I think that interest and that of their families suggests a growing understanding of the importance of media."
The first generation of Muslim publications in the United States tended to be focused around a particular institution, be it a mosque or university Muslim association. The lines between news reporting and editorial were often blurred. Few of them involved women in any substantial way. AMT is an example of a new generation of Muslim American media in the United States, striving to provide a higher level of journalism.
Malik, who heads the publication, moved from the UK to a small town in East Texas in 2009. Malik expected a Texas version of the racism and Islamophobia she experienced as a British-born Pakistani. Instead, she found the community to be accepting and tolerant.
"Unexpectedly for me, this was to become one of the most enriching experiences of my life," said Malik. "Complete strangers would just come up and say how adorable my kids were ... As a brown woman I felt I was equally respected and made to feel at home." She later moved to Dallas and said her initial positive perception of America has only grown with time. Her children, she said, are enjoying an experience far different from the one she experienced growing up near the city of Manchester in northern England.
"It was such a contrast to my own upbringing, where we were called 'WOGS' and 'Paki's' on a daily basis, and white skin heads would set their dogs on us — even our school buses operated an informal segregated policy, with South Asian kids at the front and whites at the back."
As a child, Malik said she dreamed of being a journalist. Yet, as with many immigrant families on both sides of the Atlantic, her parents encouraged only three potential career paths: medicine, law, or engineering. As she dutifully earned her law degree, she was shocked to find her younger siblings still facing the racism she had faced as a school girl almost a generation earlier. She found their experience and hers differed sharply from British self-conceptions of a multicultural democracy. On a whim she wrote an op-ed to The Guardian, a London newspaper. She never expected to hear back from them but found crafting the piece cathartic.
"To my shock, I got a call days later from an editor saying they would be publishing the article. As a result, local community members reached out because the sentiments resonated with them. A local TV network news program interviewed my brother about his experiences. For the first time in my life I got to have a voice and to feel worthy of being heard," she said.
Malik decided to re-focus her career on journalism and received a traineeship at The Guardian and later positions with other British media outlets. As the deputy editor of EAST, a national newspaper for British South Asians, she gained experience with community journalism.
As editor in chief of American Muslim Today, Malik hopes to provide coverage of taboo and little-considered topics, particularly issues that often go uncovered involving women.
Recent stories include one about a Miami medical student seeking to spread awareness of breast cancer, and another features a British Muslim woman who has developed a hijab suitable to be worn under a hard hat.
AMT also emphasizes coverage of mental health among the Muslim community. Suicide, depression and dementia are increasingly impacting a new generation of Muslim Americans, and AMT regularly brings on counselors and therapists as outside contributors to write on these issues.
"We have articles that involve certified therapists and experts in the field, which I think is one way the publication is breaking down taboos and encouraging those in need to seek mental health help," Malik said.
"It's not just about changing the narrative and speaking for ourselves," she said. "That is, of course, important, but we think it's also key for this generation of Muslim Americans to build institutions — including within the media."
Source: Washington Post
https://www.washingtonpost.com/religion/a-new-generation-of-muslim-american-media-puts-women-in-focus/2021/11/01/980d488e-3b5f-11ec-bd6f-da376f47304e_story.html
--------
Under Taliban, Radio Stations Promoting Women's Voices Make Changes
November 02, 2021
FILE - A radio presenter reads the news during a broadcast at the Merman radio station in Kandahar, Sept. 29, 2020.
-----
Mina Akbari used to have a busy work schedule, presenting two daily shows for Shamshad TV in Kabul, and preparing content on women's issues for Nargis, a radio station in Afghanistan's eastern Nangarhar province.
But since the Taliban took Kabul on August 15, Akbari has been at home, too scared to return to work.
Nargis, the station where she worked, is one of at least three radio broadcasters run or staffed by women that have made changes to staff or programming out of concern that the Taliban may retaliate against them. One has temporarily suspended operations.
While none have received direct orders by the Taliban, under the group's previous rule women were not allowed to work or have high-profile roles. And since it took power, girls aged 12 to 18 have been told to stay at home.
The Taliban's acting deputy minister for information and culture, Zabihullah Mujahid, told VOA last month that women will be allowed to return when it is safe.
"It is for the Islamic scholars to decide the rules for women and teach them how to work or continue their education," Mujahid said, adding that the Taliban is waiting for the scholars to inform the government of their decision.
The Taliban have also said that private media would be allowed to operate freely, as long as they did not go against Islam. But the group has circulated media guidelines, and rights groups have cited a spike in violence and threats perpetrated by Taliban members in the past two months.
Some journalists at state-run stations have also said they were blocked from working. Shabnam Dawran, an anchor for the state-run Radio Television Afghanistan (RTA), spoke publicly about how Taliban members prevented her from going to work.
"I was told by the Taliban to go home. The regime has changed," Dawran told VOA Deewa.
Dawran said that she was dressed in a hijab and presented her work ID, but she was not allowed to enter office. Male colleagues, however, were allowed into the station's offices.
"I had only seen Taliban in the pictures, in the media, in the news, but I had never imagined that one day I will stand up to and argue with them," Dawran said. "While I argued, one Talib came forward pointed his gun at my head and said, 'It is just a matter of a bullet.' But I responded no matter what, a hundred women like me has been killed and I will be the 101st."
Khadija Amin, who works for the same channel, says she was also sent home.
"Taliban would never want women to work. If the Taliban had no issue with women going to work, why did they not have a single woman representative in the peace process?" Amin asked.
"I do not believe in what Taliban says," she told VOA, as she pointed to reports of Taliban beating journalists.
Suhail Shaheen, a spokesperson for the Taliban's political office in Qatar, did not respond to VOA's requests for comment.
For Nargis journalist Akbari, the memory of threats before the Taliban were officially in power added to her decision to stay away from work.
"I was threatened by the Taliban a couple of times for not wearing a head scarf in the TV shows, for discussing women's rights or for reporting the facts about Taliban. They even accused me of being against Islam and being an infidel," said Akbari. "Several times for a short period of time I had to move to the neighboring countries and then came back to continue my work."
Several staff at the female-run station have gone into hiding. Some have even left the country.
Shafiqullah Rahmani, station manager for Nargis, said that many women-run organizations were affected by the Taliban takeover.
"Our female colleagues are still frightened. Each one of these women have worked more than 10 years in the field of journalism. We are in touch with them and they wish to return to work but are waiting for the Taliban's leadership to announce that they are allowed to go to work," Rahmani said.
It's a similar story at Naz, a local station in Khost province that broadcasts shows on education, health, awareness.
The station was run by around 15 women, but after the Taliban captured Afghanistan, none of these women returned. Instead, they were replaced by male colleagues.
Station manager Anwar Sadiq told VOA Deewa that his female colleagues had to stop coming in. "Their future is vague; they are still waiting," Sadiq said.
"The Taliban have not said anything to us about women's work in our radio, but the women thought if Taliban do not allow girls [to go] to school then it means they are not allowed to work either," he said.
In the western province of Kandahar, local station Merman — which means "woman" in Pashto — closed temporarily. Its team of female presenters used to broadcast for 14 hours a day.
The station was awarded the Reporters Without Borders prize for impact in December 2020 for its work promoting women's issues, and offering training.
Ruhullah Sherzad, the station's manager, told VOA Deewa, "We have shut the radio temporarily. We have not been assured yet."
When asked if the journalists could continue if they broadcast from home, Sherzad said it would be difficult.
"We might not be able to provide all the technical assistance at home for our workers. We have economic problems," he said. "There are so many issues in Kandahar with electricity and internet. We cannot provide computers, mics and all other equipment to these women at home. It will be costly."
For radio journalist Akbari, the past two months have been tough. "My heart breaks into pieces because I have no work to go to. I miss my colleagues and my workplace," she said.
Source: VOA News
https://www.voanews.com/a/under-taliban-radio-stations-promoting-women-s-voices-make-changes-/6297190.html
--------
Arab filmmakers to receive the 2021 Women at Sundance Adobe Fellowship
November 02, 2021
DUBAI: The Sundance Institute, the nonprofit organization that organizes the yearly Sundance Film Festival, announced the recipients of its 2021 Women at Sundance Adobe Fellowship on Tuesday — and two Arab filmmakers have made the cut: Meryam Joobeur and Malika Zouhali-Worrall.
The year-round program aims to support women artists creating new work in film and media.
It offers a full year of support with custom-tailored mentorship from Sundance Institute and Adobe executives through skill-building workshops, ongoing coaching, a $6,250 cash grant and a one-year subscription to Adobe Creative Cloud.
Fellows will also receive introductions to key industry contacts and creative advisors, referrals to specific career and development opportunities.
Joobeur is a Tunisian director, based in Canada, who has previously been nominated for an Academy Award.
Her academy nominated "Short Brotherhood" (2018) screened at over 150 festivals and won 75 international prizes. Her short films "Gods, Weeds and Revolutions" (2012) and "Born in the Maelstrom" (2017), starring US actress Sasha Lane, also screened internationally.
She is co-owner of the Tunisia based production company Instinct Bleu with producer Sarra Ben Hassen, and is currently developing her first feature project "Motherhood."
She is the 2021 Sundance Institute's January Screenwriters Lab Fellow.
Zouhali-Worrall is a British-Moroccan filmmaker based in New York.
The Emmy Award-winning director's work includes the feature-length documentaries, "Call Me Kuchu" (2012) and "Thank You For Playing," which won the News & Documentary Emmy Award for Outstanding Arts & Culture Documentary in 2017.
In 2021, Zouhali-Worrall completed her fifth short, "Video Visit," which will be released by production company Field of Vision, and screen at the US's BAMCinemafest.
Zouhali-Worrall was a 2020 Sundance Institute Momentum Fellow.
Joobeur and Zouhali-Worrall are among six other recipients that include filmmakers McKenzie Chinn, Melody Cooper, Deborah Esquenazi, Cris Gris, Rajal Pitroda and Shaandiin Tome.
Source: Arab News
https://www.arabnews.com/node/1959991/lifestyle
--------
UAE: Women have to be agents of change, hears panel on gender violence
by Anjana Sankar
11 Oct 2021
While education and legal reforms will give a big push to gender equality, the bigger battle is to overcome cultural barriers that normalise violence against women and young girls, a panel at the Women's pavilion heard on Monday.
Girls and women from different parts of the world joined in the live conversation 'The 'We Can! Girls' Voices for Girls' Empowerment' that was hosted by international charity Save the Children to mark the International Day of the Girl on October 11.
One of the panelists, Sara Al Madani, Emirati influencer and entrepreneur, said no system, no leadership or strategy can better the cause of women unless the right messages are conveyed at homes. "If there is a broken message at home – that girls are princess and a rich prince will marry them, Al Madani said, "you are slowly breaking their self-esteem, their resolve and purpose to live."
"So, there are these amazing organisations that are trying to change the world. But each one of us sitting here can make the difference."
She said women only need inspiration and not empowerment to realise their potential.
The panel moderated by Heba Al Emara also heard from Mona Al Shazly, popular television host from Egypt, call for the need to introduce lessons of gender parity in school curriculums.
"We need to talk about Middle East countries. Education is the key to changing the culture. It is not easy. But when we introduce these concepts when boys and girls are young and starting to understand the world, they need to hear messages and stories that will amplify the crime of beating your sister or wife," said Al Shazly.
Sharing real-life situations and how they are making a difference in their communities, teenagers from Lebanon and Egypt spoke about how they use art to raise their voice against gender violence and promote empowerment.
Gwen Hines, CEO of Save the Children UK said, in her remarks that people have to understand that short term decisions have long term consequences for girls and their lives. "The more years of education she has, there are better prospects for her not just economically but also for her to be able to speak for herself and also take care of the welfare of her family," said Hines over the zoom chat.
The audience were also treated to a virtual puppet show that drummed home the message that child marriage can have disastrous consequences on their future.
The sessions wrapped up with panel members taking a pledge to improve the lot of girls by promoting education and awareness.
Source: Khaleej Times
https://www.khaleejtimes.com/uae/uae-women-have-to-be-agents-of-change-hears-panel-on-gender-violence
--------
The woman defying the Taliban on girls' education
Nov. 3, 2021
When the Taliban took power in Afghanistan they instructed girls and young women to stay home from school. With no resolution in sight, one member of the Afghan diaspora decided to act. Angela Ghayur's online school now has nearly 1,000 students and more than 400 volunteer teachers.
Angela was just eight when civil war broke out across Afghanistan, in 1992. Her family fled from their home in Herat in the west of the country to Iran, and for the following five years Angela was unable to go to school - ineligible because of the family's temporary visa status.
"It was quite common back then that Afghan children who had fled to Iran couldn't go to school, because they didn't have the right documents," Angela recalled, looking out the window towards the sea from her home in Brighton in the UK.
After five years, Angela's father finally managed to secure the right paperwork and she was able to go to school in Iran. And aged just 13, she realised she had a calling.
Every day after school, Angela would return home and teach 14 other Afghan children, all of them unable to go to school. Angela's father was a gardener in Iran, and she would gather the small class in his well-tended garden and teach them everything she learned that day - reading, writing, maths.
Years later, after the Taliban was deposed from power, Angela returned to Afghanistan and qualified as secondary school teacher, before moving to the Netherlands, and then finally to the UK.
Like many members of the Afghan diaspora, Angela felt paralysed watching events unfold in her home country unfold over the past few months. As the US withdrew the last of its troops, after 20 years of war, the Taliban swept back to power.
In what seems like an instant, two-decades of progress in women's education was put in jeopardy. The Taliban claim that their restrictions on women working and girls studying are "temporary" and only in place to ensure all workplaces and learning environments are "safe" for them.
But the thought of girls once again being deprived of education, like she was for her first five years in Iran, made Angela miserable. After three months with no indication from the Taliban that the restrictions would be relaxed, she felt compelled to act.
So Angela founded the Online Herat School, an educational resource for Afghan women and girls. She posted on Instagram asking for help from any experienced teachers, and since that first post nearly 400 volunteers have joined the programme. Via Telegram or Skype, they offer more than 170 different online classes in everything from maths to music to cooking to painting. Most of the teachers are from Iran, and they work between two and eight hours a day.
"I feel this school is the result of all of my pain, my agonies and experiences," said Angela.
"Our motto is, the pen instead of the gun."
Together the volunteers support nearly 1,000 students. One of them is Nasrin, a 13-year-old who lives in Kabul with her four sisters. Since the Taliban took power, and banned school for girls over seven, the sisters have all had to forfeit school or university.
The girls have been doing their best to keep on studying at home, but it's been especially difficult for her two eldest sisters, who were at university studying medicine and engineering.
"All my dreams have been ruined. Even if the schools reopen, it won't be the same," Nasrin said in an interview. "I wanted to become a pilot, now that will never happen as the Taliban would never let girls be pilots."
But the girls now have a ray of hope, in the form of Angela's online school.
Nasrin is now studying Turkish with one of the volunteer teachers. She would love to live in Istanbul one day, she said. The lessons have allowed her to dream again.
In recent weeks, there has been some positive news for female students in the north of the country, where girls have returned to secondary schools in five of the country's 34 provinces.
Young women in private universities, but not state run facilities have also been allowed to return.
But for Nasrin and her sisters in Kabul, along with the large majority of female students across the country, there is still a blanket ban on their return to school.
Female teachers too, like Nasrin's mum, have been told to stay at home, and the Taliban have offered no plan as to when they will be allowed to return to work.
According to UN estimates, 70% of all qualified teachers in Kabul are women. So even for the boys and young men whose schooling continues, there is likely to be a significant shortage of teaching staff to support them.
Long before the resurgence of the Taliban as a political force, Afghanistan was already struggling with an entrenched lack of access to education. According to the Ministry of Education in 2019, more than a third of over 15 year olds were illiterate.
With the large majority of girls now stuck at home, this unfortunate statistic is only likely to rise.
Source: BBC News
https://www.bbc.com/news/world-asia-59063624
--------
URL: https://www.newageislam.com/islam-women-feminism/bangladeshi-american-shahana-hanif-new-york/d/125705
New Age Islam, Islam Online, Islamic Website, African Muslim News, Arab World News, South Asia News, Indian Muslim News, World Muslim News, Women in Islam, Islamic Feminism, Arab Women, Women In Arab, Islamophobia in America, Muslim Women in West, Islam Women and Feminism