New Age Islam News Bureau
26 Jul 2016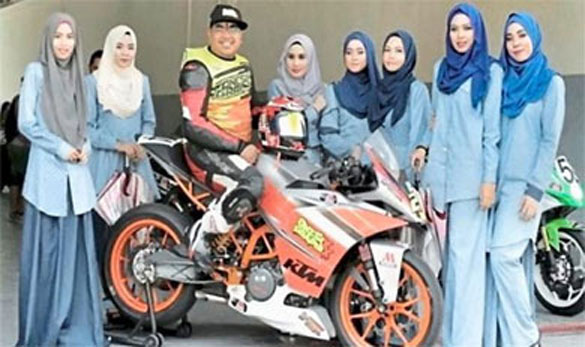 Tudung clad grid girls made their presence felt at the Malaysian Superbike Champion­ships at Sepang International Circuit
--------
• Indonesian 'Maid Detectives' On Mission to Save Women from Trafficking
• Tudung-Clad Grid Girls Turn Heads at Bike Race
• Two UAE Women Reunite with Indian Mother after 28 Years
• IVF Advances Gives Women Over 40 the Chance to Have Children
• It's Time to End Male Control of Saudi Women
• Nahed Taher — Making the Quantum Leap For Saudi Women
• New Rule for Muslim Women Staff In Kelantan
• Madhya Pradesh Waqf Board to Help Muslim Girls Get Govt Scholarships
• Tens of Thousands Of Babies May Be Born With Zika Disorders: Study
• Trafficking Risk Higher Because Of Europe's 'Deplorable' Child Migrant Response: British Report
Compiled by New Age Islam News Bureau
URL: https://www.newageislam.com/islam,-women-and-feminism/new-age-islam-news-bureau/bangladesh--women-being-recruited-for-terrorism,-police-say/d/108081
------
Bangladesh: Women Being Recruited For Terrorism, Police Say
26 July, 2016
Women are being recruited to facilitate or carry out militant attacks in Bangladesh, police said Monday, following the arrests of four female suspects two days earlier.
"The JMB members, now, have radicalized their wives. They have been aiding their husbands' militant activities," Md Abu Yousuf, an additional superintendent of police in Sirajganj district told BenarNews, referring to the banned group Jamaat-ul-Mujahideen.
"On Saturday, we arrested four women, all spouses of fugitive JMB members, from Sirajganj. This is a new trend," he added.
The suspects, identified as Nadira Tabassum, 30, Habiba Aktar, 18, Rumana Aktar, 21, and Runa Begum, 19, were now in jail, he said.
"We have recovered six Molotov cocktails, different types of explosive and jihadi books from their possession. According to their statements to us, they were planning some attacks," Yousuf said.
Another local police official, Waheduzzaman, told reporters that the four were planning to carry out attacks in Uttarpara in Sirajganj district, located some 130 kilometers (80 miles) northwest of Dhaka.
A new phenomenon
The arrests were unusual, especially the arrest of four female suspects at once, police and security experts said.
"The use of women in militant attacks is not often seen in Bangladesh. This is a new phenomenon here. During 2004 to 2006 when the JMB activities were highest, we did not see women have roles in attacks," Sakhawat Hossain, a security analyst, told BenarNews.
He said women clear security screenings more easily because they are not considered to pose any threat.
"So, the JMB may have adopted the strategy to get weapons to a target site. Even the women can easily go to the spot to gather information about the attack and communicate with the attackers," Hossain said.
In some cases, militants marry siblings, allowing them to maintain a close group, he added.
"We have also seen that one of Avijit Roy's killers, Sharif, married the sister of another militant leader. After the marriage, the women get radicalized and help their spouses in militant activities," Hossain said, suggesting that the law enforcers should rethink their security approach to thwart this tactic.
Roy, a Bangladeshi-American engineer, science writer and blogger, was hacked to death by suspected extremists in Dhaka in February 2015.
Abdur Rahman, a resident of Sirajganj, said that local people were shocked to learn the four women had been arrested on suspicion of militant activities.
"This is a matter of great pain that the four women had three children and the children are in jail with them," he told BenarNews.
'Inter-related'
Meanwhile, Home Minister Asaduzzaman Khan Kamal on Monday said police had identified the masterminds of the attacks on a café in the Gulshan 2 neighborhood of Dhaka on July 1 and at Eid prayers in Kishoreganj district on July 7. The attacks left 29 and four dead, respectively.
"All attacks are inter-related. …We have come to know everything about all the murders; we have identified who killed them, how and why," Khan said, without offering more information.
Inspector General of Police A.K.M. Shahidul Hoque on Monday said law enforcers had also identified the sources of the weapons used in the two attacks. He did not give more details, saying such a disclosure could negatively impact the investigation.
The Middle East-based extremist group Islamic State claimed responsibility for the café attack, but Bangladeshi authorities say that JMB was behind that attack as well as the attack a week later on the country's largest Eid prayer gathering.
http://www.benarnews.org/english/news/bengali/women-arrest-07252016165813.html
--------
Indonesian 'maid detectives' on mission to save women from trafficking
26 July, 2016
JAKARTA (Thomson Reuters Foundation) - Rima Jayanti has not had formal training in detective work but with her sharp eye and gut instinct, her task is to spot Indonesian women at Jakarta's bustling airport in danger of being sent abroad to a life of domestic servitude.
Making her rounds, the 23-year-old quickly points out groups of women likely heading abroad to work as maids.
"We can tell from their appearance - sometimes with a bit of instinct too - who are the potential victims and where they are going," Jayanti said.
Domestic helpers going to the Middle East tend to wear an Islamic headscarf, be middle-aged and elusive when asked about their plans, she said.
Women travelling to Hong Kong or Taiwan meanwhile usually have short hair, wear sneakers and are younger.
Some 2.3 million Indonesians are working as maids in wealthier countries in Asia and the Middle East, risking abuse including the non-payment of wages and physical assault.
Jayanti is part of a small team of "maid detectives" from Jakarta-based rights group Migrant Care, tracking down potential victims of human trafficking, and offering advice to others leaving of their own free will on how to look after themselves.
They have had some small successes since they began work last year.
They rescued a woman who had been brought to the airport by a maid agent, only to discover she was about to be sent to Saudi Arabia against her will.
Women often approach a maid agent to help them secure a placement abroad and handle the paperwork. While most work within the law, some have been accused of trafficking women.
"Some women do not know where they are going and what type of job they are getting into, making them vulnerable to human trafficking," said Migrant Care's advocacy programme manager Mike Verawati.
HIGH DEMAND FOR INDONESIAN MAIDS
Maids make up more than a third of the six million Indonesians working abroad, attracted by promises of higher salaries. Last year, migrant workers sent home some $9.4 billion in remittances, according to official data.
But stories abound of maids being sent abroad against their will, enduring horrific abuse and living in slave-like conditions.
A Hong Kong woman was convicted last year of beating her Indonesian maid, denying her food and confiscating her passport.
Jakarta last year summoned the Saudi Arabian ambassador after two Indonesian maids were executed in the Gulf state within a week, one for killing her allegedly abusive employer.
Complaints of mistreatment of Indonesians in the Middle East and the ensuing diplomatic rows prompted Jakarta announced in May 2015 to permanently ban maids from moving to the region. Maids already working there were allowed to remain.
But groups like Migrant Care and the National Advocacy Network of Domestic Workers - two of the Indonesia's leading organisations fighting for maids' rights - have criticised the ban.
They say it restricts women's rights to employment and puts them in greater danger by driving underground an industry which already has a dark side to it.
In March, Indonesian police busted a human trafficking ring which allegedly sent up to 600 Indonesians to work as domestic helpers in the Middle East, local media reported.
"I LIKE WORKING IN SAUDI"
A Migrant Care survey found 1,020 women interviewed at the airport between March 2015 and May this year were heading abroad to work as maids, with the majority going to the Middle East.
Most travelled on tourist or special pilgrimage visas, lured by promises of salaries of at least $300 a month.
Sri, who only gave her first name and has worked in Saudi Arabia in the past, said she was heading back in the hope of finding employment there again.
"I like working there - my work can support my family," the 40-year old said, wearing a white headscarf and travelling with 16 other women. She was spotted by the "maid detectives".
As Sri spoke, a maid agent lurked in the background, taking photos of her talking.
"IF MAIDS ARE CAUGHT, THEY WILL BE PUNISHED"
Officials from the foreign ministry and the government's migrants' protection agency, BNP2TKI, told the Thomson Reuters Foundation they have advised domestic helpers against travelling illegally.
"Maybe one or two are leaving illegally. If they are caught, they will be punished under anti-trafficking laws," Agusdin Subiantoro, who deals with maids working abroad as deputy placement head at the BNP2TKI, said last week.
Some researchers have questioned the wisdom of the ban, noting that the government has not offered domestic helpers - often the main earner in a family - an alternative.
"The moratorium has significantly affected women's opportunity to gain income for their family," said researcher Rofi Uddarojat from Jakarta-based think-tank the Center for Indonesian Policies Studies.
For now, the Migrant Care team is helping women in any way they can.
"We try to raise their awareness before they leave, we ask them if they have a clear contract, if they know who their employers are," Verawati said.
(Reporting by Beh Lih Yi @behlihyi, Editing by Alex Whiting; Please credit the Thomson Reuters Foundation, the charitable arm of Thomson Reuters, that covers humanitarian news, women's rights, trafficking, property rights and climate change. Visit http://news.trust.org)
http://www.swissinfo.ch/eng/reuters/indonesian--maid-detectives--on-mission-to-save-women-from-trafficking/42326460
--------
Tudung-clad grid girls turn heads at bike race
26 July, 2016
Heads turned as seven fully-clad grid girls, complete with tudung, made their presence felt at the Malaysian Superbike Champion­ships at Sepang International Circuit, reported Harian Metro.
The models, clad in blue baju kebaya, stood out among other grid girls on Sunday.
They were hired by a boutique specialising in Muslimah-attire named ZettyJasmy.
The boutique's founder Jasmi Jamil Abdul Malek said the idea behind promoting Muslim models as grid girls was to make a point that aurat-covering clothing could also make an impact.
However, Jasmi Jamil admitted that his idea received mixed responses on social media, with some supporting him and others criticising him.
"Often, when we think about grid girls, we think of those dressed in sexy attire.
"That is why we want to change this perception, and we hope that it can be accepted by the public," he said.
The daily also reported that all is not fair in love and war when a man in Puchong was beaten up by a rival who was competing for the affection of the same woman.
The Myanmar national was working at a restaurant in Bandar Puchong Jaya on Sunday when a man attacked him from behind with a steel rod.
A witness, who worked at the same restaurant, said the victim tried to escape via the kitchen door but was ambushed by two of the attacker's accomplices who were waiting outside.
After a brief struggle, the victim managed to escape. He received 11 stitches for head injuries.
The worker who witnessed the event said he believed the victim had recently started a relationship with a woman who was involved with one of the attackers.
http://www.thestar.com.my/news/nation/2016/07/26/tudungclad-grid-girls-turn-heads-at-bike-race/
--------
Two UAE women reunite with Indian mother after 28 years
26 July, 2016
It was an emotional reunion after 28 years as two daughters from Dubai finally traced their Indian mother thanks to the help from the Hyderabad police.
Tears rolled down the eyes of Ayesha Rasheed Eid Obaid alias Kanoo Rasheed and Fatima Rasheed Eid Obaid as they embraced their mother Nazia Begum in the office of Deputy Commissioner of Police V. Satyanarayana in the old city of Hyderabad on Thursday.
"We never thought we would meet our mother in lifetime. Allah had fixed the meeting and we are glad that we got to see our mother after 28 long years," said Ayesha, who along with her sister had been making frantic efforts to trace their mother for several months.
Nazia, now 60, was married to a UAE national in 1981 at a Qazi's office here.
He took her to Fujairah.
She lived in the UAE for four years and had two daughters Ayesha Rasheed Eid Obaid alias Kanoo Rasheed and Fatima Rasheed Eid Obaid.
Nazia was divorced following some dispute. She was sent back to India but she failed to take her daughters along.
After two years, Nazia's parents married her to a fruit vendor from Bidar in Karnataka. She now has two sons and a daughter from the second marriage.
While she was living with her family in Bidar, her two daughters Ayesha Rasheed and Fatima Rasheed who are now aged 29 years and 26 years respectively came to Hyderabad in search of their mother.
In January, they approached the DCP with a photograph of their mother.
Pamphlets and posters were printed and circulated all over the south zone. Television channels aired stories about the plight of the two women who were desperate to meet their mother.
During meeting with old qazis, police got a small clue. Police made strenuous efforts for six months to trace Nazia.
Nazia had thin memories about her daughter because she saw them around 30 years ago. All she could remember was her younger daughter had six fingers. The police cross-checked the identity mark and after the confirmation arranged their meeting.
http://khaleejtimes.com/international/india/two-uae-women-reunite-with-indian-mother-after-28-years
--------
IVF advances gives women over 40 the chance to have children
26 July, 2016
RIYADH: Dr. Ahmad Mohammad Al-Saleh, gynecologist and specialist in infertility at Dr. Sulaiman Al-Habib Medical Group, said advances in IVF (in vitro fertilization) have enabled medical practitioners to achieve high success rates in such operations, in addition to helping them diagnose with great accuracy pathological problems that lead to infertility in both spouses.
He said IVF is recommended for three categories of patients: Those who have problems that delay or impede the occurrence of pregnancy or childbirth; those who have no direct medical cause to explain delayed childbearing; women who marry later, for example at 40 or more, and fail to conceive for more than six months after marriage.
Dr. Al-Saleh said that there is an excellent protocol that helps realize the dream of women with repeated IVF failures to bear children.
"The procedure depends on three stages: Ensure that there are no antibodies that hinder the growth or adhesion of the embryo in the uterus; cleaning the uterus in order to create a conducive environment that can receive the embryo; 'laser beams on embryo,' which activate the embryo's ability to adhere firmly to the uterus for the pregnancy to occur," explained Dr. Al-Saleh.
He said blocked or damaged Fallopian tubes; polycystic ovarian syndrome; infection of the uterine lining leading to pelvic adhesions, and a woman's age (usually over 40) are some of the reasons for infertility and, consequently, the need to resort to IVF.
In the case of men, infertility could be caused by the absence of sperm; blockage of seminal vesicles, leading to a severe shortage or lack of sperm; increased sperm abnormalities; sluggish sperm.
He said that IVF is the fastest way to achieve pregnancy, compared to other means.
"Through this procedure a doctor can determine the presence and quantity of ovules and sperm, and the extent of their interaction. Moreover, a woman can be subjected to more than one IVF procedures, depending on her health situation or any other related factors," he added.
Modern techniques of treating infertility have contributed to a great increase in birth rates, said Dr. Al-Saleh adding: "Modern incubators help the married couple choose the best embryos to grow in the uterus, which increases pregnancy chances by between 10 and 15 percent."
http://www.arabnews.com/node/959781/saudi-arabia
--------
It's Time to End Male Control of Saudi Women
26 July, 2016
Three videos on Saudi Arabia's male guardianship system went viral this week.
In three days, the videos attracted 2 million views and effectively reached more than 6 million people. People tweeted and retweeted the English and Arabic hashtags #TogetherToEndMaleGuardianship and #معا_لإنهاء_ولاية_الرجل_على_المرأ thousands of times. And they accessed the Human Rights Watch (HRW) research that initiated the campaign more than 13,000 times in English and in Arabic.
Our new report on Saudi Arabia's male guardianship system, "Boxed In: Women and Saudi Arabia's Male Guardianship System," examines in detail the panoply of barriers adult women in the country face when attempting to make decisions or take action without the presence or consent of a male relative. The videos offer examples – women whose guardians prevented their travel, refused to release them from prison or abused them and maintained authority over them.
After a year's worth of conversation with incredible Saudi women, I followed the social media discussion closely. Responses ran the gamut from Saudi women reaching out to share their own stories of guardians restricting their freedoms to a Saudi man assuring me women in the country were fine. His evidence? He paid his wife's beauty clinic invoices.
There were a few common refrains.
Guardianship rules are custom, not law or policy.
The chairman of the quasi-governmental National Society for Human Rights was the most prominent proponent of this argument, telling Reuters the report "conflates the laws on women's guardianship … with customs prevailing in society that may … take time to change."
To be sure, some guardianship rules are informal, but many others are government-enforced.
ust this month, a female Saudi lawyer launched KnowYourRights, an app that "defines the rights of Saudi women in courts" and includes a page laying out official transactions that require guardian permission.
The list includes permission for women to travel, marry or be released from prison at the end of their sentences.
The Justice and Interior Ministries websites give guardians electronic options to cement their control – to permit or prohibit women's travel or to file legal claims enforcing their authority – all from the comfort of home.
For women on the receiving end of discrimination, it doesn't much matter if guardianship rules are "custom" or "law." The result is the same: Decisions are imposed on women without their say. Saudi Arabia has an obligation to address the discrimination – now.
Guardianship rules are meant to protect women.
I spoke with women who were physically abused by their guardians, women who were prevented from travel, study or work by their guardians and women whose relatives or friends were forced to pay their guardians large sums for the required permissions to work or travel.
Women whose guardians refuse to release them from prison are forced to choose between staying in a state institution or, following an arranged marriage, exiting under the guardianship of a different man, her new husband.
This is not protection. It is exploitation and abuse.
Yes, women elsewhere routinely suffer violence from men, but the guardianship system gives Saudi men a unique tool to abuse and exploit women.
The state's role should be to prevent violence against women, not facilitate it.
Islam requires this. Leave Saudi society alone.
o other Muslim nation has such a comprehensive male guardianship system.
More important, dozens of Saudi citizens, including a former judge and respected Islamic scholar, told me that guardianship as applied by Saudi Arabia has no place in their understanding of Islam – that it is not only not required but actually at odds with other Islamic fundamental precepts like equality and respect.
But the report and videos are not about Islam nor about critiquing Saudi society – half of Saudi society, after all, is female. If women were given an equal say in their country's future, as is their right, they'd be an incredible asset.
Only foreigners want to end guardianship. Saudi women are happy.
This refrain, perhaps the most common, ignores and obscures what many Saudi women are saying.
We developed our report and videos after dozens of discussions with Saudi women.
After we published the report, prominent Saudi women's rights activists shared the text, tweeted the videos, used the hashtag, and added their own take on why guardianship should be abolished. So did prominent businesswomen, academics, and comedians – even a government official retweeted it.
This is hardly the first time people have called to abolish guardianship. Incredibly courageous (and apparently indefatigable) Saudi women have called for the very same thing for years, even presenting petitions to the government to demand it.
This report and these videos don't speak on behalf of these women. They stand with them.
Three videos went viral, and hashtags were shared, thousands of times over.
Yet, Saudi officials are still telling women: It takes time. Wait. Your rights will come. On our schedule.
The outpouring of support for this campaign showed that many Saudi women are tired of waiting.
Women are not the only ones. One person said, "I am a Saudi man and I feel ashamed every time I have to sign papers on behalf of my mother because she can't."
The Saudi state should pay attention. It is very clear what needs to be done.
https://www.hrw.org/news/2016/07/22/its-time-end-male-control-saudi-women
--------
Nahed Taher — making the quantum leap for Saudi women
26 July, 2016
RIYADH: Saudi women have been striving to overcome obstacles society places on their path to progress.
One such woman who sets a good example to emulate is Nahed Mohammad Taher, a very experienced economic analyst, reports a local newspaper.
Taher studied economics at the best local and international universities; she obtained a PhD in economics from Lancaster University School of Management.
She worked as senior economist for National Commercial Bank as part of a team of senior managers, the first Saudi woman to work at the main headquarters of a bank amid thousands of men, a position that represented a quantum leap for her own career and for Saudi women.
Soon after she became co-founder and CEO of the Gulf One Investment Bank, an investment bank for financing and infrastructure and alternative energy projects worldwide in compliance with Shariah principles which has its headquarters in Bahrain and operates in Saudi Arabia, Germany and Kuwait.
She said: "My ambition is to see the Saudi economy gain 20 percent per annum in real terms, and the unemployment rate drop to 1 percent. I actually have a special plan for that which makes this achievable."
She also said that the oil economy in its present situation can create 400,000 jobs during the next four years.
The country badly needs 2 million jobs during this same period, and creating them represents the biggest challenge for the Kingdom, she said.
Taher, a banking and financial expert, confirms that the economic disciplines in the Saudi universities are still on the theoretical side and need more concentration on the application side.
At the same time, she said that the banking sector in the Kingdom is still limited in terms of services offered, which focus mostly on individual and firms' loans.
"Banks in Saudi Arabia in general are in bad need for further radical transformation in their structures and strategies to serve our country better. For instance, they should offer more mortgages and real estate loans, or other types of loans backed by sustainable assets," she said.
http://www.arabnews.com/node/959761/saudi-arabia
--------
New rule for Muslim women staff in Kelantan
26 July, 2016
By 2017, a new ruling by the state government will require Muslim women working at fast-food outlets and hypermarkets in Kelantan to cover their aurat (parts of the body that must be covered in Islam) including by wearing long-sleeved uniforms.
According to reports by The New Straits Times, most female workers in these places currently don short-sleeved T-shirts, although Kentucky Fried Chicken (KFC) recently introduced long-sleeved uniform for its staff.
Datuk Abdul Fattah Mahmood, state local government, housing, youth and sports committee chairman said that while non-Muslim staff were not included in this ruling, they were advised to dress decently.
"Fattah said the ruling was imposed only in Kelantan and hoped it would not receive brickbats from outsiders," The New Straits Times wrote. "We want outsiders to recognise Kelantan as a state with a difference," Fattah said.
"The ruling will bring a good image for business operators and, at the same time, it can promote the tourism industry in the state."
At the same time, according to Fattah, food traders operating at night markets and food stalls were encouraged by the state government to introduce long-sleeved attire for their workers, "which would help in the campaign to promote hygienic practices on their premises."
"We want them to look good rather than just focusing on their profit alone. We encourage (Muslim workers) to cover their aurat," Fattah said.
http://www.humanresourcesonline.net/new-rule-muslim-women-staff-kelantan/
--------
Madhya Pradesh Waqf Board to Help Muslim Girls Get Govt Scholarships
26 July, 2016
Madhya Pradesh Waqf Board (MPWB) has come forward to help Muslim girls in getting scholarships set by central and state governments.
MPWB chairman Shokat Mohammed Khan in a statement here on Monday said that the community girls who have secured 55 per cent and above marks in class ten exams of this year would be helped by us in securing scholarships provided for them by central or state governments. "Right now Maulana Azad National Scholarship is open for the Muslim girls who can apply for it till September 30. Eligible girls would make available the scholarship forms besides providing necessary help in filling the form and submitting it online."
Khan further said that the eligible girls could contact any employee of the MPWB office between 10 am to 6 pm on all working days. The MPWB office is located besides Taj ul Masajid in Qaziyat Complex. The Board would provide scholarship form and assistance in submitting the form online without taking any fees, he added.
He said that all the district committees of the Board have also been informed and instructed to provide help and provide assistance to the community girls in securing scholarships in their respective districts.
He said that not only this scholarship but the Board would provide assistance and help fir other scholarships of central and state governments for minority students.
The MPWV chairman said that the girls intending to apply for Maulana Azad National Scholarship should visit Board office along with their parents Income Certificate and or Affidavit for the same, mark sheet of class ten attested by the principal of present School or college, verification by the principal of present school or college and photo attested by the principal of present school or college.
The eligible girls can also download the scholarship form directly from the website of the Maulana Azad Foundation by clicking on the following link. http://www.maef.nic.in/REGDemo.aspx.
http://www.dailypioneer.com/state-editions/bhopal/mpwb-to-help-muslim-girls-get-govt-scholarships.html
--------
Tens of thousands of babies may be born with Zika disorders: Study
26 July, 2016
PARIS: Tens of thousands of babies may be born with debilitating Zika-related disorders in the course of the outbreak sweeping through Latin America and the Caribbean, researchers said on Monday.
Mathematical projections suggest about 93.4 million people may catch the virus -- including some 1.65 million pregnant women -- before the epidemic fizzles out, a team reported in the journal Nature Microbiology.
Eighty percent of people will develop mild symptoms or never even be aware they have the virus.
But for babies in the womb Zika can be devastating -- linked to a brain-damaging disorder called microcephaly that can lead to stillbirth or severely disabling birth defects.
Among women in a high-risk early term of pregnancy, anything between one and 13 percent have foetuses develop microcephaly or other Zika-related complications, said the multidisciplinary research team from the United States, Britain and Sweden.
This meant "somewhere on the order of tens of thousands across the whole of Latin America and the Caribbean who could realistically end up developing microcephaly or a related condition," said study co-author Alex Perkins of the University of Notre Dame in Indiana, and specified this referred to "live births."
The projection was "a worst-case scenario" he told AFP, "but a realistic one".
It did not account for women who may be postponing conception or having abortions as a result of the outbreak.
"I know that does not provide a very precise number, but I think it's valuable in that at least it gives an order of magnitude guess, which is better than having no idea whatsoever."
The team used data on the usual number of pregnancies, the prevalence of the mosquito species spreading the virus, weather conditions and socio-economic conditions that make people more vulnerable, and disease spread dynamics.
Mathematical models of disease progression are notoriously prone to inaccuracies, as estimates can be skewed by such factors as the infectiousness of the virus, the adaptative response of the immune system and social and economic factors that help it to spread.
Experts not involved in the study said the new estimate may be conservative.
Derek Gatherer of Lancaster University noted recent research which found that as many as 29 percent of babies of Zika-infected mothers develop problems.
If so, "over half a million" children may ultimately be affected, he said.
Whatever the final number, a support system for affected babies and their families "needs to be put in place as soon as possible," said Jimmy Whitworth of the London School of Hygiene & Tropical Medicine.
"Over 1,700 affected babies have been born in Brazil so far, and the numbers are going to continue to increase in the months ahead," he said in comments via the Science Media Centre.
The research team predicted Olympics host Brazil will suffer more than double the impact of any other country, with about 580,000 pregnant women out of 37.4 million total infections.
Other affected countries include Mexico, Venezuela, Colombia, Cuba, Haiti, Argentina and the Dominican Republic.
Another recent study had put the annual number of pregnancies in the Zika-affected region at about 5.4 million.
But many of those, the new paper said, would not be affected by Zika, due to the effects of "herd immunity".
This is a natural process whereby people become immune to a virus after their first exposure, eventually reaching the point where mosquitoes cannot find enough susceptible people to keep the epidemic going, and it dies out without infecting everyone.
Earlier this month, a study in the American journal Science predicted the outbreak should be over within three years.
The virus, first discovered in Uganda in 1947, took the world by surprise when it emerged, and with such virulence, in Latin America last year.
There is no cure or vaccine.
http://timesofindia.indiatimes.com/world/europe/Tens-of-thousands-of-babies-may-be-born-with-Zika-disorders-Study/articleshow/53383733.cms
--------
Trafficking risk higher because of Europe's 'deplorable' child migrant response: British report
26 July, 2016
Children who flee poverty and war zones without their parents are falling prey to traffickers and smugglers once they arrive in Europe because of a disjointed response by governments, a group of British parliamentarians said on Tuesday.
The European Union committee in the House of Lords said in a report it was alarmed by a lack of strategy to cater for the needs of unaccompanied migrant children, with police and governments avoiding taking responsibility for them.
"There appears to be a culture of suspicion at every level … questioning whether the children are telling the truth," said Usha Prashar, a member of the upper house of parliament, who chaired the research panel.
"Yes, these children may be unaccompanied migrant children, but they are children first and foremost," Prashar told the Thomson Reuters Foundation in an interview.
Around 90,000 unaccompanied children, many fleeing conflicts in Syria and Afghanistan, sought asylum in the EU's 28 member states last year, more than three times as many as in 2014, according to Eurostat, the EU's data service.
Many of those who survived perilous journeys to Europe found themselves housed in poor conditions – either placed in prison cells or centres ringed with barbed wire, the United Nations found, while others simply disappeared.
At least 10,000 unaccompanied migrant children have gone missing since they arrived in Europe, according to the European Union police intelligence agency, Europol.
With so many children disappearing off the radar, the report singled out the British government for its "reluctance" to help other EU member states relocate a number of them.
"We deplore the failure by EU Member States, including the United Kingdom, to take urgent action following the announcement of Europol's latest figures," the report said.
While some countries badly needed to revisit their pledges to relocate unaccompanied migrant children, Germany and Sweden were "notable exceptions" because they proactively integrated and protected child migrants, the researchers found.
The report also highlighted that data collection on child migrants was limited, with many being counted more than once, hindering authorities' powers to trace them and increasing their vulnerability to criminal groups.
"Children lose trust in the authorities and that is when they become vulnerable to smugglers and human traffickers," Prashar said.
The committee said better data, improved child protection systems and more robust legal advice were essential to ensuring unaccompanied migrant rights were protected.
http://indianexpress.com/article/world/world-news/syria-war-iraq-war-middle-east-war-europe-migrant-crisis-refugee-children-human-trafficking-british-parliament-house-of-lords-eu-2935709/
--------
URL:
https://www.newageislam.com/islam,-women-and-feminism/new-age-islam-news-bureau/bangladesh--women-being-recruited-for-terrorism,-police-say/d/108081