New Age Islam News Bureau
31 December 2021
• Woman Reported Arrested In Iran After Trampling On Cleric's Turban
• Runners Get Ready For Women's Cross-Country Race In Jeddah
• Pakistani TV Actress Alizeh Shah Caught Smoking; Pakistanis Accuse Her Of Corrupting Culture
• Muslim Women Redefined Democracy: Activist, Author Bhasha Singh At Launch Of Her Book On Shaheen Bagh
• After Seeing Local Need, Canadian Arab Women Association Expands To Guelph
• In Egypt, Lending Apps Boost Cash-Strapped Women Business Owners
Compiled by New Age Islam News Bureau
URL: https://www.newageislam.com/islam-women-feminism/bangladesh-beach-gender-segregation/d/126071
--------
Bangladesh Scraps Women-Only Beach Zone After Outcry Over Gender Segregation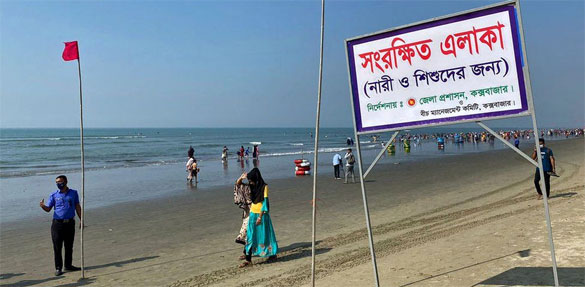 Getty Images/ A sign saying the beach was reserved for women and children was erected along one stretch on Cox's Bazar, before the decision was quickly reversed
----
Dec 31, 2021
COX'S BAZAR: Authorities in Bangladesh's main tourist resort scrapped a dedicated beach section for women and children after a social media outcry over gender segregation, officials said on Thursday.
On Wednesday afternoon, Cox's Bazar officials inaugurated a section of the shoreline on the world's longest natural sea beach as an exclusive zone for women and children. But hours later, the administration issued a press release saying that it had "withdrawn its decision" after "negative comments". Abu Sufian, a senior official in Cox's Bazar, said the section had been created following requests from conservative women in the Muslim-majority country. "They requested a dedicated beach section for themselves, because they felt shy and insecure in a crowded place," he said. Earlier this month the gang rape of a woman in Cox's Bazar sparked an outcry over women's safety in the city.
But the move to cordon off a section of the beach caused uproar on social media, with critics saying it was pandering to hardline Islamists who still wield considerable influence in the country. "This is Talebistan," veteran journalist and commentator Syed Ishtiaque Reza wrote on Facebook, referring to the Taliban in Afghanistan. Another commentator compared it to "Mollahtantra", which translates as hardline Islamist ideology. Parts of Bangladesh society remain very conservative, and in recent years, a hardline Islamist group has held massive rallies demanding segregation of the sexes in workplaces and factories.
Hundreds of thousands visit Cox's Bazar during festive periods, and the tourism sector has boomed in recent years. To provide security to the growing number of tourists, authorities have set up a tourism police unit to patrol beach towns.
Source: Times Of India
https://timesofindia.indiatimes.com/world/south-asia/bangladesh-scraps-women-only-beach-zone-after-outcry/articleshow/88604330.cms
--------
Woman Reported Arrested In Iran After Trampling On Cleric's Turban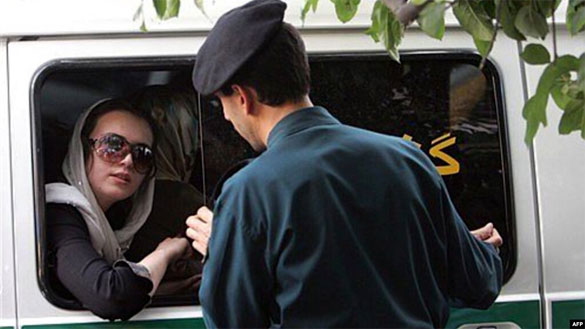 Thousands of women are arrested in Iran each year for their "inappropriate" dress.(Representative image)
----
12/28/2021
A woman in the religious city of Qom was arrested for arguing with a cleric and trampling on his turban after he and another cleric warned her over her hijab.
Hawza News, news agency of Qom's seminaries, claimed Tuesday that the woman had attacked the cleric around two months ago after he had criticized her hijab. Hawza News made no mention of legal action against the two clerics.
The arrest took place after New York-based activist Masih Alinejad tweeted Monday a video of the incident. Alinejad, who has a strong social media presence both in Iran and in the diaspora, is a critic of mandatory hijab in Iran.
In the video, which is undated, the woman attacks a middle-aged cleric, who holds a cane, knocking off his turban and trampling on it. The cleric is seen using his cane trying to hit the woman. She then chases another cleric across the street, before knocking off his turban too, as passers-by gather and watch.
In an interview with Iran International Tuesday, Toronto-based lawyer and activist Mehrangiz Kar said the clerics should have been arrested, and that one had committed a crime by "meddling with a citizen's rights" and hitting her on the head with his cane. The woman had only defended herself, Kar argued.
More than four decades after the Islamic Revolution of 1979, there is still much resistance to the prescribed standards of hijab promoted by the state, which many women refuse to accept even at the cost of being arrested, fined or even lashed.
In recent years, social media has been rife with tens of cases of fights with clerics over hijab and other matters. Some Iranians, including clerics such as Ayatollah Mostafa Mohaghegh-Damad, believe involvement of clerics in governance has damaged the sanctity surrounding them.
Seminaries, religious groups, and many government bodies including the education ministry work at "establishing the culture of modesty and hijab." Seminars, exhibitions, and state television all encourage adherence, and the state-run television airs many programs on the subject.
Qom hosts dozens of seminaries with over 100,000 students, meaning some clerics are alive to any slackening in standards.
Hardliners say adherence to hijab in Qom has hugely diminished in the past few years. "The mushrooming of loose hijab in the holy city of Qom cannot be denied," the news agency of the state broadcaster IRIB said in a report on the situation of hijab in Qom in August.
An activist introduced by her last name, Hosseini, told Fars news agency two years ago that she had xxxxxxxxxxxxxxxxxxxxxxxxxxxxxxxxxxxxorganized over 450 'trained hijab patrols' to warn women over poor hijab in Qom. She said her colleagues handed out gifts such as veils, veil pins, and books about the lives of martyrs to women on the streets to encourage them.
Source: Iranintl
https://www.iranintl.com/en/202112280403
--------
Runners get ready for women's cross-country race in Jeddah
December 30, 2021
JEDDAH: The Saudi Athletic Federation is organizing a first-of-its-kind cross-country running event in Jeddah at the King Abdullah Sport City Stadium on Friday.
The federation has invited individuals and teams to participate in the race, which is exclusively reserved for Saudi women and girls of all ages.
The federation said there were still spaces to compete in the race, with registration available through links posted on its website and on social media.
Roa Kattan, a member of the Technical Committee of the federation, said: "The race is dedicated for long distances and considered one of the athletic races, and in most countries, it is held in open places and on uneven terrain. This is the first time that the federation has held such a competition for women."
She added: "It is an official championship to encourage women to participate and discover Saudi girls who would be able to represent the Kingdom as individuals or in teams."
She continued saying: "We have received the applications of six teams and 87 female competitors and we hope to have more participants."
Saudi Arabia organized a marathon race for women in 2018, with thousands running in Al-Ahsa, in the east of the Kingdom.
Source: Arab News
https://www.arabnews.com/node/1995676/sport
--------
Pakistani TV Actress Alizeh Shah Caught Smoking; Pakistanis Accuse Her Of Corrupting Culture
Nootan Sharma
30 December, 2021
New Delhi: Smoking is injurious to health. But in Pakistan, it is more so for women. Or so it seems. Popular Pakistani TV actress Alizeh Shah was seen smoking in a car. Someone recorded her and now the video is all over social media. Not surprisingly, everyone watching it has a take on it.
Pakistani drama shows are quite popular in India as well. Alizeh Shah has played lead roles in Ehd-e-Wafa, Hoor Pari, Jo Tu Chahey, Mera Dil Mera Dushman, and Taana Baana.
But that seems to matter little for Pakistan's outrage crowd. As Dawn, Pakistan's leading English newspaper, said in an article, "It doesn't seem to matter what she [Alizeh Shah] does, as long as she's doing it, people are going to have a problem."
'Against culture'
One Twitter user said Pakistani culture doesn't allow women to smoke.
Another wrote, "While promoting feminism, pakistani girls are gone too far, They have adopted European culture completely, whether it is about dressing or their way of life..Alas!!"
Some shared a past video of Alizeh Shah in which she is seen arguing that women in Pakistan are unable to live life on their own terms. With her clip of smoking in public, they say this shows her "hypocrisy". Clearly, it is lost on them that the backlash is only proving Alizeh's point.
Those blaming the entertainment industry for her smoking weren't going to be left behind. A user named Teto Patiyaa said, "Alizeh Shah is the prime example of how the showbiz industry ruins you."
A few users, not sure whether Alizeh was smoking a cigarette or charas, decided to give her the benefit of doubt. They seem to draw a line over smoking charas (hash).
Some support for Alizeh
It wasn't all bad. Some people did come out in support of her. A user named Ata Ur Rehman asked people to "stop being her dad".
Another user said, 'So called ghairat of Pakistanis get hurt when they see #AlizehShah smoking but their ghairat remains in deep sleep when their country has been sold out to IMF. #MiniBudgetByPTIMF'
Alizeh Shah was also accused of doing it for attention. 'If getting attention had a face,' a user said.
This backlash is similar to what Pakistani actress Mahira Khan had received when she was clicked smoking a cigarette with Bollywood actor Ranbir Kapoor on the streets of New York City in 2017.
The Print
https://theprint.in/go-to-pakistan/actress-alizeh-shah-caught-smoking-pakistanis-accuse-her-of-corrupting-culture/791800/
--------
Muslim women redefined democracy: Activist, author Bhasha Singh at launch of her book on Shaheen Bagh
Sanjukta Basu
31 Dec 2021
Award winning journalist, documentary film maker and cultural activist Bhasha Singh's latest book, 'Shaheen Bagh – Loktantra ki Nai Karwat' was released on Thursday at the Press Club by eminent guests Syeda Hameed, Sidharth Varadrajan, Gauhar Raza among others. Published by Rajkamal Prakashan the Hindi book documents the indomitable spirit and courage of the anti-CAA protest led by Muslim women at Delhi's Shaheen Bagh and similar protests across India which have since become a beacon of hope for secularism, democracy, and people's movement.
"The Shaheen Bagh protests redefined what is democracy, and what is the role of Indian Muslim women in democracy. From Kerala to Kolkata to Deoband there was almost no state which did not have a Shaheen Bagh protest. The sheer strength of this living history inspired me to document the movement," author Bhasha Singh said at the release.
"Indian Muslim women have always been side-lined by both the political and community leaders. We could not even access the Muslim women's voice beyond the Maulana. Journalist would go to Deoband and get a Maulana's byte and do their stories. Breaking all those barriers these women made a space for themselves. I hope this book would keep the spirit of Shaheen Bagh alive in history," Singh added.
The author thanked the publisher Rajkamal Prakashan for having the courage to publish the book in Hindi even though it is widely believed that there is no market for such books in the Hindi language.
Activist and former member of National Commission of Woman and Planning Commission Syeda Hameed appreciated the way the book documents the protests through not just words but powerful visuals showcasing the various study circles, libraries and other educational and cultural activities which had become a part of the anti-CAA protests.
She also recalled how during her tenure as NCW Member in the late 90s, Muslim women were 'be-awaz' (voiceless) and it took efforts for the NCW to bring them to mainstream. She said that she could not ever imagine that those voiceless women would one day show the nation the truth path to democracy.
"The name of the book, Loktantra ki nai karwat (Democracy's New Awakening) is truly justified as it tells us tales of women like 101-year-old Hamidulmisa Begum, who camped at the protest site all day and night for weeks and months because she was too old to do a daily shuttle, who had the courage to question the prime minister 'Who are you to ask me where did I come from, where did my parents and grand parents come from, did we ever ask you that?'" Syeda Hameed said referring to one of the women protesters featured in the book.
Siddharth Varadarajan, Founder and Editor, The Wire, spoke eloquently about the significance of the book at a time when most Indian media are telling only what the government wants to be told, when there are competing narratives, and deliberate suppression of facts with fascist designs.
He applauded the publisher for their courage to publish a book on Shaheen Bagh in the current political environment. "Contemporaneous documentation of the events of our time in the shape of books is imperative when there are constant efforts to delegitimize one of world's most inspiring democratic movement," Varadrajan said. "Sections of media, politics and other vested interest groups, some of them having direct link to BJP, repeatedly tried to change the narrative about Shaheen Bagh by calling them 'anti-national', giving communal colours to the movement and so on. How the Delhi riots were instigated, how Delhi police helped the rioters, the communal speech given by BJP leaders including Prime Minister Modi – it is imperative to document these events so that the generations to come are able to find the truth," he added.
Several speakers at the book launch said that one of the strongest features of the Shaheen Bagh protest was the way Muslim women invoked the Constitutional rights, celebrated the national flag, sung the national song and the collective reciting of the Preamble. "I studied law, but even in the law college I cannot remember any of us paying this much attention to the Preamble. At every protest site I visited, I saw large cut out of the Preamble erected, I saw children with the tri-colour painted on their cheeks," Bhasha Singh said.
"I was born in Allahabad to a Muslim family, studied in Aligarh and grew up in Muslim environment. I cannot remember a single incident in my 65 years of life, when Indian Muslims came out on the streets for Secularism. I remember when there was theft of the holy relic Moi-e-Muqqadas from the Hazratbal Shrine, Muslims all of India came on streets. They came on the street over some issue at Masjid-e-Aqsa, the release of the book Satanic Verses, over some cartoons but all of these were religious event. Shaheen Bagh was the first time that Muslims came on the street for a secular cause," said Scientist and Poet Gauhar Raza at the book launch.
Speakers at the book launch also emphasized on the fact that the Shaheen Bagh protests showed the path to the farmers protests. "They showed the way that the powers that be can be brought down without resorting to any violence by sheer will power and we finally saw this method of non-violent protests clocking a win in the way farmers protest ended at the repeal of the farm laws," Gauhar Raza said.
Also present at the event was Rashtriya Janta Dal MP Manoj Jha. "In contemporary India, Shaheen Bagh and Farmers Protests are two events which deepened the democracy. Future generation will take pride in these protests. The ruling regime tried to give a bad name to Shaheen Bagh but the life of a narrative is not chosen by the contemporaries. It is chosen by the historical trajectory through which a nation passes. History will remember these events through the lens of what India once was, an ocean of ideas, and what this regime is trying to make it, a dirty pond. History would be more brutal to this regime than the present TV anchors," Manoj Jha told National Herald.
Source: National Herald India
https://www.nationalheraldindia.com/india/muslim-women-redefined-democracy-activist-author-bhasha-singh-at-launch-of-her-book-on-shaheen-bagh
--------
After seeing local need, Canadian Arab Women Association expands to Guelph
Anam Khan
Dec 28, 2021
In 2016, Asma Alwahsh started a community group for Arab women to get together, spend time and share resources in Waterloo. Five years later, the group is now a registered not for profit organization helping over 1,500 women in the region.
Now the group has officially expanded services to help Arab women in Guelph.
Whether it is settlement organizations, volunteer services, educational programs, conversation circles, computer classes or just offering a helping hand, the Canadian Arab Women Association (CAWA) aims to connect, help, and ultimately empower local Arab women.
Alwashsh said the organization is expanding in Guelph with the help of recent funding from Women and Gender Equality Canada and has already begun its outreach. The funding has also enabled the organization to hire two outreach workers that will work with Arab women and their families to connect them with resources.
It also hopes to find office space in Guelph soon. The organization currently has an office in Cambridge and Kitchener.
"Before COVID, many women from Guelph came to our social events and they were asking when we can open something in Guelph and now luckily, funding will enable us to expand and help and support and empower women in Guelph," said CAWA's founder, Alwahsh.
"Through this program, we will be able to, to work with the Arab woman on resume writing, cover letters, interviews, and some of like the Canadian work culture and tips and tricks how to get the Canadian experience and I can say this is the only program in Waterloo Region and in Guelph, that is providing the this is skills only in Arabic,"
She said any Arab woman regardless of her status or religion is welcome to join the group.
"Our mission is to connect and support and empower women by connecting them with resources providing them with programs, engaging them in our community to enable them to make a positive impact in their lives, and the lives of their families, and their community at large," said Alwahsh.
She said when she first launched as a community group in 2016, she heard many stories about women who lived in Canada for decades but struggled to engage with the community because they didn't have the right connections or didn't have friends or family members to guide them.
"I started with this idea of the socializing aspect, just going out, getting to know each other, because sometimes you are more comfortable to ask somebody from your own culture, your own land. people using your own language," said Alwahsh.
"That was the basic idea of CAWA."
Alwahsh said soon after, the organization began to see the needs of the Arab community.
Alwahsh said when she first started, everyone was volunteers, and now the group has grown into an 11 staff organization which began last September.
"Last September, we had like two people and then in January we had like two people. And then in July, we started the hiring process. So now in December we have almost 11 staff members," said Alwahsh.
Programs in the organization, like Strong Families Together, discuss topics such as parenting and family law in Canada so newcomers can navigate the different parenting experience in Canada.
"We were able to hire an art therapist and a parenting counselor to help women navigate a system on how to parent in a different culture," adding that the group also connects the women in the tricity area through Whatsapp groups.
Their private Facebook group has nearly 1,500 members that connects women with resources and aims to serve as a safe space for women to ask questions.
Source: Guelph Today
https://www.guelphtoday.com/local-news/after-seeing-local-need-canadian-arab-women-association-expands-to-guelph-4877390
--------
In Egypt, lending apps boost cash-strapped women business owners
December 30, 2021
Nagat Mohamed was in dire straits. After sales at her clothes shop in Egypt's Nile Delta plummeted, she took out a loan from a microfinance company to keep the business going – but did not earn enough to pay that back either.
To escape default, the 43-year-old entrepreneur turned to a traditional money-lending system known as a 'gameya' — revived with a 21st-century twist as an app.
"It was a real lifesaver," Mohamed told the Thomson Reuters Foundation over the phone.
A gameya is a type of community savings pool which also functions as a peer-to-peer loan system.
Members deposit a fixed, equal amount of money into a joint pot every month. At the end of each month, one person is awarded the full amount until everyone has had their turn.
While gameyas were long organised informally and offline, they are now being offered through apps in a tech transformation that is revolutionising financing for Egypt's cash-strapped female entrepreneurs.
One in five Egyptian workers are women, according to the World Bank, many of whom run their own small businesses or home-based initiatives.
That makes it hard to get a loan from banks, which require documentation proving a fixed salary or ownership of a shop.
Microlenders, meanwhile, typically impose exorbitant interest rates of up to 40 percent.
Many online gameyas have no interest rates, and registration requirements are minimal: just uploading an ID, signing a contract in person, and providing monthly income statements.
The apps also let members pay a fee to be among the first in line for a payout, thus letting them settle old debts quickly and avoid taking on new loans with onerous interest rates.
Mohamed turned to an online app called MoneyFellows to help her repay the 15,000 Egyptian pounds ($954) that she owed the microfinance company for her shop.
"Two months ago, I finally paid my loan. I'm joining another money circle to grow my business and fund my daughter's marriage," the mother of three said.
Many of Egypt's women entrepreneurs turned to the gameya model during the pandemic, which hit small enterprises hard.
Three-quarters reported a drop in business in 2020, and 9 percent had to shut down completely, according to a survey by Egypt's Ministry of Planning.
"People are showing growing interest in online savings systems because they are simple, easy to use and come with meagre interest rates," said Ahmed Wadi, the chief executive and founder of MoneyFellows.
The number of women entrepreneurs using the app has risen from about 20,000 before the pandemic to some 150,000, representing about 6 percent of its 2.5 million users.
On average, they took out loans of 12,000 pounds.
Women make up one in three users of another app, ElGameya, typically seeking loans of about 15,000 pounds.
"There was an already existing need for our business," its founder Ahmed Mahmoud Abdeen said.
"Women were already joining offline gameya apps or borrowing from their friends and families to pay their loans or grow their business. We only made life easier for them."
Part of the appeal is the flexibility.
If ElGameya's borrowers want to get their payout within the first four months of the lending circle, they pay a monthly interest rate of up to 9 percent. But if they accept a longer wait, the interest fees are waived.
Amal Abdel Aty, who owns a home utensils shop in the Nile Delta city of El Mahalla El Kubra, said she had been forced to borrow from her friends and sell some of her possessions to meet repayments on two loans she took from microfinance companies.
Her first loan was worth 10,000 pounds at an interest rate of 24 p ercentover 18 months. When she could not pay it, she took out another 10,000-pound loan.
Three months ago, she joined a 12,000-pound lending circle at ElGameya and has already been awarded the full pot, allowing her to pay back the first microfinance loan.
REVIVING OLD SYSTEMS
Gameya loan apps are not regulated, but the central bank is working on a system of authorisation.
The money-lending circles have a long history of boosting access to finances for marginalised communities, particularly in urban areas, according to Yomna El Hamaki, a professor of economics at Ain Shams University.
There is also a religious element.
"In a Muslim society like Egypt, people usually prefer to register for gameyas rather than go to the banks or other financial institutions which offer loans at interest rates that are considered forbidden by many Muslims," El Hamaki said.
And with economies squeezed by the pandemic, they have become an online lifeline for Egypt's budding women business leaders.
"These apps are a buffer for many who got their financials adversely affected by the pandemic," she said.
Source: Arab News
https://www.arabnews.com/node/1995461/business-economy
--------
URL: https://www.newageislam.com/islam-women-feminism/bangladesh-beach-gender-segregation/d/126071
New Age Islam, Islam Online, Islamic Website, African Muslim News, Arab World News, South Asia News, Indian Muslim News, World Muslim News, Women in Islam, Islamic Feminism, Arab Women, Women In Arab, Islamophobia in America, Muslim Women in West, Islam Women and Feminism