New Age Islam News Bureau
29 April 2022
• Woman Suicide Bomber Change In Baloch Rebels' Strategy?
• Today, The Abaya Is A Far Cry From The Plain Black Cloak Of The Past
• Pakistani Women Fight Gender Norms To Build Online Health Business
• Iraqi Communists Raise Flag For Women's Rights, Secular Politics
• Women In Yemen Trapped By War, Abuse
• Samsung Ad Featuring Woman Running Alone At 2am Criticised As 'Naive'
• SC Agrees To Consider Listing Pleas Against Karnataka HC's Hijab Verdict
Compiled by New Age Islam News Bureau
URL: https://newageislam.com/islam-women-feminism/bangladesh-muslim-islamic-custom-purdah/d/126893
--------
Bangladesh Muslim Women's Group Launches Campaign For ID Cards Sans Photos To Maintain The Islamic Custom Of Purdah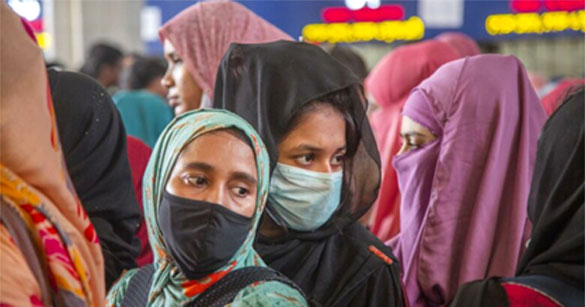 Representative Photo: La Parensa Latina
----
April 25, 2022
By Azad Majumder
Dhaka, April 25 (EFE)- A group of Muslim women in Bangladesh have launched a campaign demanding the authorities issue them the National Identity Card (NID) without a photo, thus allowing them to maintain the Islamic custom of purdah (veil), which mandates that women should not be seen by men not related to them.
The initiative was launched in late March, when dozens of women covered in black burqas from head to toe held an unusual press conference at the National Press Club in Dhaka and voiced their demands.
"We raised two demands to the government: first, give us the National Identity Card without a photo so that we can maintain purdah," and second, "appoint enough female officials at all offices so that women, who want to maintain purdah, can communicate," Sharmin Yasmin, leader and spokesperson of the group Mohila Anjuman, told EFE.
Yasmin acknowledged that the identity card was required for official work such as registering property and managing bank accounts but insisted that "we cannot compromise purdah for this."
The group has suggested providing a proof of identity with the help of digital biometric fingerprints and iris recognition.
Bangladesh is a Muslim majority country with a traditionally moderate image, and therefore such campaigns based on a conservative interpretation of Islam are rare and draw special attention.
The NID, launched in 2008, is prepared on a plastic chip and is required for services such as obtaining a driving license, passport, buying and selling land and property, opening bank accounts, accessing government financial aid or support, vehicle registration and marriage registration.
Since 2010, it has been made mandatory for every adult Bangladeshi citizen to carry the card.
The group's demand has been rejected by some experts, who have said that the face is key to identifying a person.
"An id card without a photo is not practical. You won't see it anywhere in the world, including Saudi Arabia," former election commissioner M Sakhawat Hossain told EFE.
He said that when the card was being introduced in Bangladesh, many women had initially refused to be photographed citing religious reasons.
"They were then assured that in Islam there was no bar on giving photos for official purposes. They were convinced this would not be used for any purpose other than government works," Hossain said.
Mohila Anjuman leader Sharmin argued that there are instances of issuing identity cards without a photo even in the western world.
She cited the example of Amish and Mennonite communities in the United States, who refused to be photographed and lived without ids for more than 100 years until the state of Virginia in 2019 passed a law to give them id cards without photos.
"Amish and Mennonite communities have it in their religion that they won't take photos for ids and that's why they did not have id for 100 years. We have it in our Islam and we raised our demand that way," she said.
The leader insisted that her group did not want photos to be removed from all NIDs, but simply wanted to be allowed an exemption from the requirement for those who did not want to be photographed.
"We don't have a problem if someone else wants to be photographed," she said.
Sharmin said that the group was set to formally present their demand to the authorities, but in March a woman had filed a writ petition in court demanding photo-less ids.
Source: Laprensalatina
https://www.laprensalatina.com/bangladesh-muslim-womens-group-launches-campaign-for-id-cards-sans-photos/
--------
Woman Suicide Bomber Change In Baloch Rebels' Strategy?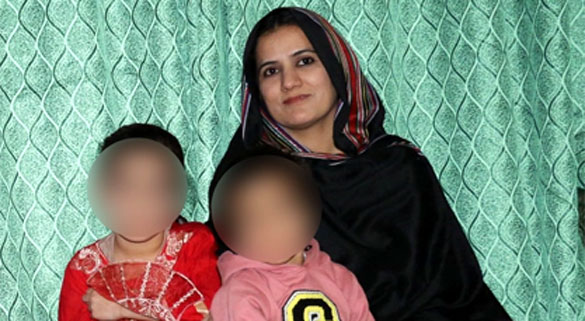 BLA released this photo of Shari Baloch, the suicide bomber behind the University of Karachi attack [Handout/BLA]
-----
By Kiyya Baloch and Akbar Notezai
28 Apr 2022
It is doubtful the minibus driver paid any attention to the inconspicuous woman standing by the roadside as he swung his vehicle into the entrance of Karachi's Chinese cultural centre on Tuesday.
He may not have even seen the next moment, captured on CCTV, when the veiled woman, dressed in traditional clothes and facing away from the oncoming vehicle, took a tiny step sideways and detonated the explosive-laden bag she was clutching.
The video shows the suicide bomber, identified as Shari Baloch, a 31-year-old mother of two, instantly disappearing in a ball of flame that ripped through the minibus.
Four passengers were killed, including three Chinese citizens who were on the way to teaching Chinese at the University of Karachi's Confucius Institute.
The attack was swiftly claimed by the Baloch Liberation Army (BLA), a banned group fighting for the independence of Pakistan's troubled Balochistan province. It often targets Chinese personnel.
In an email to Al Jazeera, the group said: "The mission was carried out by the first female fidayeen (martyr) of the Brigade."
"Targeting director and officials of Confucius institute, the symbol of Chinese economic, cultural and political expansionism, was to give a clear message to China that its direct or indirect presence in Balochistan will not be tolerated," the email added.
In its statement, the BLA warned China to immediately halt what it called its "exploitation projects" in Pakistan. Otherwise, the group warned, hundreds of its "highly-trained male and female members" are ready to carry out "harsher" attacks in future.
BLA's first female suicide bomber
The Majeed Brigade, the BLA wing charged with organising suicide attacks, said it was their first-ever operation carried out by a woman.
The arrival of a female suicide bomber has alarmed Pakistan's security analysts, who say the attack demonstrates the "remorseless radicalisation" of the separatists waging a bloody rebellion for more than 20 years.
Until recently, the Baloch separatists denounced suicide bombing, especially by women.
They see themselves as secular nationalists and have little in common with Muslim armed groups, such as the Pakistani Taliban, who have long made extensive use of suicide bombing.
Mohammad Amir Rana, an Islamabad-based security analyst, said the Baloch rebellion increasingly resembled Peru's Shining Path – a leftist armed group known for using brutal methods of attacks.
The Peruvian group's top leaders often give examples of revolutionaries such as Che Guevara, Nelson Mandela and Bhagat Singh while talking about resistance movements. They also denounce religious extremism.
"The group [BLA] is not worried about using the operational tactics used by the Islamist militant groups as long as it is fulfilling the purpose," Rana told Al Jazeera.
Shari Baloch is emblematic of how the separatist movement, once run by tribal chiefs, has come to be dominated by Balochistan's often highly educated, middle-class professionals.
According to a document shared with Al Jazeera by one of Pakistan's security agencies, Baloch was a school teacher with a master's degree in zoology. At the time she blew herself up, she was enrolled in another postgraduate programme at the University of Karachi.
Baloch's husband is a dentist and professor at Makran Medical College in southern Balochistan. Her father is a retired civil servant who worked as a registrar at the University of Turbat, her hometown.
Her three brothers are a doctor, a deputy director at a government-funded project, and a civil servant. One of her five sisters teaches English at the University of Turbat.
Her uncle is a retired professor, a renowned author, poet, and human rights activist.
At least two of her relatives are known to have been involved in the armed struggle in Balochistan.
Opposed to Chinese investments
There have been five rebellion movements in Balochistan since Pakistan's independence in 1947. The current one, which began in 2000, is the longest.
The fighting has killed thousands. Many people suspected of supporting the rebellion have been subjected to illegal "disappearances" by Pakistan's security forces.
In 2018, the leader of the ethno-nationalist Balochistan National Party (BNP), Akhtar Mengal, presented a list of 5,000 alleged victims of enforced disappearances to the then government of Prime Minister Imran Khan.
However, Mengal parted ways with Khan's Pakistan Tehreek-e-Insaf-led coalition government two years later, accusing it of failing to find the missing persons.
The Baloch nationalists are opposed to China investing heavily in the region's roads, power stations, and the Arabian Sea port of Gwadar. They accuse Beijing of looting and taking away their resources without providing benefits to the local residents.
The BLA also accuses China of not only aiding Pakistan but strengthening it in its fight against rebels by providing equipment to the Pakistani military.
The separatists fear the wave of investment will encourage people from elsewhere in Pakistan to move to the province, making them a minority in their traditional lands.
There has been a spate of attacks against Chinese nationals in Karachi and Balochistan in recent years.
Prime Minister Shehbaz Sharif condemned the latest attack and visited the Chinese embassy in Islamabad to express his grief. "[This incident] would be investigated expeditiously and the country would make an example out of the culprits behind this horrific attack," he tweeted.
The premier also directed the authorities to increase the security of Chinese residents and institutions in Pakistan.
Michael Kugleman, a United States-based Pakistan expert, said China would not be put off by such attacks.
"China is willing to tolerate a lot of risk in its investment strategy, including terrorism concerns," he said. "This horrific attack won't prompt China to pack its bags and leave Pakistan."
'Not a time not to push for peace'
The Majeed Brigade has been behind most of recent suicide attacks in Pakistan, including an armed assault on the Chinese consulate in 2018 and a similar strike on the city's stock exchange in 2020.
The group was founded in 2011 and named after Abdul Majeed Baloch, who attempted to assassinate former Pakistani Prime Minister Zulfiqar Ali Bhutto in 1974 for ordering a military operation against the Baloch nationalists a year before.
Pakistani security forces killed Majeed before he could assassinate Bhutto.
With an intensive military crackdown on Balochistan rebels, security analysts believe the BLA is likely to refocus its energies on Karachi and make greater use of female fighters who can operate without attracting suspicion.
"It's certainly the worst security situation China has faced in Pakistan since the late 2000s but now the economic presence is far greater and so there's far more at stake for both sides," Andrew Small, an expert on China and a transatlantic fellow with German Marshall Fund Asia programme, told Al Jazeera.
Islamabad-based columnist Mosharraf Zaidi said the new government of Prime Minister Shahbaz Sharif should reach out to mainstream Baloch politicians to try and engage with the separatists.
"The primary challenge of the wave of terrorism in Pakistan today is the need for government to engage with separatists from the Baloch belt," Zaidi told Al Jazeera.
"There is not a time not to push for peace."
The suicide attack by a Baloch woman has also caused fear among other women from the community protesting in various cities of Pakistan for the release of their loved ones whisked away by Pakistani intelligence agencies.
"This shift in insurgency is scary," said Sammi Baloch, 23, the daughter of Deen Muhammad, a medical doctor missing since mid-2009.
Sammi was only 10 when her father was kidnapped from his clinic in Balochistan's Khuzdar district. She has since been protesting in Islamabad, Karachi and Quetta for his release.
"Families of missing persons are already under the radar. Such an attack by a Baloch woman allows Pakistani authorities to repress peaceful women, who have been struggling peacefully for the safe recovery of their beloved ones for many years now," she told Al Jazeera.
Source: Al Jazeera
https://www.aljazeera.com/news/2022/4/28/pakistan-woman-suicide-bomber-change-in-baloch-rebels-strategy
--------
Today, The Abaya Is A Far Cry From The Plain Black Cloak Of The Past
Khaoula Ghanem
April 28, 2022
DUBAI: For thousands of years, the Abaya has been a sartorial staple for women across the Middle East. The loose robe-like garment, which dates back 4,000 years to ancient Mesopotamia, constitutes national dress in countries like the UAE and Saudi Arabia, serving as a symbol of modesty.
Today, the Abaya is a far cry from the plain black cloak of the past. With time, the floor-length robe has evolved into a fashion statement, with many different designs available. The new wave of garments, while engineered for modesty, feature contemporary elements like jewel-encrusted palm trees, black lace trim and embroidered hearts, and come in experimental and playful colours, silhouettes and fabrics that are anything but basic.
However, no matter how much it has evolved, the Abaya remains the ultimate garment for women across the region. Read on for five contemporary Abaya brands that need to be on your radar.
Designer Rawdha Thani's abaya line, which means "my daughter" in Berber, is known for its beautiful contemporary and ethereal designs. The Emirati-Moroccan designer's instantly recognizable label, launched during the pandemic, has gained recognition for its pastel palette, fringed sleeves and celestial-inspired embroidery. The collection of pistachio, lavender, mint, rainbow sorbet and canary-coloured robes has practically revolutionized the concept of the abaya, spawning a number of copycats along the way. The brand recently introduced a line of colourful heart-embellished tote bags made out of shiny vegan leather, and a range of kaftans for Ramadan, which sold out before the designer even had a chance to shoot a look book.
Saudi designer Nora Aldamer launched Chador in 2013 after noticing increasing demand for traditional clothing with a modern twist. It was not long before the Parsons graduate's label made a name for itself in Aldamer's hometown of Riyadh. With its tailored, trench-inspired Abayas in non-traditional hues, the brand found great success with Saudi women seeking something to fulfil their contemporary taste while remaining conservative and sticking to their roots.
This handmade Abayas label was founded by Emirati electrical engineer-turned-fashion-designer Al Anood Al-Mansoori. Inspired by the movement of birds, Al-Mansoori has churned out a lineup of on-trend abaya designs for the holy season that will ensure you are the best dressed person at any sahoor gathering. Standout designs include a graphic printed chiffon abaya that comes with a matching dress and opera gloves that can also be worn on their own. In addition to a Ramadan collection, Wings features an expansive lineup of edgy and contemporary designs that includes an exquisite black overlay embroidered with a giant bird on the back, and creations that merge the trenchcoat with the traditional abaya, and can easily double as outerwear.
If you feel like you have been seeing Kamin's abayas everywhere, well, it is because you have. Our Instagram feeds have been flooded with pictures of regional it-girls smiling and posing in an array of chic pieces named after traditional Arabic female names from the Dubai-based brand. Everyone from Riyadh-based Nia Amroun to Emirati blogger Nouf Al-Tamimi have been spotted wearing the label's super-affordable tailored sets and satin kaftans. For Eid, the brand has whipped up a new festive collection of overlays with matching sheilas in a muted color palette of grey, ivory, blush and black. But those who wish to get their hands on the coveted new collection may want to act fast — two of the designs are already sold out.
Founded in 2017 by an anonymous local design duo hailing from the UAE, the rising brand is coveted for its modern take on the Emirati woman's sartorial staple by way of deconstructed tailoring, oversized silhouettes and a vibrant color palette, making it anything but the traditional black abaya. The brand earned its name from the duo's sustainable business model that entails producing limited pieces for purchase. Once an item is out of stock, even if there's a demand, the designers will not produce more. "We just want girls to feel like they have something exclusive and that's just for them," explained the designers.
Source: Arab News
https://www.arabnews.com/node/2072546/lifestyle
--------
Pakistani women fight gender norms to build online health business
Apr 28 2022
After surviving a car crash that left her hospital-bound and unable to walk for months, Saira Siddique embarked on a mission: to make health care accessible to Pakistanis.
The 45-year-old left her high-profile job in government health to pitch her app linking doctors and patients by video to investors.
Months later, with COVID-19 hurting businesses across Pakistan, Siddique's firm, MedIQ, burst on to the scene as the country's first "virtual hospital".
"(The pandemic) really gave a boost to my company," said Siddique.
With face-to-face doctors' appointments restricted due to contagion risks, Siddique's company, connecting patients across Pakistan with doctors and pharmacies, was suddenly in demand.
MedIQ served 16,000 patients in its first six months. Almost two years on, the number has increased by nearly 20 times.
Siddique is one of a growing number of women in Pakistan who are defying conservative gender norms by jumping into the health tech industry.
"Running a startup business is like riding a bull," she told the Thomson Reuters Foundation by phone from the capital Islamabad.
"You never know which way or how hard it's going to buck."
Siddique's company raised $1.8 million in an early stage of financing last week after receiving mentoring in the World Bank-backed WeRaise programme, which helps women-led ventures in Pakistan raise capital.
Doctor brides
Others are blazing a similar path.
Two entrepreneurs in Karachi wanted to use the untapped potential of tens of thousands of so-called "doctor brides" - female doctors who quit their medical practice after marriage in a country where millions have no access to medical care.
Iffat Zafar Aga and Sara Saeed Khurram's platform allows female medics to provide e-consultations from their homes to patients in mostly rural communities.
In the country of some 210 million the doctor-patient ratio stands at just a little over one for every 1,000 patients, according to the World Bank.
Countries such as the United States, Japan and Brazil have more than two doctors for every 1,000 patients, while Britain has nearly four.
The pair has set up dozens of 'e-health clinics' in low-income communities where, for as little as 80 rupees ($0.43), a patient visits a nurse who uses the online platform to reach a doctor.
Khurram said they provided free consultations during COVID-19 after the government sought their help - a task made possible by their team of 7,000 doctors, many of whom are former doctor brides.
The phenomenon of doctor brides remains pervasive with many families encouraging their daughters to study medicine not for a career, but to bolster marriage prospects.
More than 70% of the country's doctors are women, but only half will ever practise, according to the Pakistan Medical Commission.
Late-night deals
From domestic violence to anxiety over job losses and the grief of losing family members to COVID-19, requests for virtual appointments on ReliveNow, an online mental health care platform, surged during lockdowns.
Amna Asif, its founder and CEO, said most of the clients were women, including single mothers, struggling to juggle children while working from home.
"This put us on the radar, and helped increase our sales," said Asif by phone.
Founded in 2018, ReliveNow has clients - 80% of whom are women - in dozens of countries including Pakistan, Britain, Canada and Australia.
But the road to success for firms like MediIQ and Sehat Kahani has been paved with misogyny, stereotypes and discouragement.
Entrepreneurship has long been a boys' club that rarely opens its doors to women in Pakistan where they are typically home-bound while men work and call the shots.
Businesswomen say they have to work twice as hard to be taken seriously and are scrutinised far more than their male peers.
"There is a perception that women cannot start a successful business, let alone scale it up," said Siddique, adding that she had to pitch to nearly 140 investors - twice as many as men usually do.
Venture capitalists, nearly all of whom are men, frequently asked Siddique why she didn't have male co-founders. Sehat Kahani's Khurram was asked to be accompanied by a man in future meetings.
Her business partner Aga was pregnant with her second child when a prospective investor told her that he would invest only if he got a 70% share of the firm.
"On top of that he advised me to take care of (the) kids and my home and not take on so much stress," she said as Khurram recounted how another asked her what she would do if she had to pick between her family and business.
Social and cultural norms limit women's opportunities to meet potential investors or even mentors, the women said.
Aga said she had to decline several late night meetings over coffee or shisha.
"Many fundraising deals are clinched in a lighter, more informal environment after dinner or over a smoke," said Siddique of medIQ.
"I wasn't able to do that."
Double bias
That may explain why there are so few businesswomen in Pakistan.
Despite the pandemic, 83 startups in Pakistan raised $350 million in 2021 - more than five times the amount in 2020 - according to a report by Islamabad-based invest2innovate, a consulting firm that supports early-stage enterprises in emerging markets.
But only 1.4% of all investments raised in the past seven years were by solely women-run startups, it found.
Kalsoom Lakhani, founder of invest2innovate, urged investors to stop asking women "ridiculous questions".
"As investors it's important to be more aware of ... unconscious biases," she said, adding that the first step was to rethink "how we speak to women founders who are fundraising".
ReliveNow's Asif said she has her male employees present the pitches.
"I am the brain behind them," she said.
That's why it is important for women investors to join the fray since they are more likely to invest in women-led businesses, said Shaista Ayesha, CEO and director of impact investor SEED Ventures.
"(They) understand their struggles and what a woman has gone through to be there, and would be more willing to offer assistance and mentoring," she said.
Plus, she said, women find it more comfortable to pitch to female investors.
But Asif faces a double bias, with investors reluctant to fund a startup that works on mental health in a country where there is still a lot of stigma associated with mental illness.
"It has been extremely difficult to find investors," she said, adding that the absence of a mental health authority exacerbates the problem of legitimacy.
While other women in the industry forecast their companies' growth in the millions, ReliveNow, which largely survives on revenues, grants and awards, may be forced to shut shop, said Asif.
"It is good to know when to let go."
Source: Geo TV
https://www.geo.tv/latest/414222-pakistan-women-fight-gender-norms-to-build-online-health-business
--------
Iraqi Communists raise flag for women's rights, secular politics
29/04/2022
For now the movement with the hammer-and-sickle banner and the peace dove logo -- Iraq's oldest active political party, founded in 1934 -- claims only a few thousand members and no deputies in parliament.
The party, which on Sunday marks the May 1 Labour Day, boycotted last October's election to protest against the country's "corrupt ethno-sectarian power-sharing system that was installed after the US war and occupation of the country in 2003".
Iraq's other parties represent religious and ethnic groups: Shiite Muslims, who by convention hold the prime ministership, Sunnis who take the parliamentary speaker's post, and Kurds who control the presidency.
The ICP, by contrast, advocates a political system independent of religion -- a remote prospect for now in the country of 40 million where Christian and Turkmen minorities also have their own, small parties.
"The rhetoric around the separation of mosque and state in Iraq is still very weak," said political scientist Marsin Alshamary, with the Middle East Initiative project.
For now political power is concentrated in the majority Shiite camp, split between firebrand cleric Moqtada Sadr's bloc and a rival alliance of pro-Iran groups, the Coordination Framework.
"The religious parties that control the country make life hard for women and for young people who want freedom," said one ICP supporter, Zeinab Aziz, a 53-year-old civil servant.
"The Communist Party is the first to defend women."
'Voice for underprivileged'
The ICP may be on the margins now, with only two MPs in the previous parliament, but in Iraq's turbulent history, it has had its moments of glory.
In the 1940s and 1950s, it "promoted social justice, anti-imperialism and gave a voice to the underprivileged," said Tareq Ismael, political scientist at the Canadian University of Calgary.
After the revolution of July 14, 1958 which overthrew the monarchy, Communist support for Abdelkarim Qassem, the country's first president, was decisive.
The ICP suffered repression in the 1970s under the ruling Baath party of Saddam Hussein, but was reborn in the wake of the US-led invasion and the fall of the dictator.
Today, the ICP has just "a few thousand" members, said party chief Raed Fahmi, 71, down from about 15,000 in the 1960s.
For now it wants to promote ideas rather than govern, mainly social justice and women's rights -- a challenge in a country where patriarchal and tribal traditions remain strong.
A recent UN report found that "significant barriers persist in Iraq" to gender equality, and the World Bank says women make up only 13 percent of the workforce, one of the lowest rates in the world.
'The Old Guard'
The Communists want to change that, vowing in a statement "to promote women's participation and economic empowerment, ensuring their safety and providing protection for them within the family and society".
"The role of women is difficult, but there is progress," said Fahmi. "We see young people who have a much more open attitude."
Progressive ideas around rights and social justice were picked up passionately by a youth-led protest movement that emerged in October 2019, venting their rage against Iraq's graft-tainted governing elite.
But the ICP failed to make itself heard strongly at the time, remaining mostly engaged with its traditional allies such as trade unions and student associations.
"In many ways, it represents the old guard of civil society," said Alshamary.
"The culture of the ICP is not keeping up with the political culture of the street.
"And this is a lost opportunity for the ICP, which could easily capitalise on the anti-Islamist wave and position itself as the torchbearer of all that is liberal and secular."
One of the party's loyal supporters, Abdallah Ghaleb, was hopeful for a bright future for the ICP.
At 22, he said he calls himself a communist "because there is too much corruption and unemployment in Iraq. The Communist Party supports ordinary people."
Source: France24
https://www.france24.com/en/live-news/20220429-iraqi-communists-raise-flag-for-women-s-rights-secular-politics
--------
Women in Yemen trapped by war, abuse
April 28, 2022
A recent report by a Yemeni-based NGO revealed shocking numbers regarding the scale of abuses women in Yemen have faced since the beginning of the war.
SAM Organization for Rights and Liberties said in its report issued March 8 on International Women's Day that more than 4,000 cases of abuses against women were recorded until the end of 2020, including murder, injury to the body, arbitrary arrest, forced disappearance, torture and prevention of movement.
The report also indicated that there are more than 900,000 displaced women in the camps of the Marib governorate as a result of the ongoing war in the country.
The Houthi movement has the highest rate of abuses against women with 70% of the cases, followed by Yemen government forces with 18%, the Southern Transitional Council with 5% and other parties with 7%. The violations varied between deliberate killings and severe injuries against female civilians and activists — acts that are tantamount to war crimes and crimes against humanity, according to the report.
Former Yemen Minister of Human Rights Houria Mashhour told Al-Monitor, "The war is a calamity for all people, affecting both men and women. But its impact on women is more severe. These usually lose their male relatives who perish in the conflict, and (the women then) become the sole breadwinner for their children and families, struggling to get work and the basic necessities of life such as water, food, medicine and other needs that have become scarce."
"The war affects young women and men as well. The latter have to drop out of school to go to the battlefields. Also, women face health problems, especially mothers, in light of the deterioration of health services and the dispersal of families due to displacement or asylum," she added.
Huda al-Sarari, head of the Aden-based Defense Foundation for Rights and Freedoms, told Al-Monitor, "Over the past few years of the war, women have faced gradual systematic practices to strip them of their rights amid the absence of laws, the disruption of state institutions and the militias' control of most areas across the country, especially groups affiliated with the Houthis."
"The de-facto authorities have committed crimes and violations against women that have never occurred in the history of Yemeni conflicts, stripping women of their rights and committing transgressions with purely ideological motives," she said. "Many women have been sacked from their jobs and were not allowed to take up jobs in certain professions. This is not to mention restrictions of their rights, freedoms and prohibition of travel except with a male companion."
Sarari added, "Women have been under close scrutiny when it comes to community activities. They are banned from gathering and marching to call for rights and freedoms. This is not to mention arrests and [forced] disappearances. Many women faced death sentences and life sentences in prison for their actions, judged as being immoral from a wrong and narrow religious perspective."
"Women face great challenges in demanding justice in the absence of laws and the lack of legal protection. Meanwhile, women's and human rights organizations have been preoccupied with humanitarian relief as the war is still ongoing, in which women continue to be the first victims through systematic attacks on their lives and physical safety in the absence of psychological support, laws to protect women in armed conflicts, and the lack of commitment by the warring parties to international human rights laws and absence of accountability in Yemen," Sarari said.
In a report issued in December 2020, the Yemeni Network for Rights and Freedoms documented 4,282 cases of abuse against women in Yemen from Sept. 21, 2014 (the start of the war), to Oct. 25, 2020. This figure includes 1,456 deaths; 2,379 cases of injury as a result of artillery shelling, the explosion of mines and explosive devices, and sniping; and 447 cases of kidnapping, disappearance and torture.
Qoboul Abdo al-Absi, head of the Qarar Foundation for Media and Sustainable Development, told Al-Monitor, "The war has caused the displacement of millions of Yemenis from the conflict areas. Some 5 million were displaced, mostly children and women who were left to look after their families amid poor basic services, which made them vulnerable to exploitation, torture, violence, deterioration in economic conditions and deprivation of education."
"Women were also marginalized in the government formation (in 2020), with only one woman being part of the negotiations. Many women are also arrested and tortured with no regard to social morals. Many female activists and journalists are being threatened and arrested. They are not immune to abuses and killings in the most horrific ways, torture or boobytrapped, as was the case of the journalist Rasha," she added, in reference to Rasha al-Harazi who was killed in a car explosion in Aden in November 2021.
Source: Al Monitor
https://www.al-monitor.com/originals/2022/03/women-yemen-trapped-war-abuse
--------
Samsung Ad Featuring Woman Running Alone At 2am Criticised As 'Naive'
Hibaq Farah
Thu 28 Apr 2022
A Samsung advertisement featuring a woman jogging alone at 2am has been criticised as "unrealistic" and insensitive.
The ad, titled Night Owls, which was promoting the Galaxy Watch4, Galaxy Buds 2 and Galaxy S22 phone, features a young woman running at 2am, with earbuds in, through dark streets and alleyways. At one point she runs past a man on a bike on a deserted bridge.
While the young woman is running, the voiceover says: "Sleep at night. Run faster. Push harder. Follow the herd. Not for me, I run on a different schedule: mine."
The advert comes after the death of 23-year-old Ashling Murphy, who was attacked while out running along a canal near Tullamore, west of Dublin, earlier this year, and the murders of Sarah Everard and Sabina Nessa.
Jamie Klingler, the co-founder of Reclaim These Streets, said the ad was "completely and utterly tone deaf, especially in light of Ashling Murphy".
"It's the Kendall Jenner Pepsi moment for Samsung. It isn't safe for us to run at night and the last thing I want is for anyone to violate our space while we are trying to exercise. It's almost laughable how bad this ad lands," she said.
Klingler said it was difficult to imagine a woman who would feel safe running at that time of night, and that was what made the ad "beyond unrealistic".
Sahra-Isha Muhammad-Jones, the founder and head of partnerships of Asra running club, a group for Muslim women, said: "There seems to be an unawareness of how unsafe it is for women running at this time. As a woman who is running, it's not safe already, but as a Black Muslim woman, it's even more unsafe. This advert felt like what would happen in an ideal world."
"It can be triggering for women watching this advert and then having to come to terms with what is actually happening in reality to women in this country."
Muhammad-Jones added that the advert felt like a missed opportunity to spark a meaningful discussion on women's safety.
"My first reaction was to laugh. The ad is completely unrealistic and totally blinkered," says Esther Newman, the editor of Women's Running magazine.
"We have worked for years on the issues of women's safety when it comes to running and the vast majority of women in our audience have felt unsafe whilst running, from heckling to actual abuse. We know that women often think about stopping running because of this," says Newman.
"Women feel unsafe when it comes to running at any point of the day. Seeing a woman choosing to run at 2am, with headphones, it's just ludicrous."
Newman said that the ad was not empowering and instead was "shortsighted, naive and comical".
Samsung said: "The Night Owls campaign was designed with a positive message in mind: to celebrate individuality and freedom to exercise at all hours.
"It was never our intention to be insensitive to ongoing conversations around women's safety. As a global company with a diverse workforce, we apologise for how this may have been received."
Source: The Guardian
https://www.theguardian.com/technology/2022/apr/28/samsung-ad-featuring-woman-running-alone-at-2am-criticised-as-naive
--------
SC Agrees To Consider Listing Pleas Against Karnataka HC's Hijab Verdict
Apr 27, 2022
The Supreme Court said on Tuesday that it will consider listing for hearing a bunch of petitions against the Karnataka high court's verdict that held the wearing of hijab by Muslim women was not an essential religious practice.
"I will list. Wait for two days," Chief Justice of India NV Ramana told senior advocate Meenakshi Arora, who represents one of the petitioners in the appeals filed last month.
In March, the Chief Justice declined to put a date to hearing these cases on two separate occasions when lawyers for the petitioners urged for an urgent hearing of their appeals challenging the high court's March 15 verdict.
On March 16, he refrained from indicating any date of hearing after senior counsels Sanjay Hegde and Devadatt Kamat implored the court to urgently list the matter. Hegde appeared for girl student Niba Naaz, while Kamat represented another student, Aishat Shifa.
Again, on March 24, justice Ramana declined to assign a date of hearing, observing that cases pertaining to the ban on hijab have nothing to do with school examinations and the matter should not be sensationalized.
On that day, solicitor general Tushar Mehta intervened on behalf of the Karnataka government and opposed urgent listing of the petitions.
On March 15, a full bench of the Karnataka high court declared that wearing the headscarves was not mandatory in Islam. It upheld the ban on hijab by the state government in schools and colleges through a February 5 executive order, which led to widespread protests.
The high court's three-judge bench, headed by chief justice Ritu Raj Awasthi, held that the Quran does not mandate wearing of hijab for Muslim women and that the attire "at the most is a means to gain access to public places" and a "measure of social security", but "not a religious end in itself".
The court also favoured a "speedy and effective" investigation into the stoking of the hijab controversy in Karnataka, suspecting some "unseen hands at work to engineer social unrest and disharmony in the state".
Dismissing a bunch of petitions filed by some girl students pressing wearing of hijab as their religious right protected under the Constitution, the court upheld the state government's authority to prescribe uniform in educational institutions under the Karnataka Education Act, saying that "adherence to dress code is a mandatory for students".
Hours later, Niba Naaz filed an appeal in the Supreme Court, arguing that the high court had erred in creating a dichotomy between the freedoms of religion and conscience, and had inferred that those who follow a religion cannot have the right to conscience.
"The Hon'ble High Court has failed to note that the right to wear a hijab comes under the ambit of 'expression' and is thus protected under Article 19(1)(a) of the Constitution. It is submitted that clothing and appearance fall within the ambit of the right of expression guaranteed under Article 19(1)(a) of the Constitution," the petition argued.
Aishat Shifa, another petitioner before the high court, also filed an appeal in the Supreme Court a day after the March 15 judgment. The petition by students of PU College in Udupi – epicentre of the protests seeking to wear the hijab – was mentioned by Kamat for an urgent hearing on March 16 when the court said it would look into the plea, but did not set down the cases for hearing.
Source: Hindustan Times
https://www.hindustantimes.com/india-news/supreme-court-agrees-to-consider-listing-pleas-against-karnataka-hc-s-hijab-verdict-101650998387986.html
--------
URL: https://newageislam.com/islam-women-feminism/bangladesh-muslim-islamic-custom-purdah/d/126893
New Age Islam Islam Online, Islamic Website, African Muslim News, Arab World News, South Asia News, Indian Muslim News, World Muslim News, Women in Islam, Islamic Feminism, Arab Women, Women In Arab, Islamophobia in America, Muslim Women in West, Islam Women and Feminism