New Age Islam News Bureau
5 May 2012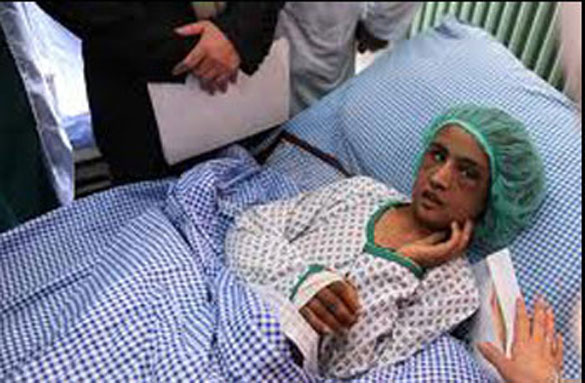 • Afghan girl's torturers get 10 years jail: official
• Muslim woman wins $5 mln verdict from AT&T for discrimination
• Saudi women carve out niche for themselves in medical profession
• RIYADH: Daughter paints to help save her mother's life
• Modesty trumps midriffs as Australian designers lead the style stakes for Muslim women
Complied by New Age Islam News Bureau
Photo: Afghan girl's torturers get 10 years in jail
URL: https://newageislam.com/islam-women-feminism/bangladesh-madrasa-girl-tortured-teacher/d/7233
----------
Bangladesh: Madrasa girl tortured by teacher dies
May 5, 2012
A madrasa student has been tortured to death allegedly by her teacher in the district.
Amena Aktar, 13, Class VII student of Khadijatul Qubra Madrasa, tortured and injured by a teacher six days ago, succumbed to her injuries at Dhaka Medical College Hospital (DMCH) on Wednesday.
Police quoting her mother and neighbours said that Amena was inhumanly tortured by teacher Najmin Ayesha when she failed to comply with an order of the teacher on Friday.
A joint of her spine was dislocated due to the torture and she fell severely sick.
She succumbed to her injuries at DMCH on Wednesday.
http://www.thedailystar.net/newDesign/news-details.php?nid=232609
----------
Afghan girl's torturers get 10 years jail: official
May 5, 2012
KABUL: The case of a tortured Afghan child bride whose treatment shocked the world has led to three members of her husband's family being jailed for 10 years, an official said Saturday.
Sahar Gul, 15, who was burned and beaten and had her fingernails pulled out was found in the basement of her husband's house last December in north-eastern Baghlan province, where she had been locked in a toilet for six months.
"The court sentenced her father-in-law, mother-in-law and sister-in-law each to 10 years in prison on Tuesday," Afghanistan's supreme court spokesman Abdul Wakil Omari told AFP.
A rights group, Women for Afghan Women which helped Gul in the court case, said it was not satisfied with the sentence.
"We are not happy with the sentence, we are going to help her appeal,"programme manager Huma Safi told AFP.
"How can someone get only 10 years in prison for torturing a girl to almost death," she said.
Gul, whose case attracted widespread attention in Afghanistan and abroad, attended the court session in Kabul.
"When she first entered the court and saw her in-laws, she was afraid and shaking, but later she calmed down and asked for death penalty for her in-laws," Safi said.
Gul's husband and her brother in-law, also allegedly involved in torturing her, are still at large.
Violence and abuse against women continues to be a major problem in Afghanistan a decade after US-led troops brought down the notorious Taliban regime.
According to figures by British charity organisation Oxfam, 87 per cent of Afghan women report having experienced physical, sexual or psychological violence or forced marriage.
The Afghan Independent Human Rights Commission logged 1,026 cases of violence against women in the second quarter of 2011 compared with 2,700 cases for the whole of 2010.
http://dawn.com/2012/05/05/afghan-girls-torturers-get-10-years-jail-official/
----------
Muslim woman wins $5 mln verdict from AT&T for discrimination
May 5, 2012
KANSAS CITY: A Kansas City woman who converted from Christianity to Islam has been awarded $5 million in punitive damages by a jury who found the telecommunications giant AT&T created a "hostile work environment" after her conversion, according to a judge's order issued Friday.
Susann Bashir, a 41-year-old married mother, sued AT&T unit Southwestern Bell for what she said was a pattern of offensive and discriminatory conduct by her supervisors that began when she converted to Islam in 2005, six years after she started working for the company as a network technician.
After Bashir started wearing a religious head scarf known as a hijab, and attending Friday mosque services, her managers and co-workers called her names including "terrorist," and told her she was going to hell, said her attorney Amy Coopman.
A manager repeatedly told her to remove her hijab, insulted her for wearing it, and once physically grabbed Bashir and tried to rip the hijab off her head, according to the suit.
Bashir complained to human resources and then filed a formal complaint alleging discrimination with the Equal Employment Opportunity Commission and was subsequently fired in 2010.
Though Bashir's complaint alleged she was fired in a retaliatory action by AT&T, the jury did not agree, and no damages were awarded on that charge.
After several days of hearing testimony and deliberation, a jury in Jackson County Circuit Court on Thursday ordered AT&T to pay $5 million in punitive damages on top of $120,000 in actual damages.
AT&T spokesman Marty Richter said the company would appeal.
"AT&T is a nationally recognized leader in workforce diversity and inclusion, something in which we take great pride. We disagree with the verdict and plan to appeal," Richter said.
Bashir's lawyer said the jury award was "monumental" to Bashir, but said it had little impact on AT&T, a multi-billion-dollar global corporation.
"The company has an excellent written policy," said Coopman.
"If they had just followed the policy none of this would have happened."
http://dawn.com/2012/05/05/muslim-woman-wins-5-mln-verdict-from-att-for-discrimination/
----------
Saudi women carve out niche for themselves in medical profession
May 5, 2012
In 1975, the only university in the Eastern Province was a small petroleum college. It was located in Dhahran and it is an all-men school.
Any student from the Eastern Province who didn't attend this petroleum college would have to go to Riyadh to attend the university there — King Saud University. Students in Saudi Arabia were lucky, because they got a free education and monthly stipends. Those who went to Riyadh would use the monthly payments to cover their own personal expenses. The situation for young women was a little harder. Yes, they still got the same free education and monthly payment, but the young Saudi women who wanted to continue their university education in Riyadh would only be able to finish their university degrees if they had relatives or family friends to live with.
University housing was not available for most of the young girls. Female students had very limited options to choose from at that time. The university fields were limited to subjects including Arabic literature, history, geography and Islamic studies. The Saudi young women were eager to master the field of medicine. The number of female Saudi physicians or nurses was almost nonexistent. Now the achievements of Saudi women in medicine have far exceeded every expectation in the Kingdom.
The amount of achievements in any society is measured by where it was yesterday and where it is today. The most important part of any society is a good education and an advanced health care system. The University of Dammam achieved both. It educated thousands of young men and women, and at the same time it had the biggest positive impact on the health care system in the Kingdom. The University of Dammam was behind Saudi women's achievements in medicine. Those achievements were far beyond any Saudi's imagination when the university was established. The young Saudi women who attended the College of Medicine when the university was established became the nucleus of what would be one of most influential medical complexes in the Kingdom.
When the university was established in 1975, it had two campuses. Dammam campus was secondary. The main campus was in Hofuf (Al-Hassa). The two campuses started operating in the academic year 1974/75 and were officially inaugurated by King Khaled on May 24, 1977. The university's name was King Faisal University. At that time Dammam campus had two colleges. One was in the field of medicine and medical sciences and the other was architecture and planning. It had three centers — English language, computer sciences and publication and translation. Later on, enrollment numbers reached tens of thousands. The Ministry of Higher Education then separated the two campuses and the Dammam campus became the University of Dammam in 2009. Now the University of Dammam covers six cities in the Eastern Province, including Dammam, Jubail, Khafji, Khobar, Nu'Airiya and Qateef. The university now has 24 colleges, 123 departments, 1,414 faculty members and about 25,000 students. To the surprise of many people, Saudi young women have the lion's share of the number of seats in the field of medicine.
The university has one of the largest medical training facilities in the Middle East. It has a university hospital with more than 500 beds. Treatment in the hospital is free. The medical equipment in this hospital is state-of-the-art. The hospital helped many Saudi men and women improve their skills. Dr. Abdullah Al-Rubaish, the current rector of the university, graduated in 1984 and held many positions in the university before reaching his current position. He was also educated in Alberta, Canada. He was on a fellowship in pulmonary medicine. His track record is full of achievements in medical science. He was a resident in internal medicine, chief resident in internal medicine, chief pulmonary medicine, specialist and consultant in internal medicine and associate professor of internal medicine. Al-Rubaish is a fine example of the university production line. And even after being rector at the University of Dammam, he still practiced his medical skills. A physician will always be a physician.
The University of Dammam helped young Saudi women both in the classroom and in social life. This achievement ran parallel to government efforts to help Saudi women advance in many fields. In the past, some social obstacles hampered the women's movement toward top of the line education. In a very short time, Saudi women achieved universal success in secondary education.
With these achievements, Saudi women were able to progress and close the gender gap. Many young Saudi women performed far better than many young men in the field of medicine. There are many visible positive signs that came along with women's education such as lowered mortality rate, improved health and good nutrition. Also, for being in university, women learned a lot about fair rights. Saudi university law, civil service law and labor law treat women the same as men. And the positive impact of the university extended to very young girls. Dropout rates decreased. Now every little girl wants to be a college graduate and wear the white hospital uniform. Being a woman doctor is not only a guarantee of high profile job but also a respected place in the society.
Early Saudi women graduates didn't serve hospitals in the Eastern Province only. Many young Saudi women served as educators for other women. They worked as volunteers and had many achievements in society. Many of them made Saudi citizens proud with their achievements. I will give a very small example of the medical achievements of some Saudi graduates at the University of Dammam.
Dr. Laila Telmesani graduated in 1984 and continued her educational path in the Kingdom and Switzerland. She is a consultant in otology and chair of an ENT department.
Dr. Iman Al-Sheik graduated in 1984 and specialized in hematology. She is the director of laboratories at the university hospital and an associate professor.
Dr. Fatmah Al-Mulhim, graduated in 1985, is now the chair of the radiology department at the university hospital. She is very active member of the Saudi Cancer Foundation.
Dr. Sana Al-Mahmoud graduated in 1984 and is the vice dean of the College of Nursing. She has a health services management and health planning degree from the universities of Birmingham and Leeds.
Dr. Ahlam Alqatari graduated in 1984 and is a hematology consultant. In addition to that, she is very active in society and established the Alattaa Ladies Charity in Qatif.
Dr. Layla Beshawri graduated in 1986. She is a chairperson of the MLT department at the College of Applied Medical Science.
Dr. Dalal Al-Tamimi graduated in 1982. She is the dean for university studies for female students, acting dean of the Nursing College and chairperson of the Pathology Department. The above are examples of thousands of women who pursued their dreams to make major contributions to Saudi achievements, not only in the Eastern Province, but in all parts of the Kingdom. Those young women achieved medical miracles and worked hard day and night. They were able to do it without losing their hold on Saudi culture.
Saudi women entered the field of medicine without affecting their roles as wives, mothers and an important part of society. The Saudi women gained the respect of citizens and all the people who worked with them, taught them and learnt from them in Saudi Arabia or abroad. Almost all Saudi women doctors studied abroad. To this day, there are hundreds of Saudi women seeking higher studies in world-class medical institutes or hospitals in the US, Canada, the UK and many other places. And many of these young women started their education in places like the University of Dammam.
The University of Dammam started as part of a university, but turned out to be one of the largest universities in Saudi Arabia and the Gulf region. It was able to sustain a very healthy environment of ethical scientific research and discoveries. The university opened the classrooms to young talented Saudi women, opened new horizons and paved the way to a bright future for them. There are many Saudi women who achieved international recognition in many medical fields and the best thing about their achievements is they have done it quietly with style. Many of them didn't know that we said thank you for their achievements. They were simply busy serving their country. The Saudi women doctors and nurses are heroes who achieved miracles and they deserve to be appreciated.
almulhimnavy@hotmail.com
http://arabnews.com/saudiarabia/article625099.ece
----------
RIYADH: Daughter paints to help save her mother's life
May 5, 2012
There can be no act more touching than doing something to save a loved one. This was exactly what 15-year-old student Serene Al-Hariqi did by helping pay the mounting medical bills of her terminally ill mother Lina Yerro, who is a nurse.
Lina is from Iloilo on the Visayan Islands in Central Philippines; and she had been ill with colon cancer and confined at the South Pasadena Cancer Center since Oct. 19, 2011.
"A very talented girl, she came up with drawings. From these drawings depicting various subjects close to her heart, Serene came up with 15 paintings in watercolors on canvas," her father Saleh Al-Hariqi told Arab News. Al-Hariqi is currently working at the Ministry of Education's Computer Technology Center in Al-Rass, Qassim,
Last Tuesday, Serene mounted a one-woman show at her school, Second Mediterian School in Al-Rass, with the assistance of teacher Monira Al-Obishi who coordinated all the activities for the exhibition, and principal Huda Al-Sohibani. The exhibition was entitled "My hands wipe my sadness."
To ensure attendance for the show, Al-Obishi called local art connoisseurs, well-to-do people who could afford to buy artworks and others sympathetic to Serene's cause. One of them was Al-Ras Gov. Khaled Al-Assaf and his wife Sultanah who paid SR 10,000 for a painting and served as the guest of honor. The show was for women only.
Full report at:
http://arabnews.com/saudiarabia/article625035.ece
----------
Modesty trumps midriffs as Australian designers lead the style stakes for Muslim women
May 5, 2012
The women are beautiful, their clothes gorgeous. And if you had to choose another adjective, you might opt for fashionable; elegant; individual; modest. Most of all, Australian.
As we approach the end of Australian Fashion Week, another contemporary fashion show begins today. This time at the Powerhouse Museum, charting an underground success flourishing rapidly but largely unnoticed in Sydney's western suburbs.
The clothes exhibited in Faith, fashion, fusion: Muslim women's style in Australia come from a handful of Sydney designers. Yet the market they are targeting is global.
''Obviously, Australian Muslim women come from many countries with many different traditions of dress: Moroccan, Malaysian, Indonesian, Afghanistani, Pakistani, not just Saudi Arabian,'' curator Glynis Jones says. ''But the majority of Australian Islamic designers tend to come from Lebanese families.''
Aida Zein - who specialises in denims for mums on the run - is an exception. Her family background is Syrian. A law student, she had just begun to wear the hijab before September 11, 2001. Thereafter, as she explains in her YouTube interview that is part of the exhibition, wearing the hijab wasn't simply a matter of personal choice but a declaration of where she had come from.
Full report at:
http://www.theage.com.au/lifestyle/fashion/cover-girls-20120503-
URL: https://newageislam.com/islam-women-feminism/bangladesh-madrasa-girl-tortured-teacher/d/7233