New Age Islam News Bureau
14 Apr 2016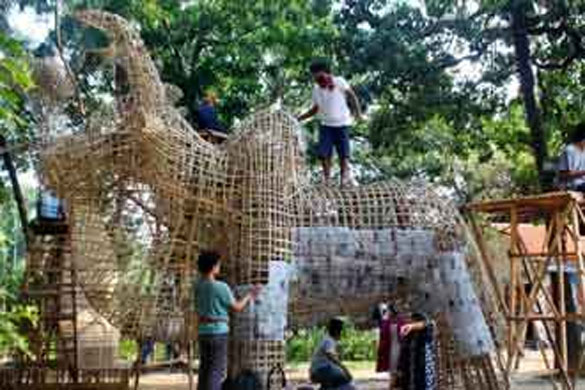 Photo: Men and women build a float ahead of Bengali new year festivities in Dhaka, April 12, 2016.
---------
• Don't Judge A Muslim Woman's Dress Choice
• Syrian Women's Sex Slavery Jolts Lebanon
• ICNA Sisters Celebrate Diversity, Achievements
• Mohna Ansari: Nepal's First Female Muslim Lawyer
• Video Shows Some Chibok Girls Kidnapped By Boko Haram Are Alive
• Marsh Loss Shatters Lifestyle of Iraq's Ma'dan Women
Compiled by New Age Islam News Bureau
URL: https://newageislam.com/islam-women-feminism/bangladesh-feminists-urge-women-attend/d/106985
---------
Bangladesh: Feminists Urge Women to Attend Boishakh Festivities
2016-04-13
Men and women build a float ahead of Bengali New Year festivities in Dhaka, April 12, 2016.
On the eve of Bangladesh's largest cultural festival, a group of female journalists protested in Dhaka over the alleged inaction of police to arrest any male suspects who groped and sexually harassed women at Bengali New Year celebrations last April.
The Bangladesh Women Journalists' Center and other working women formed a human chain outside the National Press Club, during which they urged women to attend this year's instalment of the Pahela Boishakh celebrations, but watch out for potential sexual harassment.
They also called for women to resist efforts by Islamic fundamentalist to discourage women from attending the event and to "confine [women] to the four walls."
At last year's festival, some women attending public celebrations in Dhaka were groped or harassed by men, including one woman who reportedly was disrobed by assailants in the crowd in broad daylight.
"[T]he militants and the fundamentalists have been conspiring to foil the celebration through fatwas and sexual assaults on women at public places," Nasimun Ara Haque, the center's president who led the human chain, told BenarNews.
According to news reports, fundamentalists have declared the festival, which is celebrated every April 14 and draws millions of revelers to festivities nationwide, as un-Islamic.
Meanwhile, Bangladeshi authorities announced earlier this month that they were beefing up security around this year's Pahela Boishakh, and were cancelling concerts and other programs scheduled to take place on Thursday night over concerns that militants might target the celebrations.
During Boishakh celebrations in Dhaka in 2001, the banned militant group Harkat-ul-Jihad al-Islamic (HuJI) carried out a bombing that killed 10 people.
"We, on behalf of the women, want to make it clear: the Pahela Boishakh must take place," Haque said.
"The ploy is to discourage the women from attending the Pahela Boishakh celebration. They want to confine us to four walls," she said.
Udisa Islam, a senior reporter of the news site banglatribune, said that fundamentalist forces such as HuJI were trying to undermine women's empowerment through their criticism of Boishakh, which brings together Bangladeshis of all castes and creeds.
"They will talk like this as it is their so-called ideology; I am not surprised by this. They will talk like this and we will go ahead," Islam told BenarNews.
She also criticized the authorities for imposing a late-afternoon curfew.
"I am really saddened by the attitude of our law enforcers; they would force us to go into our house before 5 p.m. Who are they promoting? The women are worried because we are supposed to go to the police, in case militants attack us or we are sexually harassed," she added.
'Our responsibility'
The government's curfew order came after Hefazat-e-Islam, an association of conservative Muslim teachers and students faxed a statement to media outlets on Monday urging people not to celebrate the "anti-Islamic" Pahela Boishakh.
A day earlier, a group calling itself the Awami Ulama League also branded the Pahela Boishakh celebrations as "against Islam," and voiced its opposition to women's participation at the festivities.
"Our responsibility is to ensure security of the people. And this responsibility has prompted us to put up some restrictions. I request people to leave the spots before evening," Home Minister Asaduzzaman Khan Kamal told BenarNews on Wednesday.
benarnews.org/english/news/bengali/women-festival-04132016150528.html
-------
Don't Judge A Muslim Woman's Dress Choice
Apr 14, 2016
When terrorist attacks are claimed by radical Islamist groups, by the Islamic State in Iraq and Syria or attributed to deranged individuals with questionable links to Islam, ensuing political debates often focus on those who display the most visible signs of Islam - veiled Muslim women.
Curiously, some politicians appear to think that one of the most effective strategies for combating violent extremism, radicalisation and Islamism is to regulate Muslim women's dress. The dubious link between terrorism and Muslim women's clothing surfaced most recently in declarations made by Ms Laurence Rossignol, France's minister for women's rights.
Commenting on Western fashion houses that produce lines of clothing for observant Muslim women, Ms Rossignol berated them for being "irresponsible" and encouraging "the imprisonment of women's bodies".
She denied the possibility that some Muslim women may choose to wear headscarves or face veils, asserting that such women are like "American Negres who supported slavery".
Despite the outrage that her remarks elicited and the petitions on social media calling for her to resign, Ms Rossignol did not retract her statements about Muslim women. Ms Rossignol's comments do not mention terrorism or radicalisation directly. However, her comments surface, like many others before her, in the aftermath of terrorist attacks in Europe and, in this case, soon after the March 22 Brussels bombing and last year's explosions in Paris. There is no question that terrorism is unacceptable and that national security must be protected.
France's minister for women's rights Laurence Rossignol (above) sparked outrage over her remarks on Muslim women who choose to wear conservative outfits. The current trend by Western designers like Dolce & Gabbana to cater to Muslim-style attire is an expansion of practices that have been going on for several years. PHOTOS: AGENCE FRANCE-PRESSE
Yet, continuing to respond to terrorism with a concern over Muslim women's dress is a convenient way to ignore the genuine problems facing us today, namely that terrorism has become an intrinsic problem of our global world, that radicalisation is occurring from within our allegedly modern, democratic and free societies, that violent acts are committed by citizens of Euro-American and Australian nations, and not by migrants or foreigners, and that nothing in Islam as a faith calls for violence or extremism.
France's minister for women's rights Laurence Rossignol sparked outrage over her remarks on Muslim women who choose to wear conservative outfits. (Above) The current trend by Western designers like Dolce & Gabbana to cater to Muslim-style attire is an expansion of practices that have been going on for several years. PHOTOS: AGENCE FRANCE-PRESSE
If there are concerns about terrorism and national security, they have nothing to do with Muslim women or their clothing.
It is time to change the narrative about Muslim women's identities and to stop defining them exclusively by their clothing.
While some Muslim women are indeed forced to dress in conservative ways by their fathers, brothers, husbands or by governments espousing conservative interpretations of Islam, they are the minority among all Muslims. In the majority of the world, Muslim women choose what they want to wear.
The infinite reasons why Muslim women veil beseech us to recognise the fact that personal choice plays a greater role than we might have anticipated in any woman's adoption of a particular attire.
But the notion of choice must be qualified. Choice is commonly associated with a Western style of individualism that stems from the tradition of political liberalism.
Yet, choice is not universally just about individual desires.
Choice should be understood with cross-cultural sensitivity.
In some societies, it can imply allegiance to a larger community.
In these cases, choice is not about doing what one wants, independently of the group, but it means adopting what is best for the group. Wishing to affiliate oneself with one's community through veiling thus does not mean necessarily that it is a coercive imposition or a sign of fanaticism, but rather that it may be a well-considered, voluntarily chosen act of piety, ethics or political assertion.
The rise in the number of Muslim women worldwide who cover their hair and/or face is due to a number of factors, not least of which is the rapid development and success of the Islamic fashion industry.
The growing appeal of Islamic fashion among Muslim women may be partly due to the fact that these clothes challenge conservative Islamist views of appropriate Muslim women's dress, and the strict governmental regulations imposed on women's attire in some Muslim-majority countries.
Islamic fashion functions at times as a revolutionary type of fashion, one that claims to endorse women's individuality and protect their human right to choose.
France, recognising the privileged place it occupies in the imagination of many Middle Eastern women, has become a business leader in catering to affluent Muslim women.
French luxury fashion designers, especially Dior, have been entrepreneurial in ensuring that they maintain and augment the 30 per cent of the luxury business they already have in Muslim-majority societies.
According to the 2015-2016 State of the Global Islamic Economy Report, Muslim consumers spend an estimated US$230 billion (S$310 billion) on clothing, a number that is projected to grow to US$327 billion by 2019, larger than the current combined clothing markets of Britain (US$107 billion), Germany (US$99 billion) and India (US$96 billion).
For years, designers have pursued marketing strategies to sell haute couture scarves, dresses, more modest versions of their catwalk styles and make-up to rich Muslim women.
The current trend by a wider range of Western designers - H&M, Mango, Marks & Spencer, and Dolce & Gabbana - to cater to conservative Muslim-style attire is just an expansion of practices that have been going on for some 20 years, albeit in more secretive, non-advertised events.
Ms Rossignol's concern over Western designers' lines of Muslim-style dress must be reconsidered in this light because it is discounting the very real complicity of European governments that want to be recognised as beacons of individual freedoms and of women's human rights on one hand, and at the same time seek to further their markets in some of the most repressive regimes in the world towards women. Hijab and niqab may be challenges to French secularism and European ideas of human rights, but they also represent an economic boon that Europe is keen to preserve.
Not least, Ms Rossignol's claim - that Muslim women who choose to dress in conservative outfits are like the Negroes who accepted slavery - silences the ethical and moral agency of Muslim women and their right over their own body.
As minister for women's rights, Ms Rossignol has a duty to recognise that it is impossible to know the depth of a Muslim woman's piety or fanaticism, the extent of her feminism or conservatism, and the degree of her liberation and oppression based on clothing alone.
Professor Sahar Amer is Chair of the Department of Arabic Language and Cultures, The University of Sydney. She is a panellist at an April 28 conference, Islam in the Contemporary World, organised by the S. Rajaratnam School of International Studies, Nanyang Technological University.
straitstimes.com/opinion/dont-judge-a-muslim-womans-dress-choice
-------
Syrian Women's Sex Slavery Jolts Lebanon
13 April 2016
BEIRUT: Back in Syria, the young women were told they would get well-paid jobs at restaurants and hotels in Lebanon.
But when they arrived, their belongings and mobile phones were taken away, and the women were locked up in two hotels north of Beirut and forced into prostitution.
What followed was an ordeal of beatings, torture and abuse — until Lebanese security forces raided the hotels and dismantled the operation in late March.
The discovery of the sex trafficking ring and the rescue of the women deeply shocked tiny Lebanon, a Mediterranean Arab nation already overwhelmed by the influx of more than a million Syrian refugees who have fled the civil war, and prompted calls for investigation.
The case, which involves 75 female victims, is considered the worst sex trafficking scandal in Lebanon in decades and has raised questions about who might have shielded and enabled such a vast network.
When they were found in the Chez Maurice and Silver Hotel in the town of Maamelteine, 20 km north of the Lebanese capital, the women were said to have been in miserable condition. The three-story Chez Maurice looked more like a jail than a hotel when it was visited by journalists, with bars on balconies and windows.
A whip was seen lying on one of the guard tables. The premises have been sealed off and official documents were stamped on the gates, barring entry.
The Syrian women were brought to Lebanon in stages over the past several months. Those who refused to work as prostitutes were repeatedly raped and tortured until they submitted, according to Lebanese women's rights activists. "Some reported that they were forced to have sex with 20 clients per day," said Maya Al-Ammar, an official with women's rights group Kafa, which is Arabic for "Enough."
After the women were freed, the Health Ministry sealed a clinic belonging to gynecologist Riad Al-Alam, who authorities say was involved in preforming abortions for trafficked Syrian women who got pregnant.
Lebanese Health Minister Wael Abu Faour said the doctor "should be in prison where he should rot." Al-Alam's license has been revoked by a medical workers' union.
Al-Ammar, the women's rights activist, said some 200 abortions were carried out at the clinic, though she did not provide the source for the data.
The case of the trafficked Syrians went public after police raided the two hotels and freed the women. Lebanese police spokesman Col. Joseph Msalem said several guards, both male and female, were detained but the two ringleaders remain at large.
According to Msalem, police got the first lead on March 25, the Good Friday holiday in Lebanon, when four Syrian women managed to flee from one of the hotels when the guards briefly became lax in monitoring them.
They took a minibus to an area in south Beirut, where one of them told the bus driver that she knew some people. On the way, the driver noticed something odd about the women and started asking questions after which they told him their story, Msalem said.
The driver called the police and the women were taken to a police station near Beirut.
arabnews.com/news/909906
-------
Mohna Ansari: Nepal's first female Muslim lawyer
April 14, 2016
Kathmandu, Nepal - In November 2014, Mohna Ansari received a telephone call from the office of Nepal's prime minister. They asked her to join the Nepal Human Rights Commission (NHRC), the government body tasked with safeguarding human rights.
The lawyer from a lower middle-class Muslim family in the southern city of Nepalgunj says she couldn't quite believe it.
"I never believed that I would get this. In my family, nobody is in politics," Ansari, now a commissioner at the NHRC, explains.
Her position is the highest held by a Muslim woman in Nepal's modern history.
"Hard work paid off," says the 39-year-old softly as she sits in a hotel lobby in the capital, Kathmandu.
Her rise has also been seen as a reflection of the change that has been taking place in Nepal since the monarchy was abolished in 2006 - after a decade of Maoist rebellion.
As the only woman in the five-member commission, which has tackled issues such as security force excesses and gender discrimination, Ansari says: "It's very difficult to operate."
Speaking out and facing criticism
Ansari is active on social media, where she often challenges Nepal's entrenched political class over their commitment to addressing the issues facing ordinary Nepalese - from women's and indigenous rights to the plight of the Madhesis and delays in post-earthquake reconstruction.
"I was the first to oppose the deployment of the army to deal with Madhesi agitation. I was the first to speak publicly against that," she says, referring to recent protests by members of the ethnic group that forms more than a third of the country's population but feels economically and politically underrepresented.
"I faced a lot of criticism," she continues. "People phoned me; a senior journalist wrote an article against me."
Still, she says, other newspapers supported her stand. But she has had to deal with more than just the media.
Last week, the office of Prime Minister KP Oli summoned the NHRC chairman and four other members of the commission after Ansari addressed the UN Human Rights Council in Geneva in mid-March, raising the issue of the force used against Madhesi protesters.
At least 50 people, mostly Madhesis, had been killed since last September, when protests erupted in the country's Tarai region against Nepal's new constitution, which the Madhesis say does not address their historic underrepresentation.
But rights groups and activists have backed Ansari.
Fighting violence against women
Ansari is not new to working with the government. Before joining the NHRC, she was a commissioner at the National Women Commission (NWC) for four years - her first major government assignment.
She was invited to join the NWC in 2010, while working on a UN Development Programme (UNDP) project.
"This was the first time a Muslim [woman] was appointed at such a high level," she says.
"We are proud of her," says Urmila Devi Vishvakarma, who worked with Ansari at the NWC for nearly two years.
After the Maoist rebellion ended in 2006, Nepal's democratic space was opened up as those who had been marginalised, such as women and indigenous groups, began to demand their rights.
"I raised a lot of issues, especially violence against women, and advocated for a gender bill to end discriminatory practices," Ansari explains.
Sheikh Chand Tara, a former chairwoman of the NWC, praises Ansari for her professional acumen: "Since she came from an NGO background, she was organised and her experience in international law and women's rights helped her in the new job."
Becoming Nepal's first female Muslim law graduate
But the journey to where she is now hasn't been easy, and the odds have long been stacked against her.
Her family's sole source of income was her father's carpentry shop. However, Ansari explains that her "parents are illiterate, so they wanted their kids to be educated and to have careers in different sectors".
"In Nepal, Muslim parents generally don't want to send their kids to formal education" at secular institutions, Ansari explains. However, she "went to a co-ed government school".
Still, she wasn't given the same opportunities as her brothers as her family, like so many others in this nation of 27 million people, believed that "sons will look after [the family], while daughters will go".
"My brothers went to [English medium] boarding school, and I went to government school," Ansari says. "But I am happy they sent me to school where I got my education - not only Islamic, but also a modern education."
But financial issues plagued her college education and she was forced to drop out after her first year. She returned three years later upon getting a scholarship.
"Later, I enrolled in a bachelor's degree [programme] in law from Mahendra Multiple College - the only government college in Nepalgunj - and passed in 2003," she explains.
During her studies, she supported herself by teaching in schools and working as a private tutor. She also found time to write articles about issues affecting women and children for local newspapers.
Ansari became the first in her family to graduate and the first woman law graduate from the Muslim community, which forms just under five percent of the country's population and is typically poor with low levels of education.
But in a small town like Nepalgunj, her legal career struggled to take off. Most of her clients were poor, vulnerable women.
But, she explains, "It was [too] difficult to begin my career in Kathmandu with my background."
"My family supported me all along," she says, describing how she went on to work for leading global NGOs.
'I never compromise'
Her work has not gone unnoticed. In 2012, she was honoured by the president with the Suprabal Jana Sewa Shree award, a presidential medal for public service. That same year, she received the Nava Devi Award, which recognises Nepal's female role models and achievers.
She has become a source of pride for many in the Muslim community.
"She is doing a good job and is a role model for many others in the community," says Athar Hussain Faruqi, a local Maoist leader from Nepalgunj.
Ansari has travelled across Nepal, hearing from women and marginalised communities.
"I never imagined that a person from my background would go on to work in policy-level work representing all women," she says.
And, she believes, the Muslim community is "slowly … coming up".
"The new constitutional amendments give them a ray of hope," she says, referring to a clause in the constitution that ensures a job quota for Muslims.
Ansari also supports the decision to reserve 33 percent of government jobs for women, and hopes that Muslim women - who are at the bottom of social and education indicators - will also benefit from this.
Ansari will certainly be fighting to make sure they do.
"I am a little provocative," she says. "I never compromise on issues, and I believe in justice."
Then, by way of a goodbye, she adds: "I receive a lot of threats, but I don't care."
nation.com.pk/international/14-Apr-2016/nepal-s-first-female-muslim-lawyer
-------
Video Shows Some Chibok Girls Kidnapped By Boko Haram Are Alive
14 April 2016
A schoolmate says she cried with joy when she saw a Boko Haram video appearing to show some of Nigeria's kidnapped Chibok girls, with images of tearful mothers recognizing their daughters who have not been heard from since the mass abduction by the Islamic extremists two years ago.
"The moment I saw them and recognized their faces — Saratu Ayuba, Jummai Mutah, and Kwazigu Hamman — I started crying, with tears of joy rolling down from my eyes, thanking God for their lives," she says.
The young woman, who now calls herself Saa and is going to college in the United States, was among several dozen who escaped, jumping down from the back of an open truck after Boko Haram had kidnapped them. The extremists seized 276 girls who had gathered for science exams at the Government Girls Secondary School in the northeast town of Chibok. There are 219 missing.
Saa spoke in a statement through the Education Must Continue Initiative, a Washington-based project started by Nigerian Emmanuel Ogede, which is sponsoring the education of Saa and nine other students who escaped.
"Seeing them gives me the courage to tell the world today that we should not lose hope," Saa said. "Let's keep praying and campaigning for #BringBackOurGirls. I want the world to raise their voice. Let's not stop until the government hears us and does something about it."
CNN on Wednesday aired the video, believed made in December, of girls wearing the Islamic hijab, and of one mother reaching out to a computer screen as she recognizes her daughter.
"My Saratu," she wails, before breaking down in sobs. She says Saratu was 15 when she was kidnapped and now is 17.
The video shows 15 of the girls — one with a mischievous grin, one looking uncompromising, downright defiant, and one downcast. One can feel the pain that shows in the eyes of many of them. They give the date as Christmas, Dec. 25, 2015.
While Boko Haram is thought to have abducted thousands of people over the years, the mass abduction brought the extremist group to the world's attention. The campaign hashtag #BringBackOurGirls went as far as the White House, used by U.S. first lady Michelle Obama.
The failure of Nigerian officials and the military to rescue the girls brought international condemnation and contributed to President Goodluck Jonathan's loss in elections last year.
Jonathan at first had denied there had been a mass abduction, but international pressure soon forced him to accept help from other countries.
The United States, Britain and France were among those that sent advisers, including hostage negotiators. U.S. and British drones located at least one group of about 80 of the girls, which was reported to Nigeria's government and military, but nothing was done.
Andrew Pocock, who was British high commissioner to Nigeria until his retirement last year, told The Sunday Times magazine last month that it was considered too dangerous to the other girls to attempt a ground or air rescue. "You might have rescued a few, but many would have been killed. ... You were damned if you do and damned if you don't," the magazine quoted him as saying.
Nigeria's military has cited the same fears. Yet that has not stopped them from attacking towns and villages where Boko Haram has held thousands of civilians captive. The military boasted last week that soldiers have rescued 11,595 civilian hostages since Feb. 26.
But none has been from Chibok.
Women and children rescued from Boko Haram
Women and children rescued by Nigerian soldiers from Islamic extremist group Boko Haram in the northeast of Nigeria arrive at a military office in Maiduguri on July 30, 2015. (Jossy Ola / AP)
CNN reported that the "proof of life" video was sent in December to negotiators trying to free the girls. It shows an interview with Information Minister Lai Mohammed saying the government is reviewing and assessing the video.
Senator Shehu Sani, who has been involved in past negotiations with Boko Haram about the Chibok girls, told The Associated Press he found the video credible. Yakubu Nkeki, leader of a support group of parents of the kidnapped girls, said he briefly saw part of the CNN video, in between power blackouts frequent in Nigeria, and recognized some of the girls.
"We are all well," one of the girls says in the video, emphasizing the "all." There have been fears that Boko Haram's increasing use of female children and adults to carry out suicide bombings indicates they are turning captives into weapons, including the Chibok girls.
The video ends with one of the girls appealing to Nigeria's government to meet unspecified promises.
There's been no word of the girls since May 2014, when Boko Haram leader Abubakar Shekau said they had converted to Islam and threatened to sell them into slavery or forced marriage with his fighters. Many recently freed girls are pregnant.
Two mothers and 16 fathers have died since the mass abduction, some of them victims of Boko Haram attacks. Others died from illnesses blamed on stress, according to Nkeki, who spoke to the AP by phone from Chibok.
Nigeria's Vice President Yemi Osinbajo is due in Chibok on Thursday for the anniversary of the kidnappings, Nkeki said, complaining the issue has become politicized. He said the community is angry that their only school remains in the ruins created by Boko Haram, which firebombed buildings as they took off with the girls.
Some 20,000 children in the town and its surroundings have no school to attend, he said Thursday as parents started gathering at the school to pray for the safe return of their daughters.
"Boko Haram has achieved its aim. They say they don't want us to have Western education and our children don't," Nkeki said.
chicagotribune.com/news/nationworld/ct-chibok-girls-alive-video-20160414-story.html
-------
Marsh Loss Shatters Lifestyle of Iraq's Ma'dan Women
14 April 2016
Iraq is losing crucial knowledge about water management as marshland depletion is altering the lifestyle of local women, a paper has warned.
The indigenous people of the Hammar Marshes, called Ma'dan, hold a treasure trove of traditional knowledge and skills that help with water management, medicine and sustainable farming, a study found. In Ma'dan tradition, women are the preservers of such knowledge and take an active role in trade, reed collection and animal husbandry.
Marsh-arab-map-485.png
However, the depletion of the marshes through desiccation has drastically changed their lifestyle, researchers say. While none of the women interviewed for the study reported being primarily domestic before marshland desiccation, about 60 per cent of younger women are exclusively housewives, says Nadia Al-Mudaffar Fawzi, the author of the study.
"We don't have enough studies linking the environment to the socio-economic issue, with very limited studies on the desiccation impact on the community and women in particular," says Fawzi, a researcher at the Marine Science Centre at the University of Basrah in Iraq.
Up to 90 per cent of the Hammar Marshes have been heavily damaged by draining, which began in the 1970s. As a result, the population of the region dropped from 500,000 in the 1950s to 20,000 by 2003, says the paper, which was published last month in Ecosystem Health and Sustainability.
The resulting lack of marsh management through Ma'dar women has exacerbated water shortages in the region, Al-Mudaffar's study found. The remaining water supply and quality are adversely affected by dam construction, climate change, salt water intrusions, waste from the oil industry and over-irrigation, the study warns.
"It is substantial to maintain sufficient water in the marshes, especially since most of the water goes to agriculture," says Ali Al-Lami, the former deputy environment minister of Iraq. "But providing stable water resources is almost impossible now due to hard conditions for finance and water resources."
The changing lifestyle for women also means that important knowledge about local traditional medicines could be lost, says Al-Mudaffar's study. The paper states that some of the damage to the marshes could be reversed, and that ecotourism could be developed to support the Ma'dar communities.
"I'd say that it is rare to find similar studies in Iraq, and I'm confident that it will help confirm the marsh community's need for support, especially for the women," says Lami.
But Mahdi Thamad Al-Qaisi, Iraq's deputy minister of agriculture, says funding for such efforts must come from private companies or international bodies, as the Iraqi government is "experiencing financial hardship".
Extra reporting by Adel Fakhir in Baghdad.
scidev.net/global/indigenous/news/marsh-arab-iraq-madan-women-water.html
URL: https://newageislam.com/islam-women-feminism/bangladesh-feminists-urge-women-attend/d/106985
New Age Islam, Islam Online, Islamic Website, African Muslim News, Arab World News, South Asia News, Indian Muslim News, World Muslim News, Womens in Islam, Islamic Feminism, Arab Women, Womens In Arab, Islamphobia in America, Muslim Women in West, Islam Women and Feminism