New Age Islam News Bureau
12 October 2020
• Israeli Actress Gal Gadot's Casting as Egyptian Queen Cleopatra in Hollywood Film Sparks Criticism
• From Crop Tops to Hijabs, France Still Loves To Police Women's Bodies
• Iranian Women Can Register As Candidates For Presidential Election
• Hundreds of Afghan Women Voice their Role in Peace Process Calling Negotiators To Preserve Their Rights
Compiled by New Age Islam News Bureau
URL: https://www.newageislam.com/islam-women-feminism/bangladesh-approves-death-penalty-rape/d/123115
--------
Bangladesh Approves Death Penalty in Rape Cases after a Series of Recent Sexual Assaults
October 12, 2020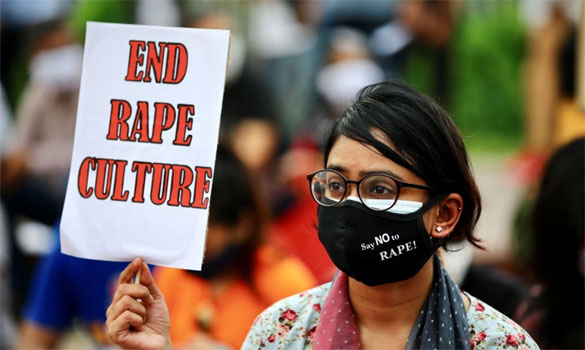 A woman protests in front of the Bangladesh parliament building over rising incidents of rape in the country [Mohammad Ponir Hossain/Reuters]
-----
Maximum punishment in rape cases increased after a series of recent sexual assaults triggered protests
Bangladesh's Cabinet on Monday approved an increase in the maximum punishment in rape cases to death from life imprisonment after a series of recent sexual assaults triggered protests on streets and in social media.
Cabinet spokesman Khandaker Anwarul Islam said President Abdul Hamid is likely to issue an ordinance amending the Women and Children Repression Prevention Act because Parliament is not in session.
Details of the amendment were not immediately available, but Islam said the Cabinet agreed to a proposal that trials in rape cases be completed in a speedy manner.
Under the current law, the maximum punishment in rape cases is life imprisonment, except for cases in which the victim dies, when capital punishment is allowed.
Law Minister Anisul Huq said the president is expected to issue the ordinance on Tuesday.
A series of violent sexual attacks in recent weeks has triggered protests in the capital, Dhaka, and elsewhere.
Local human rights groups say rapes have surged in the country. Ain-o-Salish Kendra, a women's rights group, said 889 rapes, including many gang rapes, occurred between January and August. At least 41 victims died, it said.
Rights groups say many more cases remain unreported because of fears of harassment by influential people. Bangladesh's judicial system is painstakingly slow and cases often take years to finish.
Protests broke out in recent days after a video of a group of men stripping and attacking a woman in a southeastern district went public through Facebook. An investigation by the country's National Human Rights Commission found the woman in the video had been raped repeatedly and terrorized over the last year.
In another case, a woman was dragged into a college dorm from a car where she was traveling with her husband and was gang raped. Several members of the ruling Awami League's student wing were arrested.
Prime Minister Sheikh Hasina said she would bring those responsible to justice.
https://www.khaleejtimes.com/world/rest-of-asia/bangladesh-approves-death-penalty-in-rape-cases
--------
Israeli Actress Gal Gadot's Casting as Egyptian Queen Cleopatra in Hollywood Film Sparks Criticism
October 11, 2020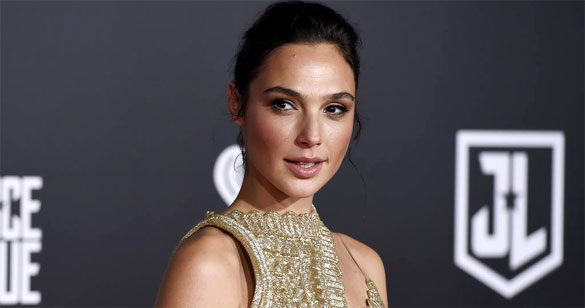 Israeli Actress Gal Gadot
-----
Israel-born actress Gal Gadot announced Sunday that she would team up again with "Wonder Woman" director Patty Jenkins in a new film about the legendary Egyptian Queen Cleopatra.
"I love embarking on new journeys, I love the excitement of new projects, the thrill of bringing new stories to life," Gadot wrote.
"Cleopatra is a story I wanted to tell for a very long time. Can't be more grateful about this A team," Gadot wrote.
The film will be produced by Paramount Pictures and written by Laeta Kalogridis in a retelling of the epic tale made famous by Elizabeth Taylor in the 1963 classic.
The announcement drew criticism, with some railing against the casting of an Israeli as the Queen of Egypt, saying that an Arab or Black woman should have won the role.
Others objected simply because she is Israeli.
"Which Hollywood dumbass thought it would be a good idea to cast an Israeli actress as Cleopatra (a very bland looking one) instead of a stunning Arab actress like Nadine Njeim?" tweeted journalist Sameera Khan. "And shame on you, Gal Gadot. Your country steals Arab land & you're stealing their movie roles."
"How about they cast someone with North African blood! someone like Sofia Boutella! I'm so sick of casting white actors and Israelis as pharaohs and arab roles! Gal Gadot shouldn't be Cleopatra," wrote another Twitter user.
However, many, including the screenplay author, were quick to point out that Cleopatra was neither Arab nor Black, but rather a Macedonian Greek.
"Incredibly excited to get the chance to tell the story of Cleopatra, my favorite Ptolemaic Pharoah and arguably the most famous Macedonian Greek woman in history," tweeted Kalogridis.
Cleopatra was the last Ptolemaic ruler of Egypt, descended from Ptolemy I Soter, a Macedonian Greek general and companion of Alexander the Great.
Others noted that Gadot was a major box office draw and that Paramount would be unlikely to cast an unknown actress in such a major role. Gadot this month came third on the Forbes list of the highest-paid actresses in the world in 2020.
Gadot did not react to the controversy, but later tweeted that the film would mark the first time Cleopatra's story would be told through "women's eyes, both behind and in front of the camera."
The first "Wonder Woman" film was the highest-grossing movie in the summer of 2017, earning $412.5 million in the US and $821.8 million worldwide.
In August the trailer dropped for the much-anticipated "Wonder Woman 1984," which has had its release delayed several times due to the coronavirus pandemic. In it, Gadot reprises her role as Diana Prince, the Amazonian Princess Diana of Themyscira, in the sequel to the 2017 DC film.
Gadot's Israeli heritage has caused her some problems in the Arab world before, with Lebanon banning "Wonder Woman" because she starred in it.
Gadot, who like most young Israelis did military service, made headlines in 2014 with a Facebook post expressing solidarity with Israeli citizens under Hamas rocket fire and Israeli soldiers fighting the Hamas terror group in the Gaza Strip.
"I am sending my love and prayers to my fellow Israeli citizens," she wrote. "Especially to all the boys and girls who are risking their lives protecting my country against the horrific acts conducted by Hamas, who are hiding like cowards behind women and children."
https://www.timesofisrael.com/gal-gadot-to-star-as-cleopatra-sparking-outcry-as-israeli-cast-as-queen-of-egypt/
--------
From Crop Tops to Hijabs, France Still Loves To Police Women's Bodies
Oct. 9, 2020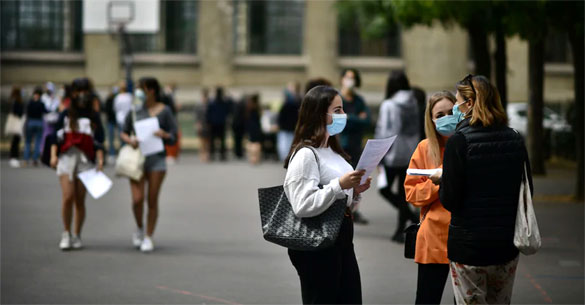 Students gather outside the Jean de La Fontaine high school in Paris on July 7. (MARTIN BUREAU/AFP/Getty Images)
------
In France, long regarded by foreigners as a country that is comfortable with bodies and sexuality, a debate about dress codes has revealed a deeper reality. Women's bodies are still policed and sexualized — a trend that comes as no surprise to minority, and particularly Muslim, women in the country.
Last month, the hashtag #lundi14septembre (Monday, Sept. 14) spread on social media to protest strict dress codes and sexist comments targeting female students. Some young women complained about being humiliated by members of teaching staffs; one parent shared the story of a math teacher who told a teenager wearing a tank top that her "neckline was too conspicuous" and called her outfit "vulgar."
The Sept. 14 movement, which was meant to confront these views, invited students in middle and high schools to attend classes on that day in "skirts, necklines and crop tops," or in any outfit that would be labeled "provocative" or "obscene" according to schools' internal regulations.
In response, French Minister of Education Jean-Michel Blanquer announced a peculiar clothing standard for female high school students, calling on them to dress "in a republican style." He said that everything should "be all right" for girls as long as they "dress normally" — whatever that means. He later made his thoughts more explicit: "You don't go to school as you would to the beach or a nightclub."
Blanquer was mocked and criticized for his comments. People reminded him that Marianne, the fictitious woman who symbolizes the French Republic, is often represented with a bare breast. And Marlène Schiappa and Elisabeth Moreno, two female ministers in the government, supported the movement, saying that "everybody is free to dress the way they want."
But some took Blanquer's recommendations seriously. Renowned conservative philosopher Alain Finkielkraut commented, "Some teachers say that it distracts boys," adding disturbingly: "When I see a girl with a crop top in the street, I am distracted."
This attitude sexualizes women's bodies and leads to harassment. Labeling an outfit as "provocative" implies that it is the reason for the violence faced by women, taking blame away from the true culprit. It is a manifestation of the rape culture that allows sexual predators to walk away from their responsibilities.
The consequence is that some women are unfairly requested to remove themselves from public spaces. We have already seen this happen: Recently, the Musée d'Orsay, which is one of the most prestigious attractions in Paris, denied entry to a woman because she was wearing a low-cut dress.
That event echoed a larger context in which women's clothing choices are constantly policed and shamed.
A few weeks ago, as a female student leader who happens to be Muslim was taking part in a hearing at the National Assembly, a member of Parliament walked out theatrically, saying that she could not "accept that a person appears in a hijab before a parliamentary inquiry committee." She later wrote on Twitter that the Muslim covering was in conflict with her "feminist" beliefs. Others in attendance also left the room.
How can a woman invoke feminism to decide what women can wear and which spaces they can inhabit? For decades, France has debated the bodies of Muslim girls and women — even banning niqabs and burqas in the streets and hijabs in high schools. In the name of feminism, to patronizingly "emancipate" women from themselves, or in the name of an erroneous and restrictive interpretation of "laïcité" (French secularism), the fact that some Muslim women have chosen to cover themselves has long been met with resistance.
Since at least 1989, the recurring debate on headscarves has generated much consternation in the public sphere — and created room to make the control of women's bodies acceptable. When a society normalizes discussing how some girls should dress, it opens a door to restrict the freedom for all girls.
Weighing in on what other women should wear is now so deeply rooted in the French psyche that recently a news magazine commissioned a controversial poll on the subject. The list of questions included: "Would you like public high schools to ban the following outfits: no bra, a low neckline, a crop top, tank top with appearing straps?" Ominously, a majority of survey respondents expressed strong opposition to the freedom of female students to wear what they want in high school.
In an incredible role reversal, girls are now made responsible for the way their bodies are scrutinized — and are forced to realize that their young bodies are already sexualized. Boys and men do not face the same questions. For young people, choice of clothing is a common and important way to assert individuality. Whether it is a case of Muslim women wearing hijabs or high school students wearing crop tops, adults and society at large are projecting their own fears onto those who are in the process of discovering their bodies and sexualities.
At a point in life when they are learning to assert themselves, girls should be protected and empowered — not made to feel guilty for their choices.
https://www.washingtonpost.com/opinions/2020/10/09/france-women-dress-codes/
--------
Iranian women can register as candidates for presidential election
12 October 2020
There are no obstacles for women to register as candidates for presidential election in Iran, said the Guardian Council Spokesman, said Abbasali Kadkhodaei, Trend reports citing Mehr News Agency.
"There are some cultural discussions about this topic in the country and it's not an issue that requires the law to solve it," said Kadkhodaei.
"The Guardian Council currently can only provide suggestions in terms of election's rules," he said.
"The council provides its advising to the members of the parliament and it does not mean that we are providing a specific plan," he said.
"It is possible that COVID-19 spread would affect the presidential election as it did affect the second stage of parliamentary election, and the candidates had to change their campaigns according to the instruction of the National Headquarters to Fight Coronavirus," he said.
https://en.trend.az/iran/politics/3315010.html?__cf_chl_jschl_tk__=d3301fae1313e2ef9d22cfc9d061bdb859c902df-1602502266-0-ATe3vrzyy5y7xHPi31rMOFLGUZN5cUlvVaQkZmRj01k9XE39lDhv8AQEFQXvJYyBoOzTrEfQfJzaeHoQonM453rjj7epTcMSLLyxBFebjTr9sBQ8v23BbVsHuVT86DUjeVZBYUQ4mgYEbSwwFSJpoy461rCO1XezvGv0gX8LR66p_msDkHa_pk-JS44XxYgdjGhrYyU1fOFGhVQkg3KlGJvS_QNLC2LWj7UYqFsTL92A4c2uxh1HznqVQC8_p9zIFAk2lJXUzO6TEQ0yUcBbcvevgB5tsKRKN-g_QOQywp6-z_kp89NimstA6l0gopiGbXR4j4Oq7PYEqCCxwrTDzces87wucxMgl9n76pyHcbZCLqTPJH5KZ2llJYoJFkWejw
--------
Hundreds of Afghan Women Voice their Role in Peace Process Calling Negotiators To Preserve Their Rights
By Mohammad Arif Sheva
12 Oct 2020
KABUL, Afghanistan – Hundreds of women at a gathering in Kabul Sunday exclaimed their support to the Islamic Republic of Afghanistan, calling for government and negotiators to preserve their rights during the ongoing peace process.
Women from various provinces of the country said ignoring their role in the peace process means ignoring the whole Afghanistan; they will not allow their fate to be compromised in the process.
"We, the Afghan women, are the defenders of the Islamic republic system in Afghanistan. We do this for us, for our next generation and to maintain our achievements," said Hasina Safi, nominee minister for women's affairs, as TOLOnews quoted.
"We want our achievements to be preserved," said Zahida Amarkhil, a women's rights activist.
While the country's representatives are negotiating with Taliban to settle a peace agreement in Doha, women throughout Afghanistan came together, raising voice for their past achievements to be preserved.
"We all know that peace must come to this country and it will be ensured one day," said Nahid Farid, a MP from Herat. "We have been victims of war for many years… We want a role in peace and we will not allow our role to be used as tools by others."
"We raise the voice of peace and call on the warring sides to make peace as it is our right," said Yasamin Sarwari, a member of the Afghan women's network, according to report.
The remarks came at a time Afghan and Taliban delegations in Doha launched a formal gathering on Afghan peace last month; since then, they struggle to set the fundamental rules for the intra-Afghan talks that will lead to a potential peace deal with the insurgents.
Among 21 Afghan negotiators, only four are women, representing Afghanistan.
https://www.khaama.com/afghan-women-voice-their-role-in-peace-process-776543/
--------
URL: https://www.newageislam.com/islam-women-feminism/bangladesh-approves-death-penalty-rape/d/123115
New Age Islam, Islam Online, Islamic Website, African Muslim News, Arab World News, South Asia News, Indian Muslim News, World Muslim News, Women in Islam, Islamic Feminism, Arab Women, Women In Arab, Islamophobia in America, Muslim Women in West, Islam Women and Feminism