New Age Islam News Bureau
26 May 2014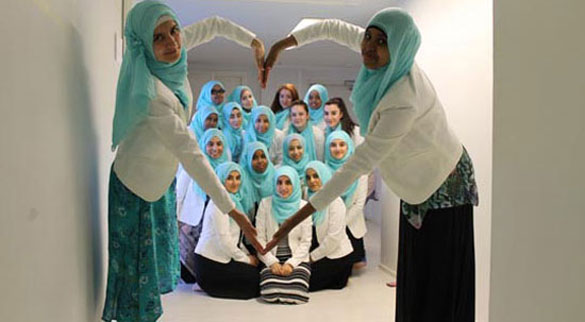 Photo: Finnish Muslimahs Come Together To Raise Hijab Awareness
----------
• Two Women Shot Dead For 'Honour' In Mardan, Pakistan
• Finnish Muslimahs Come Together To Raise Hijab Awareness
• Muslim Groups Join In 'Jihad' To Outlaw Female Mutilation
• Impart Islamic Education to Girls: Dukhtar-e-Millat Chairperson
• Principal in Australia Transfers Students for Wearing Hijab in School
• Voices Raised For Return of Abducted Nigerian Girls
• Experts Want Saudi Women to Handle 'Sensitive' Work
• Saudi Businesswomen Like To Invest In Education
• Jordanian Women Raise Academic Bar
• Female Genital Mutilation in Western Countries
• Nearly 370,000 Kids 'Will Miss' Pakistan Polio Drive
Compiled by New Age Islam News Bureau
URL: https://www.newageislam.com/islam,-women-and-feminism/new-age-islam-news-bureau/bangladesh--a-praiseworthy-bid-to-make-girls-self-reliant/d/87202
-------------
Bangladesh: A Praiseworthy Bid to Make Girls Self-Reliant
May 26, 2014
Ten school and college going girls, belonging to poor families of Baniarjan village on the outskirts of Gaibandha town, are now engaged in a gainful and beneficial work, alongside continuation of their study.
Under an initiative of local NGO Chhinnamul Mohila Samity, they set up a sanitary napkin factory styled 'Aporajita' at Masterpara in Gaibandha municipality in January this year.
The girls -- Ripa, Afroza, Rupa, Hena, Setu, Jui, Mahmuda, Lebu, Khadija and Hiramoni work at the factory and adjacent shop for three hours daily by rotation.
"We are producing over 400 packets of napkins a month. A packet of five napkins is selling at Tk 60. We have already started supplying sanitary napkins to ten pharmaceutical shops in Gaibandha town and the demand sees gradual increase," said Ripa, a student of HSC.
"We also sell other materials for girls at our shop," she said.
"At the initial stage, we faced criticism for such work, but now we are getting cooperation from all sections," said Afroza.
The NGO arranged training for the ten girls on health care and manufacturing of sanitary napkins and provided sewing machines, printed packets and other materials for producing sanitary napkins.
"The programme aims at creating awareness among the poor girl students about primary health care and making them self-reliant along with schooling. Gradually more girls will be brought under this programme," said Murshidur Rahman, executive director of the organisation.
Unicef and UK-aid provides fund for the self-help programme meant for poor girls.
http://www.thedailystar.net/country/a-praiseworthy-bid-to-make-girls-self-reliant-25702
----------
Two Women Shot Dead For 'Honour' In Mardan, Pakistan
May 26, 2014
MARDAN: Two women were killed for 'honour' in Katlang area of Mardan here on Sunday, police said.
The officials of Katlang police station said that the alleged killers identified as Amjid Ali and his brother Mohammad Ali entered the house of one Falak Naz and shot dead his daughter-in-law (N) on the spot. They said that the accused, Amjid, had also killed his own wife hours before that.
Police officials claimed that Amjid suspected that his wife had illicit relations with the husband of the slain woman (N) who was also residing adjacent to his house.
They said that Amjad, accompanied by his brother, first shot dead his own wife and then moved to kill her alleged paramour whose name was also Amjid, but that the latter remained unhurt while his wife (N) was killed in the firing.
The police have registered FIR on the complaint of Falak Naz, father-in-law of the slain women, against the two brothers.
TRADERS PROTEST: Traders of various markets held a demonstration in front of Mardan Press Club to protest against the increasing incidents of extortion and kidnapping and inaction of the district administration to apprehend the culprits.
Led by Aman Jirga, Khyber Pakhtunkhwa, general secretary Arshid Manan, the traders demanded of the district administration to provide them security and launch a crackdown on those involved in heinous crimes.
http://www.dawn.com/news/1108606/two-women-shot-dead-for-honour-in-mardan
----------
Finnish Muslimahs Come Together To Raise Hijab Awareness
May 26, 2014
A group of ambitious young women started Hijabiksi, a youth project to reduce societal fears surrounding the Hijab. By Kochar Mahmoodi.
We call ourselves Northern Hijabees and we are originally from all corners of the world, which enrich us as human beings and also the project. There are 24 of us – between the ages of 15 and 29 years – working on this project, and we come from different backgrounds: Somalian, Kurdish, Iraqi, Turkish, Palestinian and Albanian, just to name few. There are two native Finnish girls in our group, and only a few of us were born in Finland, while the rest of us moved here when we were little. Most of us go to school and some of us work.
Some of us wear Hijab and some do not, but we all share the same love for Allah. We have had both happy and tearful moments, and these have made us stronger and closer as friends and as sisters in Islam.
For many years, we have been active in various activities. We organise sports events, Iftars and movie nights; we go camping and have regular weekly Dars, or Islamic lessons. And these are some serious but funny questions that people have asked us:
1. Do you sleep with your Hijab on?
2. Do you take showers with your Hijab on?
3. Can you smile while wearing Hijab?
4. Are you Arab, because of that Hijab?
5. Are you covering your bald head with your Hijab?
6. Can you hear me when I'm talking?
We wondered, "Why is the place we grew up in so discriminatory against foreigners and especially against Muslim women wearing Hijab?" Even with more and more native Finnish people who convert to Islam and wear the Hijab, they also experience this discrimination. Why do many non-Muslims think that the Hijab issue is taboo or that it violates women's rights? We want to be able to have conversations with non-Muslims about this. We want to do something about it; to speak our mind and be heard.
It all started when an employee from the Centre of International Mobility (CIMO), an agency partly funded by the government, noticed our active participation in the Finnish community. He encouraged us to take part in the European Union Youth in Action programme, which supports projects offering non-formal local or international learning opportunities for and with young people.
We arranged a training session with the CIMO, where we discussed Muslim women's position in our city of Turku. We came to the agreement that there is a lot of prejudice against foreigners, and especially against Muslim women. That was when we started the application for the Hijabiksi project, which was accepted in November last year.
Hijabiksi is a combination of the word "Hijab" and "-iksi", which in Finnish means "to become something". Combined, these two words represent someone who wears the Hijab. The Hijabiksi project aims to break the prejudice towards headscarves by raising people's awareness of Hijab.
We are organising, Insha Allah, an outdoor event in Turku city centre on 7 June, where we will assemble a tent with a small photo booth. Passers-by may ask questions, try on the Hijab and take a picture of themselves wearing one. A gallery is planned for 18th June of the pictures taken during the event.
We want to speak about our own approach to life and bring out our own identity. We hope that our project will inspire other Muslims, especially girls. We hope to not only increase awareness of Hijab, but also to create social cohesion in the society and between different cultures. The intention is not to change anyone's opinion but to increase understanding and tolerance, and encourage a more open-minded view of the world.
http://www.aquila-style.com/focus-points/finnish-muslimahs-come-together-to-raise-Hijab-awareness/66647/
-------------
Muslim Groups Join In 'Jihad' To Outlaw Female Mutilation
May 26, 2014
Muslim groups describe the fight against female genital mutilation (FGM) as "our jihad", and say it is a practice that is "bringing Islam into disrepute".
Thousands of leaflets will be distributed next month to mosques, community centres and schools, urging Muslims to end an "oppressive and inhumane" custom that has no root in religion.
It is the first time that the Islamic Sharia Council, the Muslim College and the Muslim Council of Britain have come together to condemn FGM, which may affect up to 20, 000 British Girls.
Full report at:
http://www.thetimes.co.uk/tto/news/uk/article4100044.ece
-------------
Impart Islamic Education to Girls: Dukhtar-e-Millat Chairperson
May 26, 2014
SRINAGAR: Calling for need to impart religious education to girls, Dukhtar-e-Millat chairperson Asiya Andrabi on Sunday urged Muslim women to play role within the parameters of Islam for well-being of Muslim community.
"Islam is a complete way of life and our daughters should adopt it fully. Once they do so, they can never allow themselves to be used by enemies of Islam," she said addressing an annual function of religious institute at community centre Khaniyar here.
She said that there was daring need for imparting Islamic education to girls to prevent their use by adversaries of Islam.
"A woman bereft of Islamic knowledge is more vulnerable to propaganda by adversaries of Islam and on the other hand, one with Islamic understanding is an institution in herself as she is able to play a pivotal role in mending the society around her."
She also castigated a group of clerics who according to her are praising Indian Prime Minister-elect Narendra Modi.
http://kashmirreader.com/impart-islamic-education-to-girls-asiya-12147
-------------
Principal in Australia Transfers Students for Wearing Hijab in School
May 26, 2014
The principal of an Australian school is under fire after transferring a couple student-teachers for wearing Hijab.
Redlands College Principal Mark Bensley took the step after the girls came to work in a traditional Islamic headwear. Mr Bensley made his point clear in a newsletter which was addressed to the parents. He said that his action of dismissing the teachers was out of a "duty of care," News.com.au reported.
"I have a duty of care to ensure that those teaching at the College are actively supporting the Christian principles, practices and beliefs of the College," Bensley wrote, "I see the wearing of the Hijab as openly acting in a manner that is contrary to or inconsistent with these principles, practices and beliefs." Bensley, at the same time, gave an explanation how he had made arrangements for those students so that they could complete their education. "While I respect their desire to wear a Hijab, I feel it's inappropriate to do so at Redlands College," he said in the newsletter.
The Sunday Mail published a statement on behalf of the school that said that it "respects and loves all people, from all backgrounds and religions...However we don't hide our Christian values and we provide an important educational option for families seeking Christian education." The statement further said, "We are not aware that they (student teachers) had any concerns, and it is our understanding that all parties came to a mutual agreement for the benefit of all."
Not every parent at the school is apparently happy with the principal's decision to transfer those students. Leading figures in the Muslim community is reportedly "stunned" by the decision. Islamic College of Brisbane principal Mubarak Noor said that it was a matter of concern to him. Redlands authorities, meanwhile, denied that the decision had anything to do with "religious intolerance."
According to the Anti-Discrimination Act 1991 (Section 25), employers are allowed to follow a "genuine occupational requirement that workers act in a way that is consistent with the religious beliefs of the school."
http://au.ibtimes.com/articles/553575/20140526/school-australia-transfer-student-hiijab-islam-muslim.htm#.U4MMlHJdU4U
-------------
Voices Raised For Return of Abducted Nigerian Girls
May 26, 2014
MANZINI – Girls from Enjabulweni Independent School raised their voices calling for the return of the abducted school girls in northern Nigeria.
Led by their teacher, Linda Mthembu, the girls demonstrated during the morning assembly with the aim of raising awareness regarding the matter of the abducted girls. Expressing their emotions the girls said they felt the urge to raise their voices to motivate the leaders on this sensitive matter in order to come up with a solution.
They said they had no money but just their voices to support His Majesty King Mswati III's statement of 'Bring back our girls'.
"We have decided to be part of this very important campaign due to the fact that the kidnapped girls are of our age and we can't imagine the excruciating circumstances they are being put through by their snatchers, away from their families," the pupils said.
School Head teacher Kathy Thompson said they felt inadequate to do something about the prevailing situation in Nigeria. "We are just so far away and consider that the more individual voices raised, the better chances for the safe return of the girls," said Thompson. She said one only hoped that the girls were still alive wherever they are, not sold as sex slaves or for child labour. Thompson said the issue touching on the Nigerian young girls' abduction was not the only issue that the school paid attention too, but in all issues including child trafficking. This, she said, was to make them conscious of things happening locally and internationally and be proactive in responding.
Meanwhile, teacher Mthembu, said the school's morals included caring for each other and being one, which is why they took a stand to fight against the kidnapping.
She said throughout the week the pupils had been addressing the other pupils about abduction in their respective classes. "What has happened to the girls in Northern Nigeria is very sensitive and hurtful. This indicates the continued power struggle between men and women, which the girl child has to suffer," Mthembu said.
Over 200 school girls were abducted by Islamic militants over a month ago. The extremist Boko Haram is believed to be holding some of the girls in the sprawling Sambisa forest which is not familiar territory to Nigeria's military.
Currently, Nigeria is also staging ongoing protests for the release of the school girls.
http://www.times.co.sz/community/97166-voices-raised-for-return-of-abducted-nigerian-girls.html
-------------
Experts want Saudi women to handle 'sensitive' work
May 26, 2014
Security experts, lawyers and some Shoura Council members have demanded that Saudi women be employed in the investigation departments of the security forces, mainly in rape and sexual harassment cases.
"Interrogative bodies require minute details of rape and sexual harassment cases but women are often too embarrassed and even reluctant to relate the intimate information to male interrogators," they said.
A source said that one female victim refused to divulge the details so detectives were forced to seek the help of a female detective to mediate between the victim and the personnel dealing with the case.
Thuraya Al-Areed, a female member of the Shoura Council underscored the importance of qualifying Saudi women to work in the security forces. Speaking to a local newspaper Al-Areed said, "The female victim often cannot report the assault in detail as police stations always demand the presence of the father or a male guardian, who can sometimes be the aggressor himself."
"More often, police stations ignore female reports in such cases regarding it as a family matter where policemen being men, do not feel able to handle the case. However, if a female was in charge of the case, there would be no need for the presence of a male member," she added.
Ahmad Al-Othman, a lawyer agreed saying that if women were employed in this sector it would serve the best interests of females at large. "It is absolutely important for Saudi women who are nominated for the job to be given specialized training and attend courses in the security field," he said.
http://www.arabnews.com/news/577001
-------------
Saudi businesswomen like to invest in education
May 26, 2014
About 47 percent of Saudi businesswomen contribute significantly to the field of education.
Moleha Al-Qahtani, an investor who was able to obtain financing five years ago to open a school that received several awards, said: "Investing in this sector is an investment in human capital and a contribution to building the community."
She said education is one of the main sectors that attracts Saudi businesswomen for investment because of the lack of restrictions. While there are some obstacles and many challenges in this sector, it is possible to overcome them. "Investment in the sector needs our contribution, and the most important objective of such investment should not be financial gain," she said.
She added that her My Rights of Childhood project aims to promote development and change. Another project accepts and educates children who suffer from minor problems, such as attention deficit hyperactivity disorder to enhance their skills development, because they are often not accepted in general education schools and there is difficulty in registering them in the disability centers.
Alia Al-Essa, another investor, said she believes that the percentage of default in the educational sector is about 20 percent due to investors having little background in the sector.
With the increase in the number of businesswomen investing in the education sector in the past two years, it is essential for women investors to have experience in order to avoid having their projects fail in the first year.
She said private education projects in particular are facing several obstacles due to Saudization and the lack of local experienced cadres, as well as the inability to pay salaries that have been set by the state, which are about SR5,600. She said these obstacles led to the closure of many schools in the Kingdom.
She explained that more and more women are investing in the education sector, but she feared that these investments might collide with investment constraints, including the requirements of the Ministries of Education and Municipal and Rural Affairs, which change on daily basis and need clear laws.
She identified the main problems as obtaining a license, which requires more than two years, insufficient funding, Saudization requirements, and the lack of Saudi cadres who do not have enough experience and training.
Salem Bajajh, professor of accounting at the University of Taif, said that a lot of parents are interested in investing in the education of their children, as they realize that that the economic returns of their children's education is high in the long term.
He said a lot of Saudi parents send their children abroad despite high tuition fees in order to teach them different languages. "Most countries have preceded us in investing in human capital and thus have achieved great success," he said, and stressed the need to take advantage of these international experiences, noting that the Kingdom has made national human resource development one of the pillars of basic development.
In light of an urgent need to focus on education and training at the present time, the King Abdullah Project for the development of public education allocated SR12 billion over five years, as part of a new strategy for education, to cover four points: improving the public learning environment, teacher training, curriculum development and extra-curricular activities.
Sarah Al-Eissa of the Department of Private Education in the Eastern Province, said during a meeting held in the Asharqia Chamber recently that investment in the education sector received the support and attention of the Ministry of Education.
The meeting discussed the launch of several projects, including the "educational coupons project" in private schools as one of the new projects implemented by the ministry. The project involves the purchase of classroom seats in private schools for a scholarship provided by the state, similar to what is happening in the higher education field in Saudi Arabia and in a number of other countries.
She said that the ministry is considering the mechanisms of the educational coupons project, noting that there are many factors that control the distribution of these coupons.
The ministry wants to support private education, so it is studying the distribution of these coupons to gifted students, special education students and orphans.
http://www.arabnews.com/news/576981
-------------
Jordanian women raise academic bar
May 26, 2014
Women in Jordan have raised the academic bar against their male counterparts, despite entrenched cultural and social barriers that contribute to high unemployment rates among female university graduates, according to a World Bank study on gender assessment.
The study, Economic Participation, Agency and Access to Justice in Jordan, states that Jordan is one of the many countries in the Arab world – including Algeria, Bahrain, Kuwait, Lebanon, Morocco, Tunisia, Qatar, Oman, Syria, Saudi Arabia and the United Arab Emirates – where more women than men are attending university.
"Tertiary education completion rates are also higher in those countries," noted the study that was conducted last year and released on 17 April by the World Bank's poverty reduction and economic management department for Middle East and North Africa.
According to UNESCO, overall enrolment of women in Jordanian universities stands at 52% compared to 48% for their male counterparts.
The gross enrolment ratio – total enrolment in a specific level of education, regardless of age, expressed as a percentage of the eligible official school-age group for the level or cycle concerned in a given school year – is currently at 41% for women against the men's 35%.
While girls in Jordan are also more highly represented in secondary education than boys, going to school is only half the battle as most women are 'invisible' in the job market.
The World Bank report says that about 50% of young women with university education are unemployed compared to 25% of their male counterparts.
The crux of the matter is that women in Jordan are perceived to be less productive than men and subsequently face restrictions to the labour market.
"Most of those barriers are deeply embedded in cultural preferences and social norms that also hinder women from becoming potential entrepreneurs," said Paul Prettitore, a senior public sector specialist at the World Bank who was also the team leader of the study.
Gender paradox
However, Jordan's gender paradox is worrying in that last year it was ranked 119th among 136 countries in the World Economic Forum's Global Gender Gap Report in terms of women's economic progress, further down than many other middle income countries.
According to the World Bank study that was specifically conducted to assess the extent of gender economic and labour opportunity imbalances, researchers noted unemployment levels were particularly high among university educated women.
"Vulnerability to unemployment in Jordan rises with the level of education for women, while men with higher education are less likely to be unemployed," said Daniela Marotta, a senior economist at the World Bank and a member of the study team.
Indeed, while 6.5% of Jordan's population aged over 25 years has tertiary education, the resources used have not resulted in maximum economic or social benefits as a result of poor utilization of women university graduates.
Educated women are inactive
According to UNESCO, many educated women in Jordan have been classified as inactive, although their inactivity is ostensibly reflected in the unfriendly labour market, rather than lack of motivation.
"In Jordan, 37% of university educated females are classified as inactive, compared with 10% of males," says the UNESCO-backed International Institute for Educational Planning in a position briefing paper on the status of education in Jordan.
Subsequently, gender equality is still held back by discrimination in most workplaces, forcing women to increasingly seek employment in the education and health sectors. Those two sectors are responsible for 38% and 12% respectively of all female employment.
Unfortunately, according to the World Bank study, the growth rate of job creation in education and health has been almost stagnant in the last few years.
"Consequently, employment trends in Jordan indicate that female workers are not only locked into low growth sectors but also in sectors with limited labour productivity, such as education, health and public administration," said Prettitore.
Gender parity in literacy
But although women in Jordan face obstacles in accessing jobs, they have made remarkable progress in life expectancy and literacy levels. According to Dr Amneh Khasawneh, the director of women's studies at Yarmouk University, maternal mortality is low and in the last three decades, female life expectancy rose from 66 to about 74 years, compared to a rise from 63 to 70 years for men.
"Besides, from a large imbalance in the beginning of the 1980s, Jordan has closed gender gaps in school enrolment at the primary level, while females now constitute the majority of enrolments at the secondary and tertiary levels," says Khasawneh. Currently,
Jordan's 90% gender parity in literacy is among the top in the Arab world.
Taking into account that barriers to economic participation seem to start with women's education, gender activists in Jordan have embarked on a campaign of reforming the education system in order to better respond to market signals and equip young women with skills demanded by the high productivity sectors of the economy.
Having sustained a gender reverse gap for several years, where more females than males are accessing university education, it seems women in Jordan are slowly dismantling traditional cultural norms and social preferences that encourage and distort women's economic participation in the country's labour force.
Disclaimer
All reader responses posted on this site are those of the reader ONLY and NOT those of University World News or Higher Education Web Publishing, their associated trademarks, websites and services. University World News or Higher Education Web Publishing does not necessarily endorse, support, sanction, encourage, verify or agree with any comments, opinions or statements or other content provided by readers.
http://www.universityworldnews.com/article.php?story=2014052215013392
-------------
Female Genital Mutilation in Western Countries
Guardian Liberty Voice
May 26, 2014
A landmark first is going on in the courts of Egypt where a doctor is going to stand trial on charges of female genital mutilation (FGM). The practice, which is often closely linked to religion, is banned in that country, but other disturbing stories have come out of the United States of America that highlight the issue for Western countries. A court case in Australia will examine charges that two young girls underwent FGM and a recent campaign in America is trying to end the practice within the United States itself.
In Egypt, a doctor is standing trial for performing female genital mutilation on a 13-year-old girl, who died because of the procedure. The girl had the procedure done to her along with three other girls who all recovered in the same room. According to the distraught father, he waited for his daughter to wake up from the anesthetic but, unlike the other girls, she did not. The doctor who allegedly performed the FGM on the girl claims that it was only a procedure to remove genital warts, and that the girl died from an allergic reaction to penicillin. He claims that the charges against him are nothing but invention driven by human rights activists, which he called "dogs" rights people.
Female genital mutilation is illegal in Egypt, having been banned in 2008, but a report in 2010 estimated that over 90 percent of women in the country had still been subjected to the practice. This estimation was based on a representative sample, not a door-to-door census of every woman in the country, but it is still a startling statistic. Nevertheless, some people see it only as a problem for non-Western countries, localized to places like Africa and the Middle East. There are indeed 28 countries in those areas that still practice FGM, but there are also vulnerable girls in America and Australia who have undergone the practice.
According to Jaha Dukereh, who is leading a campaign with a United States congressman and Equality Now against female genital mutilation, says that while many people believe it does not happen near them, it actually does. The AHA Foundation, founded by activist Ayaan Hirsi Ali, estimates that approximately 228,000 women and girls in America are vulnerable or have already experienced the procedure. It also points out that that number has increased. Dukereh says in the introduction to her Change.org petition that some of the problem is a lack of awareness, something she is trying to change with her campaign.
For a long time, Dukureh was the only United States-based woman speaking out about her experience of female genital mutilation. "We have a culture of silence," she said, a circumstance that leads to the lack of awareness which contributes to its continuance. In April, however, Cosmopolitan released the stories of three other women who spoke on the topic and told their stories. One woman identified as Yaam says she underwent FGM as an infant and saw it happen to her sister during a holiday with her aunt in The Gambia. Her sister was only 4-years-old. This was done without the knowledge of her father, an OB/GYN who had actually taught her about the dangers of FGM. Later, her father tried to press charges against the family members who had made his children undergo FGM, but the community did not allow it.
Female genital mutilation has been labeled a human rights violation by the United Nations and the United States has laws against its practice. But once a girl is outside of America, those laws do little to protect her. Some American girls are sent to countries where it is legal and undergo the procedure there. One such girl was Leyla, a resident of the Midwest who underwent FGM in Somalia. Now Leyla has to live with the reality of FGM and the psychological repercussions from the ordeal. She says that the issue of FGM is ignored too much in the United States and wants more information on it to be available to the vulnerable.
The United States, however, is not the only Western country dealing with the issue of female genital mutilation. Australia will watch a court case in which two young girls underwent the procedure. Three people are on trial for the offence, including the girls' mother. Their defence is arguing that it was a "nick" or "cut," which does not meet the requirements of the legal definition of mutilation. According to the sex crimes police, the procedure was done for reasons of culture. This culture is often closely linked to Islam and conflated with that religion's beliefs. Nevertheless, there are some who claim that FGM is contrary to the teachings of Islam and are taking a stand against it. In Britain, thousands of British men from the Ahmadiyya Muslim Youth Association issued a statement on their opposition to the practice. The statement calls it an "oppressive cultural practice that has no place in the civilized world."
There are some, though, who claim that the distinction between culture and religion is artificial in this case and cannot be distinguished. She is a well-known, outspoken opponent of Islam and the practice of FGM. In her opinion, Islam is a "moral framework not compatible with the modern westernized way of living." Earlier this year, such comments on the religion led Brandeis University to rescind an invitation to her to receive an honorary degree.
Religious, cultural, or a combination of the two, female genital mutilation has critics from all sides. As a human rights violation, many countries are moving to outlaw it within their borders, including countries like Egypt located in Africa and the Middle East. However, people in countries like America and Australia are not as aware of the issue as some think they should be. While that may be because of the culture of silence that exists for victims of FGM, there are still efforts to change the lack of visibility. The practice may be more prevalent in other countries, but Western countries with cases like Australia's are having to stand up and take notice of female genital mutilation happening at home in order to protect the vulnerable in their own midst.
http://guardianlv.com/2014/05/female-genital-mutilation-in-western-countries/
-------------
Nearly 370,000 kids 'will miss' Pakistan polio drive
(AFP) / 26 May 2014
A three-day vaccination drive began in four tribal areas with more than 620,000 youngsters on course to receive polio drops.
Pakistan launched a fresh polio vaccination drive in its restive tribal belt on Monday, but officials warned that nearly 370,000 children are likely to miss out because of security problems.
At the start of May the World Health Organization (WHO) declared a global "public health emergency" after new polio cases began surfacing and spreading across borders from countries including Pakistan.
Pakistan's seven semi-autonomous tribal areas along the Afghan border are the epicentre of the country's polio cases and the government has set up checkpoints to ensure anyone leaving the belt is immunised.
A three-day vaccination drive began on Monday in four tribal areas, a senior government official in Peshawar, the region's main city, told reporters, with more than 620,000 youngsters on course to receive polio drops.
But the official, speaking on condition of anonymity, warned that children in three of the four targeted areas "would not be able to receive polio drops because of the militancy and opposition to the immunisation".
Violence has badly hampered the campaign to stamp out polio in Pakistan, where militant groups with strongholds in tribal areas, including the Pakistani Taleban, see vaccination campaigns as a cover for espionage.
"A total of 369,039 in three districts would not receive polio drops because of the law and order situation," the official said.
The three districts in question are North Waziristan, South Waziristan and Mohmand, the official said. Part of the fourth district, Khyber, would also be affected.
Pakistan is one of only three countries where the crippling disease remains endemic, and is responsible for 80 percent of polio cases diagnosed around the world this year.
Some 56 people including health workers and police officials providing security have been killed in militant attacks on polio vaccination teams in Pakistan since December 2012.
There are also long-running rumours about polio drops causing infertility.
Two senior health officials confirmed the latest drive and figures and told AFP that WHO and UNICEF was helping and providing logistic support in the polio campaign.
http://www.khaleejtimes.com/kt-article-display-1.asp?xfile=data/international/2014/May/international_May622.xml&section=international
-------------
URL: https://www.newageislam.com/islam,-women-and-feminism/new-age-islam-news-bureau/bangladesh--a-praiseworthy-bid-to-make-girls-self-reliant/d/87202