New Age Islam News Bureau
25 Jan 2013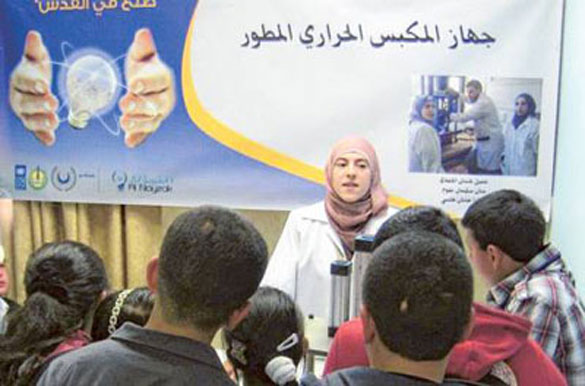 • School Hijab Ban Shocks Cape Town Muslims
• 43-Year-Old Indonesian Maid Raped In Sharjah
• Hearing Cancelled For 15 Year-Old Girl Facing Fornication Charges, In Maldives
• Three Arab Women Fined For Swearing At Each Other
• She Cares For Sick Father; Autistic Son Is Desperate For a Job, In Dubai
• Gaza Teens Graduate from Hamas Military School
• 14 Children Injured In School Fire in Pakistan
• A Young Woman's Dream for a Peaceful Palestine
• Making Arabic the Language of the Young
• Sri Lanka to Ban Women from Being Maids Abroad
• 35% Jobs for Saudi Women Targeted In Hospitality Sector By 2015
• Quite A Few Female Shops without Licenses: Assistant Mayor for Ladies Jeddah Municipality
• One Saudi Woman's Visual Journey of Belonging
• APNS, Uks Invite Entries for Women in Media Awards 2013
• Kim Kardashian Poses As 'Cover Girl' For Luxury Arab Women Magazine
Compiled by New Age Islam News Bureau
Photo: Tamara Halasi wants to work in the health sector in occupied East Jerusalem and improve Palestine's medical system
URL: https://www.newageislam.com/islam,-women-and-feminism/new-age-islam-news-bureau/balochistan-jamiat-ulema-i-islam-f-mpas-press-for-sharia-law,-hijab,-ban-on-menhdi/d/10143
------------------
Balochistan Jamiat Ulema-I-Islam-F MPAs Press For Sharia Law, Hijab, Ban On Menhdi
By Mohammad Zafar
January 25, 2013
QUETTA: If Maulana Abdul Bari Agha had his way, any woman who did not wear the Hijab would be punished, television dramas would be banned, any government officer who did not pray five times would be fined and Menhdi at weddings would be proscribed.
The Jamiat Ulema-i-Islam-F elected representative gave seven proposals for new amendments to the Council of Islamic Ideology during the session of the Balochistan Assembly on Thursday.
The MPAs, at least the ones who bothered to show up for the session, demanded the use of Sharia law, continued to rail against the imposition of Governor Rule in the province and criticized renewed corruption investigations into five ministries. The session started about one hour behind schedule with Speaker Syed Matiullah Agha in chair. Only 15 out of 65 members turned up and at least 17 are required to run the business of the house. But none of ministers present pointed out the lack of quorum.
As with the session three days ago, members chose to peg the president's decision to impose Governor Rule to the use of Sharia law. The argument is that if the president can remove the elected government of Balochistan using articles from the Constitution then why can't he do the same to implement the recommendations of the Council of Islamic Ideology?
JUI-F leaders Maulvi Abdul Samad Akhundzada, Maulvi Sarwar Musakhel, Syed Ahsan Shah, Ainullah Shams, Asad Baloch of the Balochistan National Party-Awami joined others to speak on this point.
They said that Pakistan was achieved in the name of Islam but after 60 years the recommendations of the council to change non-Islamic laws into Islamic ones had yet to be implemented. The speaker tasked a committee to be headed by former senior minister Maulana Abdul Wasay to undertake this.
The members then lashed out at the National Accountability Bureau (NAB) which has recently opened investigations into five ministries on allegations of corruption. Maulvi Sarwar Musakhel asked why NAB had kept silent for the last five years but was now suddenly calling their members dacoits and thieves every few days. "I ask, was Balochistan Governor Nawab Zulfiqar Ali Magsi himself not held by NAB and did an Arab prince not secure his release after paying up?" He said that NAB could scare nawabs and sardars but it could not scare the JUI-F.
Another MPA to decry what he perceived as double standards was former minister and leader of the Balochistan National Party-Awami, Syed Ahsan Shah, who called the prime minister 'Raja Rental Power', saying that as he was accused of corruption worth Rs520 billion he did not have the right to impose governor 's rule on Balochistan. "The chairman of NAB himself has said that 65 per cent of corruption is being committed in Punjab but no action is being taken against anyone there because most of the NAB officials belong to Punjab," he added.
Ainullah Shams of the JUI-F said that NAB's allegations were absolutely baseless.
Another complaint the MPAs made was the absence of security for them under Governor Rule. Maulana Abdul Wasay brought this up. In response, the speaker directed the secretary of the assembly to write the federal interior ministry that MPAs were not being provided security and the chief secretary of Balochistan was not respecting their wishes.
The speaker adjourned the session for an indefinite period.
Maulana Abdul Bari was one member who did not criticise governor's rule and NAB.
http://tribune.com.pk/story/498924/double-standards-balochistan-mpas-press-for-sharia-law-hijab-ban-on-mehndis/
------------------
School Hijab Ban Shocks Cape Town Muslims
24 January 2013
CAIRO – Two Muslim students have been traumatized after being kicked out from their Cape Town high school after refusing to remove Islamic headscarf, a right protected in the country's constitution.
"My children were embarrassed and traumatized," Nabila Dramat, the students' mother told Die Burger, Mail & Guardian Online reported on Wednesday, January 23.
The problem sparked after Sakeenah Dramat, 16, and her brother Bilaal, 13, started at Eben Dönges high school last Wednesday.
Taking their first classes, teachers asked them to remove their headscarf and fez respectively.
Sakeenah said that a teacher had initially asked her whether she wasn't hot, wearing her hijab.
"I said no, I'm used to it."
She was later called and taken into another classroom where she was told to remove the scarf as it wasn't part of the school uniform.
"I refused, and asked that they contact my parents," Sakeenah said.
Bilaal, who suffers from anxiety, said: "I didn't want to make trouble and removed my fez (mosque hat)."
The mother confirmed that during an interview at the school last year, they were told that the children could wear their headgear, provided that was in school colors.
"The school said last year that they are allowed to wear the head scarves, as long as it is in the colors of their school uniform."
Following a discussion with her and her husband, school principal Wilfred Taylor refused to allow the children to attend school if they wore the headgear.
The mother then said she watched as her son was taken out of a school line. Both children are currently at home.
Muslims make up some 1.5 percent of South Africa's 49 million-strong population, according to the CIA fact book.
Islam sees hijab as an obligatory code of dress, not a religious symbol displaying one's affiliations.
Shocking Decision
The unprecedented decision was shocking to the young girl and her family.
The mother said she chose to school intentionally for their strong academics and the fact it is much closer to where we lived previously.
"Sakeenah wants to study medicine after school and her education is very important to us," Nabila said.
According to the Constitution, schools cannot prohibit the wearing of certain items such as yarmulkes or headscarves if these items are part of pupils' religious practice.
"Male learners requesting to keep a beard as part of a religious practice may be required by the school to produce a letter from their religious teacher or organization substantiating the validity of the request," the education department says on its website.
"The same substantiation is applicable to those who wish to wear particular attire."
She was advised by the Western Cape Education Department to take the children to school the following Monday in any case.
http://www.onislam.net/english/news/africa/461020-school-hijab-ban-shocks-cape-town-muslims.html
------------------
43-Year-Old Indonesian Maid Raped In Sharjah
Victim being treated in hospital
By Aghaddir Ali
January 24, 2013
Sharjah: A 43-year-old Indonesian maid was reportedly raped at her sponsor's residence in Sharjah on Monday.
The woman was rushed to Al Qasimi Hospital when she was found bleeding profusely, where she is currently receiving treatment.
Al Gharb police are investigating the case. A senior police official said that the person who committed the crime was either under the influence of alcohol or drugs.
No arrests had been made at the time of going to press.
http://gulfnews.com/news/gulf/uae/crime/woman-raped-in-sharjah-1.1137208
------------------
Hearing Cancelled For 15 Year-Old Girl Facing Fornication Charges, In Maldives
By Luke Powell | January 24th, 2013
The hearing of a 15 year-old girl charged with having "consensual sexual relations" was cancelled on Wednesday (January 23) following a request from the Prosecutor General (PG).
Juvenile Court Official told local media that the PG wanted to cancel the hearing as "charges had been raised against an individual for engaging in sexual activity with an underage person while holding a trustworthy position", local media reported.
The hearing – to take place in Juvenile Court – had been cancelled in order for the PG to see if there was any reason to withdraw the fornication charges against the girl.
According to local media, the letter sent by the PG to Juvenile Court requesting the cancellation of the hearing did not mention who the "trustworthy" person was.
Earlier this month, a PG's Office spokesperson confirmed that the charges against the minor were related to a separate offence under Sharia Law, which had been filed on November 25, 2012.
The 15 year-old, who is from the island of Feydhoo in Shaviyani Atoll, last year gave birth to a baby that was discovered buried in the outdoor shower area of a home on Feydhoo. Her stepfather was later charged with sexual abuse, possession of pornographic materials and committing murder without intent.
According to local media, the mother is now facing charges of concealing a crime.
The PG's Office and the Juvenile Court were not responding to calls from Minivan News at time of press.
The charges against the 15 year-old have been labelled an "absolute outrage" by NGO Amnesty International.
In a statement Amnesty International's Maldives Researcher Abbas Faiz stressed that suspected victims of rape and sexual abuse required counselling and support rather than criminal prosecution.
"We urge the Maldivian authorities to immediately drop all charges against the girl, ensure her safety and provide her with all necessary support," the NGO's statement read.
Amnesty Intentional also raised concerns that should the minor be found guilty of "fornication" as reported in the media, she could potentially be flogged in line with sentencing for similar cases held in the country.
"If found guilty of 'fornication' the girl could be punished with flogging. She would likely be kept under house arrest until she turns 18 when, under Maldivian law, the flogging can be carried out. Flogging is a violation of the absolute prohibition on torture and other cruel, inhuman and degrading treatment or punishment," Amnesty International stated.
http://minivannews.com/society/hearing-cancelled-for-15-year-old-girl-facing-fornication-charges-51707
------------------
Three Arab Women Fined For Swearing At Each Other
Ahmed Shaaban / 25 January 2013
In another case, the RAK Misdemeanour Court fined three women, all relatives, Dh500 each for swearing at and using abusive language against each other.
As per the court records, the incident happened last summer. Two Arab women lodged a complaint with the RAK Police against the third who is the wife of one of their brothers. They said the suspect insulted and swore at them in their house for no reason whereas investigations showed that they had some social disputes earlier.
The police summoned the accused who was later referred to the RAK Prosecution for legal action. The court bench presided by Judge Samih Samhan found all three women guilty of mutual abuse, based on the testimonies of the witnesses.
http://www.khaleejtimes.com/nation/inside.asp?xfile=/data/courtroundup/2013/January/courtroundup_January64.xml&section=courtroundup
------------------
She Cares For Sick Father; Autistic Son Is Desperate For a Job, In Dubai
Jobless woman is going through a rough patch as her mother is also not well
By Rayeesa Absal
January 24, 2013
Dubai: Twenty-three days is the deadline for Neelam before her employment visa expires. She is desperate for a job not just for her own sustenance, but for the care of her son with special needs, who was recently diagnosed with a brain tumour, her partially paralysed father and her mother who suffers from psychological problems.
She recently lost her job after her position became redundant. Until now, her employers had been supporting her on humanitarian grounds, she said.
Full report at:
http://gulfnews.com/news/gulf/uae/general/single-handedly-she-cares-for-sick-father-autistic-son-1.1137182
------------------
Gaza teens graduate from Hamas military school
24 January 2013
More than 3,000 Palestinian teenagers on Thursday graduated from the ruling Hamas group's first high school military training program in the Gaza Strip, displaying mock weapons, crawling commando-style on the ground and taking up fighting positions for thousands of cheering supporters.
Hamas officials said the Futuwwa, or "Youth," program is aimed at fostering a new generation of leaders in the struggle against Israel.
"We teach the youth to honor the national flag and anthem, to strengthen their affinity with the homeland and Jerusalem, the spirit of resistance and the principles of steadfastness," said Abu Hozifa, a 29-year-old national security officer who teaches in the program. "We also prepare them in terms of faith and physical fitness to serve as resistance fighters if they want to be in the future."
Full report at:
http://www.khaleejtimes.com/kt-article-display-
------------------
14 Children Injured In School Fire in Pakistan
January 25th, 2013
PESHAWAR: At least 14 children of ages between eight and 12 years received burn injuries on Thursday when the tower of a cellular company, installed in a school building, caught fire as a result of shot circuit.
SHO Dost Muhammad said the fire erupted at the Ali Public School building, situated in the Gulbarg Police Station jurisdiction near Nodhia Railway crossing. Police said the fire engulfed classrooms where students were attending their class. Rescue teams rushed to the site and started relief operation. The injured children were admitted to Lady Reading Hospital (LRH). There were more than 100 children inside the school building at the time of incident, a Rescue 1122 official said.
http://www.dailytimes.com.pk/default.asp?page=2013\01\25\story_25-1-2013_pg7_3
------------------
A Young Woman's Dream for a Peaceful Palestine
The plight of a student highlights the harsh price being paid by those who are the victims of a failed peace process
By Denise Marray Special to Weekend Review
January 24, 2013
Another bomb, another rocket attack, another incursion — hatred, distrust and grievances piled up generation after generation. It is easy to become hardened to the seemingly endless stream of TV images of the casualties of the Arab-Israeli conflict. The numbers killed since 1920 tell their own grim story: 90,700 Arab/Palestinian and 24,500 Jewish deaths. And there have been countless thousands wounded.
So when a conflict turns into a sad tapestry — hanging in its gory colours but so familiar as to be overlooked amid the relentless images of 24-hour news — it comes as a jolt to come face to face with someone who is living daily with the harsh realities.
Talking to Al Quds University graduate Tamara Halasi in a coffee shop in London was to see through her eyes the cost of the conflict and the price being paid by those who are the victims of a failed peace process.
Full report at:
http://gulfnews.com/about-gulf-news/al-nisr-portfolio/weekend-review/a-young-woman-s-dream-for-a-peaceful-palestine-1.1137104
------------------
Making Arabic the Language of the Young
Suzanne Talhouk's NGO, Feil Amer, has received a new lease of life and she is more optimistic than ever about reviving her mother tongue
By Samia Badih
January 24, 2013
Suzanne Talhouk had been seriously thinking of putting her organisation Feil Amer on the backburner, when TedxBeirut asked if she could give a talk at their event about why preserving the Arabic language — which is exactly what Feil Amer tries to do — was so important to its native speakers. Since then, the video of her talk has gone viral attracting over 135,000 views in just three weeks.
Full report at:
http://gulfnews.com/about-gulf-news/al-nisr-portfolio/weekend-review/making-arabic-the-language-of-the-young-1.1137102
------------------
Sri Lanka To Ban Women From Being Maids Abroad
January 24, 2013
COLOMBO: Sri Lanka said on Thursday it would bar its women citizens of all ages from travelling abroad to work in menial jobs, following an international outcry over the beheading of a young nanny in Saudi Arabia.
Information Minister Keheliya Rambukwella announced that women under 25 were now banned from going to the Arab state to work as maids, adding that it was the first step towards a worldwide travel ban for low-paying jobs.
Full report at:
http://tribune.com.pk/story/498565/beheaded-in-saudia-sri-lanka-to-ban-women-from-being-maids-abroad/
------------------
35% Jobs for Saudi Women Targeted In Hospitality Sector By 2015
JEDDAH: ARAB NEWS
25 January 2013
A recent study revealed that the representation of women in senior managerial positions in hotels is still weak. According to statistics, women only account for 27 percent of positions as director general and 13 percent in positions such as director of operations, even though the number of female graduates is more than their male counterparts.
The study, which was conducted by Accor, one of the world's leading hotel operators, aims to launch an empowerment initiative that will lead to a 50 percent increase in the number of female employees in upper management and leadership positions in hotels around the world. Moreover, the initiative seeks to raise the employment rate of women to 35 percent by 2015.
Full report at:
http://www.arabnews.com/35-jobs-women-targeted-hospitality-sector-2015
------------------
Quite A Few Female Shops without Licenses: Assistant Mayor for Ladies Jeddah Municipality
25 January 2013
Arwa Al-Ama, assistant mayor for ladies section affairs in Jeddah Municipality, says most cases of violations field teams of the department observe on inspection tours are the absence of licenses for shops, poor hygienic conditions and not collecting medical health cards from the Ministry of Health, which are mandatory for any woman wishing to work in such shops.
"Poor awareness campaigns are the main cause of this," Al-Ama told a local newspaper.
Full report at:
http://www.arabnews.com/quite-few-female-shops-without-licenses
------------------
One Saudi Woman's Visual Journey of Belonging
AFRA NAUSHAD
23 January 2013
Manal Al Dowayan's first solo exhibition in the Kingdom has been a long time coming. And when her exhibition finally opened last weekend at Athr Gallery, it deservedly received wide acclaim and excitement, especially among the art enthusiasts who have been following her work outside the country.
The photographer's solo exhibition titled 'A Journey of Belonging' displays collections of old and new works produced between 2009-2012: "The state of disappearance", "If I forget you, don't forget me", "We had no shared dreams", "Landscapes of the mind", "Pointing to the future", and "Look beyond the veil".
Full report at:
http://www.arabnews.com/one-saudi-woman%E2%80%99s-visual-journey-belonging
------------------
APNS, Uks Invite Entries for Women in Media Awards 2013
January 25th, 2013
ISLAMABAD: All Pakistan Newspaper Society (APNS) in collaboration with Uks has started accepting entries for "Women in Media Awards" from across the country, which will be presented on March 8.
"The first of its kind in Pakistan, the 'Women in Media' awards will be presented in Karachi on March 8, on the International Women's Day," said a representative of Uks on Thursday. She said the winner of first prize for each category will receive a cash prize, a trophy and certificate, as does the runner-ups.
Full report at:
http://www.dailytimes.com.pk/default.asp?page=2013\01\25\story_25-1-2013_pg7_8
------------------
Kim Kardashian poses as 'cover girl' for luxury Arab women magazine
24 January 2013
Kim Kardashian is making headlines again when she appeared on the cover of a luxury Arab magazine for women, "Hia," donning a series of controversial and risqué outfits.
The starlet stuck to a simple black and white color scheme for the photo-shoot, reported the Daily Mail on Thursday.
She wore several dresses. One dress that stands out in particular was a form-fitting and revealing white dress accompanied by a jeweled headpiece and veil.
Full report at:
http://english.alarabiya.net/articles/2013/01/24/262350.html
------------------
URL: https://www.newageislam.com/islam,-women-and-feminism/new-age-islam-news-bureau/balochistan-jamiat-ulema-i-islam-f-mpas-press-for-sharia-law,-hijab,-ban-on-menhdi/d/10143