New Age Islam News Bureau
11 May 2018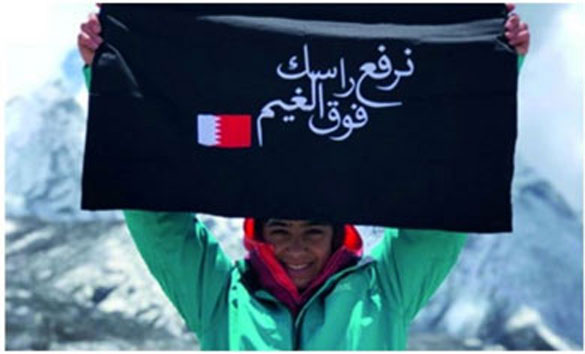 Juwan, 13, Youngest Bahraini girl to Reach Everest Base Camp
-----
• Saudi Designer Points the Way for Women Drivers
• Women Are Most Oppressed In Iran – Maryam Rajavi
• Iran: Number of Women Prisoners Twice the Prisons' Capacity
• Somali Woman Stoned To Death by Al-Shabab Terrorists for 'Marrying 11 Men'
• Women Police Stations in Sindh Renamed As 'Women and Children Protection Unit'
• Iran: Women actively participated in teachers' nationwide protests
• Turkey, Google Join Forces for Digital Literacy for Women
• Bahrain Airport Company attends Women Power Summit
• Iran Clinches 2018 AFC Women's Futsal Championship Final Spot
Compiled by New Age Islam News Bureau
URL: https://www.newageislam.com/islam-women-feminism/bahraini-girl-reaches-everest-base/d/115215
--------
Bahraini Girl Reaches Everest Base Camp At 13
MAY 10, 2018
Manama : Making her country proud, a 13-year-old girl has become the youngest Bahraini to reach the Everest Base Camp. Juwan Abdulkhaleq, an eighth-grade student, held her country's flag high carrying the message "I raise you above the clouds" as she made history by reaching the South Base Camp in Nepal at an altitude of 5,364 metres.
Juwan was a member of an expedition that included 20 other women, aged between 23 and 47, coming from Bahrain (13), Saudi Arabia, (3), Kuwait(4) and the UAE (1). The expedition, organised by the Journey Adventures, lasted 12 days and participants said they were impressed with Juwan's strength, courage and fortitude. Rasha Yousif, the Bahraini adventurer who celebrated the New Year on top of the Kilimanjaro, Africa's highest mountain, said that everybody paid rich tribute to Juwan's character. "She is a very special person and inspired us in many ways," she said.
"Juwan is fortunate to have such supportive parents and family members, receiving tremendous encouragement from her school and classmates. During her preparations, her mother was with at her every step of the training process filled with a series of formidable challenges to strengthen her mental and physical endurance," said Rasha Yousif.
http://www.newsofbahrain.com/bahrain/44408.html
--------
Saudi Designer Points the Way for Women Drivers
May 11, 2018
RIYADH: As the day nears when Saudi women take to the roads for the first time, a Riyadh fashion designer has come up with a stylish way of marking the historic moment.
Mohammed Khoja has designed a black bomber jacket with the insignia "June 24, 2018, 10 Shawwal 1439" — the long-awaited date when women in the Kingdom will be allowed to drive.
The founder of the luxury Hindamme label is determined to draw attention to the breakthrough for women by wearing his own creation.
"I get stopped all the time by people complimenting me on the jacket," Khoja said.
The designer said he was "super-proud" of the direction Saudi society was taking with this "progressive push."
Khoja said: "I was moved by the decision to lift the ban on women driving, because it seemed like something that would never happen. It is a symbolic gesture. The ban has always been held against us as Saudis."
Khoja said he hoped his jacket would help fashion-conscious Saudis mark the event.
"Every country has historic days when things happen that shift the course of the future — and this is one of those dates. That was the inspiration. I thought, how can I, as a designer, pay tribute to this?
"I call it a driving jacket to commemorate the date."
Khoja said the jacket could be worn by both men and women who wanted to celebrate the Kingdom's social progress.
"This decision is not only important to Saudi women and men, but also a step forward in our global quest to achieve more equality, balance and peace," he said.
http://www.arabnews.com/node/1300441/fashion
--------
Women Are Most Oppressed In Iran – Maryam Rajavi
10 May 2018
The International Association of Women Judges (IAWJ) held a conference from May 2 to 6, 2018, in Buenos Aires, Argentina, where women judges from 80 countries participated and exchanged views on issues of concern to women judges and jurists in different countries.
The Iranian Resistance's President-elect Maryam Rajavi sent a video message to this conference, the text of which follows:
Madam President, distinguished judges and jurists,
I would like to salute your conference and extend my profound gratitude to Ms. Susana Medina, President of the International Association of Women Judges (IAWJ), and her colleagues and wish them success in their efforts for the conference.
This conference is a significant opportunity for raising awareness around the world on discrimination and violence against women and ways of confronting them.
Iran is one of the countries where women are the most oppressed. They are victims of violence and sexual assaults.
This situation is not due to Iranian women's lack of awareness. On the contrary, they have an outstanding level of college education as well as cultural and intellectual progress. In fact, it is the misogynistic nature of the mullahs' religious dictatorship that imposes and inflicts various forms of violence on Iran's women.
The misogynist mullahs have imposed inhuman discriminations against women since they seized power in 1979. In addition, they have institutionalized such discriminations in the law.
Under the regime's laws, women's rights are half of men's. The testimonies of two women are equal to the testimony of one man before the court. Also, a woman inherits half of the amount a man inherits.
Women are not entitled to divorce according to the law. They are not allowed to have a job or even leave home without their husbands' permission. They are also deprived of engaging in a large number of jobs, including judgeship. The regime dismissed all female judges once it seized power. Women are even banned from watching football games in the stadiums.
The regime's penal code has paved the way for murder of women by their husbands and fathers. This means that if a woman is murdered on moral grounds by her husband, father or grandfather, the murderer is not punished.
In cases of sexual assault on women, the law is lenient towards the assailants but harsh on the victim. The case of Reyhaneh Jabbari serves as an example. She defended herself against rape which led to the death of the assailant. After seven years of imprisonment, she was executed at the age of 26, despite public outrage.
The mullahs have also inflicted extensive poverty and prostitution on women. For years, young women are being trafficked to neighboring countries. International reports confirm that Iran is one of the main transit routes and centers for sex trafficking.
The mullahs are particularly violent towards women who stand up to them. Thousands of dissident women, especially members of the main Iranian opposition People's Mojahedin of Iran, have been executed under the clerical regime. Tens of thousands have been savagely tortured.
Fortunately, the people of Iran have waged an extensive struggle against these policies. They seek regime change because they find the rule of this religious tyranny as the root cause of all their problems. In this struggle, Iranian women have played an important role.
Women were in the leading ranks of the uprising that rocked Iran last December and January. Women comprise the majority of members of the National Council of Resistance of Iran. Also the PMOI, which forms the backbone of the Iranian opposition, is led by 1,000 heroic women in its Central Council. This is the natural continuation of the role Iranian women have played since 120 years ago in all the major movements in Iran.
I hope that our sisters around the world support the struggle of Iranian women and the extensive protests in Iran. No doubt, women's international solidarity plays a significant role in confronting violence against and oppression of women.
https://women.ncr-iran.org/maryam-rajavi-speeches/5060-women-are-most-oppressed-in-iran-maryam-rajavi
--------
Iran: Number of Women Prisoners Twice the Prisons' Capacity
10 May 2018
A state official revealed that the number of women prisoners in Iran are twice the prisons' capacities.
Attahareh Nejadi, deputy for planning and coordinations in the Women and Family Affairs Directorate, presented a report on her visit to women's prisons.
Nejadi said, "Visiting the country's prisons, I didn't find the situation of women as appropriate. Women with undeliberate crimes are keeping their small children in prison; their children know only of life in prison. According to the existing information, the average age of these women is between 17 and 37 years old; of course, there are older women, too."
Explaining women's crimes, Abd-ol Samad Khorram-Shahi, a jurist and lawyer, said, "Women who face hardships in their lives and are sexually abused, resort to drugs to forget their problems and consequently become susceptible to crimes and abuse. This is why we are witnessing an increasing number of women prisoners and feminization of some crimes."
"When the basic necessities of life are not provided for people, misdead, prostitution and drugs show up," Khoram-Shahi added. "All these (factors) lead to crimes. When the mother of a family is in prison, in addition to the harms inflicted on herself, her family and relatives are also affected and this foments crimes in the society."
"The unsuitable conditions in prisons and the lack of resources, hygiene and sufficient education for women, create more difficult conditions for women, pushing them towards heavier crimes and armed robbery gangs." (The state-run IRNA news agency- May 9, 2018)
https://women.ncr-iran.org/iran-women-news/5057-iran-number-of-women-prisoners-twice-the-prisons-capacity
--------
Somali Woman Stoned To Death by Al-Shabab Terrorists for 'Marrying 11 Men'
10 May 2018
The Somalia-based extremist group al-Shabab says it has stoned to death a woman accused of marrying 11 men.
The al-Qaida-linked group's radio arm Andalus reports that the stoning was carried out on Wednesday after an ad hoc al-Shabab court convicted the woman in Sablale town in Lower Shabelle region.
The report says masked men stoned to death 30-year-old Shukri Abdullahi Warsame in a public square.
The self-proclaimed judge said the woman had confessed to having secretly married 11 men in a row without seeking a divorce.
Al-Shabab has been fighting for years to impose a strict version of Islam in the long-chaotic Horn of Africa nation.
The group often executes suspected spies and people accused of adultery after convictions that human rights groups say lack the proper judiciary process.
https://english.alarabiya.net/en/News/world/2018/05/10/Somali-women-stoned-to-death-by-al-Shabab-terrorists-for-marrying-11-men-.html
--------
Women Police Stations in Sindh Renamed As 'Women and Children Protection Unit'
May 10, 2018
KARACHI: Sindh Inspector General of Police AD Khowaja reviewing the police training programmes in the province, here on Thursday, has directed the officials to rename all its women police stations as Women and Children Protection Units.
Chairing a meeting attended by senior police officers, he said renaming of the facilities must not be for the mere name change but must strengthen professional capacities of the concerned staffers.
He said professional competency of the concerned staff deputed at these units as well as cops in general needed to further tuned up through a regular capacity building of the officers and staffers associated with the provincial police department.
The meeting was attended by Additional IGP – Sindh, DIG – Headquarters, DIG-Establishment, AIG-Admn along with principals of all Sindh Police Training schools.
DIG – Training on the occasion gave a detailed briefing about curriculum, training policy, capabilities as well as development and welfare related policies adopted at different tiers in each of these centres.
It was mentioned that around 20,000 cops had so far been trained by Pakistan Army with 16970 already passed out while remaining 3030 to formally complete their training and receive a certificate in the current month of May.
It was further informed that 450 police officers had been selected for specialized commando training and that 142 of the Sindh police instructors would be attending refreshers courses offered by Pakistan Army.
The IGP appreciative of the efforts said 3030 of the police officers to pass out this May must be deputed in Karachi so as to further streamline the security arrangements being made for Ramzan. AD Khowaja also directed the principals of police training centres to develop a schedule encompassing levels and duration of training offered at each of these schools.
Advising for adequate recreational facilities for police recruits, the Sindh police chief said no compromise should be made in context of discipline and those found to be absent for 15 consecutive days should be made to undergo an additional month's training.
The police chief also directed the AIG – Sindh to visit each of these training centres in a week's time and present a detailed report about the development work underway in each of these facilities.
https://www.pakistantoday.com.pk/2018/05/10/women-police-stations-in-sindh-renamed-as-women-and-children-protection-unit/
--------
Iran: Women actively participated in teachers' nationwide protests
10 May 2018
Iran's teachers, men and women, held protests in at least 32 cities across the country outside the Departments of Education and in Tehran, outside the Budget and Planning Organization and the mullahs' parliament.
In addition to the two locations in Tehran, the protests were held in Arak, Qazvin, Zanjan, Kermanshah, Isfahan, Homayounshahr, Shiraz, Mamasani, Shahreza, Shahr-e Kord, Mashhad, Bojnourd, Birjand, Kazeroun, Saqqez, Baneh, Sanandaj, Dehgolan, Marivan, Mahabad, Qorveh, Zivieh, Divandarreh, Tabriz, Rasht, Sari, Khorramabad, Behbahan, Bandar Abbas, Boushehr, and Hamedan. The teachers protested against low wages, difficult living conditions, being denied their most basic rights including medical insurance, job security and officials' failure to address their problems.
The protesting teachers chanted, "Free imprisoned teachers." They also held placards which read, "Teachers, workers, students, unite!", "Teachers deserve to receive wages higher than the poverty line", "Bread, jobs, freedom, justice in education", "access to free and quality education is the right of every child."
In Tehran, the State Security forces attacked the teachers' gathering outside the Budget and Planning Organization and beat up the teachers particularly the women.
When security forces attempted to arrest Mohammad Habibi, the activist teacher who had been recently freed from jail on bail, women held hands and surrounded him so as to prevent his re-arrest. Women teachers chanted, "We cannot tolerate so much injustice", "Police, go catch the thieves."
One of the women teachers was badly hurt in the eye during this raid.
https://women.ncr-iran.org/iran-women-news/5059-iran-women-actively-participated-in-teachers-nationwide-protests
--------
Turkey, Google Join Forces for Digital Literacy for Women
May 10, 2018
The Turkish government and Google launched a digital literacy education program for women yesterday. In the first stage of the program, women who serve as neighborhood and village leaders and female members of village and neighborhood councils were taught how to efficiently use digital technologies.
The project aims to polish women's skills, "to make them more proactive in an expanding digital world" as Minister of Family and Social Policies Fatma Betül Sayan Kaya said at the launch ceremony in Istanbul. "We cannot reach our development goals without the contribution of women," Kaya added.
Turkey aims to boost the female workforce in the IT sector and make them more skilled in digital literacy. Kaya says they plan to train at least 200,000 women by 2023, the centenary of the Republic of Turkey, in IT branches ranging from coding to digital marketing and cyber-security.
"We need to raise awareness and make women more efficiently use the opportunities that the digital world offers," the minister said.
Digital literacy classes on safe Internet use, efficient use of e-mail, the use of cloud computing technology and basic data literacy are part of the project. The government already runs training programs for women and girls on safe use of the Internet, and the Family and Social Policies Ministry holds event to attract more young women to the IT sector. Minister Kaya said they strive to increase the rate of girls enrolled in undergraduate information technologies studies from 29 percent to 50 percent.
https://www.dailysabah.com/turkey/2018/05/11/turkey-google-join-forces-for-digital-literacy-for-women
--------
Bahrain Airport Company attends Women Power Summit
07/05/2018
Manama, May 7 (BNA): In line with the objectives of the Equal Opportunity Committee of Bahrain Airport Company (BAC), which encourages more female members of staff to participate in key conferences and forums in order to achieve excellence and become decision makers, 14 employees from across the organisation participated in the Women Power Summit in Bahrain on May 6-7.
The event, held under the patronage of INJAZ Bahrain CEO HH Shaikha Hessa bint Khalifa Al Khalifa, brought together 50 local, regional, and international female leaders from a range of industries who shared their insights and experiences to inspire women and promote female entrepreneurship. More than 500 women attended the summit, which was the largest of its kind in the MENA region and showcased opportunities for partnership and collaboration among entrepreneurs, innovators, and investors.
BAC is committed to gender equality and strives to play a proactive role in the Supreme Council for Women's National Plan for the Advancement of Bahraini Women (2013-2022) which seeks to ensure family stability and familial bond that consolidates the principle of equal opportunity. Additionally, it provides diverse opportunities to women in order to enhance the standard quality of life within a framework of legislation and supporting policies; which leads to integrating with allies and partners within institutional work to establish a house of expertise specialised in women's affairs according to international standards with national expertise.
http://www.bna.bh/portal/en/news/839870
--------
Iran Clinches 2018 AFC Women's Futsal Championship Final Spot
May 10, 2018
Fahimeh Zarei jabbed Iran's fourth goal in the 16th minute, and the reigning champions finished the first half by a four-goal margin.
After the break, Vietnamese futsal players placed Iran's goalpost under pressure, and sought to break the deadlock and narrow their deficit.
Iranian goalkeeper Farzaneh Tavassoli, however, made a number of marvelous saves and denied Vietnam team's chances.
Finally, Fatemeh Etedadi scored Iran's last goal in the 38th minute and sealed a 5-0 win.
The Iranian women's national futsal team is slated to face Japan in the final fixture on Saturday.
The 2018 AFC Women's Futsal Championship, which is the second edition of the international event, started on May 2 and will close on May 12, 2018.
http://www.presstv.com/Detail/2018/05/10/561252/Iran-clinches-2018-AFC-Womens-Futsal-Championship-final-spot
--------
URL: https://www.newageislam.com/islam-women-feminism/bahraini-girl-reaches-everest-base/d/115215
New Age Islam, Islam Online, Islamic Website, African Muslim News, Arab World News, South Asia News, Indian Muslim News, World Muslim News, Women in Islam, Islamic Feminism, Arab Women, Women In Arab, Islamophobia in America, Muslim Women in West, Islam Women and Feminism