New Age Islam News Bureau
19 August 2020
• Pakistan's Parliamentary Body Hears Complaints of Women Journalists
• Under-Armour Sport Reveals First Hijab for Muslim Athletes
• UAE Boxing Gym's Female Founder In Fight To Tackle Bullying, Mental Health Issues
• Femicide In Turkey on The Rise Amid Debate Over Law Protecting Women
Compiled by New Age Islam News Bureau
URL: https://www.newageislam.com/islam-women-feminism/bahrain-prosecutes-woman-destroying-ganesha/d/122664
--------
Bahrain Prosecutes Woman for Destroying Ganesha Idol Inside A Souvenir Store
August 16, 2020
Ramadan Al Sherbini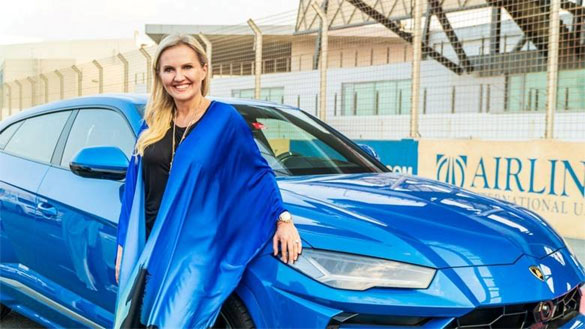 Bahrain Police arrested and prosecuted a 54-year-old woman who argued with a shopkeeper, and damaged Lord Ganesha Idol Kept on display
------
Cairo: Bahraini police said Sunday they had taken legal steps against a woman who destroyed Hindu religious statues inside a shop. The woman appeared in a viral video destroying Ganesha idol inside a souvenir store in Manama's area of Juffair, saying Bahrain is a Muslim country.
"The Capital Police took legal steps against a woman, 54, for damaging a shop in Juffair and defaming a sect and its rituals, in order to refer her to the Public Prosecution," the police said on its Twitter account.
A senior Bahraini official condemned the act, calling it a "hate crime".
"Destroying religious symbols is not part of nature of the Bahraini people," royal adviser Khaled bin Ahmed Al Khalifa said. "It's a crime that exposes alien and rejected hate," he added in a tweet.
Foreigners account for over half of Bahrain's total population of 1.7 million.
https://gulfnews.com/world/gulf/bahrain/bahrain-prosecutes-woman-for-destroying-hindu-statues-1.73226545
--------
Pakistan's Parliamentary Body Hears Complaints of Women Journalists
19 Aug 2020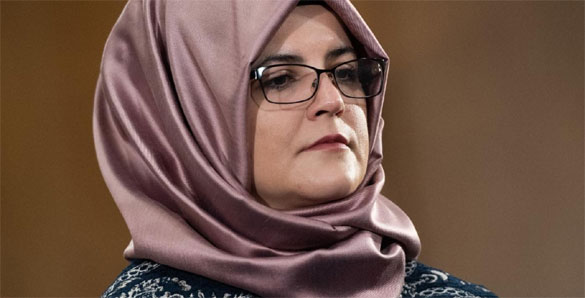 The meeting was informed that the government was addressing the issue - Photo courtesy Twitter
----
ISLAMABAD: A parliamentary body on Tuesday was perturbed to hear about women journalists being harassed on social media.
Pakistan People's Party Chairman Bilawal Bhutto Zardari chaired the National Assembly meeting of the Standing Committee on Human Rights, where he was informed about the harassment of women journalists through video link.
"Women journalists are being harassed for dissent," said Asma Shirazi, talk show host of a private television channel.
"Twice, people broke into my house to harass me. Attempts are being made to socially isolate Pakistani women journalists. Many women journalists have stopped tweeting for fear of harassment on social media. We will not allow our daughters to stay at home for fear of abuse," she said.
Women journalists speak out against harassment on social media to protect the future generation, said another host Amber Shamsi.
"I have brought my daughter with me so that she has the courage to fight against harassment. Our families are suffering because of harassment against us on social media," Ms Shamsi said, adding a controversy was triggered after a tweet.
While the meeting was informed that the government was addressing the issue, PTI MNA Attaullah, who is also a new member of the committee said that harassment was nothing new.
"There is no justification for rape or death threats," the PPP chairman said, adding it was everyone's responsibility to stand with women journalists who were facing harassment. He said the committee will send the harassment case against Gharida Farooqi back to the Federal Investigation Agency (FIA).
"Women's rights in Pakistan are strongly linked to democracy," said Munizae Jahangir, who hosts a current affairs programme on a private TV channel.
"Don't let restrictions be imposed on us in our harassment case. We will not accept restrictions on social media under the pretext of harassment," she said.
"I was tortured in terms of expression, I fought this war alone," Tanzeela Mazhar said. "When I fought against harassment, I was accused of blasphemy," Ms Mazhar said, adding that no one hired her for three years after her struggle against harassment.
"If there is disagreement with male journalists, they are ignored, while female journalists are labeled miscreants when there is a disagreement with them," she said.
"Now before we tweet, we have to think about the abuses that follow in response," Ms Mazhar added.
https://www.dawn.com/news/1575116/parliamentary-body-hears-complaints-of-women-journalists
--------
Under-Armour Sport Reveals First Hijab for Muslim Athletes
By Holden Wilen
August 17, 2020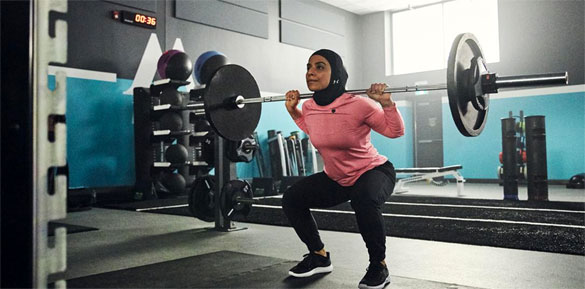 Saman Munir, a personal trainer and fitness influencer in Toronto, helped Under Armour develop its hijab.
UNDER ARMOUR INC.
------
Under Armour Inc. unveiled its first hijab for female Muslim athletes Monday as the sportswear maker looks to make inroads as a brand that stands for social justice.
The Under-Armour Sport Hijab has been in development for several years, the company said. Several athletes helped with development of the product including Saman Munir, a certified personal trainer and fitness influencer in Toronto. Baltimore-based Under Armour revealed its hijab, a headscarf worn by some Muslim women, three years after Nike Inc. first revealed its Pro Hijab in 2017.
Under Armour's hijab will sell for $35, the same price as Nike's product. The hijab features a "super soft, smooth fabric...made with a unique hex-shaped mesh pattern designed for maximum breathability, sweat-wicking capability and an extra fast drying time," according to a news release.
"The hijab also features built-in headphone access and a contoured band around the face to prevent slippage, ensuring the hijab does not come untucked or fall off.
"We spent several years developing the UA Sports Hijab, because we wanted to ensure that when the product launched it was the best it could be," said Jennifer Smith, senior designer of women's and girl's accessories at Under Armour, said in a statement. "Our team worked diligently to launch a quality sport hijab that will meet the performance needs of its user and ensure all female athletes are covered from head to toe no matter their size, level of performance or religion."
For Under Armour (NYSE: UAA), the reveal of its newest product comes as the brand is making a concerted effort to be a part of the social justice movement happening across the U.S. and the world. In light of George Floyd's death at the hands of police in Minneapolis, Under Armour announced in July a series of goals and initiatives "to support a more diverse and inclusive future."
CEO Patrik Frisk tweeted about the new product saying, "Every athlete should have the gear she needs to be the best."
Ibtihaj Muhammad, a fencer from New York, became the first Muslim-American woman to compete for the United States wearing a hijab at the Olympics in 2016. Nike unveiled its line of hijabs a year later and they have become increasingly more common at sporting events.
Under Armour's latest product launch also comes as the brand continues its international expansion, including in the Middle East. The brand has stores in the United Arab Emirates, Qatar and Saudi Arabia, among others.
The company will be hoping its latest product receives the same excitement that its perfomance-focused face mask received earlier this year. Under Armour's masks sold out within an hour of launching.
https://www.bizjournals.com/baltimore/news/2020/08/17/under-armour-reveals-first-hijab.html
--------
UAE Boxing Gym's Female Founder In Fight To Tackle Bullying, Mental Health Issues
ALI KHALED
August 18, 2020
DUBAI: In 1954, a seething 12-year-old by the name of Cassius Clay walked into a gym after having his bike stolen. This was not going to happen to him again. In his words, he wanted to "whup" that thief.
What followed remains arguably the greatest sporting story of all time. In and out of the ring, Muhammad Ali would stare down bullies for the rest of his life.
More than six decades on and boxing still provides a sanctuary for bullying victims which is why Michelle Kuehn, who founded Dubai's Real Boxing Only (RBO) gym three years ago, has launched an anti-bullying campaign in the wake of the coronavirus disease (COVID-19) pandemic and resulting lockdown.
"During quarantine, I noticed that online got really loud," she said from her office at RBO in Al-Quoz. "Everyone took to going online, and the energy was really high. I know that a lot of teenagers were really struggling, they weren't seeing their friends, and there was a lot of cyberbullying.
"I know that many teens were struggling with depression and mental health was such an issue during lockdown for a lot of people who were not used to being alone, not used to not being able to go out and see friends."
Just over four years ago, Kuehn took up boxing because she was disillusioned with her career in the media and her lifestyle in general. It changed her life and has made her increasingly sensitive to other people's mental health problems.
"I started thinking that now schools are coming up, kids must be facing a lot of anxiety about seeing their friends, seeing their bullies, just being made fun of," said the American, who has lived in the UAE since the mid-1990s.
"Weight has been a massive issue online. People talking about gaining weight or making fun of people putting on quarantine weight. It's so negative, we just survived a pandemic, and the only thing that's come out of it is they're talking about how fat you are," she added.
By calling on the help of friends, colleagues, and professional boxers, Kuehn hopes to raise awareness through a new anti-bullying campaign, #BeBrave, not a bully.
"Boxers are powerful, they have responsibility to stand up for young people who look up to them, and to say, 'we're brave, we're not bullies,' and to impart that message to everyone," she said.
"Be brave, not a bully. I've gone with that, and every boxer that I've messaged, who either trains at our gym or in the UK, such as Jordan Gill, Shakan Pitters, and the coaches at Eastside Boxing Gym. Also, David Coldwell, Hopey Price, Hamzah Sheeraz, Anthony Fowler, Waleed Din, Ryan Kelly, Mohammad Ali Bayat, and Hannah Rankin. They are all behind it.
"Some of them had been bullied themselves when they were younger, and went into boxing to give themselves self-respect, self-confidence, to feel strong," she added.
Kuehn pointed out that boxing also helped bullies to change their ways.
"They are just insecure and scared, lashing out and hurting others because of the pain they feel themselves," she said. "Boxing helps both sides because it teaches you to respect others and gives you self-discipline and confidence."
Kuehn had been pushing for women's participation and empowerment long before the launch of the latest campaign.
"It's not just locally, women's boxing wasn't even allowed in the UK until 1998. So, women haven't really been allowed to box because of the social pressures that are put on them. Which is all about appearances, and when people say hit like a girl, it's not a compliment. I turn it into a compliment because I can hit, and yes, I am a girl, so bring it.
"But all of these stereotypes that have been impressed upon women for generations, still exist. And that is the same with online bullying. There are a few big female influencers talking about it now as well, about positive body image, about how all bodies are lovable. Who says cellulite isn't lovable or being overweight isn't the way it's supposed to be? Overweight is a term that they use for a person that doesn't fit what? Who made those measurements?"
With RBO, Kuehn above all wanted to provide an environment where females felt at home, whether they were uncomfortable around males for cultural reasons, because they wore a hijab, or simply because they lacked confidence.
"I got asked once if there was a reason why I intentionally didn't create a girly gym," she said. "I shouldn't have to create a girly gym to create a safe space. Boxing is for everyone.
"Ask any female client that comes in here and they will say that the moment they walk in the energy is good. They feel safe, even though there's a giant boxing ring at the entrance. It's intimidating but it's glorious at the same time.
"They feel safe in here because there's no judgement. They feel safe because they are being taught a skill. That is why I wanted to have ladies-only classes because I understand as someone who has lived here for so long that everyone has the right to a sport, whether their cultural background is different to mine or not," she added.
That was also one of the reasons why Kuehn decided to hire Fahima Falaknaz, the first female UAE boxer, as part of the training staff; a specific plan to target more Emirati and conservative females.
"Her story is one that she still struggles daily with family obligations and family expectations. She has chosen the less-travelled path because she knows that is what she was meant to do. Her story is so in line with what I believe in, that I couldn't think of anyone else more suited for the job."
Kuehn proudly noted the story of a member whose life had been transformed by boxing.
"When he started coming here, I remember thinking he was so grumpy looking. Did he even want to be here? This was about a year ago. Now he has lost 32 kg. He is not the same man who walked in here. He didn't come in here to lose weight, he came in because he was searching, he wanted to find happiness. And he found it," she said.
The change was not just physical. His whole outlook on life altered and his mental health improved beyond recognition, Kuehn added.
"Since he has been here, he also started taking English lessons. I remember he could barely speak any English and that frustrated him. So, he fixed it. His whole dynamic changed, and now he is starting his own company, and he has had a couple of fights with us.
"He told me that when he moves back home to Egypt, he wants to open his own boxing gym to give the gift we gave him to others in his hometown. When he told me that, I sat there thinking, I can't believe that is a result of what we did here. That makes everything worth it."
https://www.arabnews.com/node/1721351/sport
--------
Femicide in Turkey on the rise amid debate over law protecting women
Nicholas Frakes
19 August 2020
As Turkey's government debates withdrawing from an agreement meant to protect women from gender-based violence, femicide continues to rise, and protests have cropped up against a possible withdrawal from the agreement, known as the Istanbul Convention.
Over the last decade, violence against women has risen in Turkey, and 474 women were killed in 2019 alone.
However, the government has yet to announce whether they will pull out of the Istanbul Convention, which is designed to protect women, and the decision has been postponed multiple times. A decision was pushed back once again on August 18.
For all the latest headlines follow our Google News channel online or via the app.
Following the announcement of the government's possible withdrawal, protests have sprung up in defense of the agreement, with advocates calling for the convention to be fully implemented, rather than torn up. Some argue that a withdrawal would signal Ankara's complicity in violence against women.
One of the loudest advocates for the agreement has been the We Will Stop Femicide Platform (KCDP) that monitors gender-based violence as well as the number of women killed under suspicious circumstances.
Femicide is defined when women are killed intentionally because they are women, according to the World Health Organization.
According to KCDP data, only one year in the last decade has seen a decrease in femicides in Turkey – when the Istanbul Convention was signed in 2011. Since then, the number of deaths has steadily increased.
In 2011, as part of an effort to prevent and combat violence against women, Turkey entered into the Istanbul Convention along with 45 other countries, including the European Union.
New Turkish legislation, law number 6284, designed to protect families and prevent violence against women was also passed after Ankara joined the convention.
Talks of pulling out
Now, nine years later, the Turkish government has floated the idea of pulling out of the agreement after the ruling Justice and Development Party (AKP) Deputy Chair Numan Kurtulmush said that the signing of the convention was "wrong."
"I am saying as a person," he said during a televised interview, "who has read the Istanbul Convention repeatedly, has also read this in English and worked on it. The signing of the Istanbul Convention was really wrong."
Supporters of the agreement say that the convention is currently Turkey's best tool for combating gender-based violence and that it is important for it to remain in place.
Read more: Police in Istanbul fire tear gas, clash with protesters at women's day march
"The Istanbul Convention cannot be canceled," Melike Hanim, a spokesperson for the KCDP, told Al Arabiya English. "We won't give up on the Istanbul Convention. We are struggling for the effective implementation of these achievements, the Istanbul Convention. When the Istanbul Convention is implemented, it prevents violence and keeps women alive."
Hanim argued that because of the talk about withdrawing from the agreement, it has caused a spike in killings, citing her organization's data as well as the deaths of Pinar Gultekin in July 2020 and Emine Bulut in August 2019 as proof.
Bulut was stabbed in front of her daughter by her ex-husband on August 18, 2019 and was taken to a hospital following the attack where she subsequently died from her injuries. Her ex-husband was sentenced to life in prison following his arrest and, during the trial, said that he stabbed her because she had insulted him when she was talking about custody of their child.
Gultekin was a university student who disappeared on July 16, 2020 after leaving her house. Her body was found several days later. The man alleged to have killed her claims that he did it "in a moment of anger" after she rejected his advances for a relationship.
"It is not a coincidence that the number of femicides are increasing and the brutal killing of Pinar [Gultekin] [happened] while discussing the withdrawal from the Istanbul Convention," she stated. "Last year there was a discussion about the convention and the law numbered 6284. Immediately after that we lost Emine Bulut."
While politicians have posted condolence messages on social media following the death of Pinar Gultekin, these messages are "not enough" for many.
For those who support the agreement, they are concerned about the message that a government withdrawal might have for Turkish society. Activists believe that a withdrawal would signal that the government condones violence against women.
"It is clear that a withdrawal will weaken women's position within society and give power to the patriarchy," Hanim argued. "By withdrawing from a convention that aims to protect women's lives, men who use violence against women will think that the government stands behind them. In other words, the patriarchy is being endorsed."
Femicide rising
In July alone, 36 women were killed, and another 11 deaths being deemed suspicious. In June, there were 27 deaths and another 23 suspicious deaths. In May, 21 women were killed, and there were 18 suspicious deaths.
The global COVID-19 pandemic has also played a role in the increase in gender-based violence in Turkey. With women being forced to stay indoors for long periods of time, Hanim said that there has been an increase in women reaching out for help.
"We were in a state of emergency as a whole world and country due to the recent coronavirus pandemic," she explained. "Along with practices such as quarantine, isolation and working from home, women particularly faced more threats of domestic violence."
The recent spike in deaths has been a major driving factor in women protesting.
One of those calling for Turkey to remain a part of the Istanbul Convention is activist Zeynep Duygu Agbayir who expressed concern because "domestic violence and inequality are on the rise."
"The Istanbul Convention cannot leave," Agbayir stressed to Al-Arabiya English. "We will not allow it. Women are organized everywhere. Everything will be worse if they withdraw from the convention."
She added that she wants to see "the state to enforce laws" in order to better protect women.
Hanim agreed with this sentiment, saying that "right now, our fight is what is forcing the government to implement the Istanbul Convention."
Criticism of the convention
The convention is criticized as some say it is contrary to Turkish values and traditions. However, Hanim argues that this rings false and that it serves to empower women.
"The convention does not disrupt the social structure as it is said," Hanim argued. "It strengthens women and protects women's rights and [it is] based on gender equality. It exists to protect the victim of violence and to purify the woman from violence."
According to the AKP's Kurtulmush, two of the biggest problems that opponents of the convention have are how it addresses gender as well as sexual orientation. He argues that the LGBT community and other "marginal elements" have used the convention for their own benefits.
Despite this argument, proponents of the convention say that this is actually one of its strengths and that it is just conservative arms of Turkish society who believe this.
"The convention reminds [us] that discrimination cannot be made on the basis of gender, race, color, religion, language, political view, marital status, immigrant, refugee or any identity characteristics," Hanim said.
Needed solutions
To best protect women, Hanim says that not only does Turkey need to remain a part of the Istanbul Convention, but it and Law 6284 need to be fully implemented by the government. In addition to that, there needs to be widespread condemnation of violence against women by Turkish politicians.
"The main solution is to achieve gender equality and the political will is necessary for achieving the gender equality," she stated, "The President, and the leaders of all political parties should condemn violence against women. The Istanbul Convention and the protection Law 6284 should be efficiently implemented."
https://english.alarabiya.net/en/features/2020/08/19/Femicide-in-Turkey-on-the-rise-amid-debate-over-law-protecting-women.html
--------
URL: https://www.newageislam.com/islam-women-feminism/bahrain-prosecutes-woman-destroying-ganesha/d/122664
New Age Islam, Islam Online, Islamic Website, African Muslim News, Arab World News, South Asia News, Indian Muslim News, World Muslim News, Women in Islam, Islamic Feminism, Arab Women, Women In Arab, Islamophobia in America, Muslim Women in West, Islam Women and Feminism