New Age Islam News Bureau
25 Oct 2019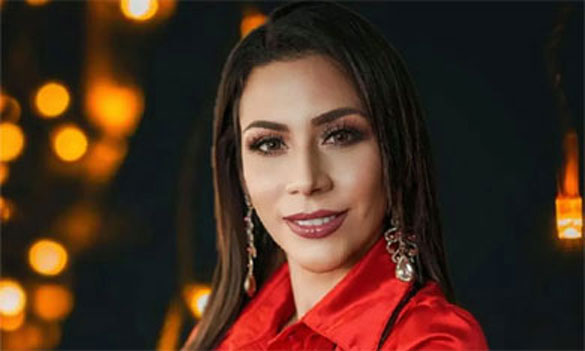 Bahareh Zare Bahari says she was accused of assault by an Iranian national in the Philippines Photograph: Bahareh Zare Bahari's Facebook page
------
• Bahareh Zare Bahari, Former Miss Iran Stranded in Philippines Airport, Pleads for Asylum
• Muslim Student Athlete Disqualified From Race for Wearing Hijab by the Ohio High School
• SC Seeks Centre's Response on Plea for Entry of Muslim Women in All Indian Mosques
• 'Women Are Powerful': Rowah and Amani Are Doing It For The Girls On 'The Amazing Race'
• Jordan Women's Soccer Team Halts Match So Opposing Player Can Fix Hijab
• Kate Middleton's Pretty Dresses Hugely Inspired Pakistani Women
• Pakistan's First Female Machine Learning Expert Aqsa Kausar Breaks Stereotypes
• What If Egyptian Women Had the Supernatural Power of Emitting Electricity?
Compiled by New Age Islam News Bureau
URL: https://www.newageislam.com/islam-women-feminism/bahareh-zare-bahari-former-miss/d/120089
--------
Bahareh Zare Bahari, Former Miss Iran Stranded in Philippines Airport, Pleads for Asylum
Fri 25 Oct
Bahareh Zare Bahari
Bahareh Zare Bahari says she was accused of assault by an Iranian national in the Philippines Photograph: Bahareh Zare Bahari's Facebook page
A former Miss Iran has spent a week in a Philippines airport as she fights to claim asylum in the south-east Asian country, saying she fears execution in Iran on politically motivated charges.
Bahareh Zare Bahari was accused of assault by an Iranian national in the Philippines, a charge she said was false, and made because she had showed support for Tehran's critics in the past. Iranian authorities put out a red notice about her to Interpol, resulting in her being held in Ninoy Aquino international airport in Manila when she tried to enter the country on 17 October.
She now fears Iran may seek to extradite her to Tehran then have her killed or jailed. She has shown support for activists opposing Iran's government in the past, notably at last year's Miss Intercontinental beauty pageant in Manila, at which she competed. At the event she waved a poster of Reza Pahlavi, an Iranian former crown prince who has criticised the Iranian regime.
"I used his photo in a beauty pageant and they are angry with me," she told Arab News. "If they deport me, they will give me at least 25 years in jail, if they do not kill me."
Bahari said she had studied studied dentistry in the Philippines since 2014, and had travelled in and out of the country before being stopped at the airport last week. "The Iran regime tried its best to deport me nine months ago, but I was successful," she told the Philippine Star. "Now, they make a fake case in Iran."
Phil Robertson at Human Rights Watch said: "While waiting for the details to become clear, there should be no action under Iran's Interpol red notice, especially since under Interpol rules a red notice is null and void if the person named in the notice is found to be a refugee fleeing from the state that issued it."
A spokesperson for the Philippines' justice department said Bahari's asylum application would be processed in "due time".
https://www.theguardian.com/world/2019/oct/25/former-miss-iran-stranded-in-philippines-airport-pleads-for-asylum
-------
Muslim Student Athlete Disqualified From Race for Wearing Hijab by the Ohio High School
By Liam Stack
Oct. 24, 2019
Noor Alexandria Abukaram has played three high school sports since she began wearing a Hijab in 2016. But she said that it was not until last weekend — after her seventh cross-country race of the season — that she learned she wasn't allowed to run in her head scarf without special permission.
The decision by the Ohio High School Athletic Association official to disqualify Ms. Abukaram, 16, last Saturday was met with outrage on Thursday, one day after she wrote about the episode on Facebook. In an interview, she said, "It was like a nightmare came true."
"We just found out we were going to make regionals and we were ecstatic, my whole team, so we went over to check our placing in the race," Ms. Abukaram said in an interview on Thursday. "I went out to where they put the papers up, but my name wasn't there."
Ms. Abukaram said that part of her had always worried that an official might give her trouble for her Hijab during uniform inspection before a race, when athletes are sometimes told to change into clothes that correspond more closely to regulations.
One of her teammates was told to change her shorts on Saturday, but Ms. Abukaram said the official passed her by without a word. It was only after the race that her teammates told her she had been disqualified. They learned about the decision while Ms. Abukaram was still running, she said.
"I was totally humiliated," she said. "I felt like a clown. I am running this race and I have been disqualified and everyone knows it except for me."
She said that her coach apologized and said he had not applied for a waiver that would have allowed her to participate in a Hijab at the district-level meet, where officials were known to be sticklers for the rules. The head scarf is considered a uniform violation.
"When he told me that, I was like, what do you mean I have to have a signed waiver for me to race?" she said. "They don't have to prepare anything special for me, I don't have any disabilities, I am just running just like anybody else. When he said that, I didn't think, 'Oh, Coach, why didn't you do this?' I thought, 'Why do we even have to do this in the first place?'"
Tim Stried, a spokesman for the Ohio High School Athletic Association, defended the official's decision on Saturday as a matter of simply enforcing the rules.
He said cross-country runners were allowed to compete in "religious headwear" only after they received a waiver allowing them to bend the association's uniform regulations.
"The official was simply enforcing this rule since a waiver had not been submitted," Mr. Stried said. "After the race, the O.H.S.A.A. communicated with the school, which then submitted a waiver request. The request was approved immediately, which will permit the student-athlete to compete this weekend at regional competition."
Mr. Stried also said the association was also "looking at this specific uniform regulation to potentially modify it in the future, so that religious headwear does not require a waiver."
Ms. Abukaram, who is Muslim, attends a private Islamic school in Sylvania, Ohio, but plays sports for the local public school, Northview High School. The Sylvania school district did not immediately respond to a message seeking comment on Thursday.
Before Saturday, Ms. Abukaram said, she had already run six cross-country races this season, and also played soccer and ran track for two years in a Hijab without a problem. When she runs, she said, she wears a long-sleeved shirt, long leggings and a Nike sports Hijab.
"It is the same Hijab that Ibtihaj Muhammad wore in the Olympics and won a bronze medal wearing," Ms. Abukaram said, referring to a member of the United States fencing team who competed at the 2016 Summer Olympics. "It is very official."
In an interview, Ms. Abukaram's mother, Yolanda Melendez, said she paid close attention to the association rules because she has two daughters who wear Hijabs and run cross-country for Northview High School.
She said that she had never seen a rule that barred students from wearing Hijab and had not previously run into a problem with either daughter.
"As a parent it was gut-wrenching," Ms. Melendez said. "You never want anybody to take anything away from your child. She earned her place on that team and she earned her place in that race and they do not have the right to take that away."
Ms. Abukaram and her family were not alone in their outrage. On Thursday, Senator Elizabeth Warren of Massachusetts, a Democratic presidential candidates, expressed her support for Ms. Abukaram on Twitter and criticized "discriminatory dress codes" that exclude religious minorities.
"I've got your back, Noor," Ms. Warren wrote. "Every kid should be able to feel safe and welcome at school — and Muslim students should never be denied participation in school activities."
Aimee Ortiz contributed reporting.
Liam Stack is a general assignment reporter. He was previously a political reporter based in New York and a Middle East correspondent based in Cairo. @liamstack
https://www.nytimes.com/2019/10/24/us/Ohio-Hijab-runner.html
--------
SC Seeks Centre's Response on Plea for Entry of Muslim Women in All Indian Mosques
October 25, 2019
New Delhi: The Supreme Court on Friday sought response of the Centre on a PIL seeking entry of Muslim women in all mosques of the country.
A bench comprising Chief Justice Ranjan Gogoi and justices S A Bobde and S A Nazeer issued notice to the union ministry of law and justice and Minority Affairs on the plea seeking entry of women in mosques.
The plea was filed by one Yasmeen Zuber Ahmad Peerzade for issuance of direction to government authorities and Muslim bodies like Wakf Board to allow women into mosques on grounds that denial amounted to violation of various fundamental rights.
https://www.news18.com/news/india/sc-seeks-centres-response-on-plea-for-entry-of-muslim-women-in-all-indian-mosques-2362027.html
--------
'Women Are Powerful': Rowah And Amani Are Doing It For The Girls On 'The Amazing Race'
Jessica Lynch
25 Oct 2019
Muslim mother and daughter duo Rowah and Amani are joining 'The Amazing Race' to break stereotypes and prove that all women -- no matter what religion or race -- can do anything they put their mind to.
Boss lady Rowah, 42, owns three gyms and works tirelessly within her community to give back to those less fortunate while Amani, 18, is studying a Bachelor of Fashion, and together this unstoppable duo is hoping their experience on 'The Amazing Race Australia' will empower other women and break stereotypes about their religion.
"We are really hoping to empower women -- and not just our fellow Muslim women -- but women in general," Rowah began, "I want to encourage them to get out of their comfort zone and just do something different while you are still capable."
Amani added, "You've just got to get out there and do it. I never would have thought I was capable of doing all that stuff that I did."
She continued, "I surprised myself, to be honest, I think we both did -- I'm really proud of us."
Rowah agreed, adding, "I think women are powerful in themselves just being women.
The tough twosome believes that their advantage against the other teams in 'The Amazing Race' lies in both their physical fitness as well as the fact that they are family, and therefore used to being in a variety of situations together with their contrasting personalities.
"I think we balance each other out," Amani said, adding, "I'm relaxed and calm while mums a bit more like 'hurry up!' so it kind of balances out."
She continued, "I knew how mum worked at that stage and what got her stressed, so I'd just let her have a little tantrum and come back once she'd calmed down.
"She's my mum at the end of the day, so you can get over it, we don't hold grudges and would move on and go to the next thing".
https://10daily.com.au/entertainment/tv/a191017oisdy/women-are-powerful-rowah-and-amani-are-doing-it-for-the-girls-on-the-amazing-race-20191025
--------
Jordan women's soccer team halts match so opposing player can fix Hijab
October 25, 2019
Sportsmanship at its best was on display on a soccer field in Jordan earlier this month when a team temporarily halted a match to allow an opposing player to fix her Hijab.
Arab Orthodox Club was playing against Shabab al-Ordon Club earlier this month at the WAFF Women's Club Championship when one of the players found her Hijab slipping off her head, Indian Express reported.
Rather than use the incident to their advantage, members of Shabab al-Ordon stopped playing and quickly gathered around her to protect her head from being seen while she fixed it.
A video from the game was shared online and has since gone viral.
When a soccer player's Hijab started falling off to reveal her hair, her opponents gathered around to provide cover while she fixed it. (via @JordanFA)
Opponents huddle up around a Hijabi footballer in order to protect her from showing her hair.
Others praised the players' actions, with some calling it "the most wholesome thing" people will see.
What an amazing display of cultural awareness within a competitive setting. These players instantly shifted their minds from trying to win a game to an inclusive mindset to help an opponent for something bigger than the game. Beautiful!
Having respect for someone else's customs and beliefs even if they aren't your own. We definitely need more of this in the world today.
What I loved most was that they didn't even hesitate for a single second—they sensed she was in distress and went straight for her. It was natural, instinctual. May we all listen and be aware with our hearts as well as our eyes and ears!
Author Glennon Doyle, who is married to former US soccer star Abby Wambach, also shared the video saying: "This is our mood today. When one of us needs us: We stop. We huddle up. We protect each other."
When this player's Hijab started falling off to reveal her hair, her opponents gathered around to provide cover while she fixed it.
Shabab al-Ordon Club went on to beat Arab Orthodox 10-1 and seal the inaugural title of the WAFF Women's Club Championship.
Hijabs are head coverings traditionally worn by some Muslim women. In Jordan, there are no laws requiring the wearing of headscarves nor any banning them from any public institution.
FIFA overturned a ban on wearing Hijabs in 2014. The first major FIFA tournament where Hijabs were allowed was the 2016 Under-17 Women's World Cup, which was incidentally hosted by Jordan.
https://www.foxnews.com/sports/jordabn-women-soccer-Hijab-player
--------
Kate Middleton's pretty dresses hugely inspired Pakistani women
October 25, 2019
Islamabad: The Duchess of Cambridge Kate Middleton during the recent Royal tour of Pakistan from October 14 to 18 attired very elegant traditional Pakistani outfits which made huge impact on Pakistani women.
Her dresses simple, classic and elegant portrayed the message that fashion can also be an effective tool of diplomacy.
The Duke and Duchess of Cambridge, Prince Willliam and Kate Middleton, met with Prime Minister Imran Khan, school children, cancer patients, played cricket, visited different places. On every occasion Kate has made a meaningful recognition through clothing choices.
Her attires were not simply traditional shalwar kameez but had variations in all their details for the different levels of formalities during the week.
For instance , during their visit to Pakistan monument the duchess wore glittering green dress truely matching her personality thus leaving the beholders spell bound as she stepped out of the auto rickshaw along with Prince William who was attired in a traditional sherwani suit for the event.
Further she wore a cream Gul Ahmed shalwar kameez and Maheem Khan shawl during a surprise visit to SOS village at a birthday party.
Kate also wore beautiful shalwar kameez twice by Maheen Khan during the trip, one in cornflower blue for a visit to a girl's school and another embroidered teal style to visit Badshahi Mosque and the Shaukat Khanum Memorial Cancer Hospital.
The duchess of Cambridge exuded vibrance during their visit to Chitral when she wore a Chitrali hat and traditional shawl. She looked gorgeous in vibrant green Maheen Khan look which features a headscarf with gold detailing. She wore it while visiting Badshahi Mosque which was the same mosque that the late Princess Diana visited back in 1991. The 37-year-old Duchess of Cambridge looked stunning wherever she went.
On Social Media the duchess of Cambridge won great admiration. A boutique owner, Sidra Asad while talking to APP said, on almost every occasion, the duchess had chosen a stunning Pakistani wear and vowed onlookers each time she came out in public. She wore different variations of traditional Pakistani outfits showing bright national symbols and seemed ecstatic, she added.
Kate had portrayed the best of Pakistani fashion, she said adding, every dress she chose to don was truly stunning.
Kate repeated the history choosing to wear Catherine Walker as Pincess Diana had done and wearing traditional clothing as Diana. It has been, by all accounts, a successful five-day visit.
https://gulfnews.com/world/asia/pakistan/kate-middletons-pretty-dresses-hugely-inspired-pakistani-women-1.1571995233715
--------
Pakistan's first female machine learning expert Aqsa Kausar breaks Stereotypes
OCTOBER 25, 2019
Aqsa, An engineering graduate from the National University of Sciences & Technology (NUST) broke all stereotypes regarding Women and technology.
Machine Learning is the use of Artificial Intelligence that encourages the PC framework to anticipate the result and make a move that is required without being explicitly programmed.
Aqsa Kausar has become Pakistan's first female Google Developer Expert in Machine Learning.
Aqsa got a Bachelor's degree in Electrical Engineering from NUST with a CGPA of 3.79. She has just become well known at such a youthful age by contributing immeasurably in the field of Machine Learning. There are a lot of awards to her name for organizing various workshops in different events like Google DevFest 2018 and Google Cloud Next Extended 2019 which occurred in the capital of Pakistan, Islamabad. In addition, in the relatively recent past, she also participated in Google's Machine Learning Train-The-Trainer session which was held in Singapore.
Image result for google machine learning expert s
At present, Aqsa is working with a Software organization, Red Buffer as a AI developer.
She showered plenty of praise for the company's CEO who proved to be of great help for Aqsa. During her spare time, she writes blogs for an online publishing platform.
As per Aqsa Kausar, there is exponential potential in this very field. What's more, she encourages the young people of Pakistan – ladies particularly – to find out about this field since it offers promising future.
She maintained, "I believe more women should step forward and make use of this amazing opportunity. Not just for their personal growth and networking, but also to widen the culture of knowledge sharing in Pakistan."
https://dailytimes.com.pk/489380/pakistans-first-female-machine-learning-expert-aqsa-kausar-breaks-stereotypes/
--------
What If Egyptian Women Had the Supernatural Power of Emitting Electricity?
SARA AHMED
OCTOBER 21, 2019
The wonderful aspect about science fiction books is that they toy with our perception of reality and fiction. The lines between both confuse lazily and realistically when we immerse ourselves in great works of science fiction and fantasy. One such book, a frightening and yet intriguing literary work, is the Power by Naomi Alderman.
Hailing praise from the mistress of science fiction herself, Margaret Atwood, Alderman's book presents us with a simple concept: what if women woke up one day with the natural capacity of electrocuting, much like electric eels?
Alderman's novel tells a story within a story: a male author submits his manuscript to a female author almost 5,000 years after the 'power' emerges and turns the world into a matriarchy.
In his manuscript, he imagines, through the story of five main characters, the chaos and the tumultuous social and political changes which occur once women develop the power to emit electricity from their hand through the activation of a main, fictional muscle.
Alderman describes "Margot reads a report from a team in Delhi who are the first to discover the strip of striated muscle across girl's collarbones which they name the organ of electricity, or the skin, for its twisted strands. At the point of the collar are electro-receptors enabling, they theorize, a form of electric location. The buds of the skein have been observed using MRI scans in the collarbones of newborn infant girls."
Slowly but surely, the women use this power to defend themselves first and then to torture, kill, and mobilize armies into creating the first ever modern 'female' country.
Social structures, as we know them, cease to exist. Gradually, women retain all political and physical powers while men become docile, apprehensive and at a loss as to how to navigate a female-led world.
"Men are no longer permitted to drive cars. Men are no longer permitted to own businesses. Foreign journalists and photographers must be employed by a woman. Men are no longer permitted to gather together, even in the home, in groups larger than three, without a woman present. Men are no longer permitted to vote – because their years of violence and degradation have shown that they are not fit to rule or govern," Alderman imagines.
In this world: women become sole presidents and queens; they form guerillas and armies, God changes gender, and women, most importantly, teach other women how to harness their kills thus ensuring power transmission to younger and older generations.
So, in tandem with the scenes in Saudi Arabia where the women rebel and demonstrate, flipping patriarchal society upside down, how would things be different in Egypt?
Perhaps, things would change on an everyday basis and women would finally get the justice they deserve by electrocuting their male harassers in the streets instead of waiting for the failing judicial system to aid them.
Perhaps mothers would be able to protect their daughters from unwarranted clitorectomies and circumcisions.
Perhaps, the 'skein' – the fictious organ from which this natural power emerges from in the book – would finally become more important than the hymen, which families equate with honor, in Egypt.
Perhaps wives would be able to stand up to their husbands at home and protect themselves from rampant domestic abuse and marital rape with steady pulses of electricity rather than be shunned by their own families and by an unmerciful victim blaming culture that exists here.
Perhaps, once and for all, women would be able to assert themselves and go work despite criticism from brothers, fathers and husbands.
Perhaps Egypt's long history would be finally revised and women would get more recognition in school curriculums.
Perhaps the entire society would change in Egypt. Afterall, what would keep women from acquiring more seats in Parliament? More positions in the government – perhaps even running for office? What would stop young budding adults from living on their own, or from staying in hotels, alone? What would stop them from electrocuting unwarranted physical contact, and keep doctors who conduct virginity tests during protests, at bay?
One can only imagine that Egyptian women would acquire a tremendous amount of power. It wouldn't be long before the fatwas would roll about how using the 'skein' is haram (religiously forbidden), and men would lash out.
One can safely also assume, like in the book, that gradually, some women would exercise pent up feelings of revenge by harassing, raping and exploiting men.
Worst of all, and based on an already existing reality of internalized misogyny on the ground, it wouldn't be long before Egyptian women turned on each other. Afterall, how many of us have heard 'what was she wearing?' from a woman before a man?
These are but mere musings based on imagination. The obvious reality is that women do not, nor will ever one day awaken to discover that they can electrocute anything or anyone.
Alderman conjures explicit scenes of violence and rape inflicted against men to show the reader the level of violence women are capable of, and in doing so, she reminds us all too well that this fictional atrocity against men is an everyday reality for women.
The stories of massacres and rapes of men in 'The Power' reflect the continuous reality of violence against women that we all already know but have chosen to forget due to its prevalent banality; it represents the victim of rape mobs in Tahrir square, the honour killing of Israa Ghayyeb, the comfort women of Nanjing, the political refugees of the Democratic Republic of Congo, the female Jews of Auschwitz, the stoned 'sinners' of Afghanistan, the gang-raped in India and Pakistan, the acid-victims of Colombia, the breast-ironed of Cameron, the forcibly sterilized of Peru, the burnt witches of Salem, the kidnapped in Kyrgyzstan, the trafficked in Thailand and Moldova, and a myriad of other surviving and non-surviving women victims it would take me a lifetime to list.
Critics were correct in qualifying the book as 'terrifying'. It is, but only because of the message it delivers and the already existing reality it conveys.
https://egyptianstreets.com/2019/10/21/what-if-egyptian-women-had-the-supernatural-power-of-emitting-electricity/
--------
URL: https://www.newageislam.com/islam-women-feminism/bahareh-zare-bahari-former-miss/d/120089
New Age Islam, Islam Online, Islamic Website, African Muslim News, Arab World News, South Asia News, Indian Muslim News, World Muslim News, Women in Islam, Islamic Feminism, Arab Women, Women In Arab, Islamophobia in America, Muslim Women in West, Islam Women and Feminism