New Age Islam News Bureau
9 Sept 2012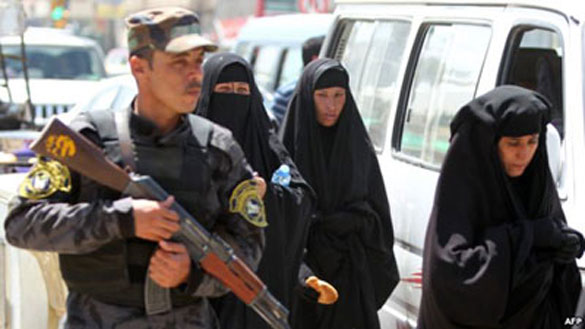 • Baghdad Neighbourhood Imposes Strict Dress Code On Women
• Pakistan Blasphemy Girl In Dramatic Prison Release By Helicopter
• Muslim Brotherhood Lifts Hijab Ban In Egypt State Tv: This Is More Than A Religious Issue
• Alps Shootings: Zainab, Seven-Year-Old Girl Brought Out Of Coma
• Women Police In Muslim World
• In Egypt, A Backlash Against Women Harassment
• Protesters Stay Away From Women's Show In New Zealand
• Turkey's Female Athletes, Like Women Nationwide, Reap Rewards
• Girls in Pakistan Outdo Boys In Intermediate Examination
Compiled by New Age Islam News Bureau
Photo: A police officer stands guard as Shi'ite Muslim women walk to the Kadhimiyah
URL: https://newageislam.com/islam-women-feminism/baghdad-neighbourhood-imposes-strict-dress/d/8617
---------
Baghdad Neighbourhood Imposes Strict Dress Code On Women
By Charles Recknagel, Moyad al-Haidari
September 09, 2012
There used to be two dress codes for women in Baghdad's predominantly Shi'ite neighborhood of Kadhimiya.
On the street, women were free to wear what they wanted in the busy market square -- a market that attracts people from all across the capital.
Only if they decided to enter the shrine complex behind the market, did stricter codes apply. Then they were required to wear hijab -- full Islamic dress including the shoulder-to-toe gown known as the "abaya" along with the hijab, or head scarf, itself.
Now, things have changed. Vigilantes patrol the major avenues outside the shrine to demand that any women in the area are in full compliance.
Nawf al-Falahi, a women's activist, says one of her acquaintances living in the neighbourhood was recently stopped by the self-appointed morality police.
"She and her husband were stopped at a checkpoint at the edge of Kadhimiya. The men around the checkpoint refused to let her pass. They ordered her to go back home and get a shawl to put over her head and shoulders," al-Falahi says.
"Now she keeps a shawl in her handbag and wears it to go in and out of her own neighbourhood safely."
Men, too, are targeted by the tighter dress codes. They can no longer wear shorts or tight tops in public, and must have loose trousers and shirts.
Who is behind the strict clothes policy remains a mystery.
The Interior Ministry denies any connection with the policy but also has done nothing to stop the men in the neighbourhood who harass women. The practice itself is in line with a trend in Shi'ite shrine cities, like Najaf and Karbala, to impose stricter observance of Islamic dress codes.
Pressure from Religious Parties
The change in Kadhimiya divides the district's residents into two camps.
Judi, who owns a shop selling fabrics and dresses in the market, opposes the crackdown.
"We storeowners in Kadhimiya think this policy will prevent customers from coming to the market, with its gold shops, clothes shops, and other places. So I ask those responsible to rethink this. I agree that women should wear hijab inside the shrine, but not on the street," Judi says.
But those who favour the tighter dress code say it shows appropriate respect for the whole neighbourhood as a shrine area. One female resident, Rajaa, says that "if women come to this religious place, they must respect it."
"They should wear modest clothing without excessive makeup. If I go to a park, or a garden, or a marriage party, is it sensible that I wear the same dress as when I go to a religious city?" Rajaa says.
​​As the debate over the dress code rages in Kadhimiya, some observers see it as part of a larger question.
That is, whether the boundaries between pious behavior and civic freedom in Iraq are becoming increasingly blurred under the pressure of the religious parties that dominate the government.
Hanaa Edwar, a human rights activist and chairwoman of the Baghdad-based nongovernmental organization Iraqi Amal Association, says that "this decision about the hijab is part of steps by the government and parliament to build a religious state. The Iraqi Constitution calls for a civil state, not a religious state."
Among steps that worry civil rights advocates are moves by the Interior Ministry to increase ties to Iraq's Shi'ite religious establishment.
Sheikh Muhammad al-Mansur, a senior cleric in Baghdad, told RFE/RL's Radio Free Iraq that the closer ties include adding a Religious Affairs Department within the ministry.
"There is a department in the Interior Ministry especially for religious matters and the members range in rank from policeman to general," al-Mansur says.
"They come to work in Islamic dress, with black or white turbans [ Editor's note: black turbans signify the wearer's family is directly descended from Prophet Muhammad]. Some of my own students are among them."
Just how the new department will define its functions remains to be seen.
But activists say they have good reason to watch closely. Neighboring Iran's morality police sprang from the same model. And their powers range from enforcing dress codes to arresting unmarried couples walking in public.
Written by RFE/RL correspondent Charles Recknagel, based on reporting by Radio Free Iraq's Moyad al-Haidari and Samira Ali Mandi.
http://www.rferl.org/content/baghdad-neighborhood-imposes-strict-dress-code-on-women/24702541.html
--------
Pakistan Blasphemy Girl In Dramatic Prison Release By Helicopter
Sep 8, 2012,
A Pakistani military helicopter plucked a young Christian girl accused of blasphemy from a prison yard on Saturday and flew her to a secret location after she was granted bail.
Live broadcasts showed heavily-armed police surrounding Rimsha Masih, believed to be no older than 14, covering her face with a green scarf as she walked to the helicopter. A judge granted Masih bail on Friday and her lawyers are applying to have charges that she burned pages from the Koran dismissed after a local cleric was detained on suspicion of planting false evidence to stir resentment against Christians.
Even before that arrest, Masih's case provoked international concern as she could face execution under Pakistan's blasphemy law despite her young age and reported mental problems. The dramatic nature of Masih's release underlined the fear for her life. The lawyer prosecuting her suggested she could be lynched if found not guilty. Blasphemy charges are frequently followed by deadly riots against minority communities.
Despite international condemnation, the blasphemy law still enjoys widespread support among ordinary Pakistanis. Two high-ranking government officials who had suggested its reform were shot dead, one by his own bodyguard.
Lawyers threw rose petals at that killer and the judge who convicted him was forced to flee the country. The number of cases brought under the law is rising rapidly and rights groups fear it is mostly being used to settle personal vendettas.
Since 1987, there have been almost 250 blasphemy cases, according to Pakistani thinktank the Center for Research and Security Studies. It said 52 people had been killed after being accused of blasphemy since 1990.
(Reporting By Katharine Houreld; Editing by Robin Pomeroy)
http://www.dnaindia.com/world/report_pakistan-blasphemy-girl-in-dramatic-prison-release-by-helicopter_1738567
---------
Muslim Brotherhood Lifts Hijab Ban In Egypt State TV: This Is More Than A Religious Issue
Lena Kheir
Egypt 09 09 2012, On Sunday, a female news anchor wore a headscarf for the first time on camera in Egyptian state television history. This comes after the country's information minister Salah Abdel Maksoud announced that the informal ban on news presenters wearing the traditional hijab would be lifted in state-owned media outlets.
There were two reactions to Fatima Nabil's decision to appear on television with the hijab. People either praised President Mohammed Morsi's administration for going against the old regime's policies, and allowing religious freedom in the workplace, or they criticized the administration for forcing religion on Egyptians through the media channels.
Hosni Mubarak, who was ousted from the presidential seat last year, kept a firm grip on his main opposition party, the Muslim Brotherhood. The party was forbidden from holding office under Mubarak, because it was seen as challenging the authoritarian rule. By forbidding religious symbols in his government, Mubarak and his regime were silencing what was seen as the strongest threat to the dictatorial regime. The hijab was seen as a symbol of political Islam that threatened the government's oppression of its people.
The hijab represents more than religious observance in Egypt. It represents female empowerment, culture, and fashion: all elements making up an identity. For an Egyptian journalist like Nabil, wearing the hijab is second nature, and shouldn't be viewed unilaterally as allegiance to the ruling Muslim Brotherhood. 90% of Egyptian women wear some kind of head covering.
Lifting the informal ban represents a new order, where women have more opportunities in the workplace. That said, I am not expressing my support for President Morsi's administration, owing to the fact that the government continues to censor negative criticism in the media, and political prisoners incarcerated in the Mubarak era are yet to be freed. The unspoken ban on the hijab should never have been in place, so the new policy is a great achievement for Egyptian women and for civil liberties in general.
In 2002, Hala El Makli and Ghada El Tawil, two news presenters on an Egyptian state-run TV station started wearing the hijab to work, but were excluded from appearing on camera. The two women took their case to court two separate times, but the station still refused them employment. They made the case that it was their personal right to wear the hijab in a country in which a majority of women wear the headscarf anyway. Between the 2003 and 2007, about 30 women were refused on-screen jobs in state media because of their hijabs in Egypt.
Since April of 2011, it has been illegal to wear a face veil in France, and it's not the only European country to do so. Belgium, Germany, and the Netherlands are debating allowing Islamic garb in public. In Turkey, it is illegal to wear a headscarf in government buildings, including courthouses, and libraries. The Tunisian ban on the hijab was lifted following the revolution that overthrew the old government.
In a 2009 speech in Cairo, President Barack Obama stressed the importance of cultural tolerance.
"It is important for Western countries to avoid impeding Muslim citizens from practicing religion as they see fit – for instance, by dictating what clothes a Muslim woman should wear," he said. "We cannot disguise hostility towards any religion behind the pretense of liberalism."
To those who believe that Islamism is replacing Mubarak's regime, I respectfully urge you to study cultural revolutions in Egyptian history. The Egyptians will not mindlessly abide by the rule of a particular group. We Egyptian women are, after all, freethinking individuals who participated in overthrowing a three-decade old regime, and implying that we are otherwise is a testament to your ignorance of our culture and religion.
Now that Nabil is fully capable of choosing to do her job with or without a hijab, I expect her to be a role model for other women. State-owned media employees will no longer face oppressive workplace rules that violate personal freedoms — a symbol of progress in Egypt.
http://www.policymic.com/articles/14425/muslim-brotherhood-lifts-hijab-ban-in-egypt-state-tv-this-is-more-than-a-religious-issue
--------
Alps Shootings: Zainab, Seven-Year-Old Girl Brought Out Of Coma
9 September 2012
A seven-year-old girl shot and injured in an attack in the French Alps which left her parents dead has been brought out of a coma.
French prosecutor Eric Maillaud said Zainab al-Hilli, from Surrey, is still under sedation and will not be able to be questioned for several more days.
But police hope she will will eventually be able provide more information about the shootings.
Mr Maillaud said her four-year-old sister Zeena has returned to the UK.
Zeena lay undiscovered for eight hours after her parents, a woman thought to be her grandmother and a local cyclist died in Wednesday's attack in Chevaline.
On Saturday, Mr Maillaud told reporters Zeena had been interviewed, but he did not see a need to speak to her again as she "did not see anything".
Two of her relatives had travelled to France with a British social worker and police family liaison officers after the shooting.
http://www.bbc.co.uk/news/uk-19534578
-------
Women Police in Muslim world
Muhammad Uzair Niazi, September 09, 2012
The concept of policing is not new to the Muslim world, but it is deeply rooted in history. At present the Muslim world is flourishing with positive developments in the policing department. Women in most of the Islamic countries are welcomed to join the police department, hence strengthening the concept of women policing properly. Most of the Islamic countries have adopted a gender friendly approach in order to address the mounting trends of extremism, as this strategy will help in a better momentum of law enforcement mechanism.
The United Nations is also trying to increase the overall recruitment of women police up to 20% by 2014. The induction of more women in police is a healthy reform in the whole Islamic world, as our societies are in a need of this friendly approach. Women policing in the Muslim world is working on the patterns to serve their society in a better way, and are excelling with the flying colours. These developments can work as a beacon of hope for other Muslim countries, which are still lacking behind in formulating such policies. To trigger change in a society, it is important to utilize the skills of both the men and the women, in order to achieve societal goals.
Police department of Pakistan is a major representative in the Muslim world policing network. Sincere efforts are being made to improve the overall structure of police department. Many educated women are now joining police department, and are portraying a positive picture of Pakistan worldwide. The induction of women in police has helped in generating a stabilizing response in the society, and has paved the way for others to join police. At present many women from police department are the vibrant role models for our young educated girls. Pakistan is facing many challenges, so it is important to expand the gender friendly approach for coping these problems. According to a latest report the crimes against the women have increased by 7% this year, so it is important to counter these crimes by developing the police department on a gender friendly approach. This practice will help the overall police department, as both the men and women will join together to solve different societal problems.
http://pakobserver.net/detailnews.asp?id=173003
-------
In Egypt, a Backlash against Women Harassment
MICHAEL BIRNBAUM
CAIRO, SEPTEMBER 8, 2012, The 19-year-old deliveryman on the motorcycle slowed down as he approached her, Dina Emad said, then groped her as he swerved around her on the crowded Cairo street corner.
It was just another instance of what many people in Egypt say is a growing problem: harassment and assaults that range from ever-present catcalls to much more brutal incidents. But more people are trying to do something about the issue, discussion of which has long been taboo in this conservative Muslim society.
Some Egyptians worry that reporting assaults could hurt their marriageability in a county where most women cover their hair to protect their modesty. Emad, 22, is one of just a few women in Egypt who have pursued harassment charges against an assailant, a process that requires a lengthy investigation and several courtroom appearances.
When the groping occurred earlier this summer, she said, many bystanders at the scene urged her to let the man go, she said. But Emad said that if she didn't do anything, the problem would only get worse.
"I have a real problem with girls not speaking up," Emad said. "It's not something that they should be ashamed of. It's something they should be angry about."
Bringing it into the open hadn't been easy, she said. "I'm single, so I was worried that it would be a black mark for when I get married," she said.
Full Report at:
http://www.northjersey.com/news/international/169029456_In_Egypt__a_Backlash_Against_Harassment.html?page=all
-------
Protesters Stay Away From Women's Show In New Zealand
By Hana Garrett-Walker
Sep 9, 2012
Security was beefed up at the opening of a controversial women-only art exhibition yesterday.
Despite the added personnel, protesters failed to turn out at the Lower Hutt Dowse Gallery opening.
Cinderazahd: For Your Eyes Only by Qatar artist Sophia Al-Maria has attracted huge criticism for being for women-only.
The exhibition features a video clip shot on a handcam over-the-shoulder of a group of Muslim women and children getting glammed up for a wedding event.
The footage - which men are banned from watching - shows children running around as older women put glitter on their skin and in their hair and get sewn into their colourful dresses.
Laughter is often heard between the women, including one who jokes when another cannot open the door.
One is heard to say: "Turn around you donkey".
The three-minute clip, which shows Muslim women getting ready for a ball without their veils on, created a stir when it was revealed that the artist's wish was that no males viewed it and the Dowse would follow those wishes.
One man complained to the Human Rights Commission but, after mediation last week, he said he would not try to attend the exhibition.
Dowse spokeswoman Rachel Healy said while a steady stream of women looked at the video there were no problems.
Dowse director Cam McCracken said he had never watched the video but it was important in demystifying various beliefs about Islam.
"We respect people's views but we hope that by doing this we may actually change a few minds."
- APNZ
By Hana Garrett-Walker | Email Hana
http://www.nzherald.co.nz/nz/news/article.cfm?c_id=1&objectid=10832667
------
Turkey's Female Athletes, Like Women Nationwide, Reap Rewards
By KAREN LEIGH
BODRUM, Turkey, September 8, 2012, The gifts started pouring in for Asli Cakir Alptekin almost as soon as she sprinted across the finish line at London's Olympic Stadium on Aug. 10, becoming Turkey's first female track and field gold medalist.
There were sponsorship offers from Garanti Bank, Turkey's largest national bank, and mobile carrier Turkcell. (She and other members of the Turkish delegation already had pre-Olympic sponsorships from Nike.)
There were apartments from the construction giant Agaoglu and from Uskudar, the Istanbul club where she trains. There was the $55,000 that she and Gamze Bulut, the silver medalist in the same 1,500-meter race, were given by Eti, a candy company in Turkey that is the equivalent of Nestle.
But those gifts and sponsorships were small compared with the $1 million worth of gold bars that Cakir Alptekin, 27, received from the delighted Turkish government (with $66,000 for Bulut).
Prime Minister Recep Tayyip Erdogan, who called Cakir Alptekin's cellphone to congratulate her minutes after she stepped off the track in London, invited her for a private meeting, "something he's never done, not with any other athlete from any sport," said Ipek Altun, her manager at Istanbul-based Asset Sports.
Full Report at:
http://www.nytimes.com/2012/09/09/sports/olympics/in-turkey-female-athletes-have-come-a-long-way.html?_r=0
-------
Girls in Pakistan Outdo Boys In Intermediate Examination
By Arsalan Haider
LAHORE: September 09, 2012, The Board of Intermediate and Secondary Education (BISE) on Saturday announced intermediate results with girls outshining boys in different groups.
A total of 151,646 candidates appeared in the examination, out of which 86,213 passed with the passing percentage being 56.85 percent.
Prize distribution ceremony was held at Alhamra Hall in which Pakistan Muslim League- Nawaz (PML-N) leader Hamza Shahbaz was chief guest. BISE Chairman Nasrullah Virk announced the result.
Amina Riaz of the Punjab College secured overall first position by obtaining 1,029 marks.
Muhammad Umer of the Government College University (GCU) and Zabreen Tahir of the Kinnaird College for Women (KCW) shared second position with 1,028 marks and Fatima Khurshid of the Punjab College stood third with 1,027 marks.
The top position holder was awarded a gold medal, laptop and Rs 20,000, whereas second and third position holders were awarded Rs 15,000 and Rs 10,000 along with silver and bronze medals, respectively.
Full Report at:
http://www.dailytimes.com.pk/default.asp?page=2012%5C09%5C09%5Cstory_9-9-2012_pg13_1
--------
URL: https://newageislam.com/islam-women-feminism/baghdad-neighbourhood-imposes-strict-dress/d/8617