New Age Islam News Bureau
16 Aug 2014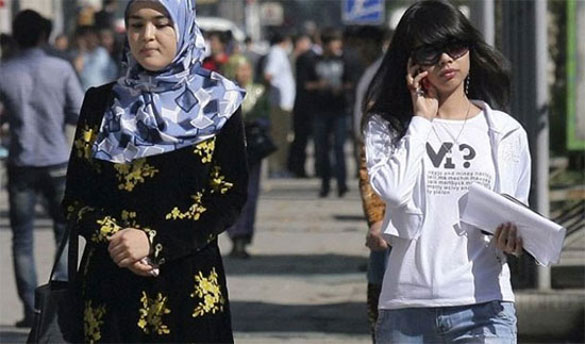 Russian Police Checking IDs of Muslim Women
-----------
• Russian Police Checking IDs of Muslim Women in Crimea
• Kurdish Women in Turkey Move Away From Independence
• Iraqi Women Take up Arms against ISIL Terrorists
• Nigeria: In the Chibok Girls Search, Boko Haram Is Winning the Media War
• Stiffer Penalties Fail to Deter Domestic Violence in Malawi
• Despite Health Risks, Many Saudis Continue To Prefer Consanguineous Marriages
• New Saudi Ban on Marriage to Foreigners Stirs Controversy
• Iran's Government Is Worried that Its People Are Having the Wrong Kind of Sex
• Arab Man, Jewish-Born Bride Hire Security Guards For Wedding In Israel
• Steep Odds against Ghana's Female Footballers
Compiled by New Age Islam News Bureau
URL: https://www.newageislam.com/islam,-women-and-feminism/new-age-islam-news-bureau/'back-to-school'-hijabs-on-sale-in-british-department-store/d/98591
-----------
'Back To School' Hijabs on Sale In British Department Store
August 16, 2014
UK-based department store John Lewis is offering for the first time the Hijab in its school uniform department, the British daily news website Daily Mail reported Saturday.
John Lewis, which is due to sell the Islamic headscarf in its London and Liverpool stores, said it was responding to school demands.
"We provide uniforms for 350 schools across the country," a spokesperson for John Lewis said.
"The school informs us of the items they want us to sell as part of their uniform list," he added.
The store, which signed contracts with two schools, will sell a hijab for approximately $15 (£9).
John Lewis won the contract to supply uniforms to the Islamia Girls' School in north-west London and Belvedere Academy in Liverpool.
http://english.alarabiya.net/en/life-style/fashion-and-beauty/2014/08/16/Britain-based-department-store-to-sell-hijabs-to-wear-at-school-.html
-----------
Russian police checking IDs of Muslim women in Crimea
World Bulletin / News Desk
August 16, 2014
Police in Crimea have reportedly started targeting Muslim women with headscarfs with identification checks ahead of Russian president Vladimir Putin's to the Black Sea peninsula
Muslim women in the capital Simferopol (Akmescit) and Bakhchysarai accused Russian police of pulling women with headscarfs over for passport checks and treating them as if they were 'enemies' on their Facebook profiles.
Eider Ismailov, the assistant mufti of Crimea, said that the Islamic Religious Affairs authority in Crimea had not received any official complaints, but said the measures may have been taken for security reasons.
"This shows that Russian police do not trust headscarfed women and see them as a separate group the the general public. This is nothing but an insult against our beliefs as Muslims," Ismailov said.
Meanwhile, madrasas (religious schools) in Crimea are being searched for banned reading materials, another assistant mufti, Esadullah Bairov, told the Qirim News Agency.
Three madrasas were searched during August 13, ahead of a law that will come into force in 2015 that bans a number of popular Islamic books.
"The book are removed as a warning, as the law is not in force in Crimea yet. Still no extremist literature was found in Crimean madrasas that were searched," Bairov said.
Some Islamic books that have been banned include the work of popular 20th century Turkish scholar Said Nursi and the famous 'Fortress of the Muslim' book of supplications of the Prophet Muhammad, which was collected by ancient Muslim scholar Saeed bin Ali bin Wahf Al-Qahtani. A certain biography of the Prophet Muhammad is also banned.
Around 300,000 Muslims in Crimea, mainly native Crimean Tatars, are having to adjust to new laws enforced by Russia after their homeland was annexed from Ukraine following a referendum in March.
CRIMEAN TATARS 'TARGETED'
Since the annexation in March, around 3,000 Crimean Tatars have left the peninsula for mainland Ukraine.
The U.N. has also pointed to the erosion of human rights in Crimea, which remains under the occupation of pro-Russian militias who particularly threaten the Crimean Tatars.
Crimean Tatars have complained that they have been targeted for speaking their Turkic language in public and have had their homes marked by pro-Russian militiamen.
The Crimean Tatar Mejlis (Parliament) was also threatened with closure after they organized protests for former Mejlis head Mustafa Jemilev, who has been barred from entering the peninsula for five years along with current leader Refat Chubarov.
Earlier this month, Qirim News Agency general coordinator Ismet Yuksel was also given the same five-year ban.
The Crimean Tatars have largely opposed the annexation of Crimea by Russia, fearing a repeat of the events of 1944 when they were completely expelled as part of former Soviet dictator Josef Stalin's policy.
They gradually started returning in the early 1990s after the fall of the Soviet Union, but still live as a minority in their homeland as they were displaced by ethnic Russian settlers who migrated there later on.
Since the annexation, Russia has been granting Russian citizenship to the people of Crimea in replacement of their Ukrainian nationality. Crimean Tatars, who have campaigned to reject Russian citizenship, reserve the right to remain as Ukrainian citizens, but will by default become foreigners in their homeland.
http://www.worldbulletin.net/todays-news/142566/russian-police-checking-ids-of-muslim-women-in-crimea
-----------
Kurdish women in Turkey move away from independence
August 16, 2014
Iraq's Kurds are battling an invasion from the militant group Islamic State (IS). Together with the Kurds of Iran, Syria and Turkey, they make up the world's biggest nation without a state.
But while Kurds in northern Iraq are planning a referendum that may create an independent state, Kurdish rebels in Turkey are holding peace talks.
Despite decades of repression, the relative stability has enabled women, in particular, to challenge restrictions on Kurdish rights and the region's patriarchal society.
Rezan Zugurli, 25, is the youngest mayor in Turkey's history. And, in a country where women make up only a tiny minority in parliament, she is among a group of Kurdish women emerging at the forefront of the Kurdish political movement in Turkey.
"I was born into a political family. Being raised in the glow of Kurdish political struggle makes you a responsible person from an early age," she says.
She was given a Kurdish name when the practice was banned in Turkey. Her name, Rezan, means "the one who knows the way" in Kurdish.
She is also linked to the wider political history of the Kurdish political and armed struggle in Turkey.
Every day, as she commutes to her work in Lice in eastern Turkey, she passes by an unassuming rundown single-storey house a short distance from the main road.
This was where 23 young men and women gathered together in 1978 to hold the founding congress of what became known as the PKK - the Kurdistan Workers' Party.
The house belongs to her family.
The rise of Kurdish women is in stark contrast to the patriarchal social reality in Turkey, where only a quarter of girls are schooled beyond primary school. And their emerging role is even more stark in the rising religious and social conservatism of the wider Middle East.
Two years after the PKK meeting in her family's house, a military coup swept across Turkey prompting the arrest of tens of thousands of people and harsher times for Turkey's Kurds.
Several of those at the meeting were arrested and put in the notorious Diyarbakir Prison on charges of separatism and armed opposition to the state.
Among the inmates was senior Kurdish politician Gultan Kisanak.
"I was imprisoned in Diyarbakir military jail from 1980 to 1982," she tells me. "We were forced to deny that we are Kurds. When we refused, we were tortured. I was tortured heavily physically but the worst kind of torture was being incarcerated for months in the kennel of the prison administrator's dog."
Thirty-two years later, she returned to Diyarbakir as its mayor, now occupying a vast office in a dominating city hall.
A member of the pro-Kurdish DBP party, in the past she firmly believed in the need for an independent Kurdish state, like most of her comrades,
She now thinks achieving independence as a separate state is irrelevant: "We don't need to wait, we are establishing the society we want from today."
Some 65km (40 miles) away, in a largely conservative district called Kocakoy, another DBP co-mayor, Berivan Elif Kilic, 33, is also fighting to change the perceptions of society towards women.
After years of abuse from her husband, she became the first woman in her village to divorce and the first woman to work in the local authority.
"Before me, you could hardly see any women in the town hall or any other official building, let alone becoming the co-mayor. I think even the mere fact that I occupy this office is empowering other women here," she says.
After her divorce, she decided to enter politics to help other women.
"The Turkish state resorted to violent oppression and attempted to assimilate Kurds by denying their existence," she says. "Likewise, my husband, treated me like a slave, denied my existence and my personality."
But now she sees no reason for a Kurdish divorce from Turkey. The government in Ankara has begun negotiations with the PKK to seek a political solution to the Kurdish question.
But that does not mean that violence has left the region. There is still a heavy presence of Turkish military outposts and checkpoints.
Kisanak, Kilic and Zugurli are among the dozens of women who have taken control of towns across the Kurdish region of Turkey as mayors and co-mayors.
But not all Kurdish women are looking to town halls for political change. An unknown number of armed PKK fighters, among them many women, are still roaming the inaccessible mountains of eastern Turkey.
One group of fighters in their baggy khaki uniforms agreed to give the BBC their own assessment of the peace process, in a rare interview.
When asked why they had not followed the example of the Kurdish women mayors, one female fighter, her AK-47 draped over her shoulder, argued that their presence would guarantee the improvement of rights for Kurds as well as women.
"We want peace, and want to achieve the rights of the Kurds. But we aren't going to wait of the state to bring peace. We are ready to fight if peaceful efforts do not work."
http://www.bbc.co.uk/news/world-europe-28785802
-----------
Iraqi Women Take up Arms against ISIL Terrorists
August 16, 2014
Hundreds of women have been armed to bring the fight to the Islamic State of Iraq and the Levant (ISIL) Takfiri militants on behalf of Iraq's Kurdish population.
The Kurdistani women Pishmarga of the 2nd Battalion, a group of 550 women led by Colonel Nahida Ahmad Rashid, has been preparing for battle, Al-Alam reported.
"It's an honor to be part of a modern Muslim country that allows women to defend the homeland," an unidentified mother in the battalion said.
The battalion has not yet faced the ISIL terrorists, but has been training in the Kurd city Sulaymaniyah in Northern Iraq.
Another member of the battalion, who is four months pregnant and has a 5-year-old daughter, said that she will go to the front lines if called. "This is my duty, no matter if I am bearing a child or not," she said.
http://english.farsnews.com/newstext.aspx?nn=13930524000455
-----------
Nigeria: In the Chibok Girls Search, Boko Haram Is Winning the Media War
August 16, 2014
Yesterday, 14 August, marked four months since the kidnapping of over 200 Nigerian schoolgirls from the town of Chibok, Borno state. Very little concrete information is available about their whereabouts, and in the propaganda war over who is in control in northern Nigeria, terror group Boko Haram seems to be one step ahead of Nigerian security forces.
Reports last week that the girls were sighted by United States (US) drones in a remote open field have still not been verified, and analysts have been questioning both the veracity of the information and the motive for releasing such information to the public. Is Boko Haram indeed winning against an ineffective Nigerian government, or is the correct information just not filtering through?
Clearly, the international media have moved on to the Ebola outbreak and other stories from Africa. The heavy reliance on US and Europe-based networks and agencies allows for news priorities in Africa to be driven by their consumers, rather than those in Africa.
In South Africa, for example, local media are almost completely reliant on wire services for international news. But once Agence France Press, Reuters or CNN editors think their clients have lost interest, local media tend to follow suit due to their relationship with the agencies and cable channels.
Ironically, some local media in Nigeria also tend to reproduce copy from international wire services on issues of grave national importance, such as the Boko Haram insurgency. But even if the international media did care, there hasn't been much to say about #BringBackOurGirls in the past few weeks, barring reports on the worsening security situation across northern Nigeria.
In the past few days, clashes have intensified in Gwoza, south of Maiduguri, the capital of Borno state, and the latest indications are that Boko Haram is in control of the town. In July, Boko Haram fighters took the town of Damboa, and the conflict is increasingly spilling over to northern Cameroon. According to some figures, Boko Haram has directly been responsible for the death of over 6 000 people since 2011.
Martin Ewi, a senior researcher at the Institute for Security Studies in Pretoria, says the blame for the information blackout is partly to be placed on the shoulders of the Nigerian government, particularly the military.
They should better communicate what steps are being taken against Boko Haram; the families of the kidnapped girls, the Nigerian people and the international community at large want to know about the progress being made.
'This has been one of the elements missing in the fight against terrorism in Nigeria: the failure to effectively use the media as a tool for counter-terrorism,' says Ewi, an expert on counter-terrorism in Africa. He adds that when training security forces to deal with terror groups, the importance of forging a partnership with the media is always emphasised and should be put into practice.
In Nigeria it is clear that the government and security forces are not communicating effectively. Boko Haram, on the other hand, is releasing information on a piecemeal basis to selected media and is deliberately creating an aura of mystery around itself. 'Boko Haram is fighting this media war and they are winning it,' says Ewi. 'The media have not been able to get close enough to Boko Haram to provide a first-person reporting perspective. So whatever we know about the sect is what they want us to know about them.'
Nigeria has a plethora of media outlets, mostly based in Lagos, but many rely on foreign media and press releases from the government and the security forces for their information on Boko Haram.
On-the-spot and investigative reporting on what is really happening is relatively rare, but does exist. The Lagos-based Daily Trust, for example, recently ventured into refugee camps in Borno state to report on the dire situation of people fleeing their villages due to the take-over of Boko Haram.
International correspondent Kwangu Liwewe, who was until recently the Lagos bureau chief for South African news channel eNCA, says it is extremely difficult for local media to report on Boko Haram because of the danger associated with such reporting.
There are also many logistical obstacles in travelling to the remote region where Boko Haram has launched many of its attacks. 'Getting to Maiduguri is extremely difficult because of the state of emergency. The airport was closed and one had to hire a helicopter to get to Chibok, at huge expense,' she said. In addition, Boko Haram is known to attack media houses. In 2012, the group bombed the offices of ThisDay, a national newspaper, in Abuja and Kaduna, killing seven people.
The only way for local or international media to report on Boko Haram would be through being embedded with the military. This would pose another set of complex problems: something that the Nigerian military might not be willing to risk.
When it comes to on-the-ground reporting, the international media, with greater financial resources, clearly have an advantage over local media. In May, for example, a New York Times correspondent managed to travel to Chibok and interviewed, for the first time, the girls who had escaped their captors.
For the international correspondents, this was worth the cost, since #BringBackOurGirls had created a worldwide outcry. If the girls are to be tracked down and returned to their families, it will be an even bigger story. For local media, it is quite a different challenge due to years of acrimony with the military.
In June, for example, the military seized hundreds of newspapers across the country, claiming that weapons were being transported in delivery vans. Press freedom organisation Reporters Without Borders suspected that the seizure of the newspapers was linked to a report about alleged army complicity in Boko Haram activities. 'The army must accept criticism in the media without preventing their circulation,' says Reporters without Borders, which ranks Nigeria 112th out of 180 countries in its Press Freedom index.
Last week, the Nigerian military was also accused by Amnesty International of human rights abuses in its war against Boko Haram; information that it is certainly not happy about. The Nigerian government is clearly concerned about its image and the impression that it is losing the battle against Boko Haram. According to reports, it has apparently paid an American company US$1,2 million to assist with its public relations efforts and to 'change the dominant narrative' that the government isn't doing enough against Boko Haram.
However, more often than not, the information blackout is construed as a cover for lack of action. And people are still asking: where are our girls?
http://allafrica.com/stories/201408151414.html?viewall=1
-----------
Stiffer Penalties Fail to Deter Domestic Violence in Malawi
August 16, 2014
Blantyre — Incidents of violence against women continue to dominate media headlines in Malawi, despite an eight-year-old law that has stiffened penalties. Police officials say they handle such cases on a daily basis. Advocates blame causes ranging from lenient court sentences to cultural practices.
Malawi passed a domestic violence law in 2006, in an attempt to curb rampant incidents of violence against women and children. It imposed a maximum 14-year sentence on offenders.
But eight years later, domestic violence continues to dominate caseloads of the Malawi Police Service's Victim Support Unit. The cases include disfigurement and mutilation.
"Such cases are reported almost on daily basis. The minor ones are sorted out right away at the VSU [Victim Support Unit], while those with criminal element are referred to the court," says Mable Nsefula, deputy national spokesperson for the Malawi Police.
Cases withdrawn
She says between January and June this year, police handled about 6,900 cases of gender-based violence, most of them brought by wives against their husbands.
Nsefula says the worrying development is that many women withdraw their cases.
"Many women would come today that they have been beaten by their husbands but tomorrow, maybe many of them are threatened by relatives who may say 'you see your husband has now been arrested who will support you..' while others just do voluntarily and they just say, 'I am withdrawing the case," she said.
David Odali, executive member of the steering committee of Men for Gender Equality Now, an advocacy group that sensitizes men to stop violence against women, says, "We are concerned that the incidences of violence against women, which we call gender based violence, continues to rise in the country despite our efforts. We think this is so because of several factors: For example there are some men who believe that they are superior and they use the strength they have over women, when resolving family dispute."
Court system failure
Odali says a contributing factor is lenient and inconsistent penalties handed out by the courts.
"You will find that the magistrate's court which has a jurisdiction to slap perpetrators up to [a maximum sentence] of 14 years sentence, can only give the perpetrator three years. We are not happy with such lenient sentences because they don't deter potential perpetrators of the violence against women and girls," he said.
However, Emma Kaliya with Malawi's Gender Coordinating Network says the number of reported cases of domestic violence does not mean they are increasing.
"Nowadays people have had a lot of awareness. They know when the wrong things are happening, they simply say, 'this is wrong you can't simply do this,' because they are aware that when violence is happening you need to report. Therefore, when you start comparing things, you would see that there is a big difference with the way we used to live before when we're just keeping quiet," said Kaliya.
Some Malawians blame the women themselves for the violence against them. Rising feminism, they say, prompts women to challenge their husbands, leading to family conflicts.
But Principal Secretary in the Ministry of Gender Mary Shawa rejects this.
"The most common violence with the women perpetrate against men is denying their conjugal rights. It is the highly reported violence and that particular violence is what results in women being battered being hacked and so forth," she said.
Shawa says, in addition to the law, the government is working on various programs to address the problem. These include economic empowerment for women and promotion of girls' education.
http://allafrica.com/stories/201408151584.html
-----------
Despite Health Risks, Many Saudis Continue To Prefer Consanguineous Marriages
August 16, 2014
Consanguineous unions have long been proven to increase the risk of congenital/genetic disorders, yet despite what modern science tells us, many Saudis continue to view consanguinity as a safe practice that offers many social benefits to young men and women, Makkah daily reported.
According to Ahmed Qassim Al-Ghamdi, the former head of the Commission for the Promotion of Virtue and Prevention of Vice, awareness among Saudis of hereditary disease in children and their relationship to marriages between relatives has increased due to the progress made in scientific research. Al-Ghamdi, however, said many of the risks have been exaggerated and urged couples to undergo premarital blood testing.
"Scientific studies have proven that there is an increase in risk of affliction with certain hereditary diseases among children born from marriages between close relatives. The studies have proven a high probability of the husband and wife carrying the same genes if they are relatives. Hence, this increases the probability of their children carrying a gene for a rare disease. However, this does not necessarily mean that every related couple's child will be born with hereditary disease," he said.
"The belief that marriage between relatives in itself increases hereditary diseases in children is an exaggerated belief. Islam has permitted marriage between relatives. The Prophet (peace be upon him) married his daughter Fatima to his cousin Ali Bin Abi Talib (may Allah be pleased with him). The companions of the Prophet followed the same path. This is widespread in Arab societies even though it has a role in the appearance of some hereditary diseases. At the same time, it causes the appearance of some good characteristics. The moderate view is to take precautions by undergoing premarital blood testing," he added.
A relative is better than a stranger
Educational consultant Dr. Shaker Al-Hukair said one cannot issue an absolute judgment in favor or against consanguineous unions especially since many Saudis support such unions due to several reasons.
"The most important among these reasons is to follow what happened during the era of the Prophet (pbuh) as he married his daughter Fatima to his cousin Ali Bin Abi Talib (may Allah be pleased with him). Marriage between relatives strengthens the bonds of kinship, aside from boosting the bonds of intermarriage. A husband and wife need a lot of wisdom in dealing with their marital differences and even in the case of separation, the bonds of kinship and kindness remain. Despite the disadvantages of marriage between relatives, I still believe that the advantages exceed the disadvantages. The previously mentioned matters are a sufficient reason for supporting marriage between relatives," he said.
Citizen Nawal Abdullah Abdu said marriage between relatives is a good thing provided the nature of the couple, their inclinations and feelings are in conformity for the success of the marriage and its cohesion.
"Nonconformity and discomfort between the husband and wife leads to separation that spreads enmity and hatred between relatives. This erases the kinship between them. According to doctors, marriage between relatives leads to hereditary diseases in the children. One can avoid such a situation by undergoing premarital blood testing, the way it is conducted at present."
http://www.saudigazette.com.sa/index.cfm?method=home.regcon&contentid=20140816214819
-----------
New Saudi ban on marriage to foreigners stirs controversy
August 16, 2014
In a recent report published by Makkah daily newspaper in Saudi Arabia, a new law bans Saudi men from marrying women from Pakistan, Bangladesh, Chad and Burma.
Social media forums like Twitter and Facebook reacted with both humor and horror over the new ruling.
According to the newspaper, a man should be older than 25 years of age to be able to apply for a permit to marry a foreigner.
If, however, he was recently divorced, he has to wait six months before applying for the license.
If he is married and wishes to take a foreign woman as a second wife, he has to present proof that his first wife has cancer, is barren or crippled by a disability.
"Only men could have come up with a rule that supports their claims, grants them more pleasure and maximum satisfaction. Look at how it makes Saudi men look, since pride is of utmost importance. It feels like a grotesque HBO drama series," Lina Al Sayed, a 35-year-old Saudi doctor said.
An Egyptian writer and public speaker, Mona Eltahewy, tweeted: "Women in Saudi can't be polygamous but imagine a woman demanded divorce because her husband got cancer. She'd be cursed till end of time."
Major General Assaf Qureshi, director of Makkah police, reportedly told the Saudi paper that marriage requests for foreign nationals are processed through official procedures under very strict terms.
"I don't understand why it is so difficult to get married to a Saudi national. There are too many conditions or agents ask for a great deal of money to get your papers processed. Now on top of that, they are going to ban marriage to these four nationalities. Why? This isn't Islam. Our religion even allows men to marry Jews and Christians, so why are we disputing this? On top of that, you make foreign women look like replacement tools. We are not what you can use if your first wife is disabled or dying. Saudi men should be able to choose us first if they like," Farah Aboodi, a 26-year-old Irish national living in Jeddah said.
Saudis need to submit an application to a government committee and wait for their approval or rejection if they wish to marry a foreigner.
Usama Hussain, a Pakistani national, joked in a post on Facebook: "The Kingdom has done a huge favor to the lucky women of Pakistan, Bangladesh, Chad and Burma (Rohingya women included). Women of other nationalities should come forward and demand the same treatment."
Lillith, a Twitter user posted, "I know some Saudi men who got married while their wives were admitted in the hospital for end of life or kidney failure and I was like dude, can't you just wait a couple of months until she dies. It is despicable how wives are discarded so easily."
Many discussions raised questions about polygamy having any religious justification in today's time.
A Lebanese national living in Riyadh said other non-Saudi countries are confused as to why they weren't chosen to be a part of a selective campaign.
"It almost feels like they chose all the refugee countries and believe it or not, this might be a great thing. No more financial support needed in exchange for child brides," Rana Ali said.
The government has not made any official statements clarifying the new restrictions on marrying foreigners.
http://english.alarabiya.net/en/perspective/features/2014/08/12/New-ban-on-marriage-to-foreigners-stirs-controversy-.html
-----------
Iran's Government Is Worried that Its People Are Having the Wrong Kind of Sex
August 16, 2014
A recent Iranian parliamentary report has presented a candid illustration of the sexual practices of the Islamic Republic's youth — so candid that it was quickly withdrawn from a government website.
The Iranian Parliament's legal research wing published the document, a copy of which VICE News obtained. Using data from several studies that surveyed some 142,000 Iranian students over the past decade, it found that 80 percent of unmarried females acknowledged being in relationships with members of the opposite sex, while 17 percent of all respondents identified as homosexual. Being in a pre-marital romantic relationship and being homosexual are both illegal in Iran.
The report offers a revealing glimpse of the tension within Iran between its increasingly Westernized youth — who are tentatively encouraged by reformist President Hassan Rouhani — and a deflated conservative vision imposed on the nation by its repressive clerical leadership.
"Under present circumstances, sexual desires are intensified due to high-calorie diets and sexual stimulants such as images and movies containing lustful nudity, pornographic images, and movies, etc.," it says. "Therefore the average sexual maturity age is decreased, resulting in earlier puberty of teenagers. On the other hand, lack of suitable circumstances for permanent marriage, as well as the adverse teachings of Western culture, has resulted in sexual relationships and behaviours beyond rational and religious restrictions of Islamic societies."
Mismatches define contemporary Iranian society, in which daily lives and customs operate ambiguously on either side of Islamic law.
Parliamentary researchers suggest that the harmful spiritual effects of young Iranians' sexual proclivities can be tempered by their use of the Shia practice of temporary marriage. Much of the text is devoted to a theological discussion of the arrangement, known as sigheh in Farsi, which has been promoted by Iran's religious authorities since the revolution that deposed the Shah in 1979.
Temporary marriage, which is generally arranged in private, offers practical benefits to young couples looking to stay on the right side of the morality police while allowing the country's theocracy to coat the sexual practices of its population with religious varnish.
Sigheh, which is called Nikah Mut'ah in Arabic, can last anywhere from mere minutes to years, and at a minimum requires a verbal agreement between the couple. Men who do not wish to commit adultery — a crime punishable by death — can sidestep this violation by entering into a temporary marriage.
Iranian men are permitted to have up to four permanent wives, but temporary marriages don't count — men can theoretically enter as many as they'd like, although women must wait until at least a few months or menstrual cycles have passed (a stipulation dating from a era before pregnancy tests) before they enter into another. The agreements have historically involved a dowry provided by the man, though this interpretation, like many things in modern Iran, is flexible.
The practice evolved from customs in pre-Islamic Arabia, where men were separated from their wives for long periods of time due to war or trade. Instead of becoming serial philanderers, it was seen as preferable for them to enter into short-term contracts with other women, offering them a modicum of security and a guarantee that any resulting child would not be considered born out of wedlock.
"If men were based somewhere else, they would contract a marriage, with the difference that it would have a time period attached to it," Shaheen Sardar Ali, a law professor at the Warwick School of Law who specializes in Islamic jurisprudence, told VICE News. "It was generally seen as a way of preventing men from going to prostitutes or having multiple sexual partners if they were away from their family."
In contemporary Iran, sigheh is an anachronism — or, in Ali's phrase, a "historical mismatch." Yet mismatches define contemporary Iranian society, in which daily lives and customs operate ambiguously on either side of Islamic law.
Particularly short sigheh marriages have been linked to prostitution, an application that some officials have actually encouraged. Despite the illegality of prostitution in Iran, in 2002 government agencies proposed establishing so-called "chastity houses" where sex workers could interact with their clients after entering into a temporary marriage.
"I would not have supported chastity houses had it not been for the urgency of the situation in our society," Ayatollah Muhammad Moussavi Bojnourdi, a Shiite religious leader, was quoted as saying at the time. "If we want to be realistic and clear the city of such women, we must use the path that Islam offers us."
It's difficult to calculate the number of sex workers within Iran, but estimates have put the number as high as 600,000.
The chastity house proposal was abandoned, but sigheh continues to be suspected of providing cover for illicit and immoral behavior. That association presents a skewed picture, however. Temporary marriage is used across Iranian society for a variety of reasons. It can be used to lend support to widows or single mothers; many enter the arrangement to help maintain their piety alongside the opposite sex before permanent marriage; and others simply regard it as a loophole that allows them to live as freely as possible within the constraints of Islamic law.
Because sigheh doesn't require a written contract, young unmarried couples confronted in public by Iranian authorities can potentially claim that they have entered into sigheh even if they haven't. It can effectively be used to allow a couple to go on dates or just hang out. But, as useful as this idea might be, many middle-class Iranians don't think it's necessary.
"In Iran, the population under 30 — which makes up over 60 percent of the country — isn't really configuring to what the government of the Islamic Republic imagined," a prominent Iranian-American professor who works on gender issues in Iran told VICE News. She spoke on condition of anonymity in order to protect her work and family.
"They imagined they would have a whole cadre that was born after the revolution that would subscribe more closely to its tenets, when in fact the rebellions today in Iran are more often fuelled by the youth," she said. "So if they are engaging in Western style dating practices, this is their way of rebelling. If they were to engage in sigheh, they would not be rebelling."
Even the most conservative elements in Iran's government are caught in a certain sex-limbo, given their concern about the country's dwindling birth rate. From a rather incredible rate of 6.5 births per woman in the aftermath of the revolution to today's rate of 1.6 per woman, Iran's population growth has become anaemic. Clerical leaders might be alarmed by the sexual habits of the youth, but they're also in the odd position of promoting procreative intercourse.
Following Supreme Leader Ayatollah Ali Khamenei's decree in May calling for an increase in baby-making to strengthen the country and combat "undesirable aspects of Western lifestyles," the Iranian parliament voted this week to ban vasectomies in men and methods of permanent contraception among women, as well as any advertising of birth control.
The Iranian-American professor noted that a decline in the marriage rate among young people and an increase in divorce derives at least as much from Iran's stagnant economic growth, impeded by severe Western sanctions, as it does from Western cultural influence. "The sanctions make it very hard for young men to have the economic wherewithal to go ahead and get married," she said.
More Iranian women are also pursuing advanced degrees and careers, a trend that frustrates religious leaders. The bill banning permanent contraception can be interpreted as an attempt to force women into a traditional female role. The bill's restrictions could also lead to an increase in dangerous illicit abortions, of which there are already 250,000 in Iran every year.
"Whenever Iran is facing a fairly serious situation and the economy is in an absolute state of shock, you see various arms of the government turn to issues that pertain to women," said the professor.
http://iranian.com/posts/iran-s-government-is-worried-that-its-people-are-having-the-wron-37158
-----------
Arab man, Jewish-born bride hire security guards for wedding in Israel
August 16, 2014
An Arab man and his Jewish-born bride hired 14 security guards for their wedding celebration in Israel in response to an anti-intermarriage Jewish group's call for a protest rally at the hall.
Mahmoud Mansour, who is Muslim, and Morel Malka, who recently converted to Islam, reportedly are concerned for their safety at Sunday's event in Rishon Lezion after the group, Lehava, posted photographs of their invitation on social media and urged protesters to rally outside the hall with megaphones and banners, the NRG news site reported.
Police said they will send personnel to the area to prevent any disturbance.
The couple is already legally married, according to media reports. The Sunday reception is merely a celebration. The groom's parents and bride's mother reportedly support the union.
Bentzi Gupstein, the chairman of Lehava, told NRG that his group was particularly upset about the wedding because of this summer's escalation in tensions between Hamas and Israel.
"We are still at war and she is marrying a member of the enemy," he said.
Mansour, of Jaffa, is an Israeli citizen. Gupstein said he was also angry that the wedding is taking place in Rishon Lezion, one of many cities targeted by rockets from Gaza this summer.
The father of the bride told Israel's Channel 10 in an interview that he did not know about the relationship until recently and that he plans to boycott the wedding.
"I never dreamed that my daughter would marry an Arab," he said. "I'm not going, period."
The banquet hall management said several people have called to criticize the hall for hosting the event, while others have made threats, according to media reports.
http://www.jpost.com/Israel-News/Arab-Man-and-Jewish-born-bride-hire-security-guards-for-wedding-in-Israel-371191
-----------
Steep odds against Ghana's female footballers
August 16, 2014
Tamale, Ghana - One Wednesday afternoon in July 2010, Latifah Suleimana, a then 13-year-old junior high school student in Ghana's northern region, was in tears as she decided to leave her father's house, indefinitely.
She had just been drafted onto a female football team that was chosen to represent her region in a tournament, but her father raised objections. He went so far as to insult the coaches for allowing a girl to play football. That day, Latifah hastily packed her belongings and moved in with one of her coaches, who is her mother's distant relative.
Latifah's father's opposition to her football dreams did not start that day. Months earlier, he had sent her away to serve as a tailor's apprentice so as to discourage her from playing football.
"Football is not for girls," he told her. "It is forbidden in Islam and it does not pay."
But Latifah did not remain an apprentice for even a week. She wanted to play football and continue her schooling. On the day she packed and left, Latifah was choosing football over her father's approval.
International debut
She is not alone in this situation, and neither is her father. Latifah is one of many girls in the region who seem to be faced with a tough choice between their passion for football and other interests. Her father represents parents whose traditional religious beliefs make their daughters' choice to play sports very hard for them to accept.
Until the early 1990s, women's football in Ghana was not competitive. It was mainly played for fun. In 1999, Ghana's national female team, the Black Queens, made history by playing at the FIFA Women's World Cup in the United States. They were the first Ghanaian national team to make an international debut, a record that was held until the male team, the Black Stars, made an appearance in the 2006 FIFA World Cup in Germany.
The Black Queens have gone on to qualify for three Women World Cups. Despite these successes, female football generates less interest and attention in comparison to male football.
As a result, girls who play the game, as well as those interested in the business of female football, have a lot to contend with. Apart from the financial muscle needed to register clubs, procure a training pitch and changing room facilities, and meet a list of requirements by FIFA, some have to overcome stereotypes and resistance from parents who see no value in the sport for their daughters.
"Some of the parents here think it is forbidden for a girl to play football. They tell you football makes the girls lazy or just say Islam does not allow it," says Sumani Basirudeen, one of the coaches for Latifah's club.
Latifah's club is called the Goldfields Ladies . It is a division one team based in Tamale, the capital of Ghana's Northern Region. It was started seven years ago as a response to a demand by a number of girls who wanted to play football.
Before its establishment, there was the Goldfields Boys football club, which dealt exclusively with male footballers. Latifah often watched with interest as the boys played.
"I wanted to play just like our male counterparts, and even better," she recalls.
Since its establishment, the Goldfields Ladies Football Club has moved on to win a few district championships and provided players to represent the Northern Region at the Middle League. Last year, two players from the team were considered for selection to the Black Maidens, Ghana's national under-17 female team. Though they did not make the final selection, Coach Sumani Basirudeen called it "a very impressive feat in the club's development".
Beyond the recreational and professional value of sports, founders of the team envisioned a more idealistic objective for women's football in the region.
"It is common to see teenage girls in this region getting pregnant or running off to the south to work as hawkers and sleep on the streets," says Basirudeen.
"What we are trying to do with football is to engage them in a very productive way, so they do not have time to idle around or even consider going to the big cities as kayaye [head porters]. We also encourage them to take their education seriously. Through football, we have gotten high school admission and scholarships for about six girls on the team."
In a region where girl child education still lags behind the national average, any intervention that encourages education is noteworthy. According to the Department for International Development: "More than 65 percent of girls over 15 in Ghana's Northern Region have received no formal education (compared to the national average of 21 percent)."
For girls like Latifah, the educational support in football is another motivation to play the game. Before leaving her father's house four years ago, she was his only child with formal education. When she moved in with her coach, the club supported her senior high school education for some time, but she had to quit in her second year because they could not afford the fees.
"Now all I do is play football," she says. "I don't feel like doing anything else apart from playing football with my colleagues. We are all dreaming of our future, that we can be professionals someday. As of now, we are struggling to be in the national team, because without the national team, you can't find yourself a better place to live."
A question of religion
Abdul Rahman Alfa is a teacher at a madrassa in Ghana. Although he considers himself a football enthusiast, he does not watch female football for religious reasons. Alfa alludes to Islamic religious tenets, which forbid women to expose certain parts of their bodies.
"People talk about the headgear or veil, but that's not the only thing. Even if women decide to play football in trousers, it still does not meet the religious requirements, so I think they should just stay out of it," he says. Alfa's argument is in-line with the views expressed by Latifah's father and other parents who oppose their daughters' involvement in football.
Religious controversies surrounding appropriate dress for female footballers are not new. In 2007, FIFA banned the hijab and other headgear in football. Its critics cited the ban as discriminatory against Muslim women. In March this year, FIFA lifted the ban, authorising "the wearing of head covers for religious purposes during matches".
Commenting on the issue of girls in the Northern Region, Leanier Addy, chairperson of the Women League's Board at the Ghana Football Association, emphasised the need for a middle ground in support of the game.
"We haven't had such problems because football is only for 90 minutes [duration of a match], and some extra time where necessary. We encourage all our players to respect religious and cultural differences and to exercise tolerance on every level," she said.
Very often, the Ghana Football Association organises exhibition games to raise awareness of discrimination and issues related to religious and cultural differences. "Sometimes you need to respectfully educate folks to understand some of these issues," Addy said.
On a late January morning this year, Latifah returned to her father's house. She had fallen sick with a skin rash and the coach informed her father, who took her in for treatment. Since then, she has been living with her father. She goes for weekly football training with less opposition from her father.
"I think he's getting to understand this is what I want," she says. "Although he doesn't give me any support, I know he'll be happy when I make it."
http://www.aljazeera.com/news/africa/2014/08/steep-odds-against-ghana-female-footballers-20148101114522872.html
-----------
URL: https://www.newageislam.com/islam,-women-and-feminism/new-age-islam-news-bureau/'back-to-school'-hijabs-on-sale-in-british-department-store/d/98591