New Age Islam News Bureau
17 May 2019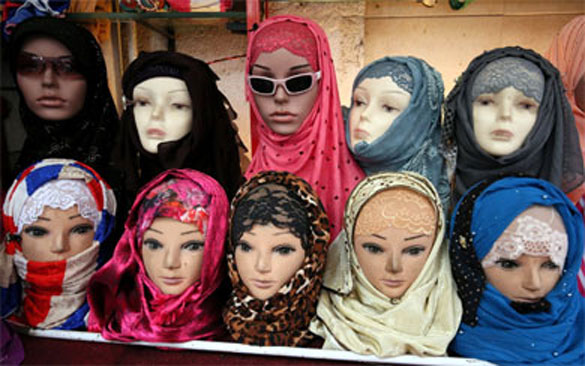 Austria is to ban girls from wearing Islamic headscarves to primary school CREDIT: FRANCIS MASCARENHAS/REUTERS
-----
• Afghan Film Body Gets Its First Female Boss
• French Senate Votes to Ban Headscarf on School Trips
• Supreme Court of India to Hear Plea of Muslim Woman against Divorce Notices
• Bill 21 Targets Muslim Women's Rights, Says Quebec Federation of Women
• Two More Hindu Girls 'Wilfully' Convert To Islam and Approached the Islamabad High Court to Seek Security
• MPA Pushes For Day-care Facilities In Govt Depts. To Support Women Lawmakers
• Egyptian Football Star Mo Salah Calls For Change in Treatment of Women in Muslim World
Compiled by New Age Islam News Bureau
URL: https://www.newageislam.com/islam-women-feminism/austrian-muslims-challenge-school-headscarf/d/118628
--------
Austrian Muslims to challenge school headscarf ban in court
May 16, 2019
VIENNA: The organisation representing Austria's Muslims said on Thursday it would ask the Constitutional Court to reverse a ban on headscarves in primary schools a day after it was passed in parliament.
There were an estimated 700,000 Muslims living in Austria in 2017, or roughly 8 percent of the population, partly an outgrowth of the many Turks who came to Austria to work in the 1960s and 1970s and stayed on.
Lawmakers from Austria's two ruling parties - Chancellor Sebastian Kurz's conservatives and the far-right Freedom Party -approved a bill including the headscarf measure late on Wednesday.
"The ban on headscarves in primary schools will only lead to segregation and discrimination of Muslim girls," the Islamic Faith Community in Austria, a government-recognised body, said in a statement. "We will ... bring this discriminatory law before the Constitutional Court."
Many Muslims believe their religion requires girls to wear a headscarf from puberty. Headscarves are not usually worn before then. The primary school ban will apply to girls up to around the age of 10.
The Freedom Party is outspokenly anti-Islam, while Kurz has said he wants to prevent Muslim "parallel societies" emerging that would be at odds with the mainly Catholic country's values.
Both have taken a hard line on immigration, pledging to prevent any repeat of the influx of 2015, when Austria took in roughly 1 percent of its population in asylum seekers during the European migration crisis, including many from the Middle East.
The government announced its plans for the ban in April of last year. It also wants to ban headscarves in kindergartens, but as these are run by Austrian provinces the move will require changing the constitution, for which a two-thirds majority in the lower house of parliament is needed.
The ban in primary school was passed by a simple majority short of two-thirds.
The previous coalition of Social Democrats and Kurz's conservatives passed a law banning face coverings including Muslim fullface veils in public spaces, but women and girls are free to wear regular hijab.
It considered banning teachers from wearing headscarves but that plan was dropped after a debate over religious symbols in schools such as the Catholic crosses that still hang on many classroom walls.
https://timesofindia.indiatimes.com/world/europe/austrian-muslims-to-challenge-school-headscarf-ban-in-court/articleshow/69363473.cms
--------
Afghan film body gets its first female boss
May 16, 2019
KABUL: Sahraa Karimi made headlines with her critically acclaimed documentary "Women Behind the Wheel." She is back in the driving seat — as the first female boss of a state-run film body that has been led by men since its establishment in 1968.
Karimi, 36, was the only woman to apply for the director-general role at Afghan Film and was competing against four men. She said she wanted to rebuild cinemas in Kabul and nurture local filmmaking.
"We need to make films inside Afghanistan, we need to tell our own stories. Many from outside came and still come to Afghanistan and make (films) about our stories," she told Arab News. "But Afghan filmmakers do not have the facilities to make films about our own country, so it is my first priority."
She grew up in Iran and migrated to Slovakia, where she spent more than a decade studying film. The focus of her work has mostly been Afghan women, who have enjoyed greater freedoms and opportunities since the Taliban was ousted in 2001.
Her appointment was welcomed by Afghans from the film and media industries.
"I think it is a great woman who is going to lead Afghan Film. I hope she can protect and support actresses from the terrible culture of disrespect they face," Fereshta Kazemi, an Afghan actress who has also worked as an anti-corruption adviser, told Arab News.
Journalist Mujahid Andarabi described her as "sunrise in the darkness of night" in a misogynistic society.
Jawan Sher Haidari, who has been involved in the Afghan cinema industry for decades, called Karimi an "active and prominent figure."
"We do not have proper equipment, even cameras," he told Arab News. "Once we asked the government for $150,000 for three short films. The answer from the then finance minister was: 'We do not have the budget for fancy things.' She (Karimi) will need to start from zero. What government leaders do in terms of culture and the appointment of women are just symbolic moves. They have not done anything fundamentally for the promotion of culture and cinema," he added.
There is no specific funding for Afghan Film. There is not even a home for it anymore as its offices were allocated to the UK for it to use as part of a new embassy. Items from Afghan Film's archive that survived Taliban rule — and the plunder before that — are in the presidential palace.
The crumbling state of Afghan Film has even been dubbed "Nothing Wood" by local journalist Tahir Qadery.
Karimi knows about the hurdles but did not know that Afghan Film's offices had been handed over to the British. She said she hoped to raise money through advocacy. She is even unphased by the Taliban, which has yet to retreat from the public sphere.
"I am not anti-peace. I am pro-peace, because we are tired of this war, but I am not afraid of the Taliban. I belong to a generation of women that fights for every achievement. If they (the Taliban) want peace, we welcome them," Karimi replied when asked to comment about peace talks between the US and the militant group.
Nabi Tanhar, a veteran director at Afghan Film, outlined some of the other challenges facing Karimi. "The political and security situation has overshadowed all of the cultural affairs, including cinema in Afghanistan," he told Arab News. "It takes one week to order clothes for an actor. There is too much bureaucracy. The entire country is a challenge and she will face tough times because our films are not digitized. We do not have a building for Afghan Film and no budget."
He suggested that Karimi could use her network outside Afghanistan to create interest in the local movie industry, advising her to "exercise patience" when she formally took up her role.
An official at the Afghan Ministry of Information and Culture said the Afghan Film building had been taken over by the British because it was next door to the US embassy and opposite NATO headquarters in Kabul's most secure site.
http://www.arabnews.com/node/1498026/lifestyle
--------
French Senate votes to ban headscarf on school trips
Yusuf Ozcan
16.05.2019
PARIS
France's upper house of the parliament on Thursday adopted a bill that prohibits mothers from wearing headscarf while accompanying the students on school trips.
The bill was presented in the country's senate by the conservative Republican party. The bill was passed with 186 Yes and 100 No votes, while 159 senators abstained.
The bill has to be approved by the National Assembly -- lower house of the parliament -- for its entry into force.
Jacqueline Eustache-Brinio, a lawmaker of the Republican Party, argued that the bill aims to fill a legal gap in the implementation of secularism on school trips.
Meanwhile, French Education Minister Jean-Michel Blanquer said: "This bill is contrary to the Council of State's decision and will create many problems in the development of school trips."
However, Blanquer said he respects those who advocate the bill.
He said that he would do all he could to prevent parents from carrying religious symbols on school trips.
Mohammed Moussaoui, president of the Union of Mosques in France, said this bill is against religious freedom.
Moussaoui called on lawmakers to reject the bill and ensure equal treatment of citizens of different faiths.
https://www.aa.com.tr/en/europe/french-senate-votes-to-ban-headscarf-on-school-trips/1480142
--------
Supreme Court of India to Hear Plea of Muslim Woman against Divorce Notices
May 17, 2019
NEW DELHI: The Supreme Court on Thursday agreed to hear a Muslim woman's plea challenging the two Talaq (divorce) notices given by her husband and sought direction for registration of FIR against him.
A bench of Justices Indira Banerjee and Sanjiv Khanna said it will hear the plea on Friday.
Advocate MM Kashyap, appearing for the woman, said her husband after nine years of marriage has given her two notices for Talaq in March and May.
He said the woman got married on February 22, 2009 as per Muslim rites and customs and has two children.
The bench asked the counsel as to why he did not move the high court for the relief.
To this, the counsel said the top court on August 17, 2017, held the practice of triple talaq among Muslims as unconstitutional and the notices given by the husband were violative of that order.
The woman, a Delhi resident, in her plea has said that her husband and in-laws started harassing and assaulting her after marriage demanding additional dowry and a car.
She said the first notice for talaq was sent to her on March 25 and the second notice was sent to her on May 7 by her husband.
The woman said the The Muslim Women (Protection of Rights on Marriage) Ordinance, 2019, which was promulgated in January 12 is also in her favour.
She sought direction from the court to the authorities for registration of FIR against her husband.
https://www.ndtv.com/india-news/supreme-court-to-hear-plea-of-muslim-woman-against-divorce-notices-2038797
--------
Bill 21 targets Muslim women's rights, says Quebec federation of women
May 16, 2019
Quebec's secularism bill is a frontal attack on women's rights and primarily targets Muslims, the head of a major feminist organization said Thursday during the final day of legislative hearings into the proposed law.
The legislation would put barriers in front of Muslim women by denying them the right to hold certain jobs if they wear a hijab, Gabrielle Bouchard of Fédération des femmes du Québec told the committee studying the bill.
"It's a bill that is fundamentally sexist," Bouchard said. "It is sexist because the fundamental point of feminism is 'my body, my choice.' And this bill is a direct attack on women's choice and their bodies."
Quebec's Bill 21 would prohibit public servants in positions of authority — including primary and secondary school teachers, police officers, Crown prosecutors and prison guards — from wearing religious symbols on the job.
In response to Bouchard's testimony, Immigration Minister Simon Jolin-Barrette said the bill doesn't target one particular religious group but "puts all religions on an equal plane."
Following Thursday's hearings, the bill will be debated in the legislature and then head back to the committee for study. Jolin-Barrette has said he wanted the proposed law passed before the legislature's mid-June summer break.
The Coalition Avenir Québec government (CAQ) has the votes to make that happen.
Bill 21 invokes a clause in the Constitution that blocks citizens' ability to challenge the legislation in court. Jolin-Barrette said the government needed to include the Constitution's notwithstanding clause to ensure the will of the Québécois majority was respected.
Bouchard admitted her federation once supported legislation prohibiting public sector workers such as police officers and judges from wearing religious symbols at work. But she says the feminist federation changed its position after recognizing the harm such a law would do to Muslim women.
"We've seen Muslim women face the backlash of this conversation over secularism for the last 10 years," she said. Every time a government tries to introduce legislation, she said, "Muslim women have to live with the consequences."
The Fédération des femmes du Québec reflects the progressive strain of feminism in the province and stands in direct contrast to another women's group that appeared in front of the committee last week.
The feminist group Pour les droits des femmes du Québec told the committee the legislation should go further and apply to daycare workers.
Following Bouchard's testimony, Taran Singh, with a coalition of citizens who mobilized against Bill 21, told the committee the legislation would likely inspire the private sector to discriminate against religious people.
If a private company decided to fire an employee who wore a religious symbol, the government would have little moral authority to do anything about it, he said. "How can you prevent discrimination in private companies?" Singh asked. "What moral authority would you have?"
Earlier on Thursday, Montreal archbishop Christian Lepine issued a statement stating the government's bill violates individual freedoms.
"How can one not see that the prohibition against wearing religious symbols is both an obstacle to upholding freedom of conscience and religion, as well as an attack on human dignity," Lepine said.
https://globalnews.ca/news/5286643/bill-21-targets-muslim-womens-rights-says-quebec-federation-of-women/
--------
Two More Hindu Girls 'Wilfully' Convert To Islam and Approached the Islamabad High Court to Seek Security
May 17, 2019
ISLAMABAD: After Ghotki girls, two more Hindu girls of Sindh province have approached the Islamabad High Court (IHC) to seek security after converting to Islam and marrying Muslim boys "willfully".
The petitions stated that Dua Fatima (Samrin) and Ghulam Ayesha (Priya Kumari) had married Afaq Ali and Ali Murrad, respectively, and converted to Islam of their free will.
Dua Fatima, reportedly a student of intermediate in Sukkur, stated in her plea that she was "impressed" with Islamic teachings and had renounced her Hindu faith willfully.
Ghulam Ayesha reportedly belongs to Khairpur, Sindh.
The petitioner girls claimed that they had embraced Islam publicly and feared reprisal from their respective families and members of the community.
The petitioners prayed the court to direct the respondents to restrain from harassing and threatening the applicants and interfering into petitioners' "right to life with liberty to profess religion to her choice and her marriage as guaranteed by the Constitution".
The petitioners prayed the court to issue directives to security institutions for ensuring protection of their lives.
The interior secretary, IGP Islamabad, girls' father and PPP's MPA have been nominated as respondents in the case.
https://www.pakistantoday.com.pk/2019/05/16/two-more-hindu-girls-willfully-convert-to-islam/
--------
MPA Pushes For Day-care Facilities In Govt Depts. To Support Women Lawmakers
May 17, 2019
KARACHI: Mahjabeen Shereen, a member of the Balochistan Assembly, has pledged a campaign to amend laws barring women lawmakers from bringing their infants to sessions.
On Saturday, the MPA was strongly criticised by fellow lawmakers for bringing her child to the assembly session.
One of the MPAs went on to ask her to leave the house, bringing tears to her eyes.
Ms Shereen is from Kech district and became a member of the Balochistan Assembly in 2018 on a reserved seat for women.
In an interview with BBC Urdu, she said that on Saturday her child was not feeling well and so she had no option but to take him along. "My child was not causing any disturbance but still they asked me to leave. For a working woman to focus on her work, it is essential that she has her child with her," she said.
The MPA said that she had seen women politicians of other countries taking their children to parliament sessions so thought it would be the same in Pakistan. However, to her disappointment, Ms Shereen was informed that bringing children to the assembly was against the law.
"I went to the assembly secretary and asked for access to a spare room but he said the rooms were for ministers and could not be turned into daycare centres," the MPA told BBC Urdu.
She regretted that no one stood up in support of her during the session. "For everything else we walk out, but no one, including women lawmakers, came out to support me," she said.
Following the negative response from the provincial political circle, Ms Shereen said that she had decided to run a campaign to establish daycare facilities in assemblies as well as all government departments.
The MPA added that she had approached the chief minister in this regard and would also speak to other leaders. "I hope other lawmakers will support me in my cause," she said.
https://www.dawn.com/news/1482815/mpa-pushes-for-daycare-facilities-in-govt-depts-to-support-women-lawmakers
--------
Egyptian Football Star Mo Salah Calls For Change In Treatment Of Women In Muslim World
April 18, 2019
LOS ANGELES: Egyptian football star Mohamed "Mo" Salah has called for change in the way women are treated in the Muslim world, in an interview with Time magazine published Wednesday.
The 26-year-old Liverpool forward was named one of the US magazine's 100 most influential figures of the year, alongside other athletes including Tiger Woods, LeBron James and Naomi Osaka.
Salah told Time that while his attitudes toward gender equality had evolved over the years, he wanted to see more change.
"I think we need to change the way we treat women in our culture," Salah was quoted as saying. "It's not optional."
He said the treatment of women "in my culture and in the Middle East" had changed his opinions on gender issues.
"I support the woman more than I did before, because I feel like she deserves more than what they give her now, at the moment," Salah told the magazine.
Salah is an icon in Egypt after helping the country qualify for the 2018 World Cup, the first time they had reached the finals of the event since 1990.
He was named African Footballer of the Year in 2017 and 2018 and was also English football's Player of the Year in 2017-2018 following a dazzling season with Liverpool.
He told Time he has learned to cope with the "little bit of pressure" that comes with his elevated profile, while expressing pride at being regarded as a role model.
"To be the first Egyptian in (this) situation and no one has done this before... it's something different," he said, insisting that superstardom had not changed his lifestyle.
"I just live my life normal," he said. "Most of the time I stay at home, I don't like to go out."
http://www.arabnews.com/node/1484196/lifestyle
--------
URL: https://www.newageislam.com/islam-women-feminism/austrian-muslims-challenge-school-headscarf/d/118628
New Age Islam, Islam Online, Islamic Website, African Muslim News, Arab World News, South Asia News, Indian Muslim News, World Muslim News, Women in Islam, Islamic Feminism, Arab Women, Women In Arab, Islamophobia in America, Muslim Women in West, Islam Women and Feminism