New Age Islam News Bureau
5 Apr 2018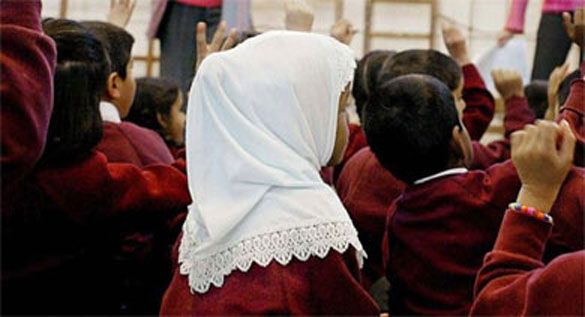 Austria's Muslim community asserts that very few girls under 10 wear a headscarf in the country
-----
• Anti-Talaq Bill Draconian: AIMPLB Women's Wing
• Actress Shireen Mirza Denied Accommodation for Being a Muslim in Mumbai
• Female Deputy of Diyanet Seeks More Inclusion for Women
• Bringing Muslim Women to Streets Is Against Shariah: Shahi Imam of Delhi
• 39 Saudi Women Licensed To Work as Lawyers
• 1643 Cases of Violence against Women Recorded In Sindh: Report
• Egyptian Women Take On Men in Technology
• Four Egyptian Women Listed In Top 5 Squash Player Rankings
Compiled by New Age Islam News Bureau
URL: https://www.newageislam.com/islam-women-feminism/austria-proposes-headscarf-ban-girls/d/114832
--------
Austria Proposes Headscarf Ban for Girls Fewer than 10
4 April 2018
Austria's new coalition government has proposed a ban on headscarves for girls aged under 10 in schools.
The "child protection law" will be drawn up by the summer according to the education minister, and will be a "symbolic act" in protecting Austrian culture from some Islamic influences.
Austria's main Muslim group called the plan "absolutely counterproductive".
It asserts that very few girls in kindergartens and primary schools in Austria wear a headscarf.
It is not clear how many children might be affected, particularly as many Muslims believe their religion expects a girl to start wearing a headscarf from puberty.
Chancellor Sebastian Kurz of the centre-right People's Party said to broadcaster ORF Radio: "Our goal is to confront any development of parallel societies in Austria."
His conservative party won last year's election by taking a hard line on immigration, a hot topic after Austria took in the equivalent of almost 2% of its 8.7m population in asylum seekers during Europe's migrant crisis.
Vice-Chancellor Heinz Christian Strache, of the right-wing coalition partner the Freedom Party, said in a Facebook post that the government wanted to protect little girls from political Islam.
Mr Kurz, at a news conference with Mr Strache, said they believed there was a problem in schools, though they did not produce any figures to support this.
The details of the proposed law still have to be worked out, though it is expected to affect girls up to around the age of 10.
The previous coalition government of Social Democrats and Mr Kurz's conservatives passed a law banning face coverings including Muslim full-face veils in public spaces, but women and girls are free to wear regular hijab.
Austria's official Muslim community has urged dialogue, saying that people should not pursue populist politics around children's heads.
Last year, Austria's president Alexander Van der Bellen called on all women to wear headscarves in a sign of solidarity against what he called rampant Islamophobia in the country.
http://www.bbc.com/news/world-europe-43646560
--------
Anti-talaq Bill draconian: AIMPLB women's wing
APRIL 04, 2018
Demanding the withdrawal of the Muslim Women (Protection of Rights on Marriage) Bill, 2017 that makes triple talaq illegal, members of the All India Muslim Personal Law Board (AIMPLB) on Tuesday said that through the "anti-women" Bill, the government was targeting the community.
"The provisions in the Bill have created pain and anguish among women from the community. This Bill is is being introduced to harass Muslim women. What is this selective obsession with triple talaq? There are other pertinent issues that the government can focus on, including dowry deaths, female infanticide and so on. Why is the government not looking into those aspects as well," asked Dr. Asma Zehra, convener of the AIMPLB's women's wing.
The Bill, which is currently pending in the Rajya Sabha, had made the pronouncement of triple talaq a non-bailable offence.
Further, it laid down that a man using triple talaq to divorce his wife, would face a three-year imprisonment and a fine.
http://www.thehindu.com/todays-paper/tp-national/anti-talaq-bill-draconian-aimplb-womens-wing/article23428943.ece
--------
Actress Shireen Mirza Denied Accommodation for Being a Muslim in Mumbai
Apr 4, 2018
Actress Shireen Mirza, who is seen as the cunning 'Simmi' on the popular show Yeh Hai Mohabbatein, is quite chirpy and lively off the screen. Recently, the actress had put up a post stating her complete disappointment after she had faced a few traumatic experiences in Mumbai. The actress, who has been on a house hunting spree for the past two months now, was denied accommodations on the basis of her caste, her marital status and gender. on various occasions.
While talking to TimesofIndia.com, Shireen elaborated on her upsetting experience. "I am normally very chirpy and away from such things. But I was just shattered yesterday and decided to let everyone know about it. I wanted a house where I am currently located. But I was disappointed by the behaviour of few people who denied accommodation all because I was a Muslim, while there were others who did not want a bachelor in their society. Many societies said that they did not want an actor who is a bachelor and, on top of that, a Muslim," said Shireen.
She further elaborated, "I have literally seen 100 houses in two months but still haven't got a house all because of the bizarre rules pertaining to caste, marital status, and gender. Rather than respecting me for the work that I do, staying away from my family and creating a niche in my professional world, these people were setting in odd rules. I just cannot understand this. I had been asked to pay for extra rent as well at some places, all because I am a bachelor and have odd working hours, since I am an actor. Despite staying in the same society for good 5 years, I had to yet again give an interview to the same people over my job etc. They all know me so well and none of them have ever faced any issue because of me, still, I was asked to do so. It was surprising even more because I had never faced any such issue earlier in Mumbai. People became biased here suddenly and started judging me on the basis of what other people from my community probably must have done. I mean shouldn't they deal with me as an individual and not judge on the basis of 'one for all'.
An annoyed Shireen further explained how she was asked to involve her family in these matters as well. "I remember the brokers and society had asked me to get my family members for a month and then send them back just to show the owner that my family is aware of my work and things happening here. I did not understand the logic as to what difference would it make because I would be the one staying here going ahead. In fact, the brokers came down to my place and, taking undo advantage of the situation, harassed me for money. I expect a lot from the city of dreams. Since I have come from a different city altogether to make a career, not getting the basic necessity to stay under a roof would have been such a shame. "
But to every negative occurrence, there is always a positive side as well. Having said that, Shireen gave the good news of having finally got hold of a suitable house.
"The good news is, I have finally got a house. Just a few hours after I put up the post yesterday, a non-Muslim person called me and offered me his house. He, who said was a Brahmin, said that he did not have an issue with me being a Muslim or of any other caste. I couldn't express my emotions then and was delighted to see such positivity suddenly appear out of a wave of negativity."
"It's just that a few people have created the differentiation of Muslims, Hindus etc. But I am glad that good and pure souls also do exist. Luckily, the new house is in the same place where I was looking out for. I have really learned that not everybody is the same and the ill feeling of coming to Mumbai because of the annoyance since months, got washed away overnight by the pure gesture by one good soul. I hail from Jaipur but I still tell people that I am from Mumbai because I am so proud of this place and now have got a big reason to be happy about the city. I have always maintained my stand that I have no qualms about coming to this city and indeed Mumbai is Aamchi Mumbai."
https://timesofindia.indiatimes.com/tv/news/hindi/yeh-hai-mohabbateins-shireen-mirza-denied-accommodation-for-being-a-muslim/articleshow/63611840.cms
--------
Female Deputy of Diyanet Seeks More Inclusion for Women
Apr 5, 2018
Islam does not espouse discrimination against any gender, in Turkey, women has long been excluded women from having a say in religious matters and discouraged from praying at mosques. Professor Huriye Martı, appointed as the first female deputy of the state-run Presidency of Religious Affairs (DİB or Diyanet) in a landmark move earlier this year, aims to change this.
Speaking to Anadolu Agency (AA), Martı said they will make mosques friendlier for women and improve women's role in religious issues. "The prophet urged the faithful not to prevent women from praying at mosques because mosques are where women can learn the religion from genuine resources," she said. Martı explained that mosques have been "an education venue" for women since the Muhammad's time and are especially key for mothers to help their children grow up accustomed to praying.
Women are not allowed to pray side by side with men in Islam and mosques have traditionally devoted their upper floors to female worshipers. However, faithful women have complained that these sections are far less cared for than the areas for men. Martı said they will impose new standards on mosques built in the future for more spaces for women. "Mosques will have sufficient space for women, and these sections will be maintained better. We will also revise the existing mosques in terms of more inclusivity for women," she said.
The DİB will also pursue a better approach to women's problems, Martı said, adding that they will hold a meeting on "Islam and Woman" to consult with female theology academics. "We have more and more women in theology faculties and this is a great gain for us."
https://www.dailysabah.com/turkey/2018/04/05/female-deputy-of-diyanet-seeks-more-inclusion-for-women
--------
Bringing Muslim Women to Streets Is Against Shariah: Shahi Imam of Delhi
April 3, 2018
New Delhi: Shahi Imam Syed Ahmed Bukhari once again criticised the protests march carried out by Muslim women in various parts of the country against Triple Talaq bill.
In a statement, Shahi Imam brought Muslim Personal Law to the witness box and asked it whether it is justifiable to bring Muslim women to streets. He strongly condemned the protests in which Muslim women are taking to the roads. He said such processions are against Islamic Shariah and termed it an innovation.
Taking a dig at Muslim Personal Law Board, Shahi Imam said the people gave them time for decades to solve the triple talaq issue but the Board instead of solving the problem, entangled it. He said during the case of triple talaq in Supreme Court the Board had declared women 'naqisul aql' (faulty intellect), now it is trying to put the gun on women's shoulder. He expressed fears that these processions by the Muslim women will give a chance to the communal forces to disrupt peace in the country.
https://www.siasat.com/news/bringing-muslim-women-streets-against-shariah-shahi-imam-1337159/
--------
39 Saudi Women Licensed To Work as Lawyers
Apr 5, 2018
Riyadh – Fifty-nine Saudi female lawyers have officially obtained their licenses which authorise them to exercise their professions.
The new batch brings the overall number of licensed female lawyers across Saudi Arabia to 244, said the Ministry of Justice.
Justice Minister, President of the Supreme Judicial Council Dr. Walid bin Mohammed Al-Samaani recently gave directives to engage qualified women to work as notary publics.
A judicial training centre was recently inaugurated in Riyadh to hone the skills of female legal graduates desiring to integrate into the legal markets and work as lawyers or notary public.
http://www.gdnonline.com/Details/345917/39-Saudi-women-licensed-to-work-as-lawyers
--------
1643 Cases of Violence against Women Recorded In Sindh: Report
Apr 5, 2018
KARACHI: A total of 1643 cases of different types of violent acts, from honour killing to custody of children and maintenance, were filed by women from across the province since July last year, a report has claimed.
The report listed cases registered from July 1 last year to date, in the women complaint cells and Benazir Bhutto Centre for Women in Sindh.
13 cases of honour killings have been reported in Sindh with eight such crimes being from Jacobabad alone. Karachi had three reported cases of this crime.
Officials claimed that the practise of honour killing was seeping slowly into the provincial capital, showing that the people settling in the city from various areas of the province were practising it with the same brutality.
Hyderabad, Sindh's second largest city, also had a case of honour killing, while the rest were reported from Benazirabad.
Five cases of rape or gang rape were also reported. Three of them were from Jacobabad while one was from Benazirabad and one from Shikarpur.
Five cases of sexual assault were also reported: two from Jacobabad and one each from Karachi, Hyderabad and Sukkur.
Out of 252 cases of domestic violence and harassment, Benazirabad had the most with 55 cases. Jacobabad followed with 45, Mirpurkhas with 35, Hyderabad with 32, Karachi with 23, Larkana with 12, Khairpur with 10, Naushahro Feroze with nine and Sanghar and Shikarpur with one each.
A single case of women trafficking was reported from Jacobabad.
There were 18 cases of violence in custody, of which nine were reported from Benazirabad, five from Hyderabad, and four from Naushahro Feroze.
Two cases of child marriages were reported from Hyderabad and Larkana.
Three cases of 'unlawful or fake marriages' were reported — two from Jacobabad and one from Hyderabad.
Karachi and Hyderabad reported five cases each of murders or kidnapping. Another four such cases were reported from Jacobabad and one from Sanghar.
A single case of acid throwing on a woman was reported from Sukkur.
The report claims the department's facilities did not receive any complaint of forced conversion of non-Muslim girls and their marriages.
26 women were referred to shelter, 21 women were wounded and needed medical help in various districts, 119 women sought legal aid, 102 others looked for police protection and another 154 for legal suggestions.
The report further says that 173 cases of custody of children or maintenance, 168 cases of dissolution of marriage/khula/recovery of dowry articles/dower amount and 268 cases pertaining to family matters were filed.
There were also some 75 cases related to property and 107 others were related to miscellaneous issues.
The overall leader vis-a-vis all such issues was Benazirabad with 457 cases, followed by Sukkur (286), Hyderabad (213) and Karachi (196).
Shikarpur turned up fewer cases (six) while no complaint was received as per the report from the remaining 13 districts of Sindh.
Officials, however, said the report also showed that women in some districts were aware of the presence of such government facilities where they could file their complaints.
They conceded that much work was to be done as around half of Sindh's districts had not produced such complaints because of deficiency of such facilities available to them.
"We are expanding our network in all parts of Sindh, which will be there to receive complaints and ensure action is taken by the relevant authorities in soonest possible time," a senior official said.
https://www.pakistantoday.com.pk/2018/04/05/1643-cases-of-violence-against-women-recorded-in-sindh-report/
--------
Egyptian Women Take On Men in Technology
Fatma Lotfi
April 4, 2018
CAIRO — Amid difficult economic circumstances and a job market where the participation of male workers is considerably higher than their female counterparts, Egyptian women are taking new steps in the technology sector, an area dominated by men.
Motoon, which helps develop networks in the technology sector, partnered with the Google Developer Group (GDC) in Cairo to organize a conference titled "Egyptian Women in Technology," which took place March 10. The conference at the Goethe Institute featured successful women and shed light on the main challenges and obstacles facing them.
Motoon's Noon Tech program supports women working in the technology field by organizing regular training sessions and workshops.
"There aren't many women in this field. Is it because we do not want to support them or we do not believe in their capacities? Are there real problems impeding their professional career paths? We are trying to understand this by organizing events that give them a chance to participate, show their practical and scientific experience, and reveal the difficulties they are facing," Sara al-Sherif, a project manager at Motoon, told Al-Monitor.
She said that women in Egypt need a supportive environment and network, so one of the first steps is to introduce newcomers to the success cases and the latest techniques in the field, as well as connecting them to companies and associations to launch their own projects.
Samira Negm, 30, a participant in the conference, is the CEO of the company that created Raye7, a culturally sensitive carpool app. She told Al-Monitor, "I thought about using technology to serve society by creating the app Raye7 to solve the traffic crisis. The app aims at encouraging carpooling and helping people benefit from their resources efficiently to enjoy safe and affordable transportation."
Asked whether she faced many difficulties as a woman in the technology sector, she said her determination helped overcome challenges and that she got promoted in her eight years of professional experience. "Perhaps I chose a different path from the others, but I succeeded," she added. Negm has worked in software development, training, process design and project management.
Negm said she was lucky to have a family who supported her in her career path from the beginning. "They understood the importance of technology and taught me to love programming. I am lucky to have a supportive family and a husband who understands the nature of my job and my late working hours," she said. Negm's husband also works in technology.
Although Negm was appreciated by her employers, Sherif said that this is not the case for most Egyptian women. According to her, one of the main challenges is that company owners do not want to employ women due to the nature of the work that requires staying late and because men are considered — culturally — to be more apt at technology.
"Women feel that society does not help them or encourage them enough, and they often decide to [opt out] themselves," Sherif said, adding that the work structure, with men at the helm, is not easily adaptable to women's responsibilities after marriage. Faced with a boss who does not understand women's increased workload at home after marriage, female employees often end up leaving work once they start a family.
Women also face bias in the job market when it comes to leadership positions and salary. A report titled "Equality Between Men and Women in the Arab Region in a Changing World," published by the International Labor Organization in April 2017, stated that six Arab countries, including Egypt, are among the 10 countries where the salary gap between both genders is the widest. The Egyptian government is trying, through Egypt Vision 2030, to increase the participation rate of women in all fields in the job market from 4.2% to 35% by 2030. The strategy seeks to empower women and youths in a systematic way that achieves a positive impact in reducing the generation and gender gap.
Although there aren't any official figures about the number of employees in the technology field in Egypt, the sector is dominated by men.
Bassant Todray, 26, overcame her fears and worked hard to become a trainer at Women Techmakers Cairo, a program run by Google that supports women in the technology field. She told Al-Monitor, "After I graduated, I was afraid of starting in this field, but I learned to believe in myself and my capacities. This is what I am doing with Google."
Todray graduated from the faculty of information and technology at El Shorouk Academy in Cairo. She currently works as an Android app programmer and developer for Egyptian governmental services, in addition to her work with Google where she organizes events to serve women's needs in the technology field.
She noted that in her first job in a private tech company, she was the first woman working in a team of men. She added, "I noticed that there are fewer women than men [in the field of technology]. I want to encourage more women to choose this field and introduce them to their financial rights such as fair pay and level of salaries. Many of them want an opportunity, even if the pay is low."
GDC team leader Abdul Rahman Rifai told Al-Monitor, "We mainly focus on developing women's abilities and help them in the field of technology. We are present in nine provinces — including Alexandria, Faiyum and Minya — and this might expand to other governorates. We are also launching events to introduce Google's latest technologies, in addition to training men and women to use and develop them."
Todray added, "Since I found someone to help me, I also want to help women trying to enter this field. Sharing success stories is great motivation. We want to reach high school students and focus more on girls. I hope Egypt will have the biggest number of female employees in the technology field with more female participation in the coming years."
https://www.al-monitor.com/pulse/originals/2018/04/egypt-technology-women-employment-equality.html
--------
Four Egyptian Women Listed In Top 5 Squash Player Rankings
Hend El-Behary
April 4, 2018
Egyptian women dominated the top five spots on list of the Professional Squash Association (
PSA) World Tour, for April's top 20 World Rankings, with four out of five squash professionals being Egyptian.
The list was topped by the world number one in squash, Nour El-Sherbini, who has held first place 24 consecutive months. The 21-year-old champion was crowned in 2017 after the China Squash Open Women's Championship to become the third Egyptian woman to be crowned world number one after Heba al-Torky and Raneem al-Weleily, who achieved the rank in 2008 and 2015 respectively. She moreover won the 2018 Women's J.P. Morgan Tournament of Champions title in New York.
The skillful Weleily ranked second on the PSA list in April ranking, followed by Nour al-Tayeb and Nouran Gohar, who were ranked third and fifth respectively.
Elsewhere, it's only few weeks before the Gouna International Squash Open, bringing 112 of the world's best squash players from 17 countries to compete. Qualifications take place on April 18-19 at the Gouna Squash Complex, and the main draw runs from April 20-27 at the complex and on the Glass Court at Abu Tig Marina.
http://www.egyptindependent.com/four-egyptian-women-listed-in-top-5-squash-player-rankings/
--------
URL: https://www.newageislam.com/islam-women-feminism/austria-proposes-headscarf-ban-girls/d/114832
New Age Islam, Islam Online, Islamic Website, African Muslim News, Arab World News, South Asia News, Indian Muslim News, World Muslim News, Women in Islam, Islamic Feminism, Arab Women, Women In Arab, Islamophobia in America, Muslim Women in West, Islam Women and Feminism