New Age Islam News Bureau
6 Oct 2014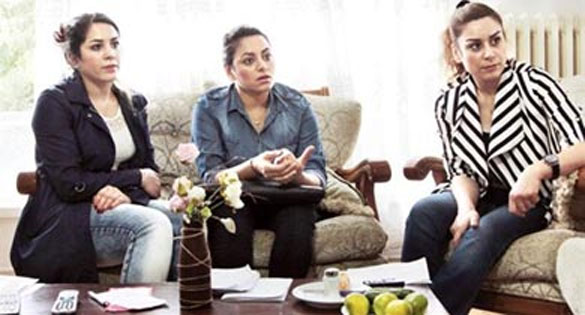 Iranian sisters struggling for future in Turkey after escaping lashes for music video
-----------
• Kurdish Female Fighter Blows Herself Up On ISIS
• French Teen Girl Stopped 'On Way to Jihad in Syria'
• Row over Turkish Singer's Remarks Likening ISIL Militants and Those Who Sacrifice Animals
• Iranian Sisters Struggling For Future in Turkey after Escaping Lashes for Music Video
• For First Time, Saudi Women Work At Slaughterhouse
• UK Muslim Women Respond To Calls to Ban Burqas, Say Face-Covering Can Be 'Liberating'
• India: Put More Stress On Muslim Women Education
• Australian Muslim Woman Stopped Wearing Hijab For Fear Of Being Attacked
• Less Sexual Harassment in Cairo, over Eid Doesn't Mean Problem Is Decreasing: Initiative
• Woman Completes Co-Wife's Family — Gives Her a Boy and Then a Girl
• 8 Brothers Vie To Serve Mother Perform Haj
• Pakistani Man Sells Home To Undertake Hajj To Honour Dead Wife
Compiled by New Age Islam News Bureau
URL: https://newageislam.com/islam-women-feminism/australian-muslim-woman-thrown-moving/d/99398
----------
Australian Muslim Woman Thrown From Moving Train In A Racist Attack
06 Oct, 2014
A woman believed to be a Muslim was left shaken and traumatised after she was thrown out of a train the northern part of Melbourne in a racist attack. Reports said the 26-year-old woman was on a train on the Upfield line when another woman approached her and began verbally abusing her with racist remarks.
The woman's abuser grabbed her by the hair and neck as her head was bashed several times on the wall of the train's carriage. The Muslim woman was then pushed off the train when it arrived in Batman Station in Coburg North. According to Senior Constable Michael Potter, the racist attack had happened as the train approached the station on the night of Sept. 25.
Potter declined to confirm the race of victim. Victorian Chief Commissioner Ken Lay had earlier urged the Muslim community to report any incident of racial abuse amid heightened terror alerts and escalated tension in Australia following counter-terrorism raids. Potter refused to release more details about the victim since this would only reveal her identity and lead to possible future attacks.
Police said two men who witnessed the attack had offered to help the woman. The other woman who abused her was described as having a solid build with short brown hair, light eyebrows and an estimated height of 177 centimetres, reports said.
Lay had claimed the police had no information to confirm the rise of "prejudice-related crime" but he was aware of a number of issues in the community that have not been reported to the authorities, The Age reports.
The commissioner acknowledged that Muslim women are "insulted about their garb" while on the street. He said the police are looking into CCTV footage related to the attack on the woman on the train.
According to the results of the latest Mapping Social Cohesion survey, racism in Australia is on the rise. The survey in 2013, conducted by the Scanlon Foundation, found that 19 percent of Australians struggle with some form of racial or religious discrimination. The current figures reveal that racism is at its highest level since Scanlon Foundation began the survey in 2007
In 2011, another survey conducted by a group of Australian universities found that half of the population in Australia have anti-Muslim views. Since the national terror threat level was raised in Australia, the Grand Mufti has called on the Muslim-Australian community to be calm and exercise restraint since the Islamic State of Iraq and Syria issued threats against Australians through social media. Incidents of Australians hurling offensive and racist remarks on Muslims were reported to the police.
http://www.abna.ir/english/service/east-asia/archive/2014/10/04/642201/story.html
-----------
Kurdish Female Fighter Blows Herself Up On ISIS
06 Oct, 2014
A female Kurdish fighter carried out a suicide bomb attack against jihadists from the Islamic State group outside the embattled Syrian border town of Kobane on Sunday, a monitor said.
The Syrian Observatory for Human Rights said the woman blew herself up at an ISIS position east of the city, killing a number of jihadists who have surrounded Kobane and are battling to seize it.
"The operation caused deaths, but there is no confirmed number," Observatory director Rami Abdel Rahman said.
He said it was the first reported instance of a female Kurdish fighter carrying out a suicide bombing against the Islamic State group, which has itself often favored the tactic.
ISIS began its advance on Kobane, Syria's third largest Kurdish town, on September 16, seeking to cement its grip over a long stretch of the Syria-Turkey border.
The fighting around the town, also known as Ain al-Arab, has prompted a mass exodus of residents from the area, with some 186,000 fleeing across the border into Turkey.
http://english.alarabiya.net/en/News/middle-east/2014/10/05/Kurdish-woman-suicide-bomber-attacks-ISIS-monitor.html
-----------
French teen girl stopped 'on way to jihad in Syria'
06 Oct, 2014
VILLEFONTAINE, France: A 15-year-old French girl was in police custody after she disappeared from her family home in southern France, suspected of wanting to travel to Syria to wage jihad.
Assia Saidi was "found on Saturday night by her parents in a bar, near Marseille station, where she had been working for a few days," a source close to the investigation told AFP.
Investigators discovered a Facebook page under a pseudonym which "unequivocally" showed she was planning "to leave France and wage jihad," according to prosecutors.
"That was the goal," the girl told LCI television, before admitting she had quickly changed her mind.
The case has made waves in France, home to Europe's largest Muslim population, where some 930 citizens or residents, including at least 60 women, are thought to be either actively engaged in jihad in Iraq and Syria or planning to go.
France has taken a leading role in the fight against the Islamic State group in Iraq, participating in US-led air strikes there, although it has not yet taken military action in neighbouring Syria, where the jihadists also hold large swathes of territory.
Assia is in police custody for stealing her parents' bank card. Her mother told BFMTV: "We decided to go to Marseille. We looked for her all day ... she threw herself into our arms. We're so happy. Everyone hugged, cried, laughed." "We so relieved, so happy that she has not gone abroad," the mother said.
http://timesofindia.indiatimes.com/world/middle-east/French-teen-girl-stopped-on-way-to-jihad-in-Syria/articleshow/44412769.cms
-----------
Row over Turkish singer's remarks likening ISIL militants and those who sacrifice animals
06 Oct, 2014
A Turkish singer's remarks in which she likened the Islamic State of Iraq and Levant (ISIL) militants who behead people to people who sacrifice animals have created controversy in the country during Eid al-Adha.
"According to me, ISIL and those who put a knife to an innocent animal's throat are at the same emotional level. ISIL doesn't surprise me," Leman Sam, a prominent figure in the Turkish indie pop music scene, wrote on Twitter.
Sam took to Twitter to respond to the criticism, tweeting that sacrifices have existed since the pre-Islamic era.
"You uneducated [people], sacrifices also existed in pagan religions when there was no Islam. It is not only part of Islam. You're waiting to attack like vultures. Smarten up," she wrote.
"I am ashamed of being the same kind as you. You are deluded, uneducated and decayed. I cannot even be mad at you," she added.
Many people, including Deputy Prime Minister Bülent Arınç, reacted against the singer's remarks, with Arınç condemning Sam as "miserable."
"A Muslim knows what the sacrifice is, the story of the Prophet Abraham and the rest of it. I condemn this miserable person who put the sacrifice and the deeds done by those who cannot be deemed as human, who are a group of executioners that we cannot call Muslims, together. It is sad," Arınç said Oct. 5 while addressing Justice and Development Party (AKP) supporters during a rally in Bursa.
Arınç recalled President Recep Tayyip Erdoğan's previous remarks about a lawmaker who threw stones at military forces during clashes on the Syrian border, saying there was a "level of politeness" that should be observed.
"Of course, there are such confused people in every society. We don't intend to discard them, but how can someone say this to a believing society? … She doesn't intend to apologize, but we will apologize in her name to everyone who performed this worship thanks to Allah," Arınç said.
AKP Antalya lawmaker Gökçen Özdoğan Enç also slammed Sam's words, urging the singer to respect religious values and beliefs.
http://www.hurriyetdailynews.com/row-grows-over-turkish-singers-remarks-likening-isil-militants-and-those-who-sacrifice-animals-.aspx?pageID=238&nID=72580&NewsCatID=341
-------------
Iranian sisters struggling for future in Turkey after escaping lashes for music video
06 Oct, 2014
Three Iranian sisters are struggling to secure a future in Turkey, after escaping from lashings and prison sentences for shooting a music video in their homeland. The women's hopes were recently hit by a United Nations decision that rejected their claim of refugee status.
The sisters, 29-year-old Nafiseh Mansouri, 24-year-old Zahra Mansouri, and 21-year-old Fatameh Mansouri, were sentenced in Iran to 74 lashes and one year in prison after they shot a music video that was shared widely on social media. The punishment was suspended on condition that they would not repeat the "mistake."
Police had tried to arrest the three sisters during an attempted live performance, but they managed to escape the police raid. They then fled to Turkey, along with their little sister, Fatemah.
The sisters, who have been living in Turkey for two years, applied to the United Nations to obtain refugee status. However, the body's office in Turkey rejected their application on the grounds that they were escaping from the laws, not from cruelty defined in international refugee laws.
"Yes you are escaping and are scared. We believe you, but the sentences that you received do not comply with the refugee law," the body reportedly said.
"[According to refugee law] you are not escaping from cruelty, torture or disproportionate punishment. There is no oppression due to religious, political, ideological, national or racial reasons, defined in the 1951 Geneva Convention. You are not escaping from cruelty, but from laws," it added.
Appeal against UN decision
The sisters have appealed against the U.N. decision.
"If we return to Iran, we will be punished with 74 lashes and one-year jail terms. We will also be fined for leaving the country. Our only guilt is to have made music, which is something universal, and sharing it. We demand to receive refugee statues regarding international conventions and human rights declarations," the sisters said in the objection petition.
The U.N.'s office in Turkey has so far avoided commenting on the incident.
http://www.hurriyetdailynews.com/iranian-sisters-struggling-for-future-in-turkey-after-escaping-lashes-for-music-video.aspx?pageID=238&nID=72548&NewsCatID=341
-------------
For First Time, Saudi Women Work At Slaughterhouse
06 Oct, 2014
For the first time ever, 15 Saudi women are supervising the slaughtering of sheep, cattle and camels at Al-Moaissim Model Slaughterhouse, near Mina, this hajj season.
Bandar al-Suhairi, chairman of the company operating the slaughterhouse, said the women are supervising the slaughtering of animals, assisting other women who want to use the slaughterhouse and distributing meat among the poor and needy.
He said the women employees were assigned the tasks of supervision and control and they prevent other women from entering the place where animals are being slaughtered.
"These are seasonal workers. The women are being employed for the first time at a slaughterhouse during the hajj," he said.
Al-Suhairi said about 45,000 heads of sheep were slaughtered during the first day of Eid al-Adha.
"Under the Islamic Sharia, the slaughtering of sheep begins at sunrise and continues until sunset," he said.
During the next three days about 10,000 heads of sheep will be slaughtered daily. Al-Suhairi said about 1,000 people are working in the slaughterhouse such as butchers, cleaners and other workers.
"There are about 65 Saudis who are doing the supervision and control work. They are organizing entry into the slaughterhouse," he said.
There are 26 veterinarians at the slaughterhouse who examine the animals before and after slaughtering to ensure they are in good health and that their meat is suitable for human consumption.
He said slaughtered meat was stored in a large fridge until it is time to be distributed among the poor and needy by the welfare societies. There are five slaughterhouses in Moassim with a daily capacity of slaughtering 500,000 heads of animals.
http://english.alarabiya.net/en/perspective/features/2014/10/05/Saudi-women-work-at-slaughterhouse-this-hajj-season.html
-----------
UK Muslim Women Respond To Calls To Ban Burqas, Say Face-Covering Can Be 'Liberating'
06 Oct, 2014
Tony Abbott's budgie smugglers are 'confronting' - but we're not calling for them to be banned.
That is the common refrain of the Islamic community to fierce calls for the Burqa to be outlawed.
The joke is told by community leaders such as Mariam Veiszadeh, by Muslims on the streets of south-west Sydney and is the subject of a meme widely shared by the Islamic community on Facebook.
'It's a light hearted way of making the point.... if you want to dress down or dress up we should all be able to do it,' Ms Veiszadeh told Daily Mail Australia on Friday.
The Burqa debate - fuelled by conservative senators' calls and Prime Minister Tony Abbott's comment he finds the face-covering 'confronting' and 'wishes it was not worn' - has frustrated the country's Muslim community, who say only a tiny minority of women wear the full face covering anyway.
For a brief moment on Thursday, there was even a plan to keep Muslim visitors who wanted to watch proceedings at Parliament House in a glass enclosure.
The plan was quashed late last night by Prime Minister Tony Abbott, following community uproar and backlash from members of his own party.
Islamic community leaders told Daily Mail Australia they are sick of the Burqa (a form of dress where the face is covered by a mesh grill) being confused with the niqab, a more popular dress where the face is covered but the eyes are not.
'It (the Burqa) is not common,' Ms Veiszadeh said. And while there are no reliable statistics, 'only a tiny minority' of Australian Muslim women wear the niqab, she said.
A number of Muslim women told Daily Mail Australia that Australians who wear the niqab find it liberating, rather than oppressive, as critics have said.
'It's an amazing feeling of freedom,' said Maha Abdo, the executive officer of the Muslim Women's Association.
'You can see clearly, but no one can see you.'
Ms Abdo chose to start wearing Hijab 30 years ago, but she has worn a niqab while spending time overseas.
She said her headscarf reminds her of her spirituality.
'For me it's a reminder of my own purpose in this life and how to be the best that I can be,' she told Daily Mail Australia.
Mary Succati, who sells Islamic clothing to women at a store in Greenacre, in south-west Sydney, agreed that the handful of people she knows who wear the niqab found the experience rewarding.
'They're not perceived as oppressed - they feel liberated,' she told Daily Mail Australia.
The furious debate is occurring at a time of celebration for many Muslims.
The Eid Festival, one of the most important dates in the religious calendar, will be held over the long weekend, concurrent with the Hajj pilgrimage to Mecca.
Friday was the busiest day of the year at Ms Succati's store for Islamic women.
Her small shop was crowded with women buying new clothes for Eid. Ms Succati, who wears a Hijab, was planning to keep her store open until midnight.
She does not sell niqabs in her store, but many women in Niqabs come in to buy clothing for their children.
The fashion of the season? 'There's a lot of floral at the moment,' Ms Succati said, with customers ditching drab winter clothing for more colourful, but still modest, spring wear.
It will be a big weekend in Greenacre for another reason, too. The Bulldogs are facing off with South Sydney in the NRL Grand Final at ANZ Stadium on Sunday.
Ms Succati's staff, avid Bulldogs supporters who insisted her store be decked out in blue and white, will be watching.
http://www.dailymail.co.uk/news/article-2779101/Tony-Abbott-s-budgie-smugglers-confronting-not-calling-banned-Muslims-respond-Burqa-ban-call-explain-difference-niqab-Burqa-Hijab.html#ixzz3FMVNqBd7
-----------
India: Put More Stress on Muslim Women Education
06 Oct, 2014
A recent seminar by the Observer Research Foundation (ORF) stressed on the need to unveil special measures to ensure adequate education for Muslim girls. The seminar, organised in association with the Committee on Girls' Education, National Commission for Minority Educational Institutions, Government of India and All India Confederation for Women's Empowerment Through Education, New Delhi saw people from outside the city as well.
A report submitted a couple of months ago by the post-Sachar evaluation committee to the Centre revealed that there has been little improvement in the condition of Muslims in general due to poor implementation of the Sachar committee recommendations.
"Muslim women are a minority within a minority. The Constitution gives equal rights to women of all communities. The Holy Quran also has made learning and gaining knowledge compulsory for Muslims, with no discrimination between men and women," said Dr Shabistan Gaffar, chairperson of NCMEI's Committee on Girls' Education.
Sudheendra Kulkarni, Chairman of ORF Mumbai, said the BJP government at the Centre should make Muslim girls' education a matter of high priority. "It should significantly increase budgetary provisions for establishing schools and colleges, constructing adequate number of hostels, and giving scholarships to meritorious students," he said.
It is estimated that only 2.5% of Muslim women are graduates, the lowest among religious communities in India. It has also been seen that there is a high school dropout rate among Muslim girls. "Many talented girls who are eager to pursue higher education are unable to do so because of resistance from within families and the community. This must change," Kulkarni said.
Shrinivas Shastri, under-secretary, school education, mentioned about the newly set up Quality Cell, which is looking at grievances from all stakeholders and will address quality education across the board.
The participants unanimously agreed that it is important to bring on board municipal corporation, department of minority development, department of social justice, and departments of higher and technical education.
http://www.dnaindia.com/mumbai/report-put-more-stress-on-muslim-women-education-2023771
-----------
Australian Muslim Woman Stopped Wearing Hijab For Fear Of Being Attacked
06 Oct, 2014
Canberra Muslim woman Nurcan Baran says she has stopped wearing her Hijab for fear of being attacked.
On Thursday Speaker Bronwyn Bishop and Senate President Stephen Parry approved new interim rules to force Muslim women who cover their faces to sit in a separate glass-enclosed public gallery in Federal Parliament.
But Prime Minister Tony Abbott stepped in and asked Ms Bishop to reconsider the ruling.
Mrs Baran said the increasingly strident debate has stirred unease with Canberra's Muslim community.
The 22-year-old mother and part-time law student at the University of Canberra began thinking about wearing a Hijab at 13, but did not start wearing one until she was overseas in 2012 aged 19.
The self-proclaimed "proud Muslim feminist" emphasised she chose to wear the Hijab and was not forced.
"They say it is meant to stop men looking for you. It is not," she said.
"It is for that woman's own modesty and I think instead of being viewed as a tool of oppression it needs to be viewed as a woman's choice."
But Mrs Baran said she chose to stop wearing the Hijab in December 2013 because of negative treatment she was receiving in Canberra.
She told 7.30 ACT she was worried she would be attacked while out with her daughter and felt forced to take off the Hijab in order to feel safe.
She said there was no difference between those forcing women to cover up and those forcing women to uncover.
"I don't think men have the right to tell women how to dress whether you are Western or from the Middle East," she said.
"I think we really need to make it clear that they really don't have that right."
But despite her stance Mrs Baran made her own decision to not wear her Hijab in Canberra.
"I didn't feel self confident. I didn't want to go out. I didn't want to take my daughter for walks," she said.
"I didn't want to go back to uni, and I just kept on thinking to myself, 'how can I become a lawyer and help people if I can't even face the world?' And that's what I felt as a Hijabi woman in Canberra."
Mrs Baran said she was treated differently to women who do not wear a Hijab.
"When I was in labour, I went to the delivery ward uncovered because I wanted to make sure that I get the best possible treatment," she said.
"A look, a grimace, is just as bad. [It's] a look of silent judgment and it is pretty much the same as verbal abuse because you don't know what is behind that look and it stays with you.
"By itself it might be insignificant but when you go through it every single day and every time you go out it really ruins your self confidence... that was one of the reasons why I took it [the Hijab] off."
Mrs Baran said she had also experienced prejudice from government officials.
"I put it down to probably she was having a bad day, we all have those and I sat down and I waited to be seen by someone else," she said.
"Then I saw her treat another person who wasn't in a Hijab, much kinder.
"That was one of the first instances where I realised that this is really becoming very bad and I left the building and I cried because I felt very isolated."
But Mrs Baran said the current political climate was particularly worrying to the Canberra Muslim community.
"I knew after the election and the new Prime Minister, and the minority parties that he was backing, I knew that the climate would change in Australia," she said.
"It was in January or December when I decided to take it off, I knew that something was going to change and Islamophobia was present before then but I knew it was going to get worse."
She said she did not feel a part of Team Australia.
"Not Tony Abbott's version of Team Australia, but I do feel like I am Australian," she said.
"I think a lot of people would say that Tony Abbott's Team Australia is not the Team Australia that they want to be a part of."
'What is happening is not Islam'
Canberra Muslim community elder Ahmed Youssef said the horrific events happening overseas were not Islam.
"It is not part of the religion and it is affecting all the Muslims," he said.
"I would like to see that people refrain from sensationalism both in the media and in the Parliament.
"They think that they can get some votes from this but I don't think so."
Canberra Interfaith Forum secretary Amardeep Singh said there was unease across the multicultural community.
"A lot of Sikh people, particularly the taxi drivers, have faced abusive comments and abusive behaviours and some comments like 'you Muslims go back to your country'," he said.
"I'm not at all saying that it is okay to do that to Muslims, but we are also not Muslims."
Canberra Interfaith Forum president Muhammed Sadar-ud Dean Sahu Khan said many people fear what is different and they do not understand.
"This has to stop," he said.
"Today it is Islam, tomorrow it is going to be the Hindus, the next day it is going to be Judaism.
"This has to stop and the only way that I can see it being stopped is if we all come, irrespective of our faith, as a united voice that these things are not going to be tolerated in Australia but most importantly at the moment in Canberra."
http://www.abna.ir/english/service/europe/archive/2014/10/04/642173/story.html
-----------
Less Sexual Harassment in Cairo, over Eid Doesn't Mean Problem Is Decreasing: Initiative
06 Oct, 2014
Extra police and army personnel in Cairo helped limit sexual harassment incidents, a local anti-sexual harassment initiative said.
The imitative – called "Shoft Taharosh" (I Saw Harassment) – reported 20 verbal and one physical sexual harassment incident on its website. All 21 incidents were stopped by the initiative's volunteers, who were present in downtown Cairo from 12pm to 10pm.
Saturday was the first day of the Islamic Eid Al-Adha holiday. Past Eid holiday seasons in Egypt have become associated with increased sexual violence and mass incidents of harassment and rape.
The initiative stressed that the lower number of sexual harassment incidents on Saturday was not due to a decrease in the phenomenon – but rather a step up in security presence due to possible terrorist threats.
Egypt's interior ministry said in a statement that the deployment of police patrols in public areas during the first two days of Eid was responsible for the decrease in sexual assaults.
Policemen could be seen lined up along pavements in crowded areas in Cairo to anticipate the crowds – an unfamiliar scene on past Eid holidays.
Interior ministry spokesman Hani Abdel-Latif went so far as to say that sexual harassment had "completely disappeared" from Egyptian streets, according to a statement released to state news agency MENA.
He said the ministry's division combating violence against women had intervened in 103 cases of verbal harassment in Cairo – but didn't mention if similar action had been taken in other cities.
The anti-sexual harassment initiative, Shoft Taharosh, said it was present only in Cairo's downtown, and that other governorates and public parks could have seen more sexual harassment incidents.
Meanwhile, Egypt's state council for women said on Thursday that it would create a hotline for females to report cases of sexual assault during the four days of Eid.
A United Nations study from last year found that over 99 percent of Egyptian women and girls have been subjected to verbal or physical sexual harassment of some kind.
Egypt's authorities recently passed a new anti-sexual harassment law and sentenced several assailants to lengthy jail terms.
The law punishes sexual harassment with a prison sentence, a fine or both.
http://english.ahram.org.eg/NewsContent/1/64/112396/Egypt/Politics-/Less-sex-harassment-over-Eid-doesnt-mean-problem-i.aspx
-----------
Woman Completes Co-Wife's Family — Gives Her a Boy and Then a Girl
06 Oct, 2014
Some stories are too strange to be believed. One such is that of a 46-year-old pilgrim from Aurangabad in India's Maharashtra state. It is a story of sacrifice and love for another human being.
Yusuf Khan was married to Parveen Jahan 24 years ago. The wedding was a grand affair. Since Khan was the only son of his parents, they were extremely delighted at his marriage. The reason for their excitement was the expectation that the marriage would result in children which would then fill their life with joy.
A year passed, and then one more. The wait became unbearable and eight years passed. Khan's father waited and waited to see his grandchildren but to no avail. And one day he passed away.
Khan and Jahan became desolate and approached doctors and underwent fertility treatment but nothing happened. In between, Khan's mother had a paralytic attack that immobilized her left side.
Jahan, a teacher by profession, took immense care of her mother-in-law who now became completely dependent on her. Khan and his wife became more desperate to have a baby to bring cheer to their ailing mother.
One day, after mustering a lot of courage Jahan suggested that Khan go in for a second marriage. "Your mother wants to see your children and we have tried everything," said Jahan to Khan. "The only option left is for you is to take a second wife and hope for the best," she said.
Khan's instant reaction was a resounding no. "Who knows? The problem may be with me. Why should I marry another woman? You remain very dear to me and you have taken so much care of my mother, I cannot do this," he told her. Both cried that night.
The next day, Jahan said that he should marry and that if Allah blessed the new couple then the first child would be hers. To Khan, this seemed a good proposal. It would bring cheer to his issueless first wife and his endlessly waiting and paralyzed mother.
The proposal seemed good but was it workable? And would they find a girl who would agree to give away her first child to her husband's first wife? That seemed difficult.
Jahan herself started looking out for a second wife for her husband. Her search ended in Rehana Begum, a young woman whose husband had died only a year into their marriage.
A proposal was sent to Begum's relatives and they were told of the circumstances which pushed Khan into a second marriage.
Begum's parents, who come from a good family from the neighbouring town of Jalna, were reluctant to accept Khan's and Jahan's proposal for their widowed daughter, but finally, they accepted. Begum too agreed after she was persuaded by her parents. She agreed but never thought that things would happen that way.
"I too yearned for children and how could have I agreed to a proposal that would be tantamount to snatching my child as soon as he/she was born," she said to Arab News here in Mina while narrating the details.
The marriage took place and Jahan, the first wife, took an important part in the ceremony much to the wonderment in a society that could not imagine that a first wife would help her husband marry a second one. Within a year of their marriage, Begum and Khan were blessed with a healthy baby boy. And as per the unwritten agreement, the boy was given to Jahan.
"It was both a day of celebration and stress for me," said Khan. "My son, Aamir, was placed in my mother's lap and she was absolutely thrilled. She kissed him and hugged him, and kept looking at me with a broad smile. She was very happy."
Khan said after his mother, Jahan, his first wife was extremely delighted. "But Begum, the second wife, was happy at being blessed with son but upset that he had to be given to the first wife," said Khan.
Those were difficult days for Khan. "I told Begum about the agreement and went away. I couldn't wait to see the handing over ceremony," he recalled. Begum parted with her son with extreme reluctance and wept continuously. "Those were our difficult moments," said Khan.
A year after Aamir's birth, Begum and Khan had another child. This time a baby girl. They named her Sana. Begum was upset that the second was not a boy. "It hurt me that I had to give away a baby boy and I was left with a girl," she said.
In the next five years they were blessed with two more children, a son, Asim, and daughter, Ayesha. Begum soon realized that her first son, who was now being reared by the first wife, was all alone so she voluntarily gave away her last child, a daughter, Ayesha, to the first wife.
Begum's two children know the facts but they remain attached to Jahan. "She takes good care of them and has in fact taken better care of them than their biological mother would have ever taken," said Khan.
They are now one big happy family. Begum is attached to Jahan because she is taking care of her two children and Khan is happy that they have become one big happy family. "Everyone is attached to the other for obvious reasons," said Khan. "I am very attached to my first wife because she demonstrated sacrifice and allowed me to marry the second time," he said. "I am very attached to my second wife because she sacrificed and gave away her first and last children."
The children are happy because they know the truth. "I am here at Haj with my two wives to thank Allah for the incredible happiness that he has bestowed on me," said Khan. "I can never forget the smile on my late mother's face when she saw my first-born for the first time."
http://www.arabnews.com/news/639981
-----------
8 Brothers Vie To Serve Mother Perform Haj
06 Oct, 2014
This year's Haj witnessed eight sons of a woman competing with one another in assisting their mother to perform her Haj rituals comfortably. They all wanted to gain special reward from Allah for doing goodness to their beloved mother.
Many people accompany their elderly mothers and fathers for Haj and Umrah to show their love and commitment toward them, inspired by the teachings of the Qur'an and Sunnah that urge the faithful to support their elderly parents.
Seventy-year-old Aysha came for Haj this year with her eight sons, and each one them wanted to provide maximum care to her. In order avoid conflict; the youngest of them, Mustafa Al-Faisal, proposed that everyday two of them carry her in a wheelchair to perform the rituals.
"It was a good suggestion," said the eldest brother Moussa. "During the past 20 years we have been saving money to perform Haj with our mother," he said, hoping that Allah would accept their Haj and prayers.
http://www.arabnews.com/saudi-arabia/news/640326
-----------
Pakistani Man Sells Home To Undertake Hajj To Honour Dead Wife
6 October 2014
A 45-year-old Pakistani pilgrim had to sell his house and few goats to be able to collect enough money to do the hajj on behalf of his wife, who died before fulfilling this dream.
"My wife died at the age of 38 when the roof of our house fell down on her. She was always talking of performing hajj. I had to fulfil her dream," said Ashraf Rahmah.
He said the money he had collected from selling the house and the goats was not much but it was enough to bring him and his six children to the Kingdom and perform hajj for his dead wife.
"The death of my wife is a destiny from which we cannot escape but my children and I are still wrapped by the sadness from her eternal separation," he told local daily al-Madina.
Unstable
Rahmah said he got married about 15 years ago and all the time during their time together his wife never stopped talking about the hajj. He always promised his wife that he would try to take her to hajj but his financial conditions never allowed him to do so during her lifetime.
Rahmah said he could not leave his children behind because of the unstable security conditions in his country.
He said he met a Saudi in the Holy Sites who has promised to find a job for him in the Kingdom. "The kind man asked me to visit him in his home in Jeddah after the hajj and promised to find a job that will sustain me and my children," he said.
http://english.alarabiya.net/en/special-reports/hajj-2014/2014/10/06/Pakistani-pilgrim-sells-home-to-undertake-hajj-for-his-dead-wife.html
------------
URL: https://newageislam.com/islam-women-feminism/australian-muslim-woman-thrown-moving/d/99398