New Age Islam News Bureau
22 Oct 2017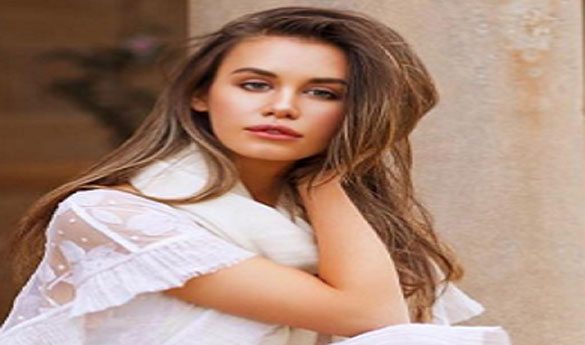 Photo: Beauty queen Esma Voloder, 25, who holds the Miss World Australia tiara and is the Australian competitor in this year's Miss World pageant, has come out in support of equal marriage.
-----------
• Why Aren't More Arab Women Saying #MeToo?
• Muslim Woman Wearing A Face-Covering Veil Says 'Islam Protects Women Like No Other Religion', Citing Verses from the Quran
• Women's Falkirk Fundraiser Highlights Myanmar Crisis
• Kurdish Women's Militia Vows to Keep Fighting Islamic State
• Palestinian Men Dating Jewish Women Receive Threats
• After Quebec's Bill 62, Muslim Women Find New Resolve to Fight Discrimination
Compiled by New Age Islam News Bureau
URL: https://www.newageislam.com/islam-women-feminism/australian-muslim-beauty-queen-comes/d/112975
--------
Australian Muslim Beauty Queen Comes Out In Support Of Same - Sex Marriage
October 21, 2017
Beauty queen EsmaVoloder, 25, who holds the Miss World Australia tiara and is the Australian competitor in this year's Miss World pageant, has come out in support of equal marriage. Voloder made headlines for her Muslim faith, hitting back at xenophobes who claimed that she should not be allowed to represent Australia because she's a Muslim.
I think it is Australian culture to have acceptance and these are the things we should continue to focus on and continue to talk about with respect," when asked about the marriage equality debate: "I believe that everyone has equal rights." Her comments, on equal marriage come weeks before the voting deadline for the non-binding postal vote.
Voloder worked as a criminal profiler before winning the Miss World Australia title in July and dedicating herself full-time to the cause for the next year. Her Islamic faith sparked some criticism when she was handed her Australian crown, but the gorgeous beauty queen said she was prepared for that.
"I am not a representative or a teacher of Islam. I try to be really careful with what I say because I just do the best I can from my understanding. "Whether it is about my faith or my looks, criticism is something that is to be expected.
Voloder said her faith was an important part of her life but did not solely define her."I never focused on (Islam) as something that ­defined my identity," she said. "I believe in an afterlife and I believe in God and I believe that our ­actions here are really important."
facebookapps.indiatimes.com/Muslim-beauty-queen-comes-out-in-support-of-same-sex-marriage/Muslim-beauty-queen-comes-out-in-support-of-same-sex-marriage/eventshow/61164206.cms
-------
Why aren't more Arab women saying #MeToo?
Sunday, 22 October 2017
The allegations against Hollywood producer Harvey Weinstein have shaken the world. So far, more than 30 women have provided statements that the producer sexually harassed or assaulted them over the course of his career in the movie industry.
The allegations have prompted women around the world to share their individual stories of harassment and abuse that they have faced over their lifetimes using the hashtag #MeToo.
My feeds have been inundated with women making frank and transparent statements about their own experiences of harassment, be it while they were walking down the street in broad daylight, or at universities, schools, or even at the workplace.
Yet the countries driving the conversation are predominantly the United States, the United Kingdom, and India. A heatmap of the hashtag #MeToo shows that the Middle East has remained alarmingly quiet at highlighting the severity of the issue and the experiences of the women.
This is despite the fact that harassment is rampant in the region. This year, Cairo was recently named the most dangerous city for women in a survey by Thomson Reuters Foundation. In 2013, a UN report revealed that 99.3 per cent of Egyptian women had been harassed on the streets.
Don't ask why women aren't speaking up, ask what you can do to make their voices heard
Despite the title of this article, I typically refuse to ask the question "why aren't Arab women speaking up about the sexual harassment that they suffer?" – instead, asking "what can society do to make these women feel comfortable about sharing their stories." Harassment comes with a lot of baggage and strings attached. Sociocultural norms dictate that a woman is somehow complicit if and when she is harassed.
Arab culture will always find a way to try and blame the woman. The language in itself that is used to describe harassment is solely about the women – gender-based violence is exercised by one gender against the other, yet the language used to describe it only mentions one gender: women. By actively excluding the male gender from the equation, the language is inherently blaming the victim.
In Arab culture, language that is used to describe harassment is solely about the women – gender-based violence is exercised by one gender against the other, yet the language used to describe it only mentions one gender: women. By actively excluding the male gender from the equation, the language is inherently blaming the victim.
Yara al-Wazir
If you want to know why Arab women don't share their stories, consider the heckling and sarcastic tone used to describe gender-based violence on social media; consider the absence of laws that criminals sexual harassment in the region, or even worse, the lack of implementation of these laws in the countries where they do exist.
Women in this region and around the world don't choose to be harassed, they do not choose to be sexualized, and they do not choose to not talk about it. If women in the region had an ounce of belief that talking about sexual violence would actually change anything, they would be talking about it more. Instead, talking about sexual violence opens the floodgates to further vilifying the victim with questions.
The statistics in the Middle East are clear: it is a dangerous place to be a woman, and I would say there is a 99 percent chance of sexual harassment when walking down the streets in a city like Cairo.
Let's put the laws to practice
The unfortunate truth is that for thousands of women in the region, harassment is simply a part of every day life; however, it doesn't need to be.
The impact of sexual harassment on the emotional and mental health of women is substantial. It causes disorientation, reduces concentration levels on what really matters, causes distractions, and fundamentally decreases the productivity. This is all in additional to the emotional turmoil suffered by women, which cannot be quantified.
When Saudi Arabia introduced a royal decree that would permit women to drive in June 2018, it also introduced a law that criminalizes sexual harassment. Egypt has similar laws, as do other countries in the region. Laws to protect women do exist; all that women in the region need to be heard are active listeners.
It is time that the laws, that women spent decades lobbying for, are put to use and open and accessible forums for discussion are made available. The only judgment that should come with harassment is against the perpetrator.
Yara al Wazir is a humanitarian activist. She is the founder of The Green Initiative ME and a developing partner of Sharek Stories. She can be followed and contacted on twitter @YaraWazir
english.alarabiya.net/en/views/news/middle-east/2017/10/22/Why-aren-t-more-Arab-women-saying-MeToo-.html
-------
Muslim Woman Wearing A Face-Covering Veil Says 'Islam Protects Women Like No Other Religion', Citing Verses from the Quran
20 October 2017
A woman wearing a black Niqab has claimed Islam protects women better than any other system, citing verses from the Quran.
Umm Adam appeared in a video for Sydney-based Muslim community television studio OnePath Network titled '7 verses that protect women'.
Among the verses cited in the video is one requiring husbands to spend money on their wives, giving them the same living standard as themselves.
Ms Adam said while some Muslim women are oppressed, 'it has little to do with Islam, and more to do with our lack of Islam'.
'In an Islamic household a man is obliged to provide financially for his wife. He is responsible to provide her food, clothing, shelter, medicine and all necessities to the best of his ability,' she said in regards to the verse about spending on wives.
The other verses cited by Ms Adam require husbands to give women their dowry, treat women with kindness, female permission to marry, the right to inherit, and avoiding bitterness in divorce.
Another states it is unlawful to 'inherit women by compulsion' and Ms Adam notes women should not be married without their permission.
OnePath Network was set up in 2014 to counter mainstream media portrayals of Islam, and is based in Sydney.
Earlier this year host MalazMajanni criticised Adelaide-based Sheikh Mohammad Tawhidi, claiming he was not a Muslim leader.
dailymail.co.uk/news/article-4999272/Muslim-woman-wearing-BLACK-VEIL-says-Islam-protects-women.html#ixzz4wDMPk8wC
-------
Women's Falkirk fundraiser highlights Myanmar crisis
Published: 15:16 Saturday 21 October 2017
A Muslim women's group has raised more than £1,300 from a Falkirk event in aid of Rohingya refugees fleeing violence and persecution in Myanmar. Among those who attended the Muslim Women's Rainbow Group family fun day in the Dawson Centre were Councillor Pat Reid of Falkirk Council and Gillian Gardner of Falkirk Trinity Church. It's estimated more than half a million Rohingya people – many of them women and children – have been forced to seek refuge across the border in neighbouring Bangladesh where they are living in squalid, insanitary conditions. They are in urgent need of food, shelter, clean drinking water and medical care. Thousands are still crossing the border every day, and the Bangladeshi government estimate the makeshift camp could have to cope with an influx of up to 800,000 people - making it it the world's largest refugee camp. Falkirk MP John McInally said: "I wholeheartedly applaud the Rainbow Muslim Women's Group for seizing the initiative and organising a special fundraiser in support of the horrifically persecuted minority Rohingya people of Myanmar. "The event has been successful in generating public awareness of the Rohingya humanitarian crisis here in Central Scotland. "Once again, Samina Ali and her team of hard working Rainbow Group volunteers have championed a vital charitable cause, ably demonstrating how our local community here in Falkirk can put compassion into action and contribute to an international relief effort at the other side of the world." The persecution of Myanmar's mainly Muslim Rohingya population has met widespread condemnation from Amnesty International and Oxfam GB along with the Secretary General of the United Nations, AntónioGuterres, and the governments of many countries around the world. Rainbow Muslim Women's Group chairwoman Samina Ali said: "I am absolutely delighted with the success of the Rainbow Group's Family Fun Day event at the Dawson Centre. "The money raised will be donated to our charity partner, The Islamic Welfare Trust, who are on the ground working directly with the Burmese Rohingya Muslims facing persecution. "The Rainbow Muslim Women's Group would like to thank everyone who attended for their support and kind donations and to all the volunteers for their hard work and efforts. "Our special thanks go to the stall holders at the function: Rajah's Fashion Edinburgh, the Barakah Designer Collection, Nur-Al-Haya Hijabs and the Rainbow Youth Group and Bainsford Youth Group, who provided creative activities for the children - such as face painting, henna artistry, a chocolate-marshmallow fountain and a bouncy castle. "We would also like to thank Stewart Ward from Batley's Stirling Cash and Carry and M9 Cash and Carry for their kind donations of juice, water and sweets to sell at the event; and all the talented Rainbow Group volunteers who provided delicious baking and savoury masala snacks for the stalls."
falkirkherald.co.uk/news/women-s-falkirk-fundraiser-highlights-myanmar-crisis-1-4592948
-------
Kurdish Women's Militia Vows to Keep Fighting Islamic State
October 19, 2017
Soldiers of the Women's Protection Units (YPJ) take aim during fighting with the Islamic State in its Syrian stronghold of Raqqa, Aug. 12, 2017. Photographer: MorukcUmnaber/MorukcUmnaber/picture-alliance/dpa/AP Images
Beirut (AP) -- A Kurdish female militia that took part in freeing the northern Syrian city of Raqqa from the Islamic State group said on Thursday it will continue the fight to liberate women from the extremists' brutal rule.
In a highly symbolic gesture, Nisreen Abdullah of the Women's Protection Units, or YPJ, made the statement in Raqqa's Paradise Square — the same place where IS fighters once carried out public killings.
She said the all-women force, which is part of the U.S.-backed Syrian Democratic Forces battling IS, lost 30 fighters in the four-month battle to liberate Raqqa.
Under the rule of the Islamic State group, women were forced to wear all-encompassing veils and could be stoned to death for adultery. Hundreds of women and girls from Iraq's Yazidi minority were captured and forced into sexual slavery.
Raqqa was center stage of IS' brutality, the de facto capital of the militants self-proclaimed "caliphate."
"We have achieved our goal, which was to pound the strongholds of terrorism in its capital, liberate women and restore honor to Yazidi women by liberating dozens of slaves," Abdullah said.
The Syrian Democratic Forces, a coalition of several factions including the YPJ, said on Tuesday that military operations in Raqqa have ended and that their fighters have taken full control of the city.
The spokesman for the U.S.-led coalition, Col. Ryan Dillon, tweeted on Thursday that the SDF has cleared 98 percent of the city, adding that some militants remain holed up in a small pocket east of the stadium. Dillon added that buildings and tunnels are being checked for holdouts.
Even as the guns have gone quiet, preparations for a reconstruction are underway.
In Saudi Arabia, a state-linked news website said a high-level Saudi official was in Raqqa to discuss the kingdom's "prominent role in reconstruction" efforts. The Okaz site quoted unnamed Saudi sources as saying that Thamer al-Sabhan met with members of Raqqa's city civil. The website said the United Arab Emirates will also play a role in rebuilding.
The report included a photograph of al-Sabhan, apparently in Raqqa with Brett McGurk, the top U.S. envoy for the coalition battling the IS. Saudi Arabia is a member of the coalition. Al-Sabhan was previously ambassador to Iraq, but left amid threats from Iranian-backed militias.
The SDF is expected to hold a news conference in Raqqa on Friday during which the city will be declared free of extremists, for the first time in nearly four years.
The fall of Raqqa marks a major defeat for IS, which has seen its territories steadily shrink since last year. IS took over Raqqa, located on the Euphrates River, in January 2014, and transformed it into the epicenter of its brutal rule.
Meanwhile, Syrian President Bashar Assad met with a visiting Iranian army commander on Thursday to discuss bilateral relations, the state news agency SANA said. The Iranian general also conveyed a message from Iran's supreme leader, Ayatollah Ali Khamenei.
SANA said Assad and Maj. Gen. Mohammad Bagheri focused on military cooperation, "which has witnessed a qualitative development during the war that Syria and its allies, mainly Iran, are waging against terrorism" in Syria.
Iran has been one of Assad's strongest supporters since the country's crisis began more than six years ago and has sent thousands of Iranian-backed militiamen to boost his troops against opponents.
SANA quoted Bagheri as saying that the aim of his visit is to "put a joint strategy on continuing coordination and cooperation at the military level." He also stressed Iran's commitment to help in the reconstruction process in Syria.
Bagheri met with several Syrian officials on Wednesday, including Defense Minister Fahd Jasem al-Freij, and Syrian army commander, Maj. Gen. Ali Ayyoub.
Meanwhile the al-Qaida linked Levant Liberation Committee released a rare video of its leader Abu Mohammed al-Golani, showing him speaking with his fighters. The release comes two weeks after Russia said it seriously wounded him in an airstrike.
The video appears to have been shot before an al-Qaida offensive on a central government-controlled village on Oct. 6. Two days before the attack, Russia's military claimed that al-Golani was wounded in a Russian airstrike and had fallen into a coma. The military offered no evidence of al-Golani's purported condition.
The al-Qaida-linked group subsequently denied al-Golani was hurt, insisting he is in excellent health.
Associated Press writer AyaBatrawy in Dubai, United Arab Emirates, contributed to this report.
bloomberg.com/news/articles/2017-10-19/kurdish-female-militia-vows-to-keep-fighting-islamic-state
-------
Palestinian men dating Jewish women receive threats
October 22, 2017 Gulf News
Occupied Jerusalem: An Israeli group has been accused of tracking down and threatening Palestinian men dating Jewish women.
The Lehava group opposes inter-marriage.
In August 2014, its members staged a rally where racist slogans, including "Death to Arabs!", were shouted at the wedding near Tel Aviv of a Muslim man and Jewish woman.
In April, six Israelis, including two soldiers, were arrested for racist attacks against Palestinians with knives and other weapons.
Police said they were influenced by a Lehava video.
At least 15 of the groups members have been arrested by authorities following an investigation.
Israeli radio said that among those taken in for questioning was BenziGopstein, a prominent leader of the extreme-right group Lehava, but police would not confirm or deny the reports.
"Fifteen suspects known to the police as active in the Lehava organisation were arrested or detained for questioning during the night as part of a police investigation on suspicion that they acted to locate and threaten (Arab) minority members with connections to Jewish young women or girls," a police statement said.
It remains unclear whether the members would face prosecution, but Palestinians believe it to be highly unlikely.
Jews are rarely prosecuted for crimes against Palestinians.
gulfnews.com/news/mena/palestine/palestinian-men-dating-jewish-women-receive-threats-1.2110601
-------
After Quebec's Bill 62, Muslim women find new resolve to fight discrimination
Oct 22, 2017
As the Canadian Council of Muslim Women (CCMW) gathers to celebrate its 35th anniversary, the group says it's found new resolve in the wake of Quebec's recently-passed religious neutrality legislation.
'I should see your face, and you should see mine,' Quebec premier says of new religious neutrality law
The CCMW wraps up its weekend-long celebration Sunday in Toronto with the Women Who Inspire Awards, which will honour eight Muslim women from across the country in a variety of fields.
"It really does highlight the work that Muslim women are doing out there," said TahmenaBokhari, a Toronto-based social worker who is among the winners. "We're touching the lives of so many people in the various professions and fields that we're in."
But just days after Quebec's National Assembly passed the controversial Bill 62 — which would effectively force Muslim women who wear the niqab or burqa to uncover their faces while using public services — organizers say the talk at this year's gathering is likely to focus on the challenges still facing Muslim women.
There's nothing neutral about Quebec's religious neutrality bill, Muslim advocate says
TahmenaBokhari
'I think it's showing the diversity of what it means to be Muslim,' said TahmenaBokhari, one of the award winners. (CCMW)
"We know that we are in a very special time and we're playing a special role," said CCMW spokesperson Nina Karachi-Khaled. "We understand it's a big responsibility to be a voice for Muslim women in Canada."
Karachi-Khaled's mother was a CCMW member when the organization was founded in 1982, and she's watched the challenges faced by Muslim women evolve over the past 35 years.
In many ways, she says the issues facing her community today are more challenging than ever, including racism, U.S. politics, and what feels like a disproportionate targeting of Muslim women by a small but vocal minority.
"There are bigger problems and much more heartache and hardship in our community," Karachi-Khaled said.
"I think definitely as a Muslim community we are in a struggle," Bokhari added.
"We're fighting to be recognized, we're fighting to be heard, we're fighting for equity."
Winners showcase diversity
Part of that fight is taking shape in the form of events like Sunday's award ceremony, through which the CCMW is hoping to showcase the contributions of Muslim women to Canada.
In addition to honouring Bokhari's accomplishments in social justice and anti-racism, the awards will also honour an Ottawa Police officer, a doctor and activists. All of them Muslim women.
On the wide range of award winners, "I think it's showing the diversity of what it means to be Muslim," Bokhari said.
For Mississauga artist Hana Shafi, 24, another of the award winners, the group represents only a tiny fraction of the Muslim women making important contributions across Canada.
"I'm not an exception or an outlier to my community," Shafi said "It shouldn't necessarily be framed like a successful Muslim woman is this rare story."
Hana Shafi
Artist Hana Shafi is one of eight women to be honoured at the 2017 ceremony. (CCMW)
Dealing with the 'burnout'
Given the difficult news out of Quebec this week, the women participating this weekend say the event will also be a chance to rejuvenate themselves and prepare for the work that still needs to be done.
"When you're able to spend positive time celebrating with your community, it helps you deal with the burnout of the fights that you feel like you've lost," Shafi said.
Bokhari agrees, and says she expects to leave the event with a much-needed positive boost to her outlook.
"I think when we are connected to one another we are always more hopeful," she said.
cbc.ca/news/canada/toronto/muslim-women-awards-1.4364749
URL: https://www.newageislam.com/islam-women-feminism/australian-muslim-beauty-queen-comes/d/112975
New Age Islam, Islam Online, Islamic Website, African Muslim News, Arab World News, South Asia News, Indian Muslim News, World Muslim News, Womens in Islam, Islamic Feminism, Arab Women, Womens In Arab, Islamphobia in America, Muslim Women in West, Islam Women and Feminism