New Age Islam News Bureau
09 March 2022
• Eurovision Winner Jamala, Now a Refugee In Romania, Sings From Abroad
• Women, Transpersons Make Their Voices Heard In Lahore
• International Women's Day: Time for Arab Female Sports Journalists to Shine, Break Bias
• Women Are Capable Of Great Things, Say Female Saudi Students
• Pakistan Launches National Gender Policy Framework to Empower Women
• Lebanon's President Honours Military Women
Compiled by New Age Islam News Bureau
URL: https://www.newageislam.com/islam-women-feminism/aurat-march-pakistan-rights/d/126538
--------
Aurat March: Women Walk for Their Rights across Cities in Pakistan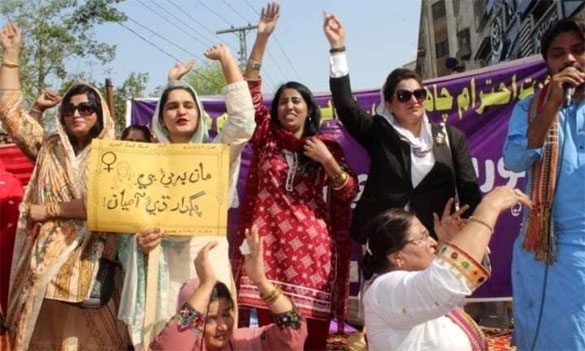 Women out in the streets to celebrate the fifth Aurat March on International Women's Day on March 8. — Aurat March Twitter
------
March 8, 2022
Marches across several cities in Pakistan, commonly referred to as Aurat March, were carried out on Tuesday in connection with International Women's Day as women raised their voice to demanded equal rights and an end to systemic discrimination.
The first Aurat March in Pakistan was held on March 8, 2018, in Karachi. The next year, it was extended to more cities, including Lahore, Multan, Faisalabad, Larkana, and Hyderabad. This year's event was the fifth march since its inception.
The march has three main chapters in the cities of Multan, Lahore and Karachi. The procession kicked off at 1pm from Multan's Nawan Shehar Chowk, 2pm from Lahore Press Club and at 3pm from Karachi's Jinnah Park along with demonstrations in other cities.
A slightly different event by the name of Aurat Azadi March is held in Islamabad but was held earlier than usual this year in the form of a rally at the capital's F9 Park on March 6. This development caused young activists across the capital to fill in the vacuum of the Aurat Azadi March by organising a whole new Aurat March Islamabad which began at 1pm from the Islamabad Press Club.
Demands
Each chapter of the Aurat March has its own manifesto with the Karachi chapter focusing on wages, security and peace; Lahore on reimagining justice; Multan on reimagining the education system and Islamabad on justice, security and freedom.
The Karachi chapter's three main demands call for the provision of a living wage based on access to safe housing, quality education and affordable healthcare for workers and their families; the provision of social security and protection through monthly stipends for all women and the transgender community and prioritising child welfare by putting an end to child labour, trafficking for work, and bonded labour.
Meanwhile, the Lahore chapter came up with its manifesto after extensive research and meetings with relevant communities including families who have been affected by enforced disappearances, domestic workers, survivors of sexual violence and religious minorities.
It demands more holistic reforms which seek to transform society, provide psycho-social support to survivors of violence as well as rehabilitation for perpetrators. The Lahore chapter also advocates structural reforms that prevent patriarchal violence rather than short-term solutions such as capital punishment and chemical castration.
The leadup to this year's Aurat March was fraught with controversy as Religious Affairs Minister Noorul Haq Qadri penned a letter to Prime Minister Imran Khan last month saying that anti-Islamic slogans should not be raised on International Women's Day.
He had also suggested celebrating International Hijab Day instead of Aurat March on March 8, in an effort to express solidarity with Muslim women across the globe.
The letter drew the ire of various quarters on social media, including politicians, which led the minister to later issue a statement clarifying his intentions.
Other religious parties later joined in their opposition to this year's Aurat March such as Jamiat Ulema-i-Islam-Fazl's Islamabad chapter and Tehreek-i-Labbaik Pakistan.
Source: Dawn
https://www.dawn.com/news/1678931
--------
Eurovision Winner Jamala, Now A Refugee In Romania, Sings From Abroad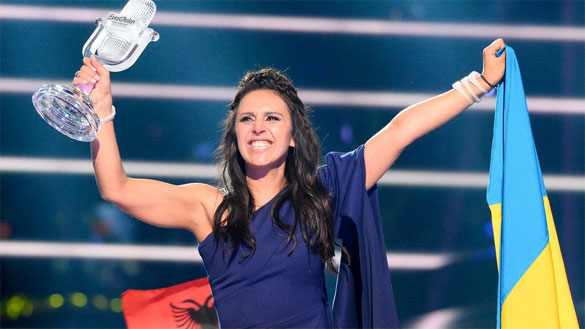 Jamala became a national heroine when she performed her song partly in the Tatar language, two years after Russia annexed the Crimean Peninsula from Ukraine JONATHAN NACKSTRAND AFP/File
-----
March 9, 2022
ISTANBUL: When her husband woke her up at 5:00 am saying Russia had invaded, Ukraine's Eurovision winner Jamala didn't know what to do first: pack, find their passports or take care of her two toddlers.
The 38-year-old ethnic Tatar never thought that she would become a refugee like her grandmother.
She was driven from her native Crimea by Soviet forces in 1944 – the title of the ballad about Soviet persecution that clinched her the Eurovision crown in 2016.
"I never thought it would be a reality (today) because it was (in) the past," she told AFP.
But there she was, cowering in a building's second-floor parking lot in Kyiv.
"I was really shocked," she said.
The family then decided to drive to Ternopil – 400 kilometres (250 miles) to the west, in search of safety.
But after spending a night there, the sounds of explosions were too distressing and they moved again, this time to the Romanian border.
Jamala crossed the border alone with her sons aged one and three – Ukrainian adult men are not allowed to leave the country and her husband returned to Kyiv to help with the war effort.
Her sister, who lives in Istanbul, picked her up.
Now she constantly checks her phone, waiting for news from Kyiv.
"It is really hard when you know that your husband is there. I can't sleep. Every minute I am thinking about how he is, how is everything."
'Dangerous'
Jamala, whose real name is Susana Jamaladinova, became a national heroine when she performed her winning song partly in the Tatar language in 2016, two years after Russia seized and annexed Crimea from Ukraine.
Jamala's lyrics drew Russia's ire and boycott calls at the time.
Crimean Tatars, a predominantly Muslim Turkish-speaking minority, were deported from their homes by then-Soviet leader Joseph Stalin, including Jamala's grandmother who fled to Uzbekistan in Central Asia.
"(The song) was about my granny, my family, all Crimean Tatars who were deported by the Soviet army," Jamala said.
She draws parallels between her grandmother's experience and what Ukraine faces today at the hands of Russian President Vladimir Putin.
"At this time, we see the same situation," she said.
Members of her band remain in Kyiv, hiding in shelters.
"My sound engineer wrote to me yesterday that he didn't have any water… he cannot go out, it's dangerous," she said.
Trying to boost morale
For many observers, Jamala is a symbol of Ukraine's resistance against Russian aggression.
She was invited to perform her winning song "1944" at the German Eurovision preliminary on Friday – an event marked by the war in Ukraine.
"If I can do something, I will do it," she said.
Even from Istanbul, she tries to boost Ukrainians' morale.
With the yellow and blue Ukrainian flag wrapped around her neck, Jamala sang her country's national anthem in a video on social media after her interview with AFP.
"We are a new generation, (we think) about peace, about how to collaborate, about how to unite but we see these terrible things. This war is happening before the eyes of the world," she said.
"We should understand that it's really terrorism, it's a really cruel war in central Europe."
The invasion was "ruining the European values which we built over so many years" following World War II, Jamala said.
"Ukraine is a real huge country with its own language, with its own culture, with its own history. It has nothing in common with Russians."
Jamala doesn't know what the future holds for her, but she remains defiant.
"I just know that we have to win."
Source: Free Malaysia Today
https://www.freemalaysiatoday.com/category/leisure/entertainment/2022/03/09/eurovisions-jamala-now-a-refugee-sings-from-abroad/
--------
Women, transpersons make their voices heard in Lahore
Sheharyar Rizwan
March 9, 2022
LAHORE: The Egerton Road reverberated with loud sloganeering on Tuesday as hundreds of women, transgender persons and men marched from the press club to the PIA office to mark the International Women's Day.
The procession, which commenced at 2pm under a tight security cover by over 300 police men and women, was primarily led by women and transpersons of all ages and social standings demanding their right to freedom of movement, education, expression, choose their partners and just live their lives on their own terms without being dictated by the men.
Some of the slogans heard were 'Dekho dekho kaun ayi, aurat ayi aurat ayi', 'Jaagi jaagi aurat jaagi' and 'Mera jism meri marzi' among others that seem to hit a nerve in onlooking men, who mocked the marchers as they passed by. Some of the powerful messages inscribed on banners and posters carried by the marching boys and girls read: 'I'm stronger than fear', 'She wasn't asking for it', 'I march for those who couldn't march', 'Just looking for fundamental rights', 'Weak men fear strong women', 'Asal insaf ghar par shuru hota hai', 'Ghareloo tashaddud na-manzoor na-manzoor', 'Izzat nahi insaan hai aurat'.
As in previous years, Tuesday's Aurat March also featured experiential art pieces, one of which comprised cut-outs of Youtube 'journalists' accompanied by their quotes denoting misleading coverage of the march, harassment of the participants and sensationalisation of the event. Hanging above the exit point of the march werekurtasinscribed with ages some of the participants were harassed at and the relation with the harasser.
Aurat March event wrapped up because of JI's walk
At the culmination of the march, participants sat on the road outside the PIA building on Egerton Road, clapping and singing along feminist tappay — a re-imagined version of the classic folk songs: 'Chitta kukar baneray te, zehri mardangi waleya narmi sajdi tere te', 'Gaddi wadh gayi tation nu, kuriyan aiyan sarkan te agg lag gayee nation nu', 'Aaloo matar pakaye hoye ne, saaday kolon ton harasser changay jerhay seenay naal laaye hoay ne'.
Later, transgender persons carried a long white sheet with names of their fellows killed over the last year written over it, sprinkled rose petals in their memory and demanded the murders stop. Besides a theatre performance and rendition of the feminist anthem 'Rapist Ho Tum', upcoming singer Risham Faiz Bhutta appeared on stage and sang 'Perhi Kuri' along with transgender singer Jajji Jee and activist Jannat Ali.
Shaheena Kausar, an activist working for farming and domestic women workers, told Dawn she was there for herself. "I had to fight for my education, to work, marry by choice, travel abroad. So when I come to the march I find a lot of women like me who needed permission to seek an education, work and travel on their own from their parents. I find strength from these women."
A young student, Sidra, called the march a celebration of being a woman and a fight that "we're fighting every single day. That's basically what being a woman is in its entirety".
Zanaya Chaudhry, a transgender rights activist, believes women's rights are the same as transpersons' rights. "So we are here to make our voices heard and to create a space for ourselves."
However, the Aurat March didn't come without some disruption. Owing to a simultaneous 'Women's Protection Walk' organised nearby by the Jamaat-i-Islami and their attempts to interrupt the Aurat Marchers, the latter were directed to wrap up much earlier than the scheduled time. After the interruption, the demonstrators proceeded towards Charing Cross, but were stopped midway and told to disperse. An enraged organiser said it was the administration's responsibility not to allot the ring-wing groups the same route and time.
About the disruption, Sabahat, a marcher, said as time passes, other groups also get organised, which is just part of democracy. "We were suddenly told to leave, so it got chaotic, but the whole point is to come together and vent, as it's not easy for middle class women to express themselves politically in physical spaces as it is on social media. This is a possibility for younger women from a certain class to occupy physical spaces together."
A similar march was also held in Multan attended by a large number of men, women, children and transgender persons.
CM Buzdar Meanwhile, in a statement, Chief Minister Usman Buzdar said respect and honour of women was an integral part of socio-cultural and religious norms of the Pakistani society, adding the West could not imagine the abundance of rights enjoyed by women in Islam.
Source: Dawn
https://www.dawn.com/news/1678976/women-transpersons-make-their-voices-heard-in-lahore
--------
International Women's Day: Time for Arab female sports journalists to shine, break bias
March 08, 2022
RIYADH: International Women's Day is a special occasion when the world is called upon to spread the message of gender equality.
And it is a message that is poignant across the Arab world at a time of constant change and development.
Great strides have been taken in recent years in closing the gap between men and women in the workforce, but more work is needed.
Under the theme, #BreakTheBias, the International Women's Day 2022 campaign aims to promote a world free of bias, stereotypes, and discrimination for women.
And for the region's female journalists, in particular, there is considerable room for improvement.
Women have been increasingly proactive in the media, especially in news broadcasting, over recent decades but unfortunately still trail behind in the sports segment.
As a woman passionate about sports and having started my career as a professional tennis player in Lebanon, my love to cover sports did not stop there and fueled me to become a journalist covering all kinds of activities including football, tennis, UFC, and Formula 1.
There has never been a better time to enter sports media as the Arab world, and in particular the Gulf Cooperation Council, continues to host some of the biggest international sporting events. Top athletes from football, UFC, tennis, F1, golf, and horse racing have been among those descending on the region to participate in long-established, world-class sports events.
In Saudi Arabia, the rate of progress in just a few years has been remarkable.
Crucially, more female athletes are taking part in competitions alongside male counterparts, such as in the Saudi Cup and several motor racing categories, or in their own competitions including the Saudi Ladies International golf tournament which takes place next week in Jeddah.
Barely a week now passes without more additions to the female sporting calendar. Only last month, for example, the Kingdom's women's national football team made its international debut, beating Seychelles 2-0, a landmark event that brought messages of praise from around the globe including from Brazilian legend Pele.
With the number of female athletes constantly rising, it is only right that proportional representation should come from female reporters.
It is time for Arab women to be a part of the experience and cover these championships in-person.
As the world recovers from the coronavirus pandemic, the sports industry is one of the leading sectors flourishing in the region. Saudi Arabia, the UAE, and Bahrain will each hold a Formula 1 Grand Prix this year, while Qatar hosts the FIFA World Cup 2022, the first time the football tournament will have taken place in the Middle East.
In addition to the series of events in Saudi Arabia, the Emirates is ready to host global meetings covering UFC, NBA basketball, and tennis championships, and with other GCC countries also working on hosting global sporting events this year, opportunities for journalists are on the rise.
To all Arab female sports journalists out there, join me in the media center to help #BreakTheBias and be part of history.
Source: Arab News
https://www.arabnews.com/node/2038581/sport
--------
Women are capable of great things, say female Saudi students
March 08, 2022
JEDDAH — Last Thursday, King Abdulaziz University in Jeddah celebrated the graduation of their 1442/2021 batch with over 15,000 female students graduating in different majors. Serval students were polled to share their thoughts and perspectives on Women's Day and its significance to them.
King Abdulaziz University was the first university in the Kingdom that allowed both men and women to enroll simultaneously.
Heyam Shiaria, an interior design student, told Saudi Gazette that she believes Women's Day is important "because each woman can reflect on the achievements that she made in her life and be proud of herself." She also thinks that it's a nice reminder for people to recognize that women are as capable of doing great things as men.
Nadia Albuqami, a biochemistry major, believes that this is the most important day for women. "Females are responsible for the basis of most things in life; they are the ones who get pregnant and raise kids. They are always responsible for the behind-of-the-scenes duties.
When it comes to what do they like to see more on this day, Nadia noted that she likes to see more discounts. "We are not asking for gifts, just for discounts," she laughed.
Mayar Atta, a business administration student, stated that it is a day to honor not only women's accomplishments in the workplace but also their diverse and formidable skills. "This day is for women to demonstrate that they can work hard and be adaptable in everything they do; I believe it is more of a celebration that they can perform both the household and professional aspects of their lives."
Furthermore, when asked if she feels a men's day is essential, she said, "I don't see the Women's Day as a competition for what the men have done. Everyone has a place in this world," she continued. "And I'm not opposed to having a men's day as well; they work hard and deserve to be recognized."
"I believe the awareness element of the celebration is also important," said Reem Raja, another interior design student. "It is good to spotlight women who faced all types of abuse. It serves as a powerful reminder that they, too, are human beings with rights and that we should remember them," she added.
"Technically, every day is a women's day, but it is good that we celebrate her more on a particular day," Deema Yusuf, a biology student, said expressing her view. "Women are the backbone of society after all."
When asked about what she wished to see more on Women's Day, Deema replied, "I think we should also celebrate our bodies and not just our achievements."
"We are gifted with a body that can bear life. And I feel blessed for it, but I also wish we take our time to understand it more. That is why I think on women's day we should have a day off, and to be honest, I think we should have two days off twice a month just to deal with our mental health and PMS."
Sara Muhammed, a computer science major, believes that this day is good to shed light on issues that align with women's physical competency.
"We need more women's friendly environment and build more rules that are thoughtful of the difference between our physiological abilities," she elaborated. "For example, a work environment from 9 to 5 is when the male's brain is in a highest functioning state, while women's brains are proved to function better at different hours."
"I like that in our Kingdom people care more about women's physique, and they ensure her comfort first." She continued, "It is great that we have more remote jobs that go so well with women."
Source: Saudi Gazette
https://saudigazette.com.sa/article/617897
--------
Pakistan launches national gender policy framework to empower women
8th March 2022
Islamabad: Pakistan on Tuesday launched the country's National Gender Policy Framework, an initiative aiming to empower women across the nation and intensify the gender's participation in the public sphere.
The framework, which was launched on the occasion of International Women's Day, was prepared by the Ministry of Planning, Development and Special Initiatives and unveiled by the minister of the department Asad Umar at a press conference here.
This framework aims at providing equal opportunities to all segments of society, particularly women, to prosper and progress, Umar said during the launch.
Umar during the unveiling of the framework stressed the need for the implementation of legislation that had been enacted to ensure gender equality.
"If a person doesn't feel protected then he/she cannot work to the best of their potential," he said.
He said that increasing women's participation in the public sphere was an important goal, stressing that it should be addressed in a systematic way rather than on wishes.
Minister for Inter-Provincial Coordination Dr Fehmida Mirza, Minister for Human Rights Shireen Mazari, Lieutenant General Nigar Johar, who is the first-ever female general to be appointed the colonel commandant of Army Medical Corps, and several other dignitaries also attended the ceremony.
The International Women's Day was observed throughout the country. Prime Minister Imran Khan addressing an event in Rawalpindi said that empowerment of women was a key to success.
Our country cannot progress unless the women are educated," he said, adding that the parents should send their daughters to schools.
The Foreign Office in a statement on the occasion paid tribute to the women around the world whose resilience, sacrifices and efforts have made it possible for humankind to progress and build a better future for all.
No society or nation can succeed and achieve sustainable development without realisation of gender equality and women empowerment, it said.
Separately, Minister for Human Rights Shireen Mazari said it was a day to honour women from all walks of life, adding it was also the right of every woman to demand rights and work for her development.
Pakistan Muslim League-Nawaz (PML-N) Vice President Maryam Nawaz said every woman was the epitome of strength and courage.
"To every woman out there… You define the very fabric of society. You make the world beautiful. It is said that being a woman itself is a superpower. Make the most of it. You go girls," she wrote in a message on Twitter.
According to a report of the Aurat Foundation , a Pakistani NGO working for rights of women, almost 70 per cent of women in Pakistan have been victims of domestic violence, at least once in their lives.
This violence is generally committed by their intimate partners husbands. These figures, however, do not include psychological violence, which is even more common in urban communities.
Source: Siasat Daily
https://www.siasat.com/pakistan-launches-national-gender-policy-framework-to-empower-women-2287692/
--------
Lebanon's President Honours Military Women
March 08, 2022
BEIRUT: Lebanese President Michel Aoun celebrated female army soldiers and officers on International Women's Day as a delegation visited him at the Baabda Palace.
"I can see the fruits of the efforts made to integrate women into this military institution; something that was impossible in the past," Aoun said.
He added: "The number of women in the army is steadily increasing in a patriarchal society that was not ready to believe women can succeed in a field previously reserved for men."
Aoun called for further efforts to make sure women enjoy the same rights as men. "Today, women practice various functions in society; they are doctors, scientists, judges and so on. But they are yet to attain their full rights in one field: Politics, and having equal representation in Parliament. We strive to achieve this."
The commander of the Presidential Guard Brigade, Brig. Gen. Bassam Al-Helou, who accompanied the delegation, said: "These female soldiers are the elite members of the Lebanese Army, and they work in all departments of the Presidential Guard Brigade and the Presidency's Directorate-General."
Lebanon's sixth official periodic report was presented before the UNHCR follow-up committee in February to discuss the extent to which the country has implemented the Convention on the Elimination of All Forms of Discrimination against Women.
It revealed notable progress in integrating women into institutions, especially in the military. A Gender Department was also established for the first time in the army.
The report read: "A remarkable increase in women's enrolment in army ranks was recorded over the past year. In 2022, 51 female officers out of 110 cadets will graduate from the Military College, and their number will increase to 55 out of 108 cadets in 2023, a number of whom will join the naval and air forces."
Minister of State for Administrative Reform Najla Riachi said on Tuesday: "Despite the positive breakthroughs women have achieved in assuming leadership positions in the political arena, progress in this field is still limited. Serious consideration must be given to the reasons that still, unfortunately, impede the achievement of complete equality between women and men."
Riachi added: "We must overcome such obstacles, in compliance with the preamble of the constitution, which stipulates that all citizens are equal in rights and duties without discrimination. This is crucial if we are to meet the fifth goal of the UN Sustainable Development Goals 2030, which Lebanon pledged to implement."
International Women's Day in Lebanon was overshadowed by growing crises over food security, and medicine and fuel shortages. Still, Lebanese officials, including Prime Minister Najib Mikati, Interior Minister Bassam Mawlawi and Environment Minister Nasser Yassin celebrated Lebanese women on Tuesday.
National Commission for Lebanese Women head Claudine Aoun said: "With the support of civil society institutions and international organizations, the commission is following up on the government's implementation of a national action plan we had drawn up, despite the difficulties it faces at the financial, health and supply levels."
Meanwhile, the National Federation of Employees' and Workers' Unions was explicit in pinpointing the obstacles still facing Lebanese women in light of the economic crisis.
It warned that Lebanese women are subjected to the "worst forms of exploitation" as a result of the crisis and financial collapse, and that the state and ministries were failing to provide women with any support or social security.
"Today, some Lebanese women work more and get paid less, while others have been pushed into unemployment."
Source: Arab News
https://www.arabnews.com/node/2038806/middle-east
--------
URL: https://www.newageislam.com/islam-women-feminism/aurat-march-pakistan-rights/d/126538
New Age Islam, Islam Online, Islamic Website, African Muslim News, Arab World News, South Asia News, Indian Muslim News, World Muslim News, Women in Islam, Islamic Feminism, Arab Women, Women In Arab, Islamophobia in America, Muslim Women in West, Islam Women and Feminism