New Age Islam News Bureau
23 May 2019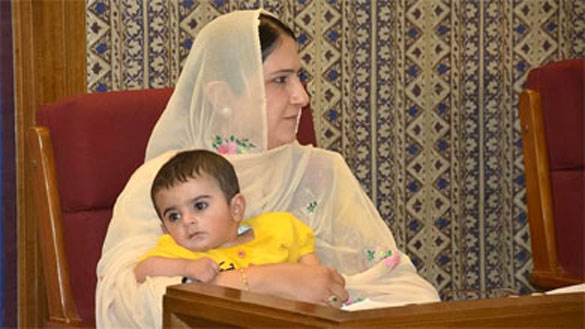 Legislator Sheran was criticised by staff and fellow members of the assembly for bringing her seven-month-old son to the chamber [Courtesy of Mahjabeen Sheran]
------
• Group of Yazidi Women Victims of IS Get New Life in France
• Muslims Taught To Target Christian Girls in Indonesia
• House Panel Advances Bill Calling for Release of Saudi Activists
• Pakistani legislator of Balochistan, Mahjabeen Sheran, Kicked out Of Assembly for Bringing Her Son
• Women and Terrorism: Hidden Threats, Forgotten Partners: Report
• Human Right Observers Criticize Qatar's Discrimination against Women
Compiled by New Age Islam News Bureau
URL: https://www.newageislam.com/islam-women-feminism/attacks-girls-schools-rise-taliban/d/118685
--------
Attacks on Girls' Schools on the Rise as Taliban Make Gains in Afghanistan
By Najim Rahim and David Zucchino
May 21, 2019
NAW DEH, Afghanistan — Just before midterm exams in January, Mohammad Sadiq Halimi, the deputy education director for Farah Province in western Afghanistan, was given an ultimatum by local Taliban leaders.
Fire all male teachers at girls' schools, Mr. Halimi said he was told. Replace them with women — men should not teach girls, the militants said.
The government did as it was told. "We didn't want to give them an excuse" to shut down the schools by force, Mr. Halimi said.
But Farah's schools were not spared. Last month, on two successive nights, armed men on motorcycles set fire to two girls' schools just outside Farah city, the provincial capital. Both were badly damaged and the teaching materials inside were destroyed, ending classes indefinitely for nearly 1,700 girls. Graffiti on a nearby wall read, "Long live the Islamic Emirate" — the Taliban's name for their movement.
Four other girls' schools in the province have been attacked in the past several months, said Muhibullah Muhib, a police spokesman.
Besides terrifying teachers, students and their families, the attacks have renewed larger fears of a return to the repressive days of Taliban rule, as the militants and the United States try to negotiate a peace deal. Until the Taliban government was toppled in 2001, girls' education was outlawed and women were confined to their homes.
Today, more than 3.6 million Afghan girls are enrolled in school and 100,000 women attend universities, according to education ministries. But about 400 schools for both boys and girls have closed over the past several months for "security reasons," including armed conflict and Taliban threats or attacks, the ministry said.
The Farah bombings came after Taliban leaders in Qatar, where the talks with the Americans have been held, said they were committed to women's rights under Islamic law, including the right to education.
But in Farah, the school attacks underscored deep misgivings among Afghan women that any future government that included the Taliban would once again ban or limit education for girls.
A plaque engraved with Afghan and American flags — both later scratched out — and a message saying the U.S. Agency for International Development had helped build the school in 2005.
Sosan Aubi, 38, a teacher at one of the schools that were burned last month, said she and other teachers had been optimistic about the chances for peace because of the Qatar talks. "But after this explosion all of us have lost our hope," she said.
Nayab Khan, a village grocer whose sisters and daughters had attended one of the burned schools, said he didn't trust the Taliban's promises.
"They say they have changed for the good, but we see them blowing up schools and preventing girls from getting education," Mr. Khan said.
Zabihullah Mujahid, a Taliban spokesman, denied responsibility for the attacks and said the militants would investigate and punish those involved. If the schools reopen, "there won't be any threat from our side," Mr. Mujahid said.
But angry local residents pointed out that the schools were in areas controlled by the Taliban. They also said government officials had been unable to reach the schools to inspect the damage.
Dadullah Qani, a member of the Farah provincial council, said the attacks demonstrated that the government was losing control of the province.
"The security situation here is deteriorating day by day," Mr. Qani said. "There is no difference between the government and ordinary people — both are helpless to prevent such attacks."
Provincial government officials and village elders said the attacks exposed a split among the militants, with many Taliban civil authorities willing to tolerate girls' education but some military commanders opposed. The Taliban operate so-called shadow governments in areas controlled or contested by the militants, taxing residents and establishing offices that govern day-to-day affairs.
"Some of them are O.K. with girls' education and some of them are against it," said Mr. Halimi, the deputy education director.
Village elders said a delegation met with government officials in Farah city to demand they rebuild the schools, but were told that the government was powerless to intervene. They said they were advised to contact local Taliban leaders.
Mr. Halimi said a group of about 50 villagers was considering temporarily resuming classes in tents. Local residents said Taliban education officials had contacted provincial school leaders to discuss the reopenings, but asked for time to reach an accommodation with Taliban military commanders.
A security guard looking at damaged desks and debris inside the Sher Ali Khan girls' school in Naw Deh.
Mohammad Azimi, the provincial education director, said he had asked parents and students to help reopen the schools.
At Sher Ali Khan school in the village of Naw Deh, about eight miles from Farah city, the windows had been blown out and the walls had buckled. Inside, burned desks and school papers were strewn around.
At the school entrance was a plaque engraved with Afghan and American flags and a message saying the U.S. Agency for International Development had helped build the school in 2005. Someone had tried to scratch out the American flag. (The agency's office in Kabul said it did not currently fund the school but that it may have been a past project.)
Abdul Rahman, the school principal, said armed five men wearing masks tied up the night watchman, splashed fuel inside the school and set it alight on the night of April 15. They also detonated a small explosive device inside the school office.
School records, student supplies and academic textbooks were burned, but the attackers spared Islamic religious texts, Mr. Rahman said.
"Now all the girls are scared," Mr. Rahman said. "Even if we reopen the school, maybe they won't come anymore."
Abdul Hamid Haidari, 45, a shopkeeper, said his three daughters attended Sher Ali Khan school. He said his daughter Roya, 18, was scheduled to graduate this year and pursue a career as a teacher, but that it was now unlikely to happen because her school transcripts had been destroyed.
Mr. Haidari said Roya and her sisters burst into tears when told about the attack. He said he was determined to educate his children — his daughters and his four sons — and had sacrificed to place them in schools despite the precarious security climate.
"I was hoping the peace talks would change the situation," he said. "But now that our school has been blown up, I'm not so hopeful anymore."
Mr. Qani, the provincial council member, described a climate of fear and mistrust in the wake of the school attacks. He said they may have had the desired effect: Even if the schools reopen, many parents are afraid to send their girls back to them.
"Today they blow up school buildings," Mr. Qani said. "Tomorrow will they attack students?"
Fahim Abed and Fatima Faizi contributed reporting from Kabul, Afghanistan, and Taimoor Shah from Kandahar, Afghanistan.
https://www.nytimes.com/2019/05/21/world/asia/taliban-girls-schools.html
--------
Group of Yazidi Women Victims of IS Get New Life in France
May 22, 2019
PARIS — France is taking in a new group of Yazidis including women victimized by the Islamic State group and their children.
The families, a total of 130, were arriving Wednesday night in Toulouse, from Irbil, Iraq for resettlement around France.
A group of 16 Yazidi women and their children arrived in December, helped by the International Organization for Migration.
During a rampage through Iraq's Sinjar region in 2014, the Islamic State group captured thousands of women and girls from the Yazidi religious minority and forced them into sexual slavery, while massacring men. Many remain missing to this day.
Last month, the spiritual council for Iraq's Yazidi community said it won't embrace the children of women and girls raped by Islamic State group men, days after saying it would accept "all survivors."
https://www.washingtonpost.com/world/europe/group-of-yazidi-women-victims-of-is-get-new-life-in-france/2019/05/22/34ac8e2a-7ccc-11e9-b1f3-b233fe5811ef_story.html?utm_term=.867d3686b3ec
--------
Muslims Taught To Target Christian Girls in Indonesia
By Lindsay Steele
May 22, 2019
Christian Girls Targeted
"Influential leaders are literally training young men to target Christian girls to impregnate them," World Mission's Greg Kelley says.
"They target them to try and sort of diffuse the spread of Christianity because the family of the Christian girl is so ashamed that…they're forced into marrying that daughter into a Muslim family."
Kelley says this is not happening across the board in all Muslim-majority areas. However, it is becoming more frequent in countries like Indonesia.
Families are put into difficult situations because they are shamed and because a dowry system is applied in Indonesia. Further, many Christian families are often impoverished.
Knowing this, the girls' attackers come to her family and say they will not make them pay a dowry for their daughter.
"The family, because the shame is so overwhelming, they agree to that… and the Muslims who are being trained to do this, they understand that. That's why they're doing that. They're taking a Christian into a Muslim family so they can influence [her]."
Once girls are married into the Muslim families, they're often cut off from or abandoned by their families and they face even more difficult circumstances.
In some cases, girls are the second or third wife of their persecutor and they have few freedoms.
They are "being withheld the basic human rights that a lot of women in America take for granted, living in many cases underground."
An Unending Influence
Even though these Christian girls are living under the influence of Islam in a challenging situation, Kelley says, in many cases, they remain loyal to the Lord, and their own influence of faith does not end when they are married.
"They still have the opportunity to raise a child, to influence a child, so it's not like the impact of the Gospel ends there. It just puts this young lady into an incredibly difficult set of circumstances, but her influence doesn't end."
Often the girls will continue worshipping Jesus in secret.
"If her husband found out she was openly serving Jesus, he would divorce her. There'd be no consequences to him to getting rid of her because that would kind of be defiling Islam."
Kelley says it's important for believers around the world to know about this persecution so they can pray.
Pray for Christian girls who have been attacked and forced to marry. Pray for her family, for wisdom, and for safety. Pray also for the persecutors and leaders who are training men to rape women, that they would have their eyes opened to this evil and come to faith in Jesus. Finally, pray that the Lord will continue lifting up a generation of strong believers in Indonesia despite the persecution.
World Mission partners with nationals on the ground who connect with, love, and encourage these women in their state of difficulty. Support them through your financial giving here.
https://www.mnnonline.org/news/muslims-taught-to-target-christian-girls-in-indonesia/
--------
House Panel Advances Bill Calling for Release of Saudi Activists
by William Roberts
May 23, 2019
Washington, DC - A committee of the US House of Representatives has advanced a resolution condemning Saudi Arabia's imprisonment of 11 women's rights activists facing trial for political activism.
The House Foreign Affairs Committee voted to approve and send to the House floor for consideration House Resolution 129 condemning Saudi imprisonment and abuse of female activists.
"We must continue to call on the Saudi government to release these women immediately," said Representative Eliot Engel, Democrat chairman of the House Foreign Affairs Committee.
The resolution is sponsored in the House by Representatives Lois Frankel, a Democrat, and Ann Wagner, a Republican. It was approved by voice vote.
The bill condemns the Saudi government's imprisonment of women's rights activists, calls for their release and calls on the Trump administration to impose financial and travel sanctions of Saudi officials under the Global Magnitsky Act, a US human rights law.
"I wanted to give Saudi leadership the benefit of the doubt when we were told there would be great social reform," said Representative Susan Wild, a Democrat who spoke in support of the measure.
"It has become clear that the Saudi leadership largely seeks to maintain the status quo. That is unacceptable," Wild said. "We cannot just hold our adversaries accountable for humanitarian abuses. We must also demand accountability of our strategic partners."
Sexual abuse, torture
Riyadh has faced pressure from Western governments to release the activists, most of whom were detained in May 2018, caught in a wide-ranging crackdown against activists just before the landmark lifting of a decades-long ban on female motorists.
The activists, some of whom have accused interrogators of sexual abuse and torture during nearly a year in custody, face charges that include contact with foreign media, diplomats and human rights groups.
Three of them - activist Aziza al-Yousef, blogger Eman al-Nafjan and preacher Rokaya al-Mohareb - were granted temporary release in late March. Earlier this month, four more detained female activists - Hatoon al-Fassi, Amal al-Harbi, Maysaa al-Manea, and Abeer Namankani - were temporarily released pending trial, according to ALQST, a Saudi rights group based in London.
"These activists have been held as prisoners, and have reportedly faced torture and abuse, including sexual violence, beatings and electric shocks," Frankel said in a March 12 statement when the resolution was introduced.
"Saudi Arabia must release these advocates and end the discriminatory male guardianship system that restricts women's decisions about their livelihood," Frankel added.
Saudi Arabia's human rights abuses have come under international scrutiny following the October 2018 murder of journalist Jamal Khashoggi at the Saudi consulate in Istanbul.
US intelligence agencies concluded Saudi Crown Prince Mohammed bin Salman had ordered Khashoggi's killing.
Secretary of State Mike Pompeo said after a meeting with Crown Prince Mohammed in January that he had raised the case of the imprisoned activists with the Saudi leader.
Since then political arrests and executions in Saudi Arabia continue.
Saudi Arabia executed 37 nationals on April 23 for what it said were "terrorism" related crimes, publicly pinning at least one of the bodies to a pole as a warning to others and bringing the number of persons executed this year to 100, according to the Saudi Press Agency.
As many as 13 activists, writers and bloggers who had been placed under a travel ban for their support of women activists, including two dual US-Saudi citizens, were arrested on April 4 and 5, according to ALQST.
https://www.aljazeera.com/news/2019/05/house-panel-advances-bill-demanding-release-saudi-activists-190522205054238.html
--------
Pakistani legislator of Balochistan, Mahjabeen Sheran, Kicked out Of Assembly for Bringing Her Son
by Shereena Qazi
May 23, 2019
Mahjabeen Sheran, a member of the Provincial Assembly of Balochistan in Pakistan, who was asked to leave for bringing her unwell infant to the house, has vowed to campaign for establishing daycare centres in assemblies and government departments.
On April 29, Sheran was criticised by staff and fellow members of the assembly for bringing her seven-month-old son, who was sick and could not be left at home, to the chamber for a session. She was asked to leave the session.
"I was torn between attending the session and staying home taking care of my son," Sheran told Al Jazeera.
"So, I decided to bring my son because I didn't want to miss the session."
Sheran is from Balochistan's Kech district and became a member of the assembly in 2018 on a reserved seat for women. She said it was the "worst" situation for her when she had to decide between taking care of her son and attending work.
"I felt embarrassed because some men in the session were making jokes and smirking about me bringing my son. At that point, I looked for someone to stand up for me and support me, but no one did," she said.
Several times in the past, Sheran had requested the assembly's secretary for a spare room to turn it into a daycare facility. Her request was denied repeatedly.
The legislator is now seeking support from political leaders and activists to establish daycare facilities in government offices and assemblies.
She said she will also propose a bill to allow mothers to bring babies to the assemblies and "to share the experiences of working mothers with men".
'Respect women'
A daycare centre was inaugurated in Parliament House in Pakistan's capital city Islamabad two years ago.
"How can a country succeed when the most important part of the society [women] are treated this way? Such incidents discourage women of this country from succeeding and being independent," Mumtaz Mughal, the regional director of Aurat Foundation, a non-profit organisation that works on women's rights and gender equality, told Al Jazeera.
"The fact that Mahjabeen Sheran was asked to leave for merely bringing her son to the session tells us that the patriarchal mindset exists heavily in our society and we have a lot of work to do in order to change that."
Sheran said she has seen women lawyers, activists and politicians taking their children to work if they have to. She said she was disappointed to know that bringing children to the assembly in Pakistan was against the law.
In a similar case as Sheran's, a Japanese politician, Yuka Ogata - a member of the Kumamoto City Assembly, was criticised by fellow members for trying to bring her baby to a council session. She said in her statement that she wanted to show the difficulties when women juggle with careers and raising children.
Mette Abildgaard, a Danish MP, was asked to leave parliament after she brought her baby to the chamber in March this year.
In 2018, New Zealand Prime Minister Jacinda Ardern made history by attending the United Nations General Assembly accompanied by her newly-born baby.
Australian Senator Larissa Water became the first politician to breastfeed her two-month-old daughter during a vote in the country's parliament in 2017.
An Argentinian politician, Victoria Donda Perez, was praised for breastfeeding her infant daughter during a parliamentary session in 2015.
Back in Pakistan, Sheran's case went viral on social media, receiving support from people from across the country.
"People from all over the country were contacting me expressing their support for me and my campaign," she said.
"We must respect those women who work and also take care of their household. It is not easy and we face challenges on daily basis."
https://www.aljazeera.com/news/2019/05/pakistani-legislator-kicked-assembly-bringing-son-190522064546216.html
--------
Women and Terrorism: Hidden Threats, Forgotten Partners: Report
May 21, 2019
A new report from the Women and Foreign Policy program, launched this week, highlights the roles that women play in violent extremism—including as perpetrators, mitigators, and victims—and offers recommendations to better enlist their participation in efforts to combat radicalization.
Extremist groups rely upon women to gain strategic advantage, recruiting them as facilitators and martyrs while also benefiting from their subjugation. Yet U.S. policymakers continue to overlook the ways in which women perpetrate and prevent extremism, putting the United States at a disadvantage in its efforts to prevent terrorism globally and within its borders.
Understanding and addressing women's paths to radicalization and the roles they play in violent extremism is crucial to disrupting terrorists' abilities to recruit, deploy, and abuse them. Although women are often ignored in conventional depictions of violent political actors, they have been active participants in 60 percent of armed rebel groups over the past several decades. And the number of women implicated in terrorism-related crimes is growing: In 2017, the Global Extremism Monitor registered 100 distinct suicide attacks conducted by 181 female militants, constituting 11 percent of all incidents that year.
Incorporating women's distinctive perspectives can lead to better intelligence gathering and more targeted responses to potential security threats. Women-led civil society groups are particularly critical partners in mitigating violence, though counterterrorism efforts too often fail to enlist them.
Many extremist groups promote an ideology that classifies women as second-class citizens and offers strategic and financial benefits through women's subjugation. Boko Haram, the Islamic State, al-Qaeda, al-Shabab, and other groups use sexual violence to terrorize populations into compliance, displace civilians from strategic areas, enforce unit cohesion among fighters, and even generate revenue through trafficking. Suppressing women's rights also allows extremists to control reproduction and harness female labor.
The report outlines ways in which the U.S. government can better understand and combat women's contributions to violence extremism. Recommendations include:
produce a National Intelligence Estimate and form an operational task force on the relationship between women, violent extremism, and terrorism;
invest at least $250 million annually to facilitate women's involvement in terrorism prevention efforts;
target messages to women at risk of radicalization; and
improve the recruitment, retention, and advancement of women across the security sector to bolster the capacity of forces to mitigate potential terrorist threats.
Counterterrorism policies that underestimate or ignore the roles women play jeopardize U.S. security interests and cede a strategic advantage to terrorist organizations. Given the rise in women's participation in extremist groups, the United States can no longer afford to ignore the ways in which women can strengthen counterterrorism efforts. To safeguard U.S. security interests, the U.S. government should mitigate the danger posed by female extremists while involving women from the outset as partners in the fight against terrorism.
https://www.cfr.org/blog/women-and-terrorism-hidden-threats-forgotten-partners
--------
Human Right Observers Criticize Qatar's Discrimination against Women
May. 23, 2019
CAIRO – 23 May 2019: During a Seminar organized by Maat Foundation for Peace, Development and Human Rights on the sidelines of the universal periodic review process in Qatar, international human rights observers criticized Doha's policies of discrimination against Women.
Melih Sufo, a member of an international peacemakers' human rights group, said that Qatari women are still facing discrimination despite the existence of laws that give them a lot of rights.
He added that, for example, the children of Qatari women who are married to foreigners legally have the right to get residence; however, this law is still not applicable on the ground. These children accordingly suffer to get proper education, health care and job opportunities.
He added that there are several reports that expose that Qatari women are facing several violent practices that could be described as "systematic humiliation protected by unfair legislation". He further revealed that women are facing discrimination before the judiciary due to their gender as females.
Sufo explained that women face severe social and institutional pressures due to being deprived of their most basic rights, pointing out that the Qatari laws allow men to beat and humiliate their wives.
Regarding domestic workers' situation in Qatar, Sufo described it as "tragic". He said that domestic workers are deprived of all the basic forms of protection and that they are left vulnerable to exploitation and abuse, including forced labor and human trafficking.
http://www.egypttoday.com/Article/1/70719/Human-right-observers-criticize-Qatar%E2%80%99s-discrimination-against-Women
--------
URL: https://www.newageislam.com/islam-women-feminism/attacks-girls-schools-rise-taliban/d/118685
New Age Islam, Islam Online, Islamic Website, African Muslim News, Arab World News, South Asia News, Indian Muslim News, World Muslim News, Women in Islam, Islamic Feminism, Arab Women, Women In Arab, Islamophobia in America, Muslim Women in West, Islam Women and Feminism