New Age Islam News Bureau
7 Jun 2015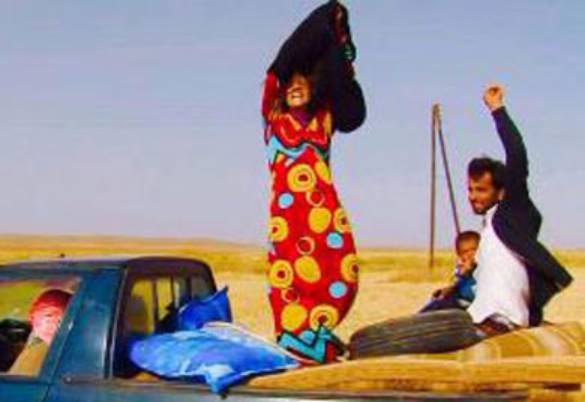 Images show women joyously casting off long black veils and abayas as they flee from Isis
------
• Belgium School Sends 30 Muslim Girls Home for Wearing Long Skirts
• Muslim Woman Attacked In London 'For Wearing Hijab'
• Women Remove Burqa As They Flee From Isis
• Shocking: Iranian Female Cartoonist Jailed For 12 Years
• Love, Poetry and War: The Afghan Women Risking All For Verse
• Canada Funds Model to Bring Safe, Quality and Affordable Sanitary Pads to Women and Girls in East Africa
• In Mali, Grocer Wages War on FGM from His Closet
• Gang Violence Fuels Child Marriage In Central America, Researchers Say
Compiled by New Age Islam News Bureau
URL: https://www.newageislam.com/islam,-women-and-feminism/new-age-islam-news-bureau/at-this-all-girl's-madrasa,-in-india,-yoga-is-part-of-daily-drill/d/103372
--------
India: At This All-Girl's Madrasa, Yoga Is Part of Daily Drill
Shishir Arya,TNN | Jun 7, 2015
NAGPUR: At Edara-e-Bageyatus Salehat, a little-known all-girls madrasa run from a residential colony off Kamptee Road, yoga is a part of the daily regime.
TOI had reported about the madrasa on January 11, 2009, as a part of its Teach India campaign highlighting novel education initiatives.
Against the background of the controversy triggered by the state government's International Yoga Day diktat to schools to remain open on June 21 that drew sharp reactions from Muslim clerics and leaders, TOI contacted those at the Salehat once again. Though it was closed for vacation, the cleric heading the madrasa said the yoga classes continue.
"Yoga sessions are held each day after the evening Namaz. Unlike any other orthodox institution, there is a special emphasis on physical fitness here at Salehat," says Maulana Razzak who heads the institution.
"There is no taboo against yoga in Islam. Physical fitness has always been promoted in Muslim culture and yoga is a good exercise. This not only helps in keeping the girls in good health but also instills discipline," Razzak added.
Yoga teacher Anjum Mazi said she learnt yoga during her days as a madrasa student at Mumbra near Mumbai. "So far I have worked for three-four such institutions and have also taught yoga everywhere. The sessions last for 10-15 minutes every day. It is basically done to keep fit. Of course certain postures like folding hands or Surya Namaskar are avoided," said Mazi.
Since Yoga also involves Surya Namaskar or bowing to the sun god, Muslim organizations say the order infringes on the religious rights of Muslims who worship and bow only to Allah during namaz.
Yoga sessions are followed by advice on good diet, and leading a diligent lifestyle. At Mumbra, Maulana Ayub Bhatkal regularly performed this exercise which inspired others too, said Mazi.
Apart from Mazi there is another expert, also a woman teacher, who comes and inspects the students' progress from time-to-time, said the Maulana.
Salehat, which imparts both religious as well modern teaching, has 250 students. "In a typically conservative society, there is no place for women's freedom, and Salehat is an attempt to break the shackles. There is a deliberate focus on physical activities as it helps in building the girls' personality. They also play football and tennis here," said Javed Ansari of United Students Association which founded the madrasa.
Some yoga exercises were also learnt watching yoga guru Baba Ramdev on television. It has helped in inculcating good habits among the inmates, especially rising early, Ansari said.
Abdul Gaffoor Parekh, businessman and a protagonist of liberal thought said, yoga should be isolated from any particular religion. "For example the word aum. Even the Muslims can be convinced if they are made to understand that it only relates to God, no matter by a different name," said Parekh.
http://timesofindia.indiatimes.com/city/nagpur/At-this-all-girls-madrassa-yoga-is-part-of-daily-drill/articleshow/47569620.cms
---------
Belgium School Sends 30 Muslim Girls Home For Wearing Long Skirts
07June, 2015
A school in Belgium had sent 30 Muslim school girls home last week for wearing long skirts, baggy pants, dark dresses and skirts over pants after such dresses were banned by the principal.
The principal is quoted by media to have said "the wearing of baggy pants, long skirts or dark dresses, and skirts or dresses over pants is not tolerated."
http://video.dunyanews.tv/index.php/en/mustwatch/22252/Belgium-school-sends-30-Muslim-girls-home-for-wearing-long-skirts#.VXQ58NKqqko
---------
Muslim woman attacked in London 'for wearing hijab'
07June, 2015
A British Muslim woman allegedly had her hijab ripped off in a racially motivated attack in London. Police say they have arrested two people in connection with the crime.
The investigation is ongoing for the incident, which happened as a young Muslim woman was walking toward a private Islamic primary school in south London to collect her two children on Thursday. The woman says she was approached by a number of women, who began shouting abuse at her.
She was asked by the women if she felt hot wearing a headscarf. The attackers then proceeded to pull her hijab off and started to beat her near the Al-Khair school in Croydon.
"They pulled my headscarf off and started punching and kicking me," the woman, who wished to remain anonymous, told the Evening Standard newspaper. "One was dragging my head down while the others were hitting me. They were being so racist and using derogatory terms."
She said that she suffered whiplash and clumps of her hair were missing following the attack, which was only stopped when another parent came to her aid.
A Metropolitan Police spokesman said: "We take any offense seriously. We have made two arrests in connection with our ongoing investigation."
The two women arrested are aged 18 and 35. They have been released on bail and ordered to return to the police station at a later date.
In May, the Muslim Council of Britain and the Church of England condemned a spike in hate crimes recorded by police in England and Wales since 2012. The majority of the hate crimes were committed against Muslims.
Racially or religiously aggravated harassment crimes – such as verbal or written racist abuse – increased from a total of 15,249 in 2012 to 17,605 in 2014.
The figures, obtained from 41 of 43 police forces approached through Freedom of Information (FoI) requests, show a total of more than 47,000 hate crimes recorded over the past three years.
Muslims have been the main victims, say anti-racism campaigners, partly due to the rise of Islamic State (formerly ISIS/ISIL), the murder of Lee Rigby by Islamic extremists in 2013 and anti-immigration rhetoric by right-wing and mainstream political parties.
Dr Shuja Shafi, secretary general of the Muslim Council of Britain, described the recent spike in harassment crimes as "disturbing" but "not unexpected" before stressing the "urgent need" to combat the growth of Islamophobia across England and Wales.
"With racist bullying in schools attributed to Islamophobia on the rise according to ChildLine, job discrimination against Muslims commonplace and regular attacks against Muslims ... there is a serious concern that needs to be both acknowledged and tackled," Shafi said.
http://rt.com/uk/265549-london-hijab-attack-racist/
---------
Women Remove Burqa As They Flee From Isis
Incredible moment elated Syrian women rip off strict Islamic robes and headscarves after escaping religious persecution under ISIS
07June, 2015
This is the incredible moment elated Syrian women tear off their black shapeless robes as they enter Kurdish-controlled territory after fleeing for their lives from the clutches of Islamic State.
In two video clips released exclusively to MailOnline, men, women and children are seen celebrating their arrival in Rojava in the north of the country.
Two women pull off their robes to reveal colourful dresses while another removes her headscarf and lets it fly away in the wind after escaping religious persecution under ISIS.
Syria-based freelance journalist Jack Shahine watched as the refugees arrived in the area close to Tel Abyad and about 40 miles east of Kobane.
He told MailOnline: 'These women, children and men are fleeing ISIS controlled area and as soon as reaching Kurdish YPG (People's Protection Units) controlled areas they remove the black Burqas obliged by ISIS, breathing freedom again.
'These women started to remove blackness, feeling cheerful and joyful for being finally free.'
The footage was filmed by Shervan Derwish, a cameraman and the spokesman for the Euphrates Volcano Operation Room - established by the Kurdish YPG and Free Syrian Army to target the Islamic extremists.
Meanwhile this week, ISIS militants have launched a major attack on the predominantly Kurdish city of Hassakeh in north-eastern Syria, according to activists and Syrian state media.
It was in an apparent attempt to reverse some of the advances made recently by Kurdish fighters in the north-eastern Syrian province.
Kurdish fighters have captured dozens of towns and villages there with the help of US-led airstrikes and are getting close to Tel Abyad, a major Islamic State-held border town near Turkey.
The extremists launched the push on the city of Hassakeh, which is split between government forces and Kurdish defenders, on Tuesday night.
Syrian state television said extremists are battling for control of a juvenile prison still under construction on Hassakeh's southern edge and have so far attacked it with five suicide car bombs.
The TV report said government warplanes have struck the ISIS stronghold of Shaddadeh, south of Hassakeh.
The Britain-based Syrian Observatory for Human Rights said the Syrian air force is also taking part in the battle around Hassakeh and that ISIS gunmen have entered the prison building.
The group said dozens of fighters were killed on both sides, adding that IS brought reinforcements of about 400 fighters from the nearby province of Deir el-Zour.
Activists also reported intense fighting Wednesday in the northern Aleppo province between ISIS fighters and other insurgent groups including al-Qaida's branch in Syria, the Nusra Front.
ISIS has been on the offensive in the area where they captured several towns and villages over the past days.
http://www.dailymail.co.uk/news/article-3112942/Incredible-moment-elated-Syrian-women-rip-strict-Islamic-robes-headscarves-escaping-religious-persecution-ISIS.html#ixzz3cNYEqb9T
---------
Shocking: Iranian Female Cartoonist Jailed For 12 Years
07June, 2015
TEHRAN – An Iranian artist Atena Farghadani has been sentenced to 12 years in prison for drawing satirical cartoons of politicians who decided to restrict women's access to birth control.
The charges stem from a cartoon Farghadani posted online that depicted Iranian leaders as monkeys and cows.
Shocking: Iranian Female Cartoonist Jailed For 12 Years|PakistanTribe.com
According to her relatives, Ms Farghadani plans to launch an appeal against the harsh sentence.
'Naturally we are all upset by the sentence…But seeing how optimistic Atena has been, we are trying to maintain that outlook too,' one family member told Fox News.
'She's truly an angel… She just loves people and animals, and besides for all her artistic talent, she is such a strong supporter of human rights,' another added.
In November, the 28 – year-old was released for a short period of time, but was called back by authorities six weeks later after she was accused of publicly discussing the torture and beatings she allegedly endured by prison guards, including posting a YouTube video describing her brutal treatment.
It is pertinent to mention here that the judge who handed down the harsh prison sentence, Abolghassem Salavati, is known as 'Iran's hanging judge' or 'the judge of death' in his country thanks to his reputation for harsh punishments.
He is particularly notorious for handing out harsh sentences to journalists, artists, bloggers and political activists, making his named in the aftermath of the street protests that were brutally crushed during Iran's 2009 general election.
Do you have information you wish to share with PakistanTribe.com? Email our News Desk to share news tips, reports and general feedback. You can also email the Blog Desk if you have an opinion or narrative to share. Follow PakistanTribe on Twitter Follow @PakistanTribe and Join us on Facebook
http://www.pakistantribe.com/story/40255/shocking-iranian-female-cartoonist-jailed-for-12-years/
---------
Love, Poetry and War: The Afghan Women Risking All For Verse
07June, 2015
The founder of Afghanistan's largest women's literary society, whose female members regularly put their lives at risk to write poetry documenting sex, rage, war and heartbreak, will be among those speaking at the International Poetry Festival at London's Southbank Centre this summer.
Kabul-based Mirman Baheer is a pioneering female literary group which enables women to share landays, short two-line poems, traditionally only performed orally, which have long been used by Afghan women as a secretive form of rebellion.
Its members span professional women working in government to young girls in isolated rural villages forced to contribute in secret.
The society was first brought to the attention of the international community by journalist and poet Eliza Griswold in 2012 – this will be the first time she and Mirman Baheer founder Sahira Sharif have spoken together about the group in the UK.
They will appear as part of a festival lineup focusing on themes of war, conflict and oppression from poets and performers from across the world.
Bringing the work of Mirman Baheer on to the global stage, would be "transformative", Griswold said, both for the group and for people's perceptions of Afghan women.
"These poems are about war, they are about love, they are about drones, they are about American soldiers, they are about sex, they are about the size of a husband's manhood – they don't hold back," said Griswold.
"They show a side of the life of Afghan women that is otherwise left hidden and no-one would ever dare to try and reveal. You could call these a protest but they are more than that because they show these women using their feminine power to shame men."
While oppressive restrictions on women prevent most from being able to openly express opinions on sex and lust, on men, on their family and oppression and suffering, the landays have become powerful outlets for their emotions and anger.
Those who are able, gather every week in Kabul to share the couplets, which are only 9 words and 22 syllables, while others in outlying regions call into the society in secret and repeat their landays over the phone.
Thanks to the strict conservatism fostered by the Taliban, where singing is still associated with loose morals and poetry is seen as shameful, this puts the women at the risk of punishment or even death if they are discovered.
With the support of Sharif and the Mirman Baheer network, Griswold began a project to collect contemporary landays from Afghan women across the country – both to preserve them and bring their stories to the world – which have been recently published as a volume titled I am the Beggar of the World.
As part of the International Poetry Festival, there will be an evening of landays, celebrating how the poems have become a new platform for resistance.
Griswold said: "One of the great gifts about this poetry that it allows us to look out at the world through Afghan eyes, as much as that's possible. So we're not looking at them, we're looking at the world they choose to describe and how they see it."
"The landays so exploded any stereotype which I had of Afghan women as mute ghosts. Having worked there for more than a decade, my assumption has always been that I understood the nature of their subjugation better than they did themselves. But that is dangerous assumption and nothing shows that to be more inaccurate than these poems."
While the popularity of Mirman Baheer is growing, however, Griswold said Afghanistan's bleak and uncertain future made her concerned for the women involved.
"My sense is that Mirman Baheer is growing even stronger," she said. "But with the withdrawal of international troops and the possible resurgence of the Taliban, the fear is that as a women's organisation they will be one of the first to suffer."
The International Poetry festival, founded by Ted Hughes in 1967, will this year host 30 poets from more than 10 countries including Iraq, Palestine, Iran and Pakistan.
The line-up will also feature a group of Pashto-speaking poets from Pakistan forced to flee after Taliban militants forced them to compose poems glorifying jihad. After settling in a refugee camp, they have begun to reclaim the traditional themes of their craft, and the festival will host three of the poets, Saleem Khan, Zahid Ullah Khan and Dilawar Khan, in the UK for the first time.
Southbank Centre's Artistic Director Jude Kelly said this year's line-up conformed perfectly to Hughes's founding philosophy for the festival, that poetry "is a universal language of understanding in which we can all hope to meet".
"We are particularly privileged to welcome two groups of poets from Afghanistan and Pakistan who share their incredible stories of adversity and highlight the enduring ability of poetry to envisage change and transcend barriers," Kelly added.
http://www.theguardian.com/world/2015/jun/06/love-poetry-and-war-the-afghan-women-risking-all-for-verse
---------
Canada Funds Model to Bring Safe, Quality and Affordable Sanitary Pads to Women and Girls in East Africa
07June, 2015
TORONTO, ON-- ZanaAfrica Group, a hybrid social enterprise based in Nairobi, Kenya, has secured a major investment catalyzed by Grand Challenges Canada (which is funded by the Government of Canada) to expand women and girls' access to safe, affordable sanitary pads, and related health education.
ZanaAfrica's first investment capital, totaling CDN$2.4 million (US$1.9 million), places them in a small pool of social enterprises that are successfully transitioning from proof-of-concept grants to investment.
A $1 million loan provided by Grand Challenges Canada is being matched by a blend of investments and donations from the private sector, including TripAdvisor and Stewardship Foundation, with $400,000 secured via foundations and another $1 million anticipated.
This new funding will allow ZanaAfrica to scale up the production of sanitary pads, drive sales growth, and integrate impact evaluation in education and health into its delivery channels. The company is on track to reach 150,000 beneficiaries through its pads and underwear sales by the end of 2016.
This financial injection, combining funds from the Government of Canada and resources of private investors, will bring sanitary pads and accurate health information within reach of rural and urban low-income women and girls now hindered by limited availability and excessive costs.
Led by Megan Mukuria, a strong advocate for menstrual health management and Ashoka Fellow, co-Founder Dr. Lawino Kagumba, and a diverse team of women, the company's product line includes both disposable and reusable pads, coupled with underpants, and aspirational comics on diverse topics. ZanaAfrica has developed a tiered distribution model that leverages social enterprises and community health workers (CHWs) alongside traditional channels, such as supermarkets and road-side kiosks, to put affordable pads within walking distance of the girls and women who need them most.
With a Phase II Grand Challenges Exploration grant, co-funded between Grand Challenges Canada and the Bill & Melinda Gates Foundation, the company achieved proof of concept.
Their inaugural product Safi saves women 75% in daily out-of-pocket expenses and increased CHWs' pad sales over 1,000% in a pilot with Marie Stopes Kenya, while helping women earn up to three times more than from other pad products. Their new back-to-school kit for girls promises to double the percentage of girls reached and is a real value for money for families or organizations buying for girls. Health-related education, including comics and policy programming, are led by ZanaAfrica Foundation CEO Gina Reiss-Wilchins to create lasting systems change.
Since November 2013, ZanaAfrica's community-based sales have seen 300,000 disposable and reusable pads sold, reaching approximately 20,000 customers of whom 35% are girls. The program is revolutionizing female health and empowerment in Kenya, and brings together the passion to help women thrive, while creating sustainable economic benefits throughout the supply chain.
Said one Class 8 girl, "This is going to make us actualize our dreams, to make us equal [to boys in the classroom], and to make the country be proud of girls."
Menstrual health is central to each woman's ability to lead lives of dignity and well-being in every part of the world. Yet, lack of access to affordable feminine hygiene products is a widely overlooked issue, which has a profound and cascading negative impact on the health, education and productivity of millions of girls and women, especially in emerging economies.
In East Africa, four in five women do not have regular access to sanitary pads or related reproductive health education. In a region where over 40% of females are under the age of 15, this is a rapidly escalating problem. A school girl without pads can miss up to six weeks of schooling every year and be inattentive in class, increasing her likelihood of dropping out and harming her chances to become a full and productive part of society. In later life, many women lose valuable work hours and thus incremental income because they cannot afford pads. This perpetuates the cycle of poverty.
Many women and girls without access to sanitary pads are forced to repeatedly use the same unsterilized cloth during menstruation, which they are often unable to dry fully, or they resort to other ineffective and unhygienic alternatives, such as newspaper, rags of cloth, bark, ashes, banana leaves or hay. All too often, these alternatives lead to short- and long-term health risks, such as reproductive tract infections which, when untreated, have negative long-term consequences, such as an increased chance of getting STDs or HIV due to immunosuppression, or high-risk pregnancies and births.
Adolescent girls, in particular, often lack relevant reproductive and menstrual health information needed to answer questions and make informed decisions. Across East Africa, there is no system to deliver critical and accurate health information, inside or outside of school, in a scalable, standardized and comprehensive way. Cultural taboos and discomfort often get in the way of in-person adolescent health education programs.
ZanaAfrica solves this problem through incorporating fun, interactive comics in pad packages for girls. Tested for behaviour change and health outcomes, all products are developed with girls using human-centred design. In this way they meet the demand for affordable, accessible and aspirational sanitary pad products, along with menstrual health education for girls.
Government of Canada funds come from a $10 million strategic partnership between Grand Challenges Canada and the Department of Foreign Affairs, Trade and Development Canada (DFATD) to accelerate the scale-up of highly promising innovations that improve health in the developing world. Selected innovators also access technical and business support, along with other resources to accelerate their growth.
Said the Honourable Christian Paradis, Minister of International Development and La Francophonie, "Menstruation is a major reason why girls in developing countries miss or drop out of school or stay unemployable. The lack of access to sanitary products and the stigma associated with the issue affects their health and well-being, and can lock them into poverty. Canada is proud to partner with Grand Challenges Canada to help improve the lives and livelihoods of women and girls in the developing world through support to Kenyan social entrepreneurs for the provision of safe and affordable sanitary pads and access to important feminine health education. Canada is committed to ensuring that women and girls stay healthy."
Said Dr. Peter A. Singer, Chief Executive Officer of Grand Challenges Canada, "This Bold Idea -- affordable sanitary pads -- is already generating big impact by keeping women and girls in school or on the job, and informed about health choices. We can all feel proud about Canada's role in supporting women and girls through this project."
Said Megan White Mukuria, innovator and CEO of ZanaAfrica Group, "Grand Challenges has been an incredible partner to help us innovate across the value chain, to create affordable but aspirational brands that resonate with women and girls across socio-economic status, and to embed impact evaluation into our DNA. With our holistic solution, girls can step boldly into the promise of their future and have a real chance to break the generational cycle of poverty."
The new funding was announced during the 21st Biannual Conference of the Society for Menstrual Cycle Research, where global industry leaders and innovators gather to discuss ideas, and work to achieve empowerment and social justice for women and girls everywhere by heightening menstrual health awareness, education, research and services. Ms. Mukuria is leading a plenary panel on "Menstrual hygiene management campaigns across the globe" that features Grand Challenges Canada's work to fund sustainable enterprises.
http://www.digitaljournal.com/pr/2576132#ixzz3cNXXImw0
---------
Gang Violence Fuels Child Marriage In Central America, Researchers Say
07June, 2015
BOGOTA (Thomson Reuters Foundation) - Rampant gang violence and drug turf wars in parts of Central America are fuelling child marriage as girls seek to marry or couple with gang members and older men as a form of protection, researchers say.
Traditionally child marriage has been most prevalent among indigenous communities in rural areas across Central America.
But humanitarian groups working in El Salvador, Guatemala, and Honduras, say anecdotal evidence gathered in the past five years shows drug-fuelled gang violence and organised crime is driving more girls to get married in cities.
"We are seeing and hearing that increasing numbers of girls are getting married and coupled to seek protection from gang violence and intimation from gangs," said Amanda Rives, Latin America advocacy director for the charity World Vision.
"Being in a couple with a gang member may give the girl and her family some level of protection from one gang, but may leave them more vulnerable to rival gangs," she told the Thomson Reuters Foundation in a telephone interview.
In El Salvador and Honduras - countries with the world's highest murder rates - entire city neighbourhoods are controlled by powerful street gangs, known as maras.
In May alone, El Salvador recorded 594 murders, believed to be the deadliest month since the country's civil war ended in 1992.
The letters "MS" of the Mara Salvatrucha and graffiti of rival gang Barrio 18 is scrawled on buildings, marking gang territory. The gangs impose control through extortion, sexual violence, threats, killings and forced recruitment of children.
"Having a partner in a gang can be perceived as something that is much safer than being on the street alone. Girls do it out of fear," said Alejandra Colom, senior programme director at the Population Council in Guatemala.
Although there is scant data on the impact of gang violence and child marriage, it may be seen as a form of protection.
"Dating the top dog, whether it's the guy on the football team or the leader of the gang, gives a girl some status and this is related to protection and relative - and temporary - power," Colom said.
Child marriage in Central America is also fuelled by sexual violence at home, often at the hands of relatives and stepfathers, which drives girls to seek refuge with older men.
"Sexual violence against girls in the home causes many girls to want to leave home," said Ana Elena Badilla, an adviser on gender and youth at the United Nations Population Fund.
Worldwide, some 15 million girls are married off each year, depriving them of education and opportunities, and child marriage is most prevalent in South Asia and sub-Saharan Africa.
Campaigners say child marriage increases the chance of childbirth complications and child brides are more likely to be victims of sexual and domestic abuse.
While most Latin American countries ban marriage until 18, children can get married at a younger age with the permission of parents or a judge. In Guatemala, for example, under such exceptions girls can get married aged 14, while boys at 16.
(Reporting By Anastasia Moloney, editing by Ros Russell; Please credit the Thomson Reuters Foundation, the charitable arm of Thomson Reuters, that covers humanitarian news, women's rights, trafficking, corruption and climate change. Visit www.trust.org)
https://uk.news.yahoo.com/gang-violence-fuels-child-marriage-central-america-researchers-154535766.html#X6pTT3a
---------
In Mali, Grocer Wages War on FGM from His Closet
07June, 2015
(WOMENSENEWS)-- Siaka Traore wages war from a closet.
The closet, which doubles as his office, is the back room of an open air storefront in the Djiguisseme neighborhood of Bamako, the capital of Mali. The courtyard itself has reverted to the pastoral, with goats and chickens nosing for scraps among the weeds. But the closet is outfitted for a 21st century battle.
Traore is director of a Malian nongovernmental organization called Sini Sanuman, or "A Healthy Tomorrow" in English. Sini Sanuman is mounting a tireless effort to end all forms of violence against women in Mali – most importantly, female genital mutilation, or FGM. At 89 percent, Mali has one of the highest frequencies of FGM in the world.
Traore comes to the fight from an interesting direction. His mother was a traditional cutter. When he was a boy, two girls died after being cut by his mother and Traore asked her why that was so. She told him it was due to witchcraft. That stayed with him for many years.
When he grew up, he became a merchant and owned a grocery store. One day, an American woman, Susan McLucas, walked into his grocery store. She was carrying posters about FGM and he asked her what they were. She talked to him about the dangers of FGM: how the blade can transmit HIV and how FGM can cause tetanus, other infections or hemorrhage.
After she left, Traore put up her posters all over his store. Because of the posters, people came to him with their questions about FGM and he became known in the community as a wise advocate against the practice.
His Mother Repents
Traore also talked about FGM with his mother, who lives with him. One day, she came to him and said, "Son, I have been reflecting on our discussions. I have come to understand that you are right. Those girls did not die from witchcraft. They died because of me. I ask your forgiveness and everyone's forgiveness now."
Traore's mother then joined him to advocate against FGM, especially with older women and traditional cutters.
With his mother and a small army of volunteers, Traore conducts a wide range of anti-FGM activities, including educating traditional cutters and community leaders on the dangers of the practices; disseminating information concerning legal protections and hotlines; and finally, lobbying the National Assembly to pass a bill, pending since 2009, that would render the practice of FGM illegal in Mali.
When I met with Traore recently, he asked my colleagues and me if we had ever seen FGM take place. None of us had. He told us that to truly engage in the struggle against it, we must see it. And then he showed us a video on his computer.
Taken with a cell phone (with the consent of those present, Traore told us), the girl's face is blocked out. She appears to be 12 or 13 years old. She is shaking with fear. The women quickly move from brisk to threatening to menacing. They forcibly hold her down. They call her a bitch. They say they will not live with her if she remains impure. The knife is old and dull. The excision takes long minutes to perform. There is lots of blood. The girl is crying and pleading, struggling and calling out, "I am dead! You have killed me!" After the act is over, the women forcibly close her legs, throw a cloth over them and walk away. They're done with her.
Deeply Shaken
We were deeply shaken by what we'd seen. This was not a rite of passage. There was no recitation of the Sunnah, as sometimes occurs in male circumcision ceremonies in the Muslim world. This was nothing but an ugly, brutal act that can exist solely for the purpose of subjugating the girls forced to endure it.
The North-western Access to Health Project, which I direct, partners with dedicated local leaders such as Traore in sustainable community-based initiatives to end FGM in Mali.
Last year, I wrote for Women's eNews about our project in Douentza, where we worked with traditional cutters to provide them with a capacity building, substitute source of livelihood in exchange for their abandoning their old profession. An evaluation of that project after six months shows significant success: in their words, the cutters of Douentza have "put down their knives" and are raising sheep and selling ice cream.
In the next phase of our work in Douentza, we'll enroll more cutters in the project and also increase our education and community outreach efforts. In that regard, we're helped immeasurably by Traore and Sini Sanuman, who have convinced more than 150 cutters to put down their knives across southern Mali.
Juliet S. Sorensen is a professor at Northwestern Law School, where she teaches health and human rights and is a director of the Northwestern Access to Health Project.
http://womensenews.org/story/genital-mutilation/150529/in-mali-grocer-wages-war-fgm-his-closet
---------
URL: https://www.newageislam.com/islam,-women-and-feminism/new-age-islam-news-bureau/at-this-all-girl's-madrasa,-in-india,-yoga-is-part-of-daily-drill/d/103372