New Age Islam News Bureau
30 June 2022
• Sworn In Holding A Copy Of The Quran: First Egyptian Muslim Woman Sworn In As Youth Minister In Australia
• Iran 'Torturing' Prize-Winning Activist Narges Mohammadi: Amnesty
• Dubai Launches UAE's First Waqf That Supports Women And Children
• UAE: Sheikha Shamma Becomes First Woman From GCC To Join Atlantic Council's Climate Fellowship
• UAE's First Emirati Female Aviation Engineer Celebrates INWED At Heriot-Watt University
• Maya Morsi Highlights Importance Of Focusing On Women Role In Labour Market: Conference
Compiled by New Age Islam News Bureau
URL: https://newageislam.com/islam-women-feminism/pandit-kashmir-wanwun-muslim/d/127370
--------
At Pandit Girl's Wedding In Kashmir, Muslim Women Welcome Guests With Wanwun, Kashmiri Wedding Song, Young Girls Showered Flowers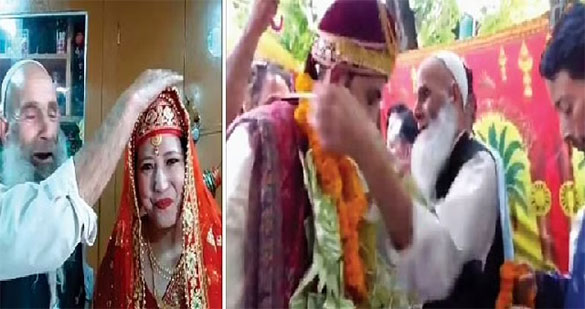 Wedding in Kashmir
-----
Irfan Raina
29 Jun, 2022
Ganderbal: Withholding the age-old communal harmony in Kashmir, local Muslims in Lar village of Ganderbal district participated in the marriage ceremony of a Kashmiri Pandit girl whose family lives in the village.
Kashmiri Muslims participated in the marriage ceremony of Meenakshi Kumari, daughter of late Pandit Mohan Lal in Lar, and celebrated the function like they were the real hosts.
The Pandit family has been living in the Lar village for years and sharing an emotional bond with local Muslim neighbours.
In a heart-warming gesture at the residence of the bride, local Muslims helped the family with all the preparations. From arranging firewood to setting up tents, cleaning the premises to surroundings, decorating the house to offering tea to guests, the local Muslim community did everything happily.
While men were busy in preparations, local Kashmiri women were seen singing local Kashmiri songs and doing the 'Rouf' (dance) with the Pandit women who had come to participate in the marriage ceremony.
Muslim women welcomed the groom and his family with the traditional Wanwun while young girls showered flower plates over the guests.
Talking to Greater Kashmir, a former legislator and a resident of Lar, Sheikh Ishfaq Jabbar said, "We don't feel that Kashmiri Pandits are a different community. They are our people. We have lived together for centuries. We will continue to help them as it is our moral duty."
Sanatham Dharam Sabha District President Ganderbal, Badrinath Bhat said that the Muslim neighbours including men and women participated in every ritual during the last four days.
The Pandit guests, some of them displaced community members, were elated to witness the scenes of brotherhood come alive in Lar.
"I was amazed to see Muslim women sing along to us while men made most of the arrangements for the guests," said a Pandit guest from Jammu.
Source: Greater Kashmir
https://www.greaterkashmir.com/kashmir/muslim-women-welcome-guests-with-wanwun-men-offer-tea-at-pandit-girls-wedding
--------
Sworn In Holding A Copy Of The Quran: First Egyptian Muslim Woman Sworn In As Youth Minister In Australia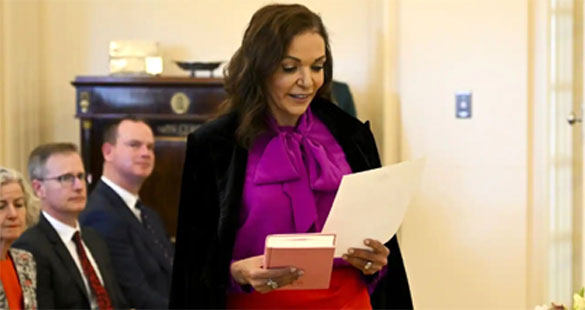 Azza Mahmoud Fawzi Husseini Ali al-Serougy
-----
June 29, 2022
An Egyptian woman was sworn in as Minister of Youth for the Labour Party in the new Australian government, on Wednesday, holding a copy of the Quran with a pink cover, before Prime Minister of Australia Anthony Albanese, Al Arabiya reported.
Albanese stood up from his chair to shake hands and congratulate her in a scene described by the Australian local media as historic and distinguished.
Anne Aly is the abbreviation of the name of Azza Mahmoud Fawzi Husseini Ali al-Serougy who was born in 1967 in Alexandria, according to her online biography.
Aly is the first Muslim woman to hold a ministerial position in the history of Australia in which more than 620,000 Muslims reside including immigrants and descendants, in addition to more than half a million Arabs, most of whom are Lebanese.
According to her biography, Aly immigrated with her family since she was two years old to Australia, and regained her Egyptian citizenship in 2016.
Choosing Aly was based on her experience in combating extremism and terrorism, although the achievements of her past are different.
In 1990 she graduated with a Bachelor of Arts from the American University in Cairo.
After returning to Australia, she received in 2008 the Dean's Award for Best New Researcher from a university she had previously graduated from in 1994 in English literature, then a master's degree in 1996 in the same subject, and two years later she obtained a doctorate degree in philosophy, from the Australian Edith Cowan University.
In 2009, she also received the Publication Award from the Australian Institute of Professional Intelligence Officers (AIPIO).
After her appointment to the Council for Australian-Arab Relations (CAAR) of the Ministry of Foreign Affairs, she founded what she called the "People against Violent Extremism (PaVE)".
She is also active with the Curtin University's Centre for Culture and Technology (CCAT), in which she led a research program on countering violent extremism online.
Aly was chosen as "Woman of the Year" when she became in 2016 the first Muslim woman elected to parliament.
She is also a university professor, and the mother of two sons from an ex-husband she married in 1988.
Aly said in a memoir she published in 2018 entitled "Finding My Place: From Cairo to Canberra – the Irresistible Story of an Irrepressible Woman" that she suffered from her ex-husband's mistreatment a lot and after the divorce, she had to take care of her two sons, Adam and Karim alone, as a single mother, and then found stability with her current husband, a Canadian named David Allen, who was a police officer, and a famous practitioner of hockey.
The new Australian cabinet is formed of 23 ministers, including ten women and a Muslim minister named Ed Nurredin Husic, 52, who is originally from Bosnia.
His father, Haseeb, was a welder in Australia, while his mother was a housewife. He is married, has one son, is also a member of the Labor Party, and is Minister of Industry in the new cabinet.
Source: Egypt Independent
https://www.egyptindependent.com/egyptian-muslim-woman-sworn-in-as-youth-minister-in-australia/
--------
Iran 'torturing' prize-winning activist Narges Mohammadi: Amnesty
29 June, 2022
Iran is subjecting the prize-winning rights activist Narges Mohammadi to torture by denying her proper healthcare in a reprisal for her campaigning, Amnesty International said on Wednesday.
Mohammadi is held in the notorious Qarchak women's prison southeast of Tehran, whose conditions have long alarmed rights campaigners.
Her husband Taghi Rahmani, who is based in Paris, had on social media this week accused the prison authorities of deliberately withholding medication sent by her family to treat a lung condition.
"Iran's authorities are torturing human rights defender Narges Mohammadi in prison, including by intentionally denying her adequate healthcare and refusing to provide her with medication in reprisal for her human rights work," the Amnesty International rights group said.
Amnesty added that Mohammadi, who suffers from lung and heart conditions, had been hospitalised on June 23 after experiencing shortness of breath and an irregular heartbeat.
Since her return to prison from hospital, prison authorities "have been denying Narges Mohammadi some of her required medication."
Mohammadi is currently serving a prison sentence of 10 years and eight months on charges from two separate cases including spreading propaganda against the regime, according to Amnesty.
She was sentenced to eight years and over 70 lashes on national security charges in January and is also serving another sentence of two-and-a-half years dating back to 2021.
Amnesty also expressed alarm that in recent weeks there have been reports of "overflowing sewage" at Qarchak, "putting prisoners at risk of disease".
A colleague of Nobel Peace Prize-winning campaigner Shirin Ebadi, who now lives outside Iran, Mohammadi has campaigned for justice for protesters killed in a crackdown on November 2019 demonstrations.
She has won numerous international prizes in recognition for her work including in 2011 the annual Per Anger Prize issued by the Swedish government.
Source: Al Arabiya
https://english.alarabiya.net/News/middle-east/2022/06/29/Iran-torturing-prize-winning-activist-Narges-Mohammadi-Amnesty-
--------
Dubai launches UAE's first waqf that supports women and children
29 Jun 2022
The Awqaf and Minors Affairs Foundation has launched the UAE's first waqf (charity endowment) to support women and children.
The Dh30-million residential waqf, a Sharia-compliant charitable endowment, aims to generate a sustainable income to contribute to the care and rehabilitation of women and children and meet their needs by giving them shelter and protection and direct support in line with international human rights principles.
A key project of the Dubai Foundation for Women and Children, the waqf also provides free services to children of different nationalities across the UAE in accordance with the Foundation's inclusive ethos.
It was launched under the directives of His Highness Sheikh Mohammed bin Rashid Al Maktoum, Vice-President and Prime Minister of the UAE and Ruler of Dubai.
A housing project in Al Warqaa in Dubai that serves as the centre for the services facilitated by the waqf was opened at an event attended by a host of senior officials.
Abdullah Mohammed Al Basti, Secretary-General of The Executive Council of Dubai, said the humanitarian initiative will ensure the protection and care of vulnerable segments of society.
Essa Abdullah Al Ghurair, Chairman of Awqaf and Minors Affairs Foundation, said the launch of the new Waqf is in line with Dubai government's strategies aimed at taking care of women and children. The Awqaf and Minors Affairs Foundation seeks to strengthen the participation of women in society and provide support through sustainable investment projects that enhance the stability and security of the community, he added.
The total number of the foundation's registered endowments reached 761 at the end of 2021, representing a total value of Dh7.71 billion.
Source: Khaleej Times
https://www.khaleejtimes.com/uae/dubai-launches-uaes-first-waqf-that-supports-women-and-children
--------
UAE: Sheikha Shamma becomes first woman from GCC to join Atlantic Council's climate fellowship
29 Jun 2022
Sheikha Shamma bint Sultan bin Khalifa Al Nahyan has been selected by the Atlantic Council Global Energy Center to join its Women Leaders in Energy and Climate Fellowship. She will be the first woman from the GCC to do so.
The fellowship is a one-year, non-resident programme for early- to mid-career women leaders in the energy and climate fields, with an interest in deepening their policy expertise and professional development.
This year's cohort will be invited to participate at the Atlantic Council Global Energy Forum in Abu Dhabi in January 2023. The forum will feature energy and climate leaders from around the world. It precedes the 2023 UN Climate Change Conference (COP 28) which will be hosted in the UAE.
The inclusion of Sheikha Shamma, the forum in Abu Dhabi, and COP 28 all showcase Abu Dhabi's commitment to achieving its Environment Vision 2030.
Sheikha Shamma, CEO & Founder of Alliances for Global Sustainability, said, "It's an honour to be part of the Atlantic Council Global Energy Center's Women Leaders in Energy and Climate Fellowship and subsequently become the first woman from the GCC to be included in this cohort. As Abu Dhabi and the world alike continues to enhance its efforts toward environmental sustainability, climate action and a more circular economy, it's imperative that we bring tomorrow's energy and climate leaders together now, so we can work in cohesion for a cleaner future."
"I sincerely look forward to meeting my fellow peers in Washington, DC and working alongside them to enter dialogue and discourse which will be a catalyst to global energy and climate solutions. I will also have the pleasure to welcome them to the UAE for the Atlantic Council Global Energy Forum and COP 28, two occasions that have the capacity to change the world for the better," she added.
"As the fight against climate change intensifies, the need to accelerate the careers of the best and brightest rising leaders in climate and energy policy has never been more urgent," said Frederick Kempe, Atlantic Council president and CEO. "We are delighted to welcome this year's stellar cohort of the Atlantic Council Women Leaders in Energy and Climate Fellowship, and we know that they will do great things during their time at the Council and beyond. This year's cohort joins a growing network of phenomenal change-makers."
The Fellowship, which is in its fourth year, gives young women professionals the opportunity to engage in networking opportunities, professional development, and skills training. While the 2020 and 2021 fellowships were held entirely virtually due to the pandemic, this year's program will incorporate hybrid and in-person events alongside virtual engagements in order to include participants from beyond the Washington, DC area.
The 2022 Fellowship formally began in May and will feature public speaking sessions tailored specifically to the virtual and hybrid environments; opportunities to publish independent analyses on the Global Energy Center EnergySource blog; and virtual networking events with senior industry and government officials.
Fellows will have the opportunity to learn from senior leaders in the energy sector, strengthen their voices as women experts in a traditionally male-dominated space, and build a well-rounded understanding of energy and climate policy beyond their areas of expertise.
Source: Khaleej Times
https://www.khaleejtimes.com/uae/uae-sheikha-shamma-becomes-first-woman-from-gcc-to-join-atlantic-councils-climate-fellowship
--------
UAE's first Emirati female aviation engineer celebrates INWED at Heriot-Watt University
29 Jun 2022
Heriot-Watt University Dubai hosted Dr Eng. Suaad Al Shamsi as part of the celebrations for International Women in Engineering Day (INWED) to honour and encourage female participation in the field of engineering. INWED was launched for the first time in the UK on June 23 2014 by the Women's Engineering Society (WES) to celebrate its 95th anniversary.
Commenting on her participation, Dr Shamsi, who has worked on some of the biggest aviation projects in the UAE till date, said: "It was a pleasure to celebrate the success of young female engineers in the UAE in collaboration with Heriot-Watt University Dubai. Despite the progress that has been made in the past few decades, women are still under-represented in STEM fields. Therefore, I think it is very important to encourage young women embarking on this journey. I am indebted to the support I was given by the UAE government and the mentors who guided me along the way. I believe educational institutions have a critical role to play in empowering young girls and teaching them that the sky is the limit no matter what sort of career they choose to pursue."
Dr Rula Sharqi, assistant professor — school of engineering and physical sciences at Heriot-Watt University Dubai, added: "It was an honour to host Dr Eng. Suaad Al Shamsi on this day. Her journey is a shining example of how much women can achieve when they believe in themselves and have the right institutional support. As a global University, we have a responsibility to be cognisant of social disparities and under-representation and take tangible steps to overcome them. As a result, we today have incredibly talented and ambitious female students pursuing engineering degrees. It is our priority to make sure they are equipped with the knowledge and skills to succeed in the future, empower them to pursue their dreams and play a role in ensuring equal representation of women in STEM workplaces."
The INWED programme included networking opportunities, photobooth and video recording sessions as well as a tour of the engineering labs. The university also organised various panel discussion tackling topics including challenges in future industry developments, women's creativity and added value, women to men ratio in the engineering industry and why women should choose engineering as a career.
As the first Emirati female aviation engineer, Dr Shamsi shared details of her journey including challenges faced, with aspiring female engineers who were also present. Also present were Dr Shetha Al_Zubaidi, CEO at Brookson Project Management; Dr Hagir Hakim, associate professor and senior director of studies in the school of energy geoscience infrastructure and society at Heriot-Watt University Dubai; Tanishi Mathur - business analyst — AI and data department at Deloitte; Liliana Calderón Jerez — MSc in renewable energy engineering student at Heriot-Watt University Dubai.
Right from childhood, Dr Shamsi was fascinated by airplanes and curious about mechanics and ways to fix things. She earned an MBA with a double major in aviation management and aeronautical engineering from Coventry University in the UK. She is also the founder of the Middle East chapter of Women in Aviation, a non-profit association dedicated to encouraging women in the Middle East to seek opportunities in the aviation industry.
According to UNESCO, 34-57 per cent of STEM graduates in Arab countries are women. However, this does not translate to representation in the workforce as studies show low rates of female participation in these fields. As such, observance days like INWED aim to counter the under-representation of women through raising awareness, empowering women, and facilitating their contribution to the field.
Source: Khaleej Times
https://www.khaleejtimes.com/kt-network/uaes-first-emirati-female-aviation-engineer-celebrates-inwed-at-heriot-watt-university
--------
Maya Morsi Highlights Importance Of Focusing On Women Role In Labour Market: Conference
29 Jun 2022
CAIRO – 29 June 2022: President of the National Council for Women, Dr. Maya Morsi stressed the importance of focusing on the role of women in the labor market, during a conference held on Wednesday.
Morsi chaired a session entitled "Women in the Labor Market", during the activities of the final conference to present the results of data analysis of the fifth economic census for Egypt for the year 2017/2018.
During the session, Morsi pointed out that women have broken barriers in many fields, despite that, there are many obstacles facing women in the labor market.
She further stressed the importance of introducing special policies.
The session was attended by Dr. Hanan Nazeer, Advisor to the National Wages Council, Dr. Yasmine Fouad, Professor of Economics and Political Science at Cairo University, and Mrs. Heba El Shafei, a businesswoman.
The conference, organized by the Ministry of Planning and Economic Development, included several sessions that discussed maximizing the economic return of economic establishments, presenting policy summaries, economic activity and public policies, and developing the next economic census form.
Source: Egypt Today
https://www.egypttoday.com/Article/1/117278/Maya-Morsi-highlights-importance-of-focusing-on-women-role-in
--------
URL: https://newageislam.com/islam-women-feminism/pandit-kashmir-wanwun-muslim/d/127370
New Age Islam Islam Online, Islamic Website, African Muslim News, Arab World News, South Asia News, Indian Muslim News, World Muslim News, Women in Islam, Islamic Feminism, Arab Women, Women In Arab, Islamophobia in America, Muslim Women in West, Islam Women and Feminism