New Age Islam News Bureau
9 March 2017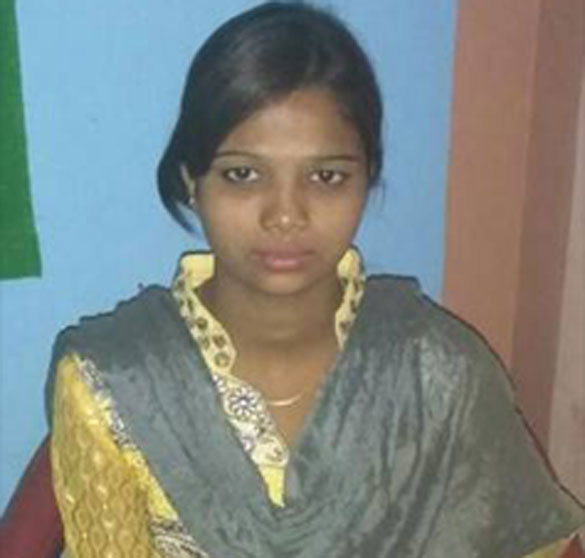 Photo: Beauty Khatoon. | Photo Credit: Special Arrangement
She has stopped many a child marriage in Malda
---------
• Taliban Stones Woman to Death, Whips Man over Adultery in Badakhshan
• Here's How This Woman Is Helping to Reclaim the Way Muslims Are Presented in the Press
• Lindsay Lohan's Instagram Post for International Women's Day Sparks Islam Conversion Rumours
• 'Day without a Woman' Celebrates Female Power
• I'd Love A Hijab That Matches My Trainers': What Muslim Athletes Think Of Nike's New Sportswear
• 'Vote for Woman': How Africa Got Its First Female President
Compiled by New Age Islam News Bureau
URL: https://newageislam.com/islam,-women-and-feminism/new-age-islam-news-bureau/at-16,-beauty-khatoon-battles-an-old-scourge/d/110346
----------
At 16, Beauty Khatoon battles an old scourge
UPDATED: MARCH 09, 2017
On January 17, Beauty Khatoon was all set to greet the newly-wed couple at a reception near her house in Sabjipara, a village in English Bazar area of West Bengal's Malda district.
When the 16-year-old guest got there, she was shocked to find that the bride was younger than her. She reacted by refusing to take part in the feast. Going a step further, she threatened to call the police to stop the marriage.
"I told the elders that I will call the police," Ms. Khatoon, a class VIII student, told The Hindu. However, there was little she could do to convince the family members that they were committing an offence.
The intervention at the wedding party did not go down well with those present, and some of them beat her for being audacious. The visit ended with her being dragged away, injured, and dumped near her home. The attack left her unconscious and she was hospitalised for a week at Malda Medical College and Hospital.
"I want to stop child marriages. But I am a little scared because those who beat me up have been released from prison," she said.
The young activist against child marriage said she was inspired to take up the cause by a discussion organised by an NGO, Bulbulchandi and Barind Development Society (BBDS) at her school, Monpara Nivedita Balika Vidyalaya.
Pains of a district
Ms. Khatoon is the sixth of seven siblings and the youngest of five daughters of Maqbool, a vegetable vendor. Her campaign stands out because child marriages are not uncommon in the neighbourhood that she grew up in.
Malda District Magistrate Sharad Dwivedi lauds her act of defiance. "It is important to take into consideration that social indicators like education, health, nutrition and sanitation are low in Malda, when compared to other districts."
Officials attribute the higher infant mortality rate in the district to the early marriage of girls; babies born to young, anaemic girls are usually underweight. The district also fares poorly in providing sanitation and many cases of trafficking in girls are recorded here.
"At least a dozen child marriages have been called off after Ms. Khatoon's incident and three people have been arrested for beating her," Mr. Souvik Chatterjee of BBDS, said.
Ms. Khatoon is one of 14 women and the youngest in the group to be felicitated by the West Bengal Women's Commission at the International Women's Day 2017 celebrations.
"I met her at her home in Malda. She is an ideal example of a girl with courage," chairperson of State Women's Commission Sunanda Mukherjee said.
theatlantic.com/international/archive/2017/03/vote-for-woman-how-africa-got-its-first-female-president/518874/
------
Taliban Stones Woman To Death, Whips Man Over Adultery In Badakhshan
By KHAAMA PRESS - Thu Mar 09 2017
The Taliban insurgents have stoned a woman to death but left the man after whipping him over adultery in northeastern Badakhshan province of Afghanistan. (Photo: File Photo)
According to the local officials, the incident took place in the remote and restive district of Wardoj.
The district administrative chief Dawlat Mohammad Khawar confirmed the incident and said the woman was stoned to death after she faced a trial openly along with the man from the Taliban insurgents.
This is not the first time the Taliban insurgents have public tried and executed women over adultery and other charges in Badakhshan.
According to the statistics provided by the local officials, the group has executed at least five women over various charges in the past two years in this province.
The Taliban insurgents executed at least two women including a pregnant woman and a girl in this province last month.
One of the victims was shot dead by the insurgents after she rejected a marriage proposal from one of their commanders while the other woman was killed after she had left the house of her in laws.
Badakshan is among the relatively volatile provinces in northeastern Afghanistan which has witnessed growing violence, mainly due to Taliban-led insurgency during the recent years.
khaama.com/taliban-stones-woman-to-death-whips-man-over-adultery-in-badakhshan-02360
------
Here's How This Woman Is Helping To Reclaim The Way Muslims Are Presented In The Press
Mar. 9, 2017
This is Amani Al-Khatahtbeh, 24, the founder and editor-in-chief of online magazine MuslimGirl.com.
She has long been fed up with the depiction of Muslim women online, a lack of diversity when it comes to representation, and the broad misconceptions people have about Muslim communities.
A particular concern was the use of stock images of Muslims often used by newspapers to illustrate stories related to faith-based issues.
"You know how the only stock images we ever see of Muslim women online, in blogs, and in advertisements are the same stereotypical depiction?" Al-Khatahtbeh writes on her website. "They are usually hidden behind veils, wearing black clothes, not really doing much besides being… stereotypically Muslim.
"The images we're used to seeing of Muslim women elicit a negative feeling and do nothing to truly represent how we look, feel, sound, and act."
buzzfeed.com/aishagani/heres-how-this-woman-is-helping-to-reclaim-the-way-muslims-a?utm_term=.ve9GbGly7#.rg7QXQ1lm
------
Lindsay Lohan's Instagram post for International Women's Day sparks Islam conversion rumours
Mar. 9, 2017
The Mean Girls, Freaky Friday and The Parent Trap actress is already studying the Koran
Lindsay Lohan has prompted further speculation that she has converted to Islam after quoting the Prophet Muhammad.
The actress marked International Women's Day with a eulogising 70-word line and a picture of her with a bindi on her forehead.
"Women are not created weaker but more generous than men," said the 30-year-old.
Angels are the strongest of created beings, and women are closer to the angelic nature than men, as they are readier than men to carry angelic light."
She did not however suffix the prophet's name with the phrase Peace Be Upon Him, or PBUH, as is common among Muslims in a sign of respect.
The New York-born performer, who is best known for films including Freaky Friday, Mean Girls and The Parent Trap, started studying Islam last year.
The London-resident says she has found peace with Islam but has not converted.
Last month, she told ITV's Good Morning Britain she was "racially profiled" at London Heathrow Airport while wearing a headscarf.
Ms Lohan has previously spoken out in support of refugees fleeing war-torn Syria, asking Donald Trump to join her.
Thousands refused to work yesterday, over gender inequality, as part of the Day Without Women protest.
independent.co.uk/arts-entertainment/films/lindsay-lohan-islam-instagram-post-international-womens-day-muslim-conversion-prophet-muhammad-quote-a7620191.html
------
'Day Without a Woman' celebrates female power
March 9th, 2017
PHILADELPHIA: American women are staying home from work, zipping up their wallets, wearing red and attending rallies across the country to show their economic strength and impact on society as part of International Women's Day celebrations happening across the globe on Wednesday.
"A Day Without a Woman" is the first major action by organisers of the Women's March since the day after President Donald Trump's inauguration, when millions of women poured into the streets in protest of misogyny, inequality and oppression.
The event coincides with the UN-designated International Women's Day. German airline Lufthansa had six all-female crews flying from several cities in the country to Berlin. Sweden's women's football team replaced the names on the back of their jerseys with tweets from Swedish women "who have struggled to gain ground in their respective field." Finland announced plans to create a $160,000 International Gender Equality Prize. Women also held rallies in Tokyo and Madrid.
In the US, spokeswoman Cassady Findlay said organisers for "A Day Without a Woman" were inspired by the recent "Day Without an Immigrant" protests held last month. She said the action is aimed at highlighting the effect of women on the country's socio-economic system and demonstrating how the paid and unpaid work of women keeps households, communities and economies running.
"Throughout history, the strikes that have the biggest impact are the ones when people who are already the target of oppression participate," Findlay said. "It's when women of all backgrounds strike and stand together that we're really going to see the impact."
Trump took to Twitter on Wednesday and asked followers to join him in "honoring the critical role of women" in the US and around the world. He tweeted that he has "tremendous respect for women and the many roles they serve that are vital to the fabric of our society and our economy." Ivanka Trump echoed her father's sentiments, tweeting: "Today, we celebrate women and are reminded of our collective voice and the powerful impact we have on our societies and economies."
Unlike the Women's March, Wednesday's US protests focus on the absence of women, who are being steered to local rallies and community groups and away from work or shopping in stores or online. Organisers also asked women to wear red to signify love and sacrifice.
Feminist activists detained over Kremlin protest
A group of feminist activists was detained in Moscow on Wednesday after protesting inside the tightly guarded Kremlin with banners calling for an end to male rule.
Seven people were detained including two journalists and taken to a police station for questioning, wrote OVD Info, a website that monitors the detention of activists.
The Novaya Gazeta opposition newspaper, whose journalists witnessed the demonstration, published a photograph of two protesters standing on a balcony of one of the Kremlin towers holding smoke flares and a banner saying "Feminism is our national idea".
The protesters were able to sneak slogans written on skirts and scarves through the tight security, the paper reported.
Police later released the protesters without charge, activist Yelena Tishchenko told the Echo of Moscow radio station.
The protest resembled those by feminist punk group Pussy Riot, who in 2012 lit flares and sang a song about President Vladimir Putin on a platform on Red Square. Frontwoman Nadezhda Tolokonnikova and fellow member Maria Alyokhina were sentenced to two years in prison in 2012 for performing an anti-Putin anthem on the altar of a Moscow church.
March 8 is a public holiday in Russia but is mainly celebrated by giving flowers and chocolates to women rather than stressing the need for gender equality.
In a video address to the nation's women, Putin said that he and other men "will do all we can so that our beloved women are lavished with care and attention and smile more often".
dawn.com/news/1319374/day-without-a-woman-celebrates-female-power
------
'I'd love a hijab that matches my trainers': what Muslim athletes think of Nike's new sportswear
Wednesday 8 March
The company is launching its first professional sports hijab – but how much difference will it make to Muslim competitors?
Air: endlessly available. Free. But worth so much when marketed by Nike. Back in the day, it was sold in the glass bubble of the much-coveted Air Max. Now, it's breathability that Nike is keen to promote. Next year will see the introduction of the company's first professional sports hijab. But do Muslim sportswomen think it will make a difference?
"Definitely," says Alia Komsany, a professional rower from Oxford, who is pleased that the Pro Hijab is the latest addition to the sportswear range. "In rowing, your body's moving back and forth, strenuously and at a fast rate – so my hijab slips back. It means I can't focus. I've had a number of mishaps, so this is really important to me. This will help me to perform my best.
"I've had to try loads of different options – including putting my hijab in a turban style, which is completely impractical. It's hard to find something that's both stylish and breathable."
Shireen Ahmed, a minor league football player from Toronto, Canada, and a sports activist, seems less impressed.
"I'm always happy to see positive representation of Muslim women in sport, but Nike wasn't the first to do this. It is the most influential brand in the world to do it, but it's not Nike that is elevating Muslim women in sport – it's the athletes themselves who are doing that."
But Ahmed also remembers a time when it was almost impossible to get a sports hijab.
"There's a huge market for it," she says. "Nike collaborated on its design with the weightlifter Amna Al-Haddad, which is incredibly important. It will fly off the shelves, not because it's better, but because we're a consumer society and Muslim women fall into those categories too."
Is she holding out for something else, then? "I'm an Adidas fan," she says. "So that's something I'd go for – I'd love a hijab that could match my trainers."
theguardian.com/fashion/shortcuts/2017/mar/08/what-muslim-athletes-think-nike-sports-hijab
------
'Vote for Woman': How Africa Got Its First Female President
MAR 8, 2017
Like The Atlantic? Subscribe to The Atlantic Daily, our free weekday email newsletter.
In the fall of 2005, for the first time after a brutal, 14-year civil war that had ended two years before, Liberia held national elections. The November 8 runoff offered voters two choices: George Weah, a famous footballer with little education or government experience, and Ellen Johnson Sirleaf, a Harvard-educated international finance expert.
The women of Liberia, who had borne the brunt of the country's violence, knew who they wanted; it was largely they who, in an enormous showing of political resolve, made Johnson Sirleaf Liberia's first female president, and the first elected female head of state in Africa.
By then, Johnson Sirleaf, a 67-year-old grandmother, already had a long and varied career behind her. She was both of Liberia and of the global elite, having been educated and lived outside the country. She had worked in her country's government, as finance minister; in the private sector, for Citibank; and in international organizations, for the United Nations and the World Bank.
But as Helene Cooper of The New York Times told me recently, it was "stunning" to see Johnson Sirleaf get elected. Cooper, who is from Liberia, is the author of a new biography of the Liberian president, and she remarked in an interview that, in the country's male-dominated society, "to get a woman elected president is no small thing."
And it's no small thing, Cooper pointed out, that Johnson Sirleaf will step down in January 2018 when her second presidential term ends. "There are going to be elections and she's going to leave power," Cooper said. "That's not something Liberia has ever had." In the meantime, Johnson Sirleaf has received the Nobel Peace Prize, negotiated $4.7 billion in debt forgiveness for Liberia, and maintained peace in a country that had been riven by conflict. But she's also been accused of nepotism, and missteps during the Ebola pandemic. Cooper's book, Madame President: The Extraordinary Journey of Ellen Johnson Sirleaf, tells the complicated story of the Liberian president and the women behind her. I spoke with Cooper in advance of its publication. The conversation that follows has been edited for length and clarity.
theatlantic.com/international/archive/2017/03/vote-for-woman-how-africa-got-its-first-female-president/518874/
URL: https://newageislam.com/islam,-women-and-feminism/new-age-islam-news-bureau/at-16,-beauty-khatoon-battles-an-old-scourge/d/110346
New Age Islam, Islam Online, Islamic Website, African Muslim News, Arab World News, South Asia News, Indian Muslim News, World Muslim News, Womens in Islam, Islamic Feminism, Arab Women, Womens In Arab, Islamphobia in America, Muslim Women in West, Islam Women and Feminism