New Age Islam News Bureau
09 November 2020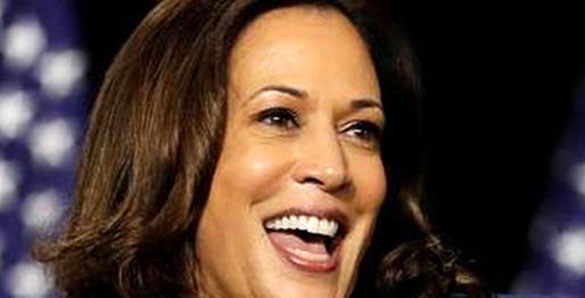 • As VP-Elect , Kamala Devi Harris Ascends, Black Women Express Elation And Relief
• Saudi Arabia Is Welcoming Back International Live Sports As It Holds Its First Women's Golf Tournament
• The 'Death March' Of Bangladesh's Female Migrant Workers
• Islamic Feminism Not an Oxymoron, Female Muslim Leader in St. Petersburg Says
• 'You Can't Be What You Can't See': Female Politicians Of Color Discuss What Harris' Win Means To Them
• China: 'Stand By Her' Group Begins Campaign To Install Sanitary Pad Dispensers For Ending Period Shaming
Compiled By New Age Islam News Bureau
URL: https://www.newageislam.com/islam-women-feminism/as-vp-elect--kamala/d/123417
-------
As VP-Elect , Kamala Devi Harris Ascends, Black Women Express Elation And Relief
November 08, 2020
The New York Times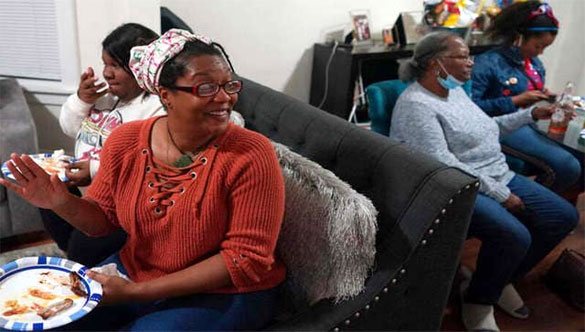 LesleyAnne Crosby, foreground, of Minneapolis, gathers with a small group Black women to watch the results of the 2020 election . Jerry Holt/Star Tribune via AP)
-----
When Yolanda Latimore, the owner of a Macon, Georgia, advertising agency, makes a list of those who showed her how to survive and thrive as a Black woman, she begins with her 91-year-old grandmother, Clarise Bonner, a former sharecropper who lacked a formal education yet ran a small business while also raising a family.
But on Saturday, Latimore, 46, was making room in her personal pantheon for Kamala Devi Harris, the running mate of President-elect Joe Biden. Soon, Harris will become the first woman — and the first Black woman — to become vice-president of the United States.
At a time when a range of racial and gender barriers have been shattered by earlier trailblazers, Latimore said that Harris' ascension to the highest levels of power was particularly important, giving Black girls everywhere a reminder that anything is possible.
"I know that it won't solve all problems, but it definitely will raise the spirit and the drive of Black women," Latimore said, adding that she was "just so glad to see something like this happen."
Along with the jubilance and celebrations across the nation Saturday over the victory of the Biden-Harris ticket, Harris' pathbreaking course prompted explosions of joy within explosions — of pride, elation, relief and a sense of hard-fought accomplishment. The sentiment was shared by women generally, and Black women specifically.
"This has been a long time coming — a woman of colour, an HBCU representative," said Mayor Keisha Lance Bottoms of Atlanta, who has known Harris for about a decade, referring to historically Black colleges and universities; Harris graduated from Howard University, perhaps the most vaunted of them.
Bottoms added that the achievement was "particularly poignant" coming at the end of a year that has included the continuing coronavirus pandemic, the killing of George Floyd and other Black men and women during encounters with the police, and a national reckoning over systemic racism and police brutality.
"Communities of colour have been figuratively and physically under attack," she said. "I think that representation is what this country needs. It is more important than ever that we have representation at the White House, at the table."
"It's pretty incredible," she said Saturday. "And I am so excited not just because Kamala Harris is my friend, but because of what she represents for women in general and what this means in terms of our role in politics and how women — especially women of colour — are finally being taken seriously."
The moment was also indelible for those who have known Harris, 56, for much of her life. Hers is a life that began in the Bay Area, as the child of immigrant academics from India and Jamaica, and included a high school experience in Montreal, Quebec; college amid the fertile Black intellectual loam of Howard, in Washington, DC; and a long, complex political career both on the West Coast and in the Senate.
Carole Porter, a close friend who hosted two fundraisers for Harris during the primary race last year, lived around the corner from Harris' childhood home in Berkeley, California. The girls — who first met at the neighbourhood bus stop — rode the bus together each morning to a more affluent area. In 1970, Harris joined the second elementary school class in Berkeley to be desegregated by busing.
To pass the time, they played games like Miss Mary Mack and cat's cradle and sang Jackson 5 tunes. "We didn't know that we were in the middle of this social moment," said Porter, who remembered Harris as studious and disciplined. "We just knew we had to get up really early for school and it was a long way from home."
By high school, they had lost touch. They later reconnected while Harris was a student at Hastings College of the Law at the University of California in San Francisco.
Porter, now 56 and a health care information technology team leader who lives in Richmond, California, learned that Harris had officially become the vice president-elect in a text from a mutual friend. "It's a wrap," it read, in part.
"I started to cry — I immediately thought of her mother, Shyamala," Porter said, referring to Shyamala Gopalan Harris, an Indian immigrant who died of cancer in 2009. "I thought of the West Berkeley flatlands, this small, immigrant, people of colour, redlined neighborhood we grew up in."
"Out of all of that," Porter continued, "we all rose, and Kamala rose to become the vice-president of the United States. She came from this fertile, activist environment. But the thing I want people to understand is the work it took to be where she is. She went against the tide. She had people who did not want her voice in the room. She had people shutting the door. And look where she is now."
After the presidential race was called, Carol Moseley Braun, 73, the first African-American woman elected to the US Senate, found herself making a mental list of the Black women who had come before Harris. They were Black women who conquered firsts: Sojourner Truth, Shirley Chisholm, Yvonne Brathwaite Burke, Barbara Jordan. Then, she began to pray.
"I thanked the Lord for this dream come true," said Braun, a Democrat who was elected in 1992 to represent Illinois in the Senate. "I believe Joe Biden is exactly what the country needs to heal, and Kamala as his second-in-command is the exactly the right person to help him. There were so many women who paved the way for this to happen, so many who sacrificed, so many shoulders."
But after the celebration, she said, Harris will face the difficult task of reaching across the aisle in a country disrupted, cleaved and often intolerant of the changing America that Harris embodies: She is a daughter of immigrants, she is Black and South Asian, and she is in an interracial marriage. "She checks all these boxes," Braun said, and those that want to fan the flames of racism and hate just do not know what to do with her."
"She is going to have to navigate the cult of Donald Trump, which remains in the Senate," Braun said. "The word 'collegiality' no longer applies. It's not even something people aspire to. Joe and Kamala have to heal the wounds and make people on the other side feel like they are being heard."
In the produce section in Ralph's, a grocery store in Los Angeles, Tracie Hunter, 46, reflected on the significance of Harris' achievement.
"I'm very proud to be a Black woman, very proud to witness this important time in history given the huge divide that we have in our nation right now," she said. Hunter added that she was "encouraged that we can continue to have our little Black girls and other girls of color feel encouraged like they can do whatever they want to do and they can be whatever they want to be."
In Atlanta on Saturday, a celebration was underway on Auburn Avenue, the traditional and spiritual heart of the city's African-American community. It sits beneath a towering mural of John Lewis, the pioneering civil rights leader who represented Congress for 33 years before his death in July. Some rode up on bicycles and toasted glasses of champagne. Others broke into song.
"It's opened so many doors for so many little girls who feel like they have been silenced or told they couldn't be who they are," said Nikema Williams, who has been elected to succeed Lewis, as she stood in a parking lot below the mural. "So as a Black woman in politics, this means the world."
https://www.firstpost.com/world/long-time-coming-as-vp-elect-kamala-harris-ascends-black-women-express-elation-and-relief-8993661.html
----------
Saudi Arabia Is Welcoming Back International Live Sports As It Holds Its First Women's Golf Tournament
ARAB NEWS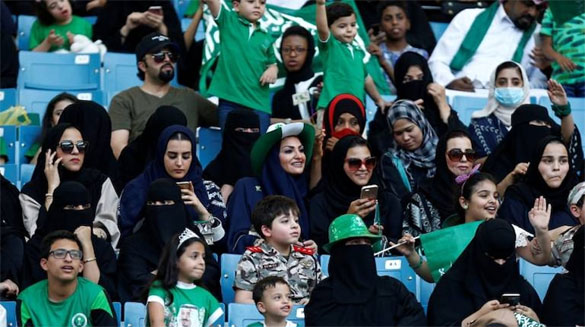 Representational Photo
------
November 09, 2020
JEDDAH: Saudi Arabia is welcoming back international live sports with safe zones as it prepares to hold its first professional women's golf tournament.
"Bubbles" and a biosecure environment at King Abdullah Economic City (KAEC) will be in place throughout the elite-level European Ladies Tour golf tournaments that are starting from next week.
The $1 million Aramco Saudi Ladies International, presented by the Kingdom's Public Investment Fund, runs between Nov. 12-15, while the $500,000 Saudi Ladies Team International takes place between Nov. 17-19.
The bubbles will be home to between 500 and 600 people across three weeks, and the tournament will see more than 1,500 COVID-19 tests conducted, including at least three each for the events' 110 players. There will also be testing for caddies and tournament staff.
Ladies European Tour players, event staff and personnel will have COVID-19 tests upon arrival in KAEC, before being permitted to enter the safe zones ahead of the tournament, where they will be in hotels for the event duration.
These measures have been implemented to ensure the health and safety of everyone, with all aspects of player and staff safety watched over by independent specialists who are experts in risk assessment and COVID-19 best practices. They include Dr. Andrew Murray, key adviser to Sport England and a technical advisor to the World
Majed Al-Sorour, CEO of Golf Saudi and the Saudi Golf Federation, said: "We have been building a safe and secure zone to bring back international sports to the Kingdom while adhering to COVID-19 precautionary measures. The area is designed to ensure that we can provide a secure environment to host Ladies European Tour golfers, but also protect the wider community. The landmark event will allow us to showcase that Saudi Arabia is ready to once again host major global events, while also developing the great game of golf and inspiring the next generation of young Saudis and Saudi golfers."
The tournament is at the Royal Greens Golf & Country Club, which has been adapted to suit COVID-19 precautionary measures and will be sanitized throughout the run-up and duration of both events.
Away from the golf course, players will be kept entertained by a bowling alley, games room, cinema screen, gyms and swimming pools at their hotels.
Both tournaments will attract many of the world's best golfers, with the Saudi Ladies Team International set to be the first time in women's golf history that professionals — themselves competing in the Kingdom for the first time — will partner with amateurs in a points-earning Tour event.
The tournament marks the return of major international sporting events to the Kingdom, with the country aiming to inspire the next generation under the Saudi Vision 2030 reform plan.
https://www.arabnews.com/node/1760316/sport
----------
The 'Death March' Of Bangladesh's Female Migrant Workers
Stephan Uttom Rozario
November 09, 2020
Her family and relatives burst into tears as the coffin of Nodi Akter arrived at Hazarat Shah Jalal International Airport in Bangladesh's capital Dhaka from Saudi Arabia on Oct. 31.
In March 2019, Nodi, 17, moved to the oil-rich Persian Gulf nation to work as a domestic help to support her poor family back home in Comilla district.
As it is illegal to send female workers under 25 to Saudi Arabia, the local recruiting agency falsified her age to obtain a passport and work permit. She was promised a salary equivalent to 22,000 taka (US$259) per month.
Her phone had remained switched off since Aug. 13 and after some time the Bangladesh embassy in Saudi Arabia informed Nodi's family that she had committed suicide by hanging from a ceiling beam with a scarf.
It took months to repatriate the body due to Covid-19 travel restrictions. When the body finally arrived, family members refused to accept the death as a suicide.
The family filed a case and police arrested three people including A. Rahman Lalon of Dhaka Export, owner of the recruiting agency.
The tragic death of Nodi Akter is the latest case in a long list of unnatural deaths of Bangladeshi female migrant workers in various Gulf countries.
"From January to October, 63 dead bodies of female workers were returned to Bangladesh from various Middle East countries, including 22 from Saudi Arabia and 14 from Lebanon," Khairul Islam, deputy director of the expatriate welfare desk at Shah Jalal Airport, told UCA News.
According to data for 2017-20 from the desk, 473 dead bodies of female workers arrived in Bangladesh from various Gulf countries, including 175 from Saudi Arabia. Suicide has been cited as the cause for 51 deaths in Saudi Arabia and 81 in other places.
The government provides 35,000 taka immediately to the family of a dead worker and another 300,000 taka plus insurance payments (if any) as compensation.
In Muslim-majority and largely agricultural Bangladesh, about one quarter of more than 160 million people live below the poverty line and half of them live in extreme poverty, according to data from the World Bank.
In order to escape poverty and unemployment, about 8 million Bangladeshi workers have migrated abroad, mostly to Gulf countries, both legally and illegally in recent decades, according to the Ministry of Expatriate Welfare and Overseas Employment.
The migrant workers remit about $15 billion per year, which is a vital incentive for the economy of this South Asian country. Yet the workers remain vulnerable to various forms of abuse and even death.
In 2018, the migration desk of BRAC, a leading Bangladeshi NGO, reported that 5,000 female Bangladeshi workers returned in three years from Gulf countries, mostly from Saudi Arabia, after being physically, sexually and psychologically abused. Workers also alleged payment of lower wages than they were promised and withholding of payments for months.
Tasneem Siddiqui, a migration expert, blamed unruly recruiting agencies and a lack of coordination between state bodies for the ordeal facing many Bangladeshi migrant workers.
"There have been allegations of fraud involving recruiting agencies, but they have not been held accountable, and a serious lack of coordination among state agencies continues. We have every reason to ask why and how female workers including underage girls continue to be sent to Saudi Arabia despite it being a risky country for them," she told UCA News.
"The recruiting agencies as well as concerned officials of government bodies must be held accountable and prosecuted. Otherwise, we cannot stop this march of death."
Caritas Bangladesh, the Church's social service agency, has been running safe migration projects for years in various regions of the country with the aim to ensure secure and legally permissible migration for Bangladeshi workers.
Caritas offers all kinds of assistance to workers before they go abroad and supports workers who return home abused and exploited, officials said.
The government must take responsibility for the untimely deaths of workers abroad, said Rita Roselin Costa, convener of the women's desk at the Catholic Bishops' Conference of Bangladesh.
"There is little to no scope for employment in rural areas, so people look for overseas employment and often recruiting agencies exploit their vulnerability. It is up to the government to ensure safe migration and employment, and it cannot be just complacent with billions of dollars in remittances each year," Costa told UCA News.
"The Church has been vocal and active for safe migration and it does not want to see a single worker die or commit suicide."
https://www.ucanews.com/news/the-death-march-of-bangladeshs-female-migrant-workers/90203#
----------
Islamic Feminism Not an Oxymoron, Female Muslim Leader in St. Petersburg Says
Paul Goble
November 8, 2020
Staunton, November 6 – Islamic feminism is not yet a movement in Russia, but it has a growing number of supporters, is changing the way both men and women think about their relations within the faith and should not be dismissed as an oxymoron, according Natalya Tambiyeva.
An ethnic Russian from Stavropol who came to St. Petersburg to study ecology and then shifted to theology and is currently preparing a dissertation on feminist issues in Islam, she works as chief of staff of the Muslim Spiritual Directorate (MSD) of St. Petersburg (daptar.ru/2020/11/06/islam-fem2/ and the-village.ru/people/experience/350759-islam-women).
Two things about her views are striking. On the one hand, she many ethnic Russian converts to Islam become radicals, but in her case, she has become a modernist, committed to changing what many Muslims believe about gender and placing herself squarely in the reformist wing of the faith and committed to its evolution.
And on the other, she has not only adopted this position but with the support of her MSD, she is actively spreading it among Muslims of both genders in the northern capital and more generally, helping Muslim women to escape abusive husbands and fathers and promoting the idea that Islam favors agency among women as well as men.
To those who say that one can be a Muslim or a feminist, she responds that "everything depends on how we understand Islam, feminism and 'Islamic feminism.'" Many Muslim men have been anti-woman, but there are at least two ways to oppose that: viewing that as in the nature of Islam or viewing it as a violation of Islam.
Tambiyeva plants herself in the latter camp. She points out that Islam is constantly evolving. While the Koran is unchanging, the way in which those who accept Islam read it reflects changing historical circumstances. Practices like polygamy, for example, that may have been appropriate 1500 years ago no longer are.
And the notion that only men can serve as imams and muftis is cultural not Islamic is simply wrong. In Russia, there is a remarkable tradition which sometimes is forgotten running in the opposite direction. In the Middle Volga in 1917, a woman, Mukhlis Bubi, was elected to a shariat court; and one of her first fetwas was to denounce polygamy as un-Islamic.
In this way, Tambiyev plants herself squarely in the tradition of Tatar jadidism, the modernist movement at the end of the 19th and beginning of the 20th century that sought to change Islam and bring its norms into correspondence with the contemporary world. It is truly remarkable that that tradition is now being promoted by a Russian convert to Islam.
"The times are now good both for Islam and for the development of feminist ideas," Tambiyeva says, "including in Russia. Two or three years ago, the situation was different: 'feminism was associated with aggressive half-naked women with posters and 'Muslim women' with terrorists in the Nord-Ost theater."
Now the times make "certain steps forward" possible, she continues. Whether these will be made "under the slogan of Islamic feminism or without any slogans" is irrelevant. Far more important is what needs to be accomplished. "If a good deed comes to be called something other than feminism, that isn't a problem as long as it is done."
http://windowoneurasia2.blogspot.com/2020/11/islamic-feminism-not-oxymoron-female.html
---------
'You can't be what you can't see': Female politicians of color discuss what Harris' win means to them
By Shawna Mizelle
November 8, 2020
The ascension of Kamala Harris as the first female, first Black and first South Asian vice president-elect is both symbolic and important to many women across the United States, and several female politicians of color expressed on CNN Sunday morning what it meant to them.
"It is a privilege in this nation to be able to see yourself reflected in the face of leadership and for both the African-American community and the Indian American community and for women of color at large," former Georgia gubernatorial candidate and Democratic organizer Stacey Abrams told CNN's Jake Tapper on "State of the Union."
"Kamala Harris' election signals that the face of leadership does change, that we do have a role to play beyond being supporters and advocates and adjutants that we can be the leaders of this country and I think it is an exceptional moment that we are experiencing in this country," Abrams continued.
Symone Sanders, a senior adviser to President-elect Joe Biden, told Tapper, "I think folks in Wilmington and folks all over the world saw the true possibilities of America."
And Democratic Rep. Alexandria Ocasio-Cortez of New York called Harris' victory "really incredible" in an interview on the same program.
"For so many of us, especially women, we have grown up -- I know my entire childhood, we grew up being told women are too emotional and that this country would never elect, first, a Black president -- and luckily that happened with the election of Barack Obama -- but now a woman of color and no less a Black woman to the second highest seat in the land."
"It's really remarkable and you can't be what you can't see. That is very often said and it's so amazing that so many little girls are growing up with this being a norm for them," Ocasio-Cortez emphasized.
When she addressed the nation Saturday night, Harris declared, "While I may be the first woman in this office. I will not be the last. Because every little girl watching tonight sees that this is a country of possibilities."
That message resonated with many, including Democratic Rep. Ilhan Omar of Minnesota, who was watching Harris' remarks with her 8-year-old daughter.
"And the first thing Ilwad said to me was, 'This is someone who looks like me, Mama,' " Omar told CNN's John King on "Inside Politics." "We can't lose sight of the fact representation is powerful, that she has now allowed so many little girls, not just in our country but around the world, to see themselves as somebody who can ascend to one of the highest offices in our nation and as she said, that anything can be possible if you're willing to work for it."
"Dream with ambition, lead with conviction, and see yourselves in a way that others may not see you, simply because they've never seen it before," she said.
https://edition.cnn.com/2020/11/08/politics/kamala-harris-female-politicians-of-color-reaction-cnntv/index.html
----------
China: 'Stand by her' group begins campaign to install sanitary pad dispensers for ending period shaming
WION Web Team
Nov 09, 2020
Chinese students have begun an initiative to install sanitary pad dispensers in toilets at universities across the country in an attempt to stop period shaming of young women.
In nearly 250 campuses "sanitary pad support boxes" have been set up post a social media campaign by an advocacy group named Stand By Her.
We are doing this in hopes of putting an end to period shaming and rejecting the stigma of menstruation," Wang Ping, a student at Minzu University in the southern province of Yunnan said as quoted by The Guardian.
The program came in a country where menstrual health remains a taboo and is not given much attention by health authorities.
In the initial months of the coronavirus outbreak, female health professionals complained that they had been told sanitary products were not under the category of critical items and would not be provided to them.
A local NGO demonstrated to accumulate donations so that sanitary pads and period underwear can be given to female frontline health workers.
A debate over tough living conditions of women in China's rural regions and what is described as "period poverty" began after a screenshot of a pack of 100 unbranded pads on sale for 21.99 yuan (USD 3) spread across social media in August.
Chinese women students also said how they often feel embarrassed while buying these products.
https://www.wionews.com/world/china-stand-by-her-group-begins-campaign-to-install-sanitary-pad-dispensers-for-ending-period-shaming-341772
---------
URL: https://www.newageislam.com/islam-women-feminism/as-vp-elect--kamala/d/123417
New Age Islam, Islam Online, Islamic Website, African Muslim News, Arab World News, South Asia News, Indian Muslim News, World Muslim News, Women in Islam, Islamic Feminism, Arab Women, Women In Arab, Islamophobia in America, Muslim Women in West, Islam Women and Feminism