New Age Islam News Bureau
26 Jul 2019
• Microfinance empowers Syrian, Turkish women
• Poverty Forces Iran's cycling Champion to Resort to Street Vending
• Opposition Walks Out As Muslim 'Instant Divorce' Bill Passes India's Lower House Of Parliament
• Two Women, Child Injured In Acid Attack in Quetta
• Triple Talaq Bill: Sena Lawmaker Compares PM To Lord Krishna, Says He Wants To Save Muslim Women
Compiled by New Age Islam News Bureau
URL: https://www.newageislam.com/islam-women-feminism/as-muslim-women-demand-action/d/119307
--------
As Muslim Women, We Demand Action from Boris Johnson
Siema Iqbal
25 July 2019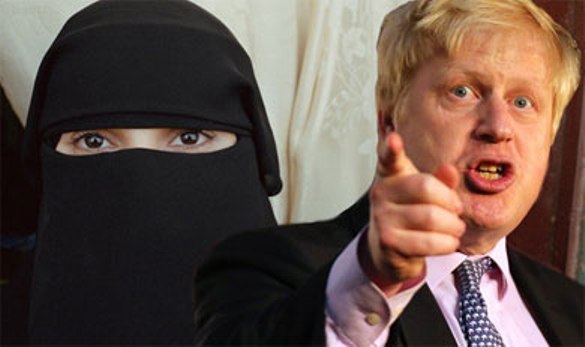 BORIS JOHNSON: The top Tory said Muslims wearing burkas look like 'letter boxes'
--------
As Muslim women, we find the news of Boris Johnson's appointment as prime minister - chosen by 0.14 percent of Britain's population - to be frightening.
It's extraordinary that a man who has been openly Islamophobic and racist is now representing us all on the world stage.
Divisive rhetoric
Just last summer, Johnson vilified Muslim women who wear the full-face veil, describing their appearance as "bank robbers" and "letter boxes", criminalising and dehumanising them in one fell swoop. Nor can anyone forget his "piccaninnies" with "watermelon smiles" comments.
Yet, what this non-contest has shown is that this divisive rhetoric does not hinder, but instead helps, to secure positions of power within our government - and this speaks volumes.
In his first speech as prime minister, Johnson said he wished to unite the country and heal the divisions caused by Brexit. However, we need to look beyond this rhetoric to address the clear Islamophobia and racism that already existed, and only became emboldened by Brexit.
If Johnson is sincere, he must do more than appoint a visually diverse, yet politically narrow-minded cabinet. If he is genuine and sincere in his undertaking to "unite" the country, he needs to engage with the Muslim community, and show this - through actions, more than hollow platitudes. Confidence with Muslims needs to be rebuilt.
Defining Islamophobia
The first step would be to immediately ensure that the Conservative Party adopts the All-Party Parliamentary Group on British Muslims' definition of Islamophobia, which is supported by all the main political parties, a broad cross-section of Muslim communities and leading experts. This would show a zero-tolerance approach to Islamophobia in public life and politics.
It is also imperative that we have a full and independent inquiry into Islamophobia within the Conservative Party, as was initially promised. Downgrading it to a general investigation into all types of prejudice makes a mockery of those impacted by Islamophobia.
Given that nearly half of Tory members would prefer not to have a Muslim prime minister, and more than two-thirds believe the myth that parts of the UK operate under Sharia law, it is vital that Johnson sets an example of open and transparent dialogue with Muslim communities - and not only through the lens of counter-terrorism.
In the same way Tory governments have engaged in dialogue with other minority communities, they must talk with Muslim communities, and not just about them. The dialogue must allow for robust, critical and constructive communication.
Meaningful action
We need a serious commitment to tackling and dealing with Islamophobia in every aspect of our society. This could be addressed thorough a revamp of the Hate Crime Action Plan.
We also need an open consultation on the widening "ethnicity pay gap" to include religion. The discrimination that Muslims experience is not covered by race and ethnicity alone. Such discussions are crucial to facilitate social mobility and economic integration within the Muslim community. Equality for some should not come at the expense of others.
If Johnson is serious in his intention to unite the country, we will stand for nothing short of meaningful action. The Muslim community has been vilified and marginalised long enough. Talk is cheap; the time for empty platitudes has ended, and we await Johnson's next move.
https://www.middleeasteye.net/opinion/muslim-women-we-demand-action-boris-johnson
--------
Microfinance empowers Syrian, Turkish women
22.07.2019
A joint project by a local nonprofit group and the international relief organization Care, helps Syrian refugee women and Turkish women set up their own businesses.
Some 589 Syrian and 199 Turkish women benefited from the microfinance opportunities provided in Gaziantep, Hatay, Kilis and Şanlıurfa provinces, which host a high population of refugees from war-torn Syria.
The Turkish Foundation for Waste Reduction (TİSVA) and Care International joined forces to reach out to women with business ideas and within six months, helped women with access to microloans, between TL 500 and TL 1,500. Overall, loans amounting to TL 860,000 were handed out to women engaged in small businesses. Most beneficiaries work at home, cooking meals for other businesses and preparing jams. One woman in Şanlıurfa converted one room of her house into a hairdressing shop. Others produced handicrafts like prayer beads while some chose to invest in dressmaking or selling ice cream.
Michelle Nunn, president of Care, was recently in Turkey to meet Interior Minister Süleyman Soylu and Mehmet Güllüoğlu, head of the Disaster and Emergency Management Authority (AFAD) which oversees humanitarian work for Syrian refugees. Nunn says Turkey took a greater share in responsibility on behalf of the international community in the Syrian crisis and they owed gratitude to Turkey for its leadership in humanitarian aid. Nunn said their work for refugee and local women was based on the Grameen model. Grameen Bank, a microcredit or microfinance organization conceived by Bangladeshi Nobel laureate Muhammad Yunus, supplies loans to entrepreneurs who cannot afford setting up businesses on their own. It focuses on helping poor, disadvantaged communities around the world and the program's Turkey branch concentrates on women from low-income families. It offers unconditional loans to women based on mutual trust. Launched in Turkey 16 years ago, the microfinance model ultimately aims to turn entrepreneurs into taxpayers with significant profits.
Nunn says microloans made inspiring economic and social changes in women's lives and helped them become economically independent. She says that it also strengthens solidarity between Turkish and Syrian women and boost their self-confidence, to make economic decisions by themselves. She points out that Turkish and Syrian women hold weekly meetings to exchange ideas and this contributes to social harmony.
Professor Aziz Akgül, chairman of TİSVA, said they wanted to reach out to more women. "We plan to reach out to 900 women by the end of September and more than half of them will be Syrian women. Our cooperation with Care International will also be extended to other cities like Mardin, Istanbul and Adana. If those succeed, we will spread the project to other cities as well," he says.
Akgül noted that "mutual trust" was key in giving out loans for free payoffs and said repayment rates were "100 percent."
https://www.dailysabah.com/turkey/2019/07/22/microfinance-empowers-syrian-turkish-women
--------
Poverty Forces Iran's cycling Champion to Resort to Street Vending
by Hamideh Taati
26 July 2019
Atousa Abbasi, the record holder of women's bicycling in Iran, has been forced into street vending to earn her living due to the regime's abysmal economic policies that have all but destroyed the livelihood of ordinary Iranians.
Atousa Abbasi and her husband, a former cycling coach, and their child live in a rented parking lot. Her husband is now a driver transporting passengers.
Atousa Abbasi is the first medal winner among women in the Asian tournaments. She holds the record of speed since 2014, but now has to peddle on the streets while taking her 3-year-old child with her in order to make ends meet.
In a video clip circulating on social media, Abbasi says, "During the three years that I was away from bicycling to raise my child, nobody has been able to break my record." She shows the numerous medals she had won, adding that no one has given her support.
She has been deprived of participating in cycling tournaments in 2017, according to the state-run Mashreq website (October 18, 2017).
Also, Sousan Rashidi, who has been the champion of women's kick boxing for eleven terms, is now training under difficult conditions for foreign tournaments. She is a nomad girl living in Kermanshah, in western Iran, according to the state-run Fararu website (October 18, 2017).
Due to poverty and the special conditions of her family, she has to work in the village from early in the morning, including baking bread, taking the sheep for grazing, bringing log wood and other strenuous tasks. She does not even have her own birth certificate and uses her deceased sister's birth certificate.
Ms. Rashidi said, "Some days, I did not have my transportation fare to go for training. Sometimes, if I were given some money to buy an egg to eat, I saved the money to pay for my transportation."
"I became a champion for nine terms, but I did not receive any prize for these wins," she added, according to the state-run ISNA news agency (December 26, 2016).
In another report on women's poverty in Iran under the rule of the mullahs, a young woman who is a PhD student in Computer Engineering has offered to sell her kidney. On Tuesday, July 23, 2019, the 30-year-old PhD student posted an ad on the walls to sell her kidney and provide for the medical expenses of her disabled mother, housing rent, and her sister's wedding, according to the Women's Committee of the National Council of Resistance of Iran.
https://www.ncr-iran.org/en/news/women/26515-poverty-forces-iran-s-cycling-champion-to-resort-to-street-vending
--------
Opposition Walks Out As Muslim 'Instant Divorce' Bill Passes India's Lower House Of Parliament
25 Jul, 2019
A controversial bill banning the practice of 'triple Talaq' divorce among muslims has passed India's lower house of parliament by a resounding margin, amidst a walk-out by members of the opposition.
The so-called Triple Talaq bill was passed on Thursday, with 302 votes in favor and 82 against. It seeks to make the practice of instant divorce, achieved simply by saying 'Talaq' three times, a criminal offence, punishable by three years in prison. The bill must now pass the upper house, where opposition parties are in the majority, before it becomes law.
India's Supreme Court banned instant divorce for men in Islam in 2017, ruling that the practice was "un-Islamic". However, in seeking to pass the legislation, Prime Minister Narendra Modi's government argues that the practice has continued unabated.
"There have been 345 cases of triple talaq after the judgment till July 24. Should we leave these women on roads?" the minister for legal affairs Ravi Shankar Prasad said in parliament, arguing that the legislation was a must for gender equality and justice.
"If 20 Islamic countries can ban Triple Talaq, why can't India? Even Mohammad the Prophet said that triple talaq is a sin," he added.
The main opposition party, the Indian National Congress, demanded that the bill be sent for review saying it targets Muslims, and staged a walk-out after their request was rejected.
Asaduddin Owaisi, leader of the All India Majlis Ittehad ul Muslimeen (AIMIM) party, blasted the bill as "discriminatory."
"How will a husband pay maintenance from jail? Why should a woman stay in such a marriage for three years while the husband is in jail?" he asked during the debate.
The bill was previously passed in the lower house last December but it lapsed in the upper house after the dissolution of the lower house for national elections.
https://www.rt.com/news/465078-triple-talaq-bill-india-parliament/
--------
Two Women, Child Injured In Acid Attack in Quetta
July 26, 2019
QUETTA: Two women and a child were injured when intruders threw acid on them in their house in the Sariab area on Wednesday evening.
Police said the incident took place in Mengalabad, a locality on the outskirts of Quetta. "Unidentified people barged into a house and threw acid on two women," police said, adding a child also received burn injuries in the attack.
Police shifted the injured women and child to the Bolan Medical College Hospital's burns unit. "The faces and other body parts of the women and child have received burn injuries," police said.
The assailants escaped from the scene after the attack. No man was present in the house when the incident took place.
The cause of the attack could not be ascertained so far.
Police have registered a case and started an investigation.
Balochistan Chief Minister Jam Kamal Khan has taken notice of the incident and directed police authorities to ensure arrest the perpetrators of the attack. "The government will not tolerate such an incident and will take strict action against those involved in the attack," he said and directed the hospital officials to provide best available treatment to the victims.
Rehana Habib Jalib Baloch, a leader of the Balochistan National Party- Mengal, has condemned the incident and termed it an inhuman act.
She said that this was the responsibility of the government to take strict measures so that such incidents did not happen again.
https://www.dawn.com/news/1496216/two-women-child-injured-in-acid-attack-in-quetta
--------
Triple Talaq Bill: Sena Lawmaker Compares PM To Lord Krishna, Says He Wants To Save Muslim Women
July 25, 2019
NEW DELHI: Shiv Sena lawmaker Vinayak Raut compared Prime Minister Narendra Modi to Lord Krishna on Thursday, saying that he has proved himself to be a saviour intent on protecting Muslim women from the menace of instant Triple Talaq.
Mr Raut said this during a discussion on the Triple Talaq Bill, which aims to clamp down on the controversial Islamic practice of husbands divorcing their wives simply by mouthing the word "talaq" thrice, in the Lok Sabha today. According to him, PM Modi had brought the bill to rescue Muslim women from the practice just like Lord Krishna appeared out of the blue to save Draupadi - wife of the Pandavas - from Duryodhana and Dushasana of the Kaurava clan in the Hindu epic Mahabharata.
"Like Lord Krishna came to save Draupadi from Duryodhana and Dushasana, Muslim women have found a brother in Narendra Modi. He is intent on providing justice to them," Mr Raut said in the lower house.
The lawmaker from the Ratnagiri-Sindhudurg constituency also accused previous governments of not doing anything to clamp down on the practice. "Previous Congress governments did not dare to touch this subject because they cared more about their vote bank," he said.
The Muslim Women (Protection of Rights on Marriage) Bill-2019, also referred to as the Triple Talaq Bill, seeks to replace an ordinance passed by the government in February to make the controversial practice a penal offence.
The opposition dismissed the government's claim that the bill would ensure gender justice, and instead questioned the reason behind the government's haste to implement it. It was also opposed by the Janata Dal United, which maintained that such a law would create a "lack of trust in the society". The bill was eventually passed with 302 votes in favour, and a mere 78 against it.
Although the legislation was passed in the lower house last year, it lapsed after the previous Lok Sabha was dissolved with the bill pending in the Rajya Sabha.
https://www.ndtv.com/india-news/triple-talaq-bill-sena-lawmaker-compares-pm-modi-to-lord-krishna-says-he-wants-to-save-muslim-women-2075474
--------
URL: https://www.newageislam.com/islam-women-feminism/as-muslim-women-demand-action/d/119307
New Age Islam, Islam Online, Islamic Website, African Muslim News, Arab World News, South Asia News, Indian Muslim News, World Muslim News, Women in Islam, Islamic Feminism, Arab Women, Women In Arab, Islamophobia in America, Muslim Women in West, Islam Women and Feminism