New Age Islam News Bureau
29 Aug 2019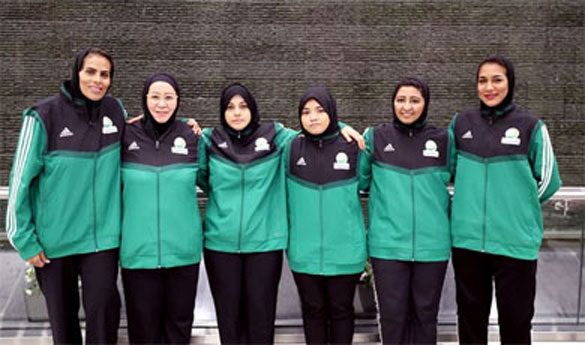 In a history-making feat the Saudi national women's bowling team will participate in the World Bowling Women's Championship in Las Vegas.
The team's six members will compete against the best women bowlers around the world
-----
• Saudi Female Bowlers Off To Las Vegas Tournament
• Female Staff at Jeddah Court Provide 7K Services to Clients
• Pakistani Girl Performs Spider-Man Role in Film
• UAE Embassy in Riyadh Celebrates Emirati Women's Day
• Muslim Women Are Flexing Their Muscles and Telling Stories We All Need To Hear
• Can Woman Claim Residential Right At In-Laws House? Indian SC to Examine, Seeks Centre Response
• Emirati Women Empower Key Economic Sectors
• Missing Yezidi Victims Continue To Be Freed From ISIS In Syrian Refugee Camp
Compiled by New Age Islam News Bureau
URL: https://www.newageislam.com/islam-women-feminism/around-1500-emirati-women-save/d/119599
--------
Around 1,500 Emirati Women Save Lives By Donating Blood
August 28, 2019
Dr Mai Raouf, director of the DBDC, said among the top female donors are a 47-year-old who donated 27 times.
Emirati women are among the top blood donors in Dubai, with 1,988 units donated in the last three years, the Dubai Health Authority (DHA) has said, recognising their contributions in the community.
During this period, around 1,497 Emirati women have approached the Dubai Blood Donation Centre (DBDC), with some donating blood more than 30 times.
"The DHA is happy to be celebrating Emirati women and their achievements on this special day. I would like to thank our wise leadership for always putting Emirati women at the forefront, enabling them to shine in various fields, especially in the health sector," said Humaid Al Qutami, director-general of the DHA.
Dr Mai Raouf, director of the DBDC, said among the top female donors are a 47-year-old who donated 27 times; a 61-year-old who did it 29 times; and two 62-year-olds who gave blood 29 and 31 times, respectively. "Emirati women have been able to achieve various accomplishments, carry out many responsibilities and confirm their presence in the service of the nation."
https://www.khaleejtimes.com/uae/dubai/around-1500-emirati-women-save-lives-by-donating-blood
--------
Saudi Female Bowlers Off To Las Vegas Tournament
August 21, 2019
JEDDAH: The Saudi women's bowling team left on Wednesday to participate in the sixth World Bowling Women's Championship, a first in the history of Saudi bowling. The championship will be held at the South Point Bowling Plaza in Las Vegas from Aug. 22-31.
The six bowlers who will participate in the championship are Mashael Al-Abdulwahid, Ghada Nimir and Amani Al-Ghamdi from Riyadh, Nahla Adas and Mariam Al-Dosari from Alkhobar and Hadeel Termein from Jeddah, under the supervision of British coach Mario Joseph.
The Saudi delegation will be headed by Badr bin Abdullah Al-Asheikh (head of the delegation), Dr. Razan Baker, team manager, Waleed Al-Dawsari, team director and media relations official Hamd Al-Shaghrood.
The team's six members joined a training camp in Riyadh in preparation for the championship, and participated in three local open tournaments in Riyadh, Jeddah and Alkhobar this year. The team will participate in the singles, doubles, trios and team competitions.
In an interview with Adas, who won third place in the fourth Women's Championship held in Alkhobar this year, said: "It is a great honor for me to participate in this world championship, and this is a feat by itself. I have always dreamed about standing next to the world's women champions, and my dream is coming true now, after one year of effort and giving, under the leadership of the federation's chairman Badr Al-Asheikh and his constant support. He is like a leader who ventures out, challenges and allows us to compete for a bright vision full of achievements in the Arab world and internationally."
Nimir spoke about the playoffs in Riyadh, having scored the highest total: "From the beginning to the end of the playoffs which qualified me for the world championship, I was able to win first place in Riyadh. This feeling has been indescribable, a dream come true due to my love for the game, practice as a hobby then as a professional and now participation in the world championship. I am very happy to participate in this international and historical event, and I hope we achieve a positive result in this championship. I also thank the Saudi Federation with all its members for their efforts and this opportunity they gave us."
As for Al-Ghamdi, she spoke about her passion for bowling which pushed her to reach an international level. She said: "Bowling is a sophisticated sport that requires concentration, training, perseverance and skills, and the women's empowerment we are witnessing today has greatly contributed to our presence in all the local and international events. That is why I cannot describe my feelings to have qualified for the world championship, and I am grateful for your support of our dear and beloved country."
Al-Abdulwahid, who won the bronze medal at the federation's women's championships in 2018 and 2019, said: "I cannot describe my happiness to see my dream come true, and this is my first move toward my goal. I have had this dream since I was a child, and I am proud to have qualified among the best players of the Saudi national team in order to participate in the world championship which is a precious chance. I am lucky to be honored to play with professionals from all over the world, which will give me confidence and experience in my bowling career, and I hope that our presence will be honorable, positive and fruitful for the rest of the players and motivate them to excel."
Termein said: "I am happy and proud to represent my country first, and my city second since I am the only qualified player from Jeddah. I aim to reach advanced rankings in the championship, and I would like to thank the Saudi Bowling Federation for giving us the chance to join the international championship."
Al-Dosari, who also won a bronze medal in the federation's championship in 2018, expressed her happiness saying: "I am grateful and proud to have this opportunity and qualify to participate in the international championship to represent the Kingdom. I consider this a great honor and I am very excited seeking to give my best performance."
https://www.arabnews.com/node/1543401/sport
--------
Female Staff at Jeddah Court Provide 7K Services to Clients
August 28, 2019
JEDDAH — The female staff at Jeddah Criminal Court have provided over 7,000 services to clients in 2 months, revealed the Saudi Ministry of Justice (MoJ). The work included checking documents, verifying applications, making referrals and responding to inquiries.
According to the MoJ statistics, the female staff helped more than 2,500 clients, extended more than 3,200 information services, and reviewed over 1,350 applications.
The female staff perform various tasks at the court, including for example manning the reception and information desk, verification of statements of claim, public relations, and referrals from online portal to the relevant departments.
It is noteworthy that the ministry has been focusing on creating more job opportunities for women.
http://saudigazette.com.sa/article/575728/SAUDI-ARABIA/Female-staff-at-Jeddah-courtprovide-7K-services-to-clients
--------
Pakistani Girl Performs Spider-Man Role in Film
Murtaza Ali Shah
August 29, 2019
LONDON: The first ever Hijabi character in the blockbuster, Spider-Man: Far from Home, says she took her role in the film to highlight the fact that millions of women wearing Hijab are ordinary people like those who don't cover their heads.
In an interview with Geo News about her much-talked-about role in the Spider-Man film, the Pakistani-born actress Zoha Rahman said that her original role was not about wearing Hijab but later on she was asked if she would like the role of a Hijabi and she instantly agreed to do the role.
"My original role was supposed to be a diverse role as part of the film's diverse character showing representation of many. When I was given the option of wearing Hijab, I agreed because I wanted to be a positive role model. Traditionally, there have been limiting roles for Muslims in the capacity of a taxi driver, techie, or a terrorist, and if it was a female character she would always be shown as oppressed. It was a big matter for me to represent all those women who cover their heads and are the strongest, funniest and most intelligent women in my life, I know so many of them and I wanted to give them representation in a positive way."
Zoha Rahman was born in Pakistan. Her father is a retired military officer, originally from Jhelum. She studied all over Pakistan, moving schools every time her father was posted at a new place. Around seven years ago, she came to London to study and started modeling for commercials besides studying. She recently finished her law degree from the School of Oriental and African Studies (SOAS) and plans to do Masters in Law as well but for now her full concentration is on her acting career. She has modeled for Qatar Airways, FIFA World Cup, Acuvue, And Wagamama, and Asian immigration law firms before being chosen to play the role of Peter Parker's friend in the latest film from the Marvel-Sony Spider-Man franchise. Her traditional Pakistani family didn't want Zoha to work in the industry and wanted her to have a secure job as a lawyer but the free spirited girl had her own plans and she has successfully carved her own way out so far.
"I started with the modeling project in London and that was followed by acting roles in various projects. Then my agent sent my portfolio to the casting directors at Marvel. I was invited to audition for the Spiderman because they liked my portfolio, I was shocked when I received the call from my agency that I had been offered the role," she shared.
In the film, the cast and crew of Spiderman travel across Europe for filming. Zoha Rahman was filmed in London, Prague and Venice over the course of a few months. She plays the role of Spiderman's friend travelling with him all around. "We are with the hero when he sees monsters and then decided to save the world. It was lovely experience of filming."
Zoha Rahman started taking interests in acting when was studying in schools in Pakistan. She said Pakistan's dramas and shows are popular all over the world. "No doubt Pakistanis are hugely talented, off and on camera. Getting roles in international films is validation of Pakistani talent." She said that she has received lots of positive response. "I have received messages from girls who have appreciated my role as a Hijab wearing girl. There has not been much representation and not many normal and positive roles for the Muslims and other ethnic minorities. I don't wear Hijab in real life but I wore it in my role to create positivity," she said.
Zoha is currently working on a Netflix project and has a few other roles finalised for her. "I cannot say more about the roles I am doing due to privacy contract but these are different roles and the kind of work I am interested in. I am focusing on acting full time and who knows one day I may also work as a lawyer," said the actress.
https://www.thenews.com.pk/print/518934-pakistani-girl-performs-spider-man-role-in-film
--------
UAE Embassy in Riyadh Celebrates Emirati Women's Day
NOOR NUGALI
August 28, 2019
RIYADH: The UAE Embassy celebrated Emirati Women's Day at the Marriot hotel in Riyadh's Diplomatic Quarter on Tuesday.
The event, which was attended by prominent female figures from the UAE and Saudi Arabia, highlighted the role and achievements of women in supporting economic, social, scientific and human development.
The celebration comes as the UAE is supporting the year of tolerance under the theme "Women are a symbol of tolerance."
Dr. Alya Al-Masumi, a neurosurgery specialist at King Faisal Specialist Hospital in Riyadh, and Aisha Hareb, director general of the corporate social responsibility department at the Community Development Authority, were the guests of honor. The Saudi presenter Sarah Dundarawy moderated the panel discussion.
Al-Masumi discussed her inspiring experience as the first Emirati female neurosurgery specialist. She reflected on the close ties between the two countries and called for enhancing the exchange of expertise.
Hareb presented the history of the empowerment of Emirati women, which is championed today by Sheikha Fatima bint Mubarak, president of the General Women's Union, supreme president of the Family Development Foundation and president of the Supreme Council for Childhood and Motherhood. She is credited with announcing UAE Women's Day for the first time on Aug. 28, 2015.
During the event, Al-Masumi, Hareb and Aisha Salem Al-Naqbi, a young Emirati writer, were honored.
Al-Naqbi was recognized for inspiring a new generation of Emirati and Saudi female writers to record the success of their communities, to shape their future and deliver their humanitarian message.
The event included an art exhibition and a video presentation on the achievements of women in the UAE. They covered four main themes: Empowering women, leadership, women in media platforms and their presence in international forums.
https://www.arabnews.com/node/1546421/saudi-arabia
--------
Muslim Women Are Flexing Their Muscles and Telling Stories We All Need To Hear
Shelina Janmohamed
Aug 29, 2019
When news recently broke last week that the Disney Plus streaming service will be creating a live-action series based on Marvel Comics' Kamala Khan, I whooped for joy. The superheroine, Marvel's first Muslim protagonist, was introduced to the world as a reincarnation of Ms Marvel in 2013 after her predecessor Carol Danvers became Captain Marvel. So far, her audience has been limited to comic-book aficionados, although the new character has captivated a whole new reading audience. The live-action series will introduce her to brand new followers, and I for one could not be more pleased that a Muslim superheroine will be centre stage on a global platform.
At last, it will not be the stereotyped oppressed and helpless Muslim woman, just waiting to be rescued, being depicted on screen. An empowered Muslim girl is going to be doing the saving and it is through her eyes that we will see the world.
Khan is a teenage Pakistani Muslim from New Jersey who admired superheroes and eventually became one, complete with shape-shifting superpowers. She took on the mantle of Ms Marvel, a character who first appeared in 1968. What set Khan apart and undoubtedly contributed to her being a more rounded character, with nuanced personality traits, was that she was co-created by two Muslim women, Sana Amanat and Gwendolyn Willow Wilson. This gave her character's experiences and struggles a raw honesty. That will continue with the screen series with the announcement that Bisha Ali will be the series' writer and showrunner. Ali is a young, upcoming British talent and stand-up comedienne who has been working with Mindy Kaling on her latest TV series Four Weddings and a Funeral and is one of the voices on the Guilty Feminist podcast.
When Khan first appeared, Marvel was criticised for jumping on the diversity bandwagon. And there will undoubtedly be similar criticism levelled at the screen series. The level of online abuse already being heaped on Ali is a disgrace; trolls have pointed out that she has deleted her Twitter history but as the co-creator of a children's TV series, particularly one with the family-friendly Disney empire behind it, this would have presumably been expected of her, particularly as she had previously worked on adult shows. It was only last year that writer-director James Gunn was fired from Guardians of the Galaxy Vol 3 when inappropriate tweets emerged from his Twitter history. He was rehired but the incident no doubt served to remind Disney to be more cautious in the future. Ali's targeting feels more personal, particularly as she is relatively unknown, and one cannot help but wonder if racism plays a part.
The diversity debate will no doubt continue but as Willow Wilson wrote: "Diversity as a form of performative guilt doesn't work. Let's scrap the word diversity and replace it with authenticity and realism. This is not a new world. This is the world."
As it turned out, the critics were wrong on all counts. Khan's comic adventures made it to number two on the New York Times bestseller list for graphic novels and won the Hugo Award for best graphic story.
The authenticity and realism that Willow Wilson spoke of were key, breathing life into the experiences of Muslim women and girls. It humanised us and showed we face the same universal struggles as everyone else. The story was about a Muslim girl but the messages were for everyone.
The fact this series comes from the Marvel stable and will stream via Disney Plus is part of the reason this is such a momentous move. Our female Muslim superhero will be beamed into homes worldwide and watched the world over, with the potential to become a global icon. Disney Plus, launching primarily in the US, Canada and the Netherlands in November, will be a competitor to the likes of Netflix and HBO Max. Given the costs of creating such content and its prime positioning, this is not a token effort. It is a huge commercial investment that will also a social impact.
One has only to look at the phenomenal success of Black Panther last year to see what is possible. Focusing on black characters' stories in an authentic and powerful way had massive universal appeal. It brought a previously untold truth to our screens. Like Black Panther, Kamala Khan is an American export, transporting us to a US-centred world, but with Ali on board, her stories will hopefully be universal ones. My hope is that it inspires a whole raft of strong female Muslim characters. Change happens one character and one story at a time. That those stories are being crafted by Muslim women is a step in the right direction.
When the series launches, I'll be curling up on the sofa with popcorn and pizza to share the experience with my daughters. At last we'll be able to see ourselves, our power and our humanity reflected on screen, beamed right into our home - and that is definitely worth cheering about.
https://www.thenational.ae/opinion/comment/muslim-women-are-flexing-their-muscles-and-telling-stories-we-all-need-to-hear-1.904055
--------
Can Woman Claim Residential Right At In-Laws House? Indian SC to Examine, Seeks Centre Response
Aug 28, 2019
NEW DELHI: The Supreme Court on Wednesday agreed to examine whether a woman deserted by her husband could claim residential right in her in-laws' house where she had been living after marriage?
A bench of Justices N V Ramana, M M Shantanagoudar and Ajay Rastogi issued notice to the Centre asking whether residential right could be given to a woman under Protection of Women from Domestic Violence Act on a plea filed by a Muslim woman who alleged that her husband her deserted her in 2004 and her in-laws threw her out of her matrimonial house.
Petitioner Shabnam Ahmed, a mother of three, claimed that her husband went to the UK 15 years ago and did not come back. She claimed that her husband divorced her illegally by pronouncing triple talaq in 2007 on phone and her in-laws threw her out along with her daughter. Her two other children are still living with her in-laws. Shabnam, 40, had first approached the trail court seeking residential right in the house but her plea was dismissed in 2018 and she approached the apex court directly against the trial court order.
Justifying filing the petition in the SC instead of moving an appeal in the high court, senior advocate R B Singhal and lawyer Nilofar Khan told the bench that Shabnam's plea for residential right was rejected by the trial court by relying on an SC judgment of 2007. They urged the court to re-examine the verdict as the provision pertaining to residential right was narrowly interpreted and was affecting the rights of women in matrimonial disputes. In 2007, the SC had said the wife was not entitled to seek residential right if the house in which she lived with her husband belonged to the in-laws.
Singhal told the court that there was difference of opinion among HCs on residential right claimed by the wife in a shared household belonging to the in-laws and requested the bench to adjudicate the issue to end the contradictions. He said the 2007 verdict was against the spirit and objective of the Protection of Women from Domestic Violence Act.
The petitioner claimed that she was forced to live hand-to-mouth after being thrown out of her matrimonial house and was surviving on the support of her friends, including her lawyer, as her parents were no more. She said her husband had remarried and her in-laws cut off ties with her and refused to provide any help on the ground that they had disowned their son. She said she was forced to take legal recourse in 2013 after her parents died as she had no place to live.
https://timesofindia.indiatimes.com/india/can-woman-claim-residential-right-at-in-laws-house-sc-to-examine-seeks-centre-response/articleshow/70880296.cms
--------
Emirati Women Empower Key Economic Sectors
August 28, 2019
Dewa's top management provides a positive environment for 1,929 female employees.
Emirati women are a symbol of empowerment and are pressing on to achieve results that will boost the growth and development of the UAE economy
The participation of the Emirati women both in public and private businesses affirm that the nation encourages women to tap their full potential and deliver the results they aim, be it in jobs, entrepreneurial ventures or family businesses.
Etihad Airways' Global Business Service Solution (GBSS) facility in Al Ain which was set up to engage the local Emirati workforce, particularly women is a perfect example of women exploring future in aviation and communications.
GBSS was established in 2014 and was originally setup to provide Audit and Revenue Accounting services to Etihad and Etihad's Equity Partners, whilst creating long term economic value for Al Ain and Abu Dhabi. Additional, it was set up to engage the local Emirati workforce, particularly women.
It is a separate legal entity and is wholly owned by EAS LLC (wholly owned by Etihad Airways). Today it is a Business Process Outsourcing (BPO) company providing back-office support functions to Etihad Airways Group.
Huda Al Naqbi of Cargo Audit team, said: "I started my role as team leader in Cargo Audit just last month so for me (but have been at GBSS since September 2014), this is an opportunity for me ensure I fully integrate myself into this new role while continuing to be an example for other female Emiratis."
The Cargo Audit team division supports a revenue integrity process with the objective of preventing revenue leakage. "As a Team Leader in this department, it's our responsibility to process and check shipment Airway Bills to ensure payments are being processed and received," Al Naqbi.
Similarly Mariam Al Nasri of Service excellence team, said: "Women have been inspiring others for many generations. We are a strong workforce in the UAE where many successful female leaders have and continue to pave the way for other women in the country. We like non-traditional work and are continuously challenged to tasks that you would least expect. As an Emirati woman, I am proud to have overcome many limits the universe has thrown my way."
Al Nasri, further said: "I work in the Service Excellence department and my primary objective is to ensure we develop best-in-class customer service and ensure stakeholder complaints are reduced or minimised."
Dulsco empowers Emirati women
The role of women in powering better communities was celebrated by Dulsco. The event saw Nadia Abdul Aziz Khan, director of Union National Air, Land & Sea Shipping Co (UNASCO) and President of the National Association of Freight and Logistics (NAFL) delivered an inspirational speech at Dulsco's Ras Al Khaimah's offices for 25 female Emirati Dulsco employees, where she highlighted her personal career journey and how she rose to the top of the logistics profession.
Kicking off the activity, the employees participated in an exercise titled 'Pair of Tolerance,' which highlighted the values of tolerance and acceptance and how these qualities can be applied within small groups containing people of divergent backgrounds, characters and opinions.
Dulsco, an official partner to Expo 2020, has more than 12,000 employees from 59 nationalities. Priding itself as a meritocratic organisation, Dulsco is committed to embracing diversity and developing the nation's workforce by providing nationals with suitable employment opportunities.
Shaikha Sabah, assistant manager social media, human resources, workforce and volunteers
Emirati women have always been game-changers and Expo 2020 Dubai can be our stage to show the world who we really are. It's an honour to contribute to such an important moment in the UAE's history, and I'm pleased that our country's women are playing such an integral role in bringing Expo 2020 to life.
Reem Mohamed, manager - partner marketing, Expo 2020 Dubai
"I am extremely fortunate to work for Expo 2020 Dubai, which will welcome the world and showcase our nation's women as successful, independent and capable. As an Emirati, I am very proud of what the UAE has achieved and the boundless opportunities it continues to offer Emirati women to succeed and develop. We are very lucky to have a leadership that empowers, motivates and supports women in various sectors."
Khawla Al Mehairi, executive vice-president of strategy and government communications, Dewa
Since declaring Emirati Women's Day, every August 28, has become an important day to mark the achievements and successes of Emirati women to promote the status of Emirati women in all areas. The UAE has become a leader in women empowerment, becoming the first Arab country to introduce the compulsory appointment of female members on the boards of directors in companies and government organisations, and providing equal opportunities for women to participate in various fields of work in the public and private sectors.
Fatima Al Jokar, chairperson, Dewa Women's Committee
Dubai Electricity and Water Authority's (Dewa) top management provides a positive environment for its 1,929 female employees. DEWA provides a supportive environment for women empowerment and leadership, making full use of their innovative and creative potential. This positively reflects on their professional and social lives, and has a significant impact on society as a whole.
Dr Dalya Al Muthanna, President and CEO, GE Gulf
Emirati Women's Day underscores the remarkable strides taken by Emirati women across all walks of life, highlighting in stark detail the success of the nation's leadership in promoting women empowerment. Emirati women have set the bar high - from excellence in education to leadership in multiple sectors, the determination, vision and can-do attitude exhibited on a daily basis is truly inspiring. This would not have been possible without the support of our leadership. From the ministerial appointments to the introduction of regulations that ensure women's participation in corporate boards, our leadership has set a model aimed at building a truly inclusive society. I firmly believe that the achievements of Emirati women in all fields - from research to energy, sustainability, healthcare, aviation and more - will continue to inspire generation of young women to push their boundaries.
Sheikha Al Nuaimi, director of sales and marketing, Ajman Free Zone
"As an Emirati and a woman, celebrating this occasion records the valuable contribution that we can make to this great nation. The government is actively promoting gender parity in the workplace, and encouraging women to assume dynamic and worthy roles where they can make a great impact on the prosperity and standing of the UAE. At UAE , Ajman and here at Ajman Free Zone, we are very well represented and supported by leaders. Also, we are seeing more female investors establishing their enterprises , and a day like this inspires them and definitely helps in motivating them to succeed.
Mohammed Juma bin Jarsh Al Falasi, undersecretary, Abu Dhabi Department of Energy
The slogan 'Women, the Symbol of Tolerance', chosen to be the theme of this year's Emirati Women's Day, is more than an ephemeral motto; it is a reflection of the current reality of our UAE community, and of the invaluable role women play as mothers, sisters, wives, daughters, and the cornerstone of any and all plans to build our society. On this occasion, I extend my sincerest greetings to Emirati women and, in particular, our female colleagues at the Abu Dhabi Department of Energy, who, we are proud to say, now make up 35 per cent of our workforce.
Chris Roberts, CEO, Eltizam Asset Management Group
"We at Eltizam take great pride in our history of supporting local women through an array of employment opportunities and training programmes that have provided a solid platform to facilitate career development. Women exemplify the values of tolerance through their enduring patience, care, ability to raise future generations and consistent success across various fields of work; and Emirati Woman's Day is an important date in the national calendar as we acknowledge their efforts, commitment and achievements." - sandhya@khaleejtimes.com
https://www.khaleejtimes.com/emirati-women-empower-key-economic-sectors
--------
Missing Yezidi Victims Continue To Be Freed From ISIS In Syrian Refugee Camp
Aug 29, 2019
ERBIL (Kurdistan 24) – Although the Syrian Democratic Forces (SDF) territorially defeated the Islamic State on March 23 in Baghouz, there are still missing Yezidis (Ezidis) who are being rescued from refugee camps in Syria.
On Aug. 24, two women, a young girl and a young man were handed over by the SDF to a Ezidi House in the Cizre region of Syria after they were found in the infamous al-Hol camp. They were recently reunited with their families after returning to Sinjar (Shingal) in northern Iraq.
Al-Hol witnessed an increase in numbers of residents in the spring as Syrian Kurdish-led forces, backed by the US-led coalition, launched an offensive to defeat the so-called Islamic State in its last bastion of Baghouz.
The camp was built to hold 40,000 individuals. However, it currently hosts over 68,823 people displaced persons. Among them are 46,000 Iraqis. The local administration also has limited support available to the camp.
Fear, the disowning of their children, and forced religious conversion are among the main reasons Ezidi women cannot leave al-Hol camp in Syria and return to their hometown of Shingal, according to some of the victims.
Pari Ibrahim, Founder and Executive Director of the Free Ezidi Foundation, told Kurdistan 24 that every time Ezidis are identified and rescued from the Islamic State's control, it is a small victory. "But there is much to do," Ibrahim warned.
"The al-Hol camp still surely contains Ezidis who are too frightened to leave ISIS, including young Ezidis who are severely traumatized and brainwashed," she said.
"Aside from that, there are other Ezidi women that we know have been trafficked to Turkey and elsewhere. Ezidis will probably continue searching for our missing for many years into the future."
Ibrahim said it is an indictment on the international community and the powers in the Middle East "that our people remain missing and suffering."
According to Hayrî Demir, editor in chief of EzidiPress, there are still 2,900 Ezidi women and children missing, with most of them suspected of living in al-Hol camp.
"The situation is particularly difficult for children and infants who were abducted five years ago. Identifying them is almost impossible because they do not remember their Ezidi identity or background," he said.
"Unfortunately, the international community leaves the problem to the destitute Ezidis and overstretched SDF forces," he added.
According to Demir, a broad DNA study to identify these children would only be possible with international help.
"However, it is unlikely that any of the anti-ISIS coalition states will take pity on the Ezidis and help them with such a mammoth task."
"As hard and bitter as it is," he warned, "if there are no more efforts to locate these missing children and women," hundreds of children will be "missing forever."
"The Ezidis must face and accept this reality. The efforts of the Ezidis themselves to identify abducted Ezidis in the al-Hol camp are meager and they exhaust themselves in simple, mere questioning," of the traumatic events he said.
The emergence of the Islamic State and its violent assault on Iraq's Ezidi-majority city of Shingal in August 2014 led to the displacement of hundreds of thousands of members of the Ezidi community and the killing of scores more, now recognized by the United Nations as an act of genocide.
Most of them fled to the Kurdistan Region while others resettled in neighboring countries or Western states.
Militants subjected women and girls to sexual slavery, kidnapped children, forced religious conversions, executed scores of men, and abused, sold, and trafficked women across areas they controlled in Iraq and Syria.
https://www.kurdistan24.net/en/news/242a79da-6051-44dc-ba43-a35715b0d3b1
--------
URL: https://www.newageislam.com/islam-women-feminism/around-1500-emirati-women-save/d/119599
New Age Islam, Islam Online, Islamic Website, African Muslim News, Arab World News, South Asia News, Indian Muslim News, World Muslim News, Women in Islam, Islamic Feminism, Arab Women, Women In Arab, Islamophobia in America, Muslim Women in West, Islam Women and Feminism