New Age Islam News Bureau
23 Oct 2016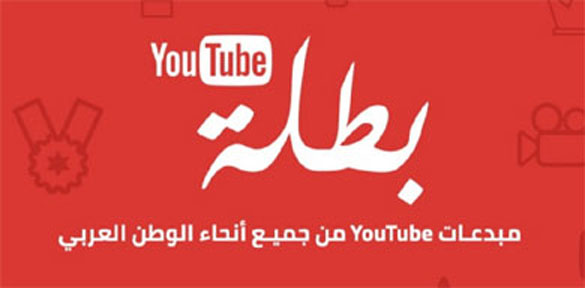 The Arab world has no shortage of 'batalat' (heroines in Arabic), and tech giant YouTube knows it.
--------
• Odom: Women's Rights Activists Turn a Blind Eye to Islam
• AIMPLB Launches Campaign on Women Rights
• Muslim Women Protest against 'Sharia' Modification in Hubballi
• Women Business Council Member Dies In Sharjah Villa Fire
• Triple Talaq Issue: Muslim Women Fighting For Their Rights Is A Great Moment For Democracy
• Radicalisation of The Muslim Women: Here's Why We Are Losing Islam to the Radical Islamists
• Thousands Finish Women's Peace March with Plea for Action at Netanyahu's Door
Compile by New Age Islam News Bureau
URL: https://newageislam.com/islam-women-feminism/arab-women-now-their-very/d/108903
----
Arab Women Now Have Their Very Own YouTube Hub
October 23, 2016
The Arab world has no shortage of 'batalat' (heroines in Arabic), and tech giant YouTube knows it.
'Batala' is a YouTube's newest hub, dedicated to Arabic content produced by females. The video platform announced that Batala already has more than 1,000 videos in store, featuring more than 100 female video creators from the Middle East and North Africa, mostly from the Saudi kingdom. It also includes some US-based vloggers who produce content in Arabic.
The videos on Batala are categorized by genre, including beauty, comedy, films and music. The platform's introductory video, published four days ago, has already garnered over 1,146,000 views:
"Every day, we discover new female Arab creators who present wonderful creative videos. And since those creators speed up the pace of innovative nonstop, we decided to launch Batala," YouTube explains. "This allows followers to discover many female creators in one channel."
Yet this isn't the first time YouTube shows interest in the Arab world. It has previously launched a hub for Arabic films called 'Aflam' and followed with a similar service for Arabic series called 'Musalsalat'.
The initiative comes as a direct response to a growing interest in female-related content on YouTube. According to Al Arabiya, the time spent watching female-related videos in the MENA region grew by a whopping 50% in 2015.
"With the continuing growth of female content creators in MENA, we want to keep the momentum going," said Diana Baddar, head of YouTube Partnerships in MENA. "I am very proud of what is happening, because where we were four years ago to where we are today, there has been a massive growth!
"We have thousands of channels in Arabic created by Arabic female content creators. That in itself proves that women haven't found the content that interests them as much, so they felt the need to create it themselves."
The platform's launch event, held in Riyadh earlier this week, brought together some of the contributing creators. They shared their YouTube vlogging experiences: from the things that triggered their debut to the criticism they faced as they rose to YouTube stardom. The event also included workshops about creating successful YouTube channels and producing content that appeals to the masses.
Princess Reema bint Bandar bin Sultan Al Saud, vice president for women's affairs of the General Sports Authority, made an appearance at the launch with a panel conversation about motivating young women to build a better reality, according to Arab News.
"Batala, or heroine in today's meaning, is the one who thinks about herself and others around her, and how to benefit others," said Al-Saud.
Here's a sneak-peek on some of our YouTube 'batalat':
stepfeed.com/tech/tech-hub/arab-women-now-youtube-channel/
------
Odom: Women's Rights Activists Turn A Blind Eye To Islam
October 22, 2016
Many of you have heard of the foul practices of the ISIS thugs who enslave Christian and Yazidi women and girls as young as age 9 for sex slaves. The New York Times reported this year that they follow an obscure Islamic ruling that forbids having sex with any female one has enslaved once she becomes pregnant. Oh! Well then, that's easily remedied. Forced abortions and sterilizations have become common in hospitals in areas controlled by the Islamic State, and many girls who are kept in locked rooms with beds as the only furniture are daily required to take a little pill each evening as their "master" arrives. Most of these girls had no idea at the time what they were for, but recent escapees from these sex prisons have, upon describing them to nurses, learned that they were birth control pills.
Most Americans are distinctly disgusted at the behavior of these jihadists and queasy at just thinking about what's going on over there, what's being perpetrated on young girls and women. It's certainly possible, and becoming increasingly common there, to be raped to death. So what does that have to do with us?
First of all, I'm not an advocate of the Three Amigos school of Foreign Policy: "wherever there is injustice, we'll be there." Not only is being the world's policeman too often against our national interests, but it also too often has great potential for injustice itself. We should be friends to those who are our friends, strategically, on the world stage, and also to those who are our friends in terms of their own internal values.
But what puzzles me is how the activists of feminism in America have been quiet regarding so much clearly anti-woman behavior and policies not just in the Islamic State but in many majority Muslim countries. I searched the National Organization for Women website and found a lot about equal pay, abortion rights, domestic violence and the Zika virus. These are arguably the kind of things one would expect to find on a large social movement's website: some unobjectionable, some controversial.
But what I can't understand is the near absence of any pondering about Islam and the broad subject of women's treatment there and, even more so, the topic of the Islamic State and their sex slaves. A favorite game many trolls like to play is a type of Gotcha! wherein one's public outrage is not heightened enough for the taste of the troll. I know this looks like that, but I'm actually really curious. A lot of things go into the heightened status and well-being of women in western civilizations generally, and one is the difference in religious attitudes toward women. Why this blind spot toward Islam?
NOW has one article criticizing Saudi Arabia's ban on women driving, which is restrictive but hardly reaches the level of sex slavery. They also criticize "honor killing" while bending over backwards to entirely disassociate it with Islam. We can say the Quran does not advocate honor killing, but it's been repeatedly legitimized by Islamic jurists in a variety of Islamic countries through the centuries. It, of course, has a cultural component, but where did that come from?
Adolescent and adult children don't always follow their parents' advice, religion, way of life. All parents struggle with this. NOW and the ayatollahs of the world are never going to be BFFs. But honor killing and the sex slavery of the Islamic State should be something everyone can be expected to abhor and publicly reject. Those that will not can be understood to have placed themselves "beyond the pale," outside of a civilization's conversation, not worthy of being listened to by women, or anyone who has a mother, wife, or daughter. Is this really the position that the National Organization for Women wants to be in?
Steve Odom is pastor of Central Christian Church on East Main Street in Murfreesboro and a former community member of the DNJ Editorial Board. He can be reached at steven.odom@gmail.com.
dnj.com/story/opinion/2016/10/22/odom-womens-rights-activists-turn-blind-eye-islam/92514036/
------
AIMPLB Launches Campaign on Women Rights
October 19, 2016
The All India Muslim Personal Law Board has decided to launch an awareness campaign, directing Imams across India to give discourse on rights of women in Islam to avoid misuse of Islamic laws.
The Imams have been reportedly instructed to give these discourses after Namaz. Executive member of AIMPLB Maulana Khalid Rasheed Firangi Mahali, while citing figures from Census 2011, said that only 0.5 percent Muslims filed for divorce to make the point that the perceived ills of the triple talaq law are being "blown out of proportion."
India is in the mood to do away with triple talaq, says Venkaiah Naidu
Uniform Civil Code: Muslim Personal Law Board threatens Modi government with internal war
"The total population of Muslims in India is about 17 crore. of these 0.5% or 3.5 lakh persons had taken divorce. Also, of the total divorce cases in Muslims, less than 1% are of triple talaq. Thus, we are convinced that triple talaq is being exaggerated. Compared to this, 3.7% of total 100 crore Hindus had taken divorce" Maulana Khalid Rasheed Firangi Mahali told the Times of India.
About the issues to be covered in the discourse by Imams, he said, "Islam is the only religion which practices ladies first. It is for this that the consent of women is taken before the groom in weddings and women have a right in their father's and husband's property. Citing references from Quran and Hasis, the imams will tell that men and women have equal right for everything in Islam be it right to marriage, separation, inheritance, education, extravagance during weddings."
Rasheed said that Islam provides for four types of talaq, out of which two are used by men -- talaq and triple talaq. The other two – khula or faskh-e-nikah can be used by women if they feel their marriage isn't working. "No other religion in the world gave this kind of a liberty to women. In fact, the right to end a marriage through divorce among Hindus in the Hindu Code Bill was borrowed from Islam," Rasheed claimed.
"The plain and simple talaq refers to iteration of talaq once which leads to a month long period of separation. It is followed by a chance to reconcile and if the parties agree, the couple can stay together as normal. But if they don't agree, they second period of separation begins. The couple can still stay together if they sort their issues after the gap. In case they don't, the third talaq takes place," he explained.
Though Rasheed's interpretation of Islam as being a religion that has positive rights for women is not being contested, an earlier report suggests that his claims about divorce rates in Muslims is incorrect. According to the report that relies on the same data, nearly 80 percent of the divorced Muslims in India are women.
ibtimes.co.in/triple-talaq-all-india-muslim-personal-law-board-launches-campaign-women-rights-700226
------
Muslim Women Protest Against 'Sharia' Modification In Hubballi
Protesting against any kind of interference in the Muslim Personal Law (Islamic Sharia) a mammoth rally comprising mainly of Muslim women was taken out in Hubballi on Saturday.
In the protest, held under the aegis of Anjuman-E-Islam, thousands of Muslim women and men took part and urged the Union Government not to meddle with the Muslim Personal Law.
The protest march, which began from Nehru College Grounds at Ghantikeri, passed through the thoroughfares of the city including Lamington Road, Kittur Chennamma Circle before transforming into a demonstration at the Mini Vidhana Soudha.
The protesting women held the tricolour and placards with 'Jai Hind,' 'Hindustan Zindabad', 'We are Proud to be Indians' and other slogans written on, along with placards condemning the efforts to interfere in the Muslim Personal Law and stating that they were happy with the Islamic Shariya.
The women said that the were against any effort to bring in Uniform Civil Code.
Anjuman-E-Islam president Jabbarkhan Honnalli and office bearers of the Women's Wing of the organisation led the protest march. Subsequently the office bearers submitted a memorandum to the Hubballi tahsildar.
In the wake of the huge protest, the vehicular movement in the central business district and around Kittur Chennamma Circle was thrown out of gear for over an hour. The traffic police personnel had a difficult time in streamlining the traffic as the vehicles were diverted through alternate routes.
thehindu.com/news/national/karnataka/muslim-women-protest-against-sharia-modification-in-hubballi/article9256111.ece
------
Women Business Council Member Dies In Sharjah Villa Fire
October 23, 2016
A fire broke out at the prominent Emirati family's villa this evening; other deceased include her mother and sister.
Three women from a prominent Emirati family in Sharjah died after their villa caught fire on Saturday.
Among the deceased was Ameera BinKaram (38), a pioneer for Arab women's empowerment in the region. The other deceased are her mother, Badriya Abdul Rahman, and sister, Sama.
Her brother, Khalid, was rescued and rushed to Al Qassimi Hospital, where he is recuperating. The three women died of suffocation. According to the Sharjah Civil Defence, the fire in Villa number 20 at Al Qadisiya area broke out at 4.30pm. Emergency personnel rushed to the site, and rescued Khalid, two drivers and a maid.
Colonel Sami Al Naqbi, Director-General of Sharjah Civil Defence, told Khaleej Times that firefighters reached the site within four minutes after the fire was reported. The fire was doused in 10 minutes, he said.
The fire started in the majlis and gutted all its furniture.
Heavy smoke engulfed the villa. Ameera, Badriya and Sama, who were on the first floor of the villa, suffocated to death.
The bodies have been shifted to the morgue at Al Kuwaiti Hospital.
With a passion for human, animal and environmental issues, she was the Chairperson of Sharjah Business Women's Council since 2010.
On October 20, Ameera attended the second 'Investing in the Future' conference in Sharjah.
Addressing the audience she said:"With the theme of the second edition of the conference 'Building the Resilience of Women and Girls in the Arab Region', we want our recommendations to become a reality on the ground. This has an obvious message of justice for women and an end to their suffering and the discrimination shown against them, but it is also vital that we nurture young women's minds and champion their rights in order to develop societies, nations and civilisations."
As Deputy Chairperson of 'Nama', a Women Advancement Establishment, launched under the directives of Her Highness Shaikha Jawaher Bint Mohammed Al Qasimi, Wife of His Highness the Ruler of Sharjah, she also passionately supported the 'Badiri' initiative - a free of cost programme for aspiring and existing women entrepreneurs in Sharjah and the UAE.
President of the Board of Trustees and a founding member of Friends of Cancer Patients Society (FoCP) that was established in 1999, Ameera was awarded the UAE's 'Humanitarian of the Year' by the Arab Women Award in 2012.
She was also elected to head the Women's Chapter for the world's oldest and largest international non-profit business association for CEOs: the CEO Clubs.
A huge ambassador of education and youth empowerment, she also served on the board of Education for Employment (EFE), a non-profit organisation dedicated to youth employment.
And in 2015, non-profit think tank, Global Thinkers Forum (GTF) announced that it selected Ameera as a member of the forum.
Speaking about the appointment, Elizabeth Filippouli, Founder and CEO of the GTF said that Ameera was selected for the role in recognition of her "outstanding efforts in strengthening the participation of Emirati women, in particular, and women in the Arab region".
She was also a member of the Olave Baden-Powell Society, which supports the mission of the World Association of Girl Guides and Girl Scouts (WAGGGS), and she dedicated much of her time towards enabling girls and young women to develop their fullest potential as citizens of the world.
In 2011, Ameera also represented her country as part of the International Visitors Leadership Program (IVLP) as a guest of the US Embassy.
Quotable quotes
Talking about women empowerment:
Supporting women's economic development is vital to ensure continuous growth in Sharjah and the Emirates. There can be no doubt that our involvement with GTF will open up the way to discuss topics that business women of the UAE and region will benefit greatly from."
Talking about women in business:
"Women have so much to contribute to the business world, which is why it is imperative that their voices be heard. At the Sharjah Business Women Council our chief aim is to help women develop to their full potential."
Talking on cancer awareness:
"World Cancer Day is an important initiative that helps highlight the challenges we are facing in tackling the global cancer burden, and what can be done about it."
khaleejtimes.com/nation/general/firefighters-battle-fire-in-sharjah-villa
------
Triple talaq issue: Muslim women fighting for their rights is a great moment for democracy
Oct 21, 2016
(Editor's Note: This article is based on the author's speech at the Asian Forum on Global Governance 2016, organised by the Observer Research Foundation in New Delhi. The theme of the session on 21 October, 2016 was: Religion and Democracy – Are They Compatible?)
When I look 20 years back, there was no burqa on India's streets. Now I see many women in burqa standing at my local bus stop. Looking into the next 20 years, I fear that my granddaughter is most likely to wear a burqa. Let me explain in a practical way: In July 2001, the BBC took me to London. Two of my six sisters were then in Class IX and XI in Bihar. For the first time, I had money. So, I told them: you can study as much as you like. Both did MSW – Master of Social Work. One works in the media; the other became a follower of Dr Zakir Naik, the Islamist preacher.
My intellectual concern is for Muslims, not for Islam. My argument is that Islam may not change; the Quran will not change. But the followers of Islam can change. There is possibility of change because democracy is the only agent that introduces multiple turning points in an individual's life. When we speak of democracy, we speak of – in the words of British author Bernard Crick – "some congruence between democracy perceived as a set of values and democracy as a set of institutional arrangements"; democracy can be seen as "a principle or doctrine of government" and as "a set of institutional arrangements or constitutional devices".
Representational image. ReutersRepresentational image. Reuters
Islamist groups used elections to advance Islamism. The Hamas in Gaza, the Muslim Brotherhood of Egypt, the Ayatollahs of Iran, and the Justice & Development Party of Turkey utilised elections to grab power and impose an Islamist order in which people's liberties became casualties. Under Islamist influence, Pakistan remains a racist democracy for legally prohibiting from becoming the head of the state some Pakistani citizens because they do not believe in Islam. During US-mediated peace talks, even the Taliban in Afghanistan considered referendum and elections to reach power.
But, elections are just one instrument of democracy. The Islamists do not adhere to democracy's other essential principles: free speech and individual liberty, gender equality and equal rights for minorities, man-made law, freedom for political association, and so on. Democratic ideas, rising from Greece and travelling through the European Enlightenment, swelled into the American and French revolutions. "We the people", the opening words of the Indian constitution, are taken from the US constitution. In India, democracy was introduced through the constitution.
Democracies work through institutions. So, it is not surprising that a new generation of Indians are knocking at the Supreme Court's door to demand equality and liberty – for example to end the triple talaq, Halala and polygamy. India is a brand new country, new because 55% of its 1.3 billion people are under 25. This is a new political population which has not seen the Emergency or the Partition. It has grown up in liberty, seeing MPs exercise unlimited free speech in legislatures and on television. This new generation is subjecting itself to arguments on Facebook and Twitter. Muslims are also part of this new generation, and some of them are leaving Islam. This liberty is birthed by the constitution. India's young are the constitutional generation. Even if you dismiss them as Bhakts, they are essentially loyal to the constitution and guard its liberties.
When Gandhi, Nehru and Ambedkar laid down the foundations of the republic, they wrote an array of liberties into the constitution, the seeds that are birthing a new type of Indians. For thousands of years, Indians knelt before temples. But Narendra Modi kneels down at the footsteps of the Parliament, an institution created not by religion, but by liberty, by constitution, by reason. Nehru was at least intellectually honest, someone who could praise Atal Bihari Vajpayee on the floor of parliament. But India's counterfeit secular Hindus are intellectually dishonest and will not acknowledge that Modi is Nehru II, albeit added with civilisation. If Nehru were alive, he would be happy to see Modi.
So, within this template of democratic ideas, is it possible for an entire new or next generation of Muslims to abandon ideas inherited from parents and Islamic clerics? History offers us positive insights. In Italy and Germany, an entire generation of youth abandoned the ideas of fascism and Nazism inherited from parents. In India, a generation of Hindu youth has largely abandoned their parents' belief in caste, made possible through the spread of democratic values. And although polygamy and Halala are legal for Indian Muslims, Muslims do not practise them, mostly.
When we speak of reform among Muslims, we expect instant reform. But reforms of religious communities occur over centuries. Judaism and Christianity went through internal conflicts. Islam is going through its internal civil war. Not long ago, the Christian clergy ruled the world. Due to the increasing awareness of democratic values, the Bible and the Torah are confined to the religious realm. In India, the Manusmriti was discarded by Hindus. Most Muslims do not practise what the Quran says about jihad or prayers. But Muslims are caught in Islam's institutional arrangements like mosques, clerics and madrassas which are unfortunately funded by the secular Indian state.
India must address the weaknesses of its institutions. In 1952 elections, 67% MPs won with less than 50% votes. In 2004, 76% MPs won with less than 50% votes. In 2009, only 17% MPs got over 50% votes. In 2014, 61% MPs won with less than 50% votes. We are in a situation in which candidates can win elections with just 30% votes, which encourages them to encourage religious politics. To get votes, Mamata Banerjee joins Muslim prayers. BJP kicks up the issue of Love Jihad. Nitish Kumar visits Pakistan to tell Indian Muslims that they are Pakistanis. Sonia Gandhi reaches out to Imam Bukhari of Jama Masjid. Arvind Kejriwal visits Bareilly to meet clerics. K Chandrashekar Rao offers quota for all Muslims, even though the OBCs among them do get quota.
At a recent conference in Pune, I shared platform with Maulana Mahmood Madani of the Jamiat Ulema-e-Hind who agreed on the need for change but also taunted: "Islam ko badalna chahte hain, to badal lijiye (If you want to change Islam, go ahead)." It is clear that monotheistic religions like Islam which do not believe in pluralism and equality are obstacles to democratic values but these obstacles can be addressed within the framework of Indian democracy's institutional arrangements. The Supreme Court has two tests before it: whether to allow triple talaq in violation of the Article 14 on right to equality; and whether to allow the Indian taxpayer to continue to fund the Aligarh Muslim University, especially its departments of Sunni and Shia Theology.
To ensure that democracy's institutions do not surrender before Islamism, the state governments' funding of madrassas must be challenged before the Supreme Court. As a secular republic, the Indian state cannot fund madrassas, which are centres of excellence for the purposes they are established. Within the Indian democracy's institutional arrangements like the RTE, Muslim children, like all others of 6-14 age, must be in schools during school hours, not in madrassas, which are counter-liberty movements. By funding madrassas, the Indian state led by 'secular' Hindus, feeds orthodoxies among Muslims. In the competition between Islam and democracy, educational reforms are the keys to democratic change. There is a historical template to follow: Lord Macaulay. If Macaulay could do it, the Indian democracy can do it better.
About a century ago, Gandhi supported the Khilafat to bring Muslims into the mainstream. Now, semi-literate Muslim women are going to the Supreme Court with constitution in their hands to assert their fundamental rights available under the constitution. This is a watershed moment in the history of Indian democracy. It is a wake-up call for India's Muslim leaders who are fighting for Islam, not for Indian Muslims. The Indian constitution is a movement of ideas with origins in the Greek philosophy. As the constitution's influences take deeper roots among people, Indian Muslim leaders and Islamic clerics will be rendered irrelevant, buried along with the so-called secular Hindu politicians. I am thrilled to live in these revolutionary times.
(Former BBC journalist Tufail Ahmad is a contributing editor at Firstpost, and executive director of the Open Source Institute, New Delhi. He tweets @tufailelif.)
firstpost.com/india/triple-talaq-issue-muslim-women-fighting-for-their-rights-is-a-great-moment-for-democracy-3064028.html
------
Radicalisation of the Muslim women: Here's why we are losing Islam to the radical Islamists
Oct 17, 2016
Recently, Morocco — a country with a majority of moderate Muslims — arrested 10 women who allegedly pledged allegiance to the Islamic State (IS). They had planned to carry out suicide bombings across the country. The Moroccan authorities have reported that these jihadist women had built "close relationships with several terrorists affiliated with Daesh (IS) based on the Syrian-Iraqi border", as reported in Firstpost.
The emergence of this all-female terror cell hallmarks a shift in IS' modus-operandi in the Islamic countries. In Morocco, the all-girl terrorist cell is actively operating particularly in the vulnerable Moroccan cities such as Kenitra, Tan Tan, Sidi Slimane, Sale, Tangier, Oulad Taima, Zagora and Sidi Taibi, as reported in various Arabic and English national dailies of the country. The Moroccan Times has quoted the head of Morocco's Central Bureau of Judicial Investigations (BCIJ) as saying: "Some of them were lured to IS, thanks to the family ties they have with Moroccan fighters who had joined Daesh in Iraq and Syria". These IS-inspired women in Morocco were planning to attack "vital installations" and had tried to obtain the chemicals used to make explosive belts. However Morocco's Central Bureau of Judicial Investigations has averted the all-female terrorist cell.
Representational image. ReutersRepresentational image. Reuters
This incident has left a note of introspection for us Muslims — particularly for those still living in denial. The all-female IS cell comprised of 10 members—most of them minor girls. To our horror, Abdelhak al-Khiyam, the head of Morocco's Central Bureau of Judicial Investigations has revealed during his press conference in Rabat in the wake of this incident: "The terrorist organisation (IS) has moved now to lure minors, girls who don't have yet the mental abilities to differentiate the good from the bad….." "Some of those young girls even started making artisan bombs"…."IS played on their minds, and some of the arrested minors married virtually with some of the terrorists based in Iraq and Syria".
But merely expressing shock and distress over the growing attraction of women towards the violent extremism and obscurantism is pointless. At this critical juncture, the most important question we need to address is: why women—and more surprisingly the educated ones—are getting lured to the IS theocracy, while the outfit is known for its misogynistic and male-chauvinistic atrocities. There is no iota of doubt that ISIS terrorists have maimed women capturing them as sex slaves and 'jihadi brides' in their occupied lands. Abhorring this virulent jihadism, the world's leading Islamic scholars have declared the ISIS as "NISIS" (Not-Islamic State of Iraq and Syria) or "AISIS" (Anti-Islamic State of Iraq and Syria).
But the jihadist women — majority of them being converts or neo-Muslimas — rely on online sources for their guidance or what they call 'Hidayah'. Thorough online extremist websites, they are indoctrinated into a dogmatic, retrogressive and a utopian Islamism intoxicated with the man-made Shariah. Thus, they indulge in the ungodly acts of extremism and dogmatism in the name of God, as their faith turns into a dire psychological disorder.
Such indoctrinated women who loudly claim to do 'anything for Islam' are not fascinated towards the traditional spiritual Islam or progressive Islamic thinking. But rather, they are driven by a network of half-educated, misguided and extremist youths—most of them being males. Scores of bright students of science, medicine and engineering have reportedly terminated their education aiming for an Islamic state or Shariah-controlled zone where everything is 'pure', 'perfect' and idealistic. The ten women in Morocco appeared to have the full conviction in this aim. They strongly believed they were following the only righteous path of Islam and that their adherence to the so-called Islamic state was the surest way to salvation.
There could be no better instance of how the mainstream Muslims are losing Islam to the radical Islamists. At a time when the world's progressive Muslims are outraged at the pre-Islamic Arabian practice of keeping sex slaves, IS and its supporters have revived it in different forms—clearly with the help of the Muslim women joining the cult.
An almost identical situation is emerging in the Indian Muslim polity. The All India Muslim Personal Law Board (AIMPLB) has begun a signature campaign, asking Muslim women if they want Shariah law or the Uniform Civil Code governing their matters. An overwhelming and sizeable unity on the 'triple talaq' has been formed with the consensus among the puritanical Indian maulvis. A surging crowd is merging ahead in different parts of the country lashing out at the Law Commission. All this is going on in the name of 'Tahaffuz-e-Shariah' (protection of the Shariah). Regardless of the theological polemics on the triple talaq, the question arises: where does this 'unity' go when Muslim women are denied their right to Talaq-e-Tafweez (women's right to divorce by way of a prenuptial agreement)?
In fact, the Quran enunciates that women should be treated on a par with men in every respect, including the right to divorce (talaq). But shockingly enough, the obscurantist and misogynist interpretation of Islam is catching the imagination of not only the male-chauvinistic herds, but also the well-spirited Muslim women in great numbers. In a twisted understanding of Islam, many Muslim women have blindly accepted the misplaced patriarchy and several misogynist decrees in the name of Shariah. They are seeking an 'ideal Islamic state' where there is no question on the fatwas issued by the mullahs. Such a short-sighted worldview is ideologically buttressed by the well-established female-oriented Islamic organisations and seminaries in India. To our utter surprise, scores of women were in the forefront in their unconditional support to the controversial Islamist televangelist in India Zakir Naik.
In a Firstpost article, this writer has explained how Naik justified the vile custom of sex slavery by stating that "Quran allows Muslims to have sex with female slaves." In fact, the entire like-minded misogynist Islamist clergy misinterpret the verses in the Quran. But the gullible Muslim women take no cognisance of the mullahs' male-chauvinism and fall prey to their loud claims of being the flag-bearers of the 'true' and 'pure' Islam. Cherry-picking Quranic verses and prophetic sayings (hadiths), the misogynist maulvis quote the Islamic scriptures which the common Muslim women recognise as beyond debate. That being the case, one wonders how the mainstream Muslims opposing the obscurantism, misogynism, male-chauvinism and all forms of extremism are going to win this war within Islam. Clearly, they will lose Islam to the radical Islamists if the womenfolk —the family-makers — are radicalised.
The author is a scholar of Comparative Religion, Classical Arabic and Islamic sciences, cultural analyst and researcher in Media and Communication Studies. Views are personal. Write to him at grdehlavi@gmail.com
firstpost.com/world/radicalisation-of-the-muslim-women-heres-why-we-are-losing-islam-to-the-radical-islamists-3055972.html
------
Thousands Finish Women's Peace March With Plea for Action at Netanyahu's Door
October 23, 2016
They told me there was nobody to make peace with. Today, we proved that wrong,' Israeli singer Yael Deckelbaum says of the two-week 'Women Wage Peace' event.
Thousands of women rally in Jerusalem for closing of two-week 'Women Wage Peace' event, on October 19, 2016.Baz Ratner/Reuters
A march that began two weeks ago as a minor event in Rosh Hanikra ended in Jerusalem on Wednesday night as a mass rally, when thousands of Jewish and Arab women from all over the country gathered outside the Prime Minister's Residence to urge his government to make peace with the Palestinians.
The prime minister's security was so heavily deployed it was impossible to see what was happening outside his house on Balfour Street. But the presence of thousands of women in downtown Jerusalem was evident.
The so-called March of Hope was organized by Women Wage Peace, a group founded after the end of the 2014 war in Gaza. At a time when the peace process has been relegated to the bottom of the public agenda, it was surprising to see the march sweep up thousands, most of the participants dressed in white.
In addition to marching through Israel, they marchers entered the West Bank near Jericho Wednesday morning. Tens of thousands of people participated in the two-week event, organizers said.
The guest of honor at the march and Wednesday's rally was Leymah Gbowee, one of three Liberian women to win the Nobel Peace Prize in 2011 for heading a women's group that helped end their country's civil war and oust its dictator, Charles Taylor.
Female activists from the "Women for Peace" organization, take part in a march at the Qasr al-Yahud baptismal, site near the West Bank city of Jericho on October 19, 2016. Abbas Momani, AFP
Gbowee said the two days she spent marching with Israeli and Palestinian women were days of hope and of looking toward the future, and they had convinced her that peace was possible. She also discussed the establishment of the women's movement in Liberia, comprised primarily of women who had been raped or wounded at war.
Hadassah Froman, widow of the late Rabbi Menachem Froman of the settlement of Tekoa, also won a lengthy applause when she addressed the crowd, as did her daughter-in-law, Michal Froman, who was wounded in a stabbing attack at her home in Tekoa in January.
The younger Froman, who ascended the dais along with a four-month-old baby she had been pregnant with when the attack occurred, told the crowd that while she was en route to the hospital that day, she decided that God had been "addressing me and trying to wake me up."
"To choose life is to choose to see the complexity of the situation here," she said. "To learn, of necessity, to defend one's life, but also to see the distress and extend a helping hand. Someone who is dead no longer feels. I chose to feel and to give space to the full range of feelings inside me – to the pain and the anger, but also to mercy and love.
"Death is separation," she continued. "Life is an encounter, life is peace. Life here will be possible only if we stop blaming each other and stop being victims. We all need to overcome and to take responsibility and start working hard for the sake of life here."
Women take part in a rally, outside Israeli Prime Minister Benjamin Netanyahu's office in Jerusalem October 19, 2016.Baz Ratner, Reuters
Huda Abu Arqoub, a political activist from Hebron, won rousing applause when she said, in English, that she was there as a free woman, and that the time had come for women to speak their piece and to work for peace, security for everyone and mutual recognition. She ended her speech by declaring that there is a partner for peace.
Singer Yael Deckelbaum, who performed at the rally, spoke about the women's prayer service she had attended Wednesday morning at Qasr al-Yahud, near Jericho.
"We were 4,000 women, half of them Palestinians," she said. "They told me there was nobody to make peace with. Today, we proved that wrong."
read more: haaretz.com/israel-news/.premium-1.748288
haaretz.com/israel-news/.premium-1.748288
URL: https://newageislam.com/islam-women-feminism/arab-women-now-their-very/d/108903
New Age Islam, Islam Online, Islamic Website, African Muslim News, Arab World News, South Asia News, Indian Muslim News, World Muslim News, Womens in Islam, Islamic Feminism, Arab Women, Womens In Arab, Islamphobia in America, Muslim Women in West, Islam Women and Feminism