New Age Islam News Bureau
30 April 2022
• Afghan Female Students Dropping Out Over Dress Codes: HRW
• Actress Gauahar Khan Replies To Trolls Saying 'You Are Not A Good Enough Muslim'
• Indonesia Fights Violence Against Women With New Law Targeting Sexual Violence
• Islamist Rise Puts Women at Risk in Turkey
Compiled by New Age Islam News Bureau
URL: https://newageislam.com/islam-women-feminism/arab-women-emirati-culture-london-iftar/d/126906
--------
Arab Women In Traditional Dress Celebrate Emirati Culture At London Ramazan Iftar Event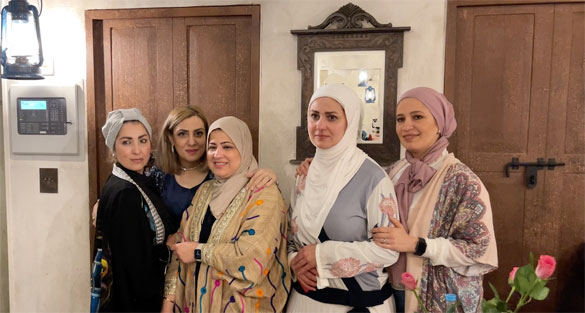 The Ramadan iftar event was held at an Emirati restaurant, Al-Fanar, which has traditional surroundings dating back about 100 years. (AN Photo)
----
Sarah Glubb
April 29, 2022
LONDON: Dozens of professional Arab women, including doctors, lawyers, entrepreneurs and influencers, living in Britain gathered in the UK capital during the Muslim holy month of Ramazan to celebrate Emirati culture.
"We decided to have our iftar event at an Emirati restaurant, Al-Fanar, because we wanted to bring Dubai culture to London through the restaurant and to welcome our new co-founder who is Emirati," Dyna Fayz, co-founder of the Prestigious Ladies London Club, told Arab News.
"We also wanted to help our members to understand everything about Emirati culture."
About 70 women representing different corners of the Arab world were asked to come dressed in traditional dress to share their traditions, culture, identity and backgrounds with other Arab and non-Arab women at the event.
The women enjoyed Emirati dishes, including samboosas, lamb machboos, prawn biryani, legaimat for dessert and karak tea, in the restaurant, which has traditional surroundings dating back about 100 years.
Emirati traditions featured included a henna tattoo artist, an abaya fashion show, bakhoor (Arabian oud) burning, a raffle and an oud performer serenading the women as they sang along.
The organization, which aims to support and empower professional women and entrepreneurs, has about 500 members and is active throughout the year, holding monthly networking and social events.
With the lifting of pandemic restrictions, the club plans to hold events exploring Egyptian, Palestinian, Iraqi and other Arab multinational cultures, Fayz said.
The Syrian journalist and presenter said that it is important Arab women from similar backgrounds have the chance to network and meet.
"I don't think there is any other Arab women's club here in the UK, and that's why by making our club open to different nationalities, but also specifically for Arabs, we are hoping that it will attract more and more women from all over the Middle East," she said.
Shaikha Almazrouei, co-founder of the club, said that she was pleased with the turnout, which also included British, American, Portuguese and Brazilian professionals.
Almazrouei, who is head of UAE Stem Cell Group at King's College London and was the first Emirati to specialize in stem cell transplantation, used the event to call on expecting mothers to contribute toward curing disease.
Tissue and cord blood stored during delivery play a valuable role in the treatment of a range of illnesses, she said.
Raihan Jumah, a Saudi Ph.D. student at Henley Business School, said it was wonderful to share her culture with so many women, including "a lot of leaders from different nationalities, all of whom are passionate about their work and skills."
Jumah, who also launched the Riyadea Academy, a UK-Saudi volunteering website, has been studying in the UK for 10 years on a scholarship program from the Saudi government, focusing on women's empowerment.
Source: Arab News
https://www.arabnews.com/node/2073091/lifestyle
--------
Afghan Female Students Dropping out over Dress Codes: HRW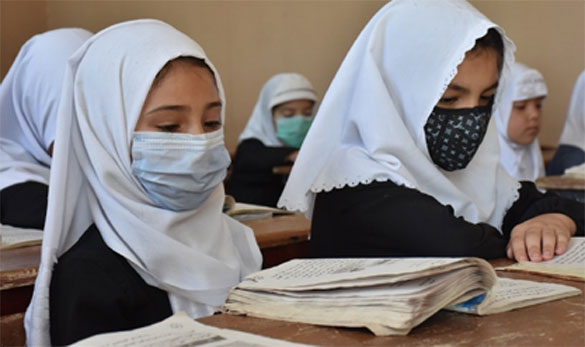 Afghan girls attend a class at a local school in Mazar-i-Sharif, capital of Balkh province, Afghanistan, Sept. 14, 2021. (Photo by Kawa Basharat/Xinhua/IANS)
-----
April 29, 2022
Human Rights Watch (HRW) in its latest report said that due to the imposition of new restrictions on the dress of female students and teachers in some provinces of Afghanistan, some students have dropped out of school.
"The Taliban is imposing increasingly strict dress codes on both students and teachers and enforcing these dress codes by expelling students, firing teachers and even closing down the entire school. The students have told us they think that this is an effort by the Taliban to convince them to leave school," said Heather Barr, associate women's rights director at Human Rights Watch (HRW).
Meanwhile, Rina Amiri, the US Special Representative for Human Rights and Women in Afghanistan, criticized the closing of girls' schools in Afghanistan, saying it is taking Afghanistan in a "negative direction."
"The situation of women and children is continuing to go in a very negative direction. The longer this continues in this way without robust response from the Taliban, the greater the country is going to suffer more devastating consequences," US Special Envoy Rina Amiri said in a conversation with VOA State Department bureau chief Nike Ching about women, girls and human rights in Afghanistan.
But the Ministry of Education said it is ready to open girls' schools above the sixth grade if the leadership calls for it.
"The Ministry of Education is ready. Whenever leadership of the Islamic Emirate announces that schools will be opened above the sixth grade for girls, we are ready for this," said Aziz Ahmad Reyan, spokesman for the Ministry of Education.
In addition to global reactions, the ban on girls' schooling above the sixth grade has been met with widespread reactions from politicians, civil society activists and religious scholars.
Meanwhile, the Ministry of Education said that the schools for girls in grades 7-12 will be reopened in the near future.
"UNICEF promised to help the Ministry of Education in providing salaries for teachers. Also, the money will flow into accounts thay will prevent the existence of fake teachers," said Aziz Ahmad Riyan, spokesman for the Ministry of Education.
Female students above grade six have been deprived of education since last week of March.
Meanwhile, teachers expressed frustration over the delay in their payments.
"Depriving girls from education and closing their schools have affected the government as well because it has been working on how to reopen the schools, but they are yet to find a solution. We ask the Islamic Emirate to reopen the schools for girls as soon as possible," said Omarzada, a teacher.—Tolonews
Source: Pak Observer
https://pakobserver.net/afghan-female-students-dropping-out-over-dress-codes-hrw/
--------
Actress Gauahar Khan Replies To Trolls Saying 'You Are Not A Good Enough Muslim'
29th April 2022
Mumbai: Bigg Boss 7 winner and actress Gauahar Khan is that one social media guru we need to set the trolls right. She has been a target for online hate for long time now. But, Gauahar knows how reply them like a boss.
Gauahar, who is an avid social media user, is known for speaking her mind out. Recently, the Tandav shared a reel on Instagram as a reply to all trolls who criticise her over her religion and profession. The text in her video has a few hateful comment that she receives on social media. 'You are an actor, you are not a good enough Muslim,' the text read. 'Do you even pray?' another text read. 'It's Ramazan, why you making reels."
Her reply read, "To them I say, your belief is personal. Stop the judgements. Nobody is counting your Ibadat, only Allah knows." Her another text read: "The Almighty knows it all, stay true to your Imaan and let people follow their own faith, #Ramadaan."
Sharing the reel, Gauahar Khan captioned, "To all the Imaan Ke Thekedaars who comment with absolute judgement and disregard, the Almighty knows it all ….. your prayers and mine . 🌙👍. And nobody really cares about what u assume , Mere Rabb Nu Pata Hona Chahida."
Gauahar Khan, who became popular after her stint inside the Bigg Boss 7 house, Zaid Darbar in December 2020 after dating for a brief period. The couple recently made headlines with their pictures from their religious trip, Umrah.
Source: Siasat Daily
https://www.siasat.com/gauahar-khan-replies-to-trolls-saying-you-are-not-a-good-enough-muslim-2317921/
--------
Indonesia Fights Violence Against Women With New Law Targeting Sexual Violence
29.04.2022
Arti Ekawati, Betty Herlina
Earlier this month, Indonesian lawmakers passed a controversial bill targeting sexual violence, a step long awaited by women's rights activists but one that has been criticized for taking far too long.
The bill had mainly been held up by one Islamic conservative party, which claimed it would violate Islamic principles, be prone to misinterpretation — and promote "free sex."
Compared to other Muslim-majority countries such as Pakistan and Bangladesh, women in Indonesia have more freedoms in the areas of self-expression and lifestyle choices.
However, women's rights activists say that an increase in Islamic conservatism in Indonesia is challenging these freedoms. This is exacerbated by low enforcement of the law in cases of sexual abuse and ignorance as to what constitutes sexual harassment and how to protect victims.
Titiek Kartika Hendrastiti, a gender-studies researcher at the University of Bengkulu, explained that the lengthy time taken to pass the bill reflects an Indonesian "dualism" when it comes to sexual abuse.
People consider sexual assaults to be an offense and wrong, yet, at the same time, a disgrace, which leads many victims not to come forward.
Hendrastiti said instead of reporting a rape to the police, many people still seek "family ways" to "solve" the problem, including marrying the victim to the perpetrator.
This way, a rapist is considered as "being responsible" for the victim, while "saving" the honor of the victim and their family.
"There are double standards; cultural factors have driven the long delay in passing the bill," said Hendrastiti.
What does the bill change?
The sexual violence bill is meant to provide a legal basis for addressing rape and sexual harassment, including defining rape as the act of forced sex without consent. It also foresees more help and support for victims
The law covers nine forms of sexual violence, including non-physical sexual harassment, forced marriage, forced contraception/sterilization, sexual abuse and sexual slavery.
It was introduced by the National Commission Against Violence against Women in 2012, yet it would be 2016 before the bill came up for parliamentary debate. After a long stretch and several controversies, the new legislation finally passed on April 12, 2022.
Mike Verawati Tangka, an activist with the Indonesian Women's Coalition, said she was grateful that the bill had been passed, though things could have moved a lot quicker.
"It all depended on the government's political will," she said.
Tangka also welcomes the victim trust fund established by the law to compensate victims of sexual abuse and help them recover.
"So far there have been no reservations regarding victim trust funds. We welcome this and appreciate the government," she told DW.
Indonesia sees increase in sexual violence
During the pandemic in 2020 and 2021, sexual violence cases increased in Indonesia.
Data from the Indonesian Ministry of Women's Empowerment and Child Protection (PPPA) showed there were about 25,200 cases of sexual violence in Indonesia, up from around 20,500 cases in 2020.
Meanwhile, in 2021, several gruesome sex crimes triggered public anger, such as the rape of 13 underage girls by an Islamic boarding school teacher in West Java Province.
High-profile sex harassment cases were reported in schools and offices. In some of the cases, victims only received help after their cases went viral on social media.
"We are on the verge of sexual assault emergency, therefore the bill needed to be passed soon," said women right's activist Susi Handayani.
Why was the bill delayed?
The Islamist Prosperous Justice Party (PKS) had been the only party rejecting the bill. Kurniasih Mufidayati, a leading PKS lawmaker, told DW that the recently passed bill could be prone to misinterpretation.
The wording of "sexual consent" before having sex was seen as problematic, as the party believes the right to sexual consent should only be applied to married people.
They also questioned some points relating to sexual orientation, forced abortion and forced marriage.
However, Mufidayati reiterated that the PKS strongly opposes all forms of sexual crimes, saying it was "committed" and had helped thousands of victims.
Source: DW
https://www.dw.com/en/indonesia-fights-violence-against-women-with-new-law/a-61637677
--------
Islamist Rise Puts Women at Risk in Turkey
by Abigail R. Esman
APRIL 29, 2022
For millions of women in Turkey, life has just become more dangerous. And that puts the future of the entire country at risk.
At least one woman is killed nearly every single day in Turkey, usually by a family member or lover, with more than 400 such "femicides" on record last year alone. Now Turkey's government threatens to shut down an organization that has vowed to end this cycle of violence. In doing so, the ruling AKP party stands to further stamp its Islamist ideology into the body of the once-secular Turkish Republic.
Just as domestic violence itself often evolves gradually, the government's attack on women in Turkey has unfolded over a period of years, moving in parallel with the slow dissolve of many of the country's secular and democratic ideals. President Recep Tayyip Erdogan had barely been elected to office in 2014, when he declared, "You cannot put women and men on an equal footing," insisting that women were primarily suited to motherhood, as dictated by Islam. Since then, he has called for a new "pious generation," and has increased the budget of the Directorate of Religious Affairs, or Diyanet, to reach nearly 1.4 billion euros in 2021 — more than 20 times what it was when Erdogan became prime minister in 2002.
But lately, Erdogan's efforts — both to oppress women and to promote Islamist ideology (the two often go hand-in-hand) — seem to be gaining speed. A year ago, for instance, Erdogan withdrew from the Council of Europe Convention on Preventing and Combating Violence Against Women, claiming it "damaged traditional Turkish family values." Ironically, the treaty is known as the "Istanbul Convention," so nicknamed after Turkey became the first signatory.
Unsurprisingly, the number of femicides in the country increased dramatically soon after Erdogan's withdrawal. That fact is known, significantly, thanks only to the data collection and activism of the We Will Stop Femicide Platform, a group that tracks and fights violence against women and, not coincidentally, is the very organization that Erdogan's party is working to shut down.
In other words, protecting women from domestic violence may be a criminal act.
Meanwhile, with the Turkish lira in precipitous decline, Erdogan has leaned toward establishing Islamic rules to govern the financial market. Last December, for instance, he refused to raise interest rates, citing Islam as the basis for his decision.
"As a Muslim, I will continue doing what our religion tells us," he said in a televised speech. "This is the command."
The move left many wondering whether he is leading the country into sharia rule. The criminalization of women's rights groups along with the retreat from the Istanbul Convention may suggest he is.
What seems clear is that he is pressing harder to maintain authoritarian rule, creating an Islamist authoritarian state — one in which the rights of women are not protected. As Harvard Kennedy Center's Erica Chenoweth and Zoe Marks wrote earlier this month in Foreign Affairs, "It is not a coincidence that women's equality is being rolled back at the same time that authoritarianism is on the rise. Political scientists have long noted that women's civil rights and democracy go hand in hand. … Misogyny and authoritarianism are not just common comorbidities, but mutually reinforcing ills."
In a subsequent interview in the Harvard Kennedy School magazine, Marks further noted, "Democracy by definition requires equal human and civil rights for citizens — including, of course, women. … [By contrast], authoritarians often rely on the overrepresentation of male power (patriarchy) — in both public and private life – to consolidate their power and chip away at crosscutting social coalitions."
All of which does not bode well for Turkey's future should Erdogan manage to win next year's election, despite falling poll numbers.
Yet most of Turkey's secular women, and those who defend their rights, believe that after 20 years, there is a good chance Erdogan can be defeated. Rising inflation and a more Westernized younger generation have cut deeply into his popularity over the past year.
Which is why, despite the crackdowns and the imposition of religious values on women and their children, champions for women's rights continue to fight for the country's future and the secular ideals of Kemal Ataturk, its founder. For them, Ataturk's words remain immortal and carry their greatest hopes: "Humankind is made up of two sexes, women and men," he once said. "Is it possible that a mass is improved by the improvement of only one part and the other part is ignored? Is it possible that if half of a mass is tied to earth with chains, the other half can soar into the skies?"
Source: Algemeiner
https://www.algemeiner.com/2022/04/29/islamist-rise-puts-women-at-risk-in-turkey/
--------
URL: https://newageislam.com/islam-women-feminism/arab-women-emirati-culture-london-iftar/d/126906
New Age Islam Islam Online, Islamic Website, African Muslim News, Arab World News, South Asia News, Indian Muslim News, World Muslim News, Women in Islam, Islamic Feminism, Arab Women, Women In Arab, Islamophobia in America, Muslim Women in West, Islam Women and Feminism