New Age Islam News Bureau
1 Oct 2018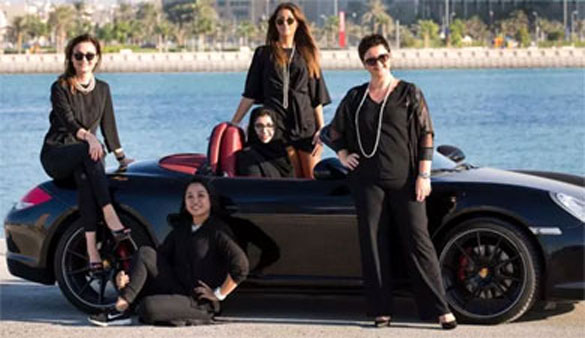 Saudi women have joined women from the region to launch the first Gulf women's car rally in Bahrain. (Supplied)
------
• Saudi Women Promoting Yoga and 'Open, Moderate Islam'
• Saudi Women Compete In Bahrain Formula One Circuit
• Interfaith Women Travel India Promoting Religious Amity
• Supreme Court: A Crusade for Women's Rights
• Murders of Trailblazing Iraqi Women Spark Conspiracy Fears
• 300% Jump in Number Of Female Lawyers
• Savola Group Holds Traffic Safety Seminar for Female Employees and Their Families
Compiled by New Age Islam News Bureau
URL: https://www.newageislam.com/islam-women-feminism/arab-women-social-media-support/d/116536
--------
Arab Women in Social Media Support Ford against Kavanaugh
September 30th, 2018
The world watched closely as the trial of a woman finally rising up for justice after suppressing her trauma in secret for decades unveiled.
Christine Blasey Ford came out and accused U.S. Senate Judiciary Committee Brett Kavanaugh of pinning her down and assaulting her at a party when they were teenagers in the 1980s, as he and a friend allegedly laughed hysterically.
The hearing, which took place on Wednesday showed an emotional Ford who was finally able to talk about her traumatic memories and decades of humiliation, treating it as a civic duty to come forward, despite being relentlessly attacking on social media.
Kavanaugh deplored the accusations as a "grotesque and co-ordinated character assassination" against him, giving an eerie warning of "what goes around comes around."
Social media took to support Ford, not only with donations, but through various hashtags that shed light onto why women stay silent for decades about sexual assault.
#IBelieveYou and #WhyIDidntReport showed thousands of women giving their own heart-shattering testimonies against why they have not reported their own abusers.
The Arab world also watched closely at what was happening. With violence against women still being rampant in the Middle East, women stood up on social media in support of Ford and against the systematic physical, sexual, psychological and emotional violence against women.
Arab-American women rejected Kavanaugh's lies and his 'gang of predators'.
Some claimed that his wife standing with him proves his innocence - but this Kuwaiti woman refused to allow the validity of the argument to persist.
https://www.albawaba.com/editorchoice/arab-women-social-media-support-ford-against-kavanaugh-1192998
--------
Saudi Women Promoting Yoga and 'Open, Moderate Islam'
30 Sep 2018
In a sparse, wood-floored studio, Saudi women squat, lunge and do headstands. Even a year ago, teaching these yoga postures could have rendered them outlaws in the conservative Islamic kingdom.
Widely perceived as a Hindu spiritual practice, yoga was not officially permitted for decades in Saudi Arabia, the cradle of Islam where all non-Muslim worship is banned.
But with Crown Prince Mohammed bin Salman vowing an "open, moderate Islam", the kingdom last November recognised yoga as a sport amid a new liberalisation drive that has sidelined religious hardliners.
Spearheading efforts to normalise yoga in the kingdom is Nouf Marwaai, a Saudi woman who has battled insults and threats from extremists to challenge the notion that yoga is incompatible with Islam.
"I have been harassed, (and) sent a lot of hate messages," said the 38-year-old head of the Arab Yoga Foundation, which has trained hundreds of yoga instructors in the kingdom.
"Five years ago, this (teaching yoga) would have been impossible," added Marwaai, as she began training a cluster of women students at a private studio in the Red Sea city of Jeddah.
Hanging up their body-shrouding abayas and headscarves, the women stretched in unison in an arching warrior pose known as "virabhadrasana".
Arms outstretched, their bodies folded into a 180-degree backward bending posture known as "chakrasana", or wheel pose.
In a country where women have long been denied the right to exercise publicly, the students -- some of whom regularly attend yoga retreats in India -- said the exercise had transformed their lives.
Ayat Samman, a 32-year-old health educator, said yoga helped alleviate her lifelong struggle with fibromyalgia, a chronic pain disorder that often left her bedridden.
Yoga also works as therapy, the women said, helping them vent bottled up emotions and tackle a woefully common ailment -- depression.
"It just opened me up like a water balloon," said Yasmin Machri, 32.
"After my first class... I started breaking down and crying."
In just a few months since yoga's recognition, a new industry of yoga studios and instructors has sprouted in various Saudi cities. That includes Mecca and Medina, Islam's holiest cities, Marwaai said.
Prince Mohammed, the de facto ruler, has sought to project a moderate image of the kingdom, long associated with a fundamentalist strain of Wahhabi Islam, with a new push for an inter-religious exchange.
Saudi Arabia in recent months has hosted officials linked to the Vatican and the prince also met a group of Roman Catholic and Jewish leaders in New York earlier this year, in a rare inter-faith gesture.
"The prince's outreach to other religions is apparent in the interfaith gatherings and the new enthusiasm for Saudi Arabia's pre-Islamic heritage," said Kristin Diwan, of the Arab Gulf States Institute in Washington.
For decades, Saudi rulers derived much of their legitimacy from their alliance with a clerical establishment that pushed a puritanical vision of Islam.
But the prince appears to have upturned the system, seeking instead to tap support from the kingdom's swelling youth base through a surge of nationalism and a much-hyped modernisation drive.
Saudi columnists have openly called for abolishing the once-feared religious police as the kingdom introduces entertainment, including mixed-gender concerts, and re-opens cinemas after a decades-long ban.
Prominent hardline Salafist clerics with millions of followers on social media have been jailed, with some on death row, as the crown prince clamps down on dissent.
"The religious networks which once led campaigns against more liberal ideas appear cowed, but new practices like yoga are always subject to ad-hoc attacks," Diwan said.
Yoga is still regarded as a deviant practice in conservative circles, sometimes associated with witchcraft, and Marwaai's students say they often confront accusations of betraying their religion.
"I receive messages through social media asking: 'Are you a Hindu? Did you turn into a Hindu?'" said Budur al-Hamoud, a recruitment specialist.
"Yoga has nothing to do with religion. It's a sport... It does not interfere with my faith." Yoga is seen at odds with several other faiths, but the recognition of the practice in Saudi Arabia -- the epicentre of the Islamic world -- appears to have given a new impetus to Muslim yoga practitioners around the world.
Marwaai is taking on conservatives not just in the kingdom but also India, the birthplace of yoga where clerics last year slapped a fatwa, or religious edict, against a female Muslim yoga teacher just days before the kingdom recognised the sport.
In a shrill Indian television debate, Marwaai -- a lupus survivor and recently awarded the Padma Shri, one of India's highest civilian honours -- calmly sought to reason with Muslim clerics who hurled insults at her.
The clerics were particularly opposed to "Surya Namaskar", a yoga sequence designed to greet Surya, the Hindu sun god, and the chanting of Hindu mantras.
"It is not the worshipping of the sun and the moon," Marwaai responded as tempers frayed, denying they engaged in chanting.
Unconvinced, a cleric said the set of physical movements in the Muslim prayer ritual offered enough exercise.
The slow meditation does not increase the metabolic rate, Marwaai retorted. "Prophet Mohammed used to race with his wife."
https://www.devdiscourse.com/Article/headlines/201090-saudi-women-promoting-yoga-and-open-moderate-islam
--------
Saudi Women Compete In Bahrain Formula One Circuit
30 September 2018
Saudi women have proved their professionalism in driving Formula One cars as well as different types of 4x4 vehicles as part of an intitiative being held for the first time in the Gulf region.
The initiative called "Yala Banat" or "Let's go girls!" being held for the first time has chosen Bahrain as its headquarters.
Girls from the region are preparing to launch the first Gulf women's rally for cars, including a car decoration festival to be held in mid-October.
The women's motorcade, with 250 Bahraini, Saudi, Gulf and international cars, will be circling around the Bahrain International Circuit.
The rally will be accompanied with a festival to decorate Formula One cars to showcase women talents in designing the vehicles in ways that are far from traditional.
In a press conference on the occasion, Al Arbaiya English spoke to Martina Al Qassab, the chief executive for "Yalla Banat" who commented on the participation of Saudi women in the rally.
Tremendous support
"We have 10 Saudi women who have officially participated in the motorcade. As for the guests who will be attending, we will have about 50 visiting Saudi women, and this number could be increase, given the attention and support we have seen after receiving many calls from Saudi women groups who are showing their support [for the event]."
Al Qassab mentioned that Aseel Hamad, a well-known motorsport enthusiast from Saudi Arabia, will be participating at the event, adding that it is such an honor to welcome all the Saudi women participants at this event.
"We want to celebrate together all women in the GCC countries. We also hope that through the event, that we support women who did not get an opportunity before and are very talented to exhibit their works and arts on the event's site."
Al Qassab said that the idea of a 250 women-driven motorcade also celebrates Saudi women who obtained their driving licenses for he first time.
https://english.alarabiya.net/en/sports/2018/09/30/Saudi-women-compete-in-Bahrain-Formula-One-circuit.html
--------
Interfaith Women Travel India Promoting Religious Amity
September 28, 2018
Women of different faiths are travelling across parts of India to foster peace and goodwill in their country, which they say is beset by sectarian intolerance and violence.
Some 100 women began their journey — named Batein Aman Ki or Talks of Peace — on Sept. 20. Five caravan groups began from different parts of the country and are scheduled to converge on New Delhi on Oct. 13.
The five caravans, each comprising some 20-25 women, will pass through hundreds of towns, cities and villages with message of peace and unity. Each group aims to address public meetings to stress this ideal, organizers said.
"We are getting very good response from people of all walks of lives," said Joycia Thorat, a Christian social worker and part of the organizing team.
Several rights groups and faith-based women groups — with Christian, Hindu, Muslim, Jain, Buddhist, Parsi and Sikh backgrounds — have joined the program, Thorat said.
"The purpose is to stress the need to uphold the constitutional values of secularism and religious freedom to help harmonious existence of people of different religions in the country," she said.
Rajkumari Durga, a Hindu social worker from northern Rajasthan state and campaign participant, told ucanews.com that India's social situation has worsened after hard-line Hindu groups began attempting to make India a nation of Hindu hegemony.
Last year, 111 people were killed and at least 2,384 injured in 822 cases of sectarian violence, the highest figure in the past three years. In 2016, some 86 were killed and 2,321 injured in 703 incidents of religion-based violence, said an official report released earlier this year.
Opposition parties say the pro-Hindu Bharatiya Janata Party (BJP) encourages a "divisive" policy that supports violence against religious minorities in an attempt to consolidate Hindu majority votes ahead of next year's general elections.
Prime Minister Narendra Modi's BJP controls governments in 19 of India's 29 states but Christian and Muslim leaders say their people face violence and intimidation at the hands of BJP-supporting Hindu groups, who work to make India a Hindu-only nation.
"We are living in a period akin to colonial rule as personal rights and freedom of expression has been under great threat during the past four years," Durga said referring to violence and intimidation meted out to those who criticize the ideology of Hindu-nationhood.
"We are facing a serious threat to our constitutional rights of freedom of expression and religion … from right-wing Hindu groups," said Durga.
She said hard-line Hindu groups are projecting themselves as champions of Hindu interests. "As a Hindu I do not find any threat to the Hindu religion," she said. "I do not think any conversions of Hindus occurs through force or allurement as is alleged."
Such hard-line Hindu allegations that provoke attacks on Christians will be discussed in their numerous public engagements, Durga said.
The events will stress such lies are being used for political purposes, spreading hatred against other religions, she said.
"They spread hatred, and we reply with love," she said.
Shabnam Hashmi, a social activist and Muslim, told ucanews.com the initiative aims to embolden people "to speak their minds on the forces that are out there to destroy us."
"Unless we ourselves are ready to come out for our protection, no one is going to do it for us. It is our humble effort to wake up those in slumber to protect ourselves and generations to come," she said.
Brinelle D'Souza, a professor at Tata Institute of Social Science in Mumbai, told ucanews.com that their mission is "to preserve the secular fabric" of the country and strengthen its "democratic values as enshrined in the constitution."
https://www.ucanews.com/news/interfaith-women-travel-india-promoting-religious-amity/83457
--------
Supreme Court: A Crusade for Women's Rights
SEPTEMBER 30, 2018
The past two years have seen the Supreme Court progressively question patriarchy in religion to ensure emancipation for women, and set the course for the future. But majority decisions in the court continue to take cover behind legal technicalities when it comes to politically-charged cases like the Ayodhya dispute and the arrest of five activists in the Bhima-Koregaon violence case.
The court has not shied away from confronting age-old personal law practices, usages and customs which were considered taboo.
Gender bias
Chief Justice Dipak Misra belled the proverbial cat when he wrote in his main opinion that "historically, women have been treated unequally". No philosophy has so far convinced the large population of this country to open up and accept women as equal partners journey of spirituality, the Chief Justice wrote in the Sabarimala case.
In Sabarimala, the court held that the ban on women, based on their menstrual status, considering them as "polluted" and a distraction for worshippers vowed to celibacy, is a "form of untouchability". In no uncertain terms, the court told the world that India still practices untouchability 63 years after the social evil was abolished under the Untouchability (Offences) Act in 1955.
The fact that the court, despite the changes in Chief Justices, has remained steadfast in its objective to realise the equal status of women in religion was witnessed in October 2016 when a Bench led by then Chief Justice of India T.S. Thakur drew a parallel between the restriction on women worshipping in Sabarimala temple and Mumbai's famed Haji Ali Dargah. Chief Justice Thakur had observed that 'exclusion' is practised by both Hindus and Muslims and the "problem needs to be addressed'".
Hardly a week later, the Dargah Trust conceded before the court that it has resolved to allow women to enter the sanctum sanctorum of the dargah "at par with men".
"Is that not what Your Lordships wanted? Is this not progressive?" senior advocate Gopal Subramanium, for the Trust, asked the Thakur Bench.
The Khehar Court on August 22, 2017 declared the triple talaq unconstitutional and anti-Quran. Justice Kurian Joseph, on the Constitution Bench, held that "Islam cannot be anti-Quran... Triple talaq is against the basic tenets of the Holy Quran, and consequently, it violates Shariat".
Over the past year, the Misra Court has intervened with the Parsi elders to allow Goolrokh Gupta, a Parsi woman, who married outside her faith, to pray at the Tower of Silence for her departed father. It has also referred to a Constitution Bench the question whether the practice of female circumcision or khafz, prevalent in the Dawoodi Bohra sect, amounts to "female genital mutilation" and is a violation of women's right to life and dignity.
However, in the court's decisions in three cases — Aadhaar, Ayodhya and activists' arrests — the dissenting opinions of Justices D.Y. Chandrachud and S. Abdul Nazeer resonate while the opinions of the majority on the Bench led by Chief Justice Misra feel prosaic.
Fighting shy on politics
In the case regarding the arrested activists, the majority opinion shared between Chief Justice Misra and Justice Khanwilkar retains the probe with the Maharashtra Police. The two judges do not address Justice Chandrachud's conclusion that investigation should go to a SIT as there is "prejudice" on the side of the police.
In the Ayodhya case, Justice Nazeer points out the question in the 1994 Ismail Faruqui verdict, whether 'offering prayers in a mosque is an essential part of Islam or not', greatly influenced the Allahabad High Court's judgment to divide the Ayodhya land in September 2010.
The majority opinion of Chief Justice Misra and Justice Bhushan rests comfortably on the conclusion that the observation was confined to the facts of the Faruqui case.
In the majority opinion in the Aadhaar case, the lead opinion by Justice A.K. Sikri holds the right to provide dignity to the poor outweighs the right to privacy. The lead opinion strives for balance even as Justice Chandrachud, in his minority opinion, argues that it is not necessary to sacrifice privacy for dignity.
https://www.thehindu.com/news/national/supreme-courts-challenge-to-patriarchy-has-been-on-going-across-benches-cjis/article25090136.ece
--------
Murders of Trailblazing Iraqi Women Spark Conspiracy Fears
October 01, 2018
BAGHDAD: Over the last few weeks, four go-getting Iraqi women have separately met premature deaths — two falling victim to men firing automatic weapons into their vehicles.
The deaths have sparked fear among women who dare to break the mold and visibly achieve in the conservative country.
The latest to die was 22-year-old social media influencer and model Tara Fares.
Her bloody demise at the wheel of a white Porsche convertible in Baghdad on Thursday has sparked as much debate as her racy photos.
Fares had built an Instagram following of 2.7 million people thanks to edgy fashion shoots, assertive missives and eye-catching, colorful hairstyles.
She also posted publicly about a violent ex-husband and a fiancé who died after being attacked in Istanbul.
But while Fares' fearless embrace of social media inspired many young Iraqis, it upset traditionalists.
Fares was the target of a deluge of online insults over her perceived lack of modesty, in a society where many adhere to hardline interpretations of Islam.
It was this darker side of online platforms that forced the outspoken Fares to quit living in her native Baghdad and spend much of her time in comparatively liberal, secular Iraqi Kurdistan.
Fares is not the only Iraqi fashion and beauty entrepreneur to have met her death in recent weeks.
In August, the managers of Baghdad's two most high-profile aesthetic and plastic surgery centers died in mysterious circumstances.
The first was Rafif Al-Yassiri, whose nickname was Barbie — the same name as her business venture.
A week later Rasha Al-Hassan, founder of the Viola Beauty Center, was also found dead.
Both were found at their homes, and despite ongoing investigations, the causes of their deaths remain undetermined.
But the rumor mill has churned up plenty of theories: drugs, heart attacks and murder.
On Tuesday this week, two days before Fares was shot dead, came the first officially confirmed murder among the spate of suspicious deaths.
In circumstances that foreshadowed the social media star's assassination, activist and businesswoman Soad Al-Ali was shot several times while traveling in a car in the southern city of Basra.
Police opened an investigation and pointed the finger at her ex-husband, who is on the run.
While motivations for the two confirmed murders are far from officially established, women's rights group Amal is deeply concerned.
"Armed groups, tribes, criminal gangs... all these control positions" within the state and security forces, Hanae Edwar said at the NGO's Baghdad office.
The recent assassinations are "threatening messages sent to activists in particular, but also to the whole of society," she said.
"Attacking women who are public figures is a bid to force them to shut themselves away at home," Edwar added.
The authorities have tried to distance themselves from the deaths and provide reassurance.
But Prime Minister Haider Al-Abadi appeared to draw a link between the events in Baghdad and Basra, ordering elite intelligence units to investigate.
In a statement, Abadi cited "evidence suggesting that there is a plan formulated by organized parties to undermine security under the pretext of fighting against depravity."
Safaa Nasser, a stylist speaking under an assumed name who until recently organized fashion shows, said she had already changed her behavior.
"The last few days, my daughters and I go out less and I stay away from the fashion world," she said.
"There are people who don't want Iraq to develop, or for women to be visible. They want to take us backwards."
She urged security forces to investigate the deaths, saying an "organized network" was behind the "premeditated" actions.
"The women I know are saying that their turn will come" to be targeted," she said.
Chillingly, Fares, Yassiri and Hassan all died on Thursdays.
"Every time, this repeats itself," said 29-year-old Hawa Walid, shopping in Baghdad.
"Now, every Thursday, the stress rises."
http://www.arabnews.com/node/1380476/middle-east
--------
300% Jump in Number Of Female Lawyers
Oct 1, 2018
RIYADH — There has been a tremendous increase in the number of women lawyers in the Kingdom in recent years, Minister of Justice Sheikh Waleed Al-Samaani said here on Sunday.
Addressing the Saudi Law Conference, the minister said the number of women who have obtained a license to practice law shot up to 300 percent.
"This shows that women's participation in the legal profession will witness a big leap in coming years and a subsequent promising future for law in the Kingdom," he said.
The minister said there has been a 60% increase in the number of those who have entered the legal profession during the last two years.
Al-Samaani, who is also chairman of the board of the Saudi Bar Association, emphasized that it was high time to focus on the prevention side rather than the therapeutic side of the legal profession.
Preventive law seeks to encourage new methods and concepts for how legal services can be delivered in the future to avoid conflicts and disputes.
"In the concept of providing legal services, the preventive aspect should be given top priority with a serious move to resolving legal problems before they occur, whether in the drafting of legislation or its working mechanisms.
"Many specialists and lawyers may turn to the therapeutic side by providing legal advice but the provision of special preventive legal services such as contract drafting and arbitration will undoubtedly contribute to further development of this profession," he added.
The conference of the Bar Association, which started on Saturday, is discussing a wide range of topics pertaining to the legal profession.
http://saudigazette.com.sa/article/544523/SAUDI-ARABIA/300-jump-in-number-of-female-lawyers
--------
Savola Group Holds Traffic Safety Seminar for Female Employees and Their Families
Oct 1, 2018
AVOLA Group, Saudi Arabia›s largest food products company, have reconfirmed its support for improved road safety, organizing its innovative "Jahiza" initiative to educate female employees, wives and daughters of Savola›s employees.
The launch of the first of its kind campaign was timed to synchronize with the implementation of the historic decree allowing women to drive, and it included a workshop that was held for two days at the group›s headquarters.
Throughout the initiative, which was organized in partnership with Abdul Latif Jameel Motors and in cooperation with Jeddah Traffic Department and Najm Insurance Services under the slogan «Jahza» initiative, included series of awareness-raising workshops on professional driving, traffic rules and regulations in Saudi Arabia, as well as Najm›s procedures for traffic accidents, technical guidance for choosing the right vehicle, changing tires, recharging the battery and installing children›s car seat were highlighted.
Eng. Anees Moumina, Savola Group Chief Executive Officer, said that the 16-hour event, which was held over two days, comes in line with supporting the Saudi Vision 2030 and National Transformation Program which our government aimed at activating the role of women as half of society.
Moumina said the workshops held at Savola Group were exclusive for female workers, spouses of employees and their daughters aged 18 years and over, as part of the company›s continuous efforts to develop its employees, achieve a healthy working environment and support the families of employees as part of group›s social responsibility, as part of its initiatives to raise community awareness.
He appreciated the cooperation of the Traffic Department and the active contribution of Abdul Latif Jameel Automotive Company and Najm in spreading the necessary traffic awareness and how to deal professionally with car driving. — SG
http://saudigazette.com.sa/article/544507/BUSINESS/Savola-Group-holds-traffic-safety-seminar-for-female-employees-and-their-families
--------
URL: https://www.newageislam.com/islam-women-feminism/arab-women-social-media-support/d/116536
New Age Islam, Islam Online, Islamic Website, African Muslim News, Arab World News, South Asia News, Indian Muslim News, World Muslim News, Women in Islam, Islamic Feminism, Arab Women, Women In Arab, Islamophobia in America, Muslim Women in West, Islam Women and Feminism