New Age Islam News Bureau
12 Apr 2018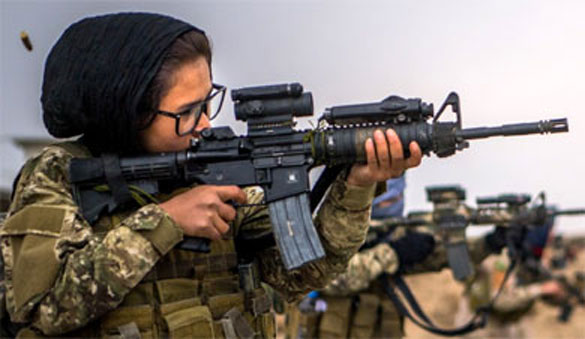 Photo By Staff Sgt. Douglas Ellis | Female Tactical Platoon members fire during a qualification range near Kabul, Afghanistan, Mar. 13, 2018
----
• European, Arab Women Join Hands To Cross Arctic
• Exclusive Judges for Cases of Violence against Women
• Pregnant Sindhi Artist Samina Sindhu Killed During Festive Ceremony
• Women of the Afghan Special Security Forces: Female Tactical Platoon
Compiled by New Age Islam News Bureau
URL: https://www.newageislam.com/islam-women-feminism/arab-women-forum-kicks-off/d/114909
--------
Arab Women Forum kicks off in Saudi Arabia
April 12, 2018
Saudi Arabia is hosting the Arab Women Forum as part of the fourth edition of the Top CEO Conference and Awards, which kicked off yesterday (April 10) and will conclude today at King Abdullah Economic City.
On the first day of the forum, an elite gathering of top female executives, decision makers, professionals, and experts on women empowerment and business leadership gathered at key sessions including 'The Economic Revolution', 'Entrepreneurs' and 'The Community-Based New Economy', among many others.
Julien Hawari, co-CEO of Mediaquest, the company behind the Arab Women Forum, said: "This is an exciting and transformational time for women working in the Middle East, and the ultimate goal of our new forum is to enhance and support the growing contribution of Arab women to drive the region's ongoing economic and social development.
"By providing attendees with a series of engaging keynote speeches and panel discussions, as well as strong networking opportunities, we are empowering women to lead a paradigm shift in the region and improving their potential to claim the senior positions they deserve."
At 'The Economic Revolution' session, attendees engaged in open discussions about the wide-ranging benefits of including of women in the workforce in Arab countries, including boosting the GDP of the region, reducing unemployment, and kick-starting the economy in a new direction.
With credit representing the key constraint to female entrepreneurship in the Arab region and 39 per cent of Arab firms reporting difficulties in this area, the 'Entrepreneurs' session explored the venture capital and investment situation, and debated whether women-led projects should be fast tracked to empower businesswomen.
'The Community-Based New Economy' session questioned whether technologies and the new sharing-based economy could pave the way for Arab women to become active economic members of society. The session also asked what can be done to achieve a more inclusive approach, how female representation can be improved, and what role technology can play.
Faisal J Abbas, editor in chief of Arab News said: "Given the raft of reforms underway in Saudi Arabia, there could not be a more appropriate and meaningful time to host such an event. Arab News has been taking a leading role in both reporting on the changes underway in the Kingdom and pointing out the clear need for women to play key roles in Saudi society, and the many challenges ahead."This conference aims to take this conversation forward — for the benefit of both Saudi Arabia's female workforce and the wider society as a whole."
The Arab Women Forum is supported by Arab News as the official partner of the event. Women's Forum as the supporting partner of the event and Haya magazine as the media partner. – TradeArabia News Service
http://www.tradearabia.com/news/MEDIA_338966.html
--------
European, Arab women join hands to cross Arctic
April 12, 2018
JEDDAH: Twelve women from Europe and the Middle East are on a mission to cross the North Pole.
The joint expedition will set out this month for the Arctic Ocean, an ecosystem that plays an important role in shaping global climate through processes such as oceanic and atmospheric circulation.
The expedition, led by Felicity Aston from the UK, brings together women from countries including France, Sweden, Cyprus and Russia while women from Qatar, Oman, Saudi Arabia and the UAE will form the Middle East contingent. The women will face extreme climate conditions during their expedition, which will contribute to two scientific studies. The studies will help to make interstellar space flight and exploration possible in the future.
The 32-year-old explorer Mariam Hamidaddin joined the team to become the first Saudi woman to cross the North Pole. "I want to explore my own perceived limit and hope to share my story with others, to encourage them to seek out their own calling," she told Arab News.
She said that she had received strong support from friends and family — as well encouraging messages on social media. Hamidaddin said the main obstacle was her own mind: "When skiing for 10-12 hours a day in such extreme conditions with little or no communication with others you are isolated with only your thoughts. You really need to make sure that your thoughts and positive and motivating every step of the way."
This is her first time on an expedition — but many of her experiences have been "first times."
"It proves that with commitment, determination and definitely the right guidance you can take on such challenges," she said.
"Don't let fear be your guide but rather curiosity, passion and love. Work on your mental strength and the words you repeat to yourself, make sure they lift you up and push you forward."
http://www.arabnews.com/node/1283186/saudi-arabia
--------
Exclusive judges for cases of violence against women
Intikhab Hanif
April 12, 2018
LAHORE: The Lahore High Court has approved a request of the Punjab Women Protection Authority for posting of exclusive judges for cases reported at Violence Against Women Centre (VAWC), Multan.
According to officials on Wednesday, a request was submitted by the Punjab Women Protection Authority for notification of judges to exclusively deal with cases registered at the Multan VAWC, under directions by the chief minister.
"The LHC has accepted the request," an official said.
The centre has dealt with over 1,534 cases of violence against women in one year.
According to the official, a family court judge shall serve as a trial court for all cases of the VAWC, whereas appeals will be heard by an additional district and sessions judge.
These would be highly experienced female judges, he said. Previously, the cases were randomly assigned to various judges. Now, they will be given to the nominated judges only.
He said the step was aimed at providing speedy justice to the victims of violence who approached to the VAWC for help.
In the second phase, an amendment is being introduced in the Punjab Protection of Women Against Violence Act (PPWAVA) for the establishment of special courts to deal with cases of violence against women. The courts will be stationed on the VAWC premises and further facilitate the victims.
The first VAWC was established in Multan in March 2017. It is a 24-hour operational, women-run facility that houses the entire justice delivery mechanism under one roof. The services provided at the VAWC include police, medical assistance, prosecutors, free legal aid, counseling and mediation.
The VAWC has been declared a police station having medico legal facility and FIRs are registered there. It also serves as a forensic collection point.
Officials said the major challenge faced by the VAWC was delay in court proceedings. The main reason for the delay was that judges were already overburdened with the cases, they said
A large number of cases of violence against women surfaced in southern Punjab, they added.
The nomination of judges, in the first instance, would greatly help speed up the pace of adjudication, they hoped.
The VAWC was established after the passage of the Punjab Protection of Women against Violence Act (PPWAVA) 2016, introduced by the Strategic Reforms Unit to protect women from all kinds of violence, including domestic violence. It also provides civil remedies to women survivors of violence.
The SRU had also enacted the Punjab Women Protection Authority Act 2017 that regulates the anti-violence centres.
https://www.dawn.com/news/1401101/exclusive-judges-for-cases-of-violence-against-women
--------
Pregnant Sindhi artist Samina Sindhu killed during festive ceremony
APRIL 12, 2018
LARKANA: Sindhi artist Samina Sindhu was killed on Tuesday allegedly by the accused Tariq Ahmed Jatoi while she was serenading the gathering during a festive ceremony at the Kanga village.
The police have registered first information report (FIR) against the accused on the application of Ashique Ali, husband of the deceased artist.
The applicant stated that the accused asked his wife to sing the songs while standing but she refused him saying that she was pregnant. Upon her rejection, he opened fire on her. She was rushed to the Chandka Hospital but she couldn't survive. Her husband has demanded that the FIR should mention that the man who shot her and two of his accomplices are accused of double murder: that of the woman and her unborn child.
Her funeral prayers were offered at Jinnah Bagh where large numbers of artists were present.
Artists held a protest demonstration by placing the body of the deceased at the front of SSP office. While talking to media, Shabana Sindhu, Kanwal, Ashiq Samo, Aziz Sangi and others claimed that instead of the accused police have arrested musicians and tortured them. They demanded 'independent' investigation and warned if the accused were not arrested then they would again lodge a protest.
Meanwhile, the police have arrested the main accused. Larkana SSP has suspended Kanga SHO Liaquat Ali Khajar and appointed Hazoor Bux Junejo as new SHO.
https://dailytimes.com.pk/226883/pregnant-sindhi-artist-samina-sindhu-killed-during-festive-ceremony/
--------
Women of the Afghan Special Security Forces: Female Tactical Platoon
04.12.2018
More than 120 women currently serve in the Afghan Special Security Forces. As the ASSF actively integrate women into their units, the impact of their work is paving the way forward for the next generation of Afghan women.
Training Warriors: The Female Tactical Platoon
Within the ASSF, a small, elite unit of women form the Female Tactical Platoon. Recruited from the Ministry of Defense, Ministry of Interior and, in some cases, focused recruiting from the population, these women support ASSF forces during counterterrorism operations. Operating in a way that is respectful of Islam and the Afghan culture, these soldiers specialize in search, questioning and medical assistance of women and children. They operate in tandem with their male counterparts and assume the same risks and dangers.
"Last year in Bagram, one of the girls was shot by the Taliban. She was injured, and was in shock and I stayed with her and helped her," said one FTP member. "The training we do here helps with our missions."
The FTP operates on a continuous training cycle; the only interruption to their training is mission deployment or leave. Fifteen week-long deployment cycles are the same as the male units. The women serve throughout Afghanistan and routinely deploy to populated areas in provinces such as Balkh, Kandahar and Bagram.
FTP leadership deploys the women on a rotational and volunteer basis. The unit's Pashto speakers are always in demand. The women operate in a 6-woman team; once chosen for an upcoming mission deployment they are required to complete 12 pre-deployment tasks that support the search, medical and questioning requirements, as well as two scenario-based full mission profile training exercises. Before leaving for deployment, the female and male units participate in a combined validation exercise.
Upon completion of all pre-deployment tasks the women receive two weeks of leave. FTP members who are not currently identified for an upcoming deployment train and focus on the platoon's 12 essential tasks in garrison.
The women conduct all training and classes together as a cohort although plans are underway to split the women into two platoons. A Female Training Platoon will focus on recruitment, assessment and training, and a Female Tactical Platoon will focus on upcoming deployments. Both platoons would remain housed together at their current training facility.
This change is noteworthy. In essence, it signifies the Government of Afghanistan's institutional support for the FTP program and a long-term investment in the growth of a unique component of the Afghan Special Security Forces.
According to a NATO Civil Support Team advisor, the Afghan women are already stepping into "trainer" roles for physical training. "We've assigned a few girls to be physical training NCOICs. They make the training, they lead it, and I think that is the next step for them. Being a bit more 'hands off' I think is the goal of every advisor here, and they have a lot of it under control."
Many women in Afghanistan grow up in households where fitness is not a focus, so members of an FTP may have varying levels of endurance and strength. "We try to have girls talk about their real life experiences [on deployment]. Not just the task, but the purpose," said a CST advisor.
Recruiting for FTP
The difficulty in FTP recruiting is similar to most special operations units. The duties of many of the positions within ASSF require additional specialized vetting and training for sensitive mission-sets. The operational requirements of the job require that only the highest quality women are accepted and trained into the program. The women must be literate and willing to endure sometimes austere working environments.
Joining the military or police in Afghanistan is even more daunting for women, and different than other nations according to Lt Col. Tahna Cobra, the first female Afghan Commando.
"It is not easy coming into the military. They go through a lot of challenges before they get here. They don't just come and sign up like every other country," she stated. "A lot of young women, they go through a lot of fighting with their family. A lot of aggravation with their family for a week or two weeks."
The women that do matriculate to the FTP course are tenacious. Many of the FTP embody what one NATO advisor calls the "no quit factor."
"The ones who go slow, but keep chugging along, we can work with that. Right now, we have more 'little engines that can' and we can really work with a woman who just doesn't quit. We've had some who will go until they pass out." she said.
A veteran FTP said, "When I was little, I loved the Army and I wanted to join. I want to help, I wanted to serve my country and my people. I can do that through the FTP, and I can serve the females of Afghanistan also."
"These women are not driven by money. They're not signing up because of the money. They are signing up because of patriotism. They are signing up because now they are allowed to work," said a Gender Advisor for the Ministry of Defense. "They say, 'I need to get rid of terrorists, to make a difference in my country.'"
Deploying Warriors
The FTP understands the importance of their mission. They operate and perform duties that fill a critical gap in the counterterrorism mission, enabling and optimizing ASSF operations.
"I've been with FTP almost two years and I've gone on three deployments," said an FTP soldier. "Bagram was hard because it was the first time for me and we had to walk a mountain. It's now easy."
Another stated, "I've been with the FTP six years. I've deployed so many times I can't remember them all."
"There are very high standards for all of the soldiers in the ASSF" said a NATO Civil Support Team advisor. "The FTP women put a lot on the line to serve – even more so than the other ASSF/ANDSF because they operate in a highly sensitive operational role – and they are making a significant difference."
Another FTP who has deployed numerous times said, "I want to send a message that when were are on a mission, this is what we trained for. We're coming to help you. Don't be scared of us, we are here to help you."
"Everything that is Woman"
While Afghanistan faces obstacles in the road to cultural gender parity, there is cause for hope, according to the FTP members.
"Our purpose is to help our country, to support our family and our community of Afghanistan. People should have an open mind." said a young FTP member. "Women can leave their family for work. We are equal and we have a right to serve our country."
"I'm proud of my effort and of my country people; their mind and hearts are opening day by day," said an enthusiastic young FTP.
"We need the girls. We need FTP," said a female operator. "The reason is, we have to serve women and if women join the Army or FTP, that's a good thing because they can serve everything that is women."
https://www.dvidshub.net/news/272750/women-afghan-special-security-forces-female-tactical-platoon
--------
URL: https://www.newageislam.com/islam-women-feminism/arab-women-forum-kicks-off/d/114909
New Age Islam, Islam Online, Islamic Website, African Muslim News, Arab World News, South Asia News, Indian Muslim News, World Muslim News, Women in Islam, Islamic Feminism, Arab Women, Women In Arab, Islamophobia in America, Muslim Women in West, Islam Women and Feminism