New Age Islam News Bureau
17 May 2022
• Kenyan Woman, Martha Karua, In Running For Post Of Deputy President In Historic First
• French City Approves Muslim Swimsuit After Controversial Pool Rule Change
• Female Government Employees In Afghanistan Demand Freedom To Work
• Princess Reema Receives Honorary Doctorate From Marymount University
• Women's Tennis Association Adds Tournament In Tunisia Following Ons Jabeur's Success
• Very Good News For Girls' Education In Afghanistan Soon, Says Afghanistan's Interior Minister
• Woman Seeks Intervention In SC In Plea Against 'Talaq-E-Hasan'
• Pakistan Diplomat Dismissed Over Charges Of Harassing Woman Colleague
Compiled by New Age Islam News Bureau
URL: https://newageislam.com/islam-women-feminism/arab-forum-dubai-princess-reema/d/127027
-------
Arab Women Forum Kicks Off In Dubai; Princess Reema Bint Bandar Al Saud Speaks On Women In The Workplace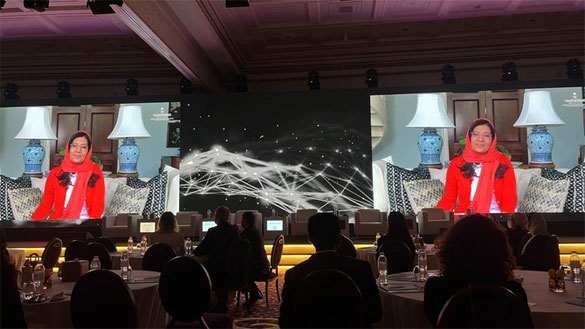 (AN photo)
----
May 17, 2022
DUBAI: Saudi Ambassador to the United States Princess Reema bint Bandar Al Saud speaks at Arab Women Forum on women in the workplace.
Assistant Editor-in-Chief, Arab News Noor Nugali moderates the Storytellers From The War Front session at the Arab Women Forum, Dubai, featuring Skynews reporter Arizh Mukhammed and Alhadath Senior News Anchor Christiane Baissary.
There is a common misconception that women are not suited for war coverage as people think women are emotional and sensitive compared to men, Baissary told the forum.
"A soldier told me that women should not cover in the war zone. He was trying to convince me that I should not stay to cover the war, it's not the mentality in the Middle East but everywhere," said Baissary.
Baissary noted that things have changed now, and women are currently getting more chances to cover wars.
During the session, Skynews reporter Arizh Mukhammed said that fear will be there in the minds of reporters as they cover from the war front.
"Your courage must have limits. When you are going to cover war, you have your fears, but they must be put under control," said Mukhammed.
She also added that women differ from men in war reporting as they create humanitarian journalistic materials.
Source: Arab News
https://www.arabnews.com/node/2083596/business-economy
--------
Kenyan Woman, Martha Karua, In Running For Post Of Deputy President In Historic First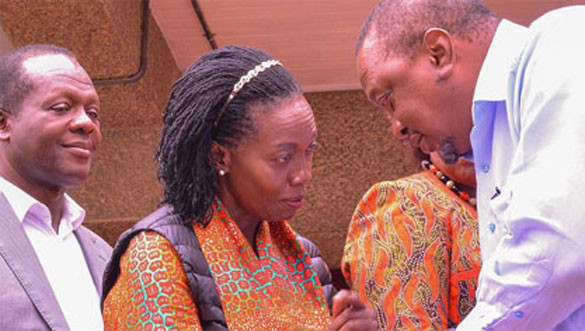 Martha KaruaPhotographer: SOPA Images/Getty Images
----
Andrew Wasike Shimanyula
17.05.2022
NAIROBI, Kenya
As Kenya gears up for general elections on Aug. 9, the East African nation may get its first female deputy president after one of the leading presidential candidates picked a woman as his running mate.
Martha Karua was named as the preferred deputy presidential candidate by Kenya's opposition leader and former Prime Minister Raila Odinga, who is running for the presidency.
Odinga, 77, who is the candidate under the Azimio la Umoja One Kenya Alliance party, announced Karua, 64, as his running mate at the Kenyatta International Convention Centre, calling her "a fighter and not a quitter."
"History is calling us to produce our first female deputy president. This woman has a beautiful soul, as exhibited by her love for her children and grandchildren. She will make a great co-worker," Odinga said.
Odinga lauded her for being appointed as a magistrate at the age of 24 and going ahead to become one of the youngest female lawmakers in her later years.
In her nomination acceptance speech, an elated Karua said Monday that "this a moment for Kenyan women. Women are instrumental in pursuing change, and this is why this is the moment to usher more women in at the national and county level to these leadership positions."
"I am ready, able and willing to work with you – Raila Odinga – [and] I will not let you down because I will be diligent in pursuit of our common dreams."
Source: Anadolu Agency
https://www.aa.com.tr/en/africa/kenyan-woman-in-running-for-post-of-deputy-president-in-historic-first/2589920
--------
French City Approves Muslim Swimsuit After Controversial Pool Rule Change
May 17, 2022
Grenoble, France: The French city of Grenoble on Monday authorised the wearing of the so-called "burkini" by Muslim women in state-run swimming pools, reigniting one of France's most contentious debates on religous dress.
The all-in-one swimsuit, used by some Muslim women to cover their bodies and hair while bathing, has become a controversial talking point during the holiday season in recent years.
Seen as a symbol of creeping Islamism by its critics and an affront to France's secular traditions, many right-wingers and some feminists would like to ban it outright.
It is prohibited in most state-run pools -- for hygiene, not religious reasons -- where strict swimwear rules apply to all, including men who are required to wear tight-fitting trunks.
The move applies across the board, meaning men will able to wear long shorts and women can also bathe topless in the Alpine city's pools.
Grenoble's mayor, Eric Piolle, one of the country's highest profile Green politicians who leads a broad left-wing coalition at the city council, has championed the move but run into a fierce campaign of opposition.
He managed to rally enough votes at a city council meeting to approve the measure, despite not having the support of his own EELV party which distanced itself from the measure.
It was carried by the slimmest of margins with 29 votes for, 27 against and 2 abstentions after two-and-a-half hours of tense debates.
"All we want is for women and men to be able to dress how they want," Piolle told broadcaster RMC Monday.
Opponents see it differently, including the influential conservative head of the wider Auvergne-Rhone-Alpes region, Laurent Wauquiez, who has promised to withdraw funding from the city.
"I am convinced that what Mr Piolle is defending is a dreadful dead-end for our country," Wauquiez said at the beginning of May, accusing him of "doing deals with political Islam" to "buy votes".
At the council meeting the former right-wing mayor Alain Carignon urged a local referendum on the issue.
"You can't force through such a sensitive subject. You have no legitimacy, you weren't elected for that," he said.
- 'Harm to Republican values' -
The regional spat has put the burkini back in the headlines nationally, animating French talk shows and the political class ahead of parliamentary elections next month.
The issue of how people dress for the pool touches on highly sensitive topics in France, including fears about the influence of Islam and threats to the country's cherished secularism.
"It seems to me that [mayor Piolle] doesn't realise the harm he is doing to our Republican values," Prisca Thevenot, a spokeswoman for President Emmanuel Macron's party, told Radio J on Monday.
"This would be breaking with the rules to respond to political desires based on religion," she added.
Attempts by several local mayors in the south of France to ban the burkini on Mediterranean beaches in the summer of 2016 kicked off the first firestorm around the bathing suit.
The rules, introduced after a string of terror attacks in France, were eventually struck down as discriminatory.
Three years later, a group of women in Grenoble caused a splash by forcing their way into a pool with burkinis, leading the prime minister at the time to insist that the rules should be followed.
French sports brand Decathlon also found itself at the centre of a similar row in 2019 when it announced plans to sell a "sports hijab" enabling Muslim women to cover their hair while running.
Grenoble is not be the first to change its rules, however.
The northwestern city of Rennes quietly updated its pool code in 2019 to allow burkinis and other types of swimwear.
The debate about the burkini comes as French Muslim women footballers are battling to overturn a ban on the wearing of religious symbols during competitive matches.
The French Football Federation currently prevents players from playing while wearing "ostentatious" religious symbols such as the Muslim hijab or the Jewish kippa.
A women's collective known as "les Hijabeuses" launched a legal challenge to the rules in November last year.
Source: ND TV
https://www.ndtv.com/world-news/french-city-grenoble-reignites-debate-over-burkini-after-pool-rule-change-2982027
--------
Female government employees in Afghanistan demand freedom to work
16 May, 2022
Kabul [Afghanistan], May 16 (ANI): Saying that they face an uncertain fate, the female government employees in Afghanistan have demanded from the Taliban regime to be allowed to continue working in their respective departments, a media report said.
"We are facing a complicated and unknown future. We don't have any plan and we don't know what we should do. The colleagues with whom I am in contact are also facing an uncertain future like me," Rukhsar Nazari, a government employee said as reported by The Frontier Post said.
Nazari graduated from the faculty of law and politics and has worked for more than 10 years in government and non-government organizations, the report said. Rukhsar said she has become jobless like many other female government employees after the fall of the government in August last year.
The Taliban regime maintains that women employees have not been dismissed but were instead told to stay at home and their salaries will be paid.
"The women are working in some of the government departments such as the Ministry of Public Health, at Kabul Airport, and in other departments. All the progress being made is based on needs and demands," Bilal Karimi, deputy spokesperson of the Taliban said as reported by The Frontier Post.
The report said further that women's lack of access to work is causing a surge in family violence and an increase in mental pressure among women.
"The women studied to reach a good position in life, they have experience, but unfortunately they are placed at their homes now," Saira Saba Alimyar, a women's rights activist was quoted as saying.
"The Taliban must understand that they cannot have a developed Afghanistan by excluding half of the population. They should have a policy of engagement and acceptance and interaction with the Afghan society," said Marriam Marouf, another female right activist reportedly said. (ANI)
Source: The Print
https://theprint.in/world/female-government-employees-in-afghanistan-demand-freedom-to-work/958718/
--------
Princess Reema receives honorary doctorate from Marymount University
May 16, 2022
WASHINGTON — Saudi Arabia's Ambassador to the United States Princess Reema Bint Bandar received an honorary doctorate from Marymount University.
Princess Reema tweeted on Sunday: "It was my absolute honor to receive an honorary doctorate, thank you to the faculty and Dr. Becerra for this special day."
Princess Reema pointed out that Marymount University hosts Saudi students like other American universities.
Princess Reema is the first woman to serve as an ambassador for the country. She was born in Riyadh in 1975. Her father is Prince Bandar Bin Sultan.
Princess Reema grew up in Washington as a result of her father's job as the Kingdom's Ambassador there from 1983 to 2005. She graduated from George Washington University in 1999 with a degree in museum studies and archeological preservation.
Princess Reema received a number of awards and honors, such as Sayidaty Award for Excellence and Creativity in 2018, and the Mohammed Bin Rashid Al Maktoum Award for Creative Sports in 2017.
Forbes Middle East named her one of the most powerful women in the Arab world in 2014. She was awarded the most innovative person in the world by Fast Company in the same year.
She was included in the list of leading global thinkers issued by the prestigious American magazine Foreign Policy in 2014, and she was also chosen to join the World Economic Forum's "Young Global Leaders" program in Davos, Switzerland, for her achievements in the domains of development and leadership.
Source: Saudi Gazette
https://www.saudigazette.com.sa/article/620562/SAUDI-ARABIA/Princess-Reema-receives-honorary-doctorate-from-Marymount-University
--------
Women's Tennis Association adds tournament in Tunisia following Ons Jabeur's success
Adam Lucente
May 16, 2022
The Women's Tennis Association (WTA) announced today an upcoming tournament in Tunisia.
The association, which governs women's professional tennis, released its updated tournament schedule. The additions include the WTA 250 Jasmin Open Tunisia, which will take place in the coastal city Monastir on Oct. 3.
Why it matters: The decision followed recent success by Tunisian tennis player Ons Jabeur, who reached six in the world in the WTA's rankings this month. She reached the finals of the Italian Open in Rome yesterday, losing to world No. 1 Iga Swiatek.
Jabeur is the top-ranked female player in the Middle East and North Africa, and encourages more Arab women to pick up rackets. Her rise has been heavily covered in Tunisian media.
What's next: The Italian Open is a warmup to the French Open, which is one of tennis' four Grand Slam tournaments played each year. Both tournaments are played on a clay surface.
The main draw of the French Open will begin on May 22 and conclude on June 5. Jabeur lost in the fourth round of the tournament last year.
Source: Al Monitor
https://www.al-monitor.com/originals/2022/05/womens-tennis-association-adds-tournament-tunisia-following-ons-jabeurs-success
--------
Very Good News For Girls' Education In Afghanistan Soon, Says Afghanistan's Interior Minister
May 17, 2022
Afghanistan's interior minister promised "very good news" soon on the return of girls to secondary schools, in a rare interview broadcast Monday by CNN. At the end of March, the Taliban, who took power after US forces withdrew from the country last August, closed high schools and colleges for girls just hours after their reopening.
The unexpected reversal, ordered by Hibatullah Akhundzada, the supreme leader of the Taliban and of the country, outraged many Afghans and the international community.
"I would like to provide some clarification. There is no one who opposes education for women," said Interior Minister Sirajuddin Haqqani, long one of the most secretive Taliban leaders and who only showed his face in public for the first time in March.
He argued that girls could already go to primary school. "Above that grade, the work is continuing on a mechanism" to allow girls to attend secondary school, he said in his first televised interview.
"Very soon you will hear very good news about this issue," he said.
Haqqani hinted that the "mechanism" was linked to school dress codes, explaining that education should be based on Afghan "culture" and "Islamic rules and principles," and referred "more broadly" to the issue of women wearing the hijab.
After their return to power, the Taliban demanded that women wear at least a hijab, a scarf covering the head but revealing the face.
But since the beginning of May, they have instead forced them to wear a full veil in public and preferably a burqa, which had been compulsory when they first ran the country between 1996 and 2001.
"If someone is giving away their daughters or sisters, they do that based on total trust," he said.
"We must establish the conditions so that we can ensure their honour and security. We are acting to ensure this."
The Haqqani network that was founded by his late father and which he now heads is accused of carrying out some of the most violent attacks perpetrated by the Taliban in Afghanistan in the past 20 years.
Sirajuddin Haqqani himself is still on the FBI's most-wanted list, with a $10 million reward for any information that could lead to his arrest.
On CNN, the minister said that "the last 20 years was a situation of defensive fighting and war" but that he wanted in the future "to have good relations with the United States and the international community."
"We do not look at them as enemies," he said, insisting that the Taliban intends to respect the agreement signed with Washington in 2020, in which they pledged not to let Afghanistan become a haven for terrorists targeting Americans again.Live TV
Source: India Today
https://www.indiatoday.in/world/story/girls-womens-education-in-afghanistan-schools-shut-taliban-1950296-2022-05-17
--------
Woman seeks intervention in SC in plea against 'Talaq-e-Hasan'
16th May 2022
NEW DELHI: A woman has moved the Supreme Court against a petition seeking to declare 'Talaq-e-Hasan' and all other forms of 'unilateral extra-judicial talaq' as void and unconstitutional.
The plea, seeking intervention, filed by one Qurrat Ul Ain Latif, said the original applicant has benefitted from extra-judicial divorce permissible under the Shariat and that she was able to exit from a bad marriage without having to go to the court and add to the pendency of judicial proceedings.
"The applicant is filing the present application for the limited purpose of demonstrating to this Hon'ble Court that a Writ Petition with broadly the same issue is pending before the Hon'ble High Court of Delhi where notice has been issued."
"Therefore, the Petitioner may be well advised to urge her grounds before the High Court, which is seized of the issue. It is stated, if the High Court gets the first chance to adjudicate, then the party retains a valuable right to appeal," the plea seeking intervention said.
The original petition, filed by Ghaziabad resident, Benazeer Heena, who claimed to be a victim of "unilateral extra-judicial Talaq-E-Hasan", also sought a direction to the Centre to frame guidelines for neutral and uniform grounds of divorce and procedure for all citizens.
In Talaq-e-Hasan, talaq is pronounced once a month, over a period of three months.
If cohabitation is not resumed during this period, divorce gets formalised after the third utterance in the third month.
However, if cohabitation resumes after the first or second utterance of talaq, the parties are assumed to have reconciled.
The first/second utterances of talaq are deemed invalid.
The petitioner, who claimed to have been given such a divorce, contended that the police and authorities told her that Talaq-e-Hasan is permitted under Sharia.
"The Muslim Personal Law (Shariat) Application Act, 1937, conveys a wrong impression that the law sanctions Talaq-E-Hasan and all other forms of unilateral extra-judicial talaq, which is grossly injurious to the fundamental rights of married Muslim women and offends Articles 14, 15, 21 and 25 of the Constitution of India and the international conventions on civil and human rights," the petition, filed by advocate Ashwani Kumar Dubey, submitted.
Source: New Indian Express
https://www.newindianexpress.com/nation/2022/may/16/woman-seeks-intervention-in-sc-in-plea-against-talaq-e-hasan-2454330.html
--------
Pakistan diplomat dismissed over charges of harassing woman colleague
May 15, 2022
A Pakistani diplomat was dismissed from foreign service on Sunday over charges of harassing a woman official during his stint as head of mission in Italy in 2018, Express Tribune reported.
Pakistan's Federal Ombudsperson for Protection against Harassment, Kashmala Tariq ordered the dismissal of Riyaz after the allegations of harassment were proved. He was also slapped with a fine of 50 lakh Pakistani rupees, which would be paid to the complainant, a Grade 20 officer in the Ministry of Commerce.
In her complaint, the woman said she was stationed at the Pakistani mission in Italy headed by Riaz in 2018. She claimed that the senior diplomat asked her to visit other cities in other countries, which was not related to her job profile.
She also alleged that the ambassador also forced her to keep her residence near his official home. Riyaz, who retired from foreign service and is now the president of Institute of Regional Studies, a think tank of the Pakistan foreign ministry, allegedly forced the woman to listen to his stories on a daily basis, which had objectionable content.
According to another Pakistan website Samaa TV, the woman alleged she was insulted by her boss and was forced to return to Pakistan before the completion of the three-year-term.
The ombudsmen directed that a copy of decision be sent to the ministry of foreign affairs within seven days, the Pakistan website reported.
Source: Hindustan Times
https://www.hindustantimes.com/world-news/pakistan-diplomat-dismissed-over-charges-of-harassing-woman-colleague-101652623258114.html
--------
URL: https://newageislam.com/islam-women-feminism/arab-forum-dubai-princess-reema/d/127027
New Age Islam Islam Online, Islamic Website, African Muslim News, Arab World News, South Asia News, Indian Muslim News, World Muslim News, Women in Islam, Islamic Feminism, Arab Women, Women In Arab, Islamophobia in America, Muslim Women in West, Islam Women and Feminism