New Age Islam News Bureau
26 Sept 2019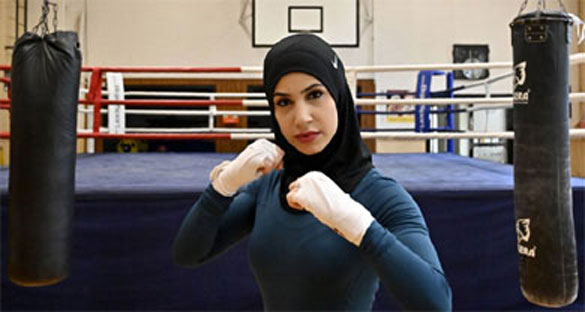 Berlin boxer Zeina Nassar's fighting spirit has won her plenty of titles, but her battle to wear the hijab in the ring has also made her an equal opportunity champion. -- AFP photo
------
• French Education Minister Said He Wanted To Avoid Having Mothers In Hijab As Volunteers On School Outings
• Legalizing Polygamy Will 'Guarantee' Women's Rights in Russia, Moscow's Muslim Leader Says
• Muttahida Majlis Amal Female Lawmaker Adamant on Veil For Female Students In Peshawar
• German Woman Boxer's Fight to Wear Hijab In The Ring
• Empowering Women In Yemen's Civil War
• A Northern Virginia Muslim Woman Sues, Says Prayer Break Request Cost Her Potential Job
• UP Government Will Give an Annual Pension Of Rs 6,000 to The Triple Talaq Victims
• No Fines For Niqab Wearers but Muslim Women Report More Verbal Attacks
• Jewish, Muslim and Christian Leaders In Italy Fight Violence On Women
• Afghan Women Fear Mandatory Poll Photos Could Stop Them from Voting
• Artist Displays 440 Pairs of High Heels For Women Murdered In Turkey In 2018
Compiled by New Age Islam News Bureau
URL: https://www.newageislam.com/islam-women-feminism/arab-women-fight-back-online/d/119841
--------
Arab Women Fight Back Against Online Sexual Harassment
Olivia Cuthbert
25 Sep 2019
Sexual harassment is scary for victims on the street, but it can be just as intimidating online. Now women's rights campaigners, nongovernmental organizations, and universities are fighting harassment in the same digital space to protect users against a growing number of threats online.
For Nadyn Jouny, online harassment began in 2014 with anonymous messages. "He told me he loved me and wanted to sleep with me," she recalls. Since then the same individual has messaged her daily, or weekly, for five years. "He sends me Ramadan greetings and birthday wishes one day, then tells me his physical desires the next. He knows I am married and a mother but says he still wants to have sex with me," the 29-year-old woman said.
As a prominent women's rights campaigner in Beirut, Jouny, who works with the gender equality organization Abaad, is regularly the target of online harassment. She receives two to three messages a day, or up to 20 if she posts on Facebook. Sometimes she gets tired of waking up to explicit photos of men's private parts and messages threatening rape. "Then I tell them how sick and ridiculous and abusive they are."
Jouny calls out some harassers by re-posting their messages publicly. However not all women feel safe sharing their experiences in Lebanon, where they can be shamed into silence by a society that, Jouny says, finds ways to justify harassment. "Sometimes girls send me screen shots about a message they receive and ask me to post it anonymously on their behalf because they want to warn other women."
A Problem Shared
Other countries in the region have seen a similar surge in online harassment but the scarcity of data makes it difficult to counter attack. "It's a reality that really haunts women, usually as a way of excluding them from a space and intimidating them into staying away," says Rothna Begum, a women's rights researcher at Human Rights Watch for the Middle East and North Africa region.
A woman could be targeted as a result of politically motivated attempts to discredit female leaders, to undermine women's rights campaigners, or because a vengeful former partner wants to blackmail the victim into marriage or threaten her with "revenge porn." Women are especially susceptible in the Middle East and North Africa region, where they are often seen as vessels of family honor, Begum said.
Research conducted by the Arab Centre for the Development of Social Media found that one-third of young Palestinian women experience online sexual harassment. In Morocco, a rise in online harassment was highlighted by a government survey this year. But if a culture of silence surrounding gender-based violence prevented many victims from speaking out in the pre-digital era, some women are now using their own online presence to fight back.
"Once a woman starts being harassed she will go on her social media page and expose the perpetrator so that other women can protect themselves and block that account," said Alia Awada, who works with Abaad. "The most powerful thing when you report is the solidarity online. This will create an online safe space and encourage other women to speak about these incidents."
Anti-harassment hashtags such as #NotYourHabibti in Palestine, #AnaKaman (#MeToo) and #Ismaani (#HearMeToo), have accelerated this trend, inspiring a growing number of women to share their experiences.
"Global initiatives, including #MeToo, #TimesUp and many others, are seeking to make perpetrators pay with tarnished reputations and jail time for what they have done," said Janneke van der Graaf-Kukler, regional director for the Arab states at UN Women. "This is an opportunity to end the culture of silence and put the survivors at the center of the response."
Student and University Support
In 2017, the American University of Beirut launched #MeshBasita ("It's not OK"), a six-week social media campaign to challenge sexual harassment. Videos linked to the project went viral as women and men embraced the opportunity to voice support online.
The university recently expanded its policy toward cyber harassment. "We felt that it was something that needed to be specifically addressed," said Mitra Tauk, a coordinator at the Equity and Title IX Office, which oversees nondiscrimination and anti-harassment initiatives. Social media has become a primary means of communication for young people, she said, so it's increasingly important that they know how to protect themselves online.
Having a clear policy defining sexual harassment and the consequences for the perpetrators is crucial. "It creates a safer environment all-round," said Tauk. "Perhaps a person will think twice before committing misconduct of this kind if there's a strict policy in place. It also makes it easier to spot misconduct and moves it away from the gray zone where people are unsure whether that post on Facebook or WhatsApp message is OK or not."
Rasha al Rayess, a student at the Lebanese American University, said that institution's strict code of conduct helps to establish a safe environment for students. "What needs to change," she said, "are the laws and policies beyond our private universities. Unfortunately, although a lot of campaigns and initiatives have been implemented in Lebanon, the country's government still doesn't tackle this matter seriously."
A bill criminalizing sexual harassment in Lebanon was proposed in 2017 but has not been made into law.
In Egypt, the Supreme Council of Universities has ruled that every university in the country must establish a unit dealing with harassment and violence against women. "It's a great step towards creating safer spaces for women in our educational institutions," said Enas Hamdy, executive director at HarassMap, an Egyptian organization working on fighting sexual harassment and building a society that guarantees the safety of all people from sexual and gender based violence. (See a related article "The Fight Against Sexual Harassment on Arab Campuses.")
In 2014, footage of a female student being whistled and jeered at by crowds of men as she walked across campus at Cairo University went viral on social media. HarassMap now has teams of volunteers in education institutions across the country as part of its Safe Schools and Universities program, which targets harassment from students and teachers. "Women and girls are becoming more aware about their right to speak about and report what they experience," Hamdy said.
Legal Matters
The same year, the Egyptian government amended its Penal Code to include penalties against sexual harassment. Other countries, including Tunisia and Morocco, have since taken similar steps. Morocco's 2018 law on violence against women is one of the few that identifies cyber harassment as a crime. In Jordan, which has seen a rapid rise in online crimes, particularly towards women, a level of legal protection is provided by the controversial Cyber Crimes Act.
But women's rights advocates say those laws often fall short of what's needed to protect women. The Sisterhood Is Global Institute, a Jordanian women's rights organization, said not enough women are aware of the new law and thus are still not reporting harassment. In addition, some weak provisions of the law need to be strengthened. The organization has outlined the diversity of forms that sexual harassment crimes can take: cyber stalking, revenge pornography, morphing (editing pictures to embarrass the victim) and email spoofing to deceive the recipient about the identity of the sender.
While online technology has been a liberating force in some ways, it can be a "double-edged sword," said Rothna Begum of Human Rights Watch. "Domestic violence can also be done online, when families scrutinize a woman's behavior more closely by monitoring their phone and apps."
A 2016 BBC investigation into shame, honor and blackmail in the digital sphere showed how online technology has exacerbated some of the existing problems women face in the Middle East and North Africa region. It tells the story of 18-year-old Ghadeer in Egypt, who sent a video of herself dancing at home in a strappy dress to her boyfriend. When the relationship ended, he posted it on YouTube. Ghadeer refused to be intimidated and posted the video on her own Facebook page, stating that she had no reason to be ashamed. (She was at home with friends, he wasn't there at the time.)
But last month saw a tragic reminder of the unforeseen risks women can face online when a young Palestinian woman became the victim of a suspected "honor" killing in the occupied West Bank. Twenty-one-year-old Israa Ghrayeb was allegedly tortured and beaten to death by her brother after posting a video of herself on an outing with her fiancé ahead of the wedding.
"We need to deal with the root issue of discrimination against women," Begum said. She added: "For young women in particular, it's a scary world. They are now exposed in a way where, if they are sharing pictures, this can be used against them and they may not realize what's coming."
https://www.al-fanarmedia.org/2019/09/arab-women-fight-back-against-online-sexual-harassment/
--------
French Education Minister Said He Wanted To Avoid Having Mothers In Hijab As Volunteers On School Outings
25 Sep 2019
A fresh political row has erupted over the Muslim headscarf in France after the education minister said he wanted to avoid having mothers in hijab as volunteers on school outings.
Jean-Michel Blanquer criticised the country's largest parents association for using a picture of a mother in a headscarf on a pamphlet under the words: "Yes I go on school trips, so what? Secularism is about welcoming all parents without exception."
Blanquer told BFMTV that even though French law did not ban mothers in headscarves from going on school trips as volunteers, he wanted to avoid this "as much as possible". He said he encouraged "dialogue" in which headteachers would ask mothers to remove their scarves. He said the parents association had made a "regrettable" mistake by using the picture.
The parents association that produced the pamphlet, the FCPE, said the minister was wrong. Its co-president Rodrigo Arenas said: "We're on the side of the law and we're simply here to inform parents of their rights.
"The country's state council has ruled that parents are free to wear what they like. This means mothers on school trips can wear headscarves. And yet there are still school trips in France which are cancelled by teachers who won't allow mothers in headscarves to accompany children.
"We protect parents' rights. Secularism in France is about including people, not excluding them."
Teachers in France regularly ask for parents to volunteer to accompany school outings to museums or galleries. But there has been political debate and counter-protests over whether volunteer mothers in headscarves should be excluded in the name of French secularism.
There is no law preventing a Muslim mother in a headscarf from accompanying a school trip. The state council ruled in 2013 that mothers outside school were not affected by the strict neutrality rules for state workers such as teachers or hospital staff who cannot wear any religious symbols in the workplace, including headscarves and turbans.
The French republic is built on a strict separation of church and state, intended to foster equality for all private beliefs. In theory, the state is neutral on religion and allows everyone the freedom to practise their faith as long as there is no threat to public order.
But the row is the latest political standoff over Muslim women's dress in France, where the headscarf has long been a political issue. Girls have been banned from wearing head coverings in state schools since 2004, along with other religious symbols.
Under the rightwing president Nicolas Sarkozy, the education ministry issued a memo in 2012 recommending schools uphold the "neutrality of public service" on school trips, meaning mothers in hijabs should take off their head coverings if they wanted to help. The memo left schools free to decide. As a result some barred mothers in headscarves and others did not.
At the time, mothers' groups protested against women in headscarves being prevented from boarding coaches on school trips. Parents' representatives in some parts of France said mothers in headscarves were so active in volunteering to help with school projects that excluding them meant outings could not happen.
This year, rightwing senators voted to add a clause to a new education law to ban mothers in headscarves going on school trips, but a cross-party parliamentary commission altered the amendment.
The FCPE also announced it would take legal action for incitement to hatred against Laurent Bouvet, a university professor who founded an association called Printemps Républicain to defend secularism and who sits on an advisory body on secularism in education.
Bouvet had shared on social media a parody of the flyer replacing the woman in a headscarf with jihadis carrying guns.
Aurélien Taché
✔
@Aurelientache
Une plainte justifiée. Plein soutien à la @FCPE_nationale qui elle connait la réalité de terrain et agit vraiment pour nos enfants. Cette stigmatisation ne peut plus être tolérée. http://www.leparisien.fr/societe/affiche-sur-les-meres-voilees-en-sortie-scolaire-parodiee-la-fcpe-porte-plainte-24-09-2019-8158866.php …
Affiche sur les mères voilées en sortie scolaire parodiée : la FCPE porte plainte
La principale fédération de parents d'élèves attaque un membre du conseil des sages de la laïcité, qui relaie une parodie controversée de sa
leparisien.fr
1,425
1:56 AM - Sep 25, 2019
Twitter Ads info and privacy
1,181 people are talking about this
Aurélien Taché, an MP from Emmanuel Macron's party, La République En Marche, said he fully supported the FCPE, adding: "This stigmatisation can no longer be tolerated."
Bouvet said: "Of course I do not incite hatred against Muslims." He said the pamphlet was a "nonsense" and the FCPE was engaging in "political posturing" to win votes weeks before election season for school representatives.
https://www.theguardian.com/world/2019/sep/25/french-education-minister-reignites-row-over-muslim-headscarf
--------
Legalizing Polygamy Will 'Guarantee' Women's Rights in Russia, Moscow's Muslim Leader Says
Sep 26, 2019
Russia can overcome its gender-related issues by legalizing polygamy, the leader of Moscow's Muslims has said.
Polygamy, the practice of taking more than one spouse, is frowned upon by an overwhelming majority of Russians. While polygamy is not permitted under Russian law, it remains commonplace in the country's predominantly Muslim republics of the North Caucasus.
"Legalizing polygamy would guarantee women's rights," Ildar Alyautdinov, the mufti of Moscow, was quoted as saying by the state-run RIA Novosti news agency Wednesday.
Pointing to official data that shows women outnumbering men by 10 million in Russia, he stressed the importance of a "legislative-level protective mechanism for women to become full-fledged second wives."
"[Polygamy] will help solve many social woes. Additionally, there'd be much less sinfulness and fornication that's spreading so rapidly," Alyautdinov was quoted as saying.
Alyautdinov's controversial comments follow Russia's grand mufti Ravil Gainutdin telling state television Monday that men in the country's majority-Muslim regions should be allowed multiple wives to tackle cheating.
Legal polygamy would "open a Pandora's box," Irina Kirkora, the executive secretary of President Vladimir Putin's human rights council, told RIA Novosti on Wednesday.
The United Nations' convention on ending discrimination against women says that polygamy should be discouraged and outlawed because such marriages are unequal and have negative impacts on women and children.
https://www.themoscowtimes.com/2019/09/26/legalizing-polygamy-will-guarantee-womens-rights-in-russia-moscows-muslim-leader-says-a67444
--------
Muttahida Majlis Amal Female Lawmaker Adamant on Veil For Female Students In Peshawar
Sep 25, 2019
PESHAWAR: Muttahida Majlis Amal (MMA) MPA Rehana Ismail on Wednesday submitted an adjournment motion in the Assembly Secretariat seeking restoration of the decision ordering female students wear a veil in Peshawar.
She claimed that the decision was widely appreciated by the opposition, as well as parents, teachers and civil society members who deemed it a religious obligation. "Islam does not mention anything about men's clothing so they can wear pants, shirts and ties but it stresses on the veil for women," she added.
Pakistan, she said came into being in the name of Islam but the KP government took back a decision. The female lawmaker claimed that the action was against religion and demanded the provincial government to review its decision and make it obligatory for female students to follow a dress code according to what t.
It is worth mentioning here that the Peshawar district education officer (DEO) for females had issued a circular addressed to the heads of all government girls schools, directing them to "properly follow school timings and instruct all students to wear the gown/chador to veil/conceal/cover themselves whereas adviser to the chief minister on elementary and secondary education, Ziaullah Bangash had claimed that "covered bodies would protect them from unethical incidents".
https://www.pakistantoday.com.pk/2019/09/25/kp-female-lawmaker-adamant-on-veil-for-of-female-students/
--------
German Woman Boxer's Fight to Wear Hijab In The Ring
26 Sep 2019
Berlin boxer Zeina Nassar's fighting spirit has won her plenty of titles, but her battle to wear the hijab in the ring has also made her an equal opportunity champion.
Today, the 21-year-old, who discovered female boxing by watching online videos as a teenager, is a German amateur featherweight champion and dares to dream of Olympic glory.
Her path so far took all the determination she could muster, Nassar told AFP, sipping an iced coffee at a cafe in Berlin's Kreuzberg district, where she grew up.
"It was as if I had to prove twice as much because not only am I a woman who boxes, but I also wear the headscarf," she said, during a break between gruelling training sessions.
"In the end it made me stronger," she laughed, her made-up face known to countless Instagram fans framed by a pastel-coloured floral headscarf, sunglasses perched on top.
Next year's Tokyo Olympics and then the Paris Games in 2024 "are my great dream, my great goal," smiled the young woman.
That dream only came within reach in February, when the International Boxing Association (AIBA) amended its rules to allow Muslim boxers to wear a hijab and fully cover their bodies in the ring.
When it comes to qualifying, "now the prerequisites are the same for all," said Nassar, who in training and in competition wears the head covering as well as a full-length top and leggings.
"Only sporting performance should count. We must not be reduced to our external appearance."
'I'm super fast'
Her list of achievements already includes six Berlin titles in the featherweight category, and the 2018 German Championship title.
In 24 official fights, Nassar, who weighs 57 kilos (125 pounds), recorded 18 victories, including one by KO, which is rare in this category.
"My boxing style is very unconventional but I'm super fast. It's my strength," she said, mimicking a few uppercuts and hooks.
"For my opponents it's very unpleasant to box against me," she laughed.
But for many years, the education and sociology student could not compete in international fights because of her attire.
This year, the German Boxing Federation, which had changed its own rules in 2013, put forward Nassar for the European Under-22 Championships, which however barred her due to her outfit.
Nassar, who also speaks Arabic and regularly travels to Lebanon, her parents' country of origin, said it never occurred to her to take off her hijab for boxing.
"Why should I have done that?" she said. "For me it has always been clear that I would fight with my headscarf."
In Germany, the wearing of the headscarf tends to be widely accepted on the grounds of religious freedom.
Critics
The fight isn't won yet, however.
The Berliner's Olympic ambitions, like those of other sportswomen wearing the headscarf, run up against critics who brandish a rule for the Olympics prohibiting the display of any political, religious or racial symbols.
"Even if the boxing association, like most federations, has given in, the Olympic Charter has not changed," argued Annie Sugier, president of the International Women's Rights League.
In France in April, Iranian female boxer Sadaf Khadem won her first official fight dressed in shorts and a vest.
'Modest fashion'
Despite the controversy surrounding the hijab in some Western countries, sportswear giants have already begun offering less skin-revealing clothes to cash in on the "modest fashion" market, which is now worth hundreds of millions of euros.
Nassar is a brand ambassador for US sportswear maker Nike, which has been marketing a sports hijab for nearly two years.
The female boxer, who is very active on social media, has become a role model for young Muslim women in particular.
"If you want to get to the top, you have to fight," read a recent message by the boxer.
"Nothing is simply a gift. Accepting challenges and growing beyond them. And don't forget to smile."
Before leaving the cafe, she posted a new picture of herself on Instagram and told AFP: "I want to show people that anything is possible if you fight for it."
Nassar's picture was also used in a poster campaign to mark the 70th anniversary of the German constitution, the Basic Law.
It promoted Article 4, which states that "the undisturbed practice of religion shall be guaranteed".
https://www.arabianbusiness.com/sport/428849-german-woman-boxers-fight-to-wear-hiajb-in-the-ring
--------
Empowering Women In Yemen's Civil War
Sep 25, 2019
Kate Brady
Walking along Berlin's Spree River as fall sets in, Suha Basharen comments how "nice it is to be in a calm country."
"There are no worries," she says. "You can walk around peacefully. But then you remember what's going on at home."
Home for Basharen is Yemen, where a civil war has been raging since 2015. The violence has killed tens of thousands of civilians and left the country mired in a devastating humanitarian crisis, with women and girls often bearing the brunt of the daily struggle to survive.
Basharen lives in Sanaa, Yemen's capital, with her husband and two young sons, ages eight and ten. Her children have hardly known peace. For Basharen on a personal level, the war means reassuring her kids that things will be alright, even as air strikes sound around them.
"We try not to be scared, even though you want to collapse," she tells DW. "Even if you try to keep the news away from them, they hear it at school, so then you have to make up another lie to make them feel safe."
On a professional level, Basharen is trying to create a hopeful future for women in the war-torn country. As a gender specialist for the NGO CARE Yemen, she works to reshape social and cultural norms. Education on hygiene and health, active involvement of women in peace-building efforts, and food security are all crucial elements.
Despite the conflict, the situation could still "open windows of opportunity for these women," she says.
Worst gender equality in the world
Basharen is motivated in part by her own success. Born in Aden, on Yemen's southwest coast, she studied at university both in her home country and in the UK. But the idea of a university education and independence remains a luxury for many of Basharen's female compatriots, particularly in rural Yemen.
While suffrage was granted to Yemeni women more than 50 years ago, economic, social and cultural rights continue to be limited. For 13 consecutive years, Yemen has been ranked the worst country in the world in the Global Gender Gap Report, published by the World Economic Forum. Female genital mutilation continues to be tolerated and in many cases, women are denied hospital treatment without the permission of a male relative.
In early 2015, an Iran-aligned Houthi insurgency ousted Yemen's President Abed Rabbo Mansour Hadi and seized Sanaa, triggering a Saudi-led military coalition to begin air strikes on the Yemeni rebels. The little progress in gender equality that had been achieved before this conflict was largely set back due to the upheaval and displacement.
"With the war, finding food became the priority, not talk about rights," Basharan says.
Women and girls most vulnerable
After almost half a decade of war, some 24 million Yemenis — close to 80% of the population — have been left in need of aid and protection. With men, often the bread winners, injured, killed or fighting on the front line, women and girls are facing new challenges and adversities.
"We want to empower women, but we also don't want to cause any harm," Basharen tells DW. She adds that many women have unexpectedly found themselves responsible for their families — a responsibility they weren't prepared for.
In turn, many men who are unable to provide for their families as a result of the war feel under pressure.
"In large parts of Yemen, the social norm is women belong to the house, men go out and provide for the family," Basharen says. "This is by no means an excuse, but this pressure often reveals itself in cases of domestic violence, which have increased during the war."
More than 3 million Yemeni women and girls are at risk of gender-based violence, according to the United Nations Population Fund (UNFPA).
Food security crisis
Women are also the most vulnerable among the 10 million people in Yemen who rely on food aid to survive. Particularly vulnerable are pregnant or lactating women, many of whom already face life-threatening challenges because of a lack of reproductive services.
According to UNFPA, some 1.1 million breastfeeding or pregnant Yemeni women are malnourished due to the lack of humanitarian access and the difficulties around receiving food and medical supplies.
"It's often the case that men and boys eat first, then the women and girls. Sometimes there's nothing left for them to eat in the end. Some families only have one meal a day — they don't know where their next meal will come from. If there isn't enough food, women want their kids to eat first," Basharen says.
Small steps towards entrepreneurship and independence
The fighting in Yemen has caused the world's worst humanitarian disaster, the UN has said. Yet Basharen hopes a brighter future will emerge from the rubble — a future where war is absent and women are very much present.
"This isn't going to happen overnight," she says. "But thanks to promoting women's economic empowerment and helping female entrepreneurs access training, we're already seeing how some women are turning their traditional skills, whether cooking or sewing, into a business."
For Basharen, the cultural shift must begin at home with her own sons: "Little things, like making them do their chores, are a start. I never want them to depend solely on other people, least of all women."
There are occasional glimmers of hope for peace: The UN envoy for Yemen said earlier this week that the offer from Iran-backed Houthi rebels to halt attacks on Saudi Arabia could bring an end to the war. At the same time, amid a new US deployment to Saudi Arabia, Iran's president warned foreign forces to stay out of the Gulf.
Still, the fighting rages on. Nearly five years since the outbreak of war, Basharen says the Yemeni people continue to be resilient.
"But we are all traumatized," she adds. "The war needs to stop. This madness. It needs to stop."
https://www.dw.com/en/empowering-women-in-yemens-civil-war/a-50586064
--------
A Northern Virginia Muslim Woman Sues, Says Prayer Break Request Cost Her Potential Job
September 26th 2019
FALLS CHURCH, Va. (AP) — A northern Virginia woman is suing a company that she says refused to hire her after she requested two five-minute breaks to pray during her work shift.
Shahin Indorewala, 26, of Woodbridge says her job interview with Falls Church-based Fast Trak Management was going well until she asked if she could take the prayer breaks in exchange for a shorter lunch break to accommodate her practices as an observant Muslim.
She says in a lawsuit filed in federal court in Alexandria that the company CEO then mocked her religious headscarf and refused to hire her.
The CEO, Ramses Gavilondo, said in an interview that he didn't hire her because she "wanted to preach her religion." He said the Equal Employment Opportunity Commission investigated and found no wrongdoing.
Indorewala, for her part, says she did no preaching of any kind. She said she had a good first job interview, and a second job interview was also going well. A manager said workers receive a 90-minute lunch break; it was at that point she mentioned her need to pray five times a day as a Muslim, and asked whether she could take two five-minute breaks during the day in exchange for taking a shorter lunch break.
Indorewala said at a press conference Wednesday outside Fast Trak headquarters that her interview was immediately terminated. She tried speaking to Gavilondo and was taken aback by the hostile response she received, which she said included making fun of her hijab in front of the office.
Zanah Ghalawanji, one of Indorewala's lawyers with the Council on American-Islamic Relations, said that the case represents a clear-cut example of religious discrimination and employers are required to make reasonable accommodations for sincerely held religious beliefs unless doing so would pose an unreasonable burden on the employer. She said that five-minute breaks twice a day in an office setting impose no such burden.
https://cbs12.com/news/nation-world/muslim-woman-sues-says-prayer-break-request-cost-her-potential-job
--------
UP Government Will Give an Annual Pension Of Rs 6,000 to The Triple Talaq Victims
By Piyush Srivastava
Sep 26, 2019
The Uttar Pradesh government has said it will give an annual pension of Rs 6,000 to women who have been deserted by their husbands, with chief minister Yogi Adityanath making the announcement at a programme for victims of instant triple talaq which the BJP-ruled Centre has outlawed.
The BJP dispensation has been holding meetings across the country to publicise the decision to ban instant triple talaq.
As part of a samwad (dialogue) in Lucknow on Wednesday, where victims of instant triple talaq had been invited, Adityanath said: "Besides those women who have been victims of instant triple talaq, we will also give an annual pension of Rs 6,000 to women of other religions, including Hindus."
The chief minister said the pension would be given for the "rehabilitation" of deserted women.
According to Adityanath, 273 cases of instant triple talaq had been reported in Uttar Pradesh in the past year and that the government had registered FIRs in all of them because "Muslim women have been suffering the most in almost every district of the state".
"Some people have been insulting women and undermining their role in a family. The Modi government, with the aim of ensuring their welfare and social security, has enacted a law to criminalise instant triple talaq," Adityanath told the gathering.
The chief minister said the state government would provide a job to Shumaila Javed, a national-level netball player, and also bear the cost of her legal battle against her husband for pronouncing the instant triple talaq on her over phone in 2017.
"Those Hindu men who have wrongly severed relations with their wives for a second marriage will also be punished. It is easy to break a relationship but it is difficult to start one. Our fight is to make a relation," Adityanath said, promising jobs for women deserted by their husbands.
https://www.telegraphindia.com/india/up-talaq-pension/cid/1707547
--------
No Fines For Niqab Wearers but Muslim Women Report More Verbal Attacks
September 26, 2019
In the two months since the burqa ban was introduced in the Netherlands, no-one has been fined but there has been an increase in aggression targeting Muslim women, broadcaster RTL said on Thursday. So far, public transport workers have made 35 reports of women wearing niqabs in buses, trams or trains and in two cases the police were called, the paper said. The Dutch hospital association has reported no incidents. MPs are due to debate the implementation of the law, which came into effect on August 1, later on Thursday. MPs from the ruling VVD and Christian Democrats want the government to get tougher on women breaking the law, and say street wardens should also be given the power to issue fines. Meanwhile, agencies which collect instances of discrimination say there has been an increase in aggression directed at Muslim women, including those who wear headscarves. 'People are using the ban to verbally attack women wearing headscarves, intimidate them and swear at them,' Abdou Menebhi from the anti Islamophobia collective told the broadcaster. One niqab wearer, known to the paper as Roos, said she had many more 'nasty experiences' since the ban came into effect. 'It would appear that people think the law has given them the right to insult women on the basis of what they wear,' she said. The Netherlands introduced a so-called burqa ban on August 1 which applies to government buildings, schools and colleges, hospitals and public transport.
https://www.dutchnews.nl/news/2019/09/no-fines-for-niqab-wearers-but-muslim-women-report-more-verbal-attacks/
--------
Jewish, Muslim And Christian Leaders In Italy Fight Violence On Women
By Rossella Tercatin
September 26, 2019
Jewish, Muslim and Christian leaders in Italy have come together to fight violence against women.
The project "Not in my name – Jews, Catholics and Muslims against violence on women" include several initiatives to make high school students aware of the issue, such as dedicated lectures and a student contest aimed at creating a communication campaign to fight prejudice and discrimination.
"Violence against women is an unacceptable and yet present-day reality. For this reason, we Jews, Catholics and Muslims decided to come together as bearers of values and launch a clear message: no violence can find justification in faith," said Livia Ottolenghi, a member of the board of the Union of Italian Jewish Communities (UCEI), as reported by the Italian Jewish paper Pagine Ebraiche.
The UCEI is one of the project's organizers, together with the Italian Islamic Religious Community (COREIS) and the Pontifical Athenaeum Regina Apostolorum (APRA). "Not in my name" is funded by the Italian government.
According to the organizers, perspectives, values and self-criticisms of the three religions are going to be presented to the students within a secular approach, also highlighting the more general historical, social and psychological context.
"Not in my name" was launched on Tuesday at the Italian Ministry of Education.
"Only by making young people aware that the problem affects them personally, as well as their relationships and their daily life, it is possible to bring out their own stereotypes and challenge them," said Raffaella Di Castro, UCEI coordinator for cultural and education projects. "Only through this kind of awareness, they can become a vehicle of a wider social and cultural transformation."
https://www.jpost.com/Diaspora/Jewish-Muslim-and-Christian-leaders-in-Italy-fight-violence-on-women-602951
--------
Afghan Women Fear Mandatory Poll Photos Could Stop Them from Voting
Abdul Qadir Sediqi, Storay Karimi
SEPTEMBER 26, 2019
KABUL/HERAT, Afghanistan (Reuters) - Afghan women's rights activists have demanded the authorities lift a requirement that all voters be photographed at polling stations in Saturday's presidential election, arguing that it could prevent hundreds of thousands of women from voting.
Afghanistan's electoral authorities have decided to photograph all voters using facial recognition software as an anti-fraud measure, after elections in 2009 and 2014 ended in disputes over rampant ballot stuffing.
But the photo requirement could be particularly difficult for women, especially in conservative areas, where most adult women and older girls cover their faces outside the home and do not show themselves to men who are not their relatives.
The election commission says that women voters can have their pictures taken by female election staff. But it acknowledges that at least 1,450 of the nearly 30,000 polling stations employ no women.
Eighteen women's rights groups have separately written to the Independent Election Commission (IEC) to call for the photo requirement to be scrapped. The letters, shown to Reuters by a senior IEC official, said women in rural areas wanted to vote but believed it was against Islam or culturally inappropriate to allow themselves to be photographed by men.
Rights groups criticized the election officials for not explaining earlier how the biometric system will work, or finding a way to reassure women that it will not breach their privacy.
"The decision to make photographs along with fingerprints as a mandatory requirement is a brand new rule," said Tamima Rasheed, an activist working in southern Kandahar province. "It is being imposed without any consultation with women's rights organisations."
In northern Herat province, around 50 women activists shouted slogans outside the Human Rights Commission office against the requirement for voter photos.
Halima Salimi, head of the Afghan Women's Network in Herat, said the new rule will suppress the turnout of female voters.
"Women have a right to vote but they should not feel nervous while exercising this right," she said.
Women are already underrepresented in Afghanistan's democracy, accounting for only a third of the more than 9.6 million registered voters.
Many have a particular fear of the return of the Taliban, the militant movement which banned women from working and girls from going to school, and which now controls more territory than at any time since it was driven from power in 2001.
The Taliban have called for civilians to boycott the elections and have threatened to carry out attacks to disrupt the polls.
Election official said they sympathise with the concerns of the women's rights groups, but defended the use of photographs as necessary to protect the integrity of the vote.
"A photograph of every voter is mandatory for transparency and to prevent of fraud," said Hawa Alam Nuristani, the chairwoman of the IEC.
Afghanistan used a biometric voter-identification system that recorded voters' fingerprints in its last national election, a parliamentary vote in October last year. Thousands of the devices were reported lost or stolen.
https://uk.reuters.com/article/uk-afghanistan-election-women/afghan-women-fear-mandatory-poll-photos-could-stop-them-from-voting-idUKKBN1WA2XB
--------
Artist Displays 440 Pairs of High Heels For Women Murdered In Turkey In 2018
SEPTEMBER 24, 2019
ISTANBUL (Reuters) - Turkish artist Vahit Tuna has mounted 440 pairs of high heels on the facade of a building on a busy Istanbul street, to symbolize the number of women murdered in domestic or sexual violence in Turkey in 2018.
"We are standing in a street now and maybe people are faced with a work of art for the first time, an open and bleeding wound for the very first time. I believe this has an impact," said Tuna.
"I think this (installation) creates awareness and is something that influences people and makes them think," he added.
In Turkey, there is a tradition of placing the shoes of someone who passed away outside an entrance. The artwork covers an area of 260 square meters.
"Frankly, I do not feel safe on the streets and this view is really awful. There are 440 pairs of shoes here and it means that many lives have been lost in 2018. This is very upsetting," said Turkish banker Serap Kilic.
Another banker, Hilal Koseoglu, said: "As long as everybody remains silent, violence against women will increase and this violence is not just about murdering women but also suppressing and silencing them."
Around 440 women were killed in 2018 in Turkey, according to a report published by Kadin Cinayetlerini Durduracagiz Platformu (We Will Stop Femicide Platform) which keeps records on murders. The platform reported that 49 women were killed by men in the month of August 2019 alone.
https://www.reuters.com/article/us-turkey-womensrights-shoes/artist-displays-440-pairs-of-high-heels-for-women-murdered-in-turkey-in-2018-idUSKBN1W923G
--------
URL: https://www.newageislam.com/islam-women-feminism/arab-women-fight-back-online/d/119841
New Age Islam, Islam Online, Islamic Website, African Muslim News, Arab World News, South Asia News, Indian Muslim News, World Muslim News, Women in Islam, Islamic Feminism, Arab Women, Women In Arab, Islamophobia in America, Muslim Women in West, Islam Women and Feminism