New Age Islam News Bureau
18 March 2018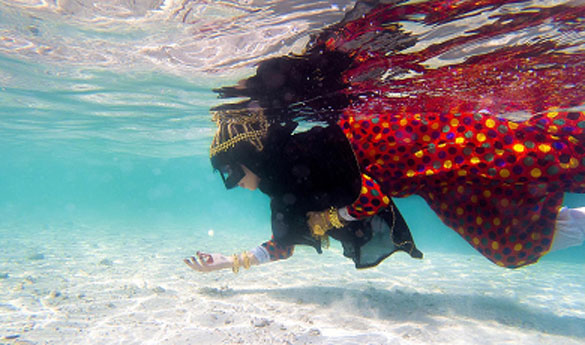 Photo: Individual experience. "Ghaya," an archival pigment print by Shaikha Fahad al-Ketbi. (Shaikha Fahad al-Ketbi)
-------
• 'Kuwait Working on Women's Full Rights' – 'Females Hold Senior Posts'
• PIL in Indian SC against Polygamy, Temporary Marriages under Muslim Law
• China Is Separating Women In Muslim-Majority Xinjiang From Pakistani Husbands, Sending Them To Re-Education Camps
• Muslim Women Stage Silent Protest Against Triple Talaq Bill in Lucknow
• 'Protecting Women Rights In Line With Islamic Teachings'
• Why the Arab World Needs To Close the Gender Gap
Compiled by New Age Islam News Bureau
URL: https://www.newageislam.com/islam-women-feminism/arab-women-artists-diaspora-focus/d/114632
-----------
Arab women artists in diaspora focus on identity and loss
There is a sense of melancholy in the work of Arab women artists in the diaspora.
March 18, 2018
LONDON - Preoccupation with identity and loss of it are pivotal in the works of seven emerging Arab women artists living in Europe, North America and the Middle East, on show at East London's Rich Mix Gallery.
"Perpetual Movement," which runs through March 25, features Nadia Elkalaawy and Nadia Gohar from Egypt, Najd Al Taher from Kuwait, ArazFarra from Syria, Yumna al-Arashi and Thana Faroq from Yemen and the UAE's Shaikha Fahad al-Ketbi.
Arab Women Artists Now (AWAN), which has been organising an annual exhibition of the work of women artists in the Arab world for four years, said "Perpetual Movement" considers the relationship between migration and memory in connection to the Arab world and diaspora.
"How does your memory of a place change once you have left? What happens if you are ethnically associated with a location but have never even been there? Movement can be both positive and negative, there are many reasons why it takes place but it is always happening," AWAN stated.
Exhibition curator Lizzy Vartanian Collier explained that the works were selected to reflect the concept of movement and memory. "I chose to work with artists who each commented on something different, shed light on individual viewpoints and I wanted to reflect my own experience as well," said Collier, a Lebanese-Syrian born and brought up in London.
Faroq's black-and-white photographs present haunting images showing the agony of migration and exile. The three photos of a woman's face titled "Invisible" suggest a loss of identity. "Life on Hold" pictures a woman sitting forlorn on a bed gazing out of the window and a man looking from a window in a bare concrete building, perhaps a prison.
A small document titled "The Passport" in a maroon cover is also on display. Inside are the photos and stories of people who have had issues with movement. An outline of the countries they came from on transparent tracing paper accompanies each story.
"The project explores the experiences of people who are hampered by their passports," Faroq said. "It is about those who are banned from entering countries, the asylum seekers and stateless individuals who cross oceans and lands to obtain a passport that will guarantee them a higher value in life. There are reflections on personal moments, handwritten testimonies that capture the hopes, fears, dreams and struggle that are fostered by the restrictions of movement."
Gohar also explores the restrictions imposed by passports in her work "Passport Photos: Do's and Don'ts." She features 25 passport-sized photos modelled on the photos one must present for a visa and explores issues of identity politics.
Collier pointed out that there are "works on display that celebrate the past and bring it into a modern context."
"Yumna al-Arashi's portraits of the last tattooed women from North Africa celebrate a tradition that is being lost. Similarly, Shaikha al-Ketbi's photograph of 'Ghaya,' diving for a pearl in a traditional bridal costume brings pearl diving and marriage traditions into a modern context," she said.
Farra's short film combines surreal images with the voice of an Armenian who has lived in Aleppo all his life. "Which culture do I belong to?" he asks eager to portray the city he loves in a positive light. "Despite the hunger and the destruction the people of Aleppo still welcome foreigners," he says.
Elkalaawy narrates the story of living between two cultures, Egyptian and British. Her acrylic-on-cotton "December Child" features an oyster card, old and new family photos and an embroidered table mat from the Middle East.
There is a sense of melancholy in the work of Arab women artists in the diaspora. "It is natural to address what we know and being in the diaspora can be a difficult position," Collier said. "Gohar's "Mobile" combines elements of an Egyptian and Canadian identity; it is fragile and disparate in parts but by fusing together two cultures, it celebrates them both, showing neither as more dominant than the other."
Collier said the challenge of being an Arab woman artist in the diaspora was being disconnected from home.
"It often means that the artists' work is always read as a political comment, even when that is not the case. There are advantages too. This separation and distance often offers the chance to reflect on the culture, traditions and politics of a homeland.
"It also seems to be the case that this very disconnection is what can cause people in the diaspora to become so interested and fascinated by the place they have left."
thearabweekly.com/arab-women-artists-diaspora-focus-identity-and-loss
-------
'Kuwait working on women's full rights' – 'Females hold senior posts'
Coordinator of the Fatwa and Legislation Department at the Government's Women Affairs Committee Huda Al-Shaiji speaking at the convention.
NEW YORK, March 17, (KUNA): Kuwait on Friday reaffirmed it is working hard to empower women to practise all their rights, in line with the Kuwaiti Constitution that guarantees their political, social and economic rights.
The effort also observes the relevant international agreements, in particular the Convention on the Elimination of all Forms of Discrimination Against Women (CEDAW), a Kuwaiti official told a UN meeting on women. Coordinator of the Fatwa and Legislation Department at the Government's Women Affairs Committee Huda Al-Shaiji made the remarks during the 62nd session of the Commission on the Status of Women (CSW 52) in New York Friday. She added that Kuwait shared the UN Secretary General's view that countries have to enhance efforts and make the necessary arrangements to empower women on the local, regional and international levels.
Kuwait has already taken measures to promote women's status and maintain their rights on the national and international levels, she noted. The country has been keen that its legislatives embrace all items that preserve women's rights, as the constitution embodies the basic provisions on human rights related to empowerment of women in the fields of economy, education, healthcare and social security, Al-Shaiji said.
According to Al-Shaiji, Kuwait has been eager to involve women in drawing up development plans, and decision-making, as well as activating their role in civil society organizations. The Kuwaiti woman is a major partner in achieving economic and social development, and is holding leading posts, she is a minister, a MP, a diplomat and a ministry undersecretary, she said. Meanwhile, the Kuwaiti official urged the international community to develop rapid solutions to stop Israeli violations against Palestinian women, that go contrary to the humanitarian international law and the relevant resolutions of the international legitimacy.
arabtimesonline.com/news/kuwait-working-on-womens-full-rights-females-hold-senior-posts/
-------
PIL in Indian SC against Polygamy, Temporary Marriages under Muslim Law
Press Trust of India | New Delhi
March 18, 2018
A PIL has been filed in the Supreme Court challenging the practice of temporary marriages and polygamy under the Muslim personal law.
The petition has opposed the practice of NikahHalala, where a divorced woman has to remarry and then get a talaq before being able to marry her first husband, as well as NikahMutah and NikahMisyar -- both temporary marriages where duration of the relationship is specified and agreed upon in advance.
The petitioner, a Hyderabad-based lawyer, has also challenged the practice of polygamy, claiming that all these types of marriages under the Muslim personal law violate the fundamental rights of Muslim women.
The petition has contended that while the Muslim law allows a man to have multiple wives by way of the temporary marriages or polygamy, same permission is not extended to women.
The petition, filed through advocate R D Upadhyay, has said that a complete ban on such practices was the need of the hour.
(This story has not been edited by Business Standard staff and is auto-generated from a syndicated feed.)
business-standard.com/article/pti-stories/pil-in-sc-against-polygamy-temporary-marriages-under-muslim-law-118031800432_1.html
-------
China Is Separating Women In Muslim-Majority Xinjiang From Pakistani Husbands, Sending Them To Re-Education Camps
bySwarajya Staff - Mar 18 2018
China Is Separating Women In Muslim-Majority Xinjiang From Pakistani Husbands, Sending Them To Re-Education Camps
Chinese security agencies have separated women in the country's restive Muslim-majority province of Xinjiang from their Pakistani husbands and sent them to 're-education camps', The Guardian has reported.
A large number of women belonging to China's Uighur Muslim minority are married to Pakistani men, who come to the province of Xinjiang for trade. After work on multi-billion dollar China-Pakistan Economic Corridor started, the number of Pakistani men visiting the region increased significantly.
Even as it continues to develop the corridor and invest in its "deeper than the deepest ocean, sweeter than honey" relations with Pakistan, China remains wary of the unrest in its Muslim population. A number of separatists and militants from Xinjiang have found refuge in restive parts of Pakistan in the past. Although Islamabad has made efforts to drive out Uighur militant outfits under pressure from Beijing, China has traced back terror attacks in the region to Pakistan-based camps of outfits such as al-Qaeda-linked East Turkestan Islamic Movement.
According to experts, Beijing could have taken this step to make sure that dissidents in the Xinjiang, which borders Pakistan-occupied Kashmir, are unable to coordinate with militant outfits based in restive parts of Pakistan.
According to a report by Radio Free Asia, at least 120,000 Uighurs have been placed in "re-education" camps in the province.
At least 50 women married to men from Pakistan-occupied Gilgit-Baltistan have also been separated from their husbands and sent to re-education camps on charges of extremism. Lawmakers in Gilgit-Baltistan last week demanded that authorities in Xinjiang province immediately release the women.
swarajyamag.com/insta/railways-to-optimise-usage-of-locomotives-with-a-new-mathematical-formula-increase-revenue-in-turn
-------
Muslim Women Stage Silent Protest Against Triple Talaq Bill in Lucknow
March 18, 2018
The protest was organised by the women wing of All India Muslim Personal Law Board. The IT cell of women wing of AIMPLB also stated that they will be waging a war against the Triple Talaq Bill on social networking platforms as well.
Lucknow: A large number of Muslim women staged a silent protest in Lucknow against the Triple Talaq Bill and requested Narendra Modi Government to reconsider it.
The protest was organised by the women wing of All India Muslim Personal Law Board.
The IT cell of women wing of AIMPLB also stated that they will be waging a war against the Triple Talaq Bill on social networking platforms as well.
Muslim women from Lucknow and adjoining areas gathered at TeeleWali Masjid with placards with messages like "We Demand Take Back Triple Talaq Bill", "Triple Talaq Bill Suppresses Women" and "Honourable President Sharia Doesn't Enslave or Chain Muslim Women. Take Back Your Statement."
Heading the protest, AsmaZehra, executive committee members of AIMPLB, said that Triple Talaq Bill, which recommends three years of imprisonment for husbands giving triple talaq, is interfering with Sharia Law and that is not acceptable to the Muslim women in India.
Zehra told News18, "All the Muslim women have firm belief in Sharia Law and they do not need any bill on triple talaq. It all started with gender justice and women's right but later on this was politicized."
"Hence, the bill was not in favour of the real cause, right now there is an attempt to interfere with the Muslim personal laws and nothing else," she added.
"If the government is really serious about us then they should focus more on eve teasing, rape, girls' education and women safety. This bill will put Muslim women in a deeper trouble as the man will go to jail and at the same time there is no provision for any kind of maintenance money. In such a case, we strongly condemn the Triple Talaq Bill and request the government to reconsider it and take it back," Zehra said.
After the protest, a memorandum against the bill was also handed over to the district administration for the President of India.
On the occasion, Maulana Khalid Rasheed FarangiMahali, MaulanaAteeqBastavi, advocate ZafaryabJilani and other renowned Muslim activists and scholars were present at the site of the protest.
news18.com/news/india/muslim-women-stage-silent-protest-against-triple-talaq-bill-in-lucknow-1693083.html
-------
'Protecting Women Rights In Line With Islamic Teachings'
Islamabad: Federal Minister for Human Rights Mumtaz Ahmed Tarar has said the government was endeavouring to protect rights of women according to Islamic teachings, social norms of our society and international obligations, says a press release.
Addressing a national conference on women rights titled 'Gender Equality in Islam' organised by Universal Interfaith Peace Mission (UIPM) in collaboration with the Ministry of Human Rights to mark International Women Day of United Nations, Tarar said that rural women were our top priority and the government was doing all it can to protect their rights.
Among list of distinguished guests, European Union Human Rights Counsellor Ms Javeria Khan, Dr AminehHoti, Director Interfaith Dialogue Centre Islamabad, Mrs Marzia from Baha'I community, Mrs FarhaAmjad, Ms Mahwish Sabah, Ms ShabanaKausar as well as religious scholar AllamaSajid Naqvi, QariShafeeqAllamaMiskeen, Father Jacob Dogra, Mirza Kamal, Bishop Aftab and others were present on the occasion. Universal Interfaith Peace Mission Chairman Allama Dr GR Chishti delivered the key-note address.
Tarar said government was also working on the welfare of vulnerable groups of the society and striving to ensure equal rights for them. For the purpose, he said, the National Plan of Action for human rights is being enforced in the country under the directions of the Prime Minister. Under the action plan a campaign had been launched to bring a positive change in the behaviour of people and counter extremism from our society, he said.
In his welcome address, UIPM Chairman Dr GR Chishti tried to point out the reasons women were deprived of their due rights due to lack of knowledge on part of religious scholars and politicians. He pointed out that at the times of ignorance, the Arabs were the most ignorant people who did all the cruelties and deprived women from their status and rights. Islam at that time (1400 years ago) abolished all the dark practices of the ignorant Arabs and bestowed women with due rights that no any other religion has given so far and thus women in Islam are considered precious and valuable and have been granted recognition, protection, respect, modesty and are honored with integrity, prosperity and due rights in all codes of life. "Islam is a complete code of life not only for men but also for women," he added.
Quoting various examples from Holy Quran, Dr Chishti spoke at length about the spiritual, economic, social, educational, legal and political rights of women in Islam. "Women has right to be consulted as other family members have right to be consulted. Many people believe that it is folly to act or listen to women's advice. In fact they themselves are disbelievers and unaware to the sunnah of Holy Prophet Hazrat Mohammad (peace be upon him)," said Dr Chishti.
Speaking on the occasion, Dr AminehHoti said the objective of observing the International Women's Day was to make the country's women self-reliant and provide them with an effective status in the society.
Ms ShabanaKausar encouraged women to also contribute their services in different professional fields to match their women contemporaries in the world.
Ms MahwishSabah, was of the view that it is very unjust if anybody is blaming Islam for the present state of suppression of women in the Muslim society. "In fact it is not Islam to be blamed it is because of forgetting the teachings of Islam," she added.
thenews.com.pk/print/293945-protecting-women-rights-in-line-with-islamic-teachings
-------
Why the Arab world needs to close the gender gap
A new study suggests that at the present rate of progress the Arab region's 39 percent gender gap compared with other regions of the world will take 356 years to close.
Not much of surprise there, given that the Arab world ranks as the lowest region in the world on gender equality. Indeed, none of the Arab countries has achieved full equality when it comes to the sexes, despite advancement in some. That's the assessment of almost all academic studies on the matter.
The question is, why? And how can this be remedied so the region can reap the benefits from overcoming this inequality?
First, some countries, such as the UAE, Tunisia and Lebanon, have achieved much higher levels of gender equality in some areas. But the region as a whole faces serious barriers to equality, most stemming from conservative cultural norms that in many cases are rooted in religious interpretations, which actually affects all religious minorities in the region: Christians and Jews as well.
Other reasons have more to do with conflicts in the region, the lack of economic opportunities for women and the absence of their political voices because of cultural traditions.
These factors affect some countries more than others. While some rank among the lowest in the world in one dimension such as labor participation, others have done much better. While the UAE, for example, still shares many of the cultural values of other Arab countries, it's one of the best when it comes to offering economic, even political, opportunities. It's among the best countries in the region in the number and levels of female participation in politics.
However, with many women in ministerial and senior positions, Lebanon, which enjoys a more liberal culture, has only four parliamentary seats occupied by women, with only 3 percent of ministerial positions and about 5 percent of seats in municipal councils.
These restrictive and conservative cultural values have naturally been reflected in the legal codes of many Arab countries. In many countries, women still suffer serious inequalities in the legal framework.
For example, in countries such as Morocco and Egypt, even when the laws of divorce are reformed to better the situation, women end up losing many of their financial rights or suffer from a lack of information regarding their newly achieved legal rights.
In countries that have eliminated inequality in their constitutions, for example, no longer restricting some political positions to men, such as Tunisia, cultural values still prevent their rise to senior positions in government, such as the presidency, even though many other Islamic countries such as Pakistan and Bangladesh have had female prime ministers, proving the fallacy of religious restrictions on women as leaders.
Excluding and systemically marginalizing one-half of the population from participating fully in the development and dynamics of all aspects of society is a true and even tragic loss, one that will always keep the region lagging behind on almost all developmental indicators if it not addressed soon.
But economic rights for women still face obstacles such as social stigmas and family pressures that direct women toward opportunities that lack real advancement. For example, most women in Libya are encouraged by family and conservative cultural pressures to become elementary school teachers, doctors or nurses, preventing them from attaining a greater political and economic voice in society.
In most countries in the region, many professions, such as politics or business that involve greater exposures to male interaction, are discouraged due to the preferred cultural norms of separation of the sexes in schools, businesses and other public spaces.
The real and negative combined consequences of all these obstacles facing women weigh heavy on society as a whole, essentially preventing half of society from full participation in the economic and political aspects of their nations, reinforcing these values and passing them on to subsequent generations.
Despite all these regrettable aspects of gender inequality in the Arab world, the situation is improving slowly with greater equality in law, education, politics and the economy, with many constitutional reforms like those in Tunisia.
There is greater political will on behalf of leaders of countries such as the UAE and recently Saudi Arabia to make a change and reform society. Unfortunately, others, such as Libya, suffered serious setbacks in gender equality after the 2011 uprisings, which displaced the more liberal inclinations of the previous regime and allowed many of the conservative movements to rise to prominence and power.
To make serious, deep progress on this issue, Arab societies need to approach it in a holistic manner on all levels, most importantly by enlisting the help and full participation of women in wide-ranging public discussions on the issue, encouraging new and more progressive interpretations of religious texts and challenging the historical ones siding with some male interpretations.
The situation also needs more efforts to address this imbalance. Rima Khalaf, Executive Secretary for the UN Economic and Social Commission for Western Asia, said in her commemoration of International Women's Day in 2016: "We are celebrating the many achievements of Arab women in sciences, literature and arts, but primarily in the art of survival."
Excluding and systemically marginalizing one-half of the population from participating fully in the development and dynamics of all aspects of society is a true and even tragic loss, one that will always keep the region lagging behind on almost all developmental indicators if it not addressed soon. This crucial issue will prevent future generations from reaching their full potential in a world that now demands the full efforts of every citizen to build and maintain the future.
Hafed Al-Ghwell is a former adviser to the board of directors at the World Bank Group. Twitter: @HafedAlGhwell
arabnews.com/node/1268316
URL: https://www.newageislam.com/islam-women-feminism/arab-women-artists-diaspora-focus/d/114632