31 July 2022
• Arab Female Director Sally El Hosaini's Film To Open Toronto Film Festival
• Saudi Women DJs Go From Hobbyists To Headliners
• UK Engineering Body Elects First Malaysian Woman, Prof Dr Leong Wai Yie, As Council Member
• Hannatu Musa and Hauwa Luka, Two Chibok Girls Escape Eight Years After Boko Haram Kidnap In Nigeria
• Arab Women Take On Leadership To Improve Health
• Saudis Hail Vision 2030 Women's Workforce Figures
Compiled by New Age Islam News Bureau
URL: https://newageislam.com/islam-women-feminism/arab-female-sally-hosaini-film/d/127612
--------
Arab Female Director Sally El Hosaini's Film To Open Toronto Film Festival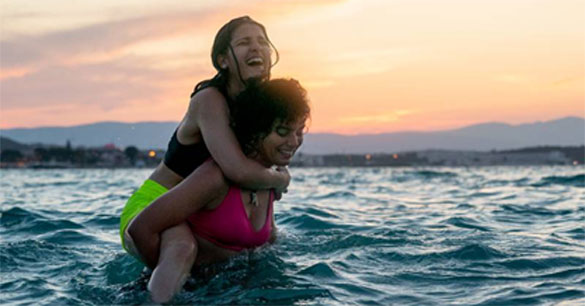 'The Swimmers', directed by Sally El Hosaini, will open Toronto International Film Festival 2022. Nathalie Issa, left, stars as Yusra Mardini, while Manal Issa plays Sara Mardini. Photo: Laura Radford / Netflix
-----
By Amrita Singh
31-07-2022
Sally El Hosaini is an Egyptian-Welsh filmmaker whose film, "The Swimmers," has been tapped to open the Toronto Film Festival which will begin on September 8th 2022 – this date will also mark the film's world premiere.
El Hosaini's drama is focused on the true story of sisters, Sarah and Yusra Mardini who escaped the war-ravaged country, by boat and swam high seas to keep the boat going. Yusra went on to compete as a member of the Refugee Olympic Athletes' contingent at the 2016 and 2020 Olympics.
Cameron Bailey, CEO of the Toronto Film Festival, commented, "I was deeply moved by the story of these two sisters and wowed by the storytelling. 'The Swimmers' was the very best kind of surprise when we saw it this summer — an exciting, epic journey and the arrival of an important filmmaker."
He added, "I'm thrilled that audiences in Toronto will be the first to discover Sally El-Hosaini's remarkable film, and that this year on our opening night we can honor everyone who risks everything to reach a better, safer life."
The actresses playing Yusra and Sarah Mardini are Lebanese actresses, and also sisters, Manal and Nathalie Issa, and the main characters will be starring alongside Arab-Israeli actor Ali Suliman, Egyptian actor Ahmed Malek, Syrian actress Kinda Alloush and "The Good Karma Hospital" star James Krishna Floyd, who starred in El-Hosaini's last film "My Brother the Devil," which won the World Cinema Cinematography award at the 2013 Sundance Film Festival. YouTube star Elmi Rashid Elmi and German actor Matthias Schweighöfer are also a part of the cast.
Slated for global release on Netflix this year, "The Swimmers," has been shot in the UK, Turkey and Belgium and is produced by Netflix and Working Title's Eric and Tim Bevan, Ali Jaafar and Tim Cole.
Other films showing at the Toronto Film Festival, which will run from the 8th to 18th of September 2022, include "The Woman King," starring US actress Viola Davis, US actor Billy Eichner's rom com "Bros," and British star Daniel Craig's "Glass Onion: A Knives Out Mystery."
Source: Abouther
https://www.abouther.com/node/51246/people/leading-ladies/arab-female-director%E2%80%99s-film-open-toronto-film-festival
-----
Saudi Women DJs Go From Hobbyists To Headliners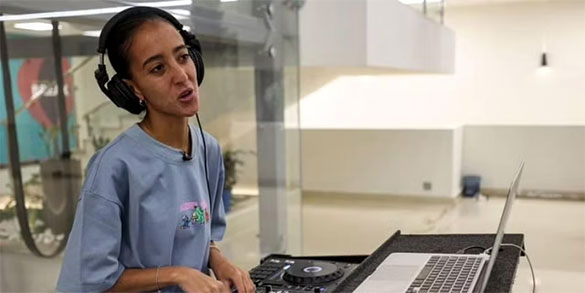 Saudi DJ Leen Naif plays at a university event in Saudia Arabia's Red Sea coastal city of Jeddah on May 26, 2022. (Photo | AFP)
-----
July 31, 2022
Jeddah, Saudi Arabia: Standing behind her control tower with headphones around her neck, Saudi DJ Leen Naif segues smoothly between pop hits and club tracks for a crowd of business school graduates noshing on sushi.
The subdued scene is a far cry from the high-profile stages -- a Formula 1 Grand Prix in Jeddah, Expo 2020 in Dubai -- that have helped the 26-year-old, known as DJ Leen, make a name for herself on the Saudi music circuit.
Yet it captures an important milestone: Women DJs, an unthinkable phenomenon just a few years ago in the traditionally ultraconservative kingdom, are becoming a relatively common sight in its main cities.
"A lot of female DJs have been coming up," Naif told AFP, adding that this has, over time, made audiences "more comfortable" seeing them on stage.
Naif and her peers embody two major reforms championed by Crown Prince Mohammed bin Salman, Saudi Arabia's de facto ruler: new opportunities for women and expanding entertainment options -- notably music, which was once discouraged under Wahabism, a rigid Sunni version of Islam.
The possibility that DJs would be welcomed at public events, let alone that many would be women, is something "we didn't expect" until recently, said Mohammed Nassar, a Saudi DJ known as Vinyl Mode.
Naif was first introduced to electronic music as a teenager by one of her uncles, and she almost instantly started wondering whether DJ'ing was a viable job.
While her friends dreamed of careers as doctors and teachers, she knew she didn't have the patience for the schooling those paths required.
Several years ago, a man came up to her mid-performance, declaring she was "not allowed" and demanding "Why are you doing this?"
Naif has benefited from official attempts to trumpet Saudi Arabia's new entertainment-friendly image, which is often criticised by human rights groups as a distraction from abuses.
Her big break came last year when she was invited to perform at MDLBeast Soundstorm, a festival in the Saudi capital Riyadh that drew more than 700,000 revellers for performances including a set by superstar French DJ David Guetta.
Albishi, for her part, thinks there is no difference between men and women once they put their headphones on, and that's why women DJs belong.
Source: Ndtv
https://www.ndtv.com/world-news/saudi-women-djs-go-from-hobbyists-to-headliners-3210121
-----
UK Engineering Body Elects First Malaysian Woman, Prof Dr Leong Wai Yie, As Council Member
31 Jul 2022
INTI International University pro vice chancellor Prof Dr Leong Wai Yie is the first Malaysian woman elected a council member at the Institution of Engineering and Technology (IET), United Kingdom.
Following her appointment for the 2022-2024 term, Prof Leong, together with 27 other council members, has the responsibility of tendering advice to the board of trustees concerning the conduct of IET affairs, including its direction and strategy.
"I was very surprised when I won the election. The voters were from more than 168 countries, so it was impossible to lobby and predict the results.
"I would like to give back to our community by taking on the role of a mentor and help future engineers and technicians develop their careers.
"I would also like to contribute my professional skills to research and social welfare by working with other engineers to keep inventing for our planet, to help protect lives and to prevent diseases.
"Engineers are at the forefront of technological advancement, so we need to continue designing new machines and algorithms to help tackle societal problems, with the result of combating climate change, improving the quality of life and bringing people closer together," she said in a press release.
"I was very surprised at how many senior engineers from all over the world were in attendance because we always assume that people are not very interested in meetings," said Prof Leong, who was in the UK from June 7 to 11.
During her trip, Prof Leong, who was the recipient of the 2021 Laureate of the GREE WFEO Women in Engineering Award, the UN Women 2021 Malaysia WEPs Award, the Top Research Scientists Malaysia 2017, the Asean Meritorious Service Award 2017, the Institute of Engineering Malaysia Women Engineer Award 2017, and the Australia Queensland Smart State – Smart Women Award 2005, also discussed research collaborations on artificial intelligence (AI) engineering with Imperial College London.
"I met with Prof Danilo P. Mandic from the college and we explored Malaysia-UK research collaborations and staff exchange programmes.
"We talked about research projects that combine the principles of systems engineering, software engineering, computer science, and human-centred design to create AI systems in accordance with human needs for mission outcomes," said the Institution of Engineering and Technology (Malaysia Local Network) immediate past chairperson, the Institution of Engineers Malaysia (IEM) and the International Network of Women Engineers and Scientists vice president, and the World Federation of Engineering Organisation (Women in Engineering Committee) deputy vice chair, who specialises in medical signal processing and telecommunications research.
Source: The Star
https://www.thestar.com.my/news/education/2022/07/31/uk-engineering-body-elects-first-msian-woman-as-council-member
-----
Hannatu Musa and Hauwa Luka, Two Chibok Girls Escape Eight Years After Boko Haram Kidnap In Nigeria
30 July, 2022
Nigeria said on Friday that it had found two former "Chibok girls", eight years after their abduction by the jihadist group Boko Haram.
The two women were among 276 schoolgirls aged between 12 and 19 who were abducted in 2014 from their boarding school in Chibok, northeastern Nigeria.
Hannatu Musa and Hauwa Luka escaped from the Sambisa Forest, a Boko Haram enclave in the northeastern state of Borno, and reached the town of Bama, bordering the vast forest, where they raised the alarm.
General Christopher Musa, the commander of the military forces in the region, presented the two young women and their children to the media outside a military barracks in Maiduguri, the regional capital of Borno.
"Hannatu and Kauna were rescued on 26th of July by troops of 21 special armoured brigade in Bama," he said before allowing them to speak.
"We waited until it was dusk before we set out and trekked for two days before we reached Bama where we were received by soldiers."
"I have been looking for a way to escape and when Hannatu came visiting and brought the idea I immediately agreed to her plan," said the young woman who left with her baby on her back.
Of the 276 schoolgirls abducted in 2014, 57 managed to escape, and another 80 were exchanged for Boko Haram commanders after negotiations with the authorities.
Since the kidnapping, many other schools and universities have been attacked in northern Nigeria in recent years, some by jihadists, but mostly by criminal groups who engage in mass kidnapping for ransom.
The jihadist insurgency in the northeast has lasted 13 years, leaving 40,000 people dead and 2.2 million displaced.
Source: English.Alaraby
https://english.alaraby.co.uk/news/nigeria-2-chibok-girls-escape-years-after-boko-haram-kidnap
-----
Arab women take on leadership to improve health
By BARBARA SOFER
JULY 30, 2022
"S." was 19 when she met her husband for the first time.
Family members were present and the couple didn't speak much. The same happened in the two subsequent short meetings. The man, also young, seemed shy, but "S." was shy, too. She'd never met a potential groom before.
"S." liked the idea that she would be living in Jerusalem. She was excited and happy as the wedding preparations moved forward.
Only on their wedding day did "S." realize to her dismay that she was marrying a mentally challenged man. There was no way out. Her family would never take her back.
This isn't a story from a 19th-century novel. I met "S." when she spoke publicly at Hadassah Medical Center about how her life had suddenly gotten better. She was among some 45 women who came to the hospital to celebrate their participation in and completion of health courses under the auspices of the Linda Joy Pollin Cardiovascular Wellness Center for Women, with the support of the Jerusalem Municipality and Efshari Bari, the Health Ministry's health promotion program.
"S." is one of 11 children in a family with a hand-to-mouth family existence in a periphery village within the Palestinian Authority. Today she's 38, still married, a mother of four children – one of whom has severe learning disabilities. Her husband doesn't work and they live on disability insurance.
Another of "S.'s" personal frustrations was not being allowed to go to high school beyond the 10th grade. So when she heard about a free course on women's health at the community center in nearby Wadi Joz, she wanted to attend. At first, her husband's extended family with whom they live protested her attending but she overcame their objections. The workshop had 22 sessions, each three hours long, and was adapted from the American Diabetes Prevention Program to fit the Jerusalem community's needs. At each meeting, the women from Isawiya and Wadi Joz would hear from a medical professional in Arabic and take part in discussion groups.
"Our women deal daily with the challenges of lower socioeconomic conditions, plus the restrictions on women's independence within the norms of Palestinian society. Even in better-off neighborhoods, we have husbands who show up at the community centers to make sure that what their wives are doing conforms to their strictures and values."
"What we added to the American program was mostly the element of resilience," says Dr. Maha Nubani Husseini, who directs the program curriculum and implementation in the Arab sector. "Our women deal daily with the challenges of lower socioeconomic conditions, plus the restrictions on women's independence within the norms of Palestinian society. Even in better-off neighborhoods, we have husbands who show up at the community centers to make sure that what their wives are doing conforms to their strictures and values."
A shocking statistic: by age 70, half of Arab women have diabetes, and they have a 60% higher rate of cardiovascular mortality than Jewish women.
"There are not significant genetic differences between the Jewish women and the Arab women in Jerusalem that explain the disparities in heart disease," says Dr. Donna Zwas, the Harvard-trained cardiologist who heads the Pollin Center. "The major differences are lifestyle and dietary choices that can be changed, which ultimately will prevent disease and save lives. Arab women in Israel are diagnosed with heart disease 10 years earlier than Jewish women."
"Everyone knows that eating well and exercise prevents disease, but the challenge is to get women to find the culturally and personally appropriate way to make the changes," Zwas says.
One effective method is to train the women themselves to be the leaders, an ongoing process that requires a carefully crafted empowerment program that won't draw ricochets that undercut women's efforts. This will improve women's health and have a ripple effect on the entire community.
Potential leaders are spotted within the graduates of the basic course and invited to a smaller leadership training program where they design projects, learning to write proposals that require specifying goals and needed resources. There's also training in public speaking so they can do effective outreach to their neighbors.
At the graduation, many women rose to speak, practicing their hard-won new skills. Among the women who told their stories were a young woman taking the course despite undergoing treatment for breast cancer, and a feisty retired schoolteacher with a long history of community service.
The graduates sang on the bus that brought them to and from the Ein Kerem campus. They wore their holiday clothes, mostly intricately embroidered Palestinian dresses. Absent from the buffet table were the usual burekas and cheese danishes. Instead, there were dessert bowls of yogurt, vegetable-laden tabbouleh and fruit.
"S." says that what stuck to her most in the first course was the idea that she needed to do something for herself. "There were sessions on how to manage stress, and I realized I had to get over the justified anger at my mother for limiting my education and for making such a match for me and do something for myself," she said.
The planning and implementing program in which she was involved is a workshop on eliminating the home accidents that plague Arab neighborhoods.
According to Dr. David Rekhtman, who heads the Pediatric Emergency Room at Hadassah's Mount Scopus hospital, adjacent to Isawiya and near Wadi Joz, the most common accidents include falling from roofs, summertime drownings, burns and accidents from children playing in the street for lack of sidewalks and play areas. There are also hand injuries from cap guns and firecrackers during Ramadan, and even bullets that go astray at wedding celebrations. "Awareness campaigns targeting not storing kerosene in cola bottles have eliminated most of the cases of kerosene-poisoning, a proof that health activism in the area of home safety can be impactful."
Source: Jpost
https://www.jpost.com/opinion/article-713247
-----
Saudis hail Vision 2030 women's workforce figures
HEBSHI ALSHAMMARI
July 30, 2022
RIYADH: Saudis have hailed workforce figures that reveal the growing role of women in the national economy as part of Vision 2030.
Saudi women now comprise 33.6 percent of the Saudi workforce as of March 2022, according to the General Authority for Statistics. That figure is up from 17.4 percent just five years ago.
The unemployment rate of women was the lowest in 20 years as of the first quarter of 2022, falling to 20.2 percent from 22.5 percent during the fourth quarter of 2021.
Vision 2030 promotes Saudi women as an important part of the Kingdom's strength. It aims to develop their talents, invest their energies, and provide them with the right opportunities to build their futures, contributing to the development of society.
The Ministry of Human Resources and Social Development has implemented policies and initiatives that support inclusivity, and diversity in the labor market through introducing various incentives to enhance the positive image of women in the workplace, and to create a supportive and inclusive environment to facilitate women's entry into the labor market.
Experts say that the influx of women in the labor market is due to reforms, legislations and laws that foster an inclusive environment in the workplace.
Saad A. Al-Hammad, spokesperson of the Ministry of Human Resources and Social Development, told Arab News: "The Ministry of Human Resources and Social Development has implemented policies and initiatives that support inclusivity, and diversity in the labor market through introducing various incentives to enhance the positive image of women in the workplace, and to create a supportive and inclusive environment to facilitate women's entry into the labor market."
Al-Hammad added that the percentage of women in senior and middle management positions rose from 28.6 percent in 2017 to 39 percent as of the first quarter of 2022.
According to labor market data, 27.7 percent of Saudi women were employed in the education sector and 17.7 percent in the retail and wholesale sector as of March 2022.
Dr. Nuwair S. Al-Shammari, deputy dean of the Faculty of Information and Communication at Imam Mohammad ibn Saud Islamic University, said that Saudi women have progressed because of historical decisions taken under King Salman, which enabled Saudi women to be active partners in national development — the cornerstone of the National Transformation Program and Saudi Vision 2030, efficiently led by Crown Prince Mohammed bin Salman.
Al-Shammari, who was chair of the media committee at a conference on women's empowerment in November 2021, added: "The transformations in recent years saw an overwhelming presence of Saudi women in the labor market, chambers of commerce, Shoura Council, diplomatic work and other important leadership positions. Women were granted the necessary powers to fulfill their responsibilities toward the country due to their capabilities with the government's support."
Dr. Amal D. Al-Daej, an international relations and strategic partnership adviser of the National Center for Vegetation Cover, said: "Crown Prince Mohammed bin Salman has empowered women in the labor market and because of him women have become today real partners alongside men in the development of the country."
Al-Daej added that women today enjoy a distinct place in society because of the leadership, which saw the importance of increasing women's participation in the workforce, given that women represent half of society. Women today can now fill leadership roles and take part in official delegations in international forums, Al-Daej said.
The adviser, who was member of the Saudi delegation to the COP15 UN Convention to Combat Desertification, said: "It's exciting to see women's participation rate in the workforce increase in recent years. This empowerment bolsters the national economy."
Source: Arab News
https://www.arabnews.com/node/2132696/saudi-arabia
-----
URL: https://newageislam.com/islam-women-feminism/arab-female-sally-hosaini-film/d/127612
New Age Islam, Islam Online, Islamic Website, African Muslim News, Arab World News, South Asia News, Indian Muslim News, World Muslim News, Women in Islam, Islamic Feminism, Arab Women, Women In Arab, Islamophobia in America, Muslim Women in West, Islam Women and Feminism