New Age Islam News Bureau
9 Nov 2016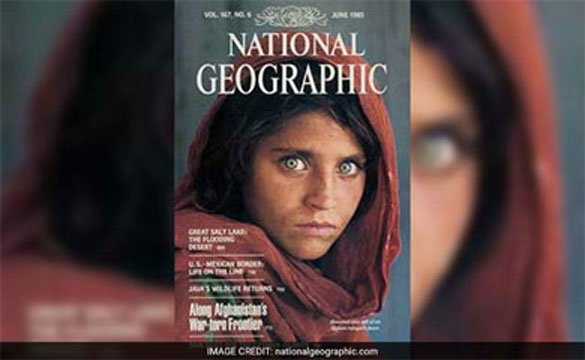 Nat Geo's famed 'Afghan Girl' Sharbat Gula
-------
• Saudis Welcome Call to Open More Gyms for Women
• 'Afghan Girl' Sharbat Gula Deported
• Laguna Beach Urth Caffe Countersues Seven Muslim Women Who Claimed Discrimination
• Young Men, Women Looking For Love Swindled By 'Magic'
Compiled by New Age Islam News Bureau
URL: https://newageislam.com/islam-women-feminism/arab-community-speaks-torture,-killing/d/109056
--------
Arab community speaks out against torture, killing of Muslim women in Israel
Nov 08, 2016
After years of abuse and death threats, Duaa Abu-Sharkh had finally divorced her husband, agreeing even to give up custody of her four young children and family property to escape his violent grip. Then, one night in late September, as the 32-year-old mother was dropping off her kids after a rare visit, a masked gunman dragged her from her car and shot her in the head before their eyes.
Her killing is the latest in a string of murders of Israeli-Arab women believed to have been carried out by relatives. But after years of silence, the recent outburst has sparked soul searching in the community and unprecedented demonstrations against its mistreatment of women.
The killings have some similarities to the so-called "honor killings" elsewhere in the Muslim world, where women can be murdered by relatives for tarnishing the family name through perceived sexual indiscretions. But activists in Israel reject such comparisons, saying the vast majority of the killings are the result of rampant spousal abuse that has been ignored by police in a landscape rife with drugs, crime and poverty.
Traumatized by the recent death of Abu-Sharkh and other women in their communities, Arab citizens, who have long been suspicious of Israeli authorities, are now calling for more police and social services in their long-neglected neighborhoods.
Though just a fifth of the population, Arabs represent half of the women killed in Israel each year.
And half of those women are killed in Arab neighborhoods of Ramle and Lod, cities just outside of Tel Aviv where several large clans involved in organized crime have made weapons easily accessible and allowed violence, particularly toward women, to go unchecked for years.
"Women in Arab society have a lower status. So, when there is violence, who pays the price? Women," said Samah Salaime, a social worker who founded the Arab Women in the Center organization to aid victims in the Lod area. She said Israeli authorities treat the oppression of women as a value in Arab society. "They deal with us as if the blood of the Arab woman is cheaper," she said.
But things are starting to change.
Abu-Sharkh's killing, and that of another divorced mother of four in Jaffa a month later, spurred a series of street protests that drew hundreds of women and men, both Arabs and Jews. A parliamentary committee heard testimony from Arab women and the national police chief said the level of violence was "unacceptable," and vowed to battle it.
Arabs hold full citizenship rights in Israel, but are generally poorer and less educated than Jews and suffer from discrimination and substandard public services. Some Israelis, including top politicians, have questioned their loyalty to the state, contributing to their sense of being treated as second-class citizens. Arabs often accuse the police of being indifferent to Arab crime, so long as Jews are not harmed.
Earlier this year, after a deadly shooting in downtown Tel Aviv and a subsequent weeklong manhunt for the Arab shooter, Israel launched a campaign to collect illegal arms in Arab towns. Later, it promoted an Arab police officer to deputy commissioner, making him the highest-ranking Muslim ever to serve in the force, and putting him in charge of the new law and order drive in Arab communities.
Police spokesman Micky Rosenfeld said families used to tamper with crime scenes and make it difficult for police to collect evidence and testimony in Arab areas. But he said attitudes have changed in recent years and cooperation is much better. The police force is currently recruiting an additional 1,500 Arab officers and holding outreach programs to strengthen its ties to the community, he said.
"The days of the instant anti-police, anti-government and anti-establishment sentiment are over," he said. "The main emphasis now is to be there and to connect with the Arab community."
Arab lawmaker Aida Touma-Sliman, who heads the parliamentary committee on the status of women and gender equality, said that wasn't enough. She noted that 15 women have been killed in the Ramle-Lod area in the past year, but only three men have been charged.
"What kind of message is given to the population and what kind of message is given to the perpetrators?" she asked. "You can kill and you will still go on free. And for the women it is a clear message from the police that nobody can protect you."
Touma-Sliman said police have been persuaded to stop automatically referring to the deaths of Arab women as "honor killings," saying it was an offensive term "developed by the patriarchal society in order to legitimize the murder itself."
In Abu-Sharkh's case, the writing was on the wall. Her ex-husband, who had links to local criminal gangs, would beat her regularly, once breaking her arm and nose, and strangle her until she turned blue, said her mother, Majeda Abu-Sharkh. When they complained to police, the ex-husband threatened to kill Abu-Sharkh and gunmen opened fire at her family's home.
Police briefly detained him after her killing but released him for lack of evidence.
"If it was a Jewish woman, the police would have found her killer in two hours," Majeda said, clutching pictures of her dead daughter. "Thank God, it is all over with now. She has gone to God and it is better for her there. She is resting."
Salaime, the social worker, said such tragedies would hopefully diminish as taboos are broken and the status of women slowly improves.
"Men know that the Arab woman is now studying more, has more freedom and we have left a lot of men behind who still think that an Arab woman is worthless, that her body is a property that you can harm without being held accountable," she said. "The path is very long. It is a very painful journey."
http://www.hindustantimes.com/world-news/arab-community-speaks-out-against-torture-killing-of-muslim-women-in-israel/story-4aeG0RDfQZjkfGtj0ZMSOO.html
--------
Saudis welcome call to open more gyms for women
November 9, 2016
Manama: Saudis have welcomed remarks by Princess Reema Bint Bandar Bin Sultan, the undersecretary for women's section at the General Authority for Sports, about the importance of encouraging women to attend public athletic facilities and promote a culture of health and wellness in a country that is struggling with dangerous levels of obesity and diabetes.
"Obesity and diabetes are killing us. If women do not have venues to exercise, that's a national shame," she said in remarks carried by US magazine Fast Company.
Princess Reema said she supported the operation of women's gyms.
Physically fit women will spend less on medical care, and it will also mean economic benefits for the country, she added, calling for opening sports doors to girls and women.
Conservatives in the Saudi society have long resisted allowing young girls to play sports at schools or encouraging women to attend gyms even though the activities are legally permitted.
Saudi Arabia this year sent four women to the Rio de Janeiro Olympics, four years after it made a historic breakthrough in 2012 when two Saudi women competed for the first time at the London Games.
Saudis are welcoming the tendency to create more opportunities for women to exercise.
"There is nothing in Islam that prohibits women from engaging in athletic activities and we should move ahead with the plans to encourage women to join gyms," Veteran Lawyer, a user, said.
Another user under the moniker of Rights said that there was no room for hesitation or vacillation.
"We are now living in times characterised by serious work and strong determination, and we are ready for clubs and gyms. The interests of the nation are above all other considerations," Rights said.
Fahem said that action was needed more than words to change the situation.
"She should move ahead and open up gyms for women, not just talk about them," he said.
However, another user said that the conditions should be set right to encourage women to engage in athletic activities.
"I am so keen on attending gyms, but the ones that are available inside spas now are so expensive that I cannot join," she said. "We need to see them reduce their membership fees."
Visitor, another user, said that she did not feel the urge to join a gym.
"I do not need gyms since I move around the house so much to look after my children as I have no helpers. I feel fit and in good health," she said.
Rima said that she welcomed the opening of several gyms.
"There is nothing worrying about gyms for women; however, is the concern is that the real objective is to scout gifted women and select them to represent the country in international competitions," she said.
http://gulfnews.com/news/gulf/saudi-arabia/saudis-welcome-call-to-open-more-gyms-for-women-1.1926737
--------
'Afghan Girl' Sharbat Gula deported
Nov 09, 2016
KARACHI: Pakistani authorities deported Nat Geo's famed 'Afghan Girl' Sharbat Gula on Tuesday, according to media reports.
Quoting unnamed officials, the reports said Sharbat Gula was handed over to Afghan security personnel at the Torkham border after she refused the Khyber Pakhtunkhwa government's offer to stay in Pakistan.
She had pleaded guilty to six charges against her: illegal stay in Pakistan, forgery, cheating, tampering with documents and violation of the Nadra (National Database and Registration Authority) Act.
A special anti-corruption and immigration court had ordered deportation of Sharbat Gula, the green-eyed 'Afghan Girl' whose 1985 photo in National Geographic magazine became a symbol of her country's wars, after finding her guilty of illegally obtaining a Computerised National Identity Card. The court also sentenced her to 15-day imprisonment, along with fine.
Sharbat Gula and the Afghan government, in an application submitted to the KP government, pleaded for her departure to Afghanistan on completion of her 15-day sentence on Nov 9.
The decision of stopping her deportation was taken on Saturday by the provincial government on humanitarian grounds and as a goodwill gesture towards Afghanistan. However, she refused to stay in Pakistan.
http://www.dawn.com/news/1295219/afghan-girl-sharbat-gula-deported
--------
Laguna Beach Urth Caffe countersues seven Muslim women who claimed discrimination
Nov. 8, 2016
LAGUNA BEACH – A civil rights lawsuit filed in April by seven Muslim women claiming they were targeted and humiliated when forced to leave Urth Caffé by management is fraudulent, an attorney for the Laguna Beach restaurant said in a brief filed Tuesday supporting a lawsuit countering the seven women for trespass.
The trespass claim followed a lawsuit filed by the women claiming they were subjected to religious discrimination when Urth Caffé staff, with assistance from Laguna Beach police officers, asked them to leave when the women refused to abide by the café's seating policy.
Tuesday's brief was filed by the American Freedom Law Center, a national public interest law firm retained by Urth Caffé.
"The underlying lawsuit claiming religious discrimination is a fraud and a hoax on the courts and the media," said David Yerushalmi, AFLC co-founder and senior counsel. "It is nothing short of an abuse of process to extort public apologies and other accommodations from my client, Urth Caffé."
A hearing on the motion is set for Nov. 22 at Orange County Superior Court in Santa Ana. This will be the first time a judge will review details of the case.
Yerushalmi said Urth Caffé did not discriminate against the women. He said the claim that they were asked to leave the café because they were wearing hijabs – a traditional Middle Eastern headscarf – is laughable.
On the night of April 22, as on many Friday nights, a large number of young people, including a majority of whom are Muslim and of Arab descent, make up the base of Urth Caffé's customers, Yerushalmi said.
"Not surprisingly, many of these customers are women wearing hijabs. None of these other Muslim women was asked to leave. The women who now claim victim status were not asked to leave, but only to abide by the café's policy to give up their high-demand outside patio table after 45 minutes to allow other customers, including those wearing hijabs, to enjoy the experience. The women refused to abide by the policy and began causing a scene and disrupting other patrons. ... This is trespass plain and simple."
The trespass countersuit claims the seven women were not victims, but instead the aggressors and guilty of trespass.
The women, represented by three attorneys, said at a press conference in April that they were singled out and told to leave Urth Caffé on April 22 because they appeared to be Muslim. Six of the seven wore hijabs.
One of their attorneys, Mohammad Tajsar, said at the time that Urth Caffé staff "targeted these women as a way of cleansing their location of women that appeared to be Muslim to appease the Islamaphobia in a predominantly white Laguna Beach community."
"We vigorously deny they broke the trespass law because they followed the orders of the police," he said in June. "We view their cross-complaint as a mechanism to question the motivation of the women who came to Urth Caffé to have a good time and a further attempt to scare them not to pursue their lawsuit."
On Tuesday, Tajsar said the new filings by Urth Caffé are a response to a motion the women filed on Aug. 26 asking the judge to toss out the café's counterclaim of trespass. The motion is a way to get an earlier hearing.
"We filed it because (their trespass claim) was an attempt to intimidate and silence plaintiffs," Tajsar said Tuesday.
http://www.ocregister.com/articles/women-734714-urth-caff233.html
--------
Young men, women looking for love swindled by 'magic'
Nov 9, 2016
KUWAIT CITY, Nov 8: A Syrian expatriate has been arrested for swindling a number of young men and women under the pretext of having the ability to perform black magic for improving their love lives.
According to security sources, the General Department of Criminal Investigations received information that a Syrian expatriate has been charging KD 400-KD 1,000 from young men and women to perform black magic.
Immediately, Assistant Undersecretary for Criminal Security Affairs Major General Abdulhameed Al-Awadi and Director of General Department of Criminal Investigations Brigadier Al- Sharhan issued orders to launch investigations.
A team of offi cers from the Department of Financial Crimes at the General Department of Criminal Investigations was formed to carry out the investigations. After taking necessary legal measures, an undercover agent was sent to the suspect under the pretext of requiring black magic services in order to force her husband to leave his mistress. She gave fake names. As soon as he started carrying out some rituals, securitymen raided the place and arrested him.
They confiscated tools used for black magic, some herbs, pictures of young men and women and some clothes belonging to his clients. When questioned, he revealed that he has been swindling his clients under the pretext of knowing black magic even though he does not know black magic in reality. He revealed that many of the cases of his clients had ended coincidently in his favor. The suspect was referred with the confi scated items to the concerned authorities for necessary legal action.
http://www.arabtimesonline.com/news/young-men-women-looking-love-swindled-magic/
--------
URL: https://newageislam.com/islam-women-feminism/arab-community-speaks-torture,-killing/d/109056
New Age Islam, Islam Online, Islamic Website, African Muslim News, Arab World News, South Asia News, Indian Muslim News, World Muslim News, Womens in Islam, Islamic Feminism, Arab Women, Womens In Arab, Islamphobia in America, Muslim Women in West, Islam Women and Feminism, Moderate Islam, Moderate Muslims, Progressive Islam, Progressive Muslims, Liberal Islam