New Age Islam News Bureau
12 Oct 2018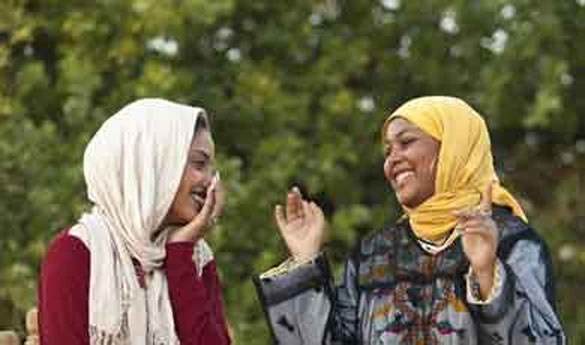 Photo: Appointing women State Council judges 'a matter of time': State Council Pres.
-------
• Women entering mosques: Kerala HC rejects Hindu group's petition
• Protecting our girls from child marriage
• Four arrests over Instagram baby-selling ring in Indonesia
• Hijab in blind judo? Athletes' safety comes first
• Career Fair for Saudi women offers 1,356 job opportunities
• UN set to lambast France for its 'discriminatory' 2010 burqa ban
• Mathura Muslim woman adopts Hinduism, says no respect for women in Islam
• M&S criticised for selling hijabs for schoolgirls as young as nine
• Triple talaq illegal in Islam: Kalbe Jawwad
• Pakistan extremists: Don't free Christian woman on death row
• 2 Arab women bike around the Middle East in new Fox show
• How I became captain of the winning all-girls Afghan robotics team
Compiled by New Age Islam News Bureau
URL: https://www.newageislam.com/islam-women-feminism/appointing-women-state-council-judges/d/116613
--------
Appointing women State Council judges 'a matter of time': Egypt's State Council
Farah Tawfeek
October 9, 2018
Egypt's State Council President Ahmed Abou Al-Azm said there was no constitutional prohibition to appointing women as judges in the State Council, adding that the State Council itself has no objection to the matter. However, he said the entire process was a "matter of time", as there are protocols that have to be followed to appoint women as state council judges, some of which include vacating suitable positions for women.
During a speech he gave at the International Conference of the Arab Union of Administrative Judiciary, Abou Al-Azm added that, at that point, Egypt is content with the number of female ministers in the current government, which is evidence that Egypt is keen on women participating in different fields.
On a similar note, ex-Minister of Communications Maged Othman said that giving the chance for women to have access to all leadership positions has become a priority of utmost importance, as it is a basic right for women.
Egypt has been taking many steps in the field of gender equality in leadership positions in recent years. The appointment of Egyptian females' in government leadership positions has been seeing a gradual increase since 2015.
Today, the current government has eight female ministers: Minister of Planning Hala El-Saeed, Minister of Investment and International Cooperation Sahar Nasr, Minister of Immigration and Egyptian Expatriate's Affairs Nabila Makram, Minister of Culture Inas Abdel Dayem, Minister of Social Solidarity Ghada Wali, Minister of Environment Yasmeen Fouad, Minister of Tourism Rania Al-Mashat and Minister of Health Hala Zayed.
Moreover, Egypt recently appointed two female governors: Beheira Governor Nadia Abdou, who was appointed in 2017, and Damietta Governor Manal Awad Mikhail, who became Egypt's first female Coptic governor in the most recent shuffle in 2018.
Women have also been taking positive steps in being an integral part of the judiciary system. In 2015, Egypt swore in 26 new female judges, the largest number to be sworn in since 2007, bringing the total number of female judges in the country to 80. In August 2018, 16 female Egyptian judges were promoted to higher judiciary positions.
https://egyptindependent.com/appointing-women-state-council-judges-a-matter-of-time-state-council-pres/
--------
Women entering mosques: Kerala HC rejects Hindu group's petition
by Shaju Philip
October 12, 2018
A division bench of the Kerala high court on Thursday rejected a petition, filed by the the Hindu Mahasabha, seeking entry of Muslim women in mosques.
The petition was moved by Dethathreya Sai Swaroop Nath, president of Akhil Bharatiya Hindu Mahasabha. The petition was filed days after the Supreme Court lifted the ban on entry of women of all ages into Sabarimala temple.
Seeking a direction to the Centre to allow Muslim women to enter mosques, the petitioner said Muslim women faced discrimination as they are not allowed to pray in the main hall at mosques. The petitioner said not allowing women to enter mosques denies them Constitutional rights under Articles 21 and 14. He said imposition of purdah for Muslim women infringed upon their personal freedom.
Rejecting the petition, the division bench, comprising Chief Justice Rishikesh Roy and A K Jayasankaran Nambiar, said Muslim women have not raised the issue.
Meanwhile, Kozhikode-based forum NISA — advocating reforms in Muslim personal law and supporting a uniform civil code — has decided to file a petition in the Supreme Court demanding entry of Muslim women in mosques belonging to the Sunni segment.
https://indianexpress.com/article/india/women-entering-mosques-kerala-hc-rejects-hindu-groups-petition-5398154/
--------
Protecting our girls from child marriage
12 Oct 2018
The international #MeToo movement catalysed the long-awaited reckoning of powerful male figures guilty of sexual crimes.
At home, this coincided with the election of a new government in May, paving the way for the appointment of the first female deputy prime minister.
As deputy prime minister, Dr Wan Azizah Wan Ismail's stewardship of the Women, Family and Community Development portfolio signals the present administration's determination to prioritise women's issues.
Initial optimism waned however when the country was rocked by media reports on underage marriage. In July this year, news outlets reported the marriage of an 11-year-old girl in Kelantan to a 41-year-old man, becoming his third wife.
The reason for marriage? A supposed desire to "protect and provide" for her, as she was uneducated and came from a destitute family.
Similar reasons were cited for the marriage of a 15-year-old Kelantanese girl to a 44-year-old father of two last month. The parents reportedly consented to the arrangement because they wanted her to have a "more comfortable life".
Although these two cases may seem like isolated incidents, approximately 82,000 child marriages have been recorded in Malaysia up until 2010.
The exact reasons for the prevalence of underaged marriage in Malaysia are unclear. Opinions on potential solutions have also been polarised. But regardless of the drivers and the specific solutions, Malaysians appear unequivocal in their disapproval of the practice.
The problem has been the subject of intense debate in the print, electronic and social media as the public has demanded firm and immediate response from lawmakers.
But what do Malaysian youths think about child marriage?
In a survey we recently conducted with hundreds of Form 4 students in 10 schools in Taiping and Kuala Lumpur, a majority of male and female respondents disagreed with the view that it was acceptable for girls to be married before the age of 18.
When asked to elaborate on the lack of support for the view, a student from a girls' school insisted that it would "prevent them from achieving their fullest potential" – an opinion echoed by a male student in a co-educational school in Taiping.
In the same study, respondents also agreed that delaying marriage for the sake of their career would be acceptable, with no significant differences between males and females.
The preliminary evidence we have gathered based on conversations with adolescents in Kuala Lumpur and Perak shows that respondents clearly reject child marriage as a social practice and they are aware of how it limits their life choices.
The solutions to tackle the problem, however, has caused much schism.
Many policymakers, activists, and concerned citizens have renewed their call to raise the minimum age for marriage across all states, especially for Muslims. For Muslims, marriages under the age of 16 are permitted with the approval of a shariah court.
For non-Muslims, the consent of the chief minister of the state is required, except in cases of customary marriages conducted within the indigenous communities.
Opponents of the move to raise the minimum age for marriage among Muslims, such as Omar Nik Abdullah, the vice-president of Parti Islam Se-Malaysia (PAS), argue that such reforms would contravene religious teachings.
Such an interpretation is not only dangerous, but also misleading as it minimises the scores of religious opinions on the detriment of child marriages.
Compounding the problem further, Malaysia's unique dual legislative system (civil and shariah) places Muslim family and marriage laws under the purview of each state. This complicates matters as a uniform amendment to each state's shariah enactments would require the consent of each of the country's nine sultans as well as the Yang di-Pertuan Agong.
The minimum age of marriage is also different for males and females in both civil and shariah laws, with the age for males set at 18 and females at 16. Why does such a disparity exist? Is it for the benefit of males over females, from the standpoint of both the education and labour markets?
Whatever the reason, the differing minimum ages signal an implicit 'permission' for parents to marry girls off earlier than boys. These are fundamental questions that merit further public scrutiny and debate alongside solutions to tackle child marriage.
In a historic year when Malaysia has appointed the first female deputy prime minister and girls outnumber boys in many public universities, the practice of marrying off daughters blights the country's ambition to become an example for women empowerment around the world.
Therefore, the challenge before the newly elected Pakatan Harapan government is to ensure that regardless of race, religion and gender, no Malaysian girl by 2030 will look at child marriage as a means to a better life. – October 12, 2018.
https://www.themalaysianinsight.com/s/102989
--------
Four arrests over Instagram baby-selling ring in Indonesia
October 12, 2018
Police in Indonesia's second-largest city Surabaya have made four arrests after breaking up an alleged baby-selling ring run from an Instagram account.
The account claimed to be linked to the Family Welfare Institute and a Facebook group called the Child Care Foundation, according to local media reports.
The account holder identified himself as "AP" and said he was a 29-year-old man helping find solutions to family problems.
On Oct. 9, police arrested Alton Phinandita Prianto, along with a 22-year-old woman who had tried to sell her baby boy, a broker, and a would-be buyer.
The four are each facing a maximum of 15 years' jail for violating the Indonesian Child Protection Act.
Police allege the illegal baby selling started in August after "testimonies" and photos from both buyers and sellers were posted on the Instagram account, attracting over 600 followers.
Between August and October, four babies under one year of age, were sold for US$1,500 each.
The Instagram account is still active and has more than 740 followers.
One of the posts reads:"I am unmarried and seven months pregnant. My plan is to find someone who wants to adopt my child and provide me with accommodation until my pregnancy's due date. I don't want my family to find out."
The Instagram page also posted photos of mothers with their faces covered who had allegedly sold their babies.
The head of Surabaya Police's Criminal Investigation Unit, Sudamiran, said the group had camouflaged itself as an adoption agency and sourced the babies from parents who could not afford to keep them. The children were often born out of wedlock.
"We found some messages on their Instagram account offering their service to adopt out the babies if their parents cannot raise them," Sudarmiran said.
Alton Phinandita Prianto told police he studied family welfare at university and worked as a volunteer counselor. He allegedly said he used his knowledge and experience to persuade mothers to sell their babies.
Ai Maryati, a commissioner with the Indonesian Child Protection Commission said police should not stop at the four arrests.
"We encourage the police to continue their investigations and finish this case. All those involved — parents, sellers and buyers — must be brought to justice because it is really human trafficking," she said.
https://www.ucanews.com/news/four-arrests-over-instagram-baby-selling-ring-in-indonesia/83599
--------
Hijab in blind judo? Athletes' safety comes first
Niken Prathivi
October 12, 2018
Allow me to start this piece by extending my profound respect to all athletes with different abilities including participants of the ongoing Asian Para Games 2018 in Jakarta.
As a hijab-wearing woman who exercises regularly and cycles, I wear a special sports hijab when exercising.
I carefully pick certain cloths for my headscarves because as a sports journalist my job requires me to move freely and safely.
So, when a passionate young judoka, Miftahul Jannah, wore a regular hijab to compete in a physical sport like blind judo — even when she knew the International Judo Federation (IJF) does not allow the covering of heads in the arena — safety was the only issue that popped into my mind. Nothing else.
Miftah, 21, was disqualified on Tuesday from competing in the women's 52 kilogram low vision category at the Asian Para Games for refusing to take off her hijab.
While other martial arts, such as karate and taekwondo, allow female Muslim athletes to wear a special hijab during competition, judo does not. The IJF Refereeing Rules Article 4/4 says judoka's heads shall not be covered, except for bandaging of a medical nature.
Moreover, the IJF sport and organization rules mention in an appendix on judogi (competing attire) that: "Any head covering, socks, jewelry or body piercings must be removed."
The rules on "default and withdrawal" also state that, "any contestant not willing to comply with the requirements of hygiene, hair and the head cover regulation […] shall be refused the right to compete" and thus the opponent shall win.
An additional rule says, "[...] Athletes must enter and leave the field of play wearing their judogi in the proper way. […] Religious, political, personal or commercial connotations are prohibited on the field of play."
So yes, the decision to disqualify Miftah was not about her religious views at all.
But Miftah took her case to Youth and Sports Minister Imam Nahrawi, immediately gaining the minister's attention. She admitted to him that she had known about the head covering regulation and said that her actions were deliberate, adding that she wanted to bring about a change in the sport. Imam backed the judoka, confirming his commitment to help her in challenging the IJF's head covering rules.
At a glance, Miftah seems to follow in the footsteps of Saudi Arabian judoka Wojdan Ali Seraj Abdulrahim Shaherkani, who managed to change the rules at the 2012 London Olympics when she wore a modified headscarf while competing.
Shaherkani was one of the first two Saudi Arabians chosen to compete in the Olympics.
When it comes to freedom of faith, the news made headlines in no time, cloaking the case in a religious-based narrative.
But wait, let us clear things up.
Judo is a sport played at both the Olympics and Paralympics. The Asian Para Games is similar to the Paralympics.
Although the sport upholds the IJF rules in both the Olympics and Paralympics, judo and para judo are not the same, which makes it improper to take Shaherkani's case to challenge the IJF's head covering rules.
In response to the misinterpretation of Miftah's disqualification, Brian Jeoung Gissick, a technical delegate for blind judo, said: "Of course blind judo has its own uniqueness that is different to able-bodied judo."
Gissick added that IJF rules also stated that athletes should tie their hair with rubber bands to ensure safety among contestants.
Heads should not be covered, except for adhesive bandages or medical tape, he added.
"The rules are made to protect the athletes [...]," said Gissick, adding that they were made following thorough research.
International Blind Sport Association (IBSA) referee director Angelica Wilhelm said the basic rules regarding the covering of heads had been introduced to Asian Para Games participants over the past three months.
"The rules were also made to avoid disastrous results for athletes [during] nezawa [ground fighting]," said Wilhelm, referring to grappling techniques that include clinching, takedowns, throws and sprawling.
Indonesian Asian Para Games Organizing Committee (INAPGOC) head Raja Sapta Oktohari said he respected the IJF's rules and Miftah's decision.
"This has been a valuable lesson for all of us. It is important to learn the regulations before we compete — not just for blind judo, but for all sports," he added.
The Indonesian team reportedly had trouble comprehending the regulations, which are in English, and no complaint was made during a technical meeting regarding the head-covering matter prior to the Games.
As a Muslim like Miftah, who has decided to switch to blind chess after the incident, I fully respect her passion to fight for hijab-wearing athletes, and the minister in backing her.
But then again, is Indonesia ready to do the necessary research on the possibility of the wearing of the hijab in blind judo and also the required diplomacy?
Blind judo masters, hijab-wearing judo practitioners, sports scientists and even sports fashion gurus should discuss the feasibility of wearing the hijab in the sport.
Because when it comes to the Olympics and Paralympics, athletes' safety comes first.
http://www.thejakartapost.com/academia/2018/10/12/hijab-in-blind-judo-athletes-safety-comes-first.html
--------
Career Fair for Saudi women offers 1,356 job opportunities
October 12, 2018
JEDDAH: In an effort to help Saudi women who are on social security programs find work, a special job fair recently offered them 1,356 opportunities.
Organized by the Ministry of Labor and Social Development, the career fair aims to provide young Saudis with suitable job opportunities and help increase communication between the private sector and the providers of training services that specialize in human resource development.
Women attending the event were briefed about the ministry and the various work-related programs offered by affiliated entities.
http://www.arabnews.com/node/1386341/saudi-arabia
--------
UN set to lambast France for its 'discriminatory' 2010 burqa ban
11 October 2018
The UN Human Rights Committee is set to rule that France's 2010 law which forbids people from concealing their face in public is 'discriminatory' and 'goes against religious freedom', the French media has revealed.
In 2010, France's controversial burqa ban made headlines around the world, and it may be about to hit the front pages again.
The UN Human Rights Committee (OHCHR) will shortly reveal its conclusion that the law, which forbids people from concealing their face in public - goes against 'religious freedom' and is 'discriminatory against women', French media has reported.
The OHCHR - a consultative body made up of independent international experts but which has no legal power to impose law changes and recently some politicians have called for the law to be hardened.
The subject came up last week after it was revealed that after France's most-wanted man Redoine Faïd was arrested after 3 months on the run, had worn a burqa for disguise.
It is not the first time the committee has been asked to examine French law.
In August, the UN experts handed in their conclusion into the 'Baby Loup' case, in which a woman called Fatima Afif was fired from a nursery near Paris in 2008 for flouting company rules by wearing a headscarf.
They ruled that France had infringed religious freedom and that the case breached international agreements on human rights.
The woman's lawyers took the case to the UN body after France's highest court endorsed her dismissal in 2014 after a long legal battle. That year, the French court's decision was also upheld by the European Court of Human Rights.Thecommittee advised the French government to take the necessary steps to prevent similar actions in the future.
The controversial case, named after the name of the nursery where it happened - was the basis for a new law on religious neutrality in private nurseries in France.
In France, which has Europe's largest Muslim population, tensions over Muslim headwear and other religious clothing regularly flare up, pitting the country's cherished secular constitution against religious freedoms.
A spate of jihadist terrorist attacks in recent years has made these issues particularly sensitive.
As well as the 2010 burqa ban France also introduced a law in 2004 which banned 'ostensible' religious symbols or items of clothing in state primary and secondary schools as well as all state-run buildings like town halls.
Defenders of the 2010 law, brought in under the presidency of Nicolas Sarkozy, argued that its main aim was as a security measure to bar anyone from being able to hide their identity in public. Supporters also said it would help promote freedom and respect for women.
But critics at the time argued that the law was simply brought in to win votes and pander to the increasingly Islamophobic right.
When it introduced the burqa ban in 2010, France was the first European country to do so. Denmark and the Netherlands have since followed suit.
https://www.thelocal.fr/20181011/un-body-to-point-finger-at-france-over-discriminatory-2010-burqa-ban
--------
Mathura Muslim woman adopts Hinduism, says no respect for women in Islam
Oct 12, 2018
AGRA: A 24-year-old Muslim woman, Arshi Khan from Mathura, adopted Hindu religion on Thursday, while claiming that women do not have any respect in Islam.
Soon after converting, Arshi filed an application with the SSP office claiming that she had taken the decision to convert to Hinduism on her own and because of her faith and love for Lord Krishna. Talking to the media, she said that her decision was influenced by the fact that "in Islam women have no respect".
Her statement that "while Hindus pray Goddess Durga, Laxmi and Sita, there is no place for women in Islam" is bound to invite the ire of the Muslim community and Mullanas.
She said that she had changed her name from Arshi to Arushi.
https://timesofindia.indiatimes.com/city/agra/mathura-muslim-woman-adopts-hinduism-says-no-respect-for-women-in-islam/articleshow/66178955.cms
--------
M&S criticised for selling hijabs for schoolgirls as young as nine
11 OCTOBER 2018
M&S has started selling hijabs for schoolgirls as young as nine after hundreds of schools requested that it supply uniforms for Muslims.
The garments, bought by parents who want their daughters to cover their hair while at school, were made available for the first time at M&S this summer due to popular demand.
The clothes giant works with 250 schools as their uniform supplier, and as part of the service a number of schools requested hijabs alongside shirts, skirts and trousers.
The move has been met with outrage from campaigners, some of whom accused the store of oppressing children.
The hijabs are on sale for £6 in M&S's "School Essentials" section and are designed to fit girls from aged nine upwards.
Hijab, which means "partition", is worn by Muslim women in front of any man they could theoretically marry. Hijab does not need to be worn in front of other Muslim women, but there is some debate about whether it should be worn in front of non-Muslim women.
It comes shortly after the retailer launched a "modest" range aimed at Muslim women featuring a "burkini" swimsuit, which was so popular that it sold out.
Last night experts warned that by allowing their daughters to wear the hijab at school, parents could be harming their ability to fully integrate with other children.
Alan Smithers, Buckingham, head of centre for education and employment research, said: "M&S are obviously responding to the market, but I am surprised that hijabs are to be part of the school uniform, because in schools I think we have the best hope of developing an integrated society with a common set of values. The hijab does tend to set children apart.
"The decision to wear distinctive clothing as expected by your religion should be taken into adulthood rather, than being imposed upon children by their cultural background while at school.
"Schools should be the melting pot of society and should help integration by delivering a common set of values."
An M&S spokesman said, "We provide bespoke uniforms for 250 schools across the country and they tell us which items they need as part of their school uniform list. For a number of schools this year, they requested the option of the hijab."
LBC Radio presenter and founder of the Quilliam Foundation Maajid Nawaz, said: "Little girls are told it is "immodest" to show their hair. And blessed be the fruit.
"Hijab is still imposed (only on women) by law in Iran and Saudi Arabia, and many other countries. This is gender apartheid. Marks and Spencer are free to sell confederate flag tee-shirts too, but I bet they never will."
https://www.telegraph.co.uk/news/2018/10/11/ms-criticized-selling-hijabs-school-girls/
--------
Triple talaq illegal in Islam: Kalbe Jawwad
Oct 12, 2018
Jaunpur: Noted Shia cleric Maulana Kalbe Jawwad said that Islam has declared triple talaq as illegal but the government should not interfere in religious affairs. He said Muslim Personal Law should take initiative to put a complete ban on triple talaq. He said it is against the Quran. He further said talaq on phone, email and letter can also be not accepted. Islam doesn't allow the oppression of women, hence triple talaq should strictly be banned and this should be done under Muslim personal law.
On the issue of Babri-Masjid-Ram Janmabhoomi Maulana Kalbe Jawwad said Prime Minister Narendra Modi, home minister Rajnath Singh and BJP national president Amit Shah have always said that Ram temple issue will be resolved either through talks or through court judgment hence Muslims should not pay attention to the statements of other leaders on the issue.
https://www.siasat.com/news/triple-talaq-illegal-islam-kalbe-jawwad-1419501/
--------
Pakistan extremists: Don't free Christian woman on death row
October 11, 2018
A Pakistani extremist Islamist party is demanding the country's Supreme Court uphold the death sentence for a Christian woman convicted of blasphemy.
Asia Bibi has appealed her sentence and the court earlier this week postponed ruling on the final appeal. Her lawyers say she was falsely accused.
The Tehreek-e-Labbaik party said on Wednesday that if the court's three-judge panel frees Bibi, the judges will face "consequences". The party also says its supporters will rally on Friday to demand death for Bibi.
The charge against Bibi dates back to a hot day in 2009 when she went to get water for fellow farm workers. Two Muslim women refused to drink from a container used by a Christian.
Bibi was later accused of insulting Islam's prophet, a charge which carries the death penalty.
https://www.business-standard.com/article/pti-stories/pakistan-extremists-don-t-free-christian-woman-on-death-row-118101100785_1.html
--------
2 Arab women bike around the Middle East in new Fox show
October 11, 2018
In a new travel show titled The Open Road, two Arab women battle against the elements and face their biggest fears as they travel through the Middle East on a pair of Harley Davidsons.
For three weeks, Pamela Nabhan and Chantal Asaad took their motorcycles from the UAE to Lebanon to Jordan and back, discovering breathtaking panoramas and experiencing death-defying adventures along the way.
Their life-changing journey, which began at Cafe Rider in Dubai and ended in Sharjah, marks the first Fox Original Production to come out of the region, and premieres on October 13.
Based in the UAE, Asaad had previously visited both Lebanon and Jordan. But on a bike, she said, it was a whole different experience. They interacted with "children, mothers, fathers, grandparents — anybody and everybody."
"In a car, nobody talks to you. On a bike, people approach you. You can't experience any place properly without a bike," she said.
AGAINST ALL ODDS
Asaad is Emirati on her father's side, with roots in Palestine and a Canadian upbringing, while Nabhan hails from Beirut, Lebanon.
The two were acquaintances before the show, but had never ridden together. Hitting the road and enduring tough circumstances side-by-side changed the course of their friendship.
"We became really close. We shared lots of beautiful adventures, lots of experiences, and at the same time, lots of fear and challenges," said Nabhan.
Their journey transported them from the jagged terrains of Jebel Jais in Ras Al Khaimah to the vast valley of Wadi Rum east of Aqaba.
Clad in their leather jackets (to protect against road rash in case they fall), they came up against 40-degree weather in the UAE, mild cold in Lebanon, and rainy conditions and a sandstorm in Jordan.
But the longest stretch of road was from Amman to Petra. Without a production crew, the ride would have taken four to five hours. With an episode to shoot, it took the women eight hours to complete. When they went to bed, Asaad could still hear the roar of the road in her ears.
"After a trip like that, your whole body is still shaking because of the adrenalin," she said.
BIGGEST FEARS
When Nabhan received the itinerary for The Open Road "four or five months ago", she was fully on board with the idea of cross-country riding and cuisine hopping, but terrified of extreme sports.
"I don't like heights. I love riding, I love speed, I love adrenalin, I love exploring new things — but on the ground. My biggest fear was paragliding," she said.
Meanwhile, Asaad thrilled at the opportunity to zipline and paraglide. She was more concerned with what they had to eat and where they had to sleep, earning her the name of "bougie rider" and "princess" from her friends.
"Riding on a bike, you've got to just put up with it. Some places were not typically places I go to," she said.
"[Pamela] is a princess in the way of make-up and girlie stuff. Just roughing it up with her, she gave me the strength to do it," she added, with a laugh. "We complete each other."
ORIGIN STORY
On a visit home to Canada a few years ago, Asaad decided she wanted to get her motorcycle permit. It would only take her three days. When she began riding sports bikes, she was hooked on the feeling and called it "a breathtaking experience".
She moved to the UAE six years ago, where the riding community welcomed her with open arms. She didn't come up against any resistance as an Arab woman in the biking world.
"It's such a misconception. I've actually found the opposite. People are so happy to see women riding, and they want to help out when you're a new rider," said Asaad.
Meanwhile, Nabhan had been passionate about bikes for as long as she could remember.
"When I was little, I had two neighbours who had bikes, and I always used to ride with them. My parents would go crazy, but I couldn't help it," said Nabhan. She felt that growing up in Lebanon fuelled her obsession.
"In Lebanon, there were hard times and conflict, so I was always looking for some adventure, adrenalin and freedom," she said.
'I COMPLETELY PANICKED'
As a freelance journalist, before becoming a rider herself, Nabhan followed the Lebanese chapter of Harleys Owners Group (HOG) to report about the causes they represented. But four years ago, she faced difficulties in her own life, from work stress to personal hardships.
"When all my issues got resolved, I needed some time for me. I needed to switch from being just a passenger to a rider," said Nabhan.
Scrolling through photos of motorcycles, she impulsively bought her first one, a Harley Davidson she named Sky, before she even learnt how to ride. As her motorcycle was being shipped to her home, she completely panicked. She had to return it. But once she saw it in person, there was no turning back.
"I was in love with her. It was really hard at the beginning — it's not a piece of cake, it's really not. It was a heavy bike. But I really wanted to ride, from the bottom of my heart," said Nabhan.
Her fear of getting behind the wheel — or rather, the handlebar — disappeared without explanation. In April, Nabhan was elected the director of the Ladies of Harley (also part of HOG) in Lebanon, bringing her journey full circle.
FRESH EYES
Asaad first heard about The Open Road through her former boss, and naively told him to inform her when the series premiered so she could watch it. Little did she know, she would be one of the show's stars. For Nabhan, seeing Lebanon through Asaad's eyes was a special treat.
"When you have someone with you that is not very familiar with the country, it's like you're discovering it all over again," she said.
Asaad said the show is for adventure seekers and those who are too scared to discover their own potential.
"There are things on this show that I thought I would never do," she said. "If I can change and have those experiences, anyone can."
The first season runs for six episodes, but a second season — also starring Asaad and Nabhan — could be in the cards. Would the women be up for it?
"Anything that has riding, yes," said Asaad. "Let's go — when are we starting?"
__
Don't miss it
The Open Road premieres in the UAE at 8pm on October 13 on Fox, Fox Life, Fox Rewayat, Fox Family, Fox Crime, Fox Movies, FX, Fox Action, National Geographic Abu Dhabi, Star Movies and Star World. Subsequent episodes will air weekly, only on Fox Life, Fox Rewayat, National Geographic Abu Dhabi and Star World.
https://gulfnews.com/leisure/television/2-arab-women-bike-around-the-middle-east-in-new-fox-show-1.2288871
--------
How I became captain of the winning all-girls Afghan robotics team
October 11, 2018
I love asking questions. As a child, I questioned just about everything. Why was my country different than the ones I saw on television shows and in movies? Why was my gender an obstacle to me becoming a leader someday? Why was educating young girls seen as so threatening to the leaders of my country?
My mother would attempt to answer my questions. But in doing so, she would also tell me stories about a dark time in my country, a time when the Taliban required women to stay inside their homes, a time when ignorance and servitude were forced upon us. Hearing these stories, I realized that my own sisters were the victims of this regime. The world they knew left no room for knowledge or imagination.
Not long ago, the Taliban prevented all girls from going to school. Today, almost 40% of Afghan girls attend school. But due to poverty, lack of teachers and supplies and cultural prejudice, millions of girls still do not have access to education.
I am fortunate enough to be an exception -- to come from a family where I have always been encouraged to explore and to watch the occasional animated movie. When I was six years old, I saw "Robots," an animated film about the possibilities of robots. Inspired, I promised my mom that someday I would make her a robot that could help her with all her housework.
And I put my mind to making that promise a reality. Last year, I had a chance to apply for a spot on my high school's all-girl robotics team, which would travel internationally to participate in competitions.
Out of the 150 students who applied, only six were selected for the final round. I was one of these students and, eventually, I was named captain of the team.
I was so excited to compete on behalf of my country. But just before my team was supposed to travel to Washington, D.C. for our competition, our visas were denied. I did not know why and I twice travelled from my home in Herat to the US Embassy in Kabul to appeal the decision.
After failing both times, I decided that I needed to fight back -- and so I took to the media. My team's story gained attention and eventually millions of people around the world knew what was happening. In 2017, US President Donald Trump decided to intervene. Our small robotics team was granted visas to enter the United States just days before the start of the competition.
We returned to Afghanistan with a silver medal for our achievement, and we were proud to serve as a symbol of hope for Afghanistan after many long years of war. We helped bring attention to the limits placed on girls and women in my country, and we showed the world that, if given the chance, Afghan girls could do anything.
No one was prouder of my team's victory than my father. He was the one who encouraged me to join the team in the first place, and he never lost hope that we would win our battle. He always believed that his children would become symbols of pride for our country.
But one week after I returned to Afghanistan, while he was at our mosque for daily prayers, ISIS took my father away from me. Some neighbors blamed me for my father's death. They said that if I had not been on the robotics team, this might not have happened to him.
At first, I didn't think I could remain on the team because of this tragedy. But my mother stood up to everyone. She said, "Fatemah must continue on this route, even if only for her father, who is the reason she joined this team." And she was right.
Children and young adults make up more than half of Afghanistan's population. The ability of my country to change is in our hands. But convincing others of our ability to do so -- and with technology -- is not going to be easy.
Growing up in a war zone, few Afghan children have had the chance to turn their dreams into reality. But we have a chance now -- the Digital Citizen Fund, which provides digital literacy training to Afghan girls, is creating that opportunity. This organization is how I learned computer programming and where I first worked with robots, and it is the reason I believe in the power of imagination.
I used to tell people, "Night will not always rule over Afghanistan. A new day will come soon." My father reinforced that idea. And just as he never stopped believing in me, I will never stop believing in a brighter future for the next generation of girls in Afghanistan.
https://edition.cnn.com/2018/10/11/opinions/afghan-robotics-champion-fatemah-qaderyan/index.html
--------
URL: https://www.newageislam.com/islam-women-feminism/appointing-women-state-council-judges/d/116613
New Age Islam, Islam Online, Islamic Website, African Muslim News, Arab World News, South Asia News, Indian Muslim News, World Muslim News, Women in Islam, Islamic Feminism, Arab Women, Women In Arab, Islamophobia in America, Muslim Women in West, Islam Women and Feminism