New Age Islam News Bureau
3 Dec 2013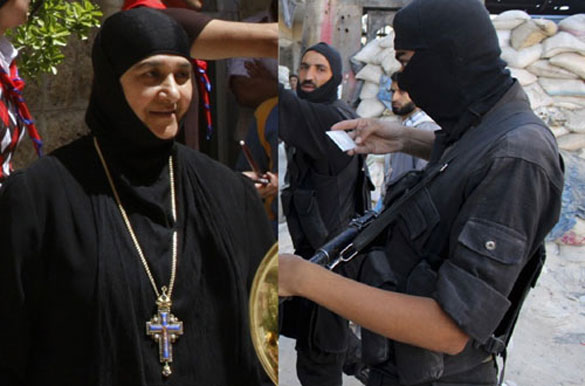 Syrian rebels forcibly evacuated 12 nuns including the mother superior Pelagia Sayyaf from the Saint Tecla Orthodox convent in Maaloula (Reuters)
-----------
• Turkey's First Academically Female Photographer Gets Due
• Islamist Rebels Abduct 12 Nuns from the Orthodox Monastery, North Of Damascus
• Living Away From Family, Saudi College Girls Run Into Myriad Problems
• Saudisation Rate in Nursing Sector Crosses 30 Percent
• White Widow's Diary Reveals Jihadist's Inner Domestic Goddess
• International Day for Elimination of Violence against Women Observed
• Family and Society Pose Obstacles for the Yemeni Actress
• Yemeni Female Child Wins Title of Beauty Queen of Children
Compiled by New Age Islam News Bureau
URL: https://newageislam.com/islam-women-feminism/anti-veil-'beauty'-campaign-xinjiang/d/34705
--------------
Anti-Veil 'Beauty' Campaign In Xinjiang Sows Ugly Tensions
Dec 03, 2013
A Chinese government worker in the ancient Silk Road oasis of Kashgar beckons two women to her street side stand and logs their details under the gaze of a surveillance camera. Their offense: Wearing veils. The "Project Beauty" campaign aims to discourage women from covering their faces — a religious practice for some Muslim Uighurs, the largest ethnic group in China's Xinjiang region — in an attempt to improve security.
But critics warn the effort could sow resentment and backfire instead.
"We need to hold onto our traditions and they should understand that," said a 25-year-old woman who has been registered twice.
Offenders were made to watch a film about the joys of exposing their faces, she added, speaking behind a white crocheted covering.
"The movie doesn't change a lot of people's minds," she said, like others declining to be named.
Xinjiang, a vast area bordering Pakistan and Central Asia in China's far west, beyond the furthest reaches of the Great Wall, has followed Islam for centuries.
It came under Chinese control most recently during the Qing dynasty in the late 1800s.
For years it has seen sporadic unrest by Uighurs which rights groups say is driven by cultural oppression and intrusive security measures but China attributes to extremist religion, terrorism and separatism.
Authorities' concerns intensified after a deadly attack in Beijing's Tiananmen Square last month which police blamed on Uighurs.
Kashgar residents say veil restrictions sparked at least one deadly conflict this year near the city, where 90 percent of the area's 3.3 million residents are Uighur.
"For the Chinese government the causal process is: the Islamic extremists ask for independence, ask for separatism, then that's why they set very strict limits on Uighurs' religious activities," said Shan Wei, a political scientist at the National University of Singapore.
"For the Uighurs' part, it's: 'OK, I wasn't involved in any political movements, I'm not a separatist at all, but you set so many stupid restrictions on my daily religious activities that I hate you'," he added, pointing out that China's other Muslim minorities did not face such rules.
Women in Kashgar sport a range of coverings, from bright scarves draped stylishly over hairdos that leave their necks exposed, to somber Saudi-style black fabric cloaking all but their eyes.
Policies to stop them covering their faces, and to a lesser extent their hair, are not publicized. City authorities declined to comment and Xinjiang officials could not be reached.
But "Project Beauty" stands could be seen around the city, and a tailor said campaign staff had instructed him not to make the full-length robes often worn with face coverings.
Other residents said that to enter government offices, banks or courts, women had to remove their veils and men shave their beards, another Muslim practice.
In Hotan, another predominantly Uighur city 500 kilometers (310 miles) to the east, at least one hospital received government forms to report back on veiled patients.
A Xinjiang government web portal featuring Project Beauty did not mention banning veils but listed its goals as promoting local beauty products and other goods, and encouraging women to be "practitioners of modern culture."
The Xinjiang Daily, run by the ruling Communist Party, warned of the potential dangers of Islamic dress in a July opinion piece.
"Some people with ulterior motives are distorting religious teachings" and "inciting young people to do jihad," it said, adding that black robes induced depression and scared babies.
The ruling party has sought periodically to stamp out veiling since taking power in 1949, first launching an atheism drive and banning the headgear altogether in the 1960s and 70s, said Gardner Bovingdon, a Xinjiang expert at Indiana University Bloomington.
Restrictions relaxed in the 1980s as China opened up, but tightened again in the following decade after religiously tinged protests broke out.
A worker at a Project Beauty checkpoint cited "security" as a motive for the campaign.
Some Uighurs endorsed the authorities' precautions, saying thieves or suicide bombers might exploit the outfits to hide packages and their identity.
But they also argued that some officials' aggressive approach sparked resentment and violence, including an April attack by Uighurs on police in Maralbishi county outside Kashgar that left 21 people dead.
State media blamed "terrorists" who "regularly watched video clips advocating religious extremism."
A few Uighur residents said the "real reason" was that an official tried to force a woman to remove her veil and "people got upset."
"They should have explained slowly that wearing these things is not allowed, we know you are good guys but some criminals wear the veil and robe to do suicide bombs and other bad things," one said.
A Uighur metalworker complained that women taught from youth to veil found it hard to change, and that other Chinese Muslim men grew beards but only Uighurs were labelled terrorists.
Some women took a pragmatic view.
A 35-year-old bakery owner with a gauzy orange scarf wrapped around a bun said the need to unveil in government buildings did not overly bother her. Women were becoming less strict about veiling in any case, she said.
But others remove their face covers before approaching Project Beauty checkpoints to avoid trouble, said a 19-year-old woman from a jade-selling family.
The "Beauty" people were everywhere, she said.
http://www.uyghurcongress.org/en/?p=21476%20Anti-veil%20%E2%80%98beauty%E2%80%99%20campaign%20in%20Xinjiang%20sows%20ugly%20tensions
--------------
Turkey's first academically female photographer gets due
Dec 03, 2013
The Suna and Inan Kiraç Foundation of Pera Museum is honoring Yildiz Moran, a trailblazer for female photographers, with a new exhibition that started this month and will continue into the near year.
As the first female photographer in Turkey to hold a degree in her field, Moran constantly pushed her own standards and limits with new quests over the course of her 12-year-long career in photography.
Through her unique, lyrical language of photography and particularly her photographs focusing on Anatolia and its people, she soon became one of the stars of photography in Turkey.
Moran, who was born in 1932 and died in 1995, began her career in photography with great passion, only to give it up after marrying Özdemir Asaf, the other great passion in her life. Nevertheless, during her brief career, Moran was able to produce significant and diverse work after studying with the famous photographer John Vickers in Britain. Her first solo exhibition was in Cambridge at Trinity College in 1953 and was followed by others in Istanbul, Ankara, London and Edinburgh.
HDNBesides her technical prowess and her masterful use of light, Moran was a photographer who put her soul, intellect, and heart into her work, thereby lending a great depth to her images and her overall work. This comprehensive exhibition, a "retrospective," aims to present Moran's inner voice through a new reading that focuses on the traces of her visibility within the history of Turkish and international photography.
With many photographs exhibited for the first time (along with a limited number of others she became famous for), the exhibition offers a wonderful opportunity to introduce a personality that, until now, has remained in the dark. Moran was the first female photographer of Turkey's republican era to receive academic training in photography and exhibit her works abroad. Using light with great mastery in the images she produced, Moran stepped beyond "taking" photographs and recording them technically and transmitting images onto photo-sensitive film – and was able to pour her whole self into the images, deepening their effect.
"The 12 years encompassing the period (1950-1962) Yildiz Moran took photographs can be considered as one of the times in which political history had a profound impact on the definition of photography. In the early 1950s, the world was still dressing the wounds of World War II. Following the emergence of genocide photographs from Auschwitz and Buchenwald, as the United States, struggling with the Jim Crow laws, maintained cultural diplomacy, its soul-searching led to the exaltation of photojournalism and documentary photography, further strengthening a conception of photography that, since the Industrial Revolution, had been holding apparent 'reality' as its basis over the seeing 'eye.' While abstraction took the seat of honor in the art of painting, photography, in the general sense, was confined to the immediacy of the notion of documentation as the evidence of what was real and concrete," academic Esra Özdogan said about Moran.
HDN Turkey's other photographers
"Following the transition to multiparty politics, photojournalism in Turkey ascended to a throne it would not relinquish for many years to come. Ara Güler and Fikret Otyam began working as photojournalists during the same years as well. Semiha Es was appointed to photograph the Korean War in the same period. As the straightforward documents of a culturally and intellectually developing Republic based on man and society, photographs came to fore with their simplicity and propinquity," she said.
According to Özdogan, Moran's discourse on photography is just as striking as her photographs and fresh as though it were just articulated today. Moran's unparalleled place in Turkish photography should not be explained by her gender, her certified education abroad, or her solitary travels across countries she photographed, but rather in terms of her deliberate choice to install the plain reality in her photographs behind her art in the golden age of documentary photographs and objective aesthetics.
http://www.hurriyetdailynews.com/turkeys-first-academically-female-photographer-gets-due.aspx?pageID=238&nID=58880&NewsCatID=385
--------------
Islamist Rebels Abduct 12 Nuns From The Orthodox Monastery, North Of Damascus
Dec 03, 2013
Damascus (AsiaNews) - Islamist rebels have kidnapped a group of nuns from the Greek Orthodox monastery of St Thecla (Mar Taqla) in Maaloula (north of Damascus). Mgr Mario Zenari, the Vatican nuncio in Damascus, confirmed the information after speaking with the Greek-Orthodox Patriarchate. Through the Vatican diplomat, the latter "calls on all Catholics to pray for the women religious."
"Armed men burst in the monastery of St Thecla in Maaloula this afternoon. From there, they forcibly took 12 women religious," Mgr Zenari said, citing a statement from Patriarchate. The group of Islamist rebels has apparently taken them to Yabrud, some 80 km north of the capital. Neither the nuncio nor the church Greek Orthodox Church knows reason behind the kidnapping.
Islamist Rebels from the Free Syrian Army (FSA) had invaded the small town on 5 September after driving out regime troops with the support of al-Qaeda-linked al-Nusra Brigades. After taking control of the city, they went on a rampage against Christian buildings, killing three young Catholic men.
More than 3,000 people, the town's entire Christian population, fled their homes seeking refuge in Bab Touma, the Christian quarter of Damascus. Some found shelter with relatives in Lebanon or in local Greek-Catholic convents.
Only Muslims were left in town, plus 40 nuns at the St Thecla Monastery who stayed to help care for dozens of orphaned children.
As of yesterday, Maaloula became again the scene of heavy fighting between the army and Syrian rebels, including many members of the extremist Jabat-al-Nusra militia.
Clashes are concentrated mostly in the upper, oldest part of the town, where the St Thecla Greek-Orthodox and the Sts Sergius and Bacchus Greek-Catholic monasteries are located.
From there, the rebels have launched repeated attacks against army positions in the lower part of town.
Fighting is intensifying, sources told AsiaNews. "The army is trying to regain control over the villages north of Damascus. For this purpose, it has launched a major offensive against the rebels, who are trying to hold government forces back through a scorched earth policy in the areas under their control."
http://www.asianews.it/news-en/Maaloula:-Islamist-rebels-abduct-12-nuns-from-the-St-Thecla-Orthodox-monastery-29701.html
--------------
Living Away From Family, Saudi College Girls Run Into Myriad Problems
Dec 03, 2013
ABHA – Many female college students who live away from their parents are facing great difficulty leading a normal life. They feel trapped between college premises and the apartments in which they live in. If they decide to go out alone and sit in the nearby park, they will have to put up with the way others, men and women, look at them.
Bashayer is one of those students. She comes from Mahayil Asir, but goes to college in Abha. She studies medicine and shares an apartment with a female roommate. She said,"It's difficult for girls here to go out alone without being harassed by young men."
One afternoon, Bashayer fell sick and needed to go to hospital.
When her roommate called her family to get permission to accompany her to hospital in an ambulance, the roommate's family refused to let their daughter go out alone.
Bashayer had to call her parents, who live in Mahayil Asir, 80 kilometers away from Abha, to come and take her to the hospital. They arrived around midnight to find their daughter in bad condition.
But this is not the only problem students like Bashayer have to face on daily basis. Some drivers, who run errands for girls, demand a lot of money for a simple and short errand, taking advantage of the fact that the girls cannot drive. Having no other option, the students pay whatever the drivers charge them.
One of the students, who preferred to stay anonymous, said she had to move from Riyadh to Abha and stay with her grandmother in order to go to college there. She studies medicine and finds it extremely hard to go to the university library on a daily basis.
She does not have a driver because she cannot afford one. "I hope the university considers building a girls' dormitory to end the suffering of students who have to rent apartments near college," she said.
Another problem is harassment, as young men tend to flirt with girls who are not accompanied by male guardians. Many female students opt to stay indoors for weeks than go out and get harassed on the street.
Asma, who lives near college and shares an apartment with three girls, has complained about the low monthly stipends. Asma and her roommates each get SR850 a month and have to pay a total SR1,500 for rent. Not only that, each one of them has to pay SR500 for the driver who drops them off at the college and takes them back home. If they decide one day to go out to a mall, they have to pay extra for the driver.
One of the most difficult situations she and her friends faced happened at a mall. The driver dropped them off there and left. When they called him after 10 p.m., he did not pick up the phone. They felt helpless and stranded in the mall.
However, an old lady with her son offered to give them a ride back home.
http://www.saudigazette.com.sa/index.cfm?method=home.regcon&contentid=20131203188409
--------------
Saudization rate in nursing sector crosses 30 percent
Dec 03, 2013
JEDDAH — The nursing sector in the Kingdom has achieved a 30 percent Saudization rate, Al-Eqtisadiah newspaper reported quoting a senior nursing consultant.
Sabah Abu Zinadah said a comprehensive healthcare project has begun to develop the nursing sector in the country and stop the migration of nurses into administrative jobs.
She clarified that 97 percent of Saudi nurses only hold a diploma, something which goes against the recommendations of the World Health Organization (WHO), which derecognized all diploma programs in 2010.
The Kingdom has replaced diploma courses with bachelor degree programs but the majority of nurses in the market are diploma holders with only about 3 percent possessing bachelor degrees in nursing.
Abu Zinadah criticized the Ministry of Health for replacing expatriate nurses with Saudis because she thinks nationals should be trained first since the nursing sector requires certain acquired skills.
"The major challenges facing the nursing sector are low salaries and allowances, a lack of transportation facilities and a lack of day care for children. In the past, the nursing profession was looked down upon but this has now changed," she said.
Abu Zinadah said the project to develop the nursing sector began in the middle of 2013 and a symposium to discuss the issue was held at King Faisal Specialist Hospital and Research Center (KFSH&RC).
http://www.saudigazette.com.sa/index.cfm?method=home.regcon&contentid=20131203188445
--------------
White Widow's Diary Reveals Jihadist's Inner Domestic Goddess
Dec 03, 2013
Extracts from the diary of 'White Widow' terror suspect Samantha Lewthwaite provide an intriguing insight into the life of a British Muslim convert juggling the demands of everyday life with plotting jihad.
Lewthwaite, the widow of London July 7 bomber Germaine Lindsay, used the journal to record shopping lists, plan future business ventures and muse on how to be a perfect housewife.
"When a man comes home - wife beautiful, food prepared, kids clean, immediately he will forget the pain of his day; he will always want to come home," read extracts from the diary published in the Sunday Times.
Tips on being a good wife also include "protecting your husband's money" and not being stubborn.
Lewthwaite, 29, has been on the run from authorities for nearly two years. After the July 7 terror attacks she fled to Africa, where she joined the Somalian terrorist organisation al-Shabaab and has since rapidly risen up its ranks, reportedly becoming a key financier and coordinator.
Interpol has issued a 'Red Notice' for her arrest for her alleged involvement in a plot to blow up western targets in Kenya.
Lewthwaite's diary, which was found by police at a villa in the coastal resort of Mombasa where the terror suspect was living before going on the run in 2011, features plans to open a frozen yoghurt stall and juice bar. The journal also details an idea to devise 'Pregisize' classes to help pregnant women keep fit.
Expectant mothers who enrolled in the classes would be offered healthy recipes, monthly newsletters, a "stylish T-shirt" and a 10% discount.
"Let us help you to maintain a healthy body and mind during this spiritual journey," Lewthwaite wrote.
While reportedly planning mass murder, Lewthwaite also found time to write Muslim-themed stories dedicated to her children, referred to in the diary as Adam, aged seven at the time of writing, Sarah, aged six and Aaron, aged two. The diary suggests that Lewthwaite's two eldest children were at school while their mother was plotting jihad.
She also jotted down to-buy lists, which feature items such as nappies and Weetabix cereals alongside two goats - one male and one female.
Lewthwaite is the daughter of a British soldier who served in Northern Ireland and is thought to have remarried a Kenyan terror suspect named Fahmi Salim following the death of her first husband.
In October, Sky News obtained a Kenyan intelligence report which for the first time detailed the reach of the al-Shabaab terror network, which carried out a deadly attack at the Nairobi Westgate shopping mall in September, killing 67 people.
The 35-page report identifies Lewthwaite as a "logistician" within a six-person terror cell. The report also reveals how al-Shabaab recruits and operates cells across several countries including Somalia, Uganda, Tanzania, Burundi, Mali, Zambia, South Africa, Yemen and Pakistan.
http://www.ibtimes.co.uk/articles/526499/20131201/samantha-lewthwaite-diary-terrorist-al-shabaab-kenya.htm
--------------
International Day for elimination of violence against women observed
Dec 03, 2013
The Canadian High Commission and Plan International Bangladesh (PIB) on Saturday jointly celebrated this year's International Day for the Elimination of Violence against Women at the residence of the Canadian high commissioner in the capital. The day was celebrated through an event that featured the screening of a film entitled "Girl Rising" a feature film highlighting the power of education to change a woman's prospects in the world. Globally the day for the Elimination of Violence against Women was observed on November 25. At the event, the Canadian High Commissioner to Bangladesh Heather Cruden said: "The Government of Canada has made it a priority to fight violence against women, and early forced-marriage in particular." About the film she said: "Girl Rising is a powerful reminder that courageous girls, including Nishat Majumder [the first Bangladeshi woman to have scaled Everest] and Arzina, [a youth from Nilphamari promoting girls' education in her community] here in Bangladesh, are leading the change around the world. As Keshob Roy [the winner of UN Youth Courage Award for Education] demonstrates, men and boys also play a critical role in ending violence against women." Elena Ahmed, interim country director of the PIB, said: "Tonight's screening shows the impact we can have when we partner together in a cause that has the potential to truly change the world: educating and empowering girls. "The film highlights that girls are powerful and strong and that they deserve to have equal rights rights they are often denied because of their gender." The event was attended by members of civil society, international organisations and government representatives.
http://www.dhakatribune.com/bangladesh/2013/dec/02/international-day-elimination-violence-against-women-observed#sthash.4eLKqXCf.dpuf
--------------
Family And Society Pose Obstacles For The Yemeni Actress
Dec 03, 2013
"When I walk in the street, I am supposed to wear the veil. Not because of the admiring looks of people, but because of the disrespectful glances I receive from the public."
In her childhood, young Yemeni actress Amani al-Thamari's only dream was to become an actress. She loved acting and singing, and she used to stand in front of the mirror to imitate actresses and recreate her favorite scenes. "When I was in school, I participated in all the art events. My hope of being actress grew with me and that ambition lived with me," said Amani. As a child, Amani thought that it would be easy for her to become a famous actress because she was talented and loved acting. She didn't realize that she was living in a conservative society that has a hard time accepting women as actresses.
Days have passed, and Amani is no more a child. She is now a beautiful young woman with a hope of being an actress. Amani was lucky because when she disclosed her desire, her mother stood with her and encouraged her to be what she wanted. But Amani soon learned—and was shocked by—the reality. Instead of being viewed with admiration, people looked at her with disdain and contempt. To avoid the hurtful comments, she was forced to wear the veil. Amani did not give up and decided to prove her capabilities as an actress. She began in 2000 in radio with children programs. Then she moved to the cultural attaché in Taiz governorate and then she moved to Sana'a to continue her path in the theater and TV.
Insistence and determination achieved Amani's dream. Now she is an actress not just on the Yemeni level, but on that of the Arab world. She has participated in numerous works outside of Yemen.
Amin Hazber, playwright and television director, said that Yemeni women who work in the field of culture, arts and acting are suffering a lot and are often stigmatized by the family or the society. He said that art, everywhere in the world, reflects the culture and stability of the country, but in Yemen we should admit that we still living in a tribal society.
"Anyone, not just the actress, fails to take his or her natural place if they didn't follow mediation, tribe and social traditions," Hazber said.
According to Hazber, it is not only the actress who face difficulties. Actors also sometimes fail to realize the important of acting and consider it something fun and entertaining. When Hazber decided to study T.V direction outside Yemen, he lied to his father that he would study engineering, "if I told him the truth he would refuse that, but now when he sees my work, because he understands more about art, he is proud of me."
As a man, Hazber could do whatever he wanted even if his family prevented him. He would still be free, but Yemeni women face a host of problems and obstacles before her goal if she is approaching it without parental support. Amani says that she wants society to understand that acting is not a waste of time. Is is the craft, the work of an actor or actress, including those in theatre, television, film, or any other storytelling medium who tells a story reflecting some aspect of society.
"Women should participate more in drama to address all the issues of women and problems for the man cannot convey the massage as a woman," Amani said.
Some studies said that most of the drama TV audiences are women; particular, the women that have no job. These TV aficionados watch, on average, seven to eight hours of old TV. So women may be the most affected of the stories in drama. Amani said that drama is able to answer all questions affecting the lives of women, such as: Who am I? Why am I here? What is my place? We have to imagine a broad impact on women through drama to tug on society as a whole.
Mr. Hazber said that in Yemen, people don't care about art in general in all its types. "The lowest budget in Yemen is provided to the Ministry of Culture. And we became like one who digs in the desert. We rely on the revolution and our belief that the future will be better and more beautiful."
Mr. Hazber didn't blame the Minister of Culture, because there is not sufficient support for the Ministry to reform the acting sector for the films issuance, holding festivals, bringing foreign experts and buying cameras.
Despite the marginalization suffered by Yemeni actors, actress and the art of acting, Yemenis still have ability and creativity. At the same time, they are also still waiting for help that may take them out the shell of marginalization and correct the incorrect evaluation of Yemenis actors and actress.
Mona Ali, another Yemeni actress, said that Yemeni drama can reach the highest levels of development only if the authorities take interest and care about acting in Yemen." The easiest thing the authorities can do is to employ workers in the field of acting, since most of them are unfortunately without jobs to provide a living, protect them and push them toward greater creativity and sparkle."
The presence of the Yemeni actress is noticeable in dramas, but this presence is not in the form required, as it is in Egyptian, Syrian and Gulf drama, due to the customs and traditions of Yemen.
"Education is the most important thing to develop the country, and I asked the Yemeni government to take care of the educated people who forget about everything and think only about how to make a living," Hazber said.
http://nationalyemen.com/2013/12/02/family-and-society-pose-obstacles-for-the-yemeni-actress/
--------------
Yemeni Female Child Wins Title Of Beauty Queen Of Children
Dec 03, 2013
Yemeni girl Warda Havel has won the title of Beauty Queen of Children, and has gotten the admiration of many Saudi women, especially the queens who visited and invited her. Warda Havel participated in the contest that arranged by the Sweetest Memories Group, in cooperation with the Association of Neighborhoods Centers in Makkah, the International Mnaspata group, and the National Company for Organizing Exhibitions. It was broadcast to four media and satellite channels, and attended by four different beauty queens.
Press reports added that among more than 800 participants divided into four stages, Havel won the title of Beauty Queen of Children with a significant lead.
This was the first time that the Miss Children Contest was held in the Kingdom of Saudi Arabia, where women are prevented from being employed as models.
http://nationalyemen.com/2013/11/25/yemeni-female-child-wins-title-of-beauty-queen-of-children/
--------------
URL: https://newageislam.com/islam-women-feminism/anti-veil-'beauty'-campaign-xinjiang/d/34705