New Age Islam News Bureau
18 March 2014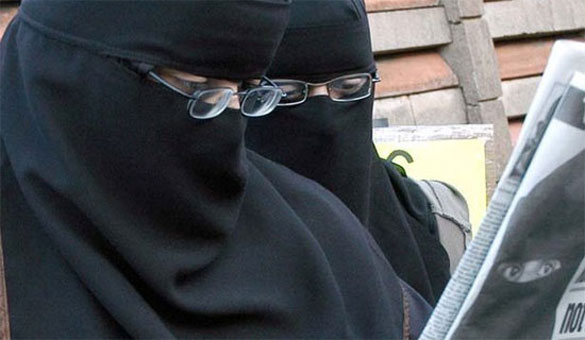 Photo: Face veils Debate in Britain, Page by Paul Cockerton
-----------
• Gulf Citizens Lead the Way in Marrying Saudi Women
• K P Women Lawmakers Asked By the CM to Avoid Suggesting Development Schemes
• Britain Needs 'National Debate' About Banning Muslim Girls from Wearing Veils in Public
• Violence against Women in Saudi Arab: 30 Cases Logged Monthly
• 'Lonely Soldiers: Women at War in Iraq,' Gets A Combustible Staging at History Theatre
• Kuwaiti Delegation Explains How Gov''t Enables Women Live Well
• Statute to Promote Role of Women in OIC Member States Ratified
Compiled by New Age Islam News Bureau
URL: https://www.newageislam.com/islam,-women-and-feminism/new-age-islam-news-bureau/'anti-poor,-anti-women-pakistan-cii-should-be-abolished'--aurat-foundation/d/56178
-------------
'Anti-Poor, Anti-Women Pakistan CII Should Be Abolished': Aurat Foundation
March 18, 2014
LAHORE: Several rights activists condemned a report of the Council of Islamic Ideology (CII) declaring the law requiring consent from first [second or third] wife for another marriage un-Islamic. The CII had said that Sharia did not bind a husband to seek permission from any of his wives before contracting another marriage.
Aurat Foundation manager Mumtaz Mughal said, "The CII is acting as a supra-state body it has nullified the little constitutional and legal gains working classes, women and non-Muslims had made so far. It nullified land reforms of the 1970s, it dismissed tests as evidence of criminal violence against women and now it is attacking the civil rights of women in Pakistan."
Mughal said the CII should be abolished as it was a threat to the democratic system, the constitution and the legislature.
"We reject polygamy as it is demeaning and oppressive for women," she said.
Civil Society Association of Pakistan Chairperson Beenish Toor said, "Islam is a religion of equality. How does it hurt religious sentiments if our family law binds a man to seek permission from his wife before contracting another marriage?" she asked.
She said the government should take steps to improve education opportunities for women.
Sociologist Nuzhat Sadia Siddiqi said, "The Council of Islamic Ideology, as the name suggests, is interpreting Islamic teachings according to their idea of Islam.
The law pertaining to second marriages has been formulated by lawmakers keeping in mind social norms of the country, which take into account cultural roots of people."
Siddiqi said by declare these laws as unIslamic, was tantamount to belittling the judicial and legal expertise of eminent lawmakers.
She said, "Islam teaches us to be fair, equitable and empathic when making decisions that involve drastic changes to more than one person involved."
Allama Tahir Mehmood Ashrafi, member of the Council of Islamic Ideology said, "It is a decision of Islam and not of the council. Islam permits husband to marry four times and he does not need permission for it.
Islam clearly says that a man can marry more than once if he treated all his wives fairly."
"No other religion in the world protects the rights of women the way Islam does," he said.
Published in The Express Tribune, March 18th, 2014.
http://tribune.com.pk/story/684016/womens-rights-anti-poor-anti-women-cii-should-be-abolished/
-------------
Gulf citizens lead the way in marrying Saudi women
March 18, 2014
JEDDAH — Statistics indicate that Gulf citizens have led the way in marrying Saudi women during 2011; Kuwaitis were at the top with 762 registered marriage contracts, Al-Watan daily reported.
The total such registered marriages were 1,618, where Qataris accounted for 554 marriages with Saudi women, followed by UAE citizens with 246, Bahrainis with 36, and Omanis with 20.
Meanwhile, Yemenis led the way of Arab nationals marrying Saudi women during the same year.
They accounted for 1,000 marriages, followed by Syrians with 269, Egyptians with 173, Lebanese with 76, Iraqis with 19, and Moroccans with 14 registered marriage contracts.
During the same year, a number of Saudi women were married to non-Arab expatriates, where three Saudi women were married to European nationals, 10 British, 13 Americans, seven Indians, one Filipino, five Thais, 118 Pakistanis, and 15 Burmese.
Psychoanalyst and society and family cases specialist Dr. Hani Al-Ghamdi said there are no obstacles in Saudi women marrying Gulf citizens, or men of any other nationality. "Such marriages, however, have to be according to Islamic laws, and they are better than requiring that the husband should be from a certain tribe," he said.
He noted that the media have unintentionally contributed to the different conflicting views of tribal marriages, which was a main reason for women to marry non-Saudis.
Marriage registrar, Abdullah Sanaan, said that the marriage of a Saudi woman to a non-Saudi is subject to certain regulations including the approval of the governorate.
"Such marriages are conducted in courts, because marriage registrars do not have the authority to conduct marriages of non-Saudis," he said.
He believes that many Saudi women marry Gulf nationals because they are able to provide them with suitable living conditions, that Saudi men may not have the capacity to do. He said most marriages of Kuwaiti and Qatari nationals are from families in the Central Region and the Eastern Province, while such marriages of UAE and Omani nationals are from families in the Western Region.
http://www.saudigazette.com.sa/index.cfm?method=home.regcon&contentid=20140318198967
-------------
K P Women Lawmakers Asked By the CM to Avoid Suggesting Development Schemes
March 17, 201
Women MPAs have no concern with development schemes such as construction and the paving of streets, and should refrain from doing tasks which fall under the duties of male MPAs and government departments, said Khyber-Pakhtunkhwa Chief Minister (CM) Pervez Khattak.
According to an official handout, the CM asked female MPAs to avoid suggesting such high-risk schemes, which could potentially result in the wastage of capital. These views were expressed by Khattak on Sunday while addressing a delegation of female legislators at the CM Secretariat.
The handout further states the CM urged Pakistan Tehreek-e-Insaf's female lawmakers to play a prominent role in guaranteeing the implementation of the party's agenda of change.
"In addition to legislation oriented towards the welfare of women and ensuring their rights, female MPAs should also suggest projects that would directly benefit women and create employment.
"The PTI government is also willing to provide funds and loans to women for economic activities," said Khattak.
The chief minister added the need of the hour was for women from both rural and urban areas to participate in economic activities at par with men so as to alleviate poverty and to earn a livelihood for themselves and their families.
"Through imparting different skills including computer courses, sewing, tailoring, embroidery, flower making, cooking, rearing livestock, keeping bees, silk worms and other skills, employment opportunities can be created for women," the handout quoted Khattak as saying. The provincial government will extend its full assistance to female MPAs for this purpose, said the CM.
Khattak instructed the MPAs to seek out widows and impoverished women in their surroundings who cannot afford to have two meals in a day. "Our legislators should formulate welfare schemes for such women to enable them to stand on their own feet," Khattak said.
Agreeing with the CM, the lawmakers pledged to begin planning such activities immediately.
Published in The Express Tribune, March 17th, 2014.
http://tribune.com.pk/story/683708/its-a-mans-world-women-lawmakers-asked-to-avoid-suggesting-development-schemes/
-------------
Britain needs 'national debate' about banning Muslim girls from wearing veils in public
15 Sep 2013
Jeremy Browne, a Liberal Democrat, said there needs to be a national debate about whether the state should step in to protect young women from having the veil "imposed" on them.
Mr Browne said he is "instinctively uneasy" about banning behaviour, but suggested the measure may still be necessary to ensure freedom of choice for girls in Muslim communities.
The Home Office minister is the first senior Liberal Democrat to raise such deep concerns about Islamic dress in public places. A growing number of Conservative MPs also want the Government to consider a ban.
Nick Clegg, the Deputy Prime Minister, has suggested he may support banning the veil in classrooms, but downplayed the chances of wider restrictions.
He said: "My own view, I don't think we should end up like different countries where we tell people how they go about their business. I do think there is an issue with teachers in the classroom…that might be an area where a full veil might be inappropriate."
The debate was given momentum last week when David Cameron's spokesman said the Prime Minister would have no problem with the veil being banned in his children's schools.
http://www.telegraph.co.uk/news/politics/10311469/Britain-needs-national-debate-about-banning-Muslim-girls-from-wearing-veils-in-public.html
-------------
Violence against Women in Saudi Arab: 30 Cases Logged Monthly
March 18, 2014
JEDDAH — A female researcher at the Social Protection Unit has said that the Ministry of Social Affairs has completed three books on the rights of female students and will be included in school curricula soon.
Nisreen Abu Taha said the books will educate female students on their legal rights regarding cases of violence and proper action when subjected to violence of all kinds including verbal, physical, psychological, sexual and social violence, Al-Madina daily said.
She said: "Statistics of the Social Protection Unit indicate that violent cases against women reach 30 cases per month. Most of these cases are dealt with. But there are instances when for unknown reasons females withdraw their complaints."
This came in the educational forum held by Dar Al-Ruwaad Schools recently with the aim of educating women of all levels of thought and age on their rights.
According to Abu Taha, silence and fear are the biggest barriers that prevent women victims of violence from forging ahead with their complaints despite King Abdullah's order to strictly implement women protection laws. A majority of women are still afraid and hesitant because they do not know what will happen after the complaint and the reaction of their guardians.
Abu Taha said: "We reassure the woman and the person using violent methods to pursue their case to its logical end.
"If the guardian does not respond to the complaint, the female victim is brought to the Social Protection Home because the said guardian is not fit to be her protector."
The forum acquainted the audience with various kinds of violence by showing numerous films based on real stories.
http://www.saudigazette.com.sa/index.cfm?method=home.regcon&contentid=20140318198965
-------------
'Lonely Soldiers: Women at War in Iraq,' Gets A Combustible Staging at History Theatre
March 17, 2014
A soldier yells "incoming!," then dives to safety. Lights blink on and off as the boom of an exploding mortar round rocks the theater. Eerie, held-breath silence follows as soldiers pat themselves to make sure arms and legs are still there.
Still in one physical piece, even as their insides are fractured, they resume their activities.
Explosions, gun shots and martial noise define "Lonely Soldiers: Women at War in Iraq," Helen Benedict's combustible play that opened Sunday at St. Paul's History Theatre. Directed as an immersive, gut-wrenching experience by Austene Van —the soldiers enter through the aisles and Martin Gwinup's sound score is often overwhelming — "Lonely Soldiers" is about the impact of war on female fighters in Iraq.
Like black Americans who battled fascism abroad only to return to injustice at home during the world wars, the women warriors in Iraq fought two battles at once: one against insurgents who wanted them dead, and another against the sexism and misogyny of the men who supposedly had their backs.
"There are only three things the guys let you be if you're a girl in the military," Maria (Meghan Kreidler) tells us. "You're a bitch if you won't sleep with them, a ho if you've even got one boyfriend and a dyke if they don't like you."
A throttling, 90-minute one-act, Van's production is a series of testimonies about the women's experiences. Before enlisting, Sergeant Terris Dewalt-Johnson (Jamecia Bennett) lived in violence-plagued Washington, D.C. Enlisting offered an escape, and a chance to see the world.
Drill sergeant Santiaga Flores (Rhiana Yazzie) was forced to marry a man who raped her when she was a teenager, and he continued to abuse her. The army was her escape. Sylvia Gonzalez (Hope Cervantes) grew up in small-town Wisconsin where serving in the armed forces is just about the best thing a citizen can do. She wanted to serve her country.
All the women — there are seven in all — have their dreams shattered in Iraq, a place where they saw unspeakable things. Miriam Ruffalo (Dawn Brodey) leaves after she is sexually assaulted.
The acting company, rounded out by Shana Berg, Tamara Clark and Santino Craven, delivers the power and pain of their characters compellingly. They raise their voices to command us and sometimes go quiet to draw us in.
Craven, the only man in the production, plays all the male characters, from tender father to drunken victimizer to stern commander.
Sometimes, the theater is about character development or entertainment. Sometimes, it transports us to imaginative places. "Lonely Soldiers" is a production about the urgent need to listen to women warriors whose scars remain open and whose battles continue long after their guns have been silenced.
http://www.startribune.com/entertainment/stageandarts/250702911.html
-------------
Kuwaiti delegation explains how gov''t enables women live well
By Salwa Jandoubi
18th, 2014
NEW YORK, March 18 (KUNA) -- The Kuwaiti delegation, headed by Chairperson of Women's Affairs Committee at the Kuwaiti Cabinet Sheikha Latifa Al-Fahad Al-Salem Al-Sabah, has briefed the UN Commission on Status of Women (CSW) about privileges enjoyed by the Kuwaiti female citizens.
The Kuwaiti envoys have informed participants in the CSW 58th Session about women's general status in Kuwait and abundant privileges they enjoy, affirming the State of Kuwait keenness on enabling the females to "have access to production resources." Huda Al-Shayji, the governmental commission fatwaa (edict) and legislation coordinator, spoke at a sideline seminar about advanced status of the Kuwaiti women, recommending gender equality, establishing partnerships, boosting expertise exchange with the member states for enhancing equality between men and women.
Genders' equality must loom high in development and policies and strategies of curbing poverty, Al-Shayji said during the seminar, also noting that both the public and private sectors are responsible for enabling women have access to production resources. Such an approach can be attained through employment of women and offering assistance to them, the Kuwaiti official said, noting that the State of Kuwait "has used all such means to aid the woman and help her and her family live a dignified life." She called on the UN to set post-2015 development objectives and rally international support for eradicating poverty and attaining sustainable development, in line with the "international partnership approach for realizing development goals for the woman and the girl." Al-Shayji echoed a previous statement by the head of the Kuwaiti delegation, Sheikha Latifa Al-Fahad, stressing on necessity of cooperation among rich and poor nations to launch enterprises for the women.
The Kuwaiti Constitution, she noted, emphasizes social justice, economic development, enhancing living standards and securing citizens' welfare.
In conclusion, the Kuwaiti envoy praised the Kuwaiti laws that do not discriminate between the men and women in various economic and social activities. Moreover, as to the Kuwaiti women privileges, she noted that the laws that prohibit their work at night time and some other jobs that do not match their natural capacities. (end) sj.rk KUNA 180924 Mar 14NNNN
http://www.kuna.net.kw/ArticleDetails.aspx?id=2367038&language=en
-------------
Statute to promote role of women in OIC member states ratified
March 18, 2014
RIYADH – The Council of Ministers on Monday ratified the statute of the Women Development Organization in member states of the Organization of Islamic Cooperation (OIC).
The weekly session of the Council of Ministers, chaired by Crown Prince Salman Bin Abdul Aziz, Deputy Premier and Minister of Defense, endorsed the statute after reviewing a report presented by the Minister of Foreign Affairs and examining the decision of the Shoura Council in this regard.
Minister of Culture and Information Dr. Abdulaziz Khoja said that the main aim of the organization is to highlight the role of Islam in preserving the rights of Muslim women, especially at international fora in which the organization is involved.
The organization was established with the objective of promoting the role of women in OIC member states by skill development through training, education and rehabilitation.
Conferences, seminars, workshops and forums in the areas of women development will be conducted in the member states, the Saudi Press Agency (SPA) reported.
Dr. Khoja said that the statute stipulate that resources of the organization will be collected through contributions of member states to OIC as well as through aid, donations and grants from member states and international, regional and non-governmental organizations.
At the outset of the session, the Crown Prince conveyed his sincere thanks and deep appreciation to the leaders and senior officials of Pakistan, Japan, India, China and Maldives for the warm welcome and generous hospitality accorded to him and the accompanying delegation during his recent official visit to these countries.
Crown Prince Salman also valued the keenness and desire expressed by leaders of these countries to promote close relations and boost development in all fields. He noted that his visit came in line with the vision of Custodian of the Two Holy Mosques King Abdullah aimed at contacting world leaders in the interest and service of the people of Saudi Arabia and their people so as to achieve their aspirations.
The Council of Ministers welcomed the statement issued by the session of the Council of Arab Interior Ministers held recently in Morocco and its categorical rejection of terrorism and denunciation of calls for sectarianism which feeds terrorism and incites discord and hatred.
The Cabinet praised the Arab Interior Ministers' assertion of determination to continue the fight against terrorism as well as to mobilize all efforts and capabilities to eradicate it.
The Cabinet approved amending the name of the Coordinating Committee for rehabilitation programs for people with special needs to Coordinating Committee for the services for people with special needs.
An official from the Ministry of Social Affairs will be the chairman of the committee, which has 13 members representing various ministries and the concerned bodies, as well as charity societies and the private sector.
http://www.saudigazette.com.sa/index.cfm?method=home.regcon&contentid=20140318198960
-------------
URL: https://www.newageislam.com/islam,-women-and-feminism/new-age-islam-news-bureau/'anti-poor,-anti-women-pakistan-cii-should-be-abolished'--aurat-foundation/d/56178