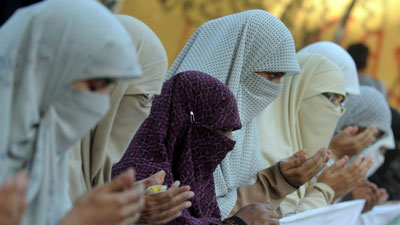 Swiss Region Votes to Ban Full-Face Muslim Veils, AFP Photo / Rizwan Tabassum
'White Widow' Samantha Lewthwaite Feared To Be Behind Nairobi Shopping Mall Massacre
Political Parties in Kerala Oppose Minor Muslim Girls' Marriage
Swiss Region Votes to Ban Full-Face Muslim Veils
The Veil Has No Place in Hospitals UK Health Minister Asks To Draft Rules
Saudi Women Will Not Stop Protesting: It Is Not Haram, Let Us Drive!
Steps Taken To Induct Saudi Women in Workforce
Pak Civil Society Activists Calls For Better Protection of Women, Children
Compiled by New Age Islam News Bureau
URL: http://www.newageislam.com/islam,-women-and-feminism/new-age-islam-news-bureau/anjem-choudhary's-teenage-daughter-urges-jihad-on-twitter/d/13646
------------
Anjem Choudhary's Teenage Daughter Urges Jihad on Twitter
September 23, 2013
The 16-year-old daughter of radical preacher Anjem Choudary has been using Twitter to urge fanatics to wage holy war in Syria.
Hediyah Mehraj tweeted: "The ultimate way to help Syria is not Muslim aid or temporary convoys; rather it is to take authority via Jihad and implement Allah's law."
The teenager, who used the name Hediyag Bint Anjem, echoed many of the radical views spouted by her father before her account was deleted.
The former head of the banned extremist group Al-Muhajiroun and spokesman for Islam4UK has repeatedly made incendiary speeches.
He has praised the terrorists behind the 9/11 attacks and London bombings and said murdered soldier Lee Rigby would "burn in hellfire".
Her profile, which featured a cartoon of a young masked Islamist, declared: "Islam is superior and will never be surpassed." Despite not using her full name on Twitter, ­Choudhary's daughter stated in one message that the fanatic is her father. She also tweeted a link to a now deleted ask.fm account which made their relationship clear.
She sent a message to her dad after reading one of his postings. It said: "@anjemchoudary so true, may Allah bring Islam to Syria soon."
One of her postings made plain her dislike of the London area where she lives.
She wrote: "Everywhere u look u see promiscuity and sexual exploitation in this Kufr (non-Muslim) land, it's so hard to walk outside without feeling sick."
Despite her views of Western life, Hediyah said her favourite drink was Dr Pepper and she wore maroon Converse shoes.
A poem she contributed to a blog is called Never Land and illustrated with Disney characters.
http://www.mirror.co.uk/news/uk-news/anjem-choudarys-daughter-urges-jihad-2292072#ixzz2fi1pSrLm
------------
'White Widow' Samantha Lewthwaite Feared To Be Behind Nairobi Shopping Mall Massacre
September 23, 2013
Two innocent children stand bewildered beside the body of a man gunned down in the Nairobi shopping mall massacre.
The youngsters, one clutching two chocolate bars, were caught up in the atrocity that has left at least 68 dead – including three Brits.
Just yards away explosions and gunfire rang out as Kenyan troops moved from shop to shop in a series of firefights with crazed terrorists and late last night tweeted they had freed most hostages.
And last night it was feared that one of the ringleaders of the bloody attack is a British mother of three.
Fanatical Samantha Lewthwaite, dubbed the White Widow, is a key member of al-Shabaab, the militant group which has claimed responsibility for the slaughter.
The British soldier's daughter, from Aylesbury, Bucks, is an Islam convert whose husband was one of the suicide bombers in the 7/7 attacks on London.
Unconfirmed sources claimed that 29-year-old Lewthwaite may even be among the masked gun gang still under siege in the Westgate mall last night.
An image on social networking websites appeared to show a balaclava-clad white woman holding a gun.
In a Twitter message terror group al-Shabaab praised the White Widow and boasted that she was with them.
On a site that has been repeatedly closed down, they wrote: "Sherafiyah lewthwaite aka samantha is a vrave (sic) lady! were happier to have her in our ranks!" In another posting they warned: "This is no more than a drill for a bigger event!"
The bloodbath has left at least 175 seriously injured, including children as young as two. It began at about 1pm on Saturday when up to 15 heavily armed fanatics stormed the plush complex in the north west of the city and opened fire as they chanted jihad slogans.
One mum who was at a kids' cookery event in the mall told how she tried to protect 30 to 40 children as the bullets flew. Kamal Kaur said: "People were hysterical. The terrorists threw two grenades at us and they shot at us. My son, who is eight, just missed being shot.
"My daughter was pulling him down and I was trying to pull the little boy next to him out of the way. Unfortunately a bullet or a grenade bounced off the wall and it hit the boy in his neck and chest area. He fell over, bleeding profusely. I was telling all the children to lie flat – just lie there and not scream or shout, just keep calm."
Within minutes of the carefully planned assault pools of blood smeared the pristine hallways and scores of bodies lay strewn across the floor.
At one burger bar, a man and woman lay in a final embrace after being killed. The shooters targeted non-Muslims by asking them the name of the Prophet Muhammad's mother before mercilessly slaying those who did not know.
The city's four hospitals struggled to cope with the number of wounded.
Terrified patients besieged casualty units as volunteers helped distraught relatives find their loved ones.
Briton Neil Saville, believed to work for global development company Dalberg in Nairobi, was among the wounded. He was undergoing surgery at the Aga Khan hospital last night after being shot in the chest.
Colleague Jason Wendle said: "Thankfully he is stable and it is not life threatening, but we're all in shock."
State House spokesman Manoah Esipisu confirmed reports of a white woman among the terror gang. A Kenyan police source said: "Samantha Lewthwaite is target number one."
As security forces prepared to launch a final assault last night in an attempt to end the bloodshed, government officials revealed the fanatics were holding at least 30 hostages.
A senior source said: "There is a strong possibility that Samantha Lewthwaite could be one of the terrorists. We have reports that at least one, possibly two women were involved in this siege."
He added: "There are strong indications Lewthwaite has the capability and influence within al-Shabaab to carry out such an atrocity."
Lewthwaite, whose Muslim fundamentalist husband Jermaine Lindsay, blew himself up on a Piccadilly Line train during the 7/7 attacks in 2005, is also wanted over a bomb plot to kill hundreds of British tourists in Mombasa. Together with her British accomplice Jermaine Grant, the pair were days away from carrying out their attack before being arrested in December 2011.
Grant from East London, is due to stand trial in Mombasa today. He was snared before their deadly plan succeeded but Lewthwaite escaped and has been on the run ever since. She recently wrote on her blog: "Fear can make you do many things."
David Cameron condemned the latest atrocity. He said: "These terrorists do not represent Islam or Muslims in Britain or anywhere else in the world."
Kenyan President Uhuru Kenyatta last night vowed to defeat the militants – after revealing that some of his close family members, including a nephew, were among the dead.
http://www.mirror.co.uk/news/world-news/white-widow-samantha-lewthwaite-feared-2294212#ixzz2fi61PMDO
------------
Political Parties in Kerala Oppose Minor Muslim Girls' Marriage
September 23, 2013
Thiruvananthapuram, (IANS) Political parties in Kerala opposed the decision of nine Muslim organisations to approach the Supreme Court with a plea to allow marriages of minor Muslim girls.
Speaking to reporters here, Communist Party of India state secretary Pannian Ravindran said the demand was unfair.
"At a time when the girls should be studying and planning their future, marrying them off would not augur well," said Ravindran.
Bharatiya Janata Party state president V. Muraleedharan said it was strange that while the country has a law to check minors' marriages, some groups were trying to disrespect the law.
Congress state spokesperson M.M. Hassan said: "It will not be good for the Muslim community if the age of marriage for girls is reduced. The Muslim religious groups should not go ahead with the plan to move the top court."
Leaders of nine Muslim organisations met in Kozhikode Friday and nominated K. Bapu Musaliyar as the chairman and Indian Union Muslim League leader C.P. Mayin Haji as the convenor of a newly-formed Samithi to approach the apex court.
http://in.news.yahoo.com/kerala-parties-oppose-minor-muslim-girls-marriage-125606103.html
------------
Swiss Region Votes to Ban Full-Face Muslim Veils
September 23, 2013
Voters in southern Switzerland have backed a ban on full-face veils, following similar laws implemented in France and Belgium. Activists argue that the law discriminates against the fundamental rights of Muslims.
The new measure still needs federal approval, after receiving two-thirds of public support in the Italian-speaking Swiss canton of Ticino. This is the first time that such a ban has been passed in a Swiss canton.
The creator of the proposal, Giorgio Ghiringhelli, argued that the ban is aimed at sending a message to "Islamist fundamentalists" in his district and all across the country.
"Those who want to integrate are welcome irrespective of their religion," Ghiringhelli stated on the Il Guastafeste website. "But those who rebuff our values and aim to build a parallel society based on religious laws, and want to place it over our society, are not welcome."
Human rights activists have heavily criticized the ban. Amnesty International called the vote a "black day for human rights in Ticino."
Switzerland's Central Islamic Council condemned the vote, saying that it is "yet another loud expression of social Islamophobia…We in the Council see this as part of a string of attempts to make life increasingly difficult for Muslims in Switzerland and to ban symbols of Islam from the public arena," the council said in a statement.
The ban does not explicitly single out Muslims. It states only that "No one may mask or hide their face on the public highway, nor in places open to the public, except places of worship, nor those offering a public service." It adds that "No one may require another person to cover their face for reasons of gender."
Switzerland is home to around 400,000 Muslims – approximately five percent of the country's population.
This is not the first controversial ban to be passed by Switzerland.
In 2009, a ban was passed on building new minarets – a distinctive architectural feature of mosques. Meanwhile, the key platform of the country's largest party - the Swiss People's Party (SVP) - is opposition to immigration.
"I would also have voted 'yes' if I had been in Ticino. The burqa is a symbol of female oppression," Christophe Darbellay, a member of the Democratic People's Party, said on Swiss television, as quoted by Reuters.
The Ticino proposal was created under the country's tradition of direct democracy, which allows new bans to be put up for a vote if there are enough signatories supporting it.
A nationwide proposal to ban burqas was previously rejected by Swiss Parliament in 2012.
France was the first European country to ban the full-face veil in public places in 2010, followed by Belgium in 2011. French law stipulates that the penalty for wearing a full-face veil is a 150 euro fine (US$217) and instruction in citizenship.
The Spanish city of Barcelona also passed a partial ban on full-face veils in public places, including municipal offices, public markets, and libraries. The Netherlands has announced that it plans to ban face-covering veils in order to guard its own culture.
http://rt.com/news/swiss-region-bans-veils-212/
------------
The Veil Has No Place in Hospitals UK Health Minister Asks To Draft Rules
Sept. 23, 2013
The debate about Muslim women wearing the Niqab has gathered pace over the past few weeks and expanded to whether healthcare professionals should be allowed to cover their faces while working. Last week this newspaper disclosed that at least 17 hospitals, across five NHS trusts, have quietly introduced a ban on front-line staff wearing a veil. However, in some cases, uniform policies state that they can wear a veil for religious reasons. There are no clear national guidelines and, in response, Dan Poulter, a health minister, has asked regulators to draft rules.
I imagine the number of doctors or nurses who wear a niqab to work is tiny. Despite working in several inner-city hospitals serving large Muslim populations and with a high proportion of Muslim staff, I have yet to come across a medic wearing one. I consider myself tolerant, but am resolute on this: it is inappropriate for healthcare professionals to cover their faces.
There is a wealth of evidence to show the importance of facial expressions in communication and this is so basic I'm astounded it needs clarifying. The very purpose of the niqab is to curtail interaction and engagement, and for this reason it has no place in healthcare. Fostering an empathic and caring relationship is paramount and the niqab hinders this. The needs of the patient must take precedence.
In addition, some patients may find the Niqab offensive – although they might not always voice this for fear of appearing culturally insensitive. They may feel alienated by the person who is delivering their care or object to it being worn on human rights grounds. The niqab is, to my mind, an abhorrent symbol of a view of women being subservient and obedient to men. It is an attempt to erase the face of women from society, making them amorphous, expressionless entities, stripped of personhood. It is an abomination that is not just ante-social but antisocial.
Of course, there are many Muslim women wearing the niqab who claim to be doing this of their own free will. But this only goes to show how, similar to the controversy over female genital mutilation, an oppressed group can be complicit in their oppression; how misogyny is internalised and women can be as much the perpetrators of it as men.
Yet, I still feel that people should be at liberty to wear what they want when not at work. Indeed, there is a wider public health issue with the niqab. First, in this country, with its limited sunlight, vitamin D deficiency is a serious problem among women in Muslim communities who adhere to strict dress codes, especially those who cover their face when outside.
While they are free to make this choice and deal with the health consequences, I am horrified that, as was reported last week, young girls in some independent Islamic schools are expected to wear veils when travelling to and from school. This is negligent of their physical developmental needs.
More than this, it is emotional abuse. It teaches girls, at a tender, formative age, that they must forever be separate and unequal simply because of their gender. It fosters a division between them and the outside world, crippling integration and imprisoning them in a shroud of darkness that symbolises ownership and submission.
This is not about race but zealotry. It is well established in this country that the beliefs of parents cannot be unduly imposed on their children. They are not the property of their parents and the state has a duty to ensure that they do not unnecessarily suffer.
In the case of Jehovah's Witnesses, a child cannot be denied blood transfusions simply because of their parents' beliefs. Female genital mutilation and forced marriage are illegal, regardless of a parent's religious or cultural beliefs. It's not good enough to say, as the Government has, that they back a school's right to enforce a uniform policy. This is about ensuring that children do not grow up with warped, distorted and culturally inappropriate views of women. Just as patients' welfare should take precedence over the right of a doctor or nurse to wear a veil, so the welfare of children must take precedence over their parents' beliefs.
Drugs in prison more serious than smoking
News of a planned ban on smoking in prisons in England and Wales has been met with a hollow laugh by some of my colleagues.
I occasionally work for a charity that aims to reduce crime rates associated with drug and alcohol dependency. It has close links with a prison and sees all prisoners on the day they are released to assess them for substance misuse and to try to engage them in treatment.
It is an open secret that it is far easier to obtain drugs inside prison than out. A significant proportion of patients I see went into prison without a drug problem but left addicted to opiates.
Is it any surprise that recidivism rates are so high, when the system has actually given them an addiction?
Apparently the prisons are aware of the extent of the problem, but due to limited resources, overcrowding, poor staffing levels and apathy, nothing is done.
One newly released addict told me a few weeks ago: "They'd rather we were off our faces than sober and complaining about the state of the place."
Yes, we need to address smoking in prisons – but the bigger problem is illicit drug use. It makes a mockery of the justice system and undermines any potential benefit that a prison sentence can bring.
Why public figures should extend their visiting hours
Princess Beatrice had her first official outing as royal patron of the Sick Kids Friends Foundation last week when she visited the Royal Hospital for Sick Children in Edinburgh.
It reminded me of my time working on a paediatric ward, when we could expect high-profile visitors over Christmas. I remember one terminally ill child defying doctors' expectations and getting out of bed to greet the pop star who had come in to sign autographs. The ward was, for a few hours, transformed into somewhere exciting and fun, the focus no longer on sickness and suffering.
Life on a ward, particularly for long-stay patients or those with chronic conditions, can be bleak despite the best efforts of family, friends and staff. So famous visitors can make a contribution.
But wouldn't it be good if such visits could be extended to psychiatric hospitals, geriatric wards or dementia units? There wouldn't be such cute photo opportunities, but the message it would send would be even more important.
http://www.telegraph.co.uk/health/women_shealth/10327109/The-veil-has-no-place-in-hospitals.html
------------
Saudi women will not stop protesting: It is not haram, let us drive!
September 23, 2013
RIYADH - Saudi women activists have called for a new day of defiance next month of the longstanding ban on women driving in the ultra-conservative kingdom.
An online petition entitled "Oct 26th, driving for women" had on Sunday gathered more than 5,800 signatories, as activists try again to push authorities to end the unique ban.
"I will drive on October 26," activist Nasima al-Sada said on Sunday, saying that some 20 women are going to take part in the campaign in the kingdom's Eastern Province.
"Many women are enthusiastic about learning to drive, or to teach other" women how to drive, she said, as many Saudi women have obtained abroad the driving licences they are denied in their homeland.
"There is not a single text in the Sharia Islamic law that prevents us (from driving). Any pretexts used to do that are based on inherited customs," said the online petition.
"Just as revered women (at the time of the prophet) rode horses and camels, it is our right to drive cars -- the mode of our modern age, unless you want us to go back to mules and horses," the petition said.
The last day of defiance against the ban was on June, 17 2011, when few women answered a call to drive, with some stopped by police and forced to sign a pledge not to take to the wheel again.
"I can't drive because of the pledge I signed," said Najla al-Hariri, who took part in the protest in 2011, expressing strong support for the new campaign.
In addition to the driving ban, Saudi Arabia imposes other major restrictions on women, including a requirement to cover from head to toe when in public.
The 2011 call, which spread through Facebook and Twitter, was the largest mass action since November 1990, when 47 Saudi women were arrested and severely punished after demonstrating in cars.
http://www.middle-east-online.com/english/?id=61516
------------
Steps Taken To Induct Saudi Women in Workforce
September 23, 2013
Saudi Arabia has taken steps to engage women in the workforce hoping to reduce unemployment and boost the economy. Despite the many efforts by the Ministry of Labor, in recent years, women are still facing difficulties finding jobs while the unemployment rate is increasing.
The Central Department of Statistics and Information (CDSI) recently released Quarterly Unemployment Rates (15 years and above) for the first quarter of 2013 which stated male joblessness is 2.9% and female 22.1%. As for 2012, statistics for women unemployment rose from 34.0% to 35.7% from the first to fourth quarter while unemployment for men dropped, from 6.9% to 6.1%.
Saudi women unemployment rate was already high in the first quarter 34%, but it went up to nearly 36% in the fourth quarter, increasing by nearly five percent in that interval. In 1999, the rate of unemployment for women was 16% and remained so for years until it reached 36% in the fourth quarter of 2012. However, it remains unclear why the numbers drastically changed especially in the past couple of years but more women are trying to join the workforce.
Citing figures issued by CDSI, Fahd Al-Tikhaifi, assistant undersecretary at the Ministry of Labor (MOL), said the rate of unemployment among women was 35.7% last year while it was 6.1% for men. "Men can work anywhere contrary to women who need a special work environment," he said.
The Labor Ministry was successful in employing 300,000 Saudi women in two years, according to Deputy Minister of Labor Dr. Mefreh Al-Haqbani.
This is because of the ministry's enforcement of the decision of limiting employment to females only in shops that sell women's accessories.
A new version of Nitaqat was launched to deal with low salaries of Saudis. A Saudi should receive a minimum of SR3,000 a month to be included in the Saudization count.
However, despite all efforts, Saudi women are still facing social challenges while trying to break cultural norms. In a country where women are not allowed to drive and personal drivers cost up to SR3,000 a month, those seeking jobs have limited choices.
Khalid Alkhudair, Glowork's founder — the Kingdom's portal for female recruitment, believes that the challenges are around culture awareness, the lack of success stories from private sector and the gap between the education sector and the labor market.
"Women don't get a sense of what is ahead when they graduate. Their ambitions are to work in government and education and this is due to the private sector not showcasing their opportunities amid a lack of awareness.
Universities also lack proper career counseling, and it is an essential part of building ones career to understand that if I was to graduate for instance with a marketing degree, the possible opportunity in the private sector would be X Y and Z," he explained.
In recent years, many changes were made by the Ministry of Labor in order to induct more women into the job market. Reforms were made by Custodian of the Two Holy Mosques King Abdullah and efforts by Adel Fakeih, Minister of Labor, that have changed a number of legislations and laws that support women employment in different sectors.
"The minister has great vision in creating a working environment for women in the Kingdom that becomes a benchmark for others to follow. We might not be able to see results today or tomorrow, but I can assure you our children and grandchildren will have a world-class labor market. Also I have to say that the private sector has put efforts hand in hand with the government's vision and mission. For instance our objectives at Glowork are clearly aligned with the government," he added.
One of the issues in the labor market is supply and demand. While many scholarship graduates come back to search for proper jobs, the market doesn't seem to have a place for them.
"Hafiz database showcases the supply that we have at hand and the recent laws you hear about explains that the government needs to create the demand in the market. I know of an initiative currently being worked on by the Ministry of Labor called the Career Education project in which the supply in the market and those that are graduating in a couple of years have a place in the labor market by creating the demand through laws and legislations," Alkhudair said.
Now, baby steps are being taken to ensure women's contribution to the Kingdom's development is vital. Alkhudair believes there is a lack of development for women and it's because women employment is a whole new concept in the Kingdom.
"Employers have yet to understand how to deal with women let alone ensure their development in the organization. However this is changing. From a business perspective, employers are seeing the benefits of having Saudi women work in different industries and sectors, and are now beginning to invest in their development to ensure retention is high. The day will come when women will be running departments and part of the executive board at organizations. We have already started seeing that happen and I'm so proud to be playing an active part in this change," he said.
Ali Al-Rekabi, an expert in unemployment solutions, also agrees that there are many challenges when it comes to employing women.
The Ministry of Labor has made many efforts in employing and engaging women in the workforce. However, the lack of coordination between ministries is considered a big challenge as each ministry works on its own. "We have a problem with our culture and not with employment only. There are women who are employed in an all female environment and refuse to speak with men for example. The MOL has put many plans for women employment but every time they make a plan they are faced with barriers and challenges," Al-Rekabi said.
However, Al-Rekabi said that Saudi Arabia now has job placement centers that work with all social classes and educational backgrounds. "Women now are ready to be in the workforce and play a major role," he added, saying that transportation is also considered one of the biggest challenges as women aren't free enough and their decisions are always suspended by the approval of their families.
Other than the social challenges, Al-Rekabi blames business owners and companies recruiting women saying that they need to make their jobs more attractive to employees. "We have women who are educated and capable of handling the best jobs but what if a company offers a SR3,000 pay, which was less before the MOL decision to set it as a minimum wage. Also, the private sector wants the female employees to be geniuses without putting any effort into training and investing in them," he added.
He also believes that the Kingdom is moving towards Saudization and providing women with better opportunities. "Sooner or later things will change but this can't happen overnight. We have to provide women with proper jobs and the government is working on it," Al-Rekabi said.
Haneen Zuhairy, a Human Resources Consultant, said that there are challenges for both job-seekers and companies. "Female job-seekers refuse to work in a mixed environment, many are not well educated, they have high expectations and the guardianship system is also one of the challenges," she said.
As for companies, Zuhairy said they need to provide more managerial and executive positions for the highly qualified ones. "There is a high turnover from both companies and job-seekers. Also, companies provide few benefits for employees, which makes it unattractive for those women seeking jobs with security," she added.
She called for more awareness from the society as they need to understand the job market and companies need to invest more in their employees, especially women.
http://www.saudigazette.com.sa/index.cfm?method=home.regcon&contentid=20130923181347
------------
Pak Civil Society Activists Calls For Better Protection of Women, Children
Sept. 23, 2013
FAISALABAD: Civil society activists on Saturday staged a protest demonstration against violence against children and women in the country.
The Association of Women for Awareness and Motivation (AWAM), the Peace and Human Development Foundation, the Idara Samajhi Behbood (ISB) and the Awareness and Development Organisation (ADO) organised the rally titled 'No Violence, Know Peace' to mark the 32nd International Day of Peace.
Speaking on the occasion, AWAM Director Nazia Sardar said, "Rape is a heinous crime. It destroys the victim's life."
"Rape is a crime the individual, the society and the state. The survivor's family must not be pressurised to accept any settlements and compensations through the police or perpetrators' influence," she added.
PHDF Director Suneel Malik said, "The media, government, and politicians must respect the privacy and dignity of survivors of sexual violence."
Speakers at the demonstration called for better legislation for child protection.
Naseem Anthony, a social activist, said, "Targeting a section of the population because of their gender is unacceptable.
It is a matter of shame that a section of the society at large has not felt compelled to raise a strong voice to put an end to this."
Shazia George, a protestor, said, "Incidents of sexual assault have become so common that we hardly take any notice of it any longer."
"There are many flaws in our legal system that helps offenders get away scot-free," she said.
Irshad Parkash, an activist, said, "Pakistan is embroiled in a chaotic situation, where citizens have been experiencing extreme forms of violence, conflicts, terrorism and even war-like situations. This is only because of a growing sense of extreme intolerance and extremism."
The rally was joined by a large number of people from different walks of life including students, lawyers, and representatives of trade unions, political parties and NGOs.
The protestors were carrying peace symbols, balloons, banners and placards inscribed with slogans for peace and defence of human rights.
http://tribune.com.pk/story/607885/civil-society-calls-for-better-protection-of-women-children/
------------
URL: http://www.newageislam.com/islam,-women-and-feminism/new-age-islam-news-bureau/anjem-choudhary's-teenage-daughter-urges-jihad-on-twitter/d/13646