New Age Islam News Bureau
12 Apr 2013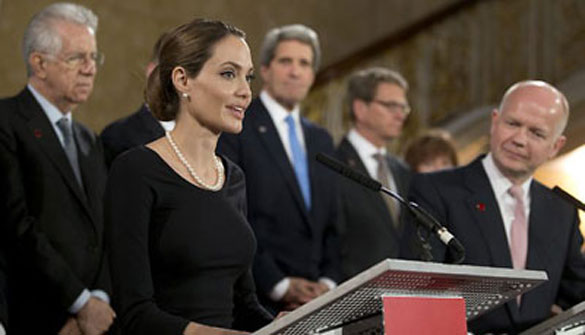 Photo: Angelinea Jolie urges G8 to end rape and sexual violence in war zones, Picture: AP
-----------
• French Court Acquits Mother Over Son's 'Jihad' T-Shirt
• Madonna 'Disappointed' Over Claims She Was a Diva in Malawi
• Assets And Income of Pak NA Candidates for Women's Seats Reveal Interesting Facts
• Child Protection a Low Priority in Indonesia
• 'Make Sure Khyber Pakhtunkhwa Women Are Not Denied Right to Vote'
• Karachi: 216 Women Burnt Alive In 2012
• My Mom Will Now Be Haroonabad's Mom, Says Meera Actress
• Gains for Women in Saudi Must Be More Than Symbolic
• Infant mortality down 50% in Saudi Kingdom
• Service Centres Likely For Female Workers in Saudi Arabia
• 1,233 AIDS Cases Reported Last Year in Saudi Arabia
Compiled by New Age Islam News Bureau
URL: https://newageislam.com/islam-women-feminism/angelina-jolie-urges-g-8/d/11114
---------------
Angelina Jolie urges G-8 nations to end sexual violence
April 12, 2013
Angelina Jolie brought her star power to London on Thursday to back an urgent cause: fighting sexual violence in military conflicts.
The actress joined British Foreign Secretary William Hague in announcing $36 million in additional funding from G-8 nations to go toward a series of measures for preventing sexual violence and ensuring justice for its survivors.
For too long, Jolie said, survivors of sexual violence have been "the forgotten victims" of wars in the Middle East, Africa and elsewhere.
"Today, I believe that their voices have been heard," she said alongside Hague, U.S. Secretary of State John Kerry and others at a meeting of foreign ministers from G-8 nations.
The British foreign secretary called sexual violence in conflict "one of the greatest and most persistent injustices" in the world and said the time had come to eradicate the scourge of rape in war.
"This in my mind is the slave trade of our generation," Hague said. "Now that we have put war-zone rape on the international agenda, it must never slip off it again and it must be given even greater prominence."
He said the G-8 ministers meeting in London have made the "historic" declaration that rape and serious sexual violence in conflicts constitute war crimes and grave breaches of the Geneva Conventions -- putting responsibility on nations to search for and prosecute anyone accused of such crimes.
Jolie, who serves as a special envoy for the U.N. High Commissioner for Refugees, welcomed the "long overdue stand" on sexual violence, saying that for too long international political will to prevent it has been "sorely lacking."
Sexual violence has been used as a weapon of war in several conflicts, including in Syria, Libya, Bosnia and the Democratic Republic of Congo. Hague said some funding will go toward training military personnel on how to respond to sexual violence, since they are often the first to encounter survivors.
Ministers also pledged to set out international standards for the investigation of rape and sexual violence, as well as to ensure there is no amnesty for sexual violence in peace agreements.
Jolie, a longtime humanitarian, also traveled recently to the Democratic Republic of Congo to campaign against sexual violence in war zones. She also opened a school for girls in Afghanistan, and plans to fund more with proceeds from her jewelry line.
http://www.cbsnews.com/8301-207_162-57579052/angelina-jolie-urges-g-8-nations-to-end-sexual-violence/
---------------
French court acquits mother over son's 'Jihad' T-shirt
April 12, 2013
AVIGNON, France — A court in southern France on Wednesday acquitted a mother on trial for dressing her three-year-old son in a T-shirt reading "I am a bomb" and "Jihad, Born on September 11."
Bouchra Bagour, 35, was on trial in Avignon on charges of defending terrorism after sending her boy, named Jihad, to his school in the town of Sorgues wearing the T-shirt.
Bagour and her 29-year-old brother Zeyad, who was also charged and acquitted, had faced up to five years in prison and a fine of 45,000 euros ($59,000) if convicted.
The court ruled that prosecutors had not proven that the defence of terrorism was "unequivocal", as required by the law.
"I am delighted, it was a discerning and legally justified decision that should put an end to this unfortunate affair," said Gaele Guenoun, the lawyer for Bagour, who was not present for the ruling.
Bagour had admitted to the court that sending her child to school wearing the T-shirt had been "tactless" but insisted it was not meant as a provocation.
She said she simply wanted to make note of her son's birthday on September 11 and did not intend to reference the 9/11 attacks in the United States in 2001.
Her brother, who had also faced charges for having bought Jihad the T-shirt, said after the ruling that he was "happy" and "relieved".
Sorgues Mayor Thierry Lagneau, who had expressed outrage at the incident, said the court ruling did not reflect the wishes of the local community.
"I have the feeling that the law does not reflect reality as it is seen by citizens," he said, adding that the ruling "gives the impression that everything is allowed."
Copyright © 2013 AFP. All rights reserved.
---------------
Madonna 'disappointed' over claims she was a diva in Malawi
April 12, 2013
Madonna has hit back after Malawi's president claimed she was ill mannered on a charity trip to Malawi in April. Joyce Banda said in a statement the singer expected preferential treatment at the airport and that she exaggerates her charitable work in the country. Madonna released her own statement on Thursday, saying she is 'disappointed' by Banda's accusations
http://www.guardian.co.uk/world/video/2013/apr/11/madonna-disappointed-diva-malawi-video
---------------
Assets And Income of Pak NA Candidates for Women's Seats Reveal Interesting Facts
April 12, 2013
ISLAMABAD: The details submitted to the Election Commission of Pakistan (ECP) in their nomination papers by candidates for National Assembly seats reserved for women from Punjab reveal some interesting facts about their assets and sources of income. A careful study of some prominent women candidates, who were also members of the previous National Assembly, shows that like a majority of their male counterparts they do not belong to ordinary families. Amid the ongoing controversy about fake degrees and dual nationality, Dr Donya Aziz of the PML-Q has stated in her nomination papers that she possesses a US passport.She is the only female lawmaker of the previous assembly who holds a dual nationality and is now again a PML-Q candidate for NA seats reserved for women. She has net assets worth $102,365, mostly owned by her spouse Zaid Safdar. In her statement, Dr Aziz has also mentioned her US passport number. She survived the recent legal challenge in the Supreme Court against those lawmakers who held dual nationality, as her appeal is still pending in the court. In her appeal, she has claimed that the law does not prevent naturalised foreign citizens from becoming lawmakers in Pakistan. She has mentioned in her documents that her birthplace is the US. She lives in her parent's residence in Pakistan and has no business inside or outside Pakistan and her main source of income in previous years was her salary as an MNA. She also stated that she had paid Rs57,064 tax in 2012.Dr Atiya Inayatullah, a PML-Q candidate, has stated that her occupation is 'human development volunteer', but her net financial worth is Rs212.01 million with no business venture in or outside the country. Among her household items is a generator valued at Rs640, 000.She paid Rs1.62 million in terms of tax 2012, mainly on account of shares and on her bank accounts.Another PML-Q candidate for NA seat is Nosheen Saeed, who said in her statement that she was a freelance columnist and paid Rs59,580 tax in 2012. She owns a house in F-7/3, Islamabad, and the net value of her assets was Rs109.53m.Another NA candidate is Ms Bushra Rehman. She is the owner of a company named Bore Master. She is a writer by occupation and her qualification is MA, BEd. Her total assets are Rs4.67m, including a Corolla 2011 and a Mercedes 1982 car, not usable as mentioned in the statement submitted to the ECP. She has a house in New Garden Town, Lahore, and in E/7, Islamabad, but the total value of both the residential units has been shown as only Rs830,000. Her son has $419.68 in banks.The chief of the Benazir Income Support Programme, Ms Farzana Raja, is a PPPP candidate for the NA seat.She has four businesses and her total assets have been mentioned at Rs9.68m. Her spouse Dr Ammar Turabi has two businesses — US Hotels and US Hospitality — both in the US.Bushra Aitzaz, wife of PPP-P central leader Chaudhry Aitzaz Ahsan, is an entrepreneur, who owns an LPG business, 'Sam Gas' and 459 kanal agricultural land. She paid Rs812,254 income tax and Rs120,700 agriculture income tax in 2012.Her net assets are valued at Rs76.31m while that of her husband Chaudhry Aitzaz Ahsan Rs136.24m. She owns a 1993 Pajero and her annual expenditure is Rs1.40m.Ms Belum Hasnain of PPPP has no business and her main source of income is agriculture and property rentals. She paid Rs184,852 income tax from commercial property and Rs30,200 on agricultural income. The total value of her assets is around Rs25.90m.Rukhsana Bangash, the Political Secretary of President Asif Ali Zardari, has nothing in material terms to her credit. In the statement submitted to the ECP, she said her belongings are items of personal use worth Rs400,00 and a gold set with gems valued at Rs650,000.Ms Fauzia Habib, a PPPP candidate, has Rs44.3m property, mostly inherited. The value of her other assets is Rs12.30m. She has no business or agricultural land. However, a certificate issued to the ECP by the FBR said that her annual income in 2012 was Rs1.87 million and she paid Rs138,790 tax during the year.Samina Khalid Ghurki, a PPPP candidate, has two businesses. Her financial assets are worth Rs15.59m and she paid Rs111,822 income tax. She has 520 tola gold and a 2011 model SUV.Anusha Rehman of PML-N has done LLM from the UK. She has no business in Pakistan or abroad. She has an agricultural land worth Rs17.5m, her residential house in Lahore is valued at Rs60m and a house owned by her spouse in London is worth Rs70 million. She has a 1997 model Prado, 75 tola gold jewellery and Rs500,000 cash in banks.Tahira Aurangzeb of PML-N calls herself a social worker, has only seven tola of gold, Rs114,631 in bank, no vehicle, the value of furniture etc and articles of her personal use is Rs25,000. She owns a one kanal house valued at Rs15 million. Ayla Malik of PTI owns an in-operational business, her occupation is agriculture, and she paid Rs3,450 agricultural tax in 2012, out of Rs7m agriculture income.She owns a Rs45m farm house in Bani Gala, Islamabad, has two cars, 150 tola gold, Rs5m cash in hand and household belongings valued at Rs7m.Fauzia Kasuri, a candidate of the PTI. She has not paid tax because she has no income, and in her occupation she has termed herself a housewife.However, her spouse owns $370,000 'condominium' in the US. She has $30,000 in Bank of America, and Rs250,000 in local bank. She has jewellery worth Rs6m, personal household items, including rugs worth Rs2m.
http://dawn.com/2013/04/12/assets-and-income-of-na-candidates-for-womens-seats/
---------------
Child Protection a Low Priority in Indonesia
April 11, 2013
Efforts to protect children in Indonesia from abuse are obstructed by barriers to crime reporting, which may worsen with the threatened closure of police-run units that handle crimes against women and children.
Usman Basuni, assistant deputy minister for child participation at the Women Empowerment and Child Protection Ministry, told IRIN these specialized police units — known by their local acronym, PPA — are at risk of closing because crimes against women and children are rarely reported, which has led police to shift their resources elsewhere.
Last year, 12-year-old Riri — not her real name — was sent from her village in Central Java to live with her uncle and aunt two provinces away, in Jakarta.
Over a period of four months, she was repeatedly raped by her uncle, who threatened to kill her and possess her with evil spirits if she reported the abuse. He then forced her to become a sex worker.
For two weeks, Riri was forced to charge $21 per sexual encounter in East Jakarta, according to the head of the shelter where she is now recovering. After fleeing from her uncle's house, she happened to rest mid-escape near the home of a local community leader, who brought her to the government-run shelter.
The extent of such abuses is unknown, Basuni said. Even if they are reported, they rarely make it up to the national level for recording.
Attitudes to abuse
According to the National Commission for the Protection of Children (Komnas PA), a child-rights NGO based in Jakarta, there were 2,637 reports of domestic abuse against children in 2012, up from 2,509 the previous year.
World Vision's child protection specialist in Indonesia, Pitoyo Susanto, said child abuse is severely under-reported, what he called an "iceberg phenomenon," because of the public's view of child abuse as something to be resolved in the home.
"People still believe it's a private thing," said Susanto. "If neighbors know what's going on next door, they won't intervene. Even in the cases that are reported, we see that the abuse has been going on for years."
And should family members or survivors make a public claim, they risk being stigmatized, said Santi Kusumaningrum, co-director of the Centre on Child Protection at the University of Indonesia (UI).
"Families have been asked to move out of villages by the rest of the community, with schools even refusing to accept the child."
In addition, Kusumaningrum said parents often turn to violence when disciplining their children. "The only way many parents know to deal with their children, if their child is misbehaving, is to hit them," she said.
Influencing parent behavior at the national level is near impossible, said the government's Basuni.
"When the government says 'don't beat your child,' parents say it's their business, and the number of people who think this way is huge," he said. "The ministry doesn't have enough resources to make 240 million people aware of this issue."
A remote crime scene
Abuse can be reported at police-run units for women and children; there is one such unit in each of Indonesia's 500 districts. Reports can also be made at hospitals and at the NGO-run Child Protection Institute, which has locations in each of Indonesia's 34 provinces.
However, World Vision's Susanto says many families live far from reporting centers and public service providers able to offer life-saving medical and psychological care.
"There's a lack of access at village level," he said. "We're trying to improve this by training community volunteers to [triage] victims and their families, and help them report to police or service providers at the district level."
The University of Indonesia's Kusumaningrum said that despite laws protecting children — instituted in 2002 — and criminalizing domestic violence — instituted in 2004 — difficulties filing abuse claims and bringing cases to court have largely deterred reporting.
"When people report [at the village level], sometimes they need to finance transporting the evidence to district level [for investigations]," she said, adding that the police may face budgetary constraints in such cases. "It's already emotionally difficult to report, but for poor families this cost makes it even harder."
What to do?
Basuni said the Women Empowerment and Child Protection Ministry is trying to change attitudes toward child-rearing.
"We'll only solve this problem by going to its source and promoting good parenting skills, and through creating child-friendly cities," said Basuni.
Sixty Indonesian cities are trying to achieve "child-friendly" status by meeting criteria tied to the UN Convention on the Rights of the Child (UNCRC), which Indonesia has ratified. Cities must prove their commitment to fulfilling the UNCRC.
The ministry has also introduced an Indonesian Association of Child-Friendly Companies, with at least six major companies participating by agreeing to put children's rights at the centre of their corporate social responsibility programs.
But still largely unaddressed is why convictions for child abuse are so rare. This past February, an 18-year-old man was sentenced to five years' imprisonment for raping his girlfriend, a minor, but such successful prosecutions are an exception.
In local media, abuse victims, their families and supporters have spoken of threats and intimidation by friends, family members and even neighbors of alleged perpetrators, who have pressured witnesses to withdraw testimony mid-trial. Police have been called "sluggish" and "insensitive" in their investigations.
Police spokesman Senior Commander Rikwanto, who goes by one name, said child abuse cases were sometimes slow to reach trial because of difficulty establishing evidence of abuse.
"It's necessary to convince witnesses to come forward, and make sure we have sufficient physical and scientific evidence of the abuse," he said. "Sometimes this can slow the progress of cases down."
In addition, the 2004 regional autonomy law transferred powers to local governments to handle basic services, including health, education, infrastructure and security. Basuni acknowledged child protection was a low priority for local government officials.
He added that he was trying increase the priority of children's issues nationwide by meeting with and convincing district heads to promote children's rights. While most of those consulted agree in theory, he said, they say their budgets are already overstretched.
http://www.thejakartaglobe.com/home/child-protection-a-low-priority-in-indonesia/585094
---------------
'Make Sure Khyber Pakhtunkhwa Women Are Not Denied Right to Vote'
April 12, 2013
PESHAWAR: Chief Justice of Pakistan Iftikhar Mohammad Chaudhry on Monday called upon the district returning officers and returning officers in Khyber Pakhtunkhwa to ensure that women were allowed to exercise their right to vote in the May 11 elections, as it was a constitutional requirement.
"Every individual has the right to vote irrespective of his gender, caste or creed. It has been observed that male members of the family don't allow women to cast vote in elections, so you all (DROs and ROs) should convince those discouraged women from casting vote in their respective constituencies. If you succeed in this mission, it would be a great achievement," he told DROs and ROs from several Khyber Pakhtunkhwa districts during an interactive session here.
Full report at:
http://dawn.com/2013/04/09/cjp-tells-returning-officers-make-sure-kp-women-are-not-denied-right-to-vote/
---------------
Karachi: 216 Women Burnt Alive In 2012
April 12, 2013
KARACHI: Founder Madadgaar National Helpline Zia Ahmed Awan said on Thursday that number of women and children burnt alive is increasing because of improper law enforcing mechanism.
While addressing a press conference at Madadgaar National Helpline office, he said 216 women were burnt alive in 2012. He said that this data is just a tip of the iceberg, but in reality the actual number of cases is very high due to which the lives of common people have become miserable. He also highlighted two recent cases. The first case is of Ruqaiya, 27, resident of Nusrat Bhutto Colony, who was married off at a very early age with a jobless drug addict. Because of marital and financial disputes, her husband tortured and abused her. On April 6, 2013, her husband hatched a conspiracy and threw acid on her wife, mother-in-law along with three children. As a result, 22 percent of Ruqaiya's body is burnt and she is under medical treatment. The offender is still free and continuously threatening the victim.
Full report at:
http://www.dailytimes.com.pk/default.asp?page=2013\04\12\story_12-4-2013_pg7_16
---------------
My Mom Will Now Be Haroonabad's Mom, Says Meera Actress
April 11, 2013
LAHORE: Following her daughter's suit, actor Meera's mother has also decided to contest the upcoming elections in Haroonabad district on a Justice Party ticket.
Speaking to the media in Lahore on Thursday, Meera said that she has come to Pakistan from India only to support her mother. "I am going to Haroonabad today so I can support my mom," she said.
Full report at:
http://tribune.com.pk/story/534172/elections-2013-my-mom-will-now-be-haroonabads-mom-says-meera/
---------------
Gains for women in Saudi must be more than symbolic
Ayesha Almazroui
Apr 12, 2013
Two weeks ago, it was illegal for women in Saudi Arabia to ride motorbikes and bicycles. Today, women can do that "only for entertainment", religious police told Al Yawm newspaper.
While this might seem like progress, the news only illustrates how far women's rights still have to go in Saudi. Women can ride bicycles or motorcycles only in designated areas, only if accompanied by a male relative, and only if dressed modestly.
And are being advised not to do it in places crowded with young men. Why? "To avoid harassment."
That last provision was directed at women, who in conservative societies like Saudi are always seen as responsible for the harassment they must endure. But what about the men doing the harassing? They should also be advised to respect women.
Full report at:
http://www.thenational.ae/thenationalconversation/comment/gains-for-women-in-saudi-must-be-more-than-symbolic#ixzz2QFQHMIXU
---------------
Infant mortality down 50% in Saudi Kingdom
12 April 2013
The mortality rate of newborns in the Kingdom has dropped 50 percent because of the country's advances in medical care, said a Ministry of Health official here yesterday.
Abdulaziz Al-Humaidhi, undersecretary at the Ministry of Heath for Treatment Services, said over 600,000 babies are now born every year in the Kingdom. He was addressing a three-day conference on newborn medicine in Riyadh that started Wednesday.
The decline in the mortality rates of the newborn was because of improved health services and the opening of facilities in small towns across the country, he was quoted as saying by the local media.
Full report at:
http://www.arabnews.com/news/447881
---------------
Service Centres Likely For Female Workers in Saudi Arabia
12 April 2013
Officials are studying the possibility of creating service centres for female workers in the women's industrial cities that are currently under construction. The service centres will include daycares centres, as well as a shopping, fitness and business complex, said Abdulllah Al-Fassam, project director at the Saudi Industrial Property Authority (Modon).
"Our biggest challenge," he said, "is to include service centres inside these industrial parks."
Al-Fassam said the industrial sector is now attracting a large segment of women, adding that the next phase is to improve the conditions and environment of work for women. His statement came as he addressed a large gathering of women attending a forum on women's work week, organized by the Eastern Province Chamber of Commerce and Industry.
Full report at:
http://www.arabnews.com/news/447879
---------------
1,233 AIDS Cases Reported Last Year in Saudi Arabia
12 April 2013
According to a Saudi health group, the Kingdom witnessed 1,233 new cases of AIDS last year. These victims included 431 Saudis and 802 foreigners.
In 2011, Saudi Arabia had noticed 1,195 AIDS cases, including 459 Saudis and 736 foreigners.
"Ninety-six percent of AIDS patients in the Kingdom contracted AIDS through intercourse," said Sanaa bin Mustafa Filimban, chairman at the Saudi Charity Association for AIDS patients.
It showed that most of the cases recorded are of young adults, aged between 15 to 49 years old, making up 74 percent of the total number of cases with STDs (sexually transmitted diseases).
Full report at:
http://www.arabnews.com/news/447870
---------------
URL: https://newageislam.com/islam-women-feminism/angelina-jolie-urges-g-8/d/11114