New Age Islam News Bureau
7 Oct 2015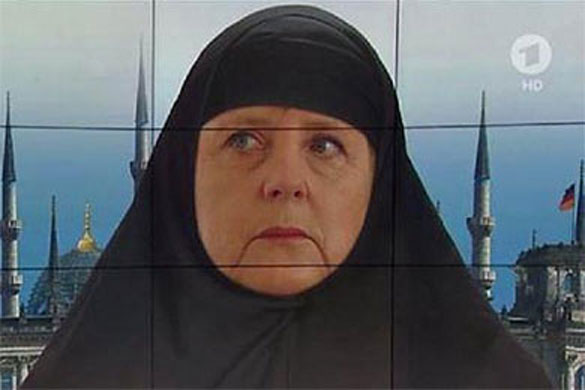 The photo-montage of Angela Merkel was used as the backdrop to a TV debate on whether Germany should introduce quotas on refugees.
---------
• Women Suicide Bombers Kill 15 at Nigerian Mosque
• BMMA Founder Is Breaking Barriers to Educate Indian Muslim Women
• Young Saudi Women Becoming Involved In Blackmail
• Conservative Party's Campaign Regarding Muslim Women Is Nauseating
• 'Women Cops Should Join Hands to Fight Crime': Director, SVPNPA
• Afghan Women a Year into Ghani Presidency
• Iraq's Female Cycling Champions: Dealing with the War with Isis and Conservative Outlook
Compiled by New Age Islam News Bureau
URL: https://www.newageislam.com/islam,-women-and-feminism/new-age-islam-news-bureau/angela-merkel-in-muslim-headdress-picture-sparks-anger-in-germany/d/104828
---------
Angela Merkel in Muslim Headdress Picture Sparks Anger in Germany
6 October 2015
An image of Angela Merkel wearing a Muslim headdress has provoked a backlash against a German TV station.
The photoshopped picture shows the German chancellor wearing a black chador and posing in front of minarets rising over the Reichstag, the German seat of government.
It was used by German TV show 'Report from Berlin' as the backdrop to a debate on whether there should be a quota for refugees.
But the image, dubbed the "Merka", saw some viewers complain it looked like a picture used on posters at marches by anti-Muslim group Pegida – Patriotic Europeans against the Islamification of the West.
One viewer wrote on the programme's Facebook page: "The popular mood turns because of such defamation and propaganda – making it impossible for integration to succeed," according to a report by The Times
But the shows editors defended their use of the photo, saying in a statement: "We are pleased with the numerous criticisms of our graphics and are very sorry that some disagreed with our view of the chancellor or they have even misunderstood."
Tensions over the continuing influx of refugees to Germany have continued to rise, with 9,000 people marching against immigrants on Monday.
Official estimates are of 800,000 arrivals this year but a confidential government report leaked to German newspaper, Bild, suggested it could rise as high as 7.36 million – almost 10% of Germany's total population.
The document pointed out that each immigrant could arrange for up to eight relatives to join them, as entitled if they are granted refugee status.
http://www.independent.co.uk/news/world/europe/angela-merkel-in-muslim-headdress-photo-sparks-anger-in-germany-a6683051.html
---------
Women Suicide Bombers Kill 15 at Nigerian Mosque
October 7, 2015
Damaturu, Nigeria: Two women suicide bombers killed 15 people, including themselves, early on Wednesday in northeast Nigeria at a mosque in the compound of a government workers' housing estate and at another location there.
In a separate attack, the military said Boko Haram extremists attacked a rural military camp in northeast Yobe state overnight but were repulsed by troops who killed at least 100 insurgents. Army spokesman Col. Sani Usman said seven troops died in the fighting and nine were injured in the village of Goniri.
Hours later, around 6am when mosques are filled with the faithful performing early-morning prayers, the suicide bombers struck in Damaturu, Yobe's commercial center.
"One of the suicide bombers gained entry into the mosque and detonated explosives and the other bomber was sighted roaming around the compound and (when) asked questions, she too detonated explosives," said resident Ebrahim Mousa.
He said he counted 15 bodies and 12 wounded people rushed to the hospital in Damaturu, which has suffered dozens of attacks during the 6-year-old Islamist uprising.
Residents blamed them for the dawn attack on Buhari Housing Estate, apparently named after President Muhammadu Buhari.
The insurgents have stepped up attacks since Buhari, briefly a military dictator 30 years ago, took office in May pledging to halt the insurgency.
On Sunday, Boko Haram claimed responsibility for multiple explosions that killed at least 15 people last week in Abuja, the federal capital in central Nigeria.
Most attacks take place in the northeast and have spilled over into neighbouring countries that regularly suffer suicide bomb explosions and hit-and-run raids.
Amnesty International estimates 20,000 people have died in the insurgency.
Risk consultancy Verisk Maplecroft has recorded 3,770 civilian deaths this year linked to Boko Haram's uprising.
http://gulfnews.com/news/africa/nigeria/women-suicide-bombers-kill-15-at-nigerian-mosque-1.1596732
---------
BMMA Founder Is Breaking Barriers to Educate Indian Muslim Women
07 October 2015
"Every community is male-dominant but among Muslims, there are evident restrictions on women," says Noorjehan Safia Niaz, founder, Bharatiya Muslim Mahila Andolan.
Bharatiya Muslim Mahila Andolan (BMMA) is an organisation that fights for the rights of Muslim women in the country. Noorjehan believes that the need of the hour is to educate these women in order to help them break barriers and secure a future.
Forty-six-year-old Noorjehan has graduated in Philosophy from Mumbai's Wilson College. After graduating, she joined the Tata Institute where she engaged herself into social work.
For more than two decades, Noorjehan has helped several Muslim women to have a voice in the society, made them independent enough to lead a life full of dignity. Along with her colleague Zakia Soman, she started the BMMA in 2007.
The organisation started with helping women in the country's five states but later they spread their wings to as many as 13 states. Presently, the organisation is connected with 65,000 Muslim women in the country.
The group organises vocational training to young Muslim girls in order to help them start a career.
Recently, the group organised a 3-day-long session in Bharat Nagar, Bandra Reclamation and Indira Nagar slums to spread awareness on women rights.
Noorjehan reveals that she faces several obstacles while confronting women in distress, from the community. "I was never stopped by anyone while carrying out the initiative. However, educating them so that they let their wives and daughters work and becomes independent becomes slightly challenging," she states.
http://www.iamin.in/en/mumbai-north-central/news/noorjehan-breaking-barriers-educate-muslim-women-here-how-71922
---------
Young Saudi women becoming involved in blackmail
7 October 2015
ABHA: More and more young Saudi women are found involved in blackmailing men and extorting money, with some even boasting about their "successes," thanks to social networking sites, dating apps and hacked smart phones.
This is the latest phenomenon haunting society, with local newspapers publishing stories about women blackmailers in the Kingdom almost daily. Local newspapers have also interviewed experts about their opinions on the best possible way to fight this problem.
Experts blame the lack of religious sentiments, bad friends, lack of monitoring by family, Internet and BlackBerry for the spread of this problem.
Legal expert Hadi Al-Yami said that blackmailing is when somebody gets something they don't deserve by threatening someone else, or using their weak points or threatening to reveal information or secrets about them unless they respond to the blackmailer's demands. He added that this can destroy a person.
Al-Yami stressed that the Article 3 of the Criminal Law states that whoever publishes an Internet recording with the intention of defaming others could be sentenced up to one year in jail, or fined up to SR500,000 or both.
He added that if the documentation process involves technical and professional skills then the punishment could be raised up to five years in prison and a fine up to SR3 million, whether the documentation was done by audio or video, and regardless of whether the person is known or not.
The Commission for Spreading Virtue and Preventing Vice last year established a special unit to counter women's blackmail. The unit was established as a result of the increasing complaints in regards to this issue.
An official at the commission said it has dealt with 500 cases in the conservative Saudi community where citizens were subject to blackmail.
http://www.arabnews.com/saudi-arabia/news/816766
---------
Conservative Party's campaign regarding Muslim women is nauseating
Oct 6, 2015
My fellow Muslim women, we have a new hero. He takes the shape of a cowboy hat-donning middle-aged man with skin the colour of potato salad that's been sitting out in the sun too long. He looks out for our best interests, working day and night to rip off our un-Canadian face veils, free us from our oppressive religions, and inform us of the barbaric nature of our own cultures.
While I'm flattered, I don't quite understand why Muslim women have suddenly become pretty much the entire focus of the Conservative Party's campaign. I'm aware that Harper has felt sufficiently threatened by the niqab for a few years, but last week Immigration Minister Chris Alexander announced seemingly out of nowhere a newfound urgency to tackle barbaric cultural practices such as child marriages, female genital mutilation, and so-called honour killings — things that have been illegal in Canada for quite some time now. The new RCMP tip line will be a resource for immigrant children and women who are "at risk of being victimized" — but only if they are victims of culture-derived practices, not your run-of-the-mill generic wife-beating. Money will also be sent overseas to organizations working with girls in Syria and Iraq; Alexander mentions the brutal attacks these girls undergo by ISIS, but fails to let Canadians know that Assad's regime has killed more than 125 times the number of children that ISIS has. If you're wondering how exactly the suffering of Syrian girls is relevant to the discussion of the upcoming federal election, well, so am I. Closer to home, I'm curious as to how Harper is making a name for himself as caring for Canadian women while ignoring the 1,200 missing and murdered Aboriginal women that he publicly dismissed as unimportant to him right now. I also wonder if he is aware of the dire status of women's shelters in Canada, or if he thinks regular old domestic violence is not a big enough problem to deserve a hotline or funding. It's a little jarring that this tip line will encourage Canadians to snitch on their neighbours when they suspect women may be "at risk" of becoming victims — without addressing the millions of current domestic violence victims. Why is it only Muslim women that need saving?
The most mind-boggling aspect of this Muslim alienation campaign is that somehow, horrifically, it's working. Conservatives are leading in polls as of week nine, after consistently bringing identity politics and so-called "Canadian values" to the front of the table every time. Naturally, they deny pushing the agenda of xenophobia at every press conference, even after multiple hate crimes against Muslims are sprouting up across the country, even after Quebec had to legislate that Islamophobia is, indeed, not nice. I am slowly watching the climate of this country change to that of fear-mongering and xenophobia before my own eyes. The welcoming Canadian attitude on which we prided ourselves has suddenly taken on a distinctly America-post-9/11 vibe.
It is downright nauseating to watch Harper capitalize off real issues that actually do affect Muslim women, as well as women of all races and religions, only to further his lead amongst similarly intolerant citizens. Most irritating of all is that he is doing so under the extremely thin veil of caring about women's issues. Or, wait, am I still allowed to talk about veils?
https://thegatewayonline.ca/2015/10/conservative-partys-campaign-regarding-muslim-women-is-nauseating/
---------
'Women Cops Should Join Hands to Fight Crime': Director, SVPNPA
07th October 2015
HYDERABAD: The international conference, a first of its kind, on 'Women in Law Enforcement', jointly organised by the Sardar Vallabhbhai Patel National Police Academy(SVPNPA) and the Charles Sturt University (CSU), Australia started here on Tuesday with Aruna Bahuguna, director, SVPNPA, urging all women officers to build on breakthroughs achieved by women pioneers.
In her inaugural address, she said that "as today's world has shrunk into a global village and crime and terrorism sweep across continents, it is but logical that women law enforcers join hands to fight crime- be it terrorism, technology or radicalization."
Introducing the conference, Professor Tracey Green of CSU, Australia, emphasized that this was a unique opportunity for networking at every level from global, regional to national scale on many key aspects of policing from organized crime, border security, terrorism and radicalization and counter radicalisation.
Chris Elstoft, Deputy High Commissioner, Australian High Commission, touched upon the long-standing relationship between Australia and India. "We have been collaborating and working on a range of transnational issues related to money laundering and counter terrorism to name a few and this conference is yet another milestone that we have achieved coalescing the issue of women policing and gender equality."
Elaborating further, Professor Green stated that "terrorism worldwide demonstrates the need to strengthen global response in the critical areas of investigation.
Technology: A Double-edged Sword
Speaking on the benefits and harms of National Security Technology, Associate Professor Katina Michael, who has been researching on security technology for over 16 years, of University of Wollongong in Australia said technology's pervasiveness can be hideous. Speaking about micro-chipping people embracing the technology into one's body, she touched upon India's Aadhaar-unique identity cards. According to her, keeping upto the pace of change in technology one forgets the basic needs. "What is the need for collecting biometrics of 1.2 billion people, without a legislation, when the country already has a national registry. Wait till a hacker takes your identity and how you would not be able to reclaim your identity," she warned of a concept called 'Identity theft'.
Women as agents of de-radicalisation
Gulmina Bilal Ahmad, an independent researcher from Pakistan, speaking about the radicalisation related tendencies in her country, pointed out how women police force could be used in counter-radicalising terrorist activities. According to her, evidences suggest that certain militant organisations use specific messages targeting women groups, youth and children oriented groups. She said a certain militant group in SWAT were recruiting militants through a radio station talking about social justice that resonated with majority population. She reiterated that women police personnel who form less than one per cent of Pakistan police force and remain largely un-utilised should be used as de-radicalisation agents by engaging youngsters in dialogue.
Higher ranks & not Numbers matter
While pointing out that the representation of female police officers in International Police Force was higher and has reached an all-high of 44 per cent in Interpol, Dr Saskia Hufnagel of Queen Mary University London, said "It is not enough to improve the numbers of women in police force, what we need to do is to ensure that women make it to the higher ranks."
http://www.newindianexpress.com/cities/hyderabad/Women-Cops-Should-Join-Hands-to-Fight-Crime-Aruna-Bahuguna/2015/10/07/article3066834.ece
---------
Afghan Women a Year into Ghani Presidency
October 5, 2015
Though the story of the Taliban taking over Kunduz and then retreating dominates headlines, Afghans continue to work towards shaping a different country where they can live in peace, women and girls are educated, and people have the power to decide their own fate. In fact, the majority of Afghans have little to no sympathy for the Taliban, and the country has taken notable steps towards progress for women in the past year.
It has been a year since Ashraf Ghani was sworn into the presidency. During this time, the Afghan Unity Government has made serious efforts to increase women's participation in high-profile governmental offices. The change is visible at the very top, as several women have been appointed to senior positions in the government, and the President and First Lady have publicly reiterated their commitment to enhancing women's rights.
The First Lady of Afghanistan, Rula Ghani, is an active voice for women's rights, and she has made a name for herself through continued humanitarian work for children, refugees, and women. She has also spoken globally about Afghan women, not only to dispel myths and stereotypes of victimhood but also to advocate for women's participation in the country's peace process, among other things. However, she is not the only woman acting from a position of power to move the country forward.
President Ghani has vowed to appoint four female ambassadors for Afghanistan and has already selected four women to occupy ministerial posts in his cabinet. Despite widespread opposition and protests, the President has also appointed two female governors. The opposition has not thwarted President Ghani's efforts to increase the number of women in his government. In fact, for the first time in the history of Afghanistan, the President introduced a woman to the Afghan Supreme Court. Though her appointment failed to receive enough votes to be ratified by the Afghan Parliament, there are already efforts to introduce another woman as a replacement.
While in the current administration, women seem to be breaking ground at the top, at the ground level they face discrimination, violence, and human rights violations. Sexual and street harassment, low literacy rates, insecurity, familial restrictions, and lack of employment opportunities all contribute to preventing women at the grassroots level from joining the government.
Despite efforts by governmental and non-governmental entities to increase women's employment in the private and public sectors, only eight percent of Afghan women are involved in non-agricultural, wage-generating jobs. Many of those who work in the agricultural sector within familial structures are not paid for their labor. This further prevents them from participating equally in the economy and in society.
By and large, Afghan women still remain marginalized, illiterate, and with poor access to education, employment, health services, and other basic human rights. The majority of young girls in the country still face forced and early marriages and are prevented from accessing education past the third grade. Despite improvements in women's health, Afghanistan continues to have one of the highest rates of maternal mortality in the world. Only 18 percent of Afghan women have basic literacy skills. Violence against women has actually increased in the past four years, and one after another, women are the targets of brutal killing, stoning, or other forms of illegal and public prosecution. Women earn 25 cents for every dollar men earn. According to UN Women, 87 percent of women face some form of violence at home. Many of the women who dare to speak up against these forms of violence are often targeted, threatened, or killed.
It is because of these daunting realities of Afghan society that as we celebrate the existence and work of women like Rula Ghani. However, we must also look around to recognize and address the needs of the most marginalized women in the country. There is hope that the engagement of women in the most senior positions of the government will have trickle-down positive impact on Afghan women as a whole. In a patriarchal society, female parliamentarians and governors are more likely to at least be cognizant of women's issues. However, as women's participation in high-level decision-making about health, education, and security increases, it is essential that women at the grassroots level also are empowered to take advantage of those decisions. For example, as the Afghan government increases the number of female parliamentarians that could pass laws such as the Elimination of Violence against Women Act, it is equally, if not more essential, that they also empower women in rural villages to make use of the law.
The strides women have made under Ghani have been tremendous. There are more Afghan women holding senior positions in the current administration than at any time since 2001, though women still make up only 25 percent of governmental employees. The mere existence of role models for young Afghan girls who dream of becoming ministers and judges is an important step forward for the country. However, for an Afghan girl outside of Kabul to realize her dream of such achievements, she must be able to read, have access to information and news and have the freedom, tools and confidence to envision a different world. For Afghanistan to achieve this, and make women's empowerment a widespread rather than a top-down-effort, there must be more focus on addressing the problems faced by the vast majority of Afghan women and girls.
Taking more holistic approaches that complement the top-down approach to women's empowerment will allow women in rural areas of Afghanistan who have little access to opportunity to also move forward.
http://blogs.cfr.org/women-around-the-world/2015/10/05/afghan-women-a-year-into-ghani-presidency/
---------
Iraq's Female Cycling Champions: Dealing with the War with Isis and Conservative Outlook
3 October 2015
The sun dips as the cyclists from Iraq's national team move effortlessly around a bend in the road. They climb the hill by the sprawling university and shake off a group of men trying to outrace them on scooters.
Leaving the men behind, they climb higher above the city of Sulaimaniyah in the Kurdish north of the country. A group of labourers, wearing broad straw hats to block out the sun, watches in stunned amazement as the six young women ride by in a blur of pink helmets and green, red and blue jerseys.
Sirwan Sami, the team's coach, looks out from the window of his van and sounds a pealing siren to warn off a lorry driver veering too close to the racers on the broad highway.
Iraq's female national cycling champions
Traffic hums and insects crawl around them in the hot evening air. The team makes a synchronised turn while laughing and gesturing to one another before spreading out on a quiet, tree-lined street.
Among them, wearing a matching white, blue and red jersey and shorts, is Sozi Dilshad, who, before the ride began, had looked into the wing mirror of Sami's car and pushed her long hair up into a bun below her helmet. Dilshad is one of Iraq's top female cyclists and has represented her country in the Arab and Asian championships, bringing home a cluster of medals already, by the age of 18.
This evening she is training with the Newroz cycling club, one of a handful of organisations across Iraq nurturing young women to become competitive cyclists, despite all the challenges they face: cycling is not part of the culture in Iraq and the roads are some of the worst in the world for fatalities; there is no infrastructure for cycle training; and women in general are not encouraged to take part in sports out of the home.
While news from Iraq is dominated by the brutal Isis takeover of parts of the north and west of the country and not on the daily lives of its inhabitants, in Sulaimaniyah, part of the relatively safe Kurdistan region, life continues almost as normal – albeit with the heightened economic and security pressures of war.
Dilshad shares her bedroom with her sister on the top floor of their family's home on a quiet street in the city. Alongside stuffed toys, her bedroom is graced by trophies and medals from competitions around the world. Her pink nails, today matching her lipstick, are chipped.
"When I ride my bike I feel like I'm in a different world," she tells me with calm composure. "In a race, the only thing I am thinking about is getting to the finish line. We have to really focus, which requires energy, and we get very tired – but at the same time, the focus means I am not thinking about problems in my own life."
I first met Dilshad a year ago when she began training for the 2014 Arab Cycling Championships in Algeria, where the team won a gold medal. At that time, Isis had just pushed towards the Kurdistan region. The team was training in the city of Erbil, around 25 miles from the frontline on congested roads. In the city of Mosul, 50 miles from where we met that day, Isis had just declared its caliphate and instructed women to cover themselves top to toe.
Zryan Atar, 21, has been cycling for six years. Last year she won a bronze medal in an individual scratch race in Algeria, as well as silver and gold medals in team road and track races. Now, as she trains for this year's competition in Egypt, which begins on 18 October, she looks more glamorous. She has grown her hair long and dreams of becoming a model as well as a cyclist. Zryan speaks about her admiration for French female cyclist Pauline Ferrand-Prévot, last year's UCI Road Race World Champion. "I adore her, especially her style; what she wears and the way she races," she says.
Many young Iraqis are joining the exodus to Europe, spurred on by war, the implosion of their country and the perceived possibility of asylum in Europe. Atar is one of her country's brightest stars and has won medals for Iraq abroad but she, too, is thinking of leaving. "The future of Iraq is nothing, so how can a person have a future here?" she tells me as we sit in her coach's living room. She is thinking about marrying a relative in Germany to get residency, or crossing via the dangerous smuggling routes, which in the end may actually allow her more freedom and the ability to carry on cycling as a single woman.
Iraq's first female cycling clubs sprang up in the 1980s. A little over a decade later, at the age of four, Dilshad was given her first bike by her father. She rode it every day on the street by the family's home, says her mother, Shoneum Hamraza, before she met a team of cyclists in secondary school and began to train with them.
"Her father tried to stop her from going to practice. He said she should study rather than cycle, but her older brother supported her," says Hamraza. When she was a teenager, the neighbours criticised her for cycling. "But in our family," continues Hamraza, "we all agreed it's not a shameful thing to be a cyclist. By that time we knew she was doing well in the team, always coming first or second. I supported her along with her brother, but her dad always wanted her to study and not cycle."
Dilshad wants to be a world cycling champion, but also wants to stay in Kurdistan and study law. She worries about balancing these dreams, as well as about the war with Isis and the lack of jobs. "Medals and years of experience mean nothing without a degree," she says. "As a female cyclist, the best thing is to have a degree and then you can be a representative for your country, go abroad and have an impact."
Her mother's upbringing was very different to Dilshad's own: she hadn't been able to study past the age of nine, as her father had objected to the co-educational schooling that was on offer, and the Iran-Iraq war meant that the family had to flee; she had her first child as a teenager. "We didn't have these opportunities," she says now, smiling at her daughter, "we just had school, which was hard to finish because of the situation. I am really proud of what she is doing."
In Erbil, I meet with Mahmoud Aziz, head of the Iraqi Cycling Federation. He says that, historically, women's cycling never took off in Iraq as families didn't support their daughter's involvement; officials prioritised men's clubs and, when the Iran-Iraq war began in 1980, "it almost brought down the level of Iraqi sports to zero".
In 2004, female cyclists began travelling abroad under the Iraqi national flag, but these gains were marred by the increasing danger the nation's athletes faced beyond the Kurdistan region. Civilians were targeted because of their sect, and professionals were targeted as a way of sowing terror. Mahmoud Ahmed Fulayih, the k coach of the Iraq men's cycling team, was kidnapped and killed near Baghdad in 2006.
Zyadin Abas, 60, who coaches a male cycling team in Baghdad, takes his team to train in safer cities in the north or south of the country to avoid checkpoints and congested roads – not to mention that Isis is only 25 miles from Baghdad.
Aziz blames the religious political parties that began dominating local politics after the 2003 Iraq war, when dictator Saddam Hussein was deposed, for blocking women's involvement in sport. "If a female wants to train in the south [of Iraq] they have to cover up and wear long pants, so it is not possible to cycle there," he says.
One cyclist from Baghdad, Zahraa Mohammed, 24, competed with the gold medal-winning Iraq team in Algeria. While preparing for the competition, she told me that she would train indoors in Baghdad, and said the near-daily violence was having a psychological effect. "It shows itself as a fear. Our parents are afraid of kidnapping. If a friend is kidnapped then the parents don't want their children to go out." Kurdistan is safer for female athletes, but Baghdad is her home. "I love it there," she said.
On the surface, women in the Kurdistan region seem to have more freedom, but the advantages are slim, and women's rights are not fully practised in reality. Though the usual reaction on the street is bemusement rather than hostility, the coach, Sirwan Sami, tells me that when girls join his team, their families usually ask him to protect the girls' honour above all else. "They say, 'That's the only thing we care about.' Sometimes they say if they fall over and die, it's God's will, but honour is more important."
Mozhda and Azez Rafeeq, 17- and 16-year-old sisters from Sulaimaniyah, have been cycling for just six months, but Mozhda is already on the Iraq team and will be competing in Egypt this month. "Their family are very conservative but open-minded," Sami tells me. "Some families pretend to be open-minded but won't let their girls cycle."
Mozhda and Azez have four other sisters and three brothers. Since they joined the Newroz team, two of their sisters have decided that they, too, want to learn to ride. "When I was a child, I wanted to have a bike at some point in my life. Now it's my passion," says Mozhda. She speaks with a quiet voice, but later, on two wheels, she is transformed. She darts across the smooth road, past palm trees, petrol stations and bemused onlookers. She is the youngest on the national team and even as the older athletes mull over leaving, her passion is intoxicating. "People stare a lot and sometimes they shout, 'Why are you cycling?'" she says. "How do I respond?" She laughs. "I say, 'It's none of your business!'"
http://www.independent.co.uk/news/world/middle-east/iraq-s-female-national-cycling-champions-dealing-with-the-war-with-isis-and-the-conservative-outlook-a6677876.html
---------
URL: https://www.newageislam.com/islam,-women-and-feminism/new-age-islam-news-bureau/angela-merkel-in-muslim-headdress-picture-sparks-anger-in-germany/d/104828