New Age Islam News Bureau
24 Oct 2019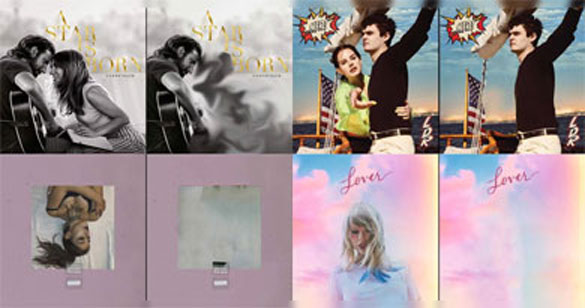 Iranian music streaming website Melovaz is under fire today after it was discovered that, in accordance with the country's strict censorship policies, the site is forced to Photoshop out women out of album cover art.
------
• Bored Of Male Heroes, Afghan Girl Coders Build Their Own Champions
• She Is Arab: World First Women's Platform Launches In the UAE
• Sisters in Islam Co-Founder Conferred United Nations Award 2019
• Jordan Urged To Stop Imprisoning Women for Defying the Wishes Of Men
• Squash: PSA Women's World Championship Kicks Off In Egypt
Compiled by New Age Islam News Bureau
URL: https://www.newageislam.com/islam-women-feminism/an-iranian-music-streaming-site/d/120080
--------
An Iranian Music Streaming Site Is Removing Women from Their Own Album Covers Due to Strict Censorship Laws
by Jack Alexander
October 24, 2019
An Iranian music streaming site is causing public uproar after it emerged they erase all evidence of women from the front of their own album artwork. A handful of notable new releases from the likes of Lady Gaga, Beyonce, and Taylor Swift have had their covers altered to remove the women.
A look at streaming site Melovaz shows male musicians still present on their albums. However, there are no women present. In the case of Lana Del Rey's recent release, she was removed while the male subject remained. So harsh are the conditions, that even a sketch of Nicki Minaj was removed from her artwork.
Rapper Iggy Azalea tweeted after the backlash, writing:
The jokes on them cause I put a vagina reference in every song so who really won.
The alterations are in line with the country's strict Islamic law, with harsh restrictions on women's self-expression. As Insider puts it:
The country maintains under the law that it is illegal under most circumstances for a woman to be seen uncovered, and in this case, that seems to apply to women who don't outwardly practice Islam, and aren't physically in the country.
Insider reached out to Melovaz, but received no comment. Plenty of album covers currently remain on the site with female subjects censored.
https://fstoppers.com/legal/iranian-music-streaming-site-removing-women-their-own-album-covers-due-strict-418781
--------
Bored Of Male Heroes, Afghan Girl Coders Build Their Own Champions
Oct 24, 2019
HERAT: Like the princess who hops over goblins and throws daggers at evil wizards in the video game they built, a team of women coders in patriarchal Afghanistan wants to inspire a generation of girls to smash obstacles.
The young women are part of an after-school training programme called Code to Inspire in the western city of Herat, where they learn tech skills and create games and apps to educate girls across Afghanistan and beyond.
Their highest-profile success has been this year's release of "Afghan Hero Girl", built over six months by 12 young women, a phone app in which a princess wearing a green veil leaps around a crumbling castle in a quest to defeat a wizard and rescue her family.
Fereshteh Forough, a computer science teacher and a former refugee who founded Code to Inspire in 2015, said students were sick of the lack of female representation in the gaming industry and told her they were bored of "playing games where men are superheroes".
The game represents "the challenges and obstacles that women are facing every day in Afghanistan and despite all the backlashes they keep fighting and going through it," Forough, who is now based in New York, said in an email exchange with AFP.
In a country where girls often have only limited educational opportunities, internet access is patchy and women face deeply ingrained discrimination at every turn, Forough sees tech skills as having a transformative potential.
Like many Afghans, she worries about an eventual return to power of the Taliban, who during their brutally repressive rule in the 1990s banned women from working or going outside the house. "By learning how to code you can do online remote work from the safety of your house if you (can) access the internet," she said.
"The work that we do ... is about equality, empowerment and change so that these young ladies are able to add value to their communities and fight for their social, political and economic equality," she added.
Women's rights and education for girls have made significant gains since the fall of the Taliban nearly two decades ago, but challenges remain as the insurgents frequently attack girls' schools and threaten female students.
Afghanistan's ongoing war, now in its 19th year, resulted in more than 1,000 schools being closed by the end of 2018, UNICEF said, depriving some 500,000 children of their right to learning.
A disproportionate number of these -- about 60 percent -- are girls.
"In the worst case scenario if the Taliban limit women's presence to the work space, (tech is) a skill that can get them beyond their doorsteps," Forough said.
The games and apps are both educational and entertaining. Some include memories of the coders or are based on true stories. For instance, in the "Fight Against Opium" game, soldiers are deployed on a mission to poppy-growing Helmand province. It was based on a true story of one of the coders' brothers who was deployed to the southern province.
"My main goal as a game and app developer is to make as many educational games for girls as possible," Code to Inspire student Nasrin Wahidy said in a recent visit by AFP to the Herat school where the programme is based.
"We want the girls to learn and get educated faster through games." Another game teaches young Afghans how to recognise the geography of their country by showing them where each province is located.
So far, Code to Inspire has taught more than 150 students to code, make games and apps, and develop websites.
"They will become a digital citizen of the world without considering geographical boundaries," Forough said.
https://timesofindia.indiatimes.com/world/south-asia/bored-of-male-heroes-afghan-girl-coders-build-their-own-champions/articleshow/71736141.cms
--------
She Is Arab: World First Women's Platform Launches In the UAE
23 Oct 2019
She is Arab, the first dedicated speakers' platform for Arab women in the world launched on Wednesday in the UAE.
In line with the UAE's commitment to gender equality, the platform is incubated at In5 Tech in Dubai Internet City with a vision to be the new voice of Arab women.
She is Arab is a passion venture co-founded by Noha Hefny and Samar Alshorafa, both international development experts, a statement said.
Hefny said: "The region is experiencing an unprecedented momentum when it comes to women empowerment. As Arab women we have so much to be proud of in terms of our achievements. She is Arab was born out of our strong belief in the power and capabilities of Arab women.
"It is our way as entrepreneurs to contribute by creating opportunities for growth and development, driving partnerships and a concerted effort to deliver impact for women. We are presenting a platform by Arab women for Arab women to enhance leadership and participation in every field."
Alshorafa added: "I have always been passionate about women empowerment, and I believe it is time for Arab women to own the narrative and tell their own story... With She is Arab, we aim to reduce biases towards Arab women and provide them with the support they need to succeed in their respective domains using the power of communications and technology.
"Our platform will facilitate showcasing their professional expertise to the world and connecting them with the right opportunities. This is how we hope to make a difference."
She is Arab will work to support women on their journey to becoming public speakers, building their personal brand and thought leadership profiles, and offering professional and leadership development opportunities.
It also aims to leverage a tech-driven expertise mapping process to offer organisations a talented pool of experts that can be matched with professional opportunities globally including speaking, coaching, training and consulting. In parallel, it seeks to establish a strong support network for women to facilitate collaboration, mentorship and networking.
In its first stage, the company is seeking partnerships with private and public sector organisations, media, academic institutions and foundations to enable knowledge creation and dissemination, advance leadership and professional development of women and highlight inspirational role models to inspire the future generation.
She is Arab has set its sights on global expansion beyond the UAE in the coming years, the statement added.
https://www.arabianbusiness.com/culture-society/431337-she-is-arab-world-first-womens-platform-launches-in-the-uae
--------
Jordan Urged To Stop Imprisoning Women for Defying the Wishes Of Men
24 Oct 2019
Amnesty International has called on Jordan to end what it has described as an abusive system that jails women if they disobey their male "guardians" or have relationships deemed inappropriate.
Despite recent efforts to give women better protections, Amnesty said in a new report published on Wednesday that Jordan still allows the arbitrary detention of women, including when male family members – usually fathers or brothers – complain to the authorities that they have been absent without permission.
Under the male "guardianship" system, which Amnesty said is at the centre of a web of discriminatory provisions, men are empowered to control "women's lives and limit their personal freedoms", while women could be subjected to degrading practices such as "virginity tests", aimed at determining whether they've had sex outside marriage.
The report accuses the Jordanian state of applying "coercive and penal power to reinforce male guardianship, effectively colluding with male guardians to ensure male control" over women.
Women can also be forcibly separated from their children if their babies are seen as "illegal", when they are the result of an unsanctioned relationship. In Jordan, women require permission from a male guardian to get married if they are under 30 and sex outside marriage is punishable by up to three years in prison.
Similar practices are prevalent across the Middle East, but Amnesty's 64-page report – which interviewed 121 people, including women held in Juwaideh prison, the country's main women's jail – shows they are also taking place in Jordan, billed as a relatively safe and friendly country in an otherwise volatile region.
In 2017, Jordan joined an increasing number of Arab countries in scrapping laws that allowed rapists to escape punishment provided they marry their victims.
Amnesty said the country has in recent years carried out a number of reforms, including opening the Dar Amneh safety house for women at risk in July 2018, but the authorities continue to misuse the 1954 crime prevention law.
Imprisoning women for defying male authority amounts to "a violation of their human rights", said the report.
Subjecting women to "humiliating" virginity tests was akin to torture.
"The biggest punishment of all is saved for women who become pregnant outside of marriage – the state sanctioned theft of their child," said the report.
Testimonies provided by Amnesty showed those jailed were, in many cases, fleeing abusive environments.
Sawsan (not her real name) was jailed for more than a year simply for fleeing her abusive father, according to Amnesty. "I was stopped on the street in Amman and the police asked me for my ID. I didn't have it, so they said I had to come to their station, but when I got there they found a warrant for my arrest because I was 'absent'," she said. "The two police officers there beat me … I was taken to the governor's deputy … He said I would go to Juwaideh prison until my father bails me out."
Ola (not her real name) encountered problems after hospital staff called the police to report her for being pregnant outside marriage.
"I got pregnant and tried to marry the man. But the marriage wasn't approved because I have no guardian," she said. "My parents are dead, and I just have younger sisters, no brothers … I went to hospital and gave birth. The hospital asked if I was married and I said: 'No', so then they called the police. That's how I ended up here."
Heba Morayef, Amnesty's regional director for the Middle East and North Africa, said: "Time has now come to end the detention and ill-treatment of women simply for disobeying their male guardian or transgressing gender norms.
"The use of 'virginity tests' by the police in Jordan reinforces a discriminatory idea that male family members have a right to monitor and control women's sexuality. Such unlawful practices must end in all circumstances.
"Sadly, we have documented several cases of unmarried women who became pregnant as a result of rape, who were then imprisoned, forcibly separated from their child, or denied birth registration."
The office of the Jordanian prime minister told Amnesty that as many as 149 women are in prison for "different reasons", but insisted "there is no case where women have been apprehended for being absent from home without their guardian's permission, unless this is combined with a complaint about committing a crime or an offence".
Hanan (not her real name), a woman aged almost 20, was also jailed for fleeing an abusive home alongside her sister. "Every time we ran away, when we were arrested the police would take us to the hospital and my father would insist that they do the virginity tests on [us]," she said. "Family Protection [police] made it very clear anyway, if our father asks us to do the test, we have to do it. It is his right."
At least 85 women have been held in administrative detention so far this year for sex outside marriage "to ensure their protection", the prime minister's office said, claiming that the majority had been released.
https://www.theguardian.com/global-development/2019/oct/24/jordan-urged-to-stop-imprisoning-women-for-defying-the-wishes-of-men
--------
Squash: PSA Women's World Championship Kicks Off In Egypt
23 Oct 2019
The PSA Women's World Championship kicks off in Egypt on Thursday, with the Great Pyramids of Giza providing a beautiful backdrop as athletes compete for the lucrative $430,000 prize.
"Egypt made a successful proposal to the International Squash Association to host the championship. It is a good chance to revive the Al-Ahram Squash Open tournament," Sayed El-Kamash, executive director of the Egyptian Squash Federation, told Ahram Online.
"Authorities immediately gave us the thumbs-up for the perfect location."
For men, it will mark the Egyptian Squash Open for this year, which is a PSA platinum event. Platinum is the top level of the PSA World tour.
"It is also an international squash open tournament for men. Platinum is the highest category in individual competitions. It is held in the same regard as the women's tournament. The winners will acquire a big number of points that will be added to PSA World ranking," El-Kamash added.
The championship will feature 64 male and 64 female athletes, representing 31 countries.
The countries include Australia, Belgium, Canada, England, France, Finland, Germany, Hong Kong, India, Latvia, Malaysia, the Netherlands, New Zealand, Philippines, Peru, Switzerland, Scotland, Spain, South Africa, United States and Wales.
"The organizational aspect is on par with international standards … tickets will be available for sale online," the tournament's technical director Omar El-Sherbini said.
"Around 60 international channels will broadcast the tournament around the world. It will be broadcast live on squash TV as well as Eurosport channels."
Prominent athletes
The women's tournament features a number of prominent Egyptian athletes, including world No.1 Raneem El-Welily, world No.2 Nour El-Sherbini, world No.3 Nour El-Tayeb and world No.5 Nourhan Gohar.
In the men's tournament, world No.1 Ali Farag, world No.2 Tarek Moemen, world No.4 Karim Abdel-Gawad, world No. 8, Mohamed Abou El-Ghar, world No.10 Marwan El-Shorbagy and world No.13 Omar Mosaad will represent Egypt.
There are alsosome well-known international stars such as French world No.4 Camille Serme, Hong Kong's Annie Au, American Amanda Sobhi, British Alison Walter, Australian Sarah Cardwell and Malaysian Low Wee Wern.
On the men's side, British Daryl Selby, French Gregoire Marche, German New Zealand's world No.5 Paul Coll and world No.6 Simon Rosner will also take part.
The tournament's opening ceremony will be on Friday at 5:30 pm. It will start with a match between Egypt's Ali Farag and Amr Mosaad. The 48 top players will compete in the main draw of the tournament. All the matches will start from 5:30 pm until 10:00 pm.
http://english.ahram.org.eg/NewsContent/6/56/354558/Sports/Omni-Sports/Squash-PSA-Womens-World-Championship-kicks-off-in-.aspx
--------
URL: https://www.newageislam.com/islam-women-feminism/an-iranian-music-streaming-site/d/120080
New Age Islam, Islam Online, Islamic Website, African Muslim News, Arab World News, South Asia News, Indian Muslim News, World Muslim News, Women in Islam, Islamic Feminism, Arab Women, Women In Arab, Islamophobia in America, Muslim Women in West, Islam Women and Feminism