New Age Islam News Bureau
2 March 2017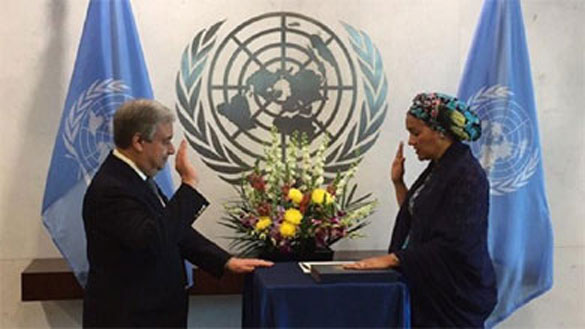 Nigeria's former Minister for Environment, Amina Mohammed, has been officially sworn in as Deputy Secretary-General of the United Nations
-------
• KP Transgenders Tortured To Death in Riyadh
• Musharraf Tells Court Has 'Gifted' All Property to Wife, Daughter
• PTV Female Anchor Resigns amid 'Harassment' Controversy
• Mohaiyani to Become Maybank's First Woman Chairman
Compiled by New Age Islam News Bureau
URL: https://newageislam.com/islam-women-feminism/amina-mohammed-sworn-un-deputy/d/110258
-------
Amina Mohammed sworn in as UN Deputy Secretary-General
March 1, 2017
By Arul Louis
United Nations, (IANS): Amina Mohammed, the new Deputy Secretary-General, has said that Security Council reform is a priority for the world body.
"Security Council reform is a critical part of what we do in the next few years and somehow we have to balance that if we are to address the (conflict) prevention agenda," Mohammed told the media after being sworn in on Tuesday.
She was answering a reporter's question if she considered reforming the Council to make it more representative a part of her mandate to work for the overall reform of the UN.
"On Security reform, that is something that I will work to support the Secretary-General," she said.
India has invested heavily in Council reforms and is lobbying for a permanent seat on the body.
The process has failed to make progress in over nearly two decades.
Mohammed, a former Environment Minister of Nigeria, was appointed by Secretary-General Antonio Guterres to the second highest job at the UN.
Intense lobbying by nations and civil society organisations failed to elect a woman as the Secretary-General.
The appointments of Mohammed and of Maria Luiza Ribeiro Viotti of Brazil as the Secretary-General's chief de cabinet and Kyung-wha Kang of South Korea as his special adviser on policy are efforts by Guterres to compensate for this setback to the cause of women and as the first step in his promise to bring about gender parity in the top rungs of the UN.
Asked about US President Donald Trump's threatened cuts to Washington's funding of international operations that could hit the UN, Mohammed acknowledged that it was a matter of "great concern".
But she said: "The important thing that we need to do is to continue to engage with our partners and to show how important it is not to decrease but to increase, and find different ways of doing so.
"I believe that we can find a way of leveraging other resources. Same member states, different ways, different means," she added.
http://twocircles.net/2017mar01/405579.html?utm_source=feedburner&utm_medium=email&utm_campaign=Feed%3A+Twocirclesnet-IndianMuslim+%28TwoCircles.net+-+Indian+Muslim+News%29
-------
KP transgenders tortured to death in Riyadh
02-Mar-17
PESHAWAR: Two transgender persons, both natives of Khyber-Pakhtunkhwa (KP), died on Tuesday after being subjected to torture allegedly by Saudi police in Riyadh for dressing up as women in public.
Thirty-five transgender people were arrested by a law enforcement agency for cross-dressing, which is a punishable offence in the kingdom.
A rest house was raided where a 'Guru Chela Chalan' gathering, a formal meeting of Khuwaja Sara in which they choose their Guru (leader) and Chelas (Students), was taking place. Amna, 35, who belonged to the Mingora area of Swat and Meeno, 26, who was from Peshawar died in police custody. The police allegedly stuffed them into sacks and beat them with sticks in prison.
Colonel Fawaz bin Jameel al Maiman, the police's media spokesperson in Riyadh, told a local news agency that the field-control management had the site under constant surveillance. Women's clothing and jewellery were also recovered from the rest house.
He added that the 35 people inside had been apprehended.
"The majority of those arrested belong to K-P and the others from other cities of Pakistan. Torturing humans after throwing them into bags and beating them with sticks is inhumane," said Qamar Naseem, a transgender rights activist. While 11 were released later after paying a fine of 150,000 riyals, 22 are still in police custody, Naseem added.
http://dailytimes.com.pk/khyber-pakhtunkhwa/02-Mar-17/kp-transgenders-tortured-to-death-in-riyadh
-------
Musharraf tells court has 'gifted' all property to wife, daughter
02-Mar-17
ISLAMABAD: The special court has fixed objections regarding the attachment of former president Pervez Musharraf's property in a high treason case with a hearing on March 11th, sources said.
The objections are jointly filed by Musharraf's wife, Sehba Musharraf, daughter Ayla Raza, and Huma Khaishgi, the deceased sister of Sehba and shareholder of the property.
On July 19, 2016, a three-member bench comprising of Justice Tahira Safdar and Justice Yawar Ali, led by the then-Chief Justice(CJ) of the Peshawar High Court (PHC), Mazhar Alam Miankhel, had attached Musharraf's moveable and immovable property in the high treason case.
Now, after the elevation of Miankhel to the Supreme Court, the special court will be headed by PHC CJ Yahya Afridi.
The objections, filed by Musharraf's family through their counsel, Faisal Chaudhry, had stated that the immovable properties of Musharraf had been gifted to his wife and daughter before the litigation of the high treason case and therefore these were owned by them.
The objections had stated that the farm house located at Chak Shahzad had been gifted to Musharraf's wife Sehba in 2008 - a suit was also filed in the Islamabad High Court (IHC) but the court had disposed of the said suit with the observations that there was no dispute with regard to the gift deed.
It had further stated that a plot in Phase VIII of Defence Housing Authority (DHA) Karachi was under the joint ownership of Musharraf and his sister-in-law Huma Khaishgi, adding that Musharraf had gifted his shares to Sehba and daughter Ayla Raza in 2009. "Therefore, as it stands today, the said plot is jointly owned by Mrs. Sehba Musharraf, Mrs. Ayla Raza, and the legal heirs of the late Mrs. Huma Khaishgi," objections further stated.
Regarding another two plots located in DHA Islamabad and DHA Karachi, Musharraf's family had stated that both of them were gifted to Sehba and Ayla in 2009.
"It has been conclusively settled by the superior courts of our country, that upon a declaration of oral gift, the subject properties belong to those who were gifted them, without any legal requirement of effecting registration," it further stated.
The moveable property comprises of bank accounts in which Musharraf's pension as the former chief of army staff and president are received, the document stated.
"In terms of section 11 of the Pensions Act, 1871 pension is not liable to be seized or attached by any process or order of the Court," it had stated.
Sehba requested the court to lift the attachment order. She also requested the court not to treat her husband as an absconder because he left the country solely on medical grounds.
http://dailytimes.com.pk/pakistan/02-Mar-17/musharraf-tells-court-has-gifted-all-property-to-wife-daughter
-------
PTV female anchor resigns amid 'harassment' controversy
02-Mar-17
ISLAMABAD: Pakistan Television (PTV) anchor Tanzeela Mazhar, whose account of harassment and unwanted advances by a senior, aired in a TV show earlier this year, rocked the media, on Wednesday announced she had resigned from the TV channel.
Mazhar wrote in her resignation, which she also tweeted, that: Things were made very difficult for me to work and I was facing huge psychological torture every day.
"Overall, the environment at this office had become absolutely non-conducive and I was being threatened in every possible way to submit to that environment to secure my job and career," she alleged.
This, she wrote, happened as a result of her constant complaints against PTVs current affairs director, who made unwelcome advances to her in 2009.
"After my resistance/confronting [my abuser] on his attitude, I was exploited and put off screen for [a] few months," she alleged.
The Ministry of Information, which oversees the PTV, was unable to comment on the matter as it was unaware of the development.
"I resigned because the man in question was reinstated," Tanzeela Mazhar said.
"Even though our contracts were renewed, we were not being given air time. To take a government salary but not work was unacceptable to me," Mazhar said.
"It saddens me that the government did not take this matter up committees are made for the smallest of matters, but no one came forward to help us on this matter," she continued.
"When I raised my voice, people responded with [degrading] comments about women, and our character and personal lives, without understanding that what we do in our private lives is a private matter," Mazhar said while speaking of the reprisals to a social media campaign she ran against the man in question.
"I plan to raise awareness about what harassment is, as most people do not take it seriously until a person has been beaten up or raped," Mazhar added.
Mazhar was one of two female anchors from PTV, the other being Yashfeen Jamal, who had lodged a formal complaint with the PTV management last year about the current affairs director making sexual advances and harassing the two.
Mazhar and Malik were taken off air for 'defaming' the organisation by PTV through a notification issued on Jan 23.
In a TV show aired by a private channel on Jan 22, Mazhar had expressed extreme dissatisfaction with the way PTV had investigated the case and failed to take 'sufficient' action against the abuser.
On January 29, media had also reported that a committee probing the sexual harassment case against the director of current affairs at PTV had failed to finalise its inquiry report within the prescribed time period.
According to the timeline provided under Section 4(4) of the Protection against Harassment of Women at Workplace Act, 2010, the inquiry committee should have submitted the report by the end of Dec 2016 or early Jan 2017.
A senior PTV producer had earlier claimed that three key figures, including a federal minister, wanted the abuser to get a clean chit.
He said that the inquiry report had been amended at least six times to make it favourable to the accused, which was why it had not been finalised in time.
Members of South Asian Women in Media (SAWM) a regional forum for women working in the media industry had also demanded a fresh inquiry into the sexual harassment allegations.
SAWM criticised the PTV management for favouring the accused and demanded that the current inquiry committee be dissolved and replaced with an external inquiry committee, which must include representatives from the National Commission on the Status of Women and the National Commission for Human Rights.
http://dailytimes.com.pk/islamabad/02-Mar-17/ptv-female-anchor-resigns-amid-harassment-controversy
-------
Mohaiyani to become Maybank's first woman chairman
March 2, 2017
KUALA LUMPUR: Mohaiyani Shamsudin will become the first woman to helm Malayan Banking Bhd on April 1, after current chairman Megat Zaharuddin Megat Mohd Nor steps down.
Megat will step down on March 31, Maybank said in a filing to Bursa Malaysia today.
Mohaiyani, who was appointed a director of Maybank on Aug 22, 2011, also serves as a board committee member of the Credit Review Committee and Risk Management Committee.
She was with Amanah Chase Merchant Bank Bhd and Seagrott & Campbell Sdn Bhd before starting her own stockbroking company, Mohaiyani Securities Sdn Bhd, in 1985 and assumed the role of managing director.
During her involvement in the stockbroking industry, she was appointed as deputy chairman of the Kuala Lumpur Stock Exchange (now known as Bursa Malaysia Bhd) and chairman of Association of Stockbroking Companies Malaysia.
She had also been appointed a member of several high-level national working groups such as the National Economic Action Council, National Economic Consultative Council II and National Information Technology Council.
Her current directorships in companies within the Maybank Group include chairman of Maybank Investment Bank Bhd and Maybank Kim Eng Holdings Ltd.
Megat was appointed director and chairman of Maybank, the country's largest public-listed company, on Oct 1, 2009.
"I leave the group heartened that it has stronger capabilities to pursue its vision, and I would like to thank my fellow board members, as well as the management and staff, for their overwhelming support and commitment to strengthening the Maybank brand and reputation, and maintaining its stature as Malaysia's top public-listed company.
"I will treasure these memories, and am confident that Maybank will achieve even greater success in the years ahead through the teamwork and dedication of all its people in its various geographies around the world," Megat said in a statement today.
Maybank group president and chief executive officer Abdul Farid Alias said the board and management were grateful to Megat for his strong leadership, especially over the last seven and a half years.
"He is a visionary leader who constantly challenged us to scale greater heights, and successfully steered the Group through some of the most challenging global economic situations," Abdul Farid said.
Abdul Farid said the appointment of Mohaiyani as chairman augured well for Maybank and would ensure continuity at the board, given that she has been serving as a director of Maybank for over five years.
"Datuk Mohaiyani has had an impressive career and extensive experience not only in the financial services industry but also in public service.
"As a member of the current board, she will already have insights into all aspects of the group and we are confident she will lead Maybank effectively as she takes up the new position," he said.
http://www.freemalaysiatoday.com/category/nation/2017/03/02/mohaiyani-to-become-maybanks-first-woman-chairman/
-------
URL: https://newageislam.com/islam-women-feminism/amina-mohammed-sworn-un-deputy/d/110258
New Age Islam, Islam Online, Islamic Website, African Muslim News, Arab World News, South Asia News, Indian Muslim News, World Muslim News, Women in Islam, Islamic Feminism, Arab Women, Women In Arab, Islamophobia in America, Muslim Women in West, Islam Women and Feminism