New Age Islam News Bureau
26 September 2021
• Amid Calls For Ban, Penang Mufti Says 'Mukhannath' Or Transgender People Should 'Change Appearance' To Enter Mosques
• Pakistan News Channel, Neo News, Fined For 'Derogatory' Remarks Against Women Cricketer
• Iran Hails Teen Hero Who Died After Saving Women In Fire
• Take A Look At One Of The First UAE Mosques Designed By A Woman
• Woman Shot Dead In South, In 4th Fatality In Arab Community In 48 Hours
• Italians Come Out To Demand Support For Afghan Women
• FBI Investigating Reported Assault of Female U.S. Service Member By Afghan Evacuees
• Pak-India Women's Rights Icon Kamla Bhasin Passes Away
• AFC Women's Asian Cup India 2022 Qualifiers - Group G: IR Iran Defeat Jordan On Penalties To Book Historic Finals Ticket
Compiled by New Age Islam News Bureau
URL: https://www.newageislam.com/islam-women-feminism/transgender-mosque-penang-mufti/d/125438
--------
Amid Calls For Ban, Penang Mufti Says 'Mukhannath' Or Transgender People Should 'Change Appearance' To Enter Mosques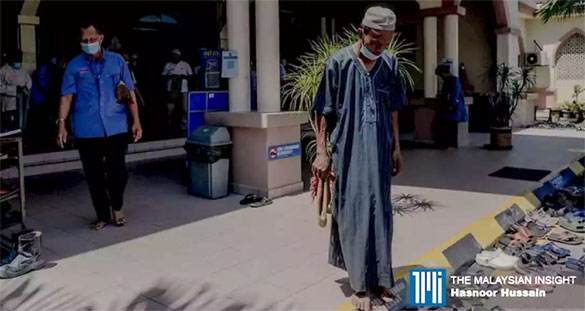 Transgender Mosque
------
26 Sep 2021
GEORGE TOWN, Sept 26 — 'Mukhannath' or transgender individuals should change their appearance if they want to be in mosques or surau so that they do not look odd and avoid uncomfortable feelings among other worshippers.
Penang Mufti Datuk Seri Wan Salim Wan Mohd Noor opined that there was no other way for these individuals to be in houses of worship, unless they change their appearance.
"We are very sympathetic to this group and hope that they are accepted by the general public. However, they should also make an effort to adapt to the culture and norms of regular society," he said in a statement today.
He was commenting on the statement by Deputy Minister in the Prime Minister's Department (Religious Affairs) Datuk Ahmad Marzuk Shaary that the government was looking into emulating Perlis in banning transgender individuals from entering mosques in the Federal Territories.
Meanwhile, Wan Mohd Salim said transgender individuals have actually wronged themselves by choosing to practice a lifestyle that was contrary to the laws of nature and religion, adding that such action would cause them to face various challenges in life, especially when interacting with others.
He also urged State Islamic Religious Departments as well as mosque and surau administrations to play their roles in dealing with the issue.
"The mosque administration should advise the group gently and prudently so that they respect the sanctity of the Islamic houses of worship with appropriate attire and no longer be looked down upon and considered strange," he said.
He added that if the group was still persistent, the mosque management should be firm in preventing them from entering the premises because it involved public interest.
Source: Malay Mail
https://www.malaymail.com/news/malaysia/2021/09/26/amid-calls-for-ban-penang-mufti-says-transgender-people-should-change-appea/2008557
----------
Pakistan News Channel, Neo News, Fined For 'Derogatory' Remarks Against Women Cricketer
Zee Media Bureau
Sep 25, 2021
The Pakistan Electronic Media Regulatory Authority (PEMRA) imposed a heavy fine of Rs 200,000 on news channel Neo News for airing "insensitive, demeaning, derogatory and hateful" content during a TV show featuring former all-rounder Abdul Razzaq and women cricketer Nida Dar.
The programme was broadcast on June 6 this year when Razzaq commented on Dar's physical appearance, where the all-rounder said she appeared more like a man than a woman. The clip from the show had then gone viral, leading to a major uproar on social media.
The country's renowned tennis player Aisamul Haq Qureshi had also lodged a complaint with PERMA in this regard and sought action against Neo News.
As per a report in The Dawn, PEMRA noted that the female host on the show "degrades and shames the career adopted by female cricketers, expressly stating that female cricketers mostly leave cricket when they get married".
Following the submission of the complaint lodged by PEMRA to its Council of Complaints it came to a conclusion that such remarks are "generalisation", which "leads to blatant discrimination against female gender".
Meanwhile, taking note of Razzaq's remarks, the council stated that the former all-rounder was "implying a presupposed notion that cricket is a sport only meant for boys, who define the masculine nature of the sport".
Source: Zee News
https://zeenews.india.com/cricket/pakistan-news-channel-fined-for-derogatory-remarks-against-women-cricketer-2397084.html
----------
Iran hails teen hero who died after saving women in fire
September 26, 2021
TEHRAN: Iran paid tribute on Saturday to a teenager who died of severe burns after having rescued two women neighbours trapped in a fire in their apartment building.
Fifteen-year-old Ali Landi died of his injuries on Friday, two weeks after he helped the women escape their burning home and tried to throw a gas cylinder out of the window to stop the fire spreading, Iranian media said.
The teenager died of "90 percent burns", said Emam Kazem hospital in Isfahan, central Iran, where he was transferred from his hometown of Izeh in the country's southwest.
The two neighbours, a woman in her eighties and her daughter, suffered superficial burns in the September 9 blaze, local media said.
Iranians saluted the teenager's courage online, with many urging the education ministry to incorporate his story in school materials.
Source: The News
https://www.thenews.com.pk/print/895355-iran-hails-teen-hero-who-died-after-saving-women-in-fire
---------
Take a look at one of the first UAE mosques designed by a woman
Georgia Tolley
Sep 26, 2021
Commuters driving on Umm Suqeim Road in Dubai cannot help but notice a new, almost luminescent, addition to the industrial landscape.
The Mosque of the late Mohamed Abdulkhaliq Gargash gleams white in the sunshine, its contemporary, clean lines stark and beautiful against the backdrop of car repair centres and cement works in Al Quoz.
Sumaya Dabbagh, the founder of Dabbagh Architects, grew up in Saudi Arabia and studied her craft in the UK and Paris before moving to the UAE.
Ms Dabbagh is one of very few Saudi female architects of her generation and among a handful of women architects leading their own practice in the Gulf region. She was disappointed to discover she was one of the first females in the UAE to create a mosque.
"I feel sad about it. I think more women should be doing this, it's a shame. I hope to see more women designing public buildings and participating in the development of our cities," said Ms Dabbagh.
"Women are very good at building communities and bringing people together and collaborating, and it would be a very positive thing for our industry to have more of that."
Mohamed Abdulkhaliq Gargash Mosque. Dabbagh architects founder Sumaya Dabbagh and mosque of the late Mohamed Abdulkhaliq Gargash in Dubai
"We wanted to create something that has a reference to Islamic architecture, but in a more contemporary way. So we reinterpreted a lot of the traditional Islamic patterns, and really simplified and simplified and simplified until we came to this triangulated pattern that we have used throughout."
Sumaya Dabbagh, the founder of Dabbagh Architects, designed the new Mosque of the late Mohamed Abdulkhaliq Gargash in Dubai. Photo: Chris Whiteoak
From the moment worshippers enter the gate of the mosque, they are taken on a journey from the outer material world, through a shaded courtyard, to the ablution area, and then into the prayer hall, where the transition to contemplation can be completed.
Triangle-shaped windows puncture the walls of the mosque allowing in dynamic shards of light, and carefully-chosen passages from the Quran are stencilled onto the walls around the mihrab, and moulded into the exterior facade of the building.
The purpose of the outer calligraphy was to create a metaphoric protective band around the mosque, and the verse, "The Most Merciful" instills a sacred energy throughout the building.
Many elements in the design of the Gargash Mosque depart from the norm. There are no traditionally shaped windows - a design quirk which took time for the planners to accept, and the minbar where the imam stands to lead the prayers is set to one side, leaving the mihrab niche empty bar a shard of light from an overhead skylight.
Ms Dabbagh placed sustainability at the heart of the project, sourcing the cladding and aluminium locally, and the stone from Oman, something that proved a blessing when imported building materials were delayed by the blockage of the Suez Canal and Covid-19.
Responsible development is one of the key drivers of Ms Dabbagh's practice, along with her determination to break the stereotypes commonly held about the Gulf and Arab women.
"I just hope that more and more women continue to practice and are supported to practice, to create more relevant architecture because I think the more diverse the product, the richer it can be," she said.
Source: The National News
https://www.thenationalnews.com/uae/heritage/2021/09/26/take-a-look-at-one-of-the-first-uae-mosques-designed-by-a-woman/
------------
Woman shot dead in south, in 4th fatality in Arab community in 48 hours
By EMANUEL FABIAN
25 September 202
A woman in her 40s was shot dead in a southern Bedouin town on Saturday night, the fourth fatality in two days, as the deadly violence in the Arab community showed no sign of slowing.
The victim was brought to a local health clinic in Lakiya, just north of Beersheba in the northern Negev, where Magen David Adom medics declared her death.
Police said that its officers were at the scene investigating the matter. It was also looking into a report that the shooting may have been an accidental misfire. But police officials said that it was more likely that the woman was killed as part of a case of domestic abuse, according to the Kan public broadcaster. According to Kan, her ex-husband lives in the Gaza Strip.
Violent crime has risen to record levels in Arab communities in recent years, with 78 Arab Israeli citizens killed in apparent homicides since 2021 began, according to a tally by the Abraham Initiatives nonprofit. Another 15 Palestinians have been killed in Israeli territory.
The Lakiya shooting came less than a day after a 30-year-old man of the nearby Bedouin town of Shaqib al-Salam (Segev Shalom) was shot dead in central Beersheba.
Also on Friday, a 55-year-old man was shot dead in the northern town of Nazareth, a six-year-old boy and his parents were injured by gunfire in the northern town of Umm al-Fahm, and numerous other shooting incidents were reported in other Arab towns with no injuries.
Authorities have vowed to devote more resources to battling crime in Arab locales, after a series of recent shootings triggered the online #Arab_Lives_Matter campaign to protest the alleged lack of police action.
Dozens gathered on Saturday to protests against the continuing violence, near the home of Public Security Minister Omer Barlev in Kochav Ya'ir.
On Friday morning, police raided dozens of homes in Arab towns across northern Israel, arresting 15 people and seizing guns and cash, as part of efforts to crack down on surging violent crime in Arab Israeli communities.
Officers raided 63 homes in Arab and Druze towns across the north, arresting 15 suspects on suspicion of violence, extortion and money laundering. None of the suspects were named.
According to a 2020 Knesset report, some 400,000 illegal weapons are circulating in Israel, the vast majority in Arab communities.
In July, Prime Minister Naftali Bennett said that violence and crime in Arab Israeli communities was a "national calamity," as he met with senior government and police officials to formulate a national plan to tackle the issue.
Source: Times of Israel
https://www.timesofisrael.com/woman-shot-dead-in-south-in-4th-fatality-in-arab-community-in-48-hours/
----------
Italians come out to demand support for Afghan women
26 September 2021
Rome, Sep 26 (AP) Thousands of people demonstrated in cities across Italy on Saturday to support Afghan women and demand continued international pressure on the country''s Taliban leaders to let women participate in the educational and political life of the country.
Among the groups organizing the protests were members of the Pangea Foundation, which had worked for 20 years on economic development projects for Afghan women before finding itself helping to evacuate them when the Taliban took over.
At the protest Saturday, Pangea supporters had a P drawn on their hand. It was the same P that Afghan women wrote on their hands to be recognized at the Kabul airport and evacuated during the chaotic weeks as Western nations ended their military missions.
"We must continue to put pressure so that women can participate not only in education but also in the politics of their country," Simona Lanzoni, vice president of Pangea, said during the Rome protest.
"And then we must continue perhaps the humanitarian evacuations in a specific way, thinking first of all of those women who were not able to enter the airport in August but today are really risking in Afghanistan."
The event with the slogan "#Nonlasciamolesole ("Let''s not abandon them") brought thousands out in several Italian cities, where speakers called for a permanent observatory on women''s rights in Afghanistan at the Ministry of Foreign Affairs and at the United Nations.
Source: Out Look
https://www.outlookindia.com/newsscroll/italians-come-out-to-demand-support-for-afghan-women/2167202
-----------
FBI Investigating Reported Assault of Female U.S. Service Member By Afghan Evacuees
DEEPA SHIVARAM
September 25, 2021
The FBI says it's investigating the reported assault of a female service member from the Fort Bliss Army base by male Afghan evacuees.
The service member reported that Afghan evacuees staying at the Doña Ana County Range Complex assaulted her, according to local reports. The complex is in New Mexico, about 25 miles north of Fort Bliss in El Paso, Texas.
"We received the referral from Fort Bliss, and our office is investigating the allegation," the El Paso FBI office said in a statement to NPR on Saturday.
The name and age of the woman have not been released, and there are no details of the nature of the assault, but the El Paso Times reports that she was assaulted on Sept. 19 by a "small group of male evacuees."
"We take the allegation seriously and appropriately referred the matter to the Federal Bureau of Investigation," Lt. Col. Allie Payne, director of public affairs for Fort Bliss, told TV station KVIA.
Source: Npr.Org
https://www.npr.org/2021/09/25/1040704546/fort-bliss-assault-female-service-member-afghan-evacuees-fbi
----------
Pak-India women's rights icon Kamla Bhasin passes away
Jawed Naqvi
September 26, 2021
NEW DELHI: She could unassumingly cheer a passionate meeting of India-Pakistan peace activists from the back benches. It would be difficult to tell her own nationality though. She could signal the end of a long night for the region's women from her wheelchair, with rousing poetry when she was ill. But she would clarify quickly. The journey was not anti-men, but against patriarchy.
Kamla Bhasin, who passed away on Saturday at 75 after a short struggle with cancer, would perhaps be best remembered for grafting a slogan that Pakistani women first used against Gen Ziaul Haq's dictatorship on the body politic of India — the universal and unalloyed demand for Azadi, the fight for freedom.
It was back in 1991, according to one version of the slogan's journey to India, that Bhasin, in her forties caught people's attention at the Women's Studies Conference at Kolkata's Jadavpur University, as she beat a little drum and chanted a slogan. 'Azadi' against patriarchy while being surrounded by other women.
Azadi is now a common clarion call at almost every student protest. More recently, the expression echoed during student leader Kanhaiya Kumar's popular chanting, demanding 'Azadi' from discrimination, Brahmanism, and poverty, at Jawaharlal Nehru University in 2016 and later, at the anti-CAA-NRC protests that have challenged India's new and communally inspired citizenship laws.
The slogan also made its way to pop culture, as part of the movie Gully Boy, starring Ranveer Singh as a rap artist, in a song by Dub Sharma. Bhasin was an eminent poet and a flagbearer of women's rights in India and South Asia since the 1970s.
She was born on April 24, 1946, in the district of Mandi Bahauddin, now in Pakistan, then shifted along with her family to Rajasthan after partition.
In an interview with The Quint in 2019, she said she heard the slogan first in the 1980s among feminists in Pakistan. "Pakistan at that time was ruled by Ziaul Haq. The first group that rose up against Ziaul Haq was not a political party, it was a group of Pakistani feminists. I witnessed one such meeting and that's where they chanted it. The chant went: Aurat ka naara — azadi/Bachchon ka naara — azadi/Hum leke rahenge — azadi/Hai pyara naara — azadi."
Inspired by the chant, Kamla Bhasin improvised and came up with her own poem based on its essential spirit. "I know enough women who are totally patriarchal, who are totally anti-women, and I have known men who have worked for women's rights their whole life.
What began as a women's battle cry was soon harnessed to the struggles of labourers, dalits, adivasis and so on. During 'One Billion Rising from South Asia', a campaign to end violence against women, she recited the now famous lines. "From patriarchy — Azadi/from hierarchy — Azadi/from endless violence — Azadi/from helpless silence — Azadi… for self-expression — Azadi/for celebration — Azadi."
Tributes poured in from across South Asia as Bhasin was given a tearful funeral at Delhi's Lodhi electric crematorium. "She was not only a women's rights activist, but also a philanthropist who set up and helped setting up many fine public interest institutions like Jagori in HP & School for democracy in Rajasthan," said senior human rights lawyer Prashant Bhu­shan. "She will be missed by many."
Source: Dawn
https://www.dawn.com/news/1648434
------------
AFC Women's Asian Cup India 2022 Qualifiers - Group G: IR Iran defeat Jordan on penalties to book historic Finals ticket
September 25, 2021
Tashkent: Islam Republic of Iran pulled off a stunning upset to qualify for their first ever AFC Women's Asian Cup, defeating Jordan 4-2 on penalties after a goalless draw at Bunyodkor Stadium on Saturday.
Maryam Irandoost's side defied history and their world ranking of 72 to secure their place for India 2022 in dramatic fashion, ending a heartbroken Jordan outfit's bid for a third successive appearance at the Finals.
Goalkeeper Zohreh Koudaei was the hero for Iran, saving two penalties in the shootout to secure a milestone result for Iranian women's football, and one which also keeps them in the race for a spot in the 2023 FIFA Women's World Cup in Australia and New Zealand.
Dead level on the group table after each delivering 5-0 wins over Bangladesh, the two sides began the Group G decider fully aware that a draw on the day would send them to the penalty spot.
With the experience and firepower of Maysa Jbarah and Shahnaz Jebreen in their side, and the recent success of winning the Arab Cup under their belts, Jordan came into the match as favourites but failed to break through an Iranian defence marshalled by goalkeeper Koudaei.
Goalless at half-time, and with a warm Tashkent afternoon asking questions of even the fittest players, both sides made a string of second half substitutions, but a winner for either failed to materialise.
Still level at the final whistle, it was the penalty shootout's turn to do what three matches over six days could not, and determine a winner, and it was the Iranians who prospered from 12 yards.
Team Melli Baanovaan showed nerves of steel from the spot, with captain Behnaz Taherkhani scoring their first kick, before Melika Motevalli, Zahra Ghanbari and Sana Sadeghi made it a perfect four from four.
But it was goalkeeper Koudaei who made all the difference, saving spot-kicks from Bana Al Bitar and Luna Al Masri to seal Jordan's fate, and spark Iranian celebrations.
Irandoost's victorious side will now be among the 12 teams in the AFC Women's Asian Cup India 2022 official draw, with matches against the continent's best players and teams to follow at January's finals.
Source: The-Afc.Com
https://www.the-afc.com/competitions/afc-womens-asian-cup/latest/news/afc-women-s-asian-cup-india-2022-qualifiers-group-g-ir-iran-defeat-jordan-on-pen
----------
URL: https://www.newageislam.com/islam-women-feminism/transgender-mosque-penang-mufti/d/125438
New Age Islam, Islam Online, Islamic Website, African Muslim News, Arab World News, South Asia News, Indian Muslim News, World Muslim News, Women in Islam, Islamic Feminism, Arab Women, Women In Arab, Islamophobia in America, Muslim Women in West, Islam Women and Feminism